If you're planning the Euro backpacking trip of your dreams but don't know where to start, fear not! We've put together four Europe backpacking routes that appeal to different interests and types of travelers – the 'Grand Tour' of most commonly-visited places; a history buff's guide to Southern Europe, a budget guide to Eastern Europe and for those of you who just can't stop traveling, an epic around the continent route at the end!
These handpicked Europe itineraries will suit all kinds of travelers, from those on a blow-out gap year to backpackers who want to get the most adventure for their buck. Sit back and grab a cuppa as we're about to take you on a whirlwind tour of Europe. 
---
Related: (opens in new tab)
---
Top Europe Backpacking Trips: 4 Travel Itineraries
While you may associate backpacking through Europe with train travel and dormitory-style hostels, it's been a rite of passage since the 18th century, when young people (mostly men) would spend a few years traveling around 'The Continent' prior to fully joining society. This was seen as a capstone educational experience – both in terms of seeing classical antiquity up close and interacting with new and different situations, people, and challenges.
This is still the case today too. While Europe's countless museums, cuisines, and cultural contributions make it a premier travel destination, long-haul travel is also a fantastic way to learn about yourself. 
There are countless combinations of countries, sights, and transit options for a backpacking trip in Europe, and it can be easy to get overwhelmed. The itineraries we've mapped out below are very customizable for this very reason. You can add more destinations, or stop a route partway through depending on how much time you have.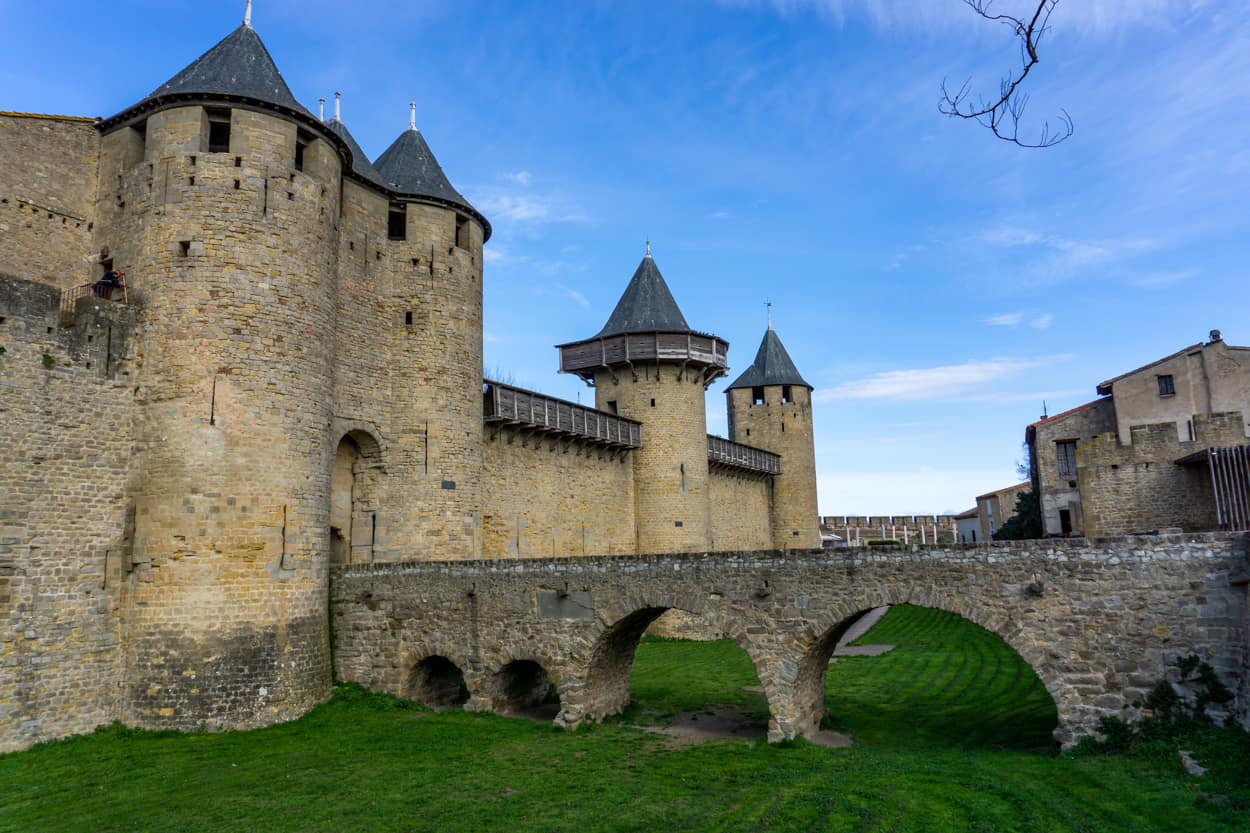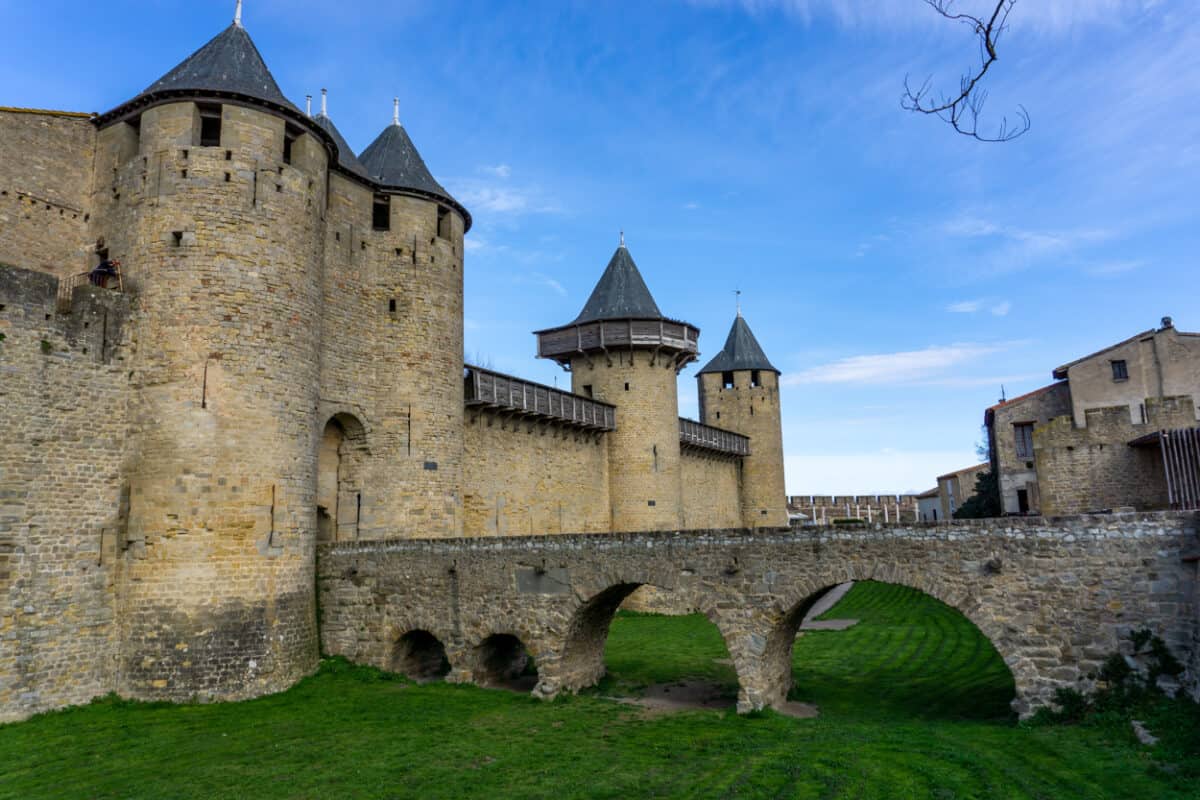 We recommend not squeezing in too much as things will start to blur together and you may find yourself getting fatigued. If you're limited on time (say, you only have a month or so), pick your favorite neighboring countries to explore in-depth. That way, you'll still get a bit of the backpacking experience, but you won't run yourself ragged.
As you plan your Europe backpacking route, consider the best time to visit each place. Southern Europe in particular gets very hot and very busy in the summertime but is very comfortable in the winter. The Low Countries are very gray and rainy in the fall and winter but have mild and lovely summers. 
Relatedly, countries like Austria and Switzerland, as well as the Scandinavian region, are typically not considered budget-friendly destinations. Depending on your funds, you may want to plan to spend a bit less time in these countries or forgo them entirely if you're sticking to shoestring style travel. Off-season travel can also be a way to save if you can be flexible with dates!
If you're travelling solo and are nervous about the safety aspect of your trip, we urge you not to worry. There are a number of really safe European countries with excellent tourist infrastructure in place. This means that you can backpack worry-free!
---
1. Western Europe Backpacking Route: The 'Grand Tour'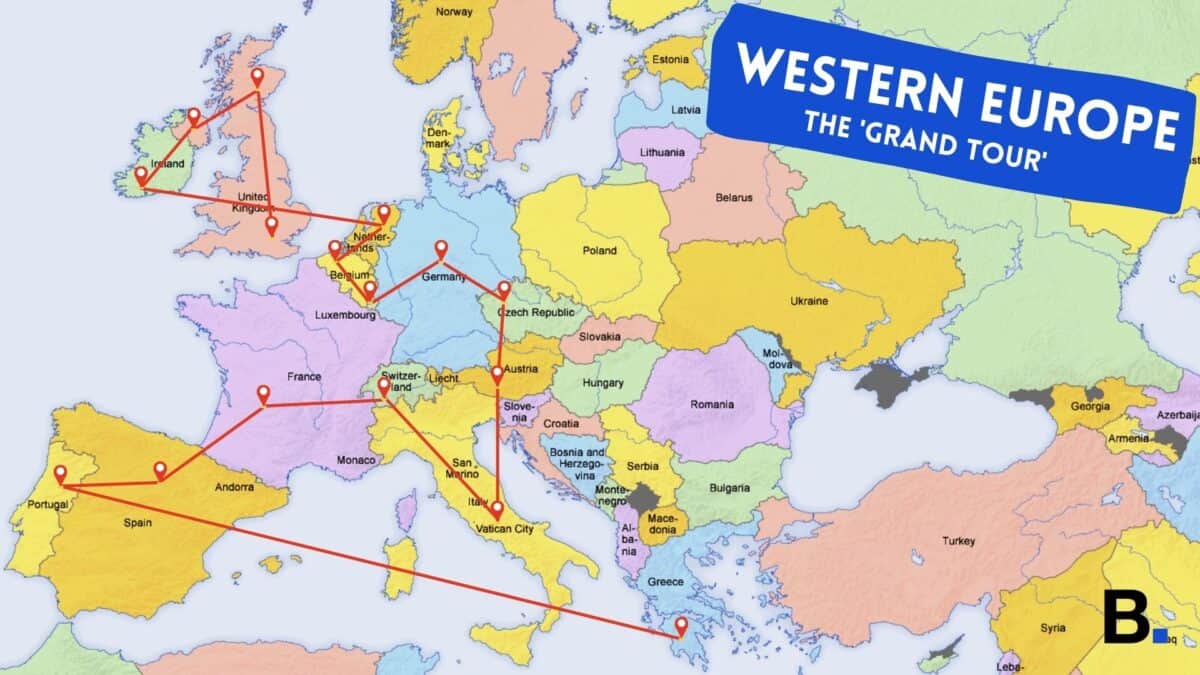 This tour starts in London because Heathrow is a great international hub for incoming flights, but we encourage you to shop around a bit and see if another city (like Paris, Frankfurt, or Amsterdam) is a cheaper place for you to start. 
England 
London is one of the world's premier cities. It's absolutely massive and would take months to explore in full. As such, it's good to prioritize based on your budget and interests. First-time visitors usually hit the following sites: 
Westminster Abbey
Buckingham Palace (the residence of the Queen) and its changing of the guard ceremony for royal enthusiasts
The Houses of Parliament
Number 10 Downing Street
The Churchill War Rooms for fans of politics
Big Ben clock tower
The (free!) British Museum
The Victoria and Albert Museum
The Tower of London (home to the Crown Jewels)
The National Gallery
Covent Garden and Neal's Yard 
Piccadilly Circus
Notting Hill for its Portobello Road Market
If you'd like to stay in England a bit longer, consider some cozy cottage time in the Cotswolds, a football match and a few pints in Liverpool or Manchester, or some seaside charm in Brighton. You can also visit famed educational institutions at Oxford and Cambridge, as well as Roman-era baths in Bath. 
Scotland
Glasgow has great art galleries, like the notable Kelvingrove Art Gallery and Museum. It's the largest city in Scotland, particularly known for an architecture style that mixes Art Nouveau and Victorian styles. 
Edinburgh, Scotland's capital, is a great student city, with all sorts of things to do. Trek up Arthur's Seat or Calton Hill, visit the Edinburgh Castle and don't forget to check out both the Old Town and New Town.
See more: Edinburgh itineraries.
Other great places to visit in Scotland include Inverness, Dundee, and of course, Loch Ness where you can go monster hunting! The Cairngorms and Glencoe have beautiful mountains for hiking, and fans of critters will love the puffins, ponies, and otters on the Shetland Islands.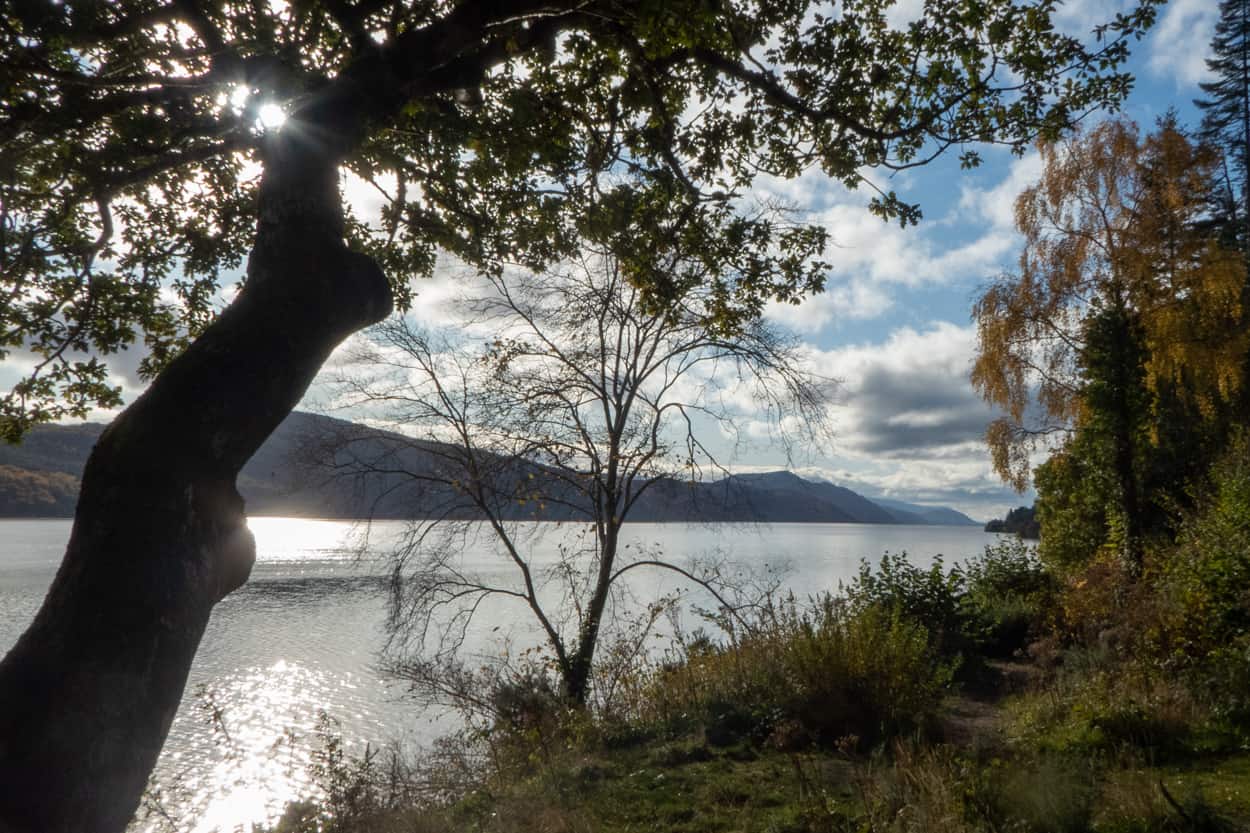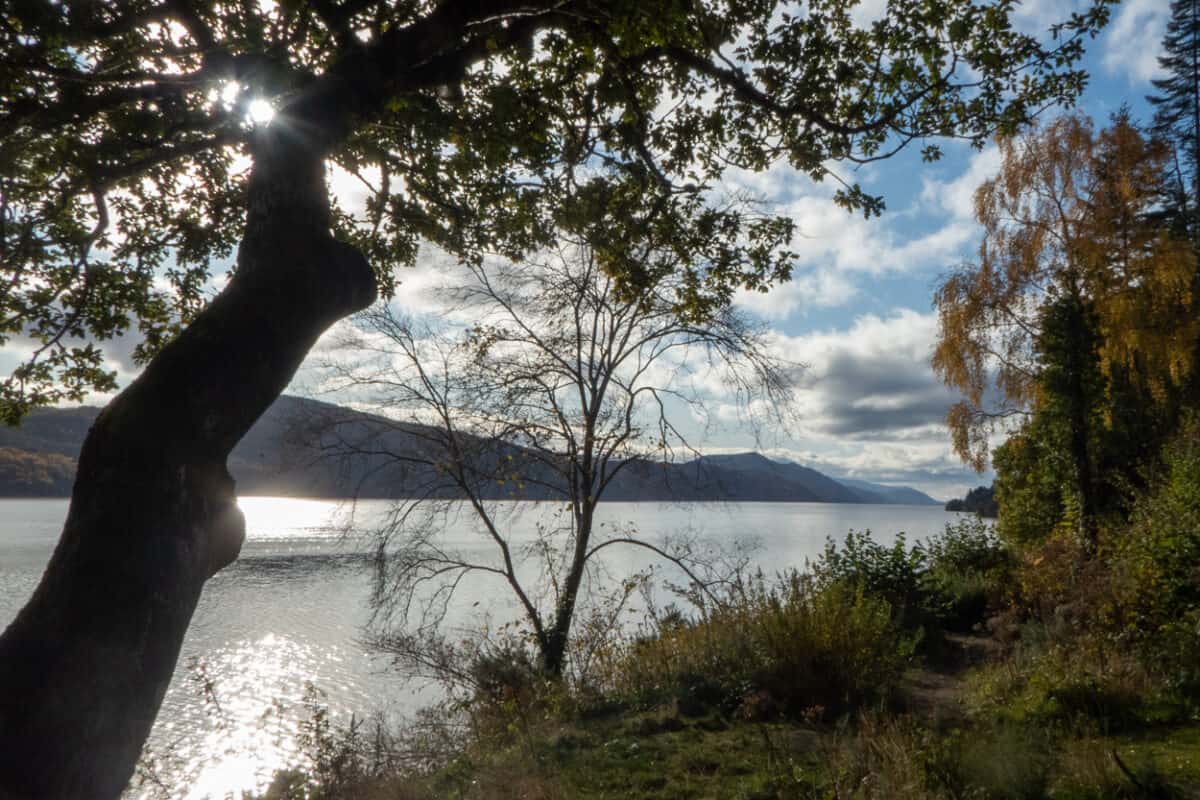 Ireland and Northern Ireland
Dublin, Ireland's capital, has castles, museums, cathedrals, universities, and of course, great pub culture in the Temple Bar area. St. Stephen's Green and Phoenix Park are beautiful emerald green spaces, and the Guinness headquarters is here as well. 
Galway is an easy day trip from Dublin by bus and is a great example of relaxed, charming Irish life. The home to the Claddagh ring, its Latin Quarter still has medieval city walls, and the city is quaint and adorable.  
Many visitors flock to the astounding Cliffs of Moher in County Clare, which offer 14 kilometers of sea cliffs along the Wild Atlantic Way.
If you'd like to spend more time in Ireland, the Aran Islands, or smaller cities or counties like Cork, Killarney, and Sligo are good options. Ireland also has fabulous nature to explore and ample national parks for hiking, swimming, and outdoor fun. 
Northern Ireland is also a destination to consider, famous for the gorgeous Giant's Causeway. A quick stop at the beautiful capital of Belfast is also highly recommended.
The Netherlands
Amsterdam is perhaps best known for its tolerant attitude towards partying, prostitution, and recreational drug use, but it's so much more than that. 
The canal area (Grachtengordel) is like stepping into the Golden Age, the museum district (home to the Rijksmuseum, van Gogh Museum, and more) is world-class, and the funkier Noord and West districts allow you more of a taste of local life. Haarlem is just 15 minutes away by train and offers much of what Amsterdam does so well (in terms of cute houses, cute canals, and cute cafes) with a lot less chaos.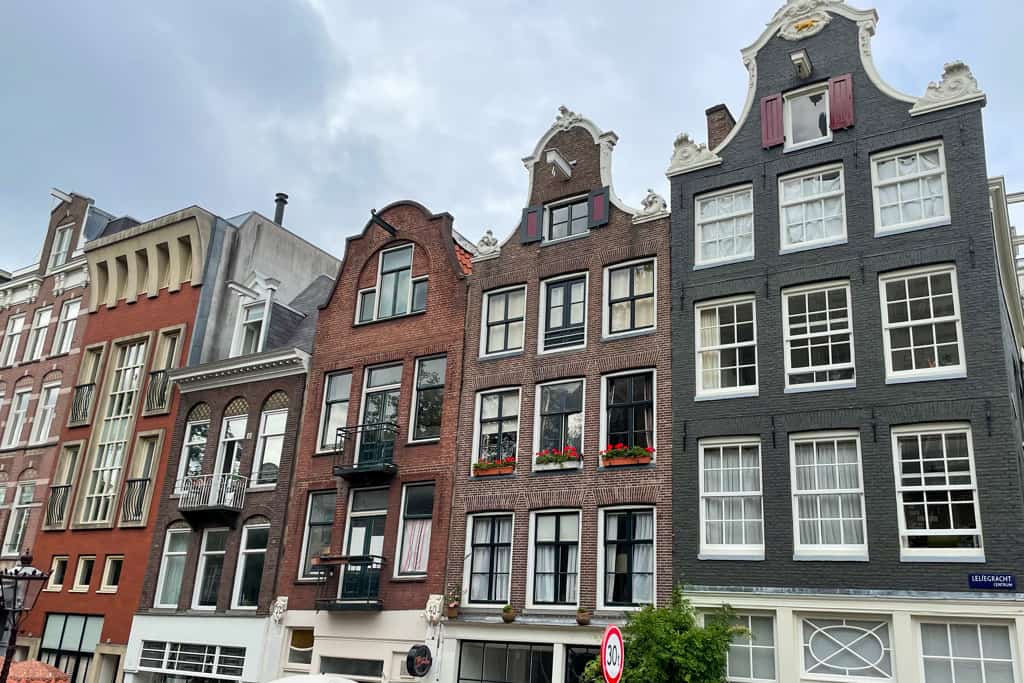 Rotterdam was bombed almost to nonexistence in World War II, so it's one of the only cities in the Netherlands that doesn't have the Golden Age architecture. Instead, it is modern and utterly cool, a stark departure from the rest of the country. 
If you're visiting in the spring, don't miss the world-famous tulips in bloom at the Keukenhof or other family-owned farms in the Lisse area. 
Other lovely day trips in the Netherlands include Giethoorn, called the 'Venice of the Netherlands' for its extensive canal system; the cheese market in Alkmaar; the collection of windmills in Zaanse Schans; Utrecht, a quaint college town with 'double-decker' canals; the hub of human rights in The Hague; pottery and history in Delft; or the North Frisian Islands on the Wadden Sea for super-cool seascapes and sand dunes, namely Texel. 
Belgium
The capital of Belgium, Brussels has a chic and cosmopolitan vibe. You can't miss the Grand Place with its stunning guildhalls, as well as the Town Hall. Belgians are also well-known for fries and waffles, treats to indulge in on any visit!  
History enthusiasts will enjoy visiting the historic diamond district in Antwerp, as well as the Ardennes, the site of the Battle of the Bulge in World War II. For your dose of medieval charm, check out Ghent or Bruges, which aren't too far from Brussels.
Luxembourg
Luxembourg is a great day trip if you're passing through en route to France or Germany. It has medieval fortifications, a cute old town called the Grund, and a fascinating interconnected tunnel network called the Bock Casemates. You can see the city from above from the Chemin de la Corniche viewpoint. 
If you'd like to stay longer, other cute cities include Clervaux, the medieval castle in Vianden, and the historic abbey at Echternach.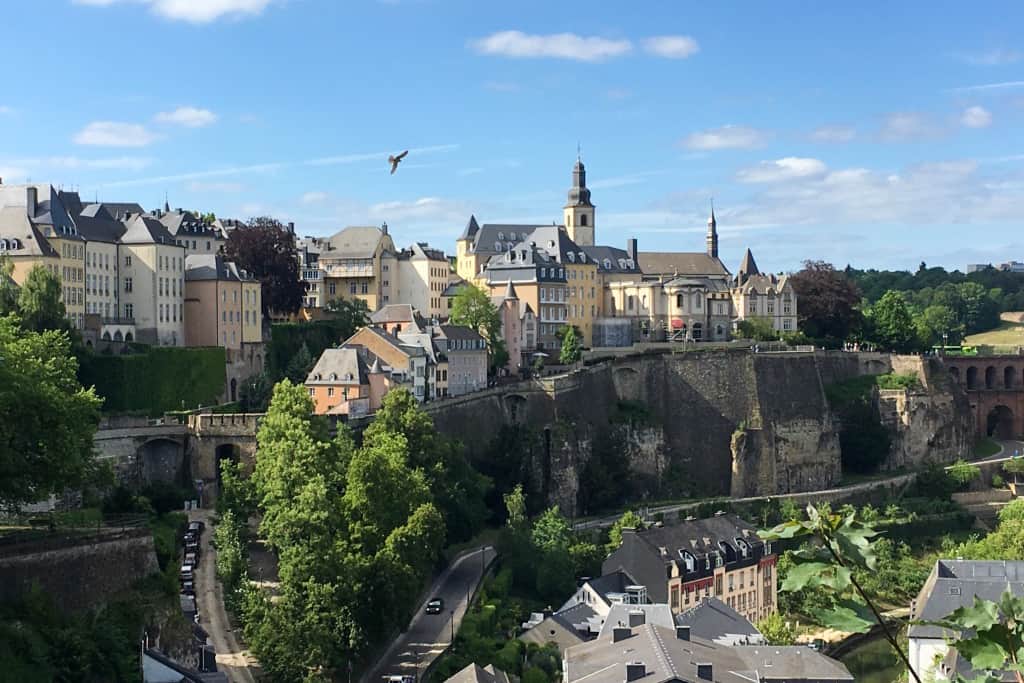 Germany
Berlin has fantastic clubs and nightlife, a wide range of museums on Museum Island, and a variety of historical monuments, including the Brandenburg Gate and the Memorial to the Murdered Jews of Europe. 
It has a very different vibe to other German and European cities, much grittier and more modern, and is also quite budget-friendly. Close by on the metro, visit Potsdam for your dose of royal life, with its beautiful Sanssouci Palace and park. 
Munich is a popular destination for tourists, and for good reason. Bavarian culture is perhaps what most foreigners associate with Germany, and you can have your fill of beers, pretzels, and German pub culture here. While away an afternoon at the English Garden, and don't miss the Nymphenburg Palace and Gardens.
Frankfurt is a banking capital and financial center, as well as being the home of the European Central Bank. It also has a lot to offer tourists in terms of museums and culture. Note that this may be a good hub to fly into, as it is home to one of Europe's largest airports.
As you can see on a map, Germany is quite large! If you like German culture or want to brush up on your German language skills, this is a great place to spend some extra time if you have it. 
Other popular cities in Germany include Hamburg, Düsseldorf, Stuttgart, Nuremberg, Heidelberg, and Hanover. Baden Baden and Freiburg in the Black Forest are beautiful as well, and there are myriad quaint small towns in the countryside to enjoy. 
Czech Republic
Prague is nicknamed 'the City of a Hundred Spires,' due to its baroque Old Town and surrounding Gothic churches. While a relatively small city, it's one of the most popular tourist destinations due to its quaint and compact center. Don't miss the Astronomical Clock show and the iconic Charles Bridge, which dates back to the 1400s.
Český Krumlov is best known for its castle and mix of baroque, Renaissance, and Gothic styles. For more modernist architecture, check out Brno. If you'd like to visit the home of one of the world's most popular beers, check out Pilsen.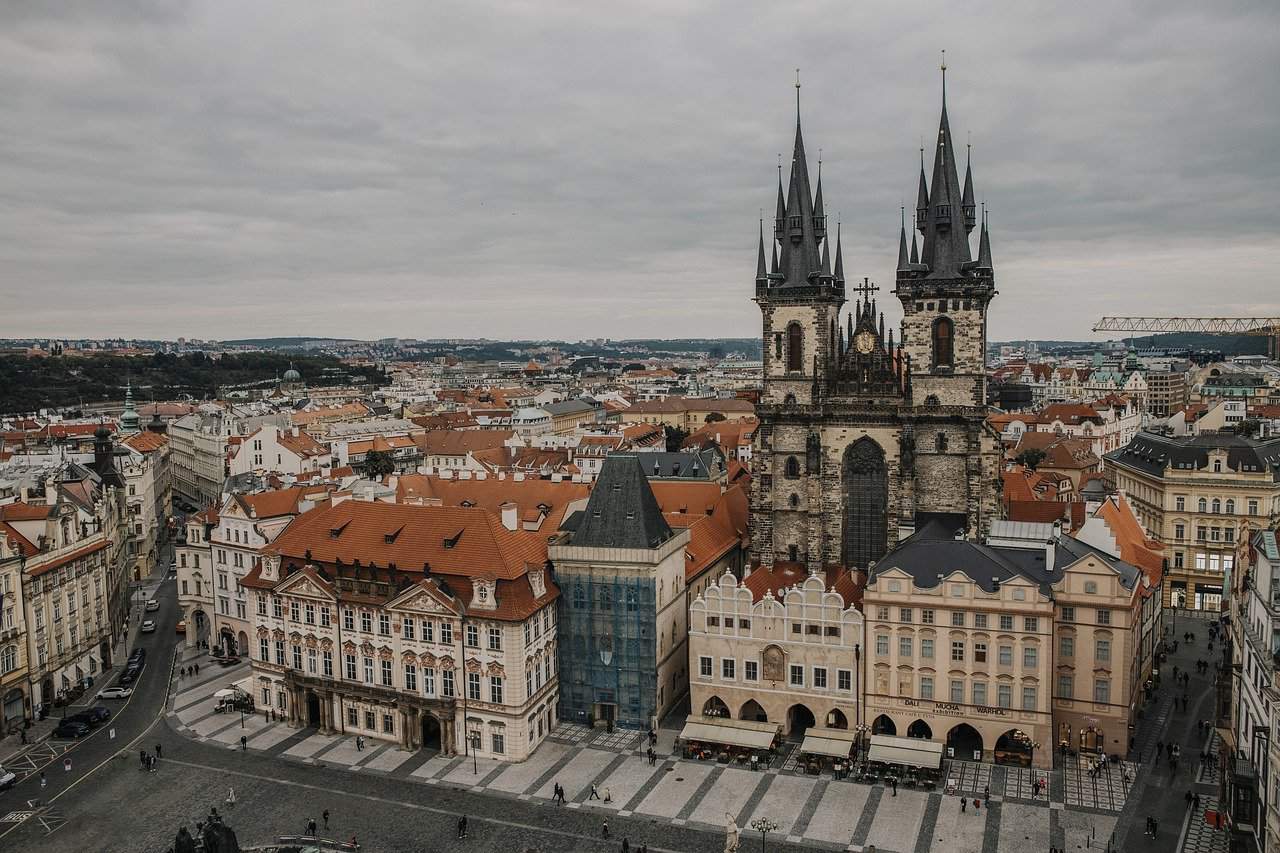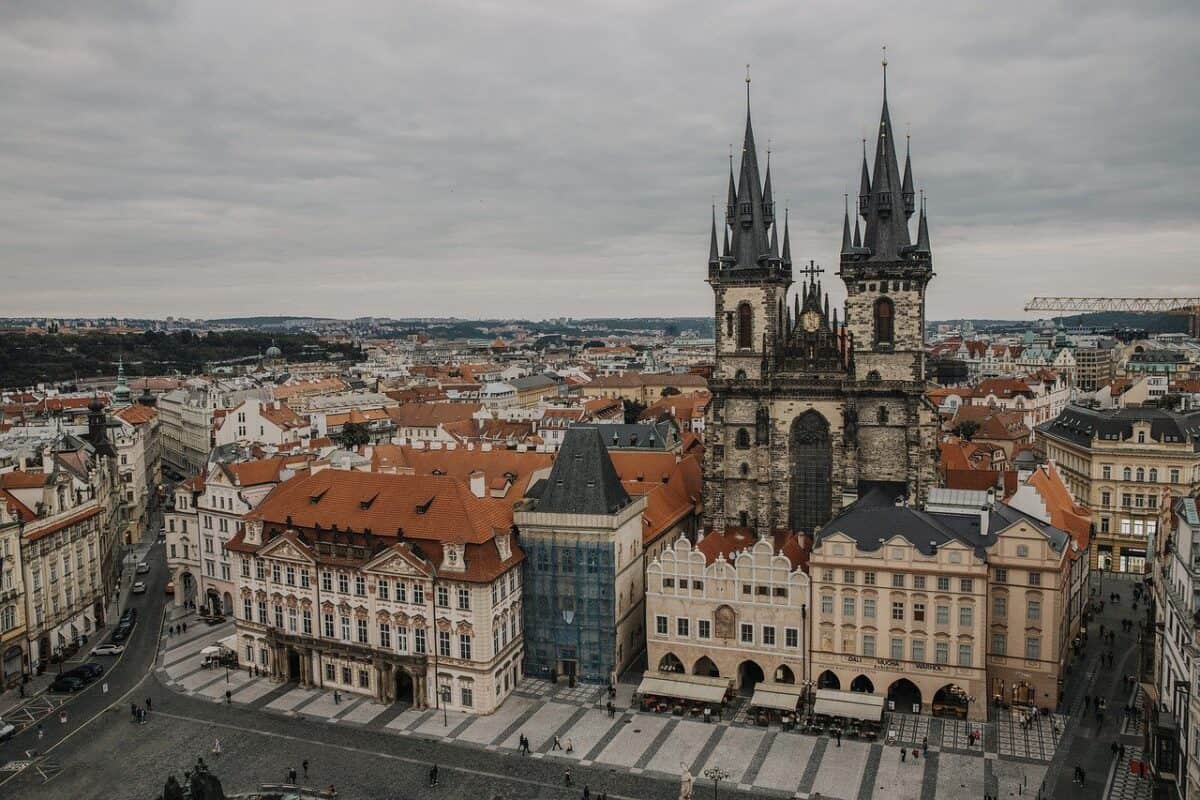 Austria
Vienna is another historical heavyweight, with loads of cultural contributions and museums. It is very calm and quiet for a large city, and you'll enjoy strolling through its parks and gardens, including the Hapsburg summer residence at Schönbrunn.
Salzburg packs quite a punch for a small town. While perhaps most famous as the setting for the iconic film The Sound of Music, it is also the birthplace of Mozart and has a fantastic medieval fortification called the Hohensalzburg Fortress. Don't miss the great vegan food available here!
Fans of winter sports will enjoy skiing at Soelden, Saalbach, and Lech, in addition to the winter dreamland at Innsbruck. Many visitors also flock to Hallstatt for the classic view of the church reflected on the water. 
Italy
Milan is one of the world's fashion capitals and home to the Duomo of Milan, one of the world's most iconic churches. Nearby Lake Como is a haunt of the rich and famous during the summer months, but is lovely off-season as well (and cheaper!)
Rome is a must-stop on any European backpacking route, for fantastic cuisine, awe-inspiring history, and beautiful fountains. Don't miss the Colosseum, the Roman Forum, and the Pantheon for history, and the Trevi Fountain, Piazza Navona, and Spanish Steps for iconic photo opportunities. St. Peter's Square and Basilica are iconic Catholic sites, and the Vatican Museums hold many treasures. 
Venice is a one-of-a-kind place, built exclusively on canals. The Doge's Palace, St. Mark's Basilica (and its resident pigeons), and yearly Carnival celebrations attract a lot of visitors, and you can't miss the Grand Canal and Rialto Bridge. Keep in mind it gets very muggy (sometimes stinky) and crowded in the summertime.
Florence, San Gimignano, Lucca, Siena, and broader Tuscany are in a class all their own, with rolling countryside, Renaissance icons like Michelangelo's David and the Duomo cathedral, and wonderful cuisine and wine. A quick pit stop in Pisa to see its iconic Leaning Tower is never a bad idea while you're in the area.
In the south, check out Naples, Sorrento, and the Amalfi Coast for a bit of a seaside escape. Neapolitan pizza is arguably the world's most famous and originated here. Nearby Pompeii is quite a sight to behold, totally buried under the eruption of Mt. Vesuvius in 79 AD. Alternatively, consider Cinque Terre for a similar vibe to the Amalfi Coast. 
There are countless things to do in Italy, and it may be best to prioritize based on what you like best – history, the outdoors, the coast, etc. as well as your budget. While cities like Rome, Florence, and Venice are considered must-sees, customize the rest of your time in Italy with a mix of other things.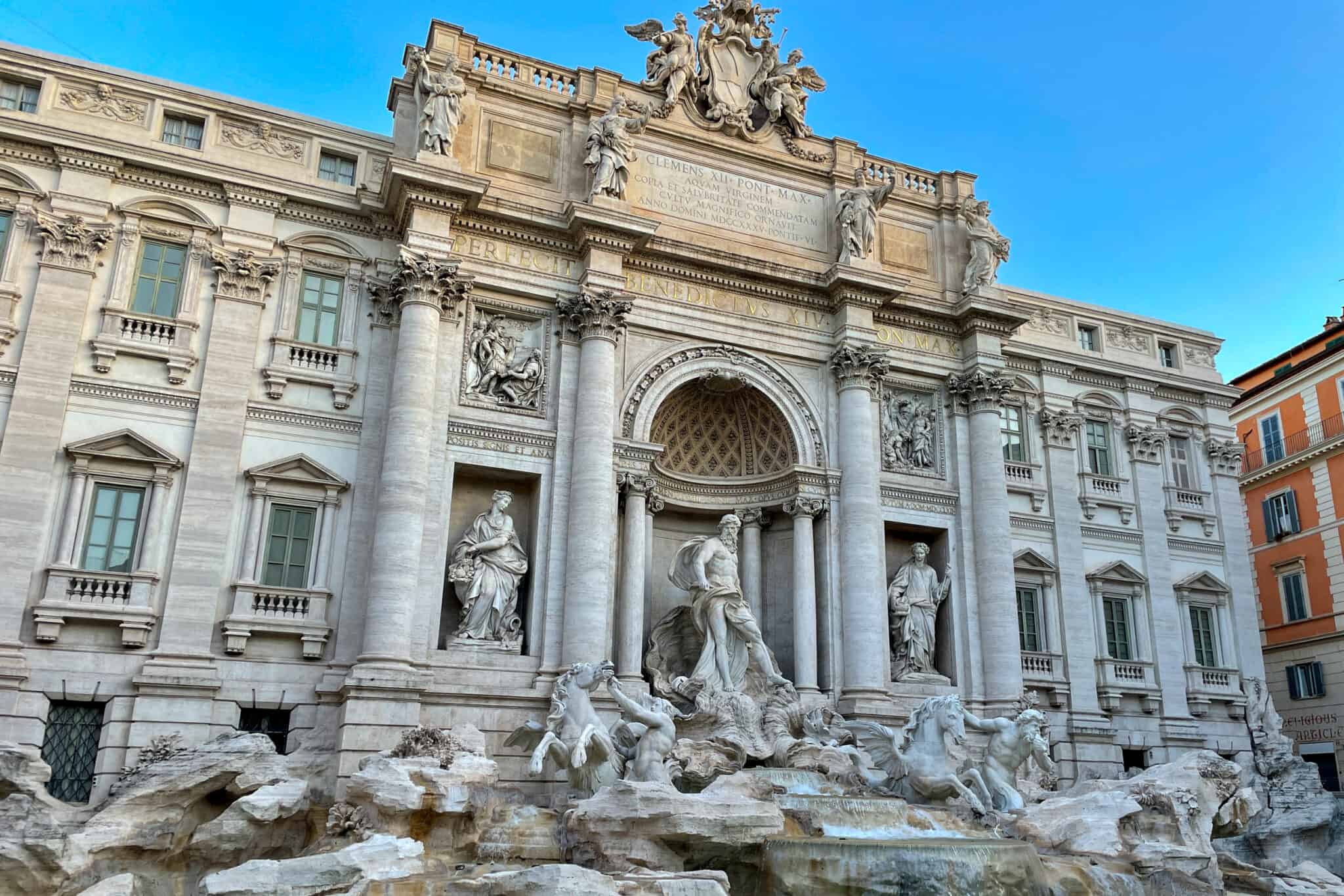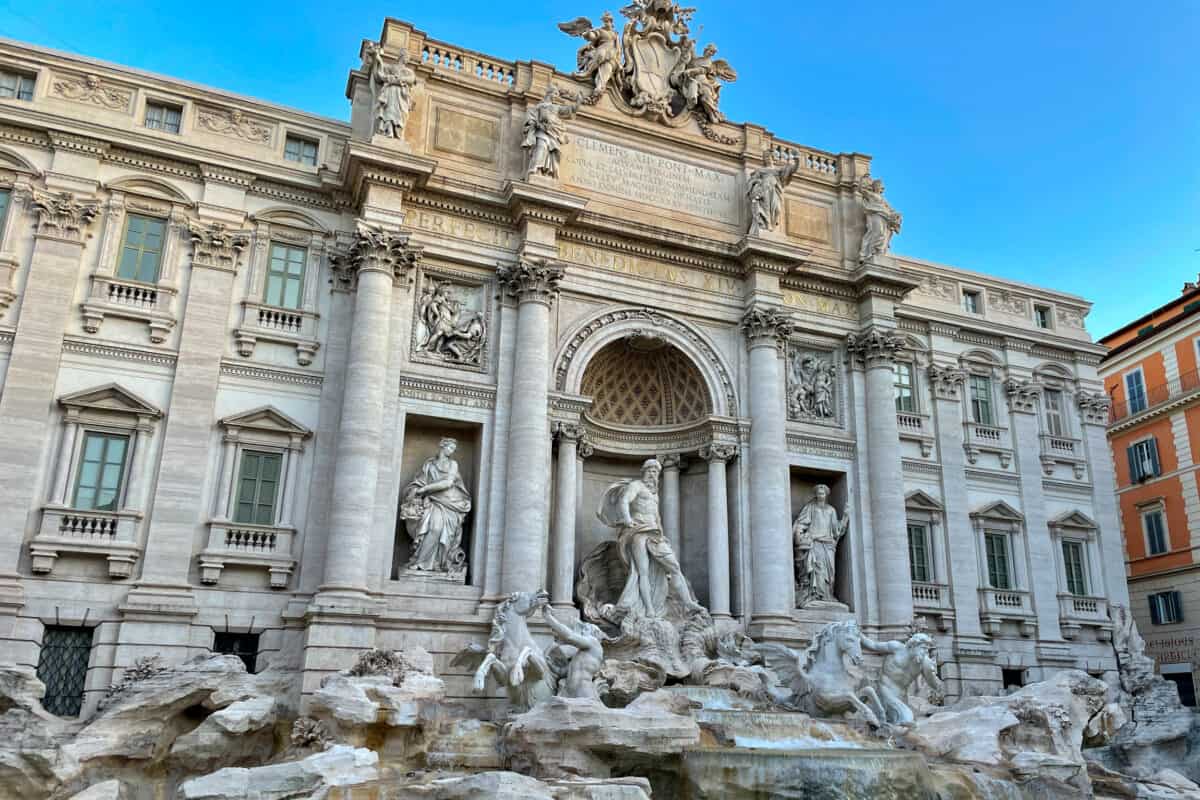 Landscapes, cultural contributions, weather, and dialects vary hugely depending on where you are, and you'll want to get a good mix in order to make the most of your trip. In general, southern Italy is much cheaper than northern Italy. 
Switzerland
Switzerland is a very pricey location, and as such, may be a country to skip unless you have your heart set on certain destinations. Geneva and Zurich are its most popular destinations, for beautiful lake views and glamorous city life. Its smaller cities, like Basel, Lucerne, and Lausanne are lovely as well, with Interlaken a hub for winter sports fans.
France
Paris is another of the must-sees on any Europe backpacking itinerary. Similarly to London or Rome, you could spend months in Paris easily, so it's important to prioritize based on your budget and preferences. Don't forget, there are plenty of free things to do in Paris too!
Alongside its most popular attractions like the Eiffel Tower, the Louvre, the Arc de Triomphe, and the Notre-Dame Cathedral, don't miss Sacre Coeur and the Moulin Rouge in the iconic Montmartre neighborhood; the Latin Quarter; shopping (or window-shopping) along the Champs-Elysées; the Luxembourg and Tuileries gardens; and its variety of other museums, like the d'Orsay, the Orangerie, and the Pompidou. 
Versailles is an easy day trip from Paris as well. If you're spending a lot of time in museums, consider buying a museum pass. It includes a surprising wealth of museums, and if you plan accordingly it will save you a lot of money. 
To get out of the big city, consider spending some time in Provence on the Cote d'Azur or Nice on the French Riviera. Both are fairly posh locales, but possible to do on a budget with some planning. 
Wine fans can flock to Burgundy or Bordeaux, and film aficionados to Cannes. The beaches at Normandy are a sobering and reflective place, and in the intriguing Alsace-Lorraine region, don't miss the half-timbered houses in quaint Strasbourg, Kaysersberg, or Colmar. 
Spain
Madrid is a hub of culture, from the amazing art museum El Prado to its wide boulevards and romantic Buen Retiro park. You can also check out the Royal Palace, home to Spain's royal family, the main square in Plaza Mayor, or catch a Real Madrid game at Santiago Bernabéu Stadium. Don't miss the delicious 'Chocolate y Churros' at the San Miguel Market. 
Barcelona, the capital of the semi-autonomous Catalonia region, is home to whimsical architecture from native sons Gaudí and Miró, like the Park Guell, Casa Batlló, and Sagrada Familia church. Another church you shouldn't miss is the iconic Cathedral of the Sea or Maria del Mar. The famous shopping area La Rambla is home to Mercado de la Boqueria, where you can get lots of fresh juices and other goodies. 
Sevilla is a regal place, boasting the sprawling Plaza de España, a massive gothic cathedral, and Royal Alcázar palace. The former Moorish presence is quite felt here in converted architecture like La Giralda, a former minaret-turned belltower. Sevilla is also the birthplace of flamenco dancing, so be sure to catch that while you're in town. 
Overall, the south of Spain is a particularly wonderful part of the country, with a relaxed vibe, amazing cuisine, and the bonus of being a bit more budget-friendly.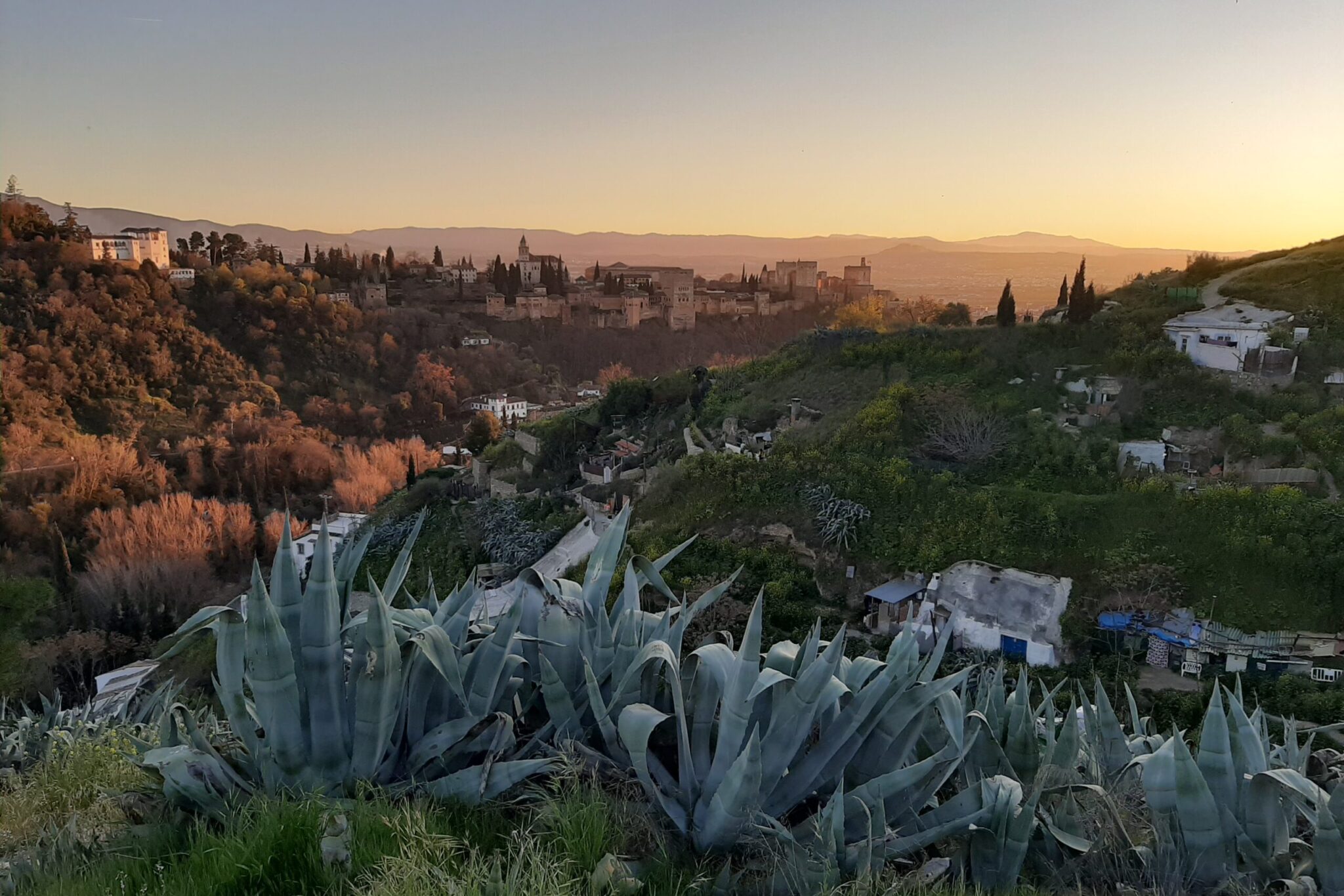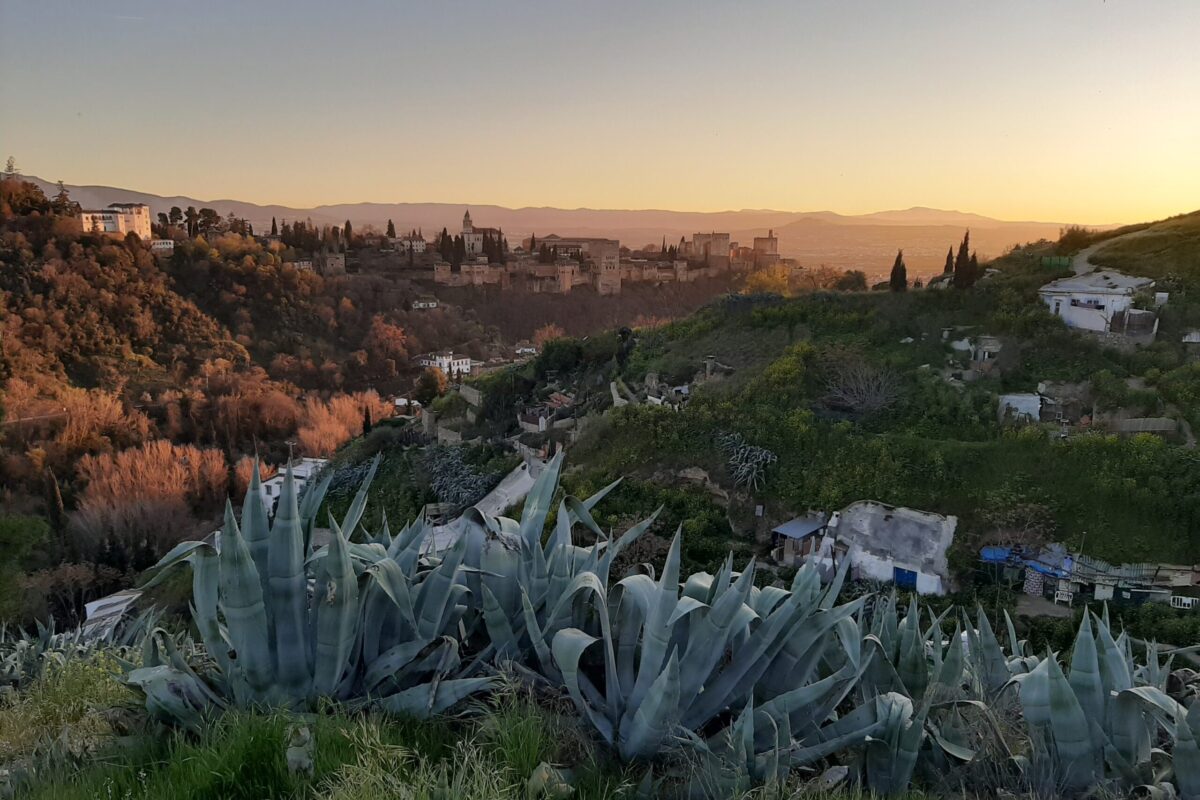 Check out Valencia, Córdoba, Granada, Ronda, and Málaga for sunshine, citrus fruit, and stunning historical sites like the Mezquita in Córdoba and the Alhambra in Granada. 
For something different, consider spending some time in Bilbao and San Sebastián in the Basque Country, beautiful and modern cities with museums and skyscrapers. Relatedly, one of Europe's most popular hikes is in this area: the Camino de Santiago. While formerly a religious pilgrimage, many people undertake this journey for non-religious reasons. There are places to stay each night and you can walk anywhere from a day to several weeks. 
If you're seeking a beach-and-partying break, the beaches in the Canary Islands or the Balearics, like Ibiza, Tenerife, and Majorca. can't be beaten. Keep in mind transport and lodging can get very pricey in the wintertime, as these boast some of the warmest temperatures in the region. 
Portugal
Lisbon is a fantastic budget destination, with great weather, delicious cuisine, and a laid-back vibe. The iconic yellow streetcars are a quaint way to travel, or you can trek up the hills to the breathtaking São Jorge Castle for sweeping city views. Don't miss the lovely azulejo tiles adorning the buildings, and the cool fortifications at Belem Tower and Jerónimos Monastery.   
Close to Lisbon, don't miss the unbelievable castle and gardens at Sintra. Porto has a cute, cobblestoned medieval district and (of course) fantastic port, and Faro boasts Moorish walls and a great gateway to the rest of the beautiful Algarve region. 
Greece
Athens is a vibrant 'old-meets-new' place, boasting ancient relics like the Acropolis complex and the Parthenon, amid a great food scene, parks, and gardens.
The Greek Islands are a really special destination suitable for all sorts of backpackers. Party animals will love Mykonos, while Santorini's white-and-blue buildings are a common bucket-list destination. Milos and Paros are a bit more off-the-beaten-path, and Crete is quite large, perhaps giving you more bang for your buck. Keep in mind the Greek Islands are not often a budget destination, so if you're traveling shoestring consider planning ahead and comparing transportation options.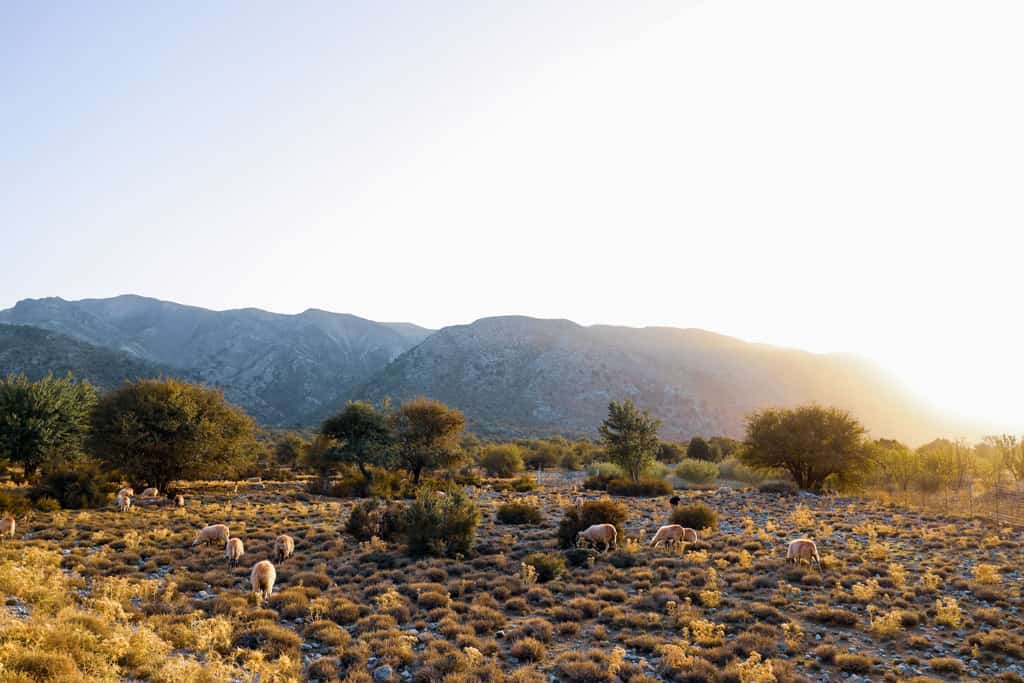 ---
2. Southern Europe Backpacking Route: The 'History Buff'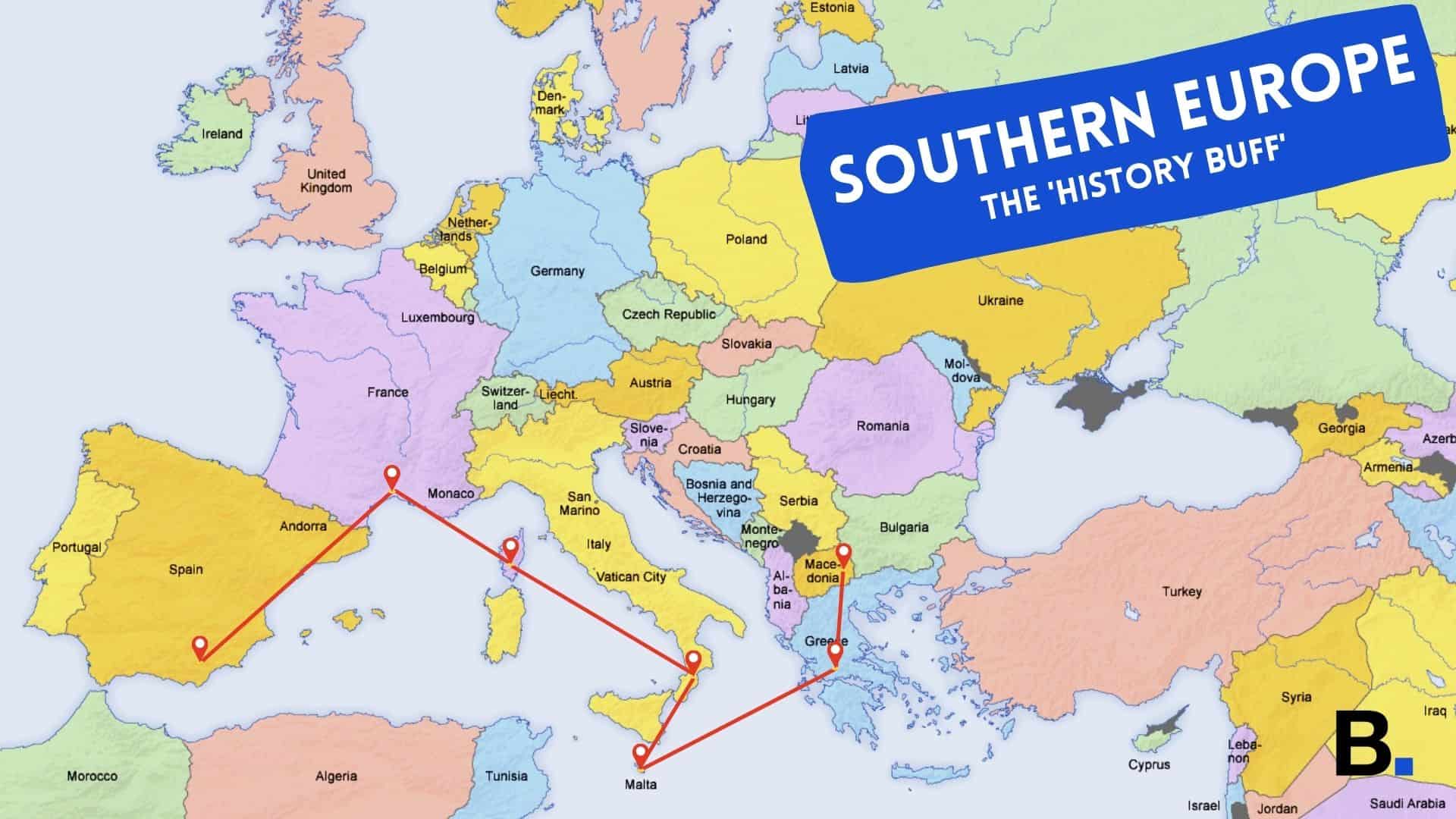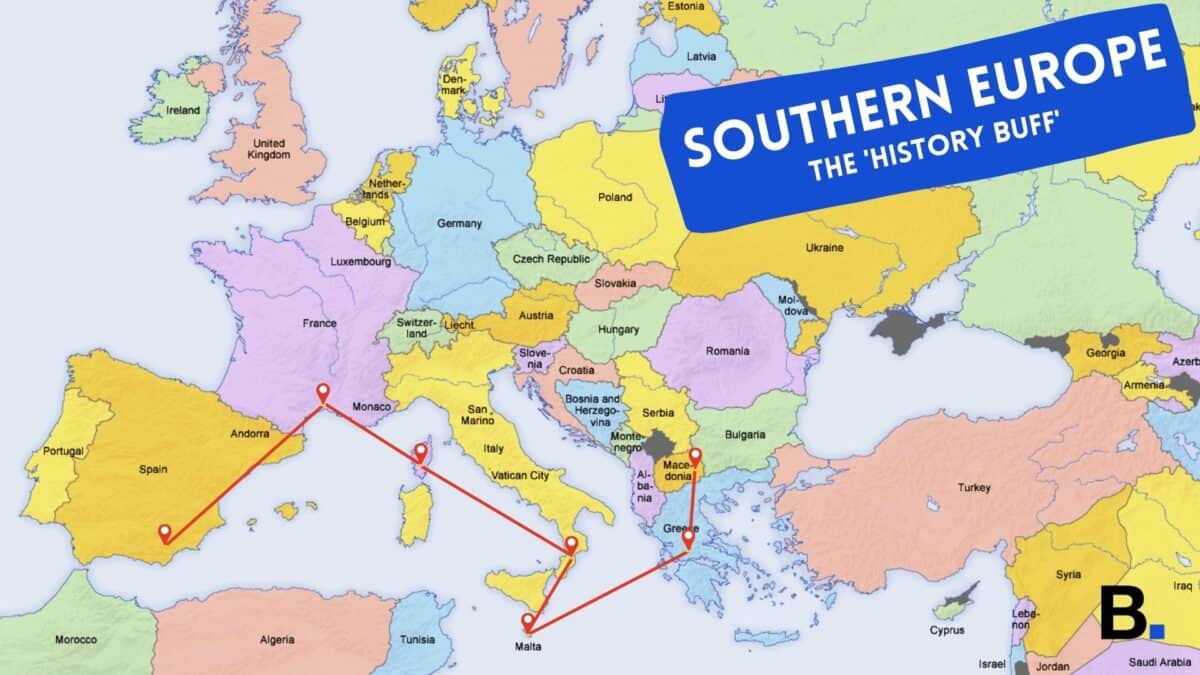 History buffs will love Southern Europe for its jaw-dropping array of ancient ruins, medieval fortifications, art, and beyond. 
Spain
Southern Spain has a wealth of historical attractions. In Andalucía alone you have the  Mezquita in Córdoba, the Alcazaba in Málaga, the Real Alcazar in Sevilla, the Alhambra in Granada, and Baños Árabes and Puente Nuevo in Ronda. Outside of Andalucía, Tarragona has a Roman Amphitheare, and Cádiz has the Castillo de Santa Ana, as well as a storied naval history.
France
Southern France has Roman history, Gallic history, papal history, and beyond, with innumerable sites to check out. Visit the iconic double-walled medieval fortifications in Carcassonne; canals and chateaus in Annecy; scenes of papal intrigue in Avignon and Orange; the site of a 2nd-century fortified town in Uzès; the 'red city' of Albi; Roman ruins in Nîmes; and The Calanques from the fortifications of Cassis. 
Larger cities in southern France are chock-full of history as well. Arles is one of the oldest cities in France and pre-dates the Romans. Marseilles was originally founded by the Greeks and is thought to be the oldest city in France. Toulouse changed hands from the Visigoths to the Merovingian and Carolingian Franks, originally known as Tolosa in Roman times.
Check out the Bonifacio Citadel and Citadelle de Calvi, as well as Napoleon's birthplace in Corsica (part of France.)
Italy
Italy has a wealth of historical attractions, and not just in Rome. After you've seen the Colosseum, the Appian Way, the Forum, and beyond in Rome, be sure to check out some sites in the rest of the country.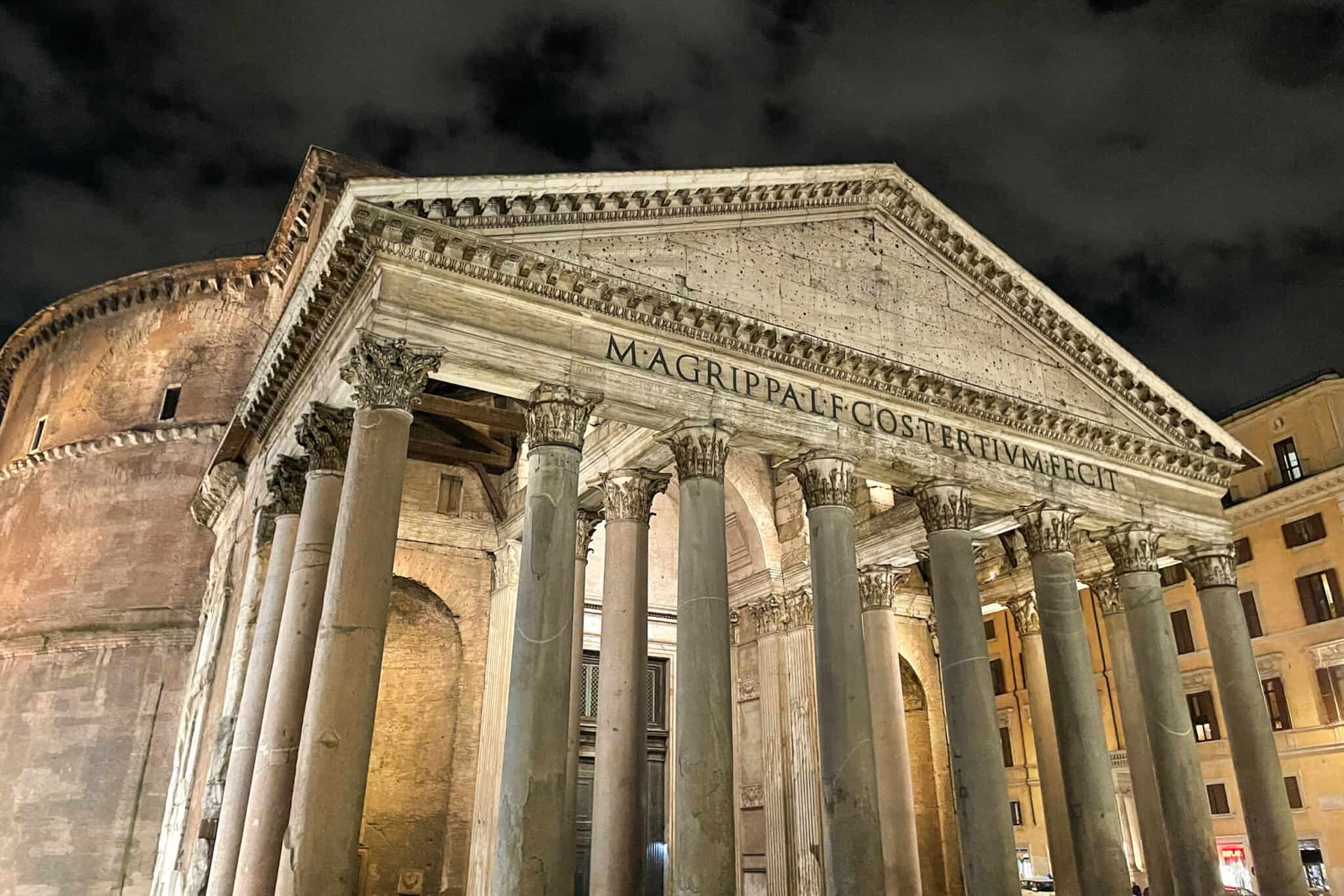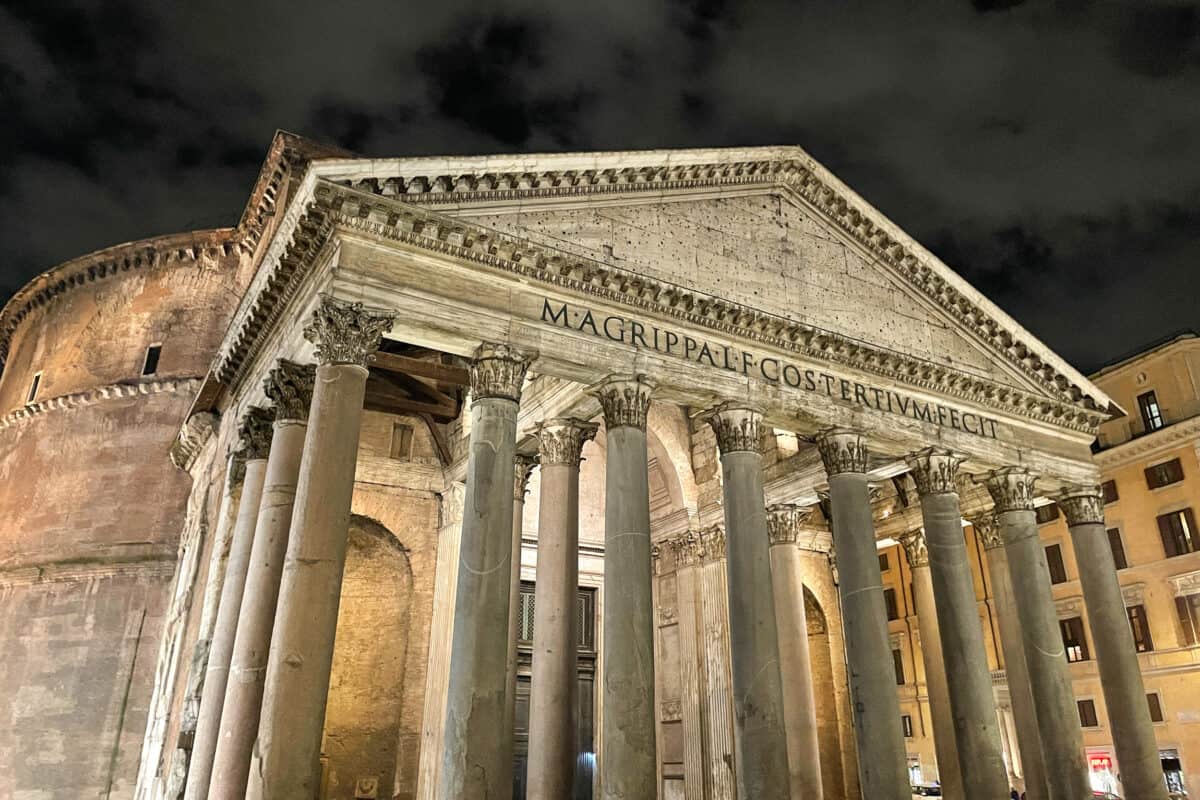 In southern Italy, check out the scene of the volcanic eruption at Pompeii and Herculaneum, lovingly-preserved Doric-style temples at Paestum; ancient cave dwellings at Matera; and intriguing stone huts in Alberobello. For Napoleon buffs, you can also visit Elba, where he was exiled in 1814.
Sicily has a wealth of ancient sites and offers a great bang for your buck for a Euro backpacking trip. Agrigento is famous for its Valley of the Temples, and the Villa Romana del Casale outside Piazza Armerina boasts one of the most complete mosaics collections in existence today. 
Siracusa and nearby Ortigia Island also have large complexes of ruins in excellent conditions, well worth at least a day or two to explore. For other standalone sites on the island, consider the Tempio di Segesta in Trapani, the Cathedral in Palermo; the Necropolis of Pantalica; and Taormina's Greek theater.
Malta
UNESCO describes Valletta, Malta as "one of the most concentrated historical areas in the world." Established by the Knights of St. John, a Catholic order, Valletta has fabulous gardens, churches, and fortifications dating back to the 1500s. Even older than Valletta is Mdina, the capital of Malta before the arrival of the Knights.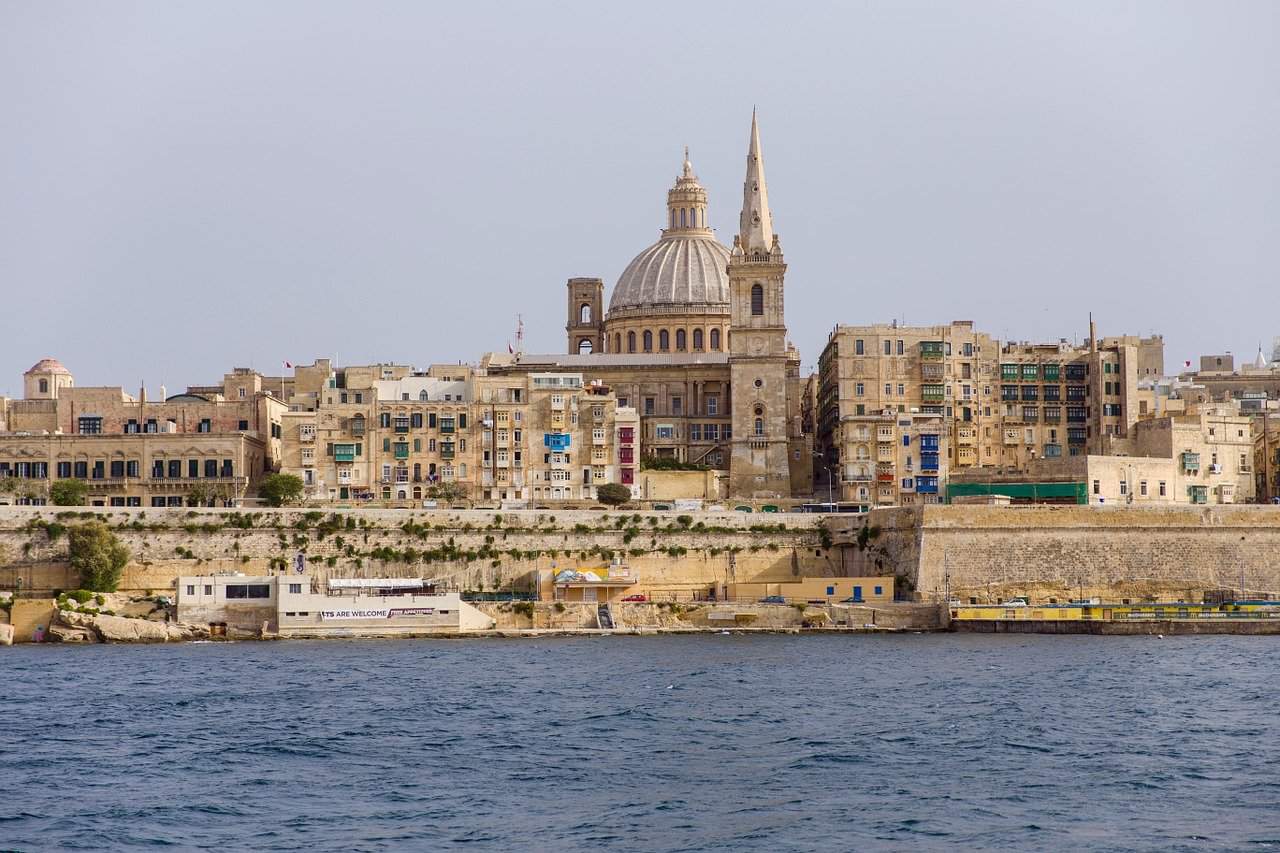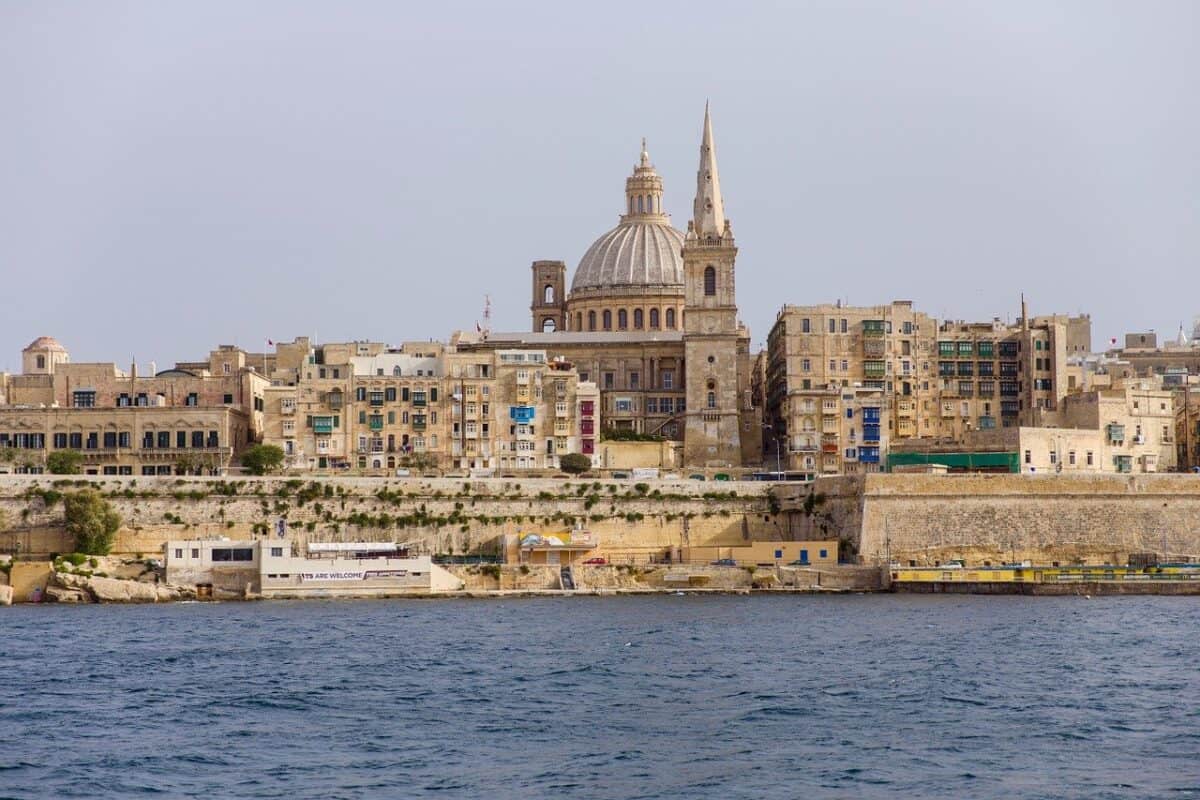 Greece
It goes without saying that a large draw of Greece is its historical offerings, similarly to Italy. As mentioned in the itinerary above, you can't miss the Acropolis and Parthenon complex in Athens, and the country is littered with other ancient sites of interest. 
A small selection of your endless historical options include:
Byzantine frescoes in Mystras
The Oracle at Delphi
Eastern Orthodox monasteries atop spindly rock formations in Meteora
The site of the original Olympic Games at Olympia
The canals at Corinth
The world's oldest city in Knossos, Crete
The Ancient Theatre at the Sanctuary of Asclepius in Epidaurus
The Mycenae archaeological site of Trojan War fame
Delos, the birthplace of Apollo 
The remains of the walled city of Philippi
The site of the Battle of Thermopylae
North Macedonia
Similar to Greece, North Macedonia has much to offer the history buff. The area around Skopje offers fortresses, bridges, and a market dating back to the 12th century. There is also a Byzantine fortified town at Bargala, the 'Jerusalem of the Baltics' in Ohrid, the archaeological site of Tauresium in Gradište, and another fabulous fortress in Isar.
---
3. Eastern Europe Backpacking Route: The 'Budget Maximizer'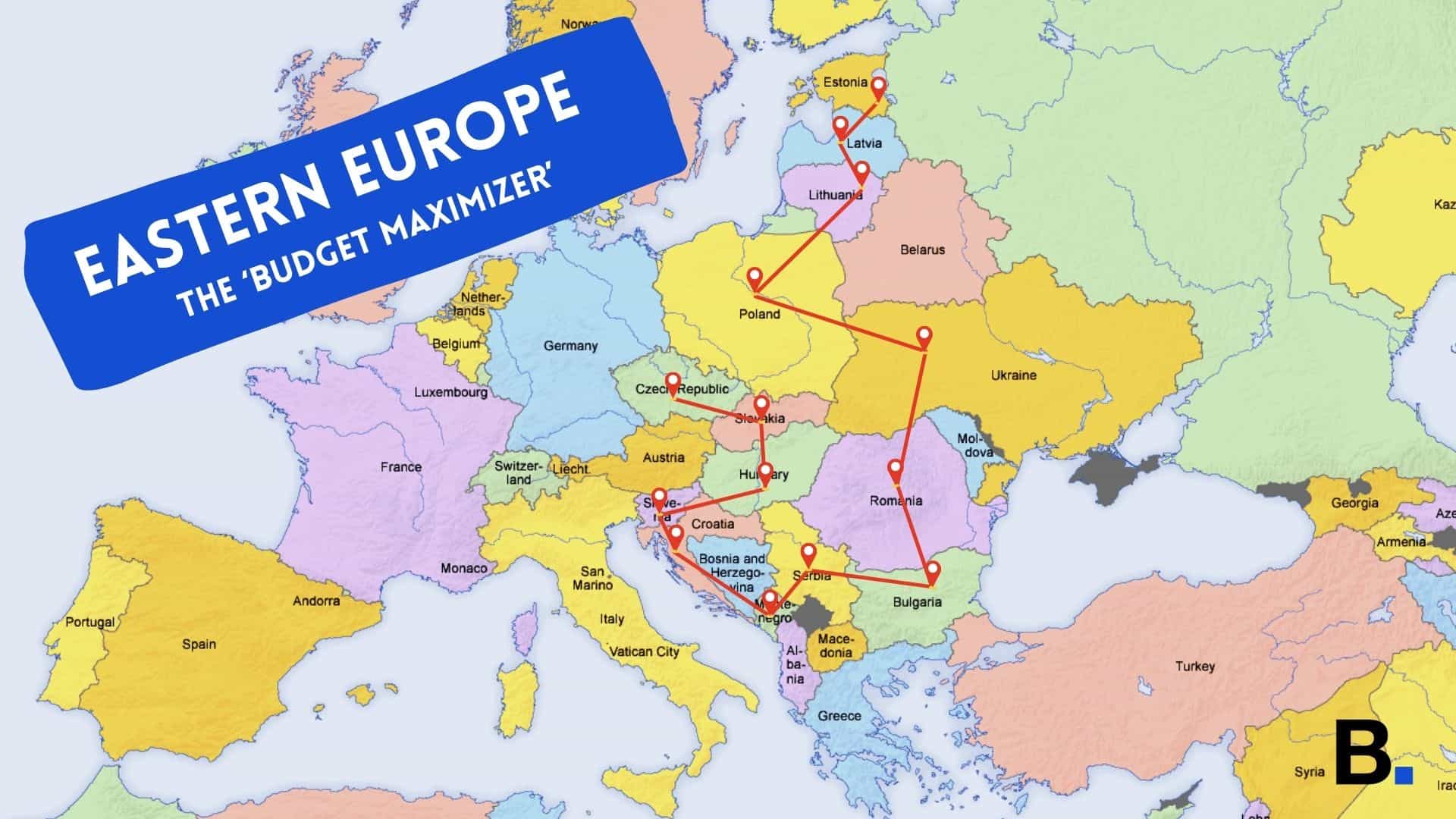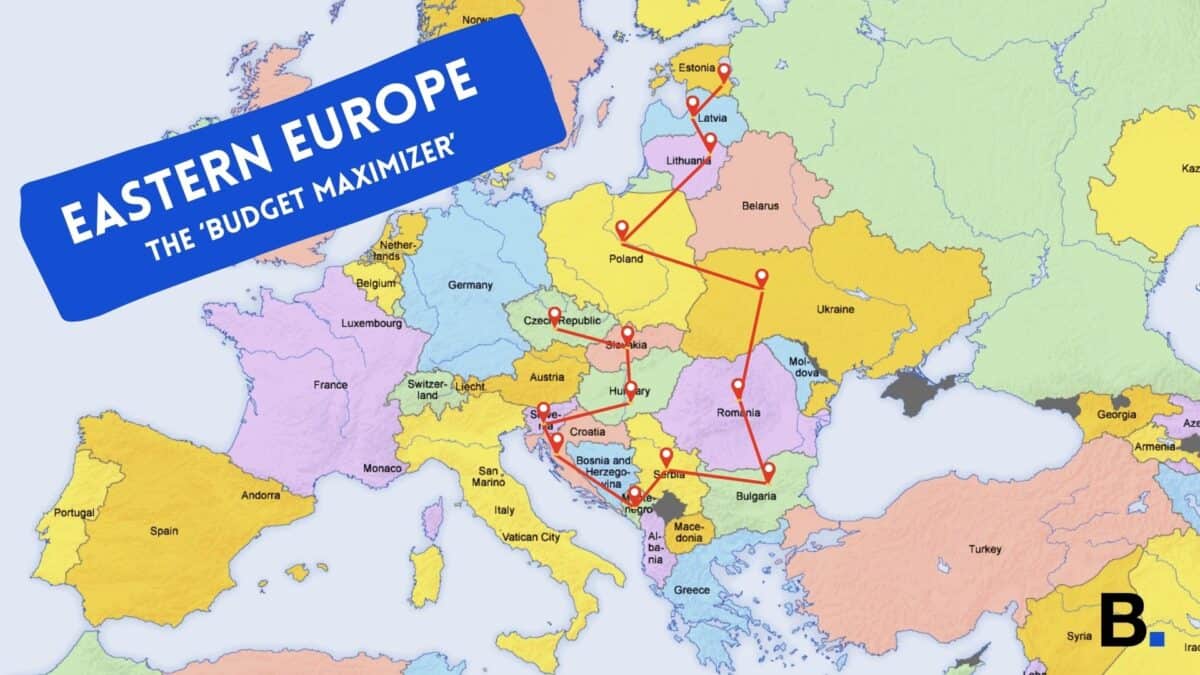 Eastern Europe is known for being a budget-friendly destination, and this is definitely true. The region is also chock-full of amazing cities, nature, and things to do and explore so it's a win-win for aspiring backpackers! 
Czech Republic
You can start this tour in the Czech Republic, flying into Prague and following the Grand Tour itinerary for Prague, Český Krumlov, Brno, and beyond. From there, head to Slovakia! 
Slovakia
Slovakia has the most castles per capita in Europe, and its capital of Bratislava has a charming old town that is pedestrian-only, lined with cute shops and restaurants. In addition to its castle and castle ruins, it also has majestic churches in different styles.
Košice dates back to the 13th century, and you can still visit the medieval city walls, with the largest preserved historic city center in Slovakia. Today, it is mainly known for steel production, but its historic center is arguably the best in the country. 
For some nature, go bear-watching in the High Tatras National Park or hiking in the aptly-named Slovak Paradise National Park.
Hungary
Hungary is also a great alternative in which to start this Europe backpacking route, flying into the large hub of Budapest. Budapest is an absolutely fantastic city, with a variety of attractions at a great price point. 
The city is on a geographic fault line, so you have lots of options for thermal baths: check out Instagram-hyped Szechenyi, avoid the tourists at less popular but equally gorgeous Gellert, or have a truly local experience at Lukacs. 
Don't miss the jaw-dropping Hungarian Parliament building, stroll along the Fisherman's Bastion and Matthias Church, and explore both Buda and Pest via the Széchenyi Chain Bridge. Have a beer at one of Budapest's ruin bars, filled with all sorts of oddities, and try some Hungarian goodies at the Central Market Hall. 
For a less urban experience, check out serene Lake Balaton, try some local wines in caves in the Valley of the Beautiful Women in Eger, or cycle around quaint Szentendre.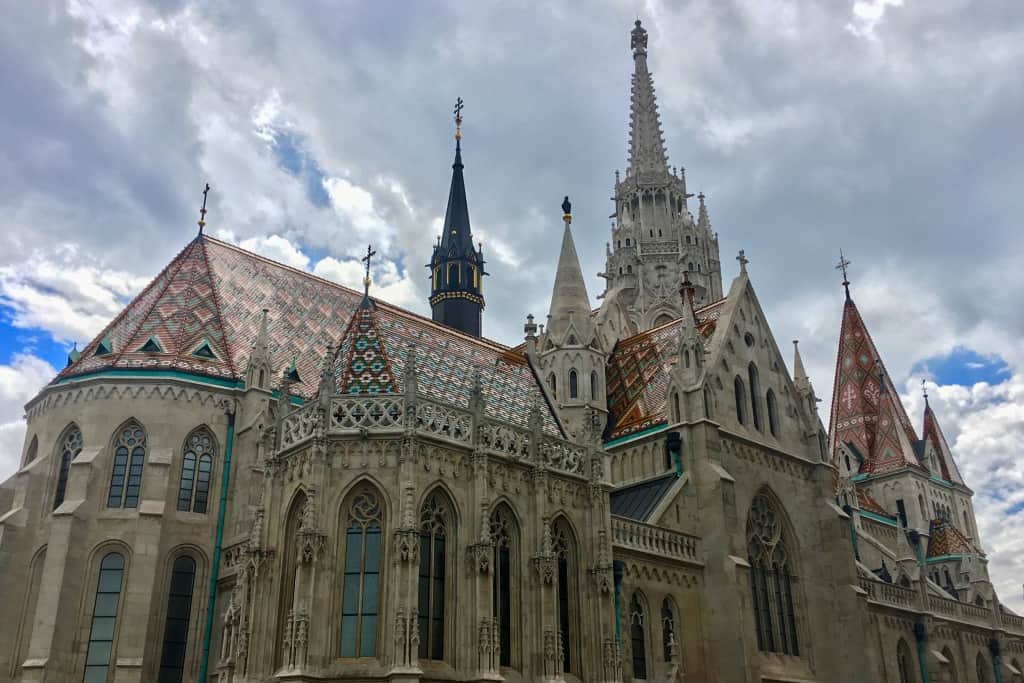 Slovenia
Slovenia is also a great destination for those seeking a mix of smaller, beautiful cities and lots of nature opportunities. Capital Ljubljana has a similar vibe to Prague and Budapest (with lovely castles, parks, bridges, and museums), and Piran is famous for Venetian architecture along the Adriatic coast. 
Arguably the most popular location in Slovenia is Lake Bled and its iconic Bled Island and church, surrounded by surreal turquoise water. The Julian Alps surround the lake and are a great, nearby location for hiking. 
Croatia
Croatia has long been a favorite destination for backpackers due to low prices and few tourists. However, Game of Thrones has led to large crowds visiting very small Dubrovnik (AKA Kings' Landing.) 
Split is also on the Adriatic Sea and is fairly similar, but a bit bigger. This can lead to more reasonable accommodation prices and a bit more breathing room. Croatia's capital, Zagreb, is also worth a visit for very different architecture to Split and Dubrovnik in a more Austro-Hungarian style, and also boasts the beautiful Medvednica area just north of the city.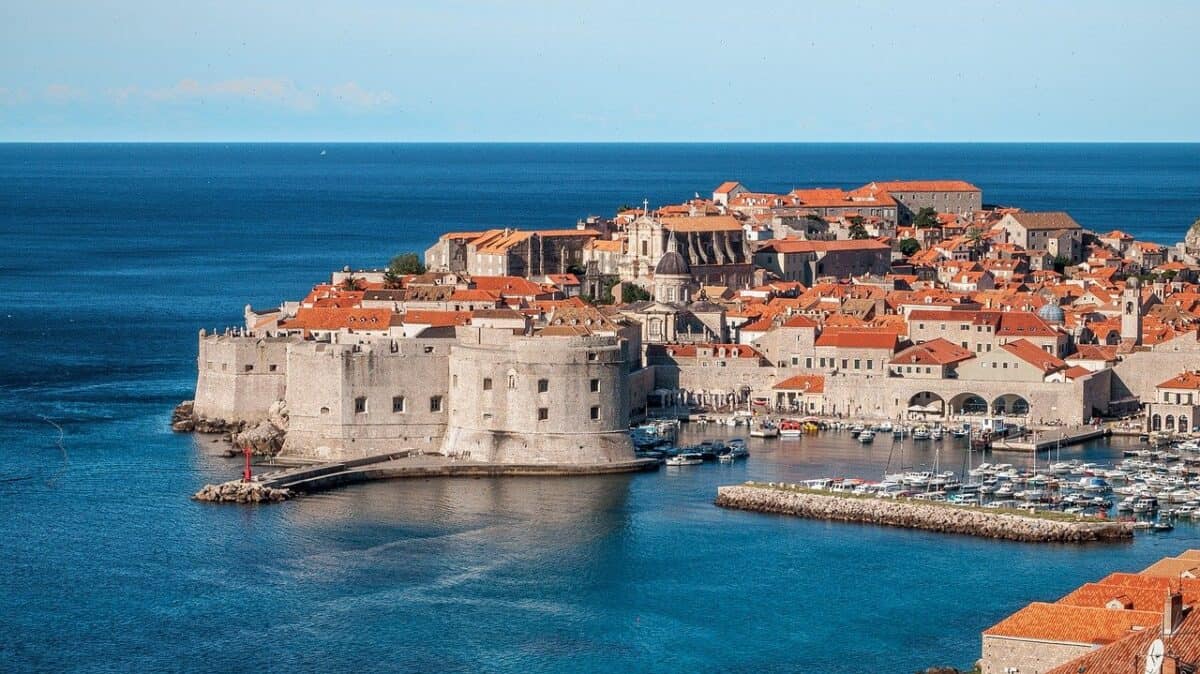 For natural splendor, nothing beats Plitvice Lakes National Park, a series of gorgeous turquoise lakes linked quasi-vertically by waterfalls. There are also all sorts of beaches in Croatia if you'd like to take a few days to relax by the water, like Golden Horn Beach's world-famous white sand. 
Montenegro
Montenegro is a great destination for budget travelers and an ideal place for those seeking something a bit less touristy, but still gorgeous. The area around Kotor resembles a Scandinavian fjord, and the Stari Grad (Old Town) and city walls are fantastic to scramble around.
The capital Podgorica isn't as exciting as other Eastern European capitals but has a cool clock tower and proximity to Lake Skadar National Park. If you want to splash out a bit, consider a visit to resort island Sveti Stefan, one of the most popular destinations in the country. 
Serbia
Serbia is often overlooked in favor of Croatia and Montenegro but is absolutely worth a visit. Capital city Belgrade is lovely, with competing Roman, Ottoman, Byzantine, and Austro-Hungarian influences as well as great green spaces and cuisine. Novi Sad has the Petrovaradin Fortress and its network of tunnels, as well as very different architecture and vibes to Belgrade.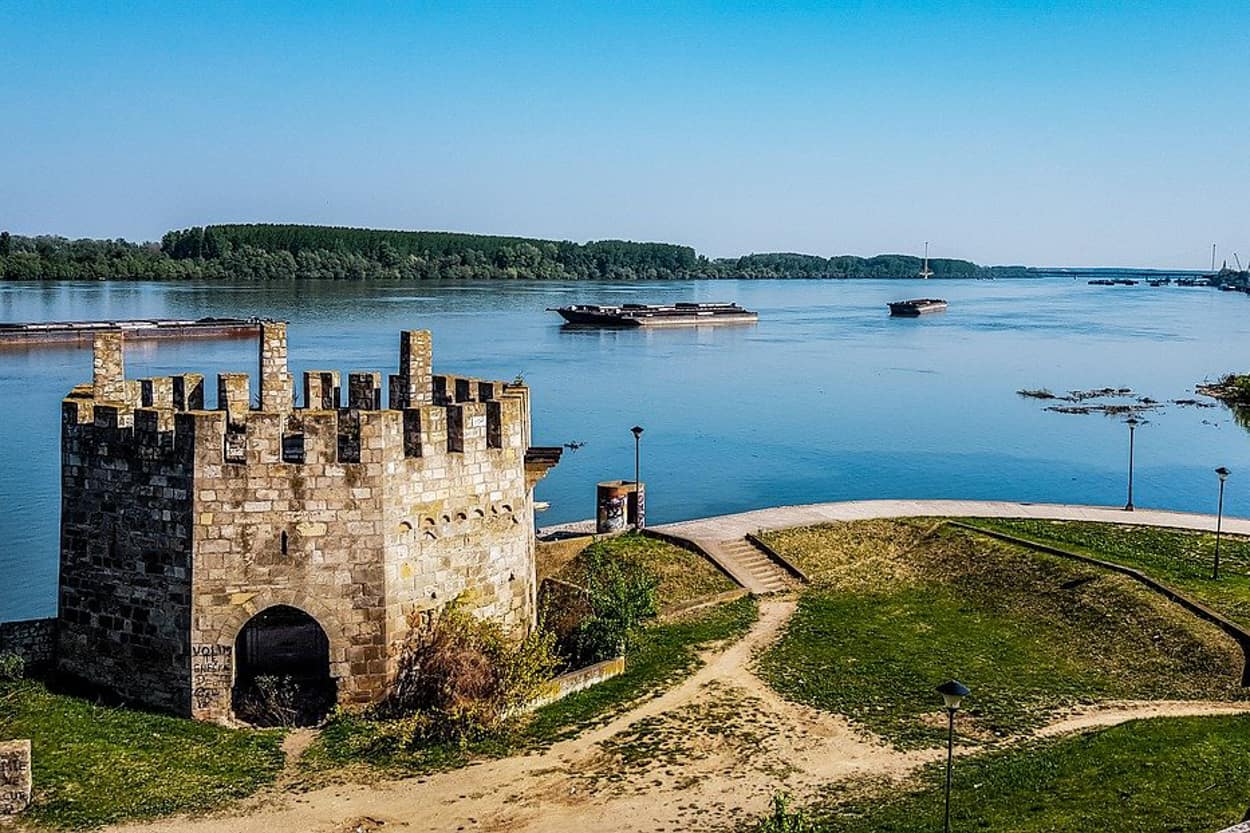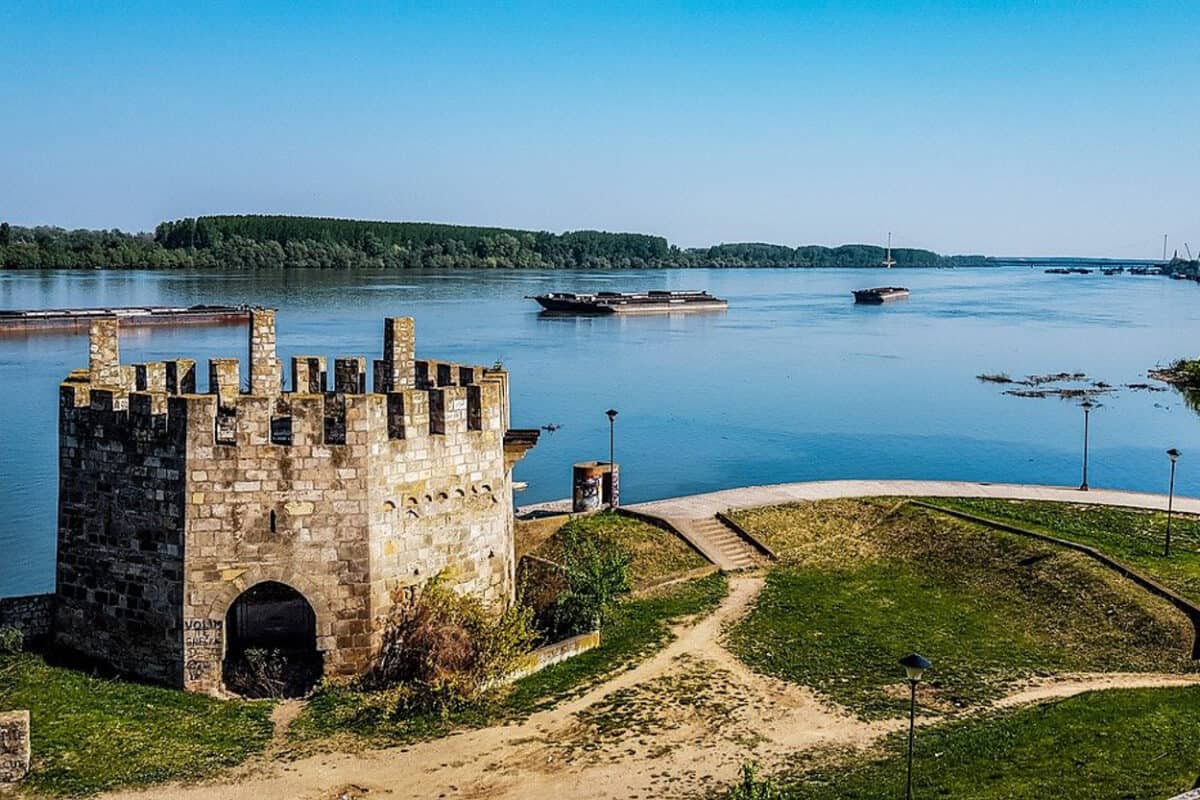 Bulgaria
Bulgaria is a treasure, with a long and storied history displayed in its folklore, like traditional dancing and arts and crafts. It is also said to be the birthplace of yogurt! Capital Sofia is a great place to see all of Bulgaria's cultural attractions, or you can visit Nessebar on the Black Sea for a completely different vibe, and its world-famous Sunny Beach. For history and archaeology fans, check out Plovdiv in southern Bulgaria for Roman ruins. 
Did you know? Bulgaria is one of the cheapest countries in Europe!
Romania
Romania is perhaps most famous for its mythical Transylvania region, home to beautiful gateway cities Cluj-Napoca and Brașov, medieval fortified towns like Sighișoara, and world-famous Bran Castle, said to be where Dracula lived. 
In the Bucegi Mountains, hike to natural rock formations Babele and the Sphinx, or go underground for salt mine tours at Salina Turda. Capital Bucharest is known for its massive, Soviet-era Palace of Parliament and Old Town Lipscani district. 
Ukraine
Ukraine also has a variety of places of interest for budget travelers. Capital Kyiv has beautiful Eastern Orthodox-style churches, museums, and a reconstructed medieval gate. Lviv is a great place to see Polish and Austro-Hungarian culture collide, and has a world-famous opera and ballet that may be worth a splurge for tickets. 
For something a bit different, Odesa on the Black Sea is also famous for its opera and ballet, as well as the iconic stairway from The Battleship Potemkin and beautiful sea views. Intrepid travelers may be interested in visiting the nuclear disaster site Chernobyl. A tour to the exclusion zone has been determined to be safe and is possible with an official guide.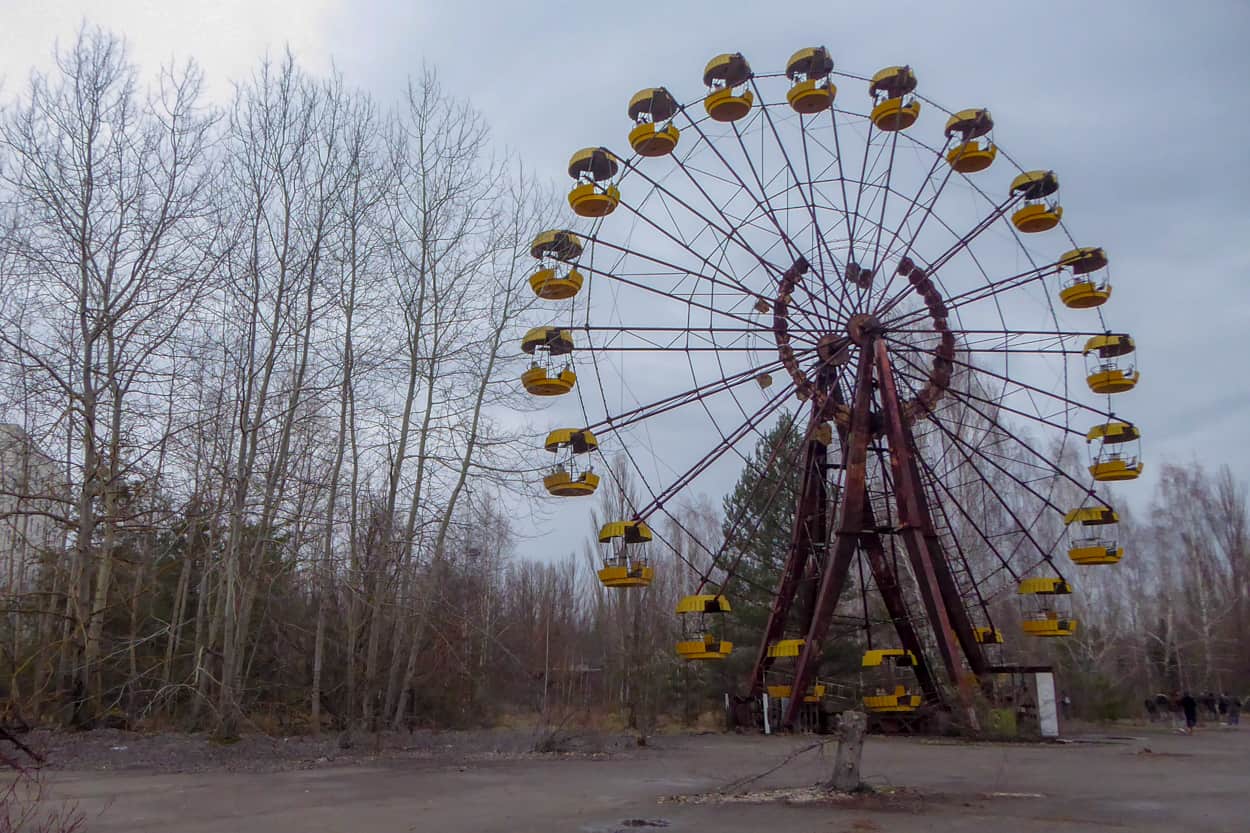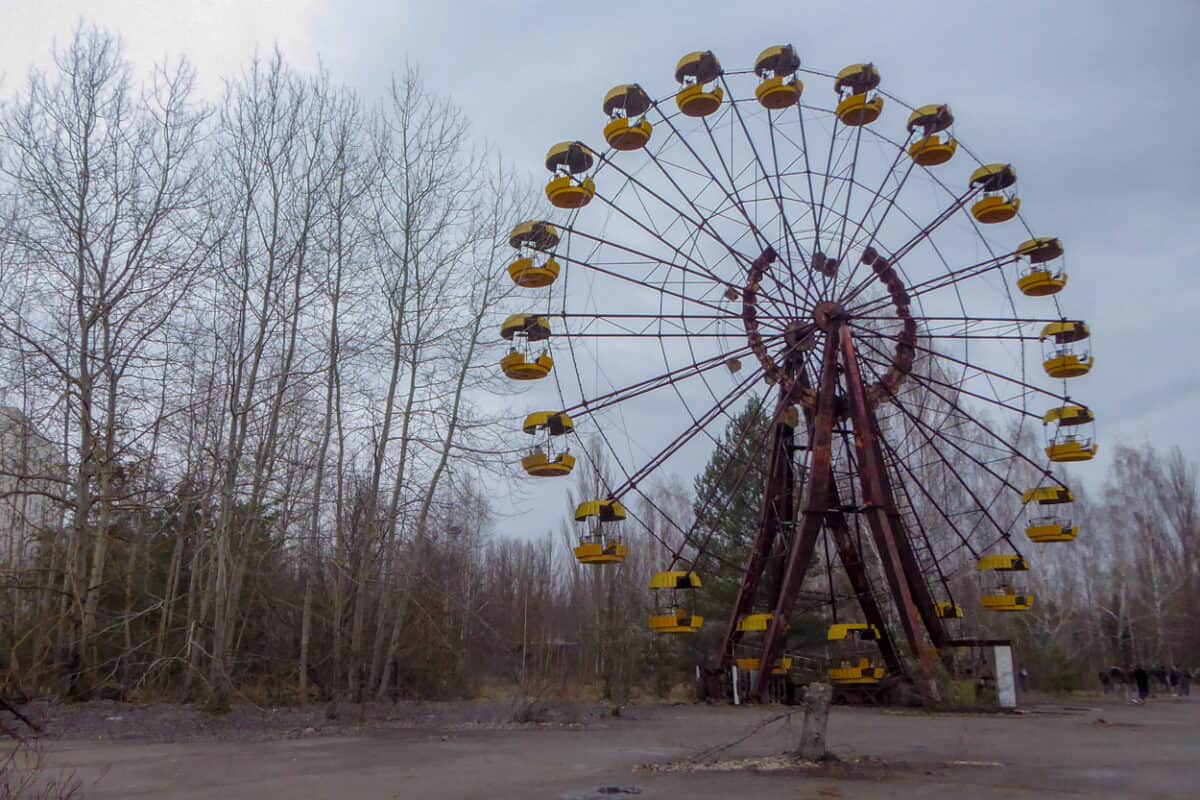 Poland
Poland has a wealth of cities, attractions, and natural wonders to offer travelers. Similar to other countries in the region, it is a great budget destination, with fantastic food, friendly people, and enough museums and cultural contributions to entertain any tourist for years. 
Capital Warsaw suffered a lot of damage in World War II and was almost entirely rebuilt. The Soviet-style buildings aren't everyone's cup of tea, but don't make the mistake of skipping the city! Spend some time eating pierogi, strolling Łazienki Park, visiting the Warsaw Uprising Museum and POLIN Museum, and taking a tour of the Royal Castle as an absolute minimum. 
Cute Krakow is much more popular with tourists for its medieval Rynek Glówny quarter, as well as its proximity to underground marvel Wieliczka salt mine and concentration camp Auschwitz. Poland also has a variety of former German cities with a distinct architectural flair, like Wroclaw, Gdansk, and Gdynia, which are all highly worth a visit. 
Lithuania
In Lithuania, don't miss baroque capital city Vilnius and nearby Trakai Island for its fairytale castle. At the Curonian Spit, you can see sand dunes that stretch up to 35 meters in height, and those seeking something a bit spookier can visit the sculpture garden at the Hill of Witches. A popular pilgrimage site is the Hill of Crosses, where over 100,000 crosses have been placed over the years.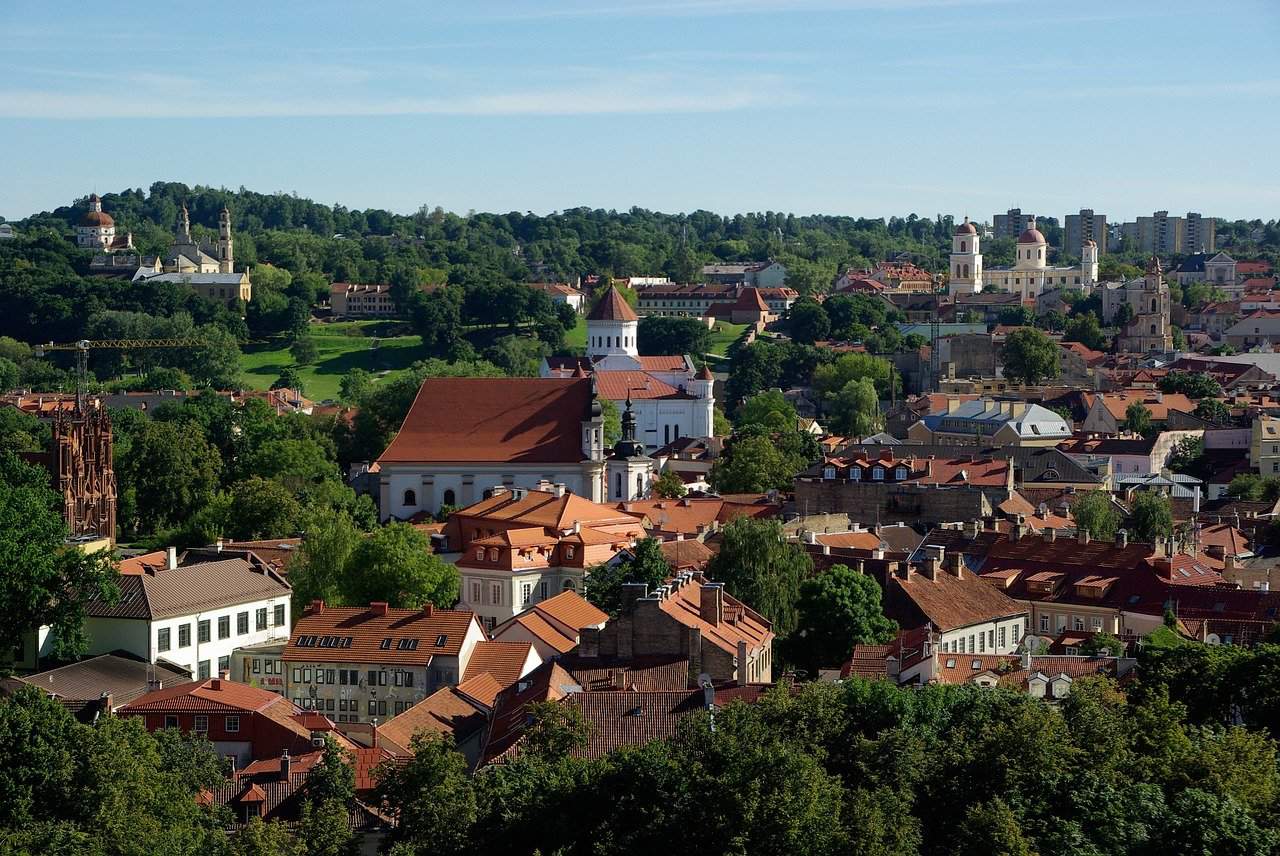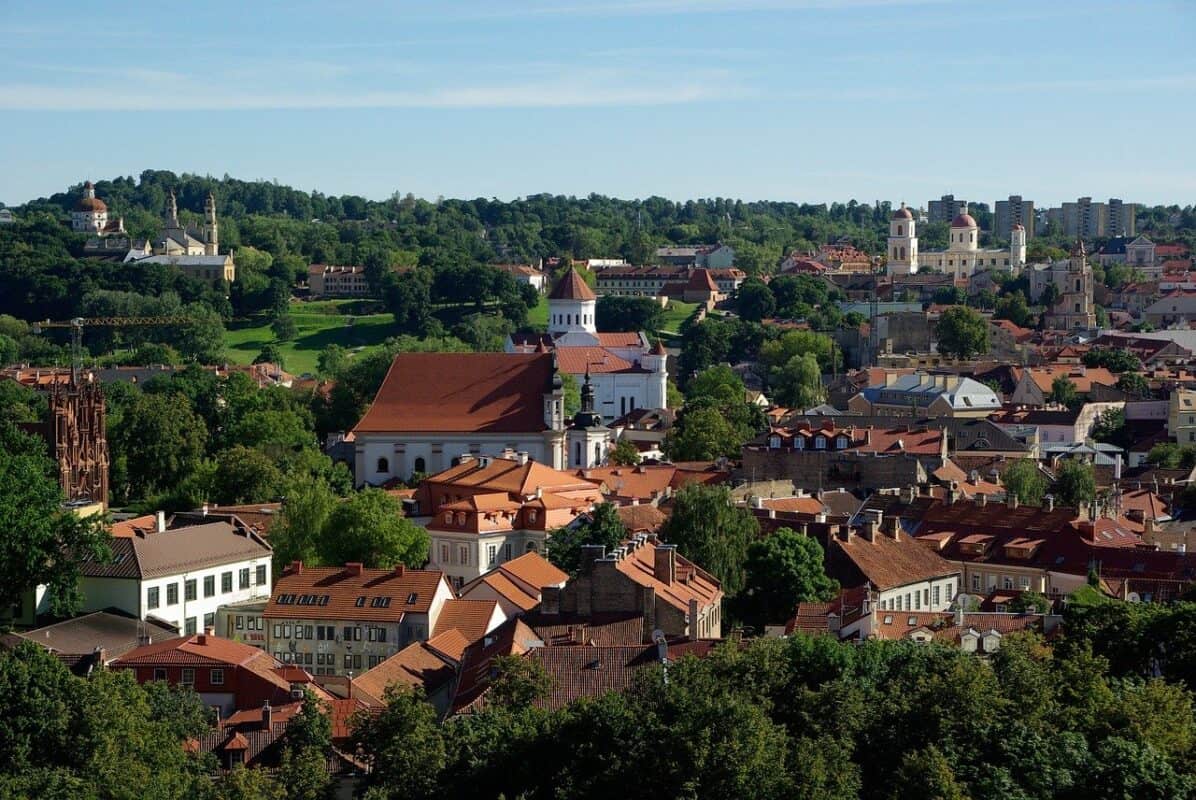 Latvia
Latvia is also an often-underrated country to visit. Its capital Riga has slightly different architecture to its Eastern European contemporaries, with a lot of wood-based and art nouveau buildings at a similarly great price point for budget travelers. 
Nearby Rundāle Palace has a similar aesthetic to Versailles, and Jūrmala is a fantastic resort town that is also close to Riga.
Estonia
The last stop on this Eastern European tour is in Estonia, a small country with over 1500 small islands. Its capital, Tallinn, has a cute old town with various structures dating back to the 13th century, as well as a medieval fortification tower called Kiek in de Kök. 
Seaside resort Pärnu is known for its distinctive wooden villa-style houses and the ability to mud-bathe. Bog and wetland enthusiasts will love Lahemaa National Park, the former USSR's first national park.  
---
4. Around Europe Backpacking Route: The 'Whole Shebang'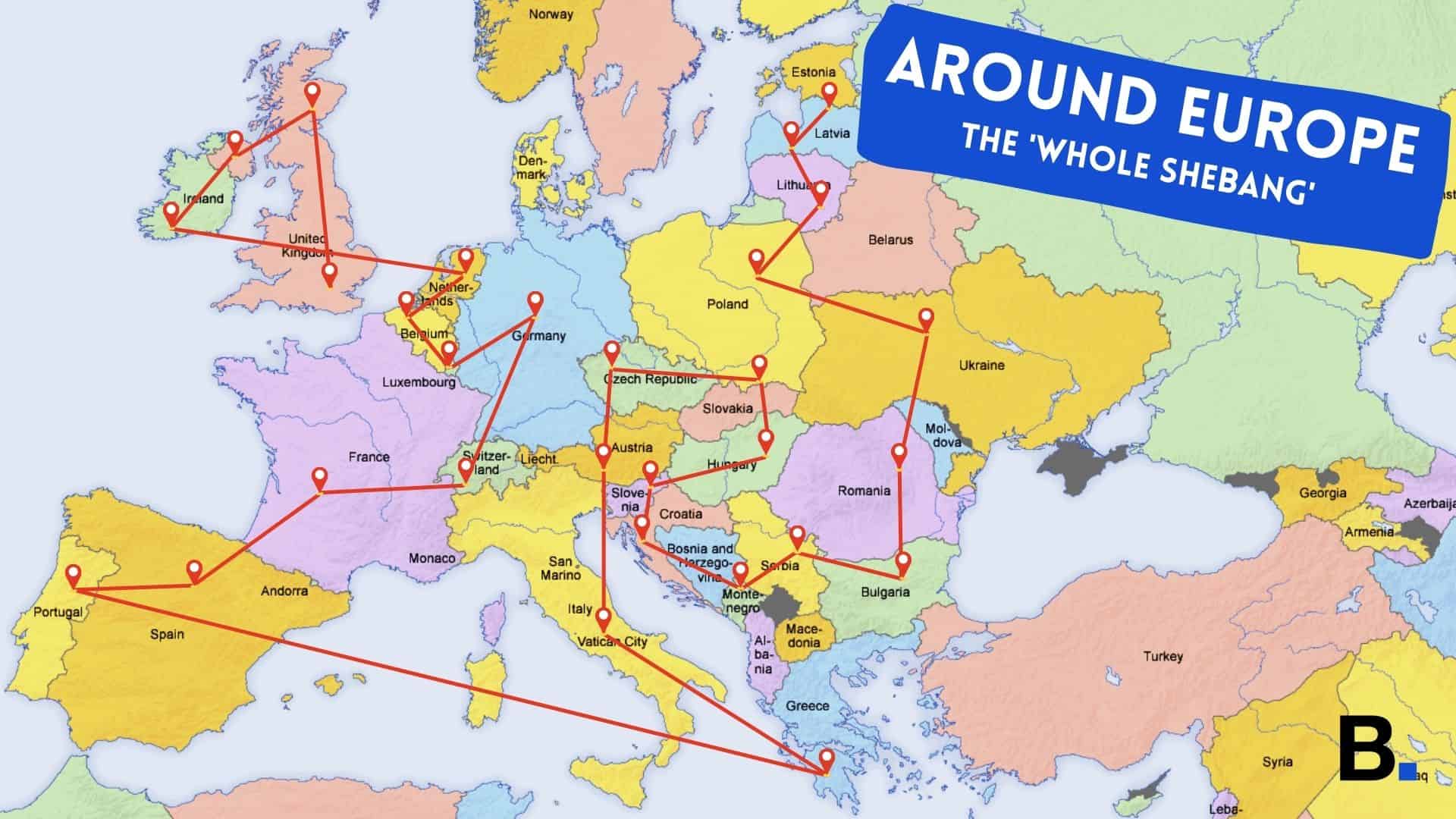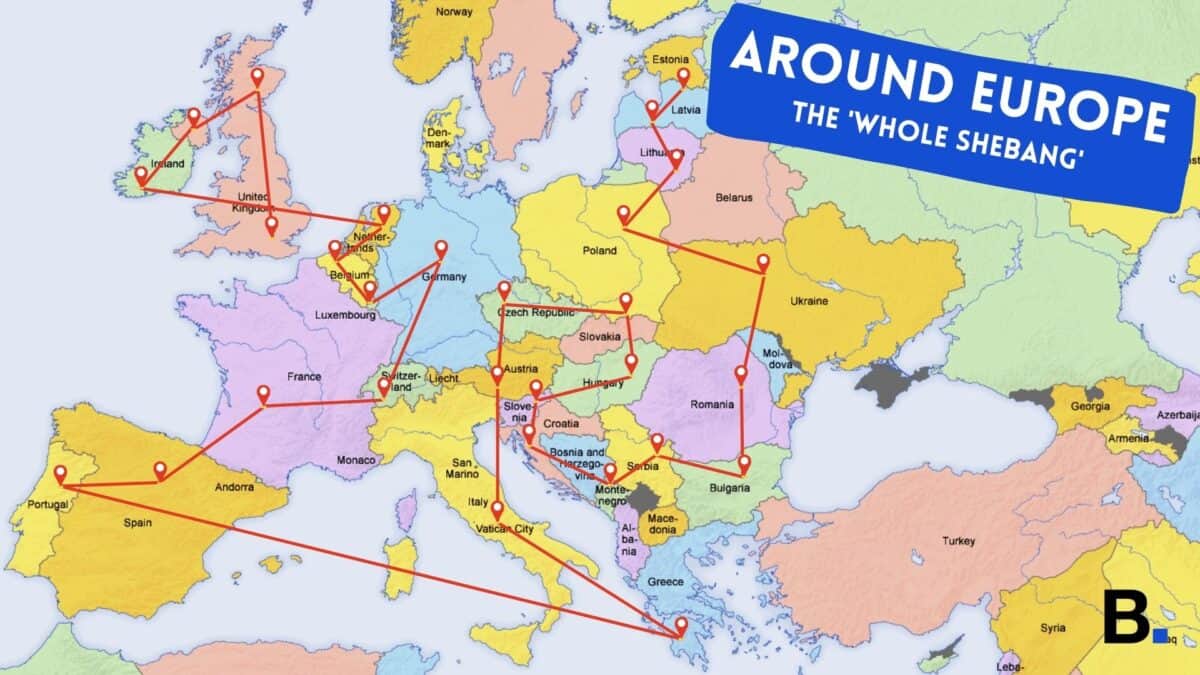 And for those of you who refuse to take your backpack off, we've created this final mammoth Europe itinerary. An amalgamation of the Western and Eastern routes (with a couple of tweaks for logistical reasons), this comprehensive Europe backpacking route showcases the best of what the continent has to offer, from balmy beaches, to dramatic castles and everything in between!
The adventure is limitless with this Europe itinerary, you just need to hope that your wallet is too!
---
Ways to Travel Around Europe
One of the best things about backpacking in Europe is the relative ease of transport between countries. As you plan out your trip, start by analyzing how you can best get between the countries you want to visit. 
A tip here is to combine trains, buses, and flights strategically. These vary widely in price, and you may be surprised at what deals you may find. 
Overall, the big advantage to buses and trains is that they usually drop you off at a more central location, sparing you transport to and from a farther-away airport. However, sometimes you may find that flights are the best fit for your budget or timeline.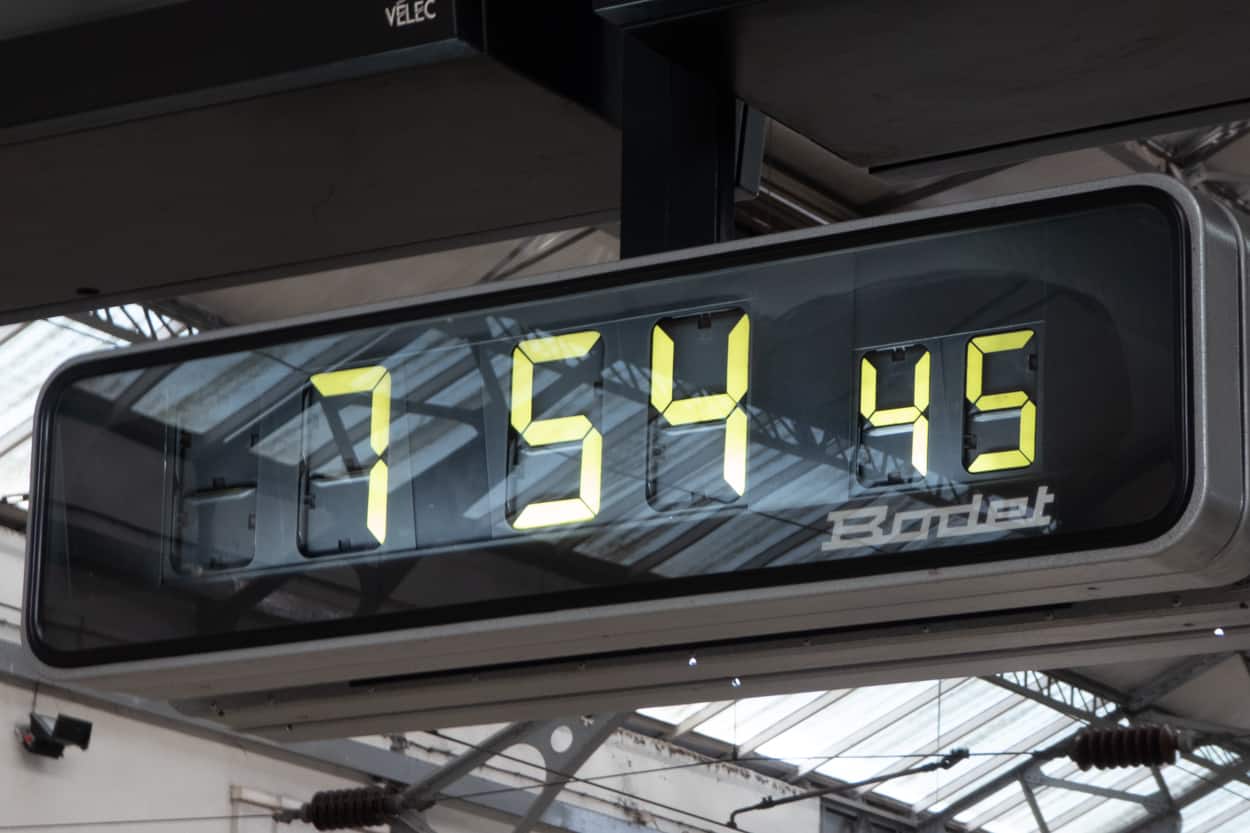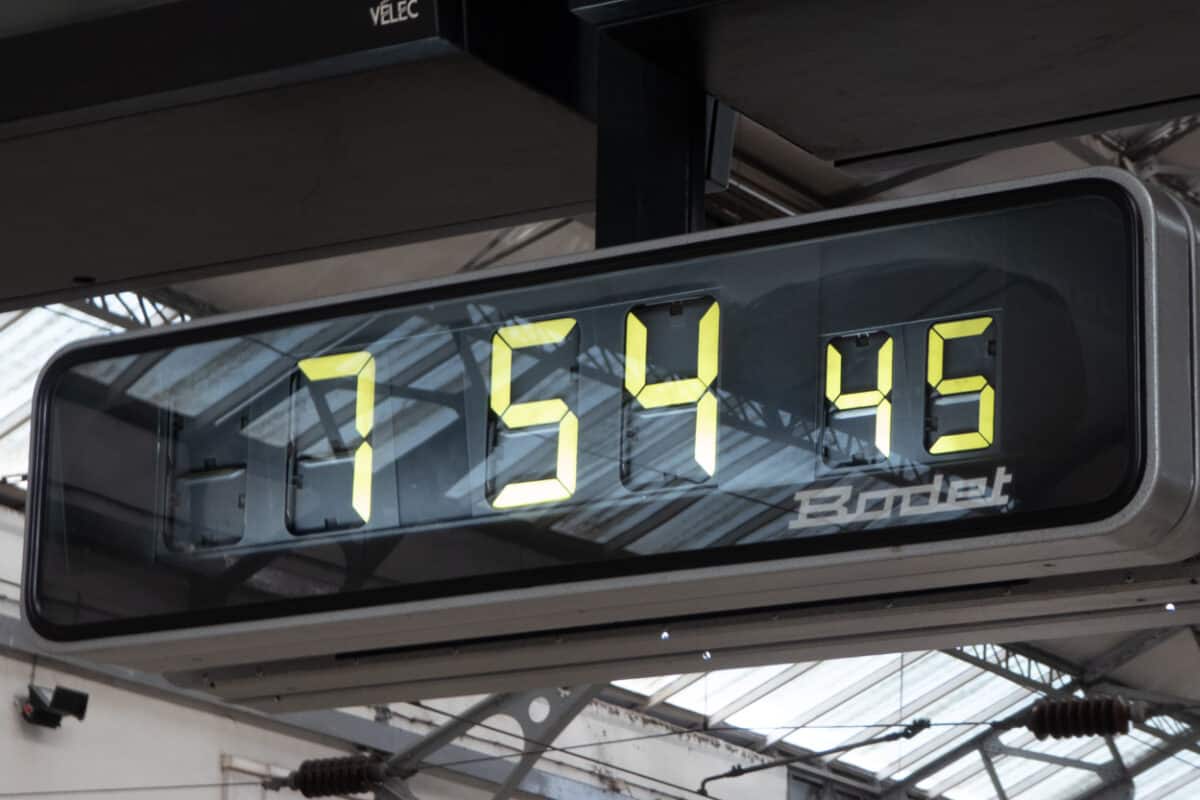 Train 
Traveling by train is often considered to be the quintessential way of getting around Europe. Companies like Eurail offer customizable train passes between 33 countries, with regional options and timing options (e.g. 15 days, 30 days, etc.) now on a mobile app. 
This 'all-in-one' style pass can be as simple as a hop-on-hop-off, where you show your pass to board the train of your choice. However, some places (like France and Germany) sometimes charge supplements or have a limit on how many passengers can board with a pass per train. For that reason, you may want to book tickets in advance during busy seasons, and always make sure that the journey you are taking is included in your pass! 
The associated downside to Eurail is that it is quite pricey, so you should do the math carefully to make sure you'll actually save money with this pass. As a rule of thumb, it is largely worth it if you're spending a lot of time in countries like Switzerland. Conversely, if you're doing a trip mostly focused on central or eastern Europe, it's probably cheaper to buy single tickets. 
Bus
Although train travel is the most talked-about transport for backpackers in Europe, don't count out buses! Companies like Flixbus and Eurolines sometimes have absolutely jaw-droppingly low fares, and charter buses are largely comfortable and reliable.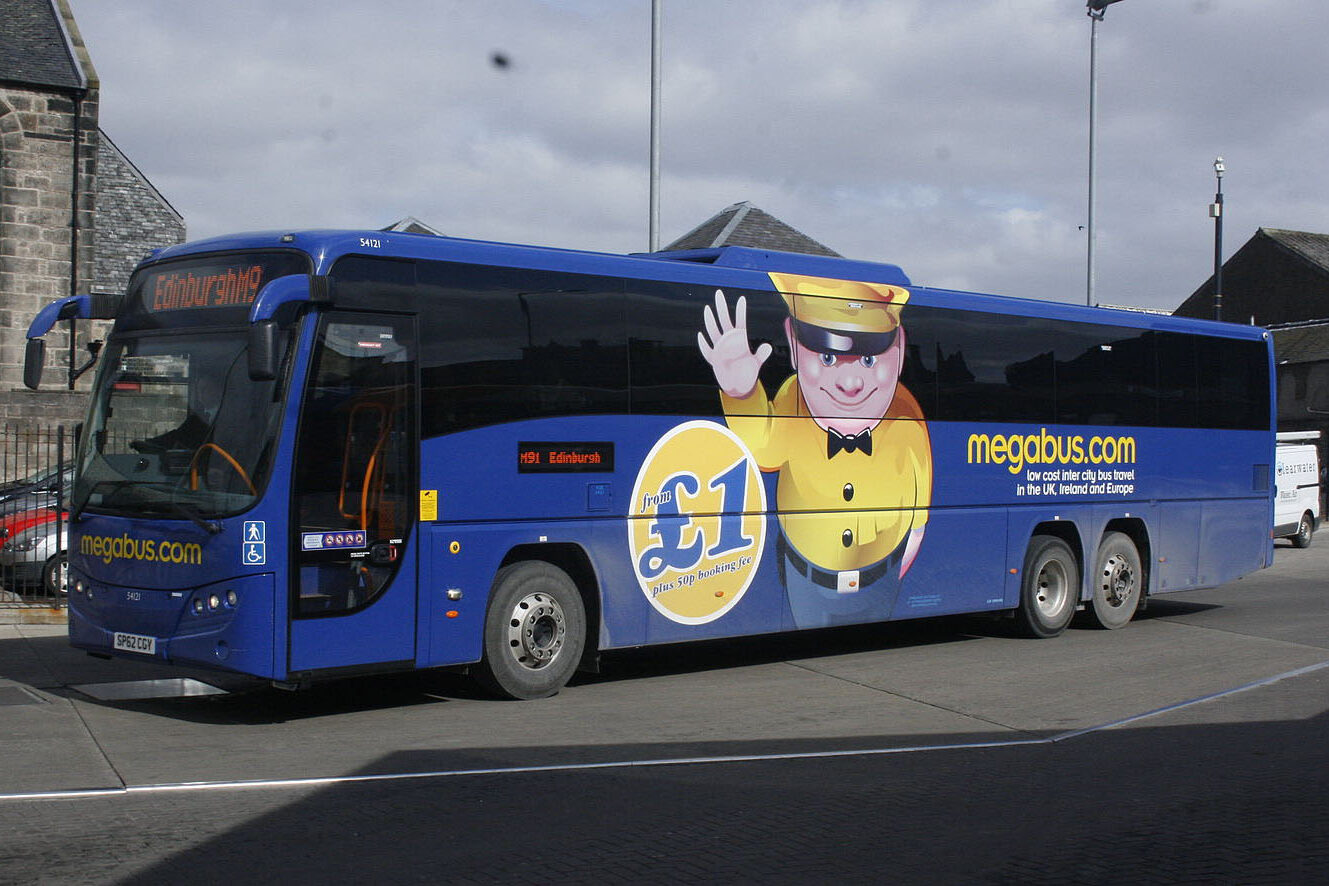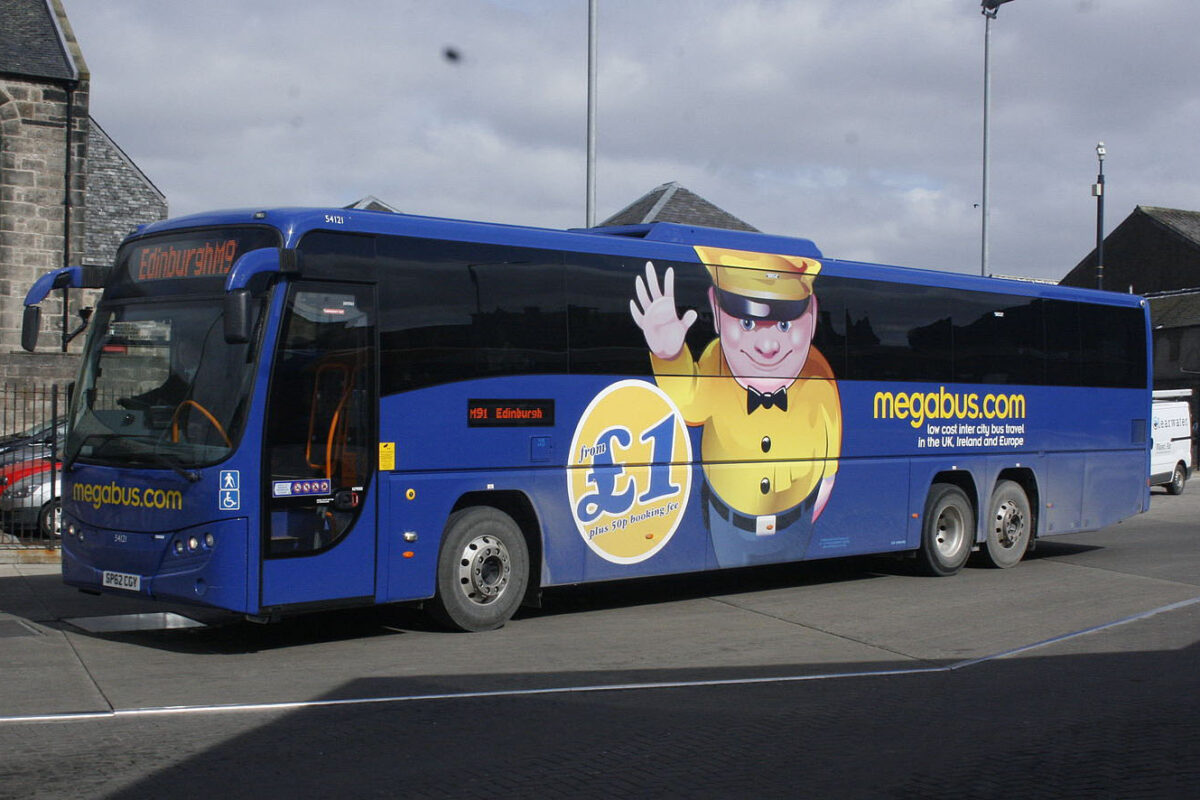 Like trains, buses also usually drop you off in central locations, and it's a really economical way to get from place to place. The associated downside is, of course, time. Buses get stuck in traffic and delays can be common, as well as the fact that buses are without a doubt slower than trains and planes. 
Planes
Like Asia, Europe has a variety of budget airlines that have ultra-low fares, like RyanAir, EasyJet, Wizz Air, and beyond. Be warned though, f the fares seem too good to be true, that's because sometimes they are. 
These airlines are infamous for nickel-and-diming travelers, with add-ons for anything larger than a (small) backpack and hidden fees. However, that said, if you're at a point in your journey where you have a longer distance to travel, or want to visit an island or somewhere logistically more challenging, you should definitely look into plane travel.
---
Time to Plan Your Europe Backpacking Trip!
Backpacking through Europe is definitely something that you should take advantage of. It's totally doable to stick to a budget with some savvy planning, and you will make memories that will last a lifetime. 
We hope this article has helped to show you a few ways to put together your dream Europe backpacking trip. Of course, these routes are just a few among infinite options! 
In case nothing has tickled your fancy just yet, we'll leave you with some more food for thought… 
An island tour through the Canary Islands, the Azores, the Greek islands, Sicily, Sardinia, Corsica, and Malta
A royal jaunt through castles in the British Isles (England, Scotland, Wales, and Ireland) France, Germany, Romania, and Slovenia
An Alpine ski bum tour through Switzerland, Austria, Italy, France, and Monaco
If you have questions about specific countries not mentioned, or have another idea for cool groupings, we'd love it if you'd share it with us in the comments! Happy travels!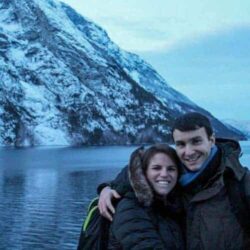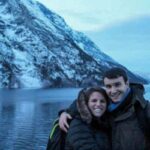 Tegan George & Alex McKenzie
Tegan and Alex are travel, hiking, and biking enthusiasts currently based in Amsterdam. There is nothing they love more than exploring new places by walking, and they have visited over 35 countries together since they met in 2015. Their love for "walking the world" led them to found Why Not Walk, a travel guides site. Follow them on Instagram, Facebook, or Pinterest to start planning your next adventure.