Norway is often accused of being too pricey for budget travelers, but this isn't necessarily true. With a bit of planning ahead, it's entirely possible to travel Norway on a shoestring. In fact, did you know that you can do one of the country's most famous attractions, Norway in a Nutshell, on your own, without going through a travel company?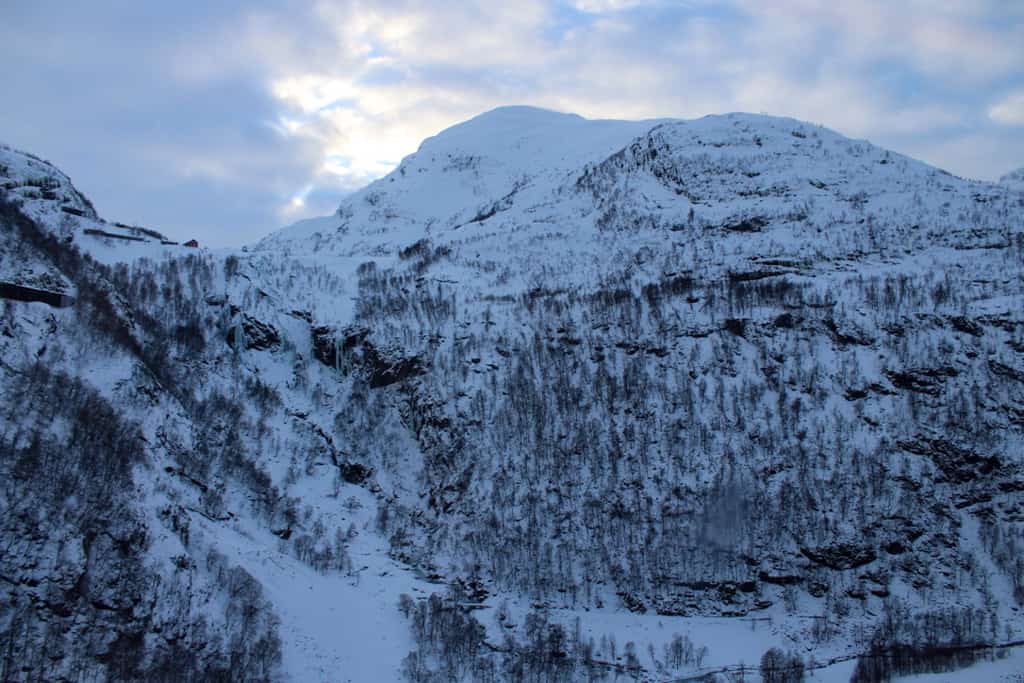 ---
Read more: (opens in new tab)
---
What is Norway in a Nutshell?
Norway in a Nutshell is the most popular tourist attraction in Norway, similar to Iceland's Golden Circle day excursion. It's a perfect day trip if you have limited time in Norway, or an excellent beginning to a more extended visit. 
You can start the round-trip from the cities of Oslo (most common), Bergen, or Voss, and along the way, you will see a sample of Norway's most breathtaking scenery.
The trip, done by a combination of trains, a bus, and a boat ride, includes a trip on the vintage Flåm Railway, a sunset ride through the Nærøyfjord (a UNESCO World Heritage site!) and a bus ride on hairpin Stalheimskleiva Road. This is suitable for all activity levels, as much of the day is spent on the train or boat, but adventure seekers will find plenty to explore as well.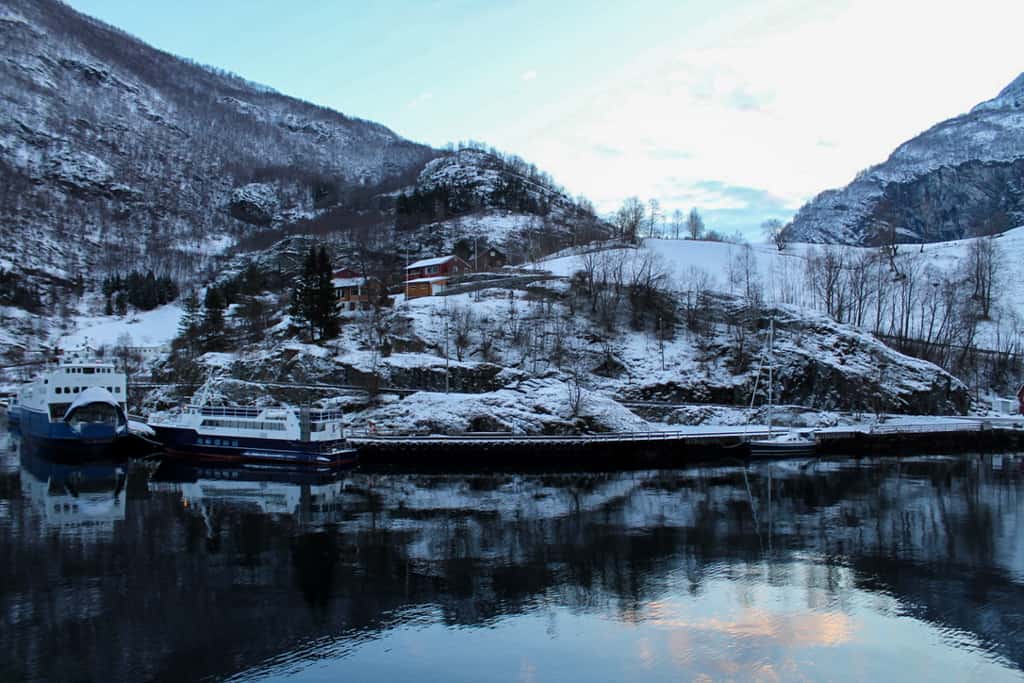 DIY Norway in a Nutshell Stats + Tips:
Duration: 1 day, possibility for extension 
Time commitment: ~12 hours 
Difficulty: Easy. Most of the trip utilizes transportation, such as by train or boat. There are some opportunities for brief hikes and nature walks, but the timing between stops is too tight for in-depth hiking unless you stay overnight and continue your journey the next day. If you book it yourself, you can stay overnight at any of the stops!
Costs + Fees: Buying a package from the Norway in a Nutshell website or a tour operator like Viator or Expedia can cost upwards of $360 USD per person for the transit package only. To clarify, Norway in a Nutshell is not a guided tour, but rather a collection of tickets, most utilizing public transit! Booking each part separately will literally cut your cost in half, especially if you book far in advance. We chose to visit in the wintertime, when fares were lower, and also booked on a weekday, which further allowed us to find bargain fares like Norway's 'lowfare' budget deals. Our total trip cost about $180 USD. 
Best time to do this tour: Year-round, but keep in mind this activity gets very, very crowded (and more expensive!) in the summertime, especially during the months of June and July. Winter is a particularly beautiful time to visit, though the fjord portion can be quite chilly, so pack those layers! Also read: When to Visit Europe.
General packing list: train tickets, exact change for Skyss bus portion (100 NOK), lunch and snacks, refillable water bottle, phone and/or digital camera. Also read: Packing List for Europe
Packing list for winter: gloves, coat, scarf, hat, warm boots with tread, long-sleeved layers underneath a coat, perhaps long underwear as well.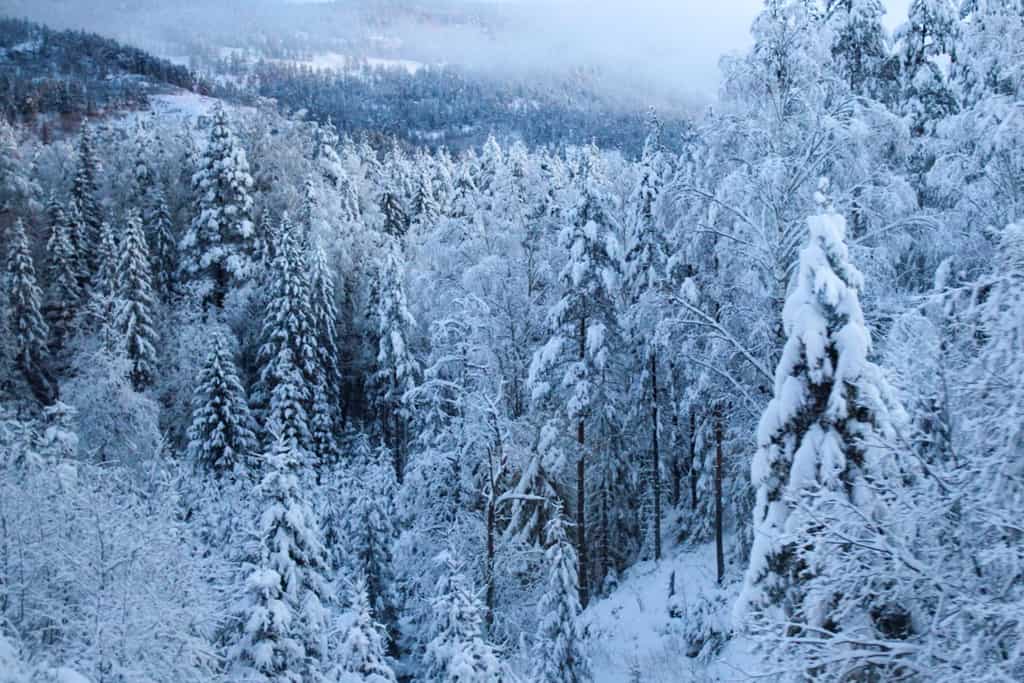 How to book Norway in a Nutshell on your own
There is absolutely no reason not to book Norway in a Nutshell on your own, and once you figure out which steps you need to take, it's super easy! While the package deal may seem like the best option, it is literally a package of separate tickets that are combined by a tour operator and sent to you. 
There is no difference between booking each portion yourself and paying for the package, other than the convenience of having someone book it for you. The package does not typically include any sort of guided tour, so you won't be missing out on anything by booking it all yourself.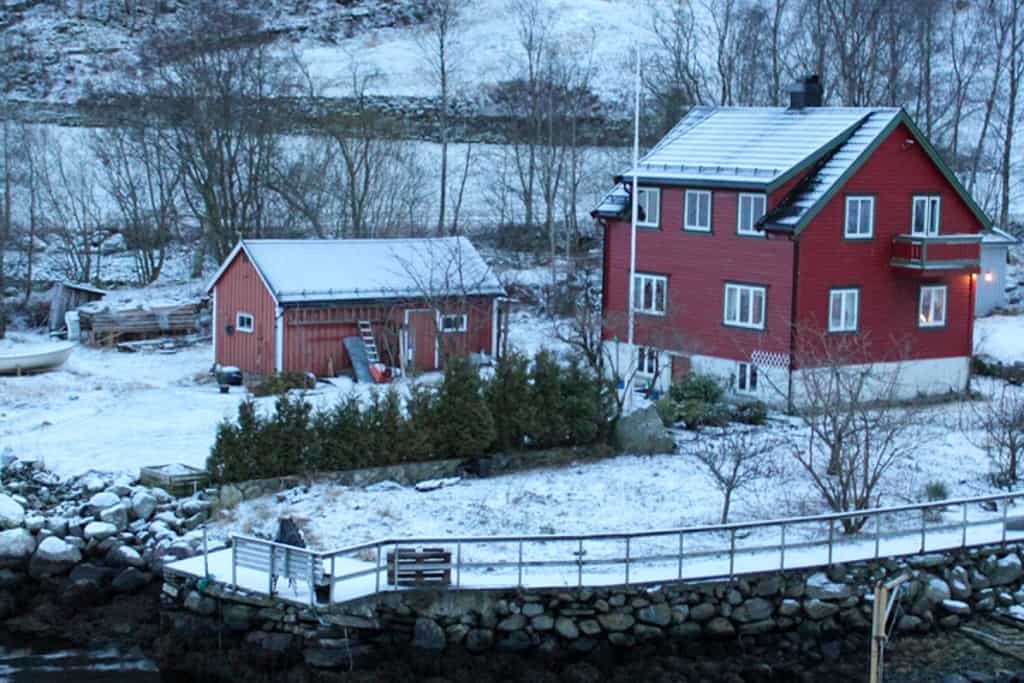 DIY Norway in a Nutshell Itinerary 
Please note that this itinerary guide is booked with Oslo as a starting point, ending in Bergen. If you'd like to begin in Bergen and end in Oslo, just book in reverse.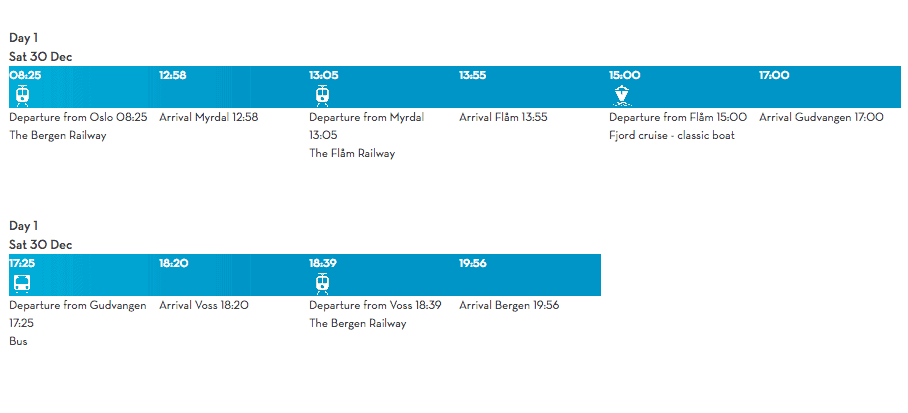 Stop 1: NSB Train from Oslo to Myrdal
Norway, like much of Europe, is blessed with a fantastic train system that connects much of the country. Your Norway in a Nutshell experience kicks off at Oslo's main train station, with a one-way ticket to Myrdal's train station. You likely want to book this ticket as early in the morning as you can. 
When we visited, an 08:25 departure was the earliest, arriving in Myrdal at 13:00. Make sure to stock up on snacks and refill your water bottle before boarding. If you get motion sick at all, be sure to sit in a seat that faces forward as the train departs. Seats are not assigned, so if you're traveling as a pair or group, be ready to board when the train arrives to ensure you get seated together. 
The views from this train ride are absolutely astounding, meandering through the Norwegian countryside as the sun rises. The train is quite high-speed, but there is still the potential for some beautiful photos from the windows.      
Stop 2: Flåm Railway train ride from Myrdal to Flåm
When you arrive in Myrdal, it's only a few steps to your connection to Flåm, so it's okay if the timing is a bit tight. We were concerned that we would miss the connecting train, as we only had a few minutes between trains, but it wasn't a problem at all. Norwegian trains are super prompt, and we got the impression the conductor waited to depart until the train from Oslo had deboarded anyway.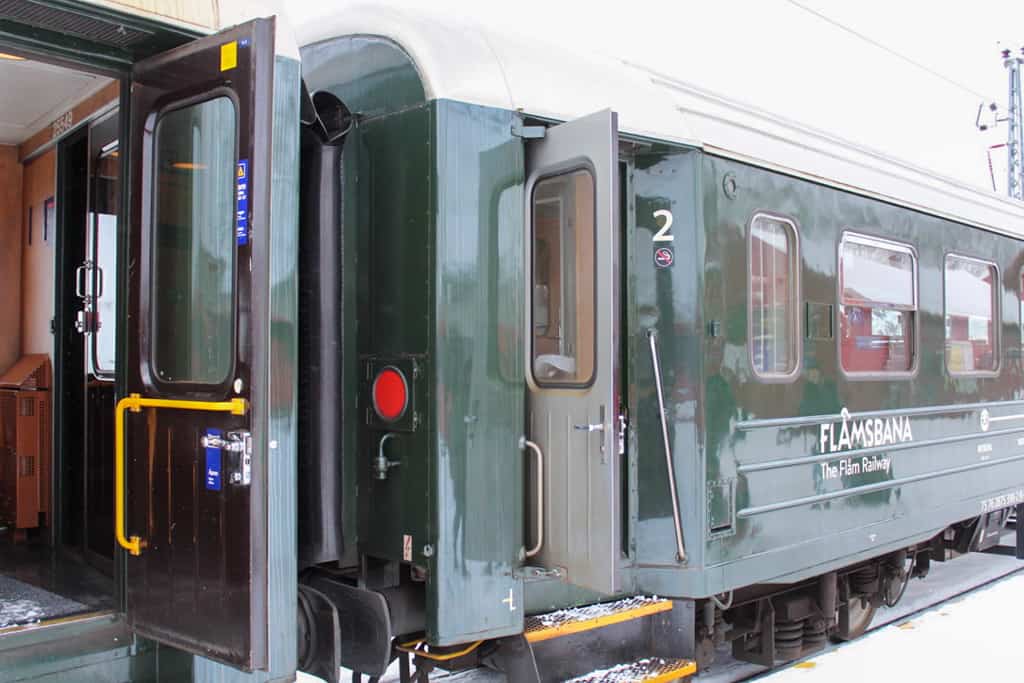 The Flåm Railway, or Flåmsbana, is such a treat! The vintage, forest-green colored train has a shiny wood-paneled interior and feels like traveling back in time. Our number one tip here is to be sure to sit on the left-hand side of the train for the best views! 
If you visit in the wintertime, chances are the train won't be too crowded, and you'll be able to move around a decent amount to peek through the windows and explore the train cars. If you visit in high season in the summer, chances are you'll have to pick a seat and stick to it. 
The train journeys through dozens of tunnels, and is one of the steepest-gradient train journeys in the world. Along the way, you'll see waterfalls, flowing rivers, trees swaying, snow falling, and more. There's so much to take in that you could probably ride this train thousands of times and not see it all.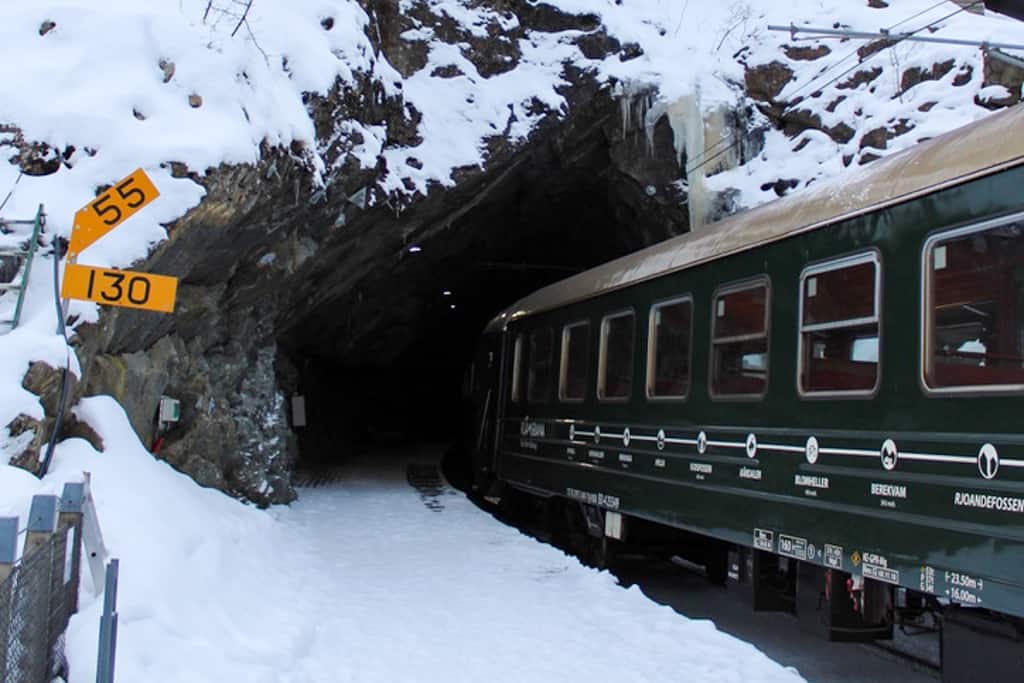 The Flåmsbana is rumored to be one of the world's most beautiful train rides, and for good reason. Not only is the scenery absolutely stunning, but the change in altitude gives you many different viewpoints of the surrounding fjords and valleys. The Myrdal station where you begin your journey is almost 900 meters above sea level and mountainous, but the hour-long train ride deposits you at sea-level Flåm.
If you have some time to spare in Flåm, there is a free railway museum that is worth a visit, as well as lots of cute troll statues to take photos with. If you have extra time, the hiking loop beginning and ending at the Freitham Hotel is much-recommended, as well as general hikes around the Flåm Valley. If you have the extra time, Flåm is a great place to stay the night and continue the next day.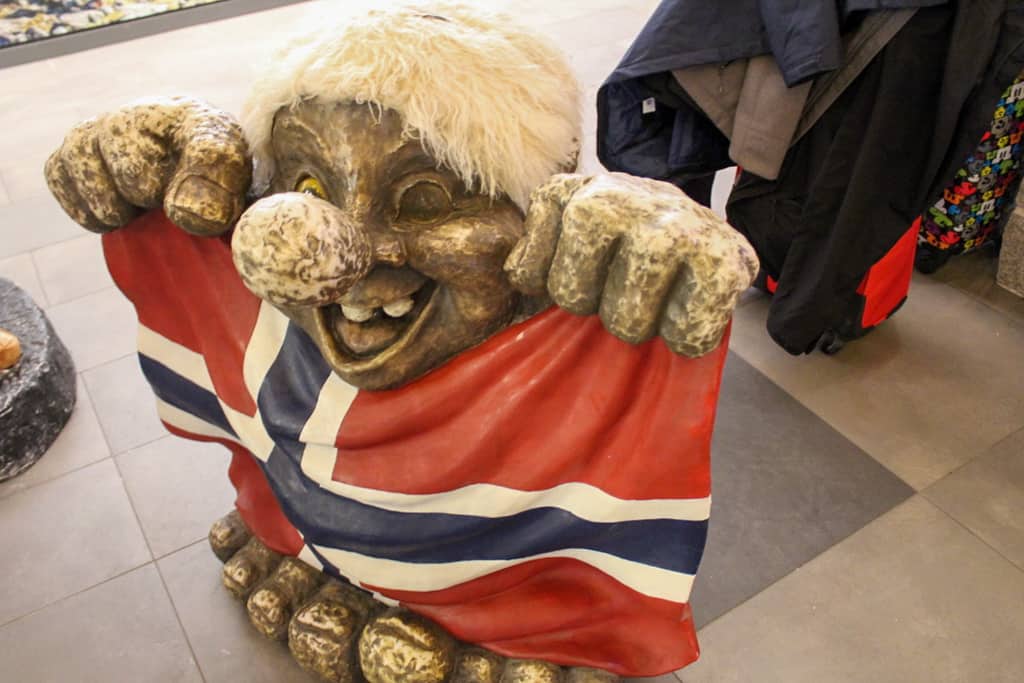 Stop 3: Fjord boat tour from Flåm to Gudvangen
Flåm and the Flåm Valley are situated right at the end of Aurlandsfjord, which is a tributary of the larger Sognefjord. One of the best things to do while you're in the area, and the next step on your Norway in a Nutshell journey, is a boat cruise from Flåm to Gudvangen along the Nærøyfjord.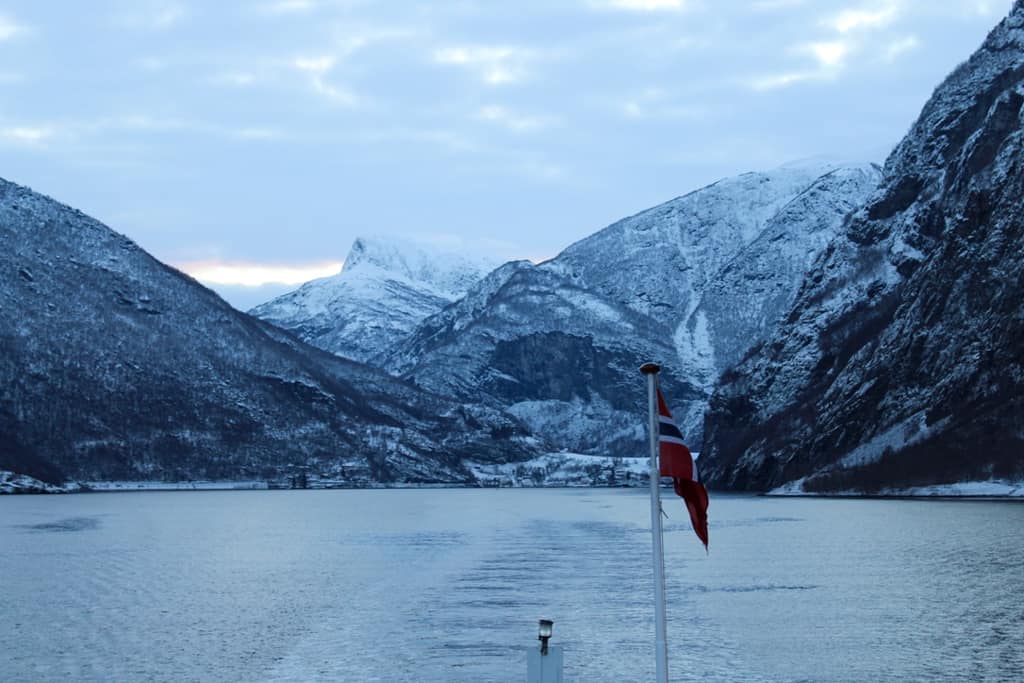 The Nærøyfjord is a UNESCO World Heritage site, and is absolutely breathtaking. Nærøyfjord is one of the narrowest fjords in the area, so you'll be able to see the surrounding mountains quite "up close and personal." The boat ride takes about 2 hours, giving you plenty of time to marvel at the mountain peaks, sparkling waters, and take deep breaths of fresh mountain air.
Keep in mind that this boat ride gets very cold if you visit in the winter. While definitely one of the most gorgeous natural phenomena our world has to offer, fjords are very exposed! We highly recommend bringing additional layers for this part of the journey, and mittens instead of gloves in particular. 
We guarantee you that you will want to linger outside, especially on the top deck of the boat, for as long as possible. While you definitely have the option of going inside to warm up, you won't want to miss a second of this boat ride!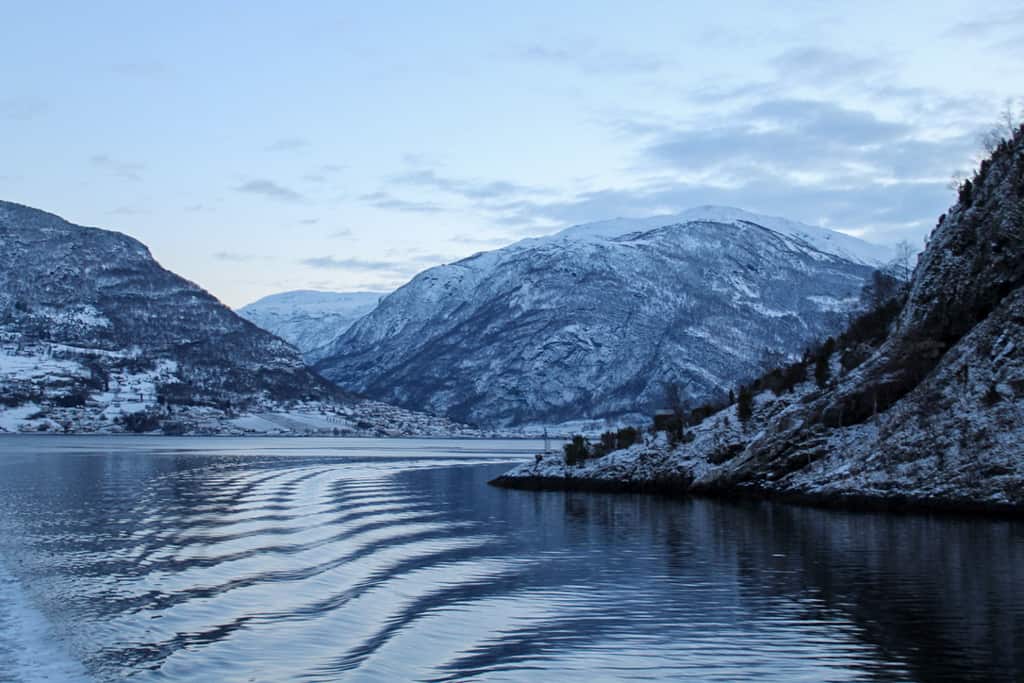 Fun fact: The boats have been designed with the environment in mind. One is fully electric, and the other is a hybrid. Due to their meandering speed of fewer than 10 knots per hour, they are able to be battery-powered and rechargeable– making them more environmentally friendly.    
Stop 4: "Skyss" bus from Gudvangen to Voss 
Your second-to-last stop on this whirlwind of a day is a bus ride on the infamous Stalheimskleiva Road from Gudvangen, where the boat ride ends, to the small town of Voss. The bus ride is fairly brief, only about 45 minutes, and you can connect to your next destination from the larger train station in Voss.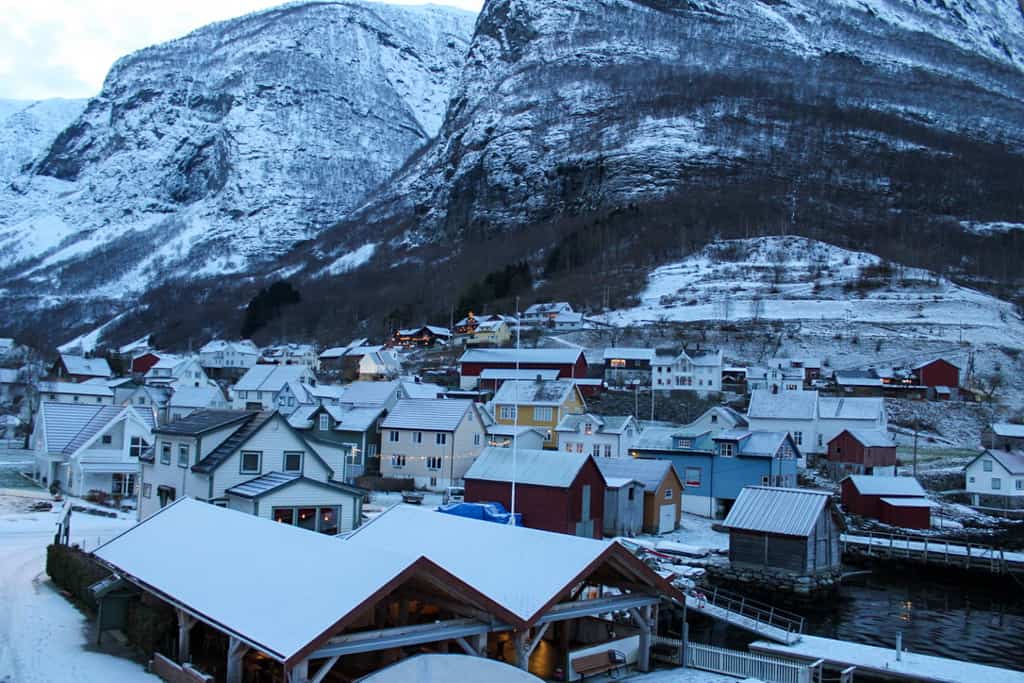 There are two major things to note about the Skyss bus portion of your day. First, please note that you must buy your ticket on board the bus in cash with exact change when you board: 100 NOK per person. The conductor does not give change. 
Second, as we noted above, this bus ride takes you from Gudvangen to Voss via the Stalheimskleiva Road – one of the steepest roads in Europe. If you tend to get motion sickness, it is strongly recommended that you take Dramamine prior to boarding. 
If you visit in winter, it will likely be dark by this point of your day, which means there won't be much to look at, unfortunately. The bus picks up very close to where the boat docks and is impossible to miss.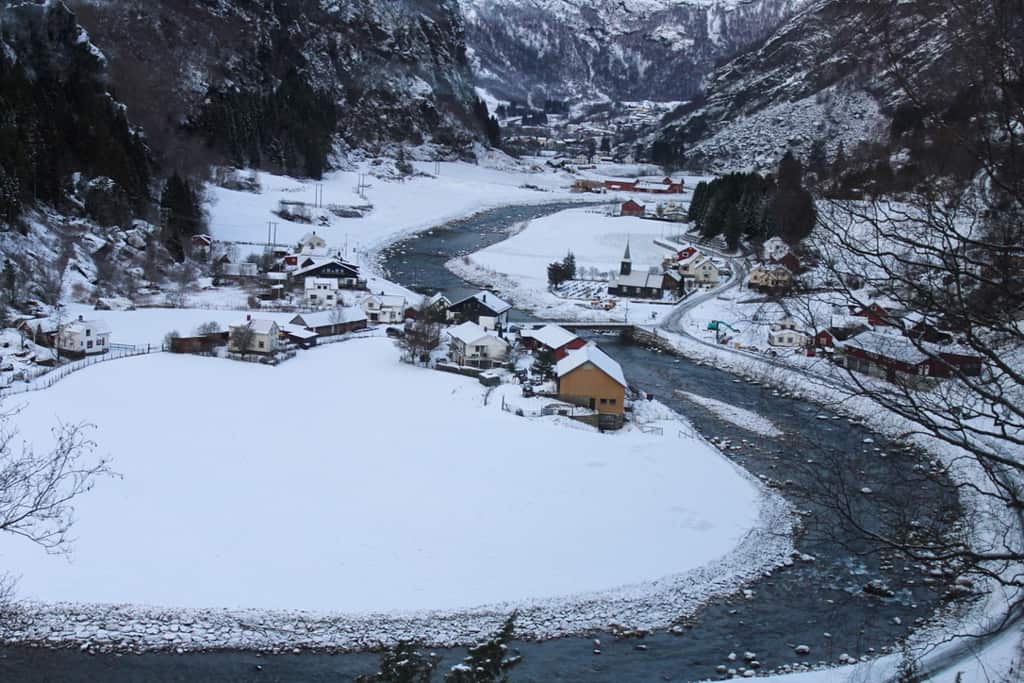 Stop 5: NSB Train from Voss to Bergen 
If you're continuing on to Bergen, another must-see in Norway, you can take a similar train to the train you took from Oslo to Myrdal from Voss to Bergen. If you have to head back to Oslo right away, you can also take an overnight NSB train from Voss to Oslo. 
If you can, we really recommend checking out Bergen, since it's not too far from Voss and is one of Norway's best cities, filled with beautiful views, great cafes, and much milder weather. If your timing matches up, you can also continue on the Skyss bus all the way to Bergen, which will save you even more money. 
2-3 Day Extension Options
Bergen, Norway's second-largest city, is a delightful city and a total gem to visit while you're in the area. If you're visiting in winter, the weather is much milder in Bergen than in Oslo or other cities further north, you may even be able to go out in just a light jacket!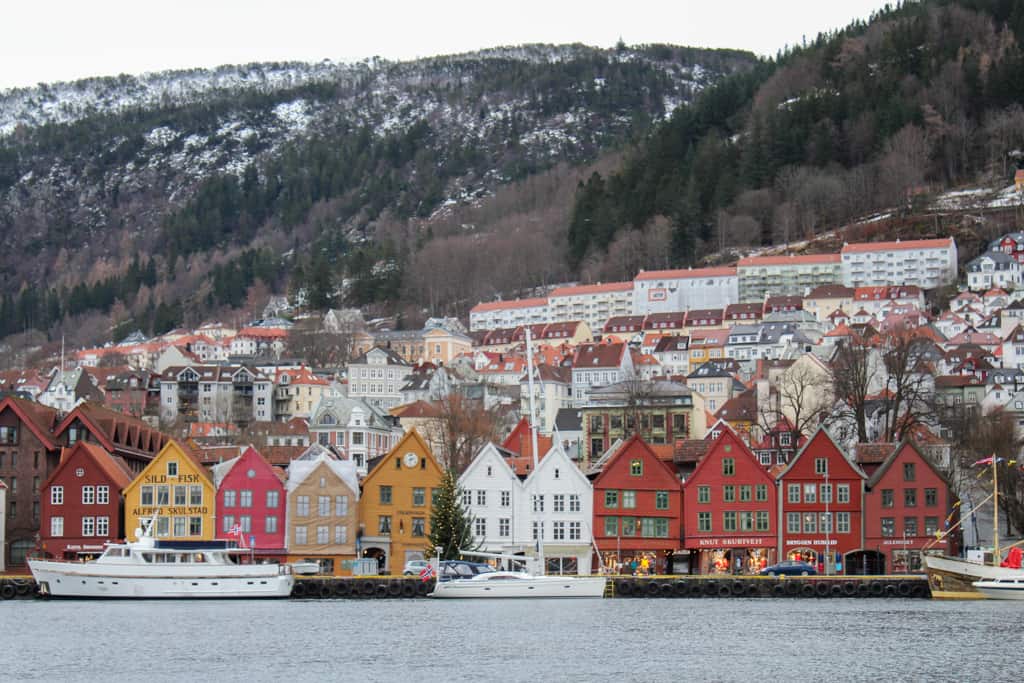 While in Bergen, don't miss the colorful wooden houses on the wharf, a UNESCO World Heritage site denoting the historic center of the Hanseatic League's trading empire, as well as a trip up Fløyen Mountain, whether by foot or by funicular, for panoramic vistas and nature trails. However, keep in mind that the cloud cover is very, very fickle in the wintertime – if the day seems overcast, you likely won't be able to see anything from the top. It's best to go in the early morning or when the sky is clear. 
From Bergen, consider a trip to Ålesund, which is accessible by boat or by plane from Bergen. There is an overnight Hurtigruten ferry that departs Bergen at night and has you in Ålesund by morning, though be sure to take some Dramamine with you for those choppy night seas! 
Ålesund is a gorgeous city in its own right, often called "Norway's most beautiful city." Due to a fire in the early 1900s, the city had to totally rebuild, and was totally redone in a delightfully whimsical art nouveau style.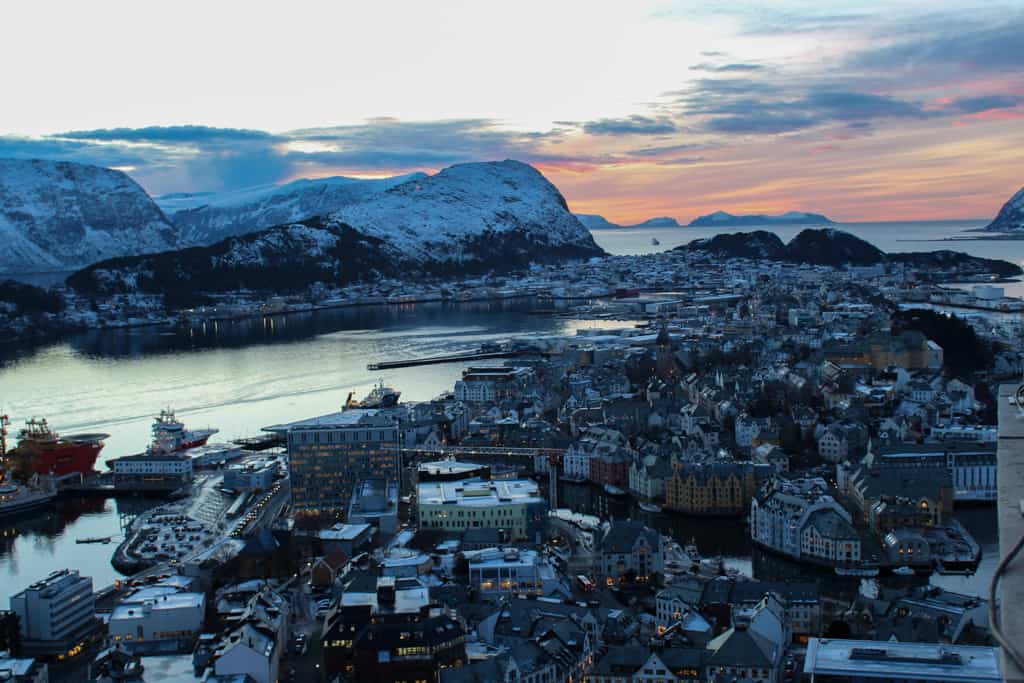 You will also enjoy stunning views of the archipelago on which Ålesund sits from the Kniven Viewpoint of resident peak Mount Aksla, which is a bit of a challenge to hike but a fantastic way to spend an afternoon. 
Lastly, Ålesund is known as the gateway to Geirangerfjord, one of Norway's most famous and most majestic fjords (and the second fjord on the UNESCO World Heritage list, alongside Nærøyfjord.) Geirangerfjord is an easy day trip from the city center, as is the infamous Trollstigen, or the Troll's Road.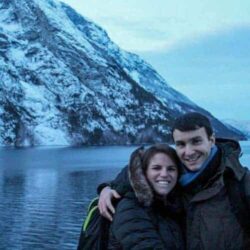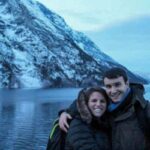 Tegan George & Alex McKenzie
Tegan and Alex are travel, hiking, and biking enthusiasts currently based in Amsterdam. There is nothing they love more than exploring new places by walking, and they have visited over 35 countries together since they met in 2015. Their love for "walking the world" led them to found Why Not Walk, a travel guides site. Follow them on Instagram, Facebook, or Pinterest to start planning your next adventure.