Spain arguably has the reputation for being a hedonistic travel destination: many visitors choose the country for its fresh and vibrant cuisine, fine wine, seductive Spanish guitar, and plazas bathed in sunshine. Rich in simple pleasures, Spain also abounds in history. Whether you are seeking a Vicky-Christina Barcelona-esque getaway, a religious pilgrimage, or time travel into the Gothic period, fewer places will make you feel as alive as España. 
Written by someone who has lived all over Spain, this guide will impart must-know travel tips, where the country shines brightest, and where its light shines but few people are looking. 
---
See our Spain travel guides (Listed A-Z) – Each guide will open in a new window:
Ávila | Chulilla | Costa Blanca | Costa de la Luz | Granada | Madrid | Salobreña | Segovia | Tenerife
---
INTRODUCTION | Backpacking Spain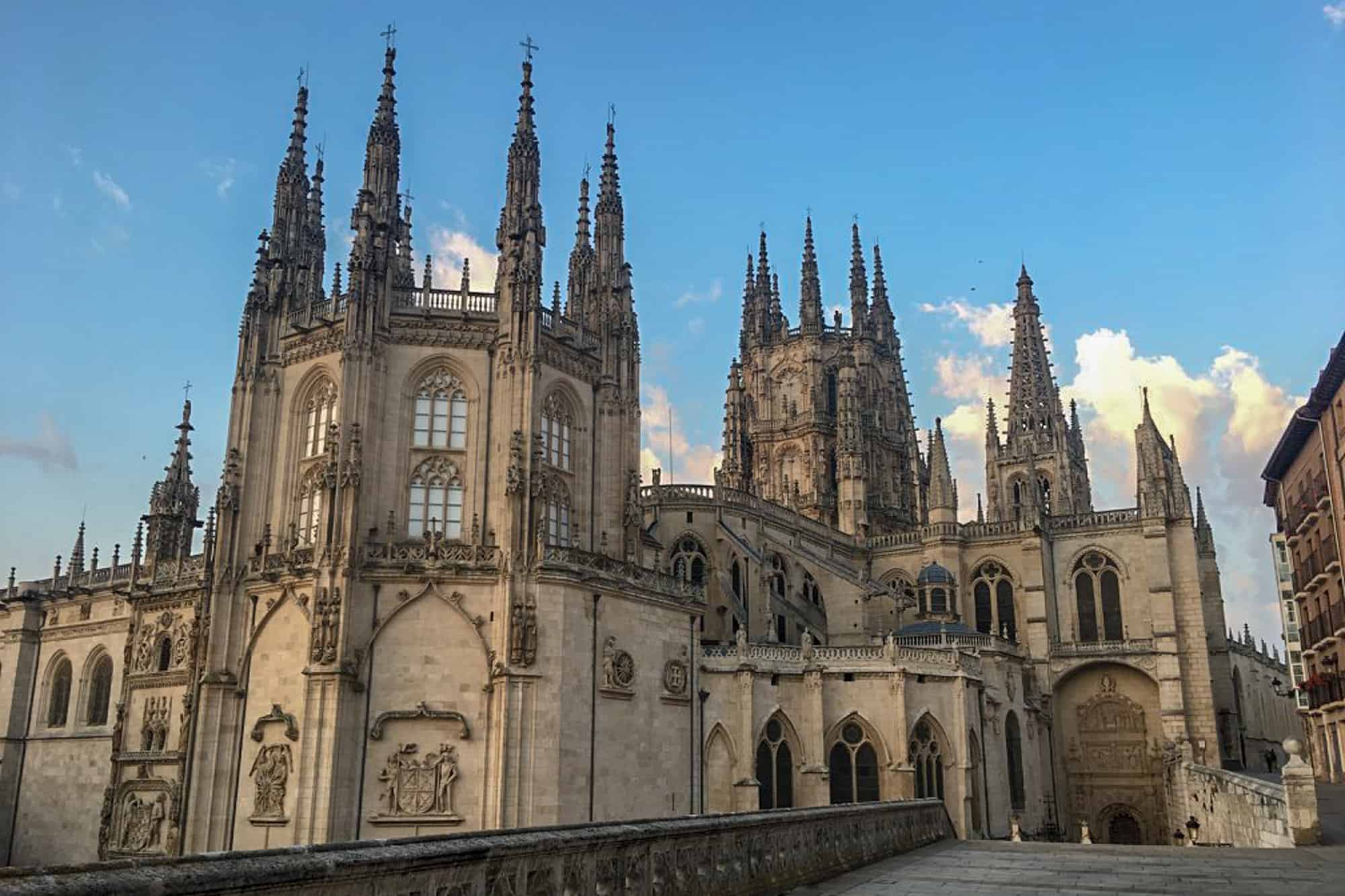 Currency: Euro
Capital city: Madrid
Population: 47 million
Main religion: Catholicism, with high levels of secularization
Main language: Spanish (Castellano)
Telephone code: +34
Time: Central European Time for the peninsula, Western European Time for the Canary Islands
Emergency numbers: 112
---
You'll love Spain if… 
You are a history lover. It's no secret that the kingdom of Spain was one of the greatest world powers in the 16-19th centuries. The glory of the period is noted by the impressive palaces, houses of worship, and fortresses still intact today.
You're an art and architecture enthusiast. Spain is rife with both, and some of the finest artists are Spain-bred: Dalí, Gaudí, Picasso, Goya, and Velazquez, to name a few. Explore the countless cathedrals, castles, and alcazares, showcasing the architecture from the religions Spain harbored throughout its many rulers.
You live to wine and dine. If you love a good meal, Spain is a great destination to rouse those taste buds!
You enjoy the great outdoors. Mother Nature certainly shows off on the Iberian Peninsula, from the north to the south and in between! Towering mountains, stunning pastures, cliff-framed beaches, deserts, and wine and olive farms make Spain a nature lover's haven. The beauty of Spain is its diversity in landscape – it sometimes feels like you're visiting many different countries without even leaving one peninsula.
You enjoy the simple things and a laidback lifestyle. Yes, you should spend four hours planted at a plaza sipping on beer, because the locals do it all the time. 
You're a beach bum, city-slicker, or both! If you're not a huge hiker or adventurer but enjoy hopping around cities or just relaxing on the beach all day, Spain is your place. The cosmopolitan cities of Madrid and Barcelona offer all that you could ever need from a city: trendy bars, cozy cafés, electric nightlife, and a beautiful yet buzzing park scene. If you are craving the waves, you can get to the beach pretty quickly from almost any major city.
---
WHEN TO GO | The Best Time To Visit Spain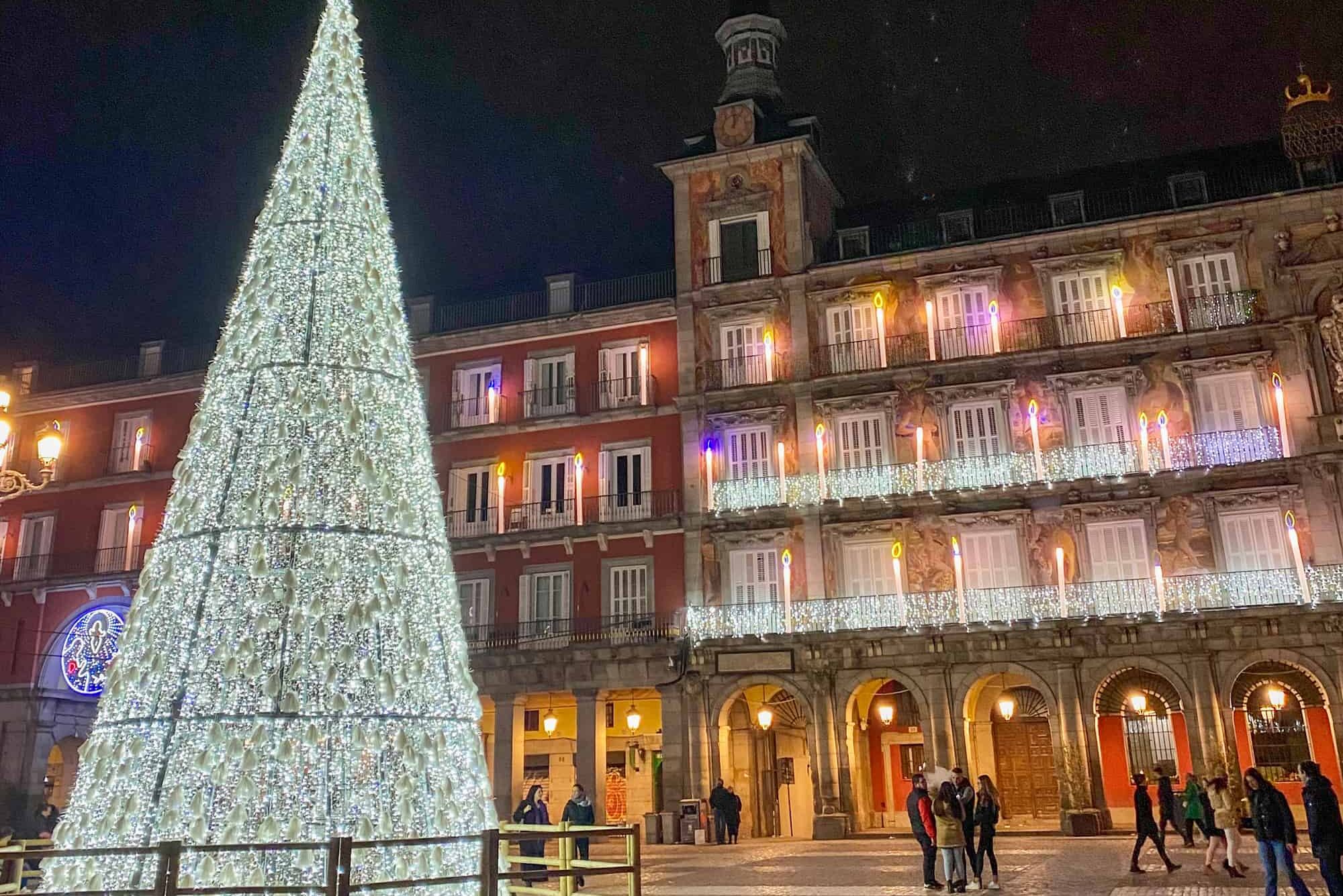 Many choose to backpack Spain for its diversity, as each autonomous region almost feels like a country of its own. The warmth and fervor of the South, the rainy mystique of the North, the medieval imprints of the central regions, and the exotic flavor of the islands, all color this country beautifully. 
The high tourist season in Spain is typically May-August, however, if you go against the grain and choose to visit in fall or winter, you will be pleasantly surprised with the temperate weather, full outdoor plazas, and a sun that sets slightly later in winter than in most other countries (7 pm in February)!
If you want to observe or partake in some cultural aspects of Spanish culture, Christmas time and Semana Santa, the Holy Week before Easter, are rich times to visit the country. 
Christmas markets and nativity scenes dominate the centers of many Spanish towns and cities from late November to as late as January 6th, as many Spaniards celebrate the Epiphany or Three Kings Day even more so than Christmas Day. Semana Santa, or Holy Week, is the period all Spaniards have off from Good Friday until Easter Monday. This week is replete with ornate parades, processions, and music. 
---
VISAS | Do I Need a Visa for Spain?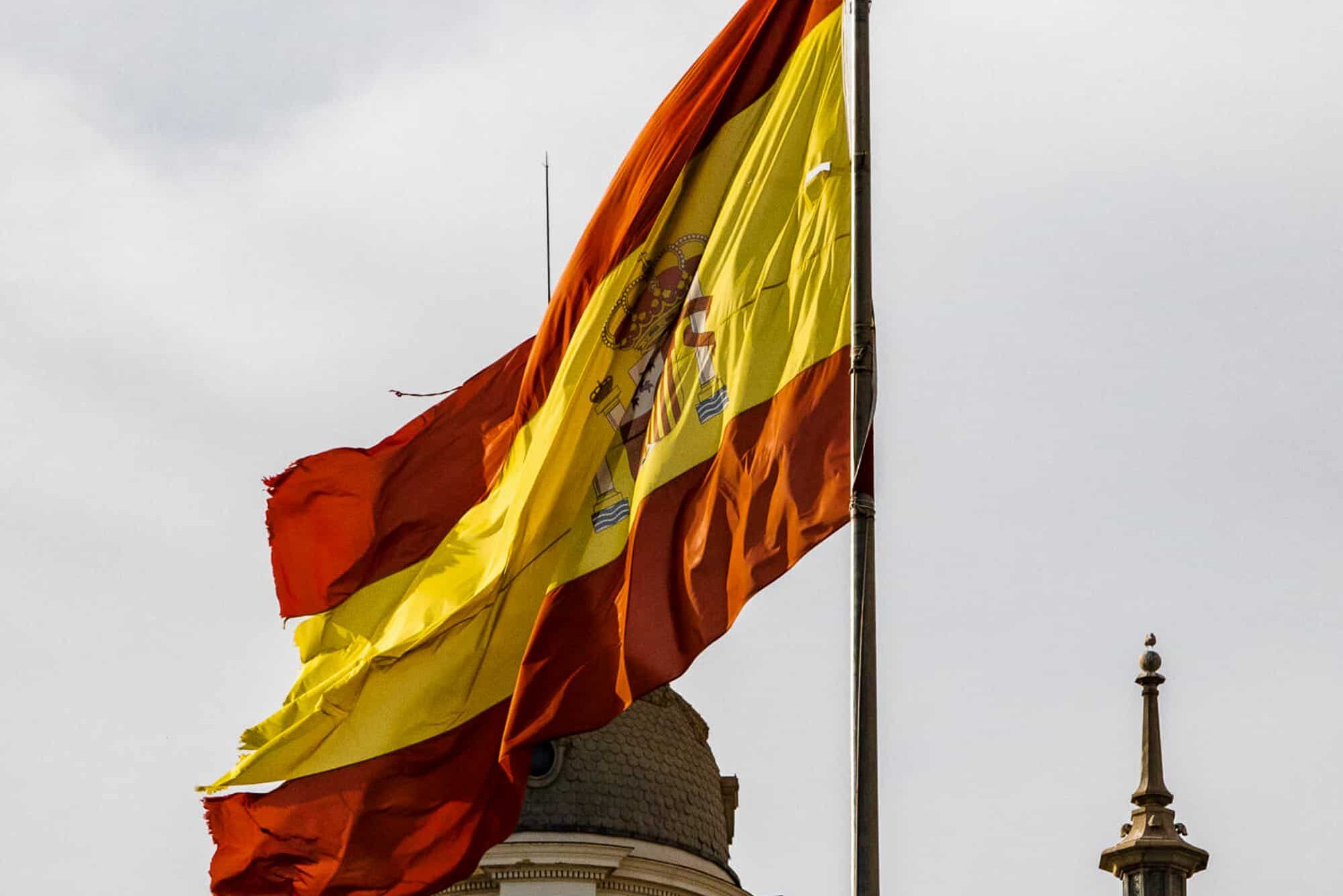 If you are visiting Spain with a non-EU passport such as the US, UK, Australia, or Canada, you can enter without a visa on a 90-day tourist pass. This pertains to the entire Schengen zone, so keep that in mind that you can stay 90 days in any Schengen country within a 180-day period.
Visa Extensions 
It is possible to apply for a visa extension, however, they are rarely granted to tourists. If you do succeed in an extension as a tourist, it would be for three months maximum, and only in the case of extenuating circumstances. 
To request a visa extension, visit the police station in the city where you are staying and bring your passport, application, documentation proving health insurance, the reason for your extension, and accommodation reservations. More information can be found here.
Border Runs
The 90 days you are allowed in Spain are counted within a period of 6 months. That means you can't stay in Spain for 90 days, exit the Schengen area, and re-enter, because it is still within the 6-month period. In this case, you would need to wait 3 months after leaving the Schengen zone before re-entering Spain in order for the 6 months to pass. You can read more about escaping your Schengen 90-day limit here. 
Penalty for Overstaying Your Visa in Spain
The consequences of overstaying your visa are grave. You could face a fine of up to €10,000, expulsion, or ban from the Schengen zone for up to five years.
---
HEALTH | Considerations and Vaccines for Spain 
Do I Need Vaccines To Travel to Spain?
No vaccines are required to travel to Spain, however, routine vaccines are recommended, such as chickenpox, measles, flu, etc. Others that are recommended are Hepatitis A and B.
---
SAFETY | Is Spain Safe?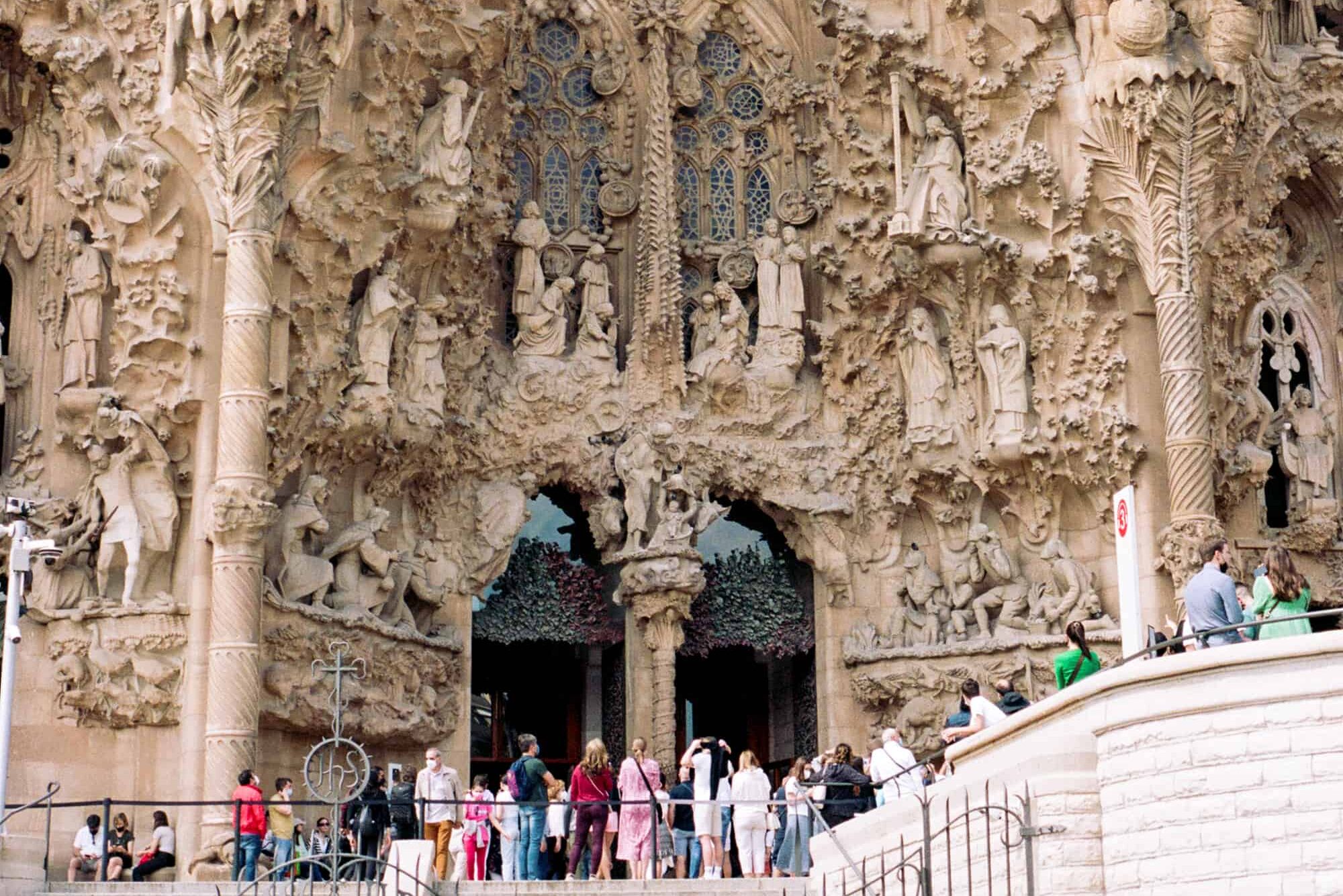 Spain is considered a very safe country, with very low rates of violent crime. Food and water are highly regulated and you can drink tap water in many cities, but bottled water is highly advised in Barcelona, Alicante, Murcia, Málaga, and Cádiz. 
Unfortunately, pickpocketing is an issue in major cities, especially in Barcelona and Madrid. Remember to be vigilant and carry a fanny pack with you. 
---
TRAVEL INSURANCE | What Is the Best Travel Insurance for Spain?
Disclosure: Some links on this page are affiliate links. We always write our articles before checking if affiliate links are available.
Any veteran traveler knows that travel insurance for Europe is crucial, especially for adventure-packed trips. If you are planning to do any hikes in the Pyrenees, Picos de Europa, El Camino, or anywhere else in the country, be sure you are prepared with insurance for accident coverage. It's always better to be safe than sorry! 
Designed for Long-Term Travellers
Available worldwide
Rolling monthly subscription 
No return date required
Check policy wording for full details 
Insurance Designed by Travellers for Travellers
World Nomads travel insurance policies offer coverage for more than 150 activities.
Get a quote, make a claim, or buy or extend your policy while on the road.
Check policy wording for full details 
Travel Insurance for Europeans
Only insures travellers from Europe
Additional activity packs available
Check policy wording for full details 
---
WHAT TO PACK | What Should I Pack for a Trip to Spain?
If you are traveling to Spain, layers are very important. The north of Spain can get chilly, even in the summer. 
If you are sticking to the south of the peninsula and are visiting during summer, definitely pack lots of airy and breezy clothes as it does get quite toasty, and not everywhere is air-conditioned. Some classy, yet comfortable outfits are a must! 
Spaniards are known for dressing well. You won't see many locals wearing workout clothes or casual outfits unless they are actually headed out to exercise. In terms of footwear, comfort trumps all, as you will be doing lots of walking in this country! 
What about toiletries? Painkiller medicine that is easy to get over the counter actually requires a prescription in Spain. I recommend bringing a bottle of Ibuprofen or your painkiller of choice. 
Vitamins and other supplements that you take habitually are also something to pack, as the varieties available are different from what you may be used to. Sunscreen and deodorant have a reputation for being quite pricey, so definitely pack your brand of choice. A refillable water bottle is another smart packing choice to reduce single-use plastic and save money.
👉Read More: Packing List for Europe👈
---
FLIGHTS | Airports and Airlines in Spain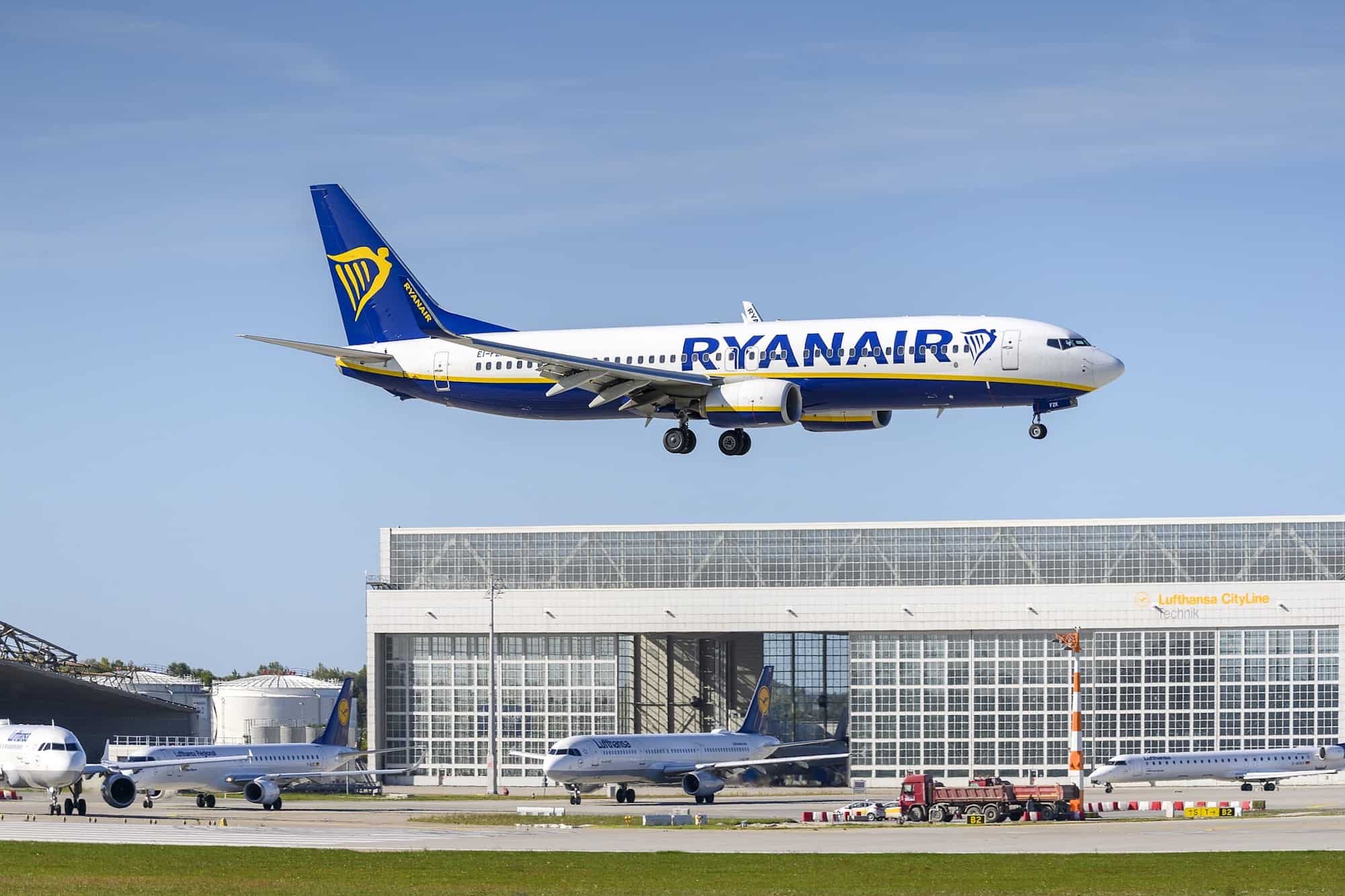 Flying to Spain
So, you're sold on the country and ready to book a flight! Iberia Express and Air Europa are low-cost Spanish airlines. Ryanair also flies into most major Spanish cities. Naturally, the cheapest flights to Spain will be to the big cities, Madrid and Barcelona. There are many direct flights to and from London, Paris, New York, Toronto, and Boston.
Flying Within Spain 
Within Spain, you can find many flights to and from the major cities, however, flying into a smaller town like Granada or San Sebastián will be on the pricier side. Luckily, the country is very well serviced by train and bus routes, reaching even the smallest towns, so there's no need to rent a car. I highly recommend choosing trains or buses as they are reliable, speedy, and leave less carbon footprint. 
---
LANGUAGE 
The majority of Spaniards speak Castellano, or Castilian Spanish, the Spanish language originating from the Kingdom of Castille. However, there are many beautiful dialects spoken in the different autonomous communities of the country. These regions have their own dialects, such as Galician, Asturian, Valencian, Basque, and Catalan. 
You won't have any issues speaking in Castilian Spanish – it is understood and spoken across the country. Many Spaniards know English, although I recommend putting in the effort to speak Spanish while you are in the country as it will be appreciated.
Useful phrases to know:
Buenos días: Good morning (It's considered morning until the main meal of the day, around 3 pm)
Buenas tardes/noches: Good afternoon/good night
Por favor: Please
Gracias: Thank you
¿Como estas?: How are you?
Perdón: Sorry
¿Habla inglés?: Do you speak English?
No hablo Español: I don't speak Spanish
Que rico: How delicious
Todo bien: Everything's good
Hasta luego: See you later
---
COMMUNICATION | Phone and Internet in Spain
There are four major phone and internet companies in Spain: Orange, Vodafone, Yoigo, and Movistar. You can go to any of these stores (I recommend the more prevalent Orange or Vodafone) to purchase a SIM card, which typically costs around €10 before you add on the prepaid service of choice. 
You can also purchase a SIM card at the Madrid and Barcelona airports. Typically, you can get a trustworthy data and roaming plan for around €10 a month, useful throughout the European Union. Most cafés and tourist areas such as airports will have WiFi available as well, although it can be spotty. Keep in mind that many cafés dissuade or prohibit patrons from working on their laptops – cafés are reserved for relaxation and conversation.
---
BUDGET | How Much Does It Cost to Backpack Spain?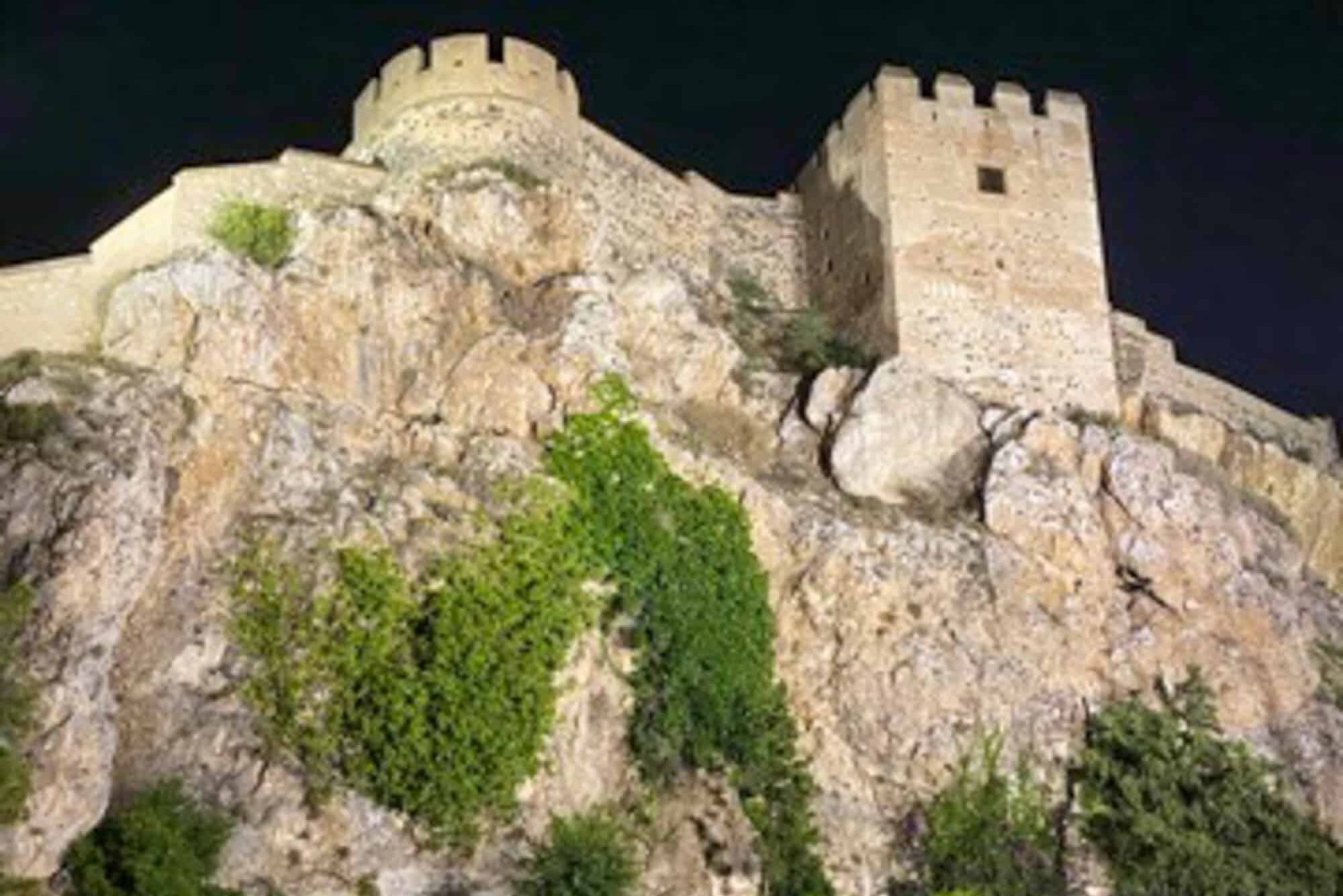 The prudent budget backpacker can expect to spend around €50-60 a day if they make concerted choices to take public transport and limit drinking and eating out. However, if you prefer a more hedonistic experience, you can budget for around €80-90 a day and indulge in a cheeky vino tinto. At the time of writing, the euro and dollar exchange rate is around 1 to 1, so there's no need to worry about those extra calculations. 
Cost of Accommodation in Spain
A one-night stay in an average hostel hovers around €15 a night during the off-season. A hostel bed in a major city such as Barcelona or Madrid can climb as steep as €30, especially during the summer. However, if you choose to visit in off season you can find a great room for half of the price. Budget hotels begin at around €50 a night, but prices vary depending on city size and how close to the center you are.
Cost of Food in Spain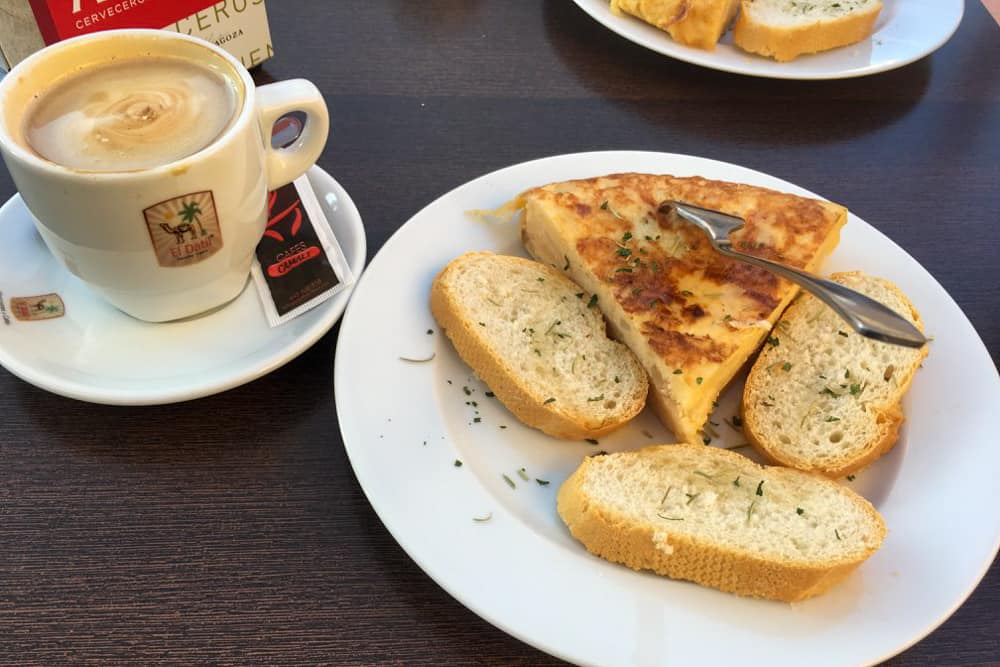 If you want to fully immerse yourself into Spanish living, expect a substantial portion of your daily budget to go towards food. Mealtimes are paramount to Spanish culture as it is a time to relax and converse with your compañeros. 
Servers will take their time, and meals can last up to a couple of hours. Dining out at an average restaurant will set you back around €15 with a drink. You can find a menu del día that includes a beverage, appetizer, main course, and dessert for €10-15 at most places in Spain during the week. 
Keep in mind that some places will inflate the prices slightly for dining outside on the terraza (restaurant outdoor area), but the al fresco vibes are usually worth the extra couple of euros, and you may get some free entertainment (such as Spanish guitar) in touristy areas.
You can also find cheaper options like sandwiches, pintxos de tortilla, and other small bites. These cost around €3-5 per serving. If you venture to Andalucía, most places will bring you a tapa or small plate for free with the purchase of a drink.
The grocery stores are very affordable in Spain, and most hostels have kitchens, so you can save some cash.
Cost of Drinks in Spain
One glass of beer costs around €3-4, while a glass of wine costs roughly €2-4. A coffee or cafe con leche costs around €1.50-2. 
Cost of Activities in Spain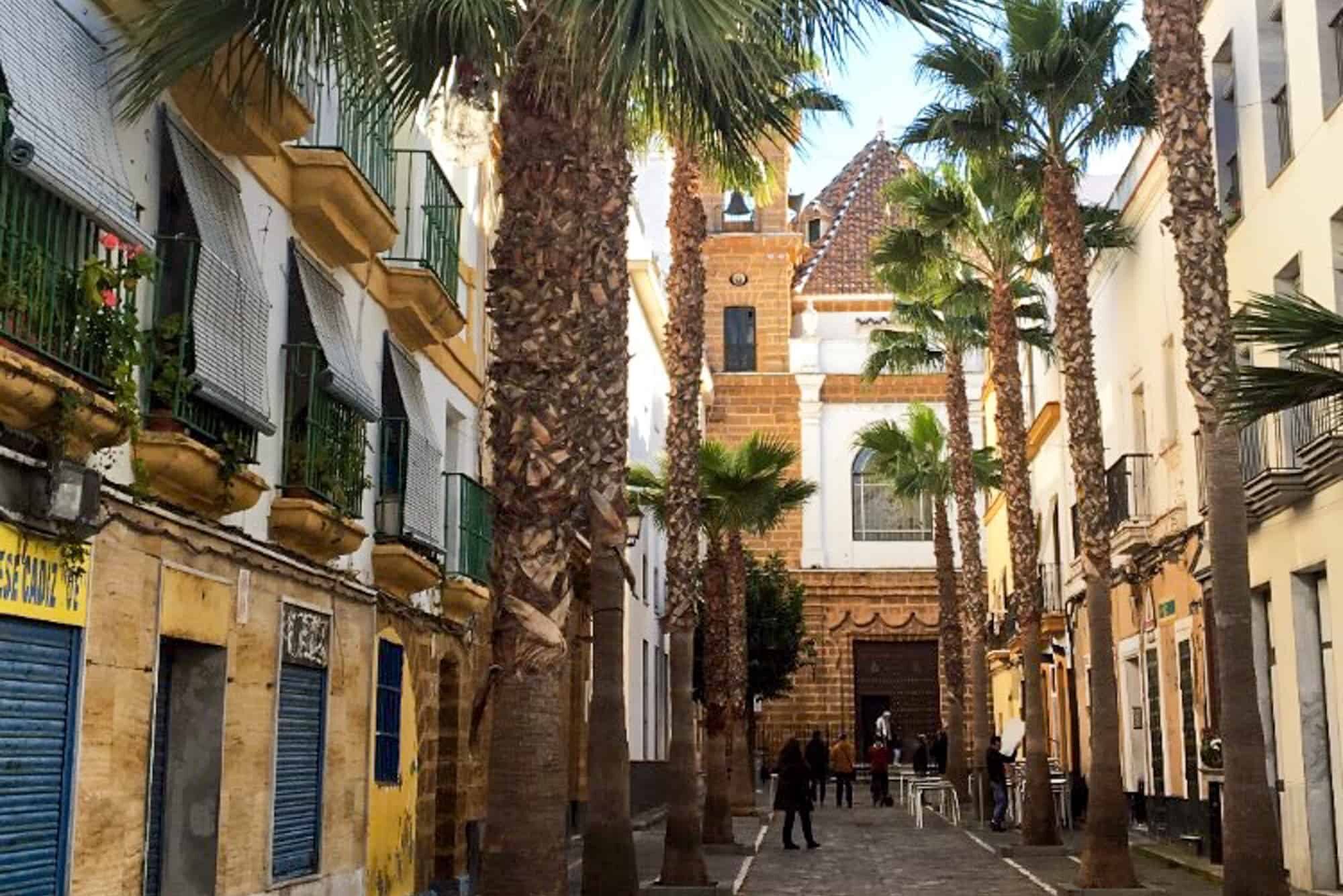 You can soak up Spain's atmosphere for free by ambling around old narrow streets or joining a free walking tour. This country abounds with stunning scenery, hikes, and beaches that are also free! Here is a breakdown of the approximate cost of some popular activities: 
Alhambra Palace tour in Granada: €14
Flamenco Show in Andalucía: €15-20
Guided Winery Tour and Cata de Vinos (wine tasting) in La Rioja: €15
Ticket to Prado Museum in Madrid: €15 
Entry to a Discoteca: €10-12
---
TRANSPORT | Getting around Spain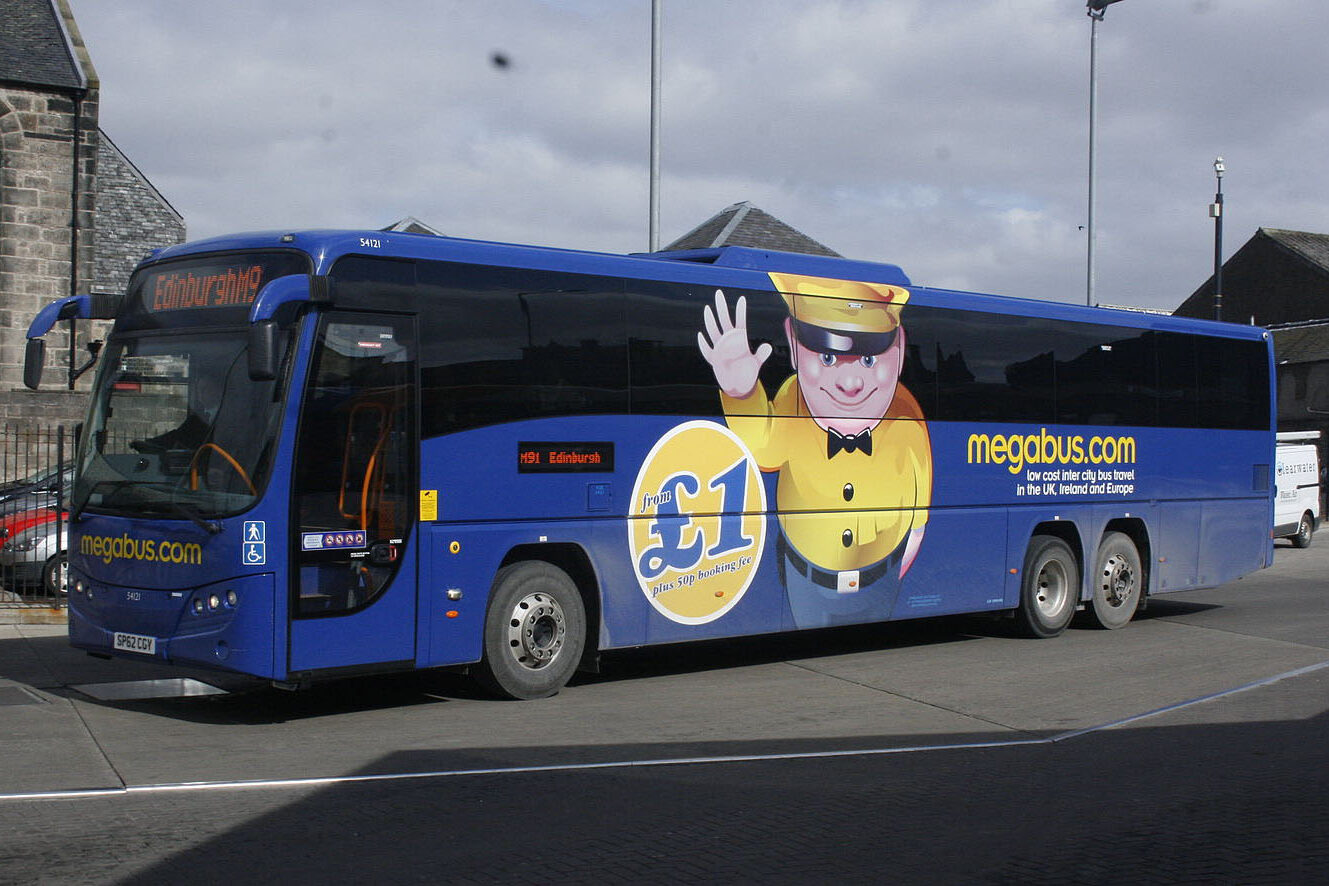 Transport around Spain is abundant and reliable. Buses and trains are very well organized and usually stick to their schedule. 
Buses
The main bus company is Alsa, and buses are easily accessible from major train/bus stations. The larger cities such as Madrid and Barcelona have their own bus systems, which will require the purchase of a city transit card from any of the metro stations. The buses to and from different cities can fill up, so it's best to book in advance on a website like omio.com.
Trains
You can search on omio.com or the Renfe website to find train routes. You can also sometimes purchase train tickets to smaller towns on the day of travel. However, it is best to get tickets to more popular cities online in advance. 
Metro
The larger cities such as Madrid, Barcelona, Valencia, Palma de Mallorca, and Bilbao have extensive metrorail systems that are affordable, efficient, and clean. Alicante, Granada, Seville, and Malaga also have lighter rail networks. Definitely take advantage and purchase a transport card if you head to these cities. You can find reloadable cards with ten trips for around €10-12.
Planes
The Iberian Peninsula is not very large, and short plane rides to small airports are not cheap. However, if you are hoping to venture to the Canary Islands or islands such as Mallorca and Ibiza, flying is the way to go. If you're sticking to the peninsula, reduce your carbon footprint and take advantage of the above options! 
Car
Car rentals are not the cheapest as prices are geared towards tourists, but you can find good prices if you book far enough in advance. RentalCars typically has good deals.
Rideshare
If you do need to get somewhere in a pinch, Bla Bla Car is a very affordable rideshare company. It is essentially a long-distance carpool. Download the app and in no time you can book a ride to most major cities and some small towns. All the drivers are verified, and you can get into some interesting conversations with drivers and your fellow passengers.
---
WHERE TO GO | Places to visit in Spain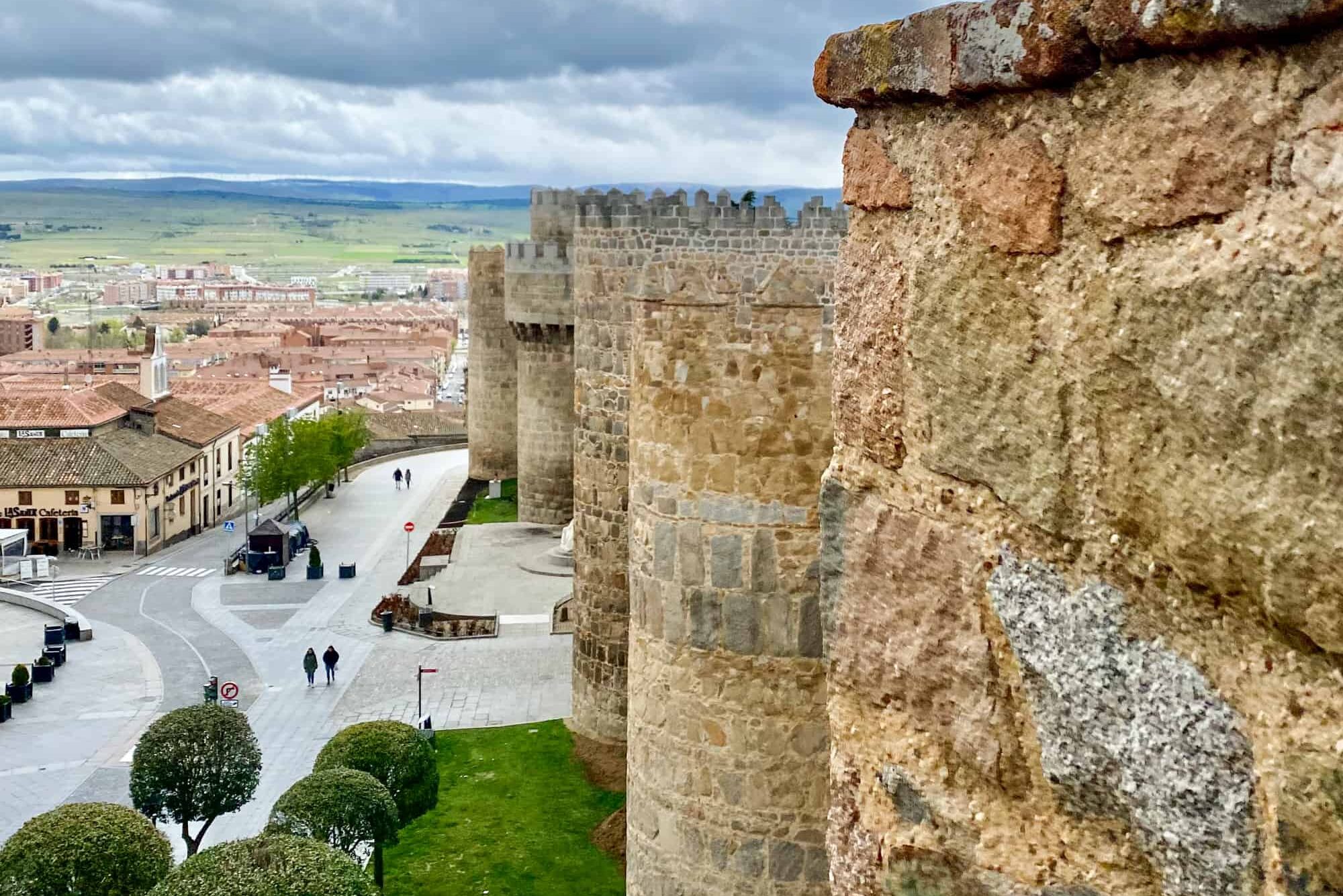 For Nature Lovers and Hikers…
Visit the Northern regions! The autonomous communities of the North including Asturias, Cantabria, and País Vasco (Basque Country) are lush with verdant pastures, dramatic mountains and cliffs, and stunning lakes. The Picos de Europa, Pyrenees, and Lakes of Covadonga are all popular destinations for those wanting to enjoy the great outdoors. 
For Adventurers Wanting An Exotic Escape…
The Canary Islands are a cluster of eight islands off the western coast of Africa. Trust us, the flight is worth it: they possess everything from volcanos to exotic flora to black sand beaches! 
For the Futbolista…
Football is indeed a big part of the Spanish sports scene. If you're into the soccer scene, definitely catch a game at the Camp Nou stadium in Barcelona or the Bernabeu stadium in Madrid. Barcelona offers tours of Camp Nou for around €3.50 if you purchase in advance! 
For Religious History Enthusiasts…
The infamous El Camino de Santiago route is a popular religious pilgrimage for those hoping to get a little bit closer to their faith or seeking out a test of character. The famous pilgrimage route finishes in the stunning Santiago de Compostela Cathedral at the shrine of St. James. 
If you prefer to pay your respects but aren't ready for the grit of a multi-day hike, there are countless religious sites to visit in Spain. A must-see is the Mezquita-Catedral in Córdoba, a breathtaking cathedral and mosque hybrid. 
Other popular religious attractions include the Sagrada Família, Basílica de Nuestra Señora del Pilar in Zaragoza, the Granada Royal Chapel (burial site of the Spanish Catholic Monarchs), and the cathedrals in each of the big cities.  Every city and town is home to at least one exquisite church. 
For Sunshine Seekers…
Those seeking golden rays, gypsy guitar, tapas, and floral-framed patios should spend a good chunk of time in the cherished Andalucia region in the south of Spain. This region is home to many popular cities such as Sevilla, Granada, Cádiz, Córdoba, and Málaga. There is no lack of sunshine or laughter in this region, but it is also a rich cultural haven: be sure to relish the unique Mudéjar architecture and attend a flamenco show. 
If you want to venture out a little from the main cities, Ronda is a stunning town that is dramatically nestled upon a steep gorge. Also in the province of Málaga, Nerja is a charming beach town resplendent with whitewashed buildings and narrow streets garnished with flower pots. It also has caves nearby that are worth seeing. 
Olvera is another pueblo blanco (whitewashed town) bordered by three million olive trees. Jerez de la Frontera is a small town that epitomizes Andalusian culture, abuzz with sherry, flamenco, and horses. Definitely don't miss the cathedral and alcazar fortress in this hidden jewel of Andalucía.
For those Escaping Tourist Traps…
Head to the less traveled provinces of Castilla-La Mancha, Extremadura, and Castilla y Leon. I can't guarantee every plaza here will be free of performance artists, but these provinces exude old-world medieval character and stripped-down beauty that the more popular tourist cities lack. Look into Cuenca, Toledo, Ávila, Segovia, and Cáceres, for a starting list. 
---
THINGS TO DO | Top 10 Things To Do in Spain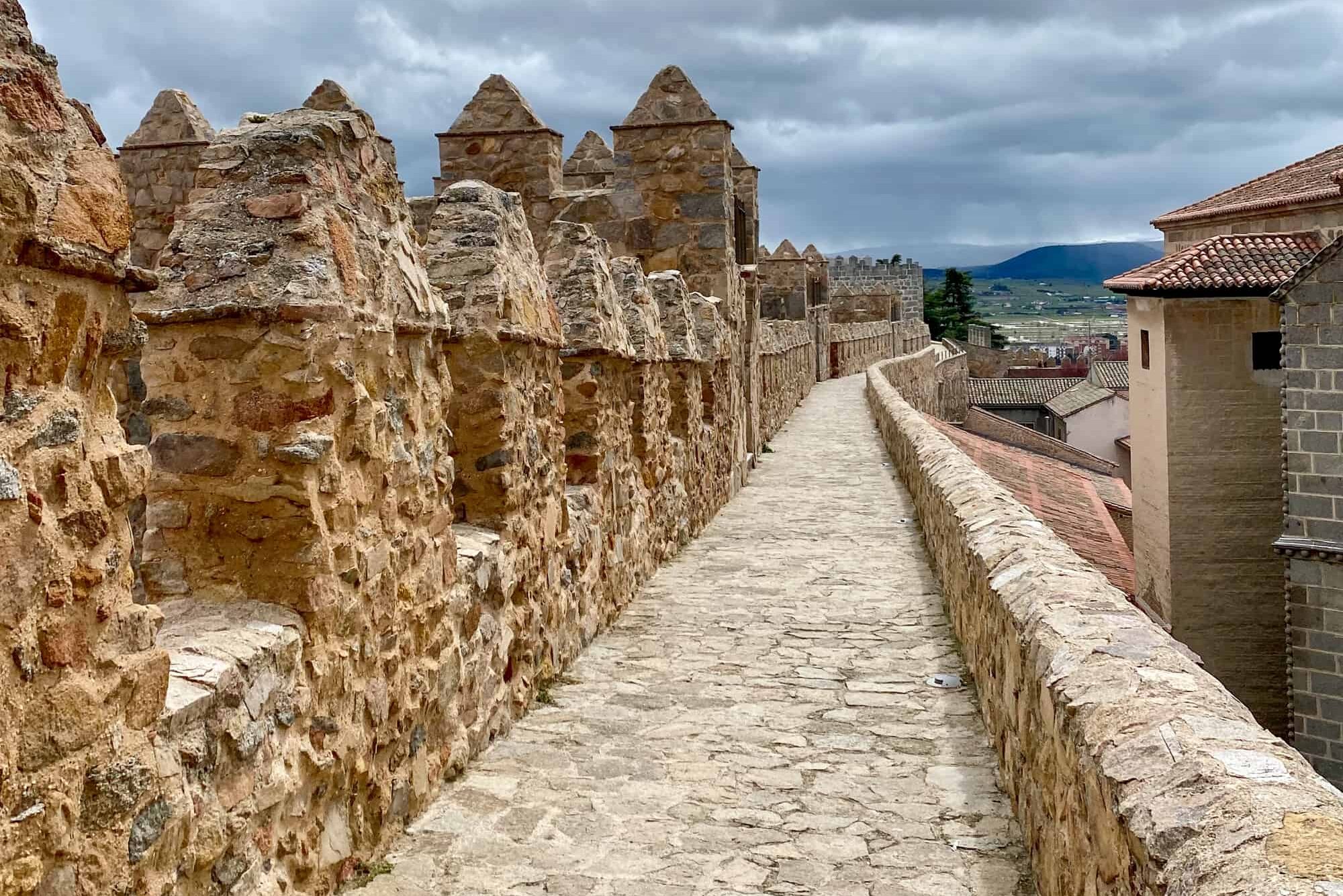 It's nearly impossible to list only ten activities in a country brimming with places to discover. Here is a handful not to miss while exploring the Iberian Peninsula. 
1. Enjoy Sangria and Tapas in a Sunny Plaza
If there is one way to really live like a local, it's by spending a lazy afternoon people-watching on a terraza. As for tapas, try the famous jamón ibérico, croquetas, tortilla, boquerones, papas bravas, calamares, pulpo….the list is endless. Don't skip out on a paella if it's on the menu and you've yet to try it.
2. Marvel at La Alhambra and Generalife Gardens in Granada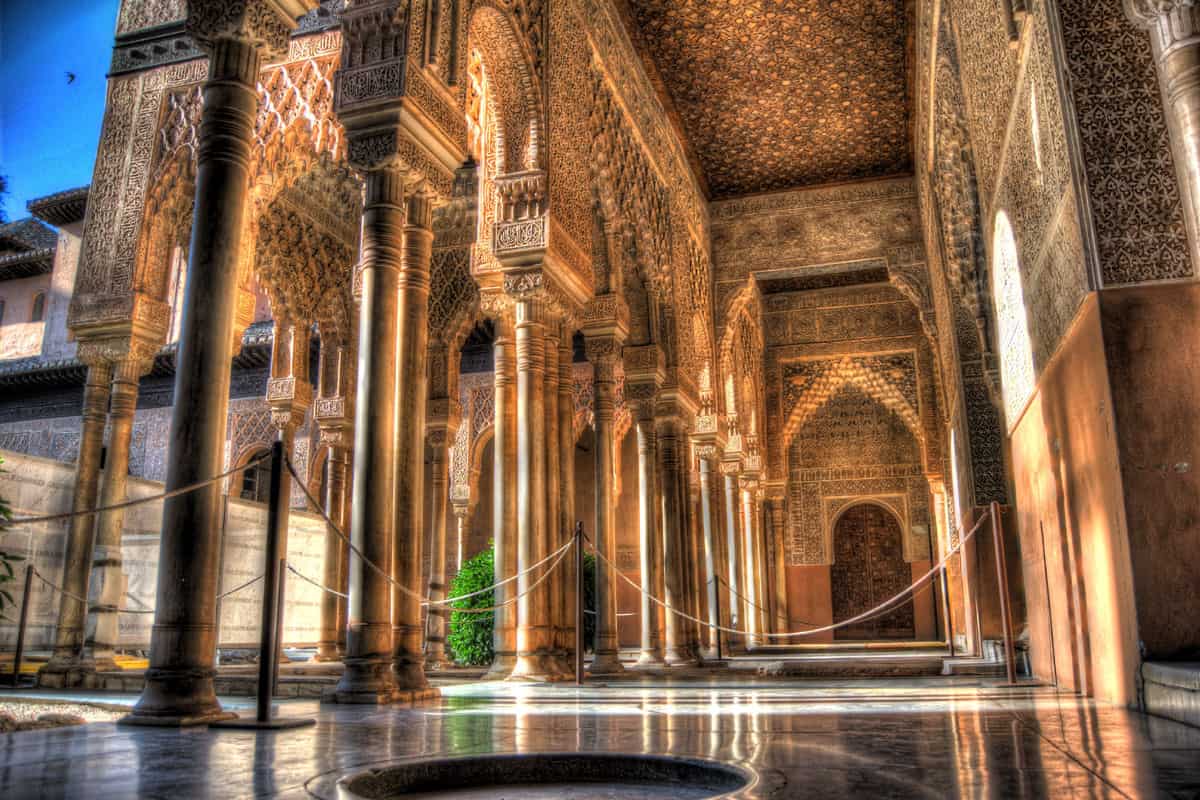 There is simply no place like La Alhambra and Generalife Gardens. Originally conceived as a military fortress, La Alhambra became a royal residence and palace in the 13th century during the Nasrid Dynasty. 
Book your tour in advance and amble through its exquisite halls, chambers, and patios resplendent with Islamic architecture. The mere vision of the Alhambra is from a storybook; the palace is nestled on a tree-lined hill overlooking the city, with frosted mountains as its backdrop. 
Views are breathtaking from any angle, especially from the lookout spots Mirador de San Nicolás, Mirador de San Cristóbal, and Mirador de San Miguel Alto. Savor the view as the sunset lights the fortress walls ablaze with orange-gold light and linger until the palace becomes illuminated after sundown. Alternatively, tour the palace at night to truly immerse yourself in the intimate dwellings of the royals.
Also read: Alhambra Gardens, Generalife and Alcazaba.
3. Go to a Flamenco Show in Andalucia
Flamenco is an art form you truly need to experience live; its essence is sensual, powerful, dramatic, and passionate. Each show is a sensational performance combining dance, vocals, colorful vestment, and rhythm. 
Originating from the gitano (gypsy) community in Andalucía, head to a show in any city there for the most authentic kind of performance. Allow yourself to experience duende, an undefinable term referring to the innate talent and charisma of flamenco artists that incite heightened emotion in the audience.
4. Visit la Sagrada Família in Barcelona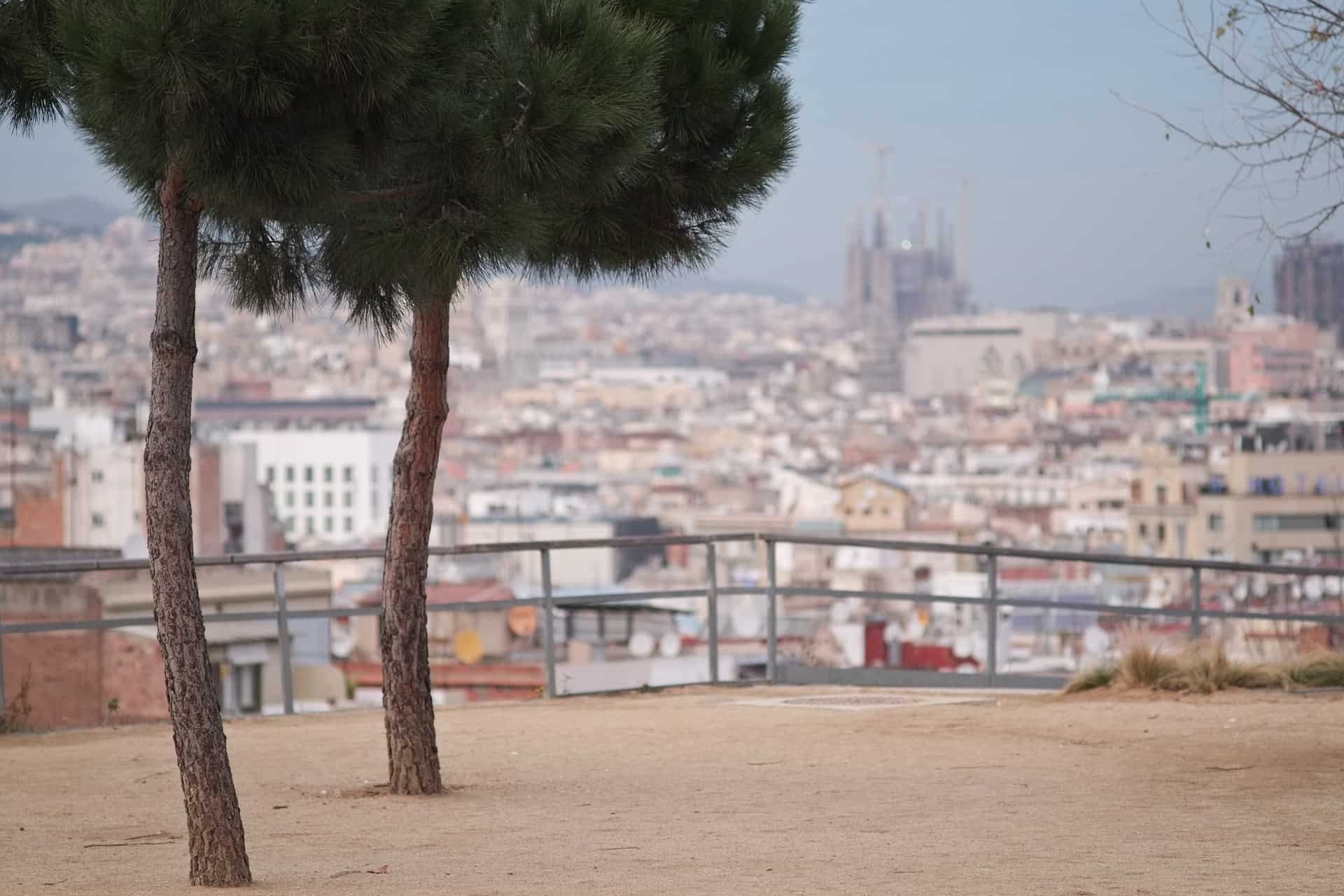 If you want to be truly overcome by grandeur, visit this basilica designed by Antonio Gaudí. Its central tower measures a whopping 172.5 meters! Ambling around its interior, marveling at the radiant stained-glass, towering ceilings, and unconventional Christian architecture is a truly humbling experience.
5. Visit the Mezquita-Cathedral in Córdoba
The Mosque-Cathedral of Córdoba is arguably one of the most unique houses of worship in the world. Upon entering, you feel as though you are completely immersed in a mosque, roaming between uniform red and white arches and pillars. 
However, once you approach the center of the building, you're engulfed by a towering, ornate Cathedral. The sensation that the contrast in architecture provokes is indescribable. This UNESCO site is a must-do in Andalucia. 
6. Soak Up the Sun at the Beach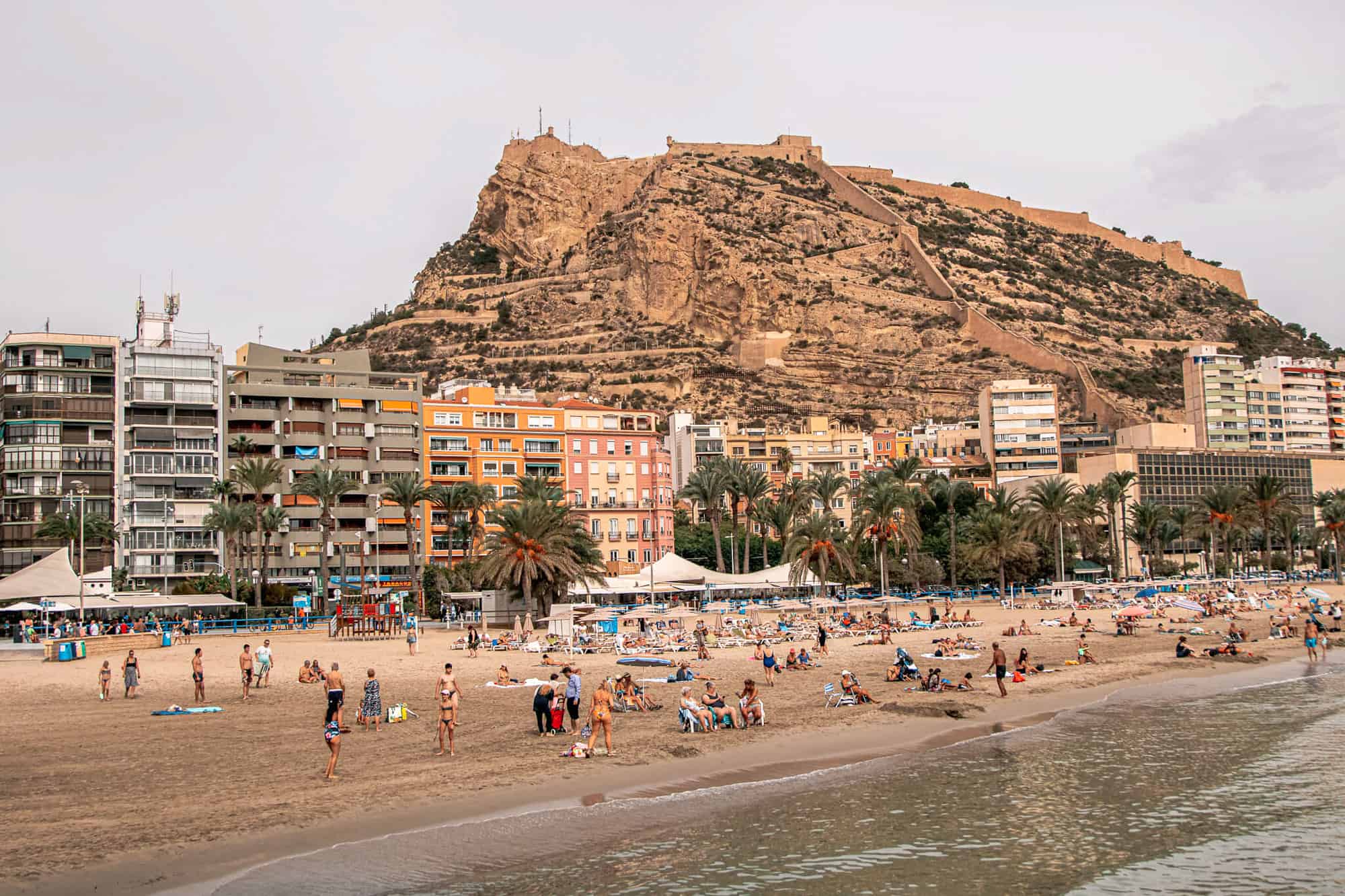 From the silky white beaches of Cádiz to the dramatic oceanside cliffs in the North and the exotic black sands of Tenerife, Spain is a haven for any kind of beach bum. In case you were wondering, yes, many beaches in Spain are topless, so release those inhibitions if you so desire.
7. Watch the Sunset From a City Rooftop 
There's nothing quite like watching the sun set over a European city.  Whether you are in Madrid, Barcelona, Granada, or Sevilla, you name it, you can find a stellar spot. Grab a copa, get settled in, and relax. Rooftops are commonly called terrazas or azoteas.
8. Indulge in the Gastronomy of the North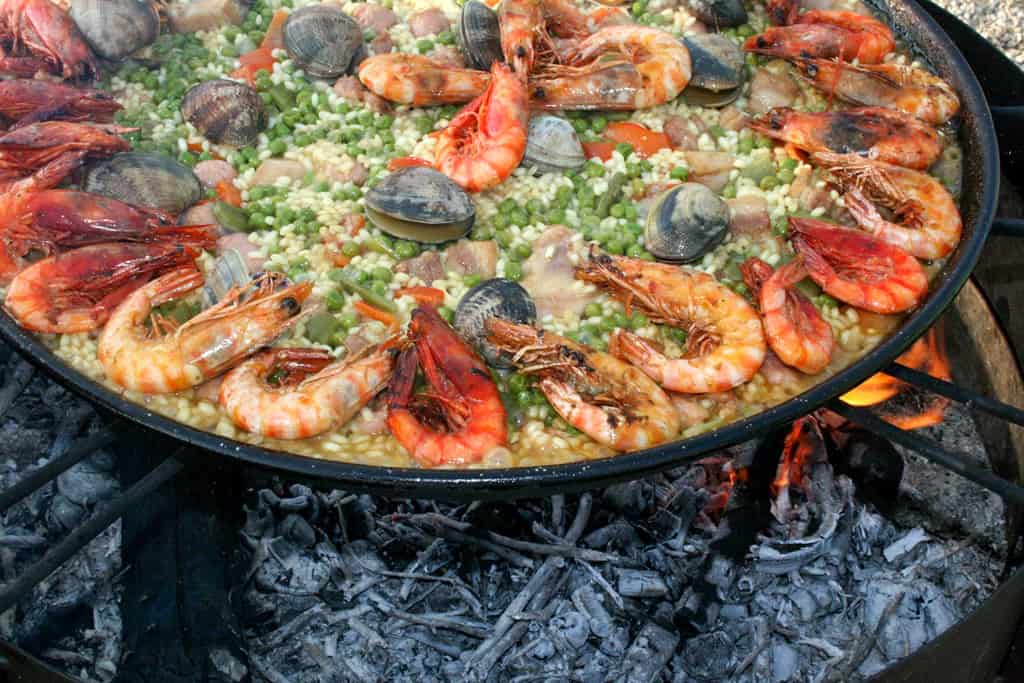 The northern regions of Asturias, Cantabria, Galicia, and País Vasco (Basque Country) are known for their rich cuisine that warms the bones and feeds the soul. Fabada is a tasty bean and sausage stew that is emblematic of Asturian cuisine. Dine in a sidreria, an establishment serving the iconic hard Asturian cider, to get the whole experience: the server will pour the cider from an impressive height without sparing a drop.
In País Vasco, indulge in pintxos, small snacks with toothpicks typically eaten in bars. Some bars tend to get very creative in their pintxos, which usually include bites of seafood and meat.
If you head to Galicia, be sure to try the pulpo a la gallega (octopus), cocido gallego (galician stew), and mejillones al vapor (steamed mussels). 
9. Visit the World-Famous Museums 
Take your pick from many high-class options: the Picasso museum in Barcelona, the world-renowned Prado in Madrid, Sorolla's house (converted to a museum), and the modern Guggenheim in Bilbao. Art is abundant in Spain, both inside and outside museum walls.
Also read: Amazing Museums in Europe to Visit.
10. Hike Spain's Diverse Terrain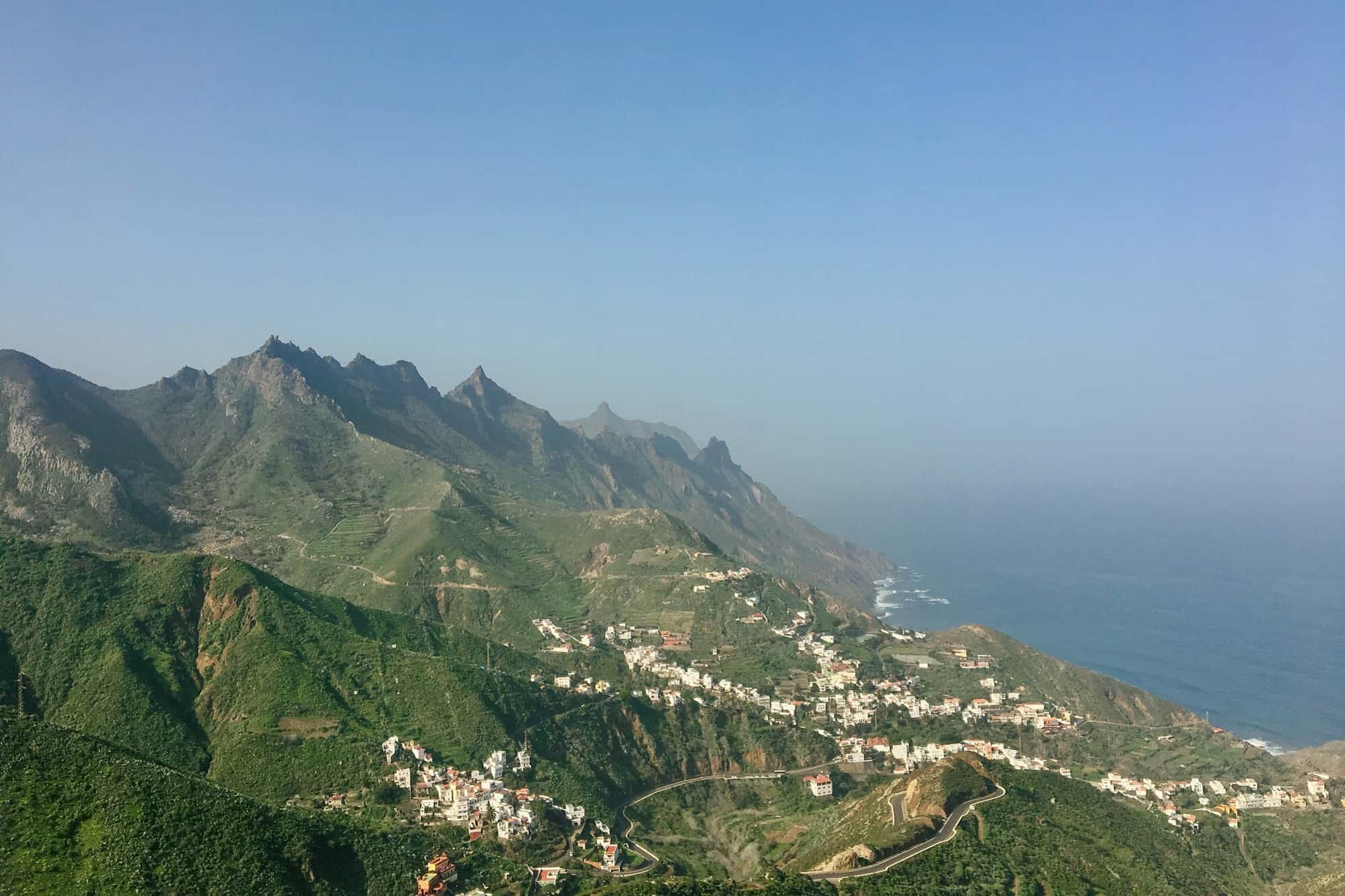 There are countless trails throughout the country, so don't even consider this a highlight list, but rather a couple of standout picks aside from the well-known routes.
The Cap de Creus trail, found in the Costa Brava in Catalonia, is a stunning trail that passes through Salvador Dalí's house, rugged beaches, vineyards, and a lighthouse. 
A trail that still remains natural and largely undiscovered is the Ruta del Flysch. This trail is beyond scenic, stretching 10 kilometers of cliffs between Deba and Zumaia of the Basque Country. 
The Caminito del Rey trail in the Málaga province was once considered the most dangerous hike in the world, but not anymore! This dramatic hike takes you through an epic path quite literally bordering cliffs. 
Hopefully, this guide leaves you with ganas (desire) to travel to the one and only España. Do you have any more questions about Spain? Let us know in the Europe Backpacker Community.