If the name Segovia reminds you of a Princess-Diaries-esque European wonderland, your senses are not deceiving you. Segovia's royal history, rich gastronomy, and grand architecture are pillars of its European allure. 
Segovia in Spain is located only about an hour away from Madrid by train, and tickets won't set you back more than around ten euros each way. It's a popular day trip for those seeking a small-town escape from the bustling capital. And, for those who have longer to spend in this enchanting town, you will be rewarded – Segovia's magic has pulled me back twice already!
---
Language: Spanish
Currency: Euro
Population: 51,700
Perfect for: Foodies, culture vultures, architecture fans
---
Best Time to Visit Segovia
Nestled in the Castilla-León region of Spain, Segovia's central location lends way to a continental, moderate climate with hot summers and cold winters. Segovia's magic is present year-round, however, it does see more tourists during Spain's high tourist season in the late spring and summer.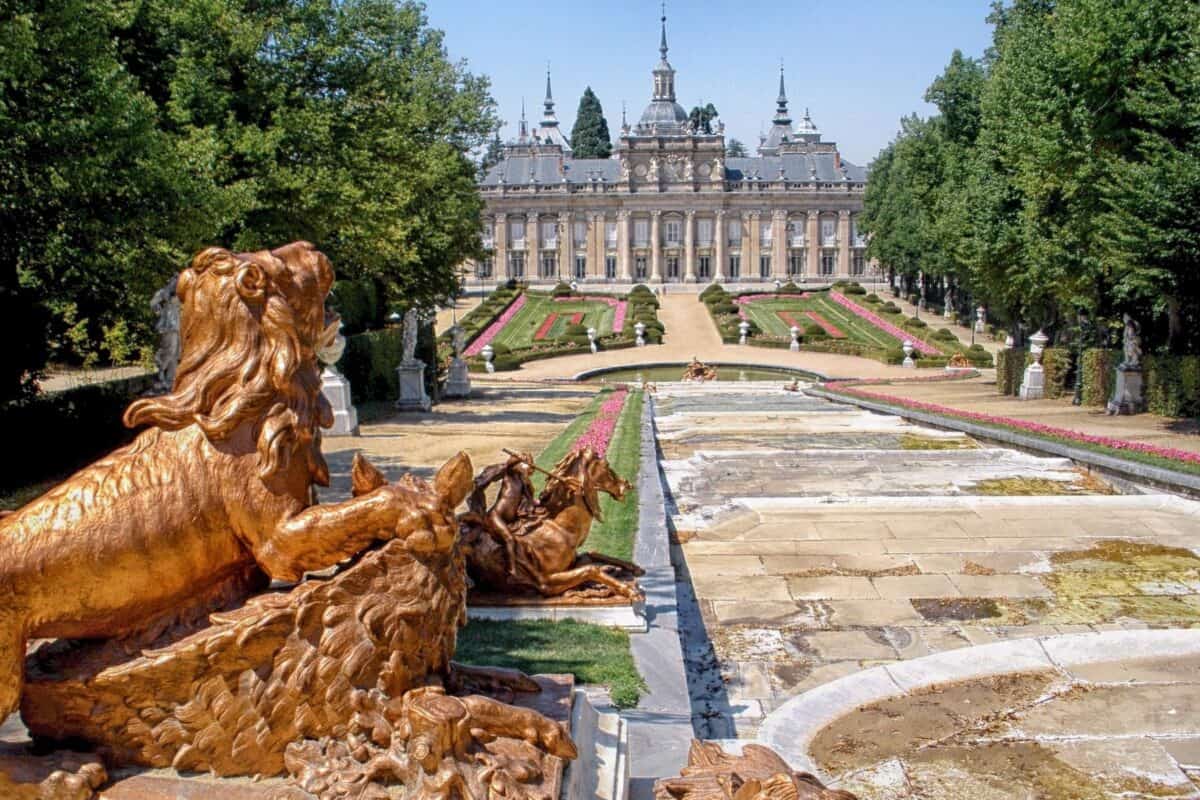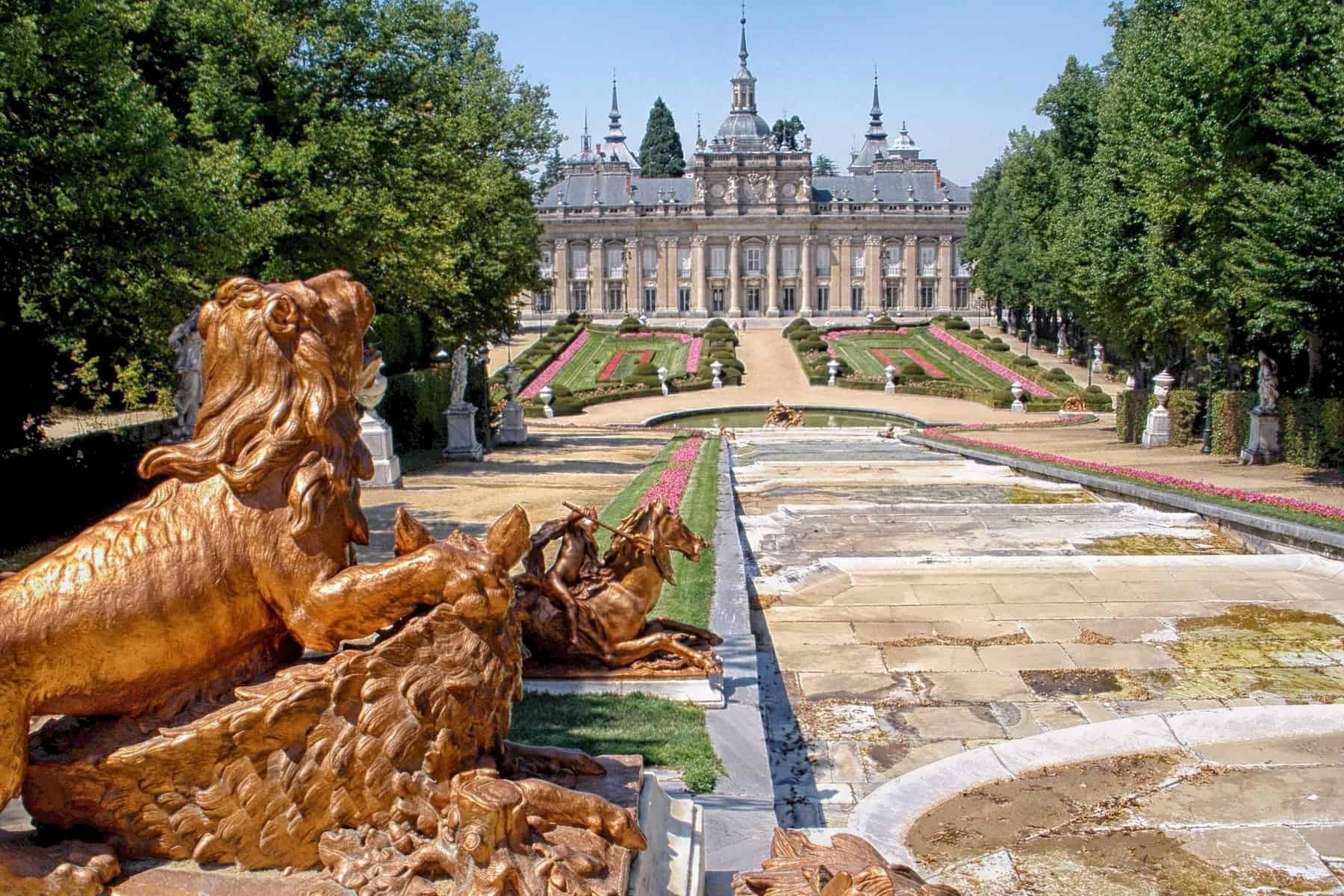 ---
Best Hostels in Segovia
Disclosure: Some links on this page are affiliate links. We always write our articles before checking if affiliate links are available.
Segovia is a relatively small town, and most tourists choose to pass by only for a day visit. That being said, if you wish to soak up the town's charm over a couple of days, there are some good hostels to choose from:
This top-rated hostel is located in the heart of the city with welcoming, English-speaking staff, soundproof walls and complimentary toiletries. 
Also centrally located, this hostel boasts a cosy living area, fair trade breakfast, kitchen with a terrace, courtyard, and cinema room. Guests say the staff here are very knowledgeable and that the rooms are quiet and clean.
---
Things to Do in Segovia
Fun Fact! Some believe that the layout of Segovia's landmarks resembles that of a large ship, set amidst a sea of towering waves, represented by the surrounding mountains. The Alcázar is thought to be the bow of the ship, the Cathedral is the main mast, and the aqueduct is the sea-cast anchor.
1. Admire the Aqueduct
The aqueduct is the face of almost every postcard image of Segovia. Its emblematic architecture is even more astounding in person, and the structure measures almost 30 meters tall. 
As you walk towards Plaza del Azoguejo, enjoy the grandeur that washes over you upon seeing the 96 meticulously placed arches. This structure dates back to the first century AD from the Roman Flavian Dynasty and is one of the most well-preserved aqueducts still standing in Europe.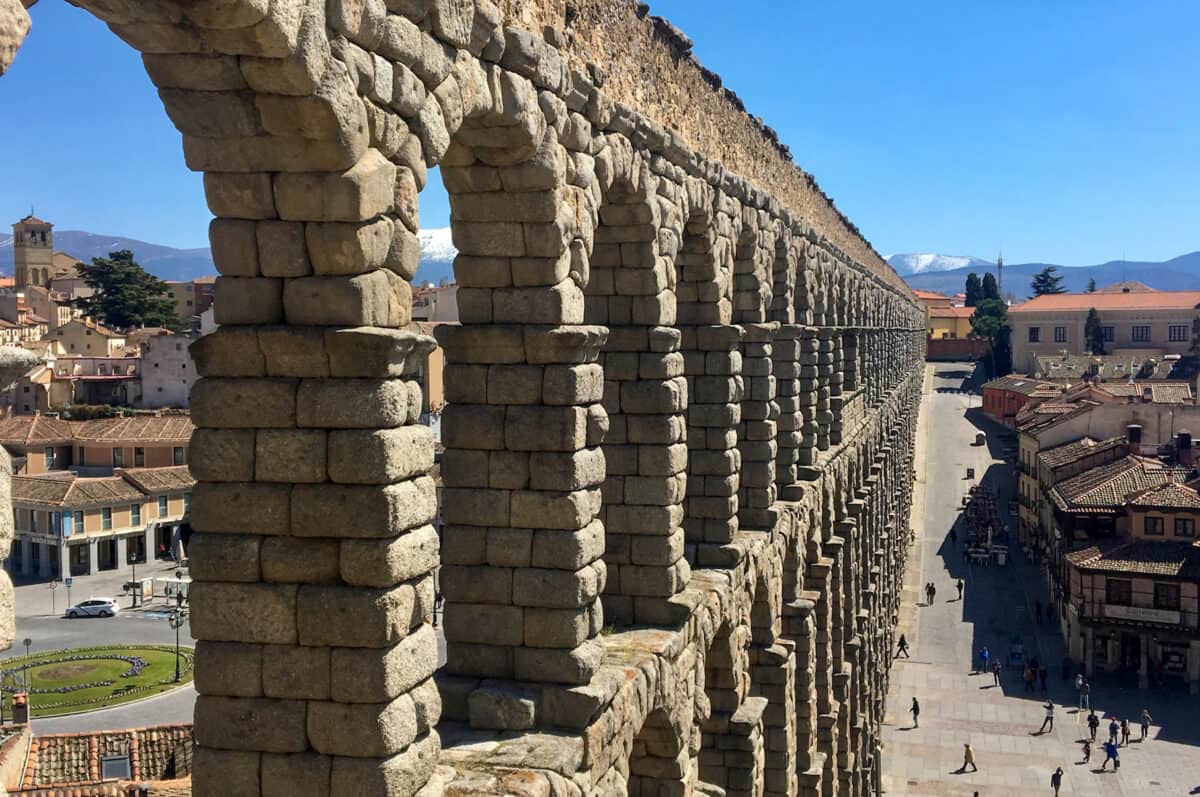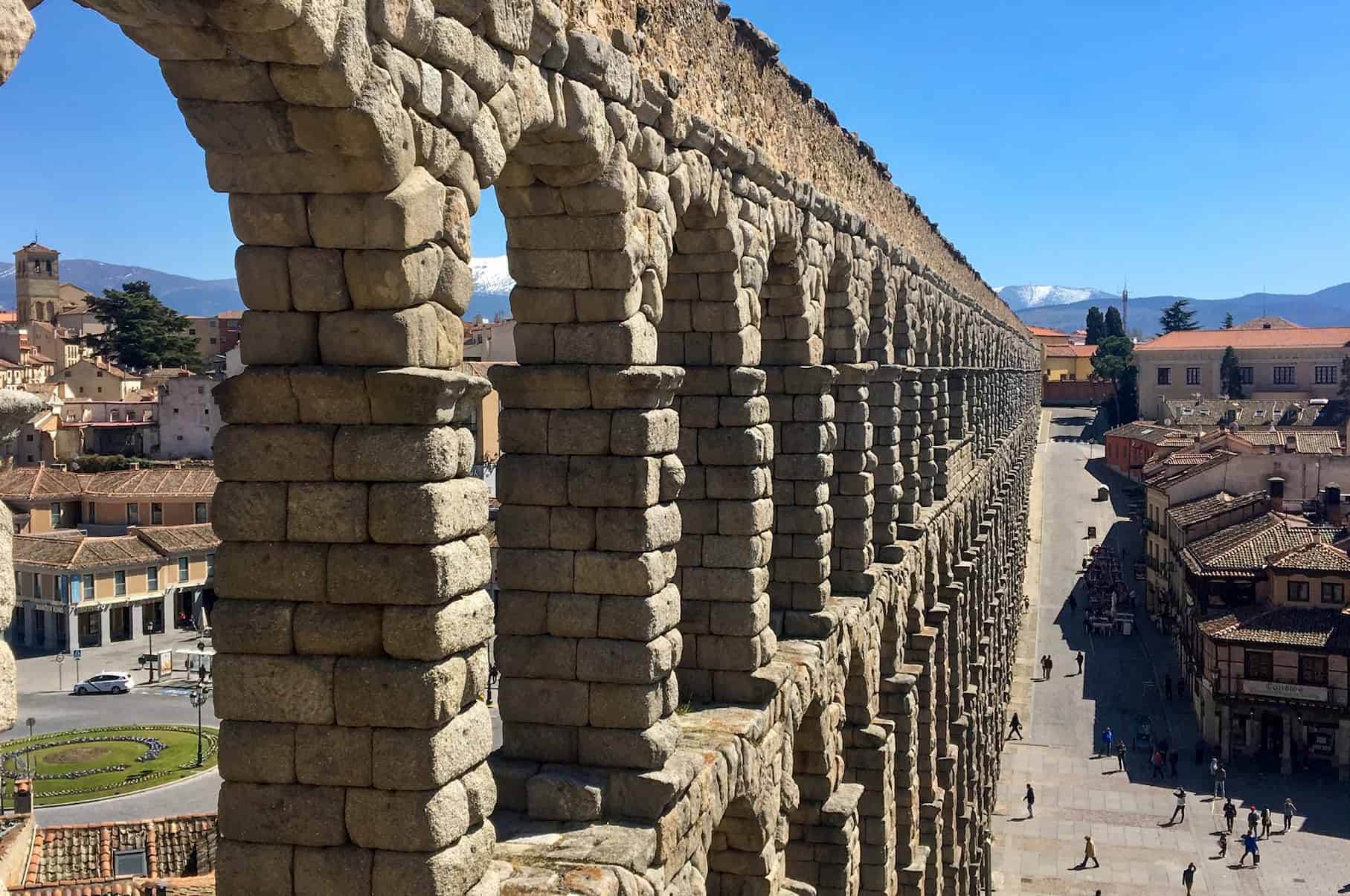 Walk to the Cuesta de San Juan to get a great side view, and marvel at the Roman architecture that allowed water from the Frío River to enter the city. The most amazing fact about this aqueduct? There was no adhesive substance used to stick the blocks to each other – they rely on balance only!
2. Saunter Through the Royal Castle (Alcázar)
Urban myth has it that this stunning fortress was the inspiration for the iconic Walt Disney Cinderella Castle. The fairytale aesthetic bears resemblance to the castles in both this movie and Snow White. 
Awaken your inner child with a tour of the palace, and if your legs allow, climb up to the torre (tower), which will provide you with a stellar view of the cathedral, complete with blue-mountain backdrop.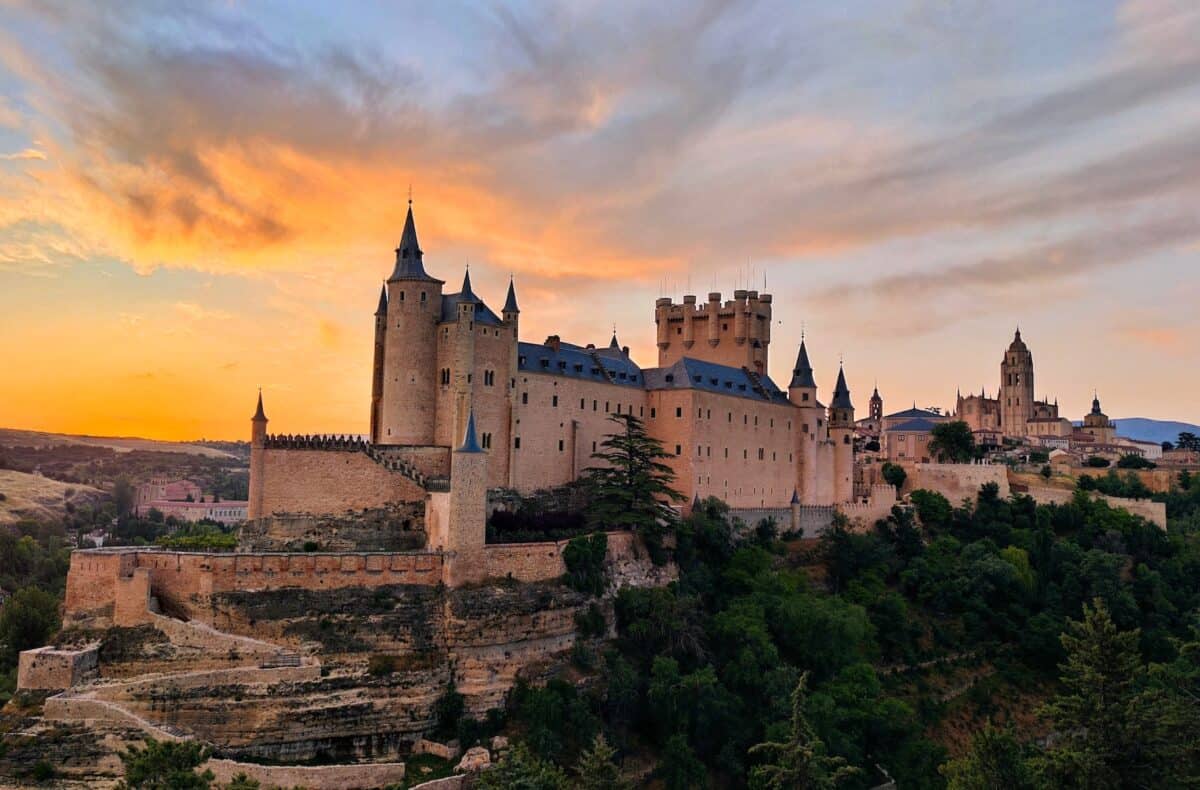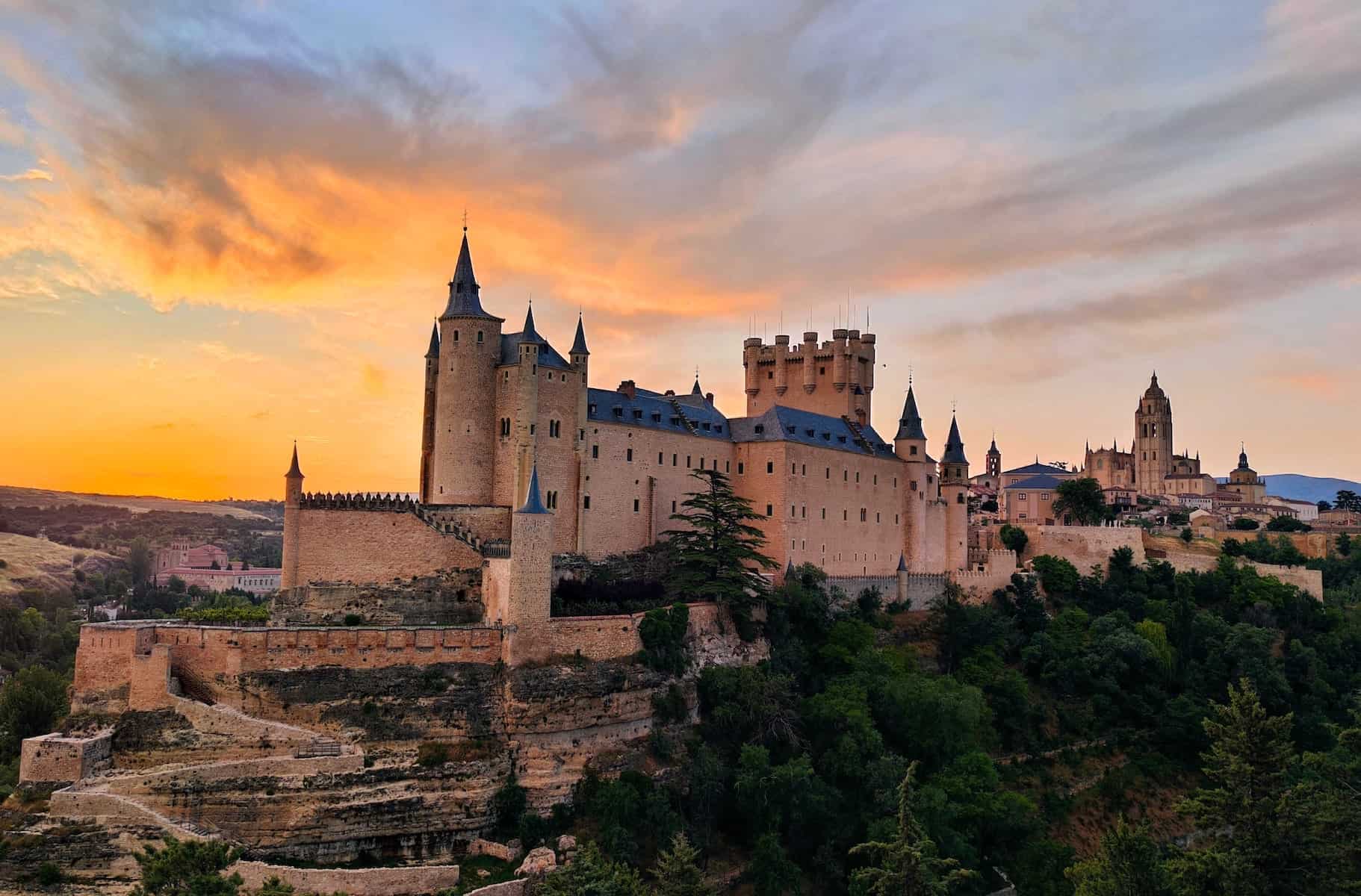 The Alcázar served as a military fortress, palace, prison, and even astronomical observation platform for King Alfonso X (The Wise). Definitely make a point to read up on the abounding history throughout your visit.
3. Visit the Holy Cathedral of Segovia
Segovia's grandiose cathedral is situated in the heart of the city in Plaza Mayor. Equally magical during day or night, be sure to visit its whopping 18 chapels while you're there. Built in the 16th century, it's considered to be the last gothic-style cathedral erected in Spain. 
4. Stroll Through Calle Real
Calle Real is the street trailing from the aqueduct to Plaza Mayor. Be sure to meander through slowly to fully drink in the lively atmosphere of the city. The pedestrian street is alive with musicians, entertainers, statues, artisan shops, and more.
5. Relax at Mirador De La Pradera
A short walk from the Alcázar, this mirador, or viewpoint, offers spectacular views of the fortress and allows you to appreciate the ship-like formation of the Alcázar from the ground up. 
Pack a picnic and a blanket and set up camp on the green grass for a scenic break. Located on Calle de San Marcos, 19, it's a little way outside of the main city but worth the short trek.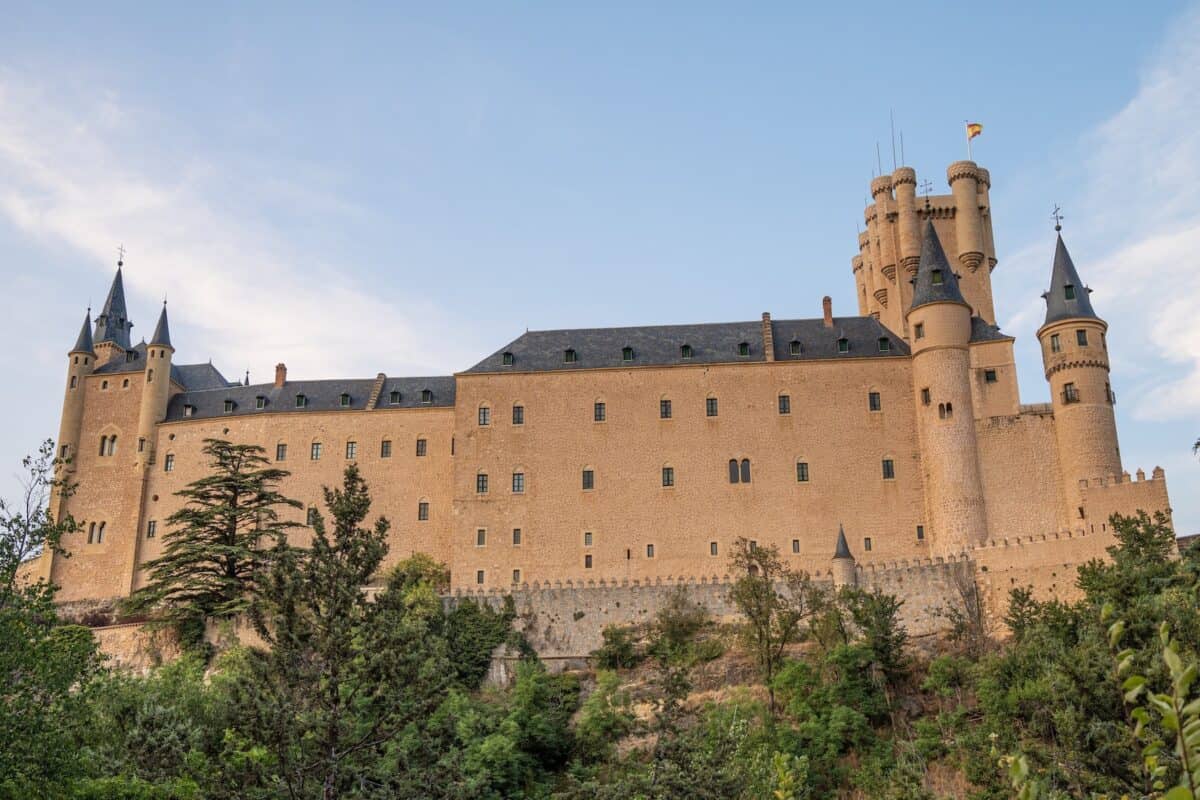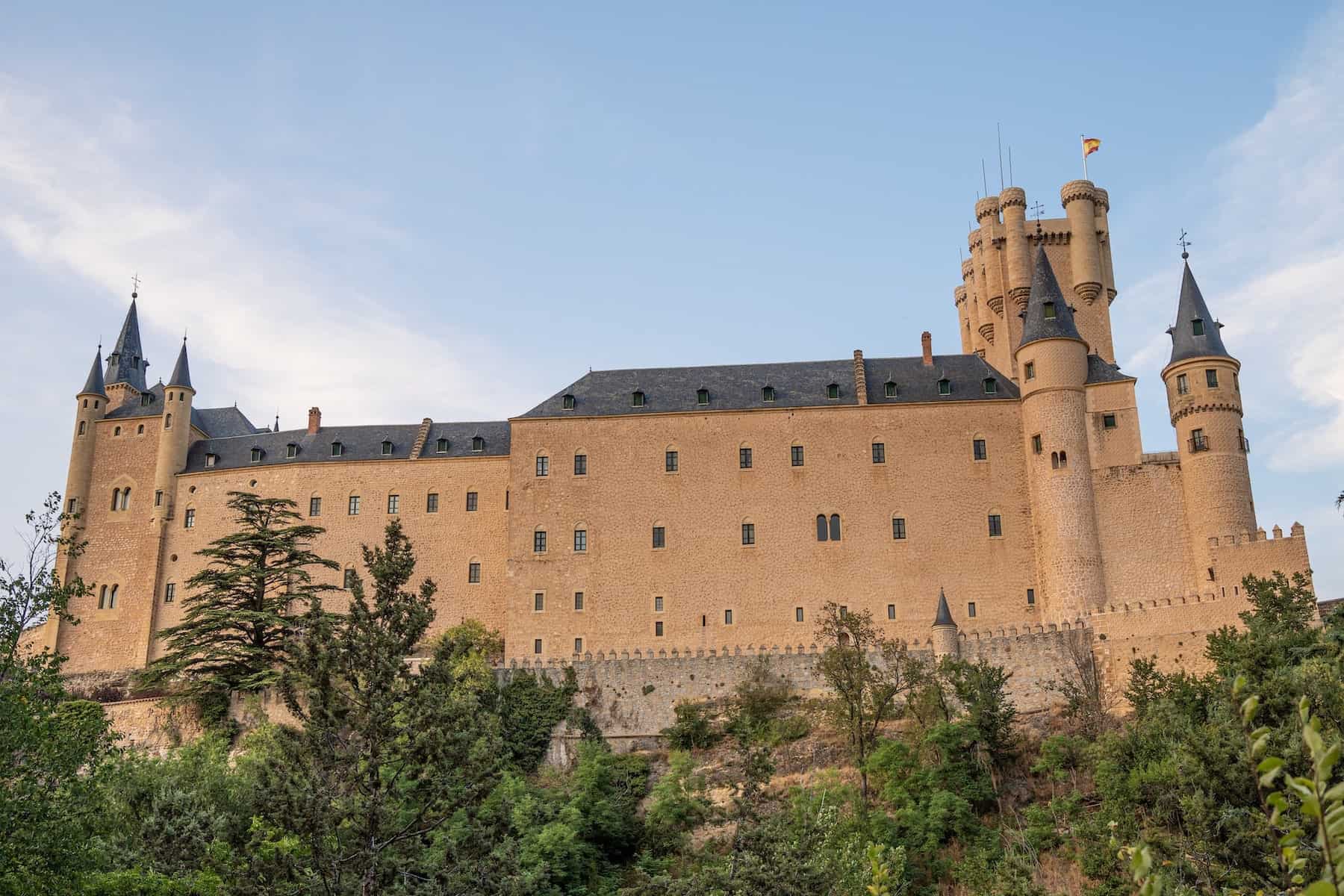 6. Dine at One of the Asadores Restaurants
Segovia is famous for its asadores (restaurants known for grilled and smoked meats). It is not hard to stumble upon these, as many display the famous cochinillo (suckling pig) dish in the storefront window.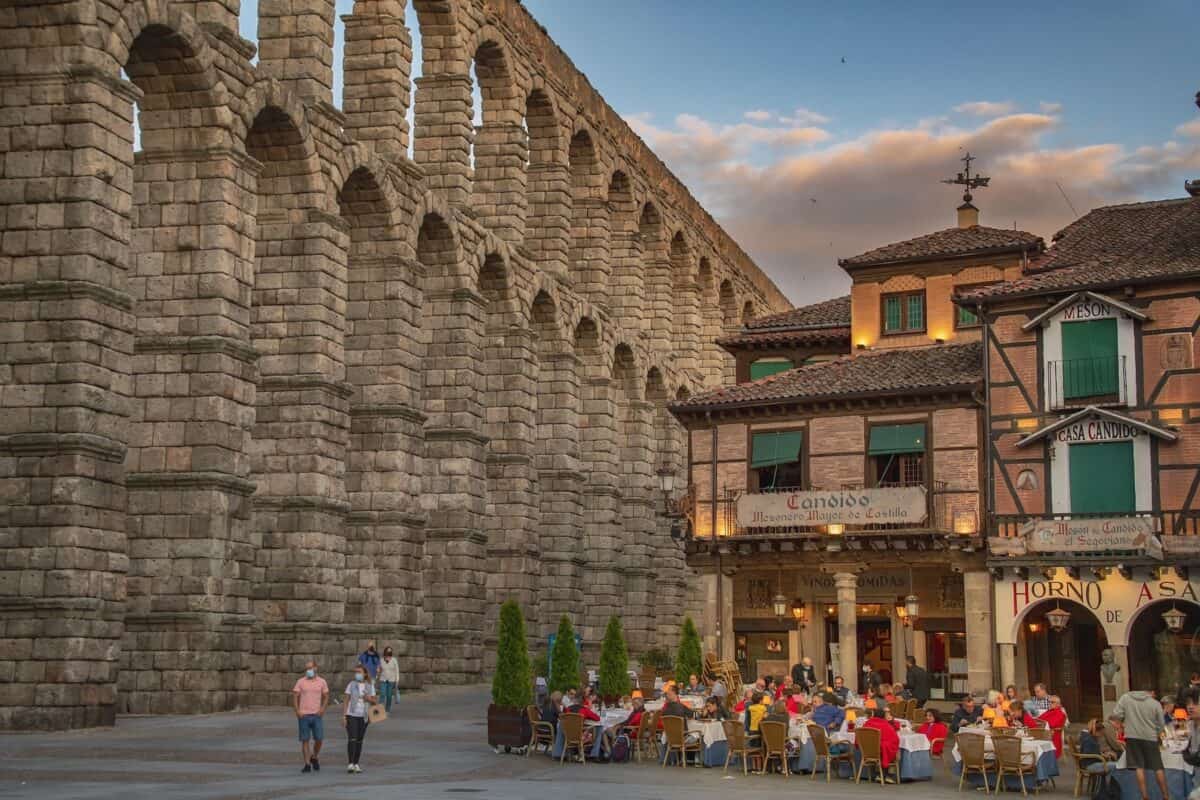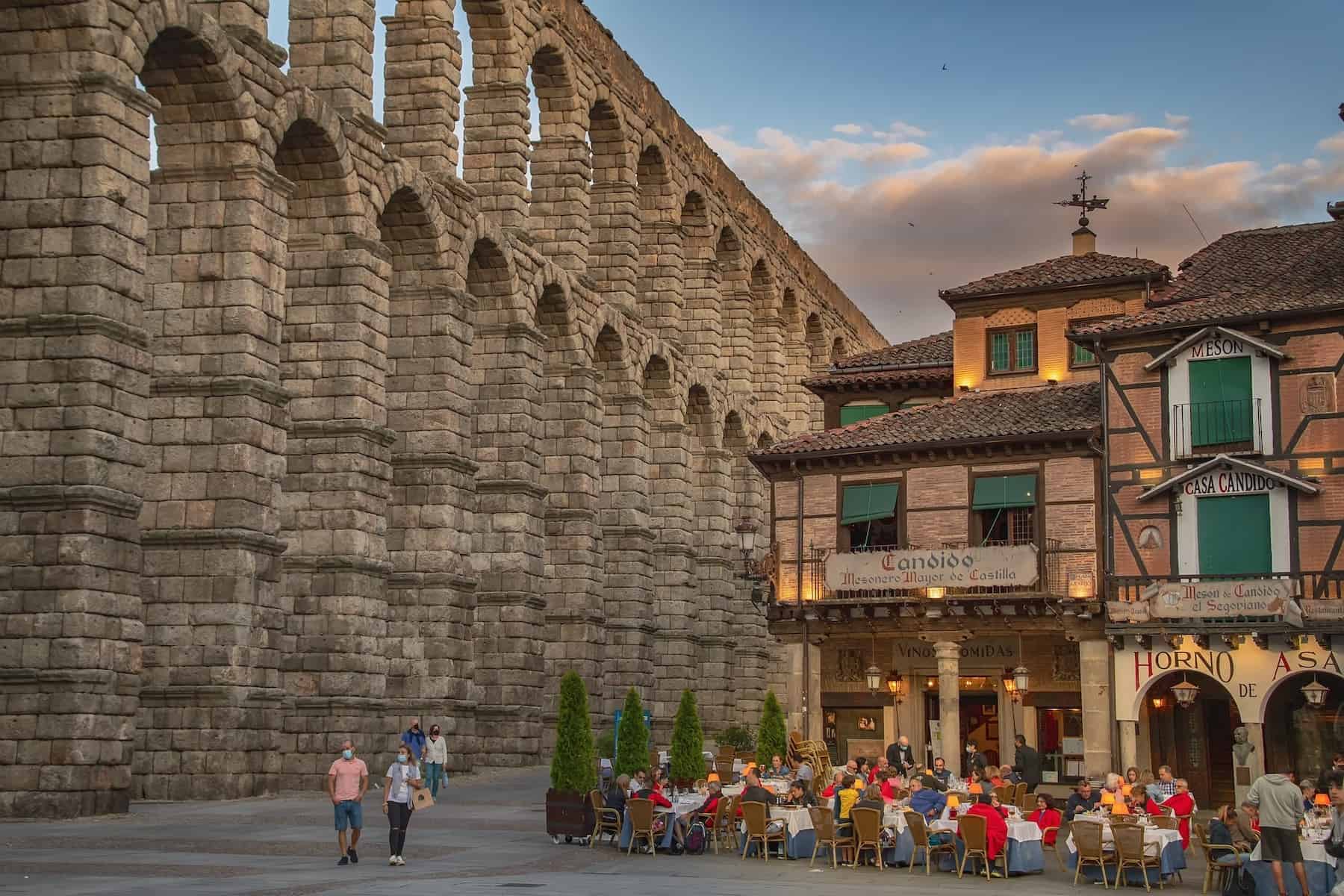 7. Visit La Juderia (Jewish Quarter) and the Main Synagogue
The Jewish quarter has a deep-set history. It was one of the more active Jewish communities in Spain in the 11th and 12th centuries before the Jewish exile in the late 15th century. 
Stroll around the Jewish quarter to reflect on life in medieval times and explore the synagogues, patios, palaces, and museums. If you are inclined to learn more, head to the Centro Didáctico de la Judería of Segovia, an interactive museum showcasing the rich Jewish culture of this region.
The Segovia Old Main Synagogue was renamed the Convent of Corpus Christi or Iglesia del Corpus Christi after it was seized and turned into a Christian church. The entry fee is around €1, a small price to enter a sacred place rife with history.
8. Enter the San Andres City Gate
The gates of San Andres are a must-see and the iconic architecture will transport you back to the 15th century. The entrance is set between two spiked towers, replete with shooting windows and cornices. You are also able to walk upon the parapets for a wonderful view of the Jewish quarter.
9. Bask in the Sun at Plaza Medina del Campo
This typical Castilian plaza is nestled near many historical buildings such as the San Martín Church overlooking the square. This church was modelled in Gothic-Mudéjar style, born out of the intersection of Islam, Christian, and Jewish influence in Spain. 
Mudéjar architecture is characterised by brick, glazed tile, and tall towers. This plaza is an excellent place to appreciate the intersection of different historical architectural styles. 
10. Stroll Through the Palace of La Granja De San Ildefonso
If the Alcázar left your eyes hungry for more royal architecture, this majestic paradise is only 15 minutes outside of the city's centre. The royal palace and gardens were home to King Philip the V and were modelled after his grandfather Louis XIV's French château.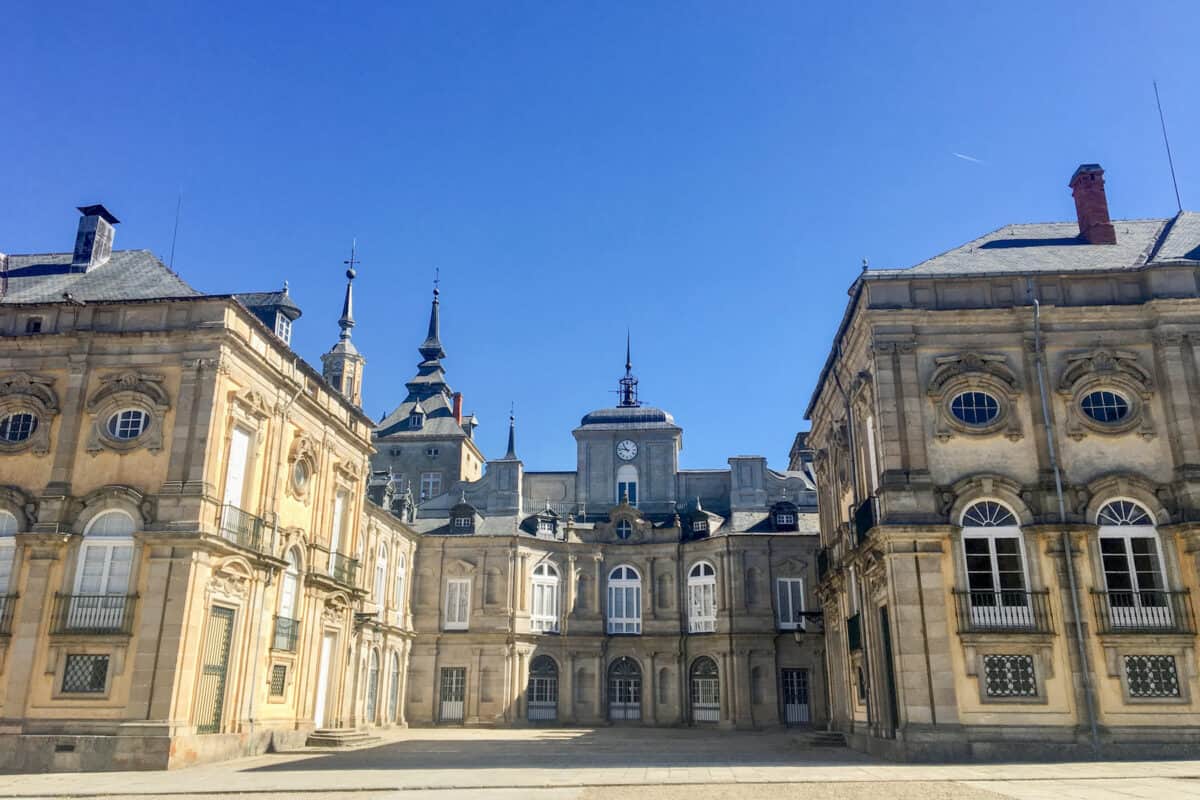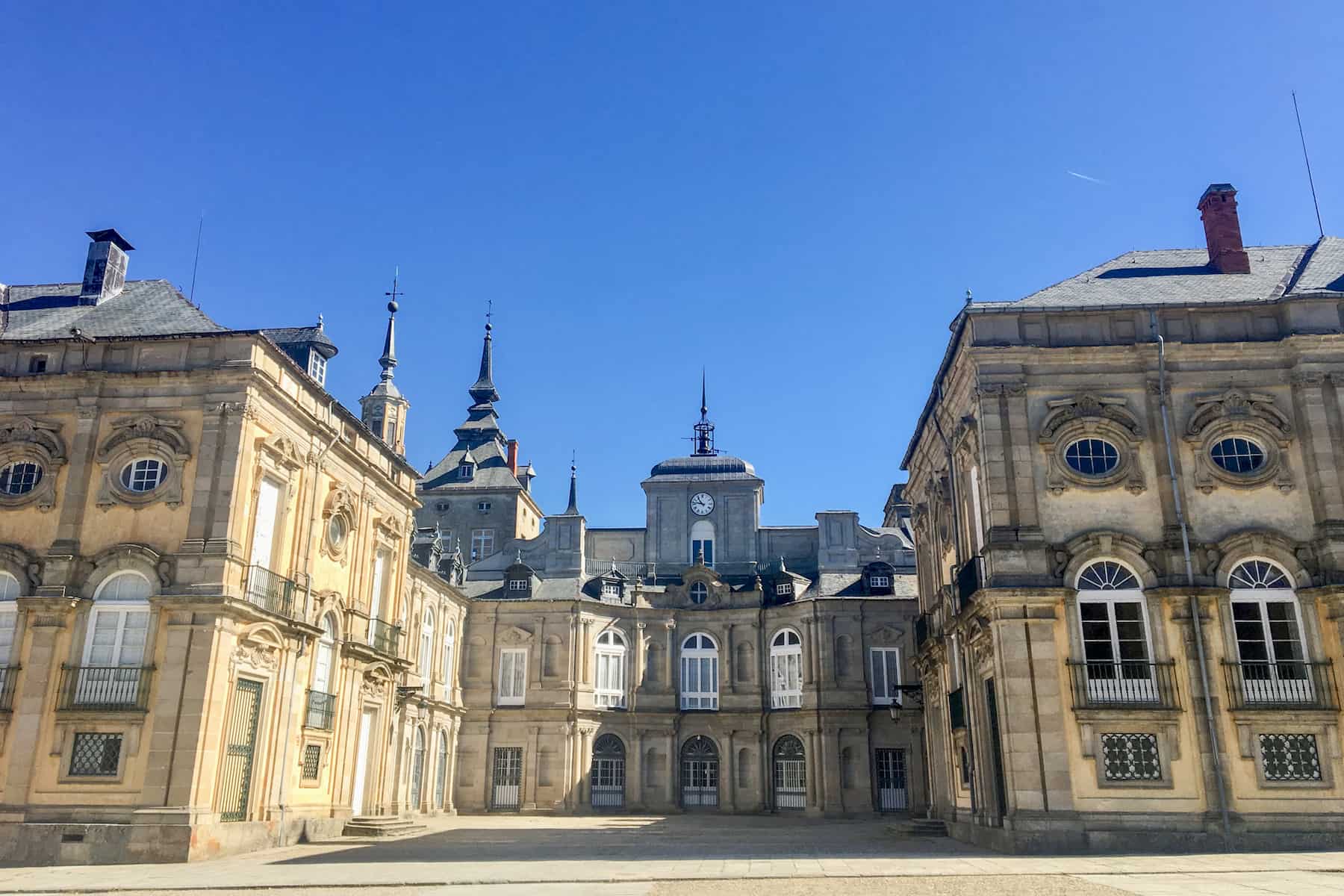 Admission ranges from around €4-9 depending on your age and profession. However, the gardens are free for citizens of the European Union and Latin America on Mondays and Wednesdays in the summer from 15:00 to 19:00 and in the winter from 15:00 to 18:00.
---
Food and Drink in Segovia
If you are gastronomically inclined and not put off by the smell of good smoked meat, you must try suckling piglet or cochinillo de Segovia. The pork is traditionally roasted for three hours in a firewood oven, and its tender meat, enveloped by crispiness, will not disappoint your tastebuds. 
However, if you prefer eating meat without being reminded of the animal, opt for another dish, as the serving style is pretty graphic. If you want to try it, I recommend sharing it with a friend or travel buddy as it is fairly rich. 
Fun Fact! The sumptuous cochinillo dish was popularised by chef Candido Lopez, who began cutting the pig in half with a plate.
Carnivores will also enjoy Segovia's savoury lamb, which appears as Cordero Asado (roasted lamb) or Cordero Lechal (suckling lamb) on the menu. This is typically served on a clay plate and pairs perfectly with a local vino tinto (red wine).
Another signature dish of Segovia is the Castilian soup. Traditionally served in winter, this soup boasts rich flavours of paprika, garlic, egg, and ham, which will warm your bones after a day out exploring.
Pescatarians will find solace in Trucha à la Segoviana, Segovian trout, fished from the surrounding rivers and lakes. However, be certain to find out if it is served stuffed with tasty serrano ham if you prefer the dish sans meat.
Are you a sucker for a tasty and full-bodied glass of red? Certainly do not pass up the opportunity to sip on some of the most famous wine of Spain, the Ribera del Duero, a full-bodied red wine made in the Castilla-León region of Spain. Although Ribera doesn't have the same fame as the Spanish reds from the La Rioja region, Ribera boasts a complex flavour spectrum and more robust black fruit notes. A glass won't set you back more than around €3, so indulge!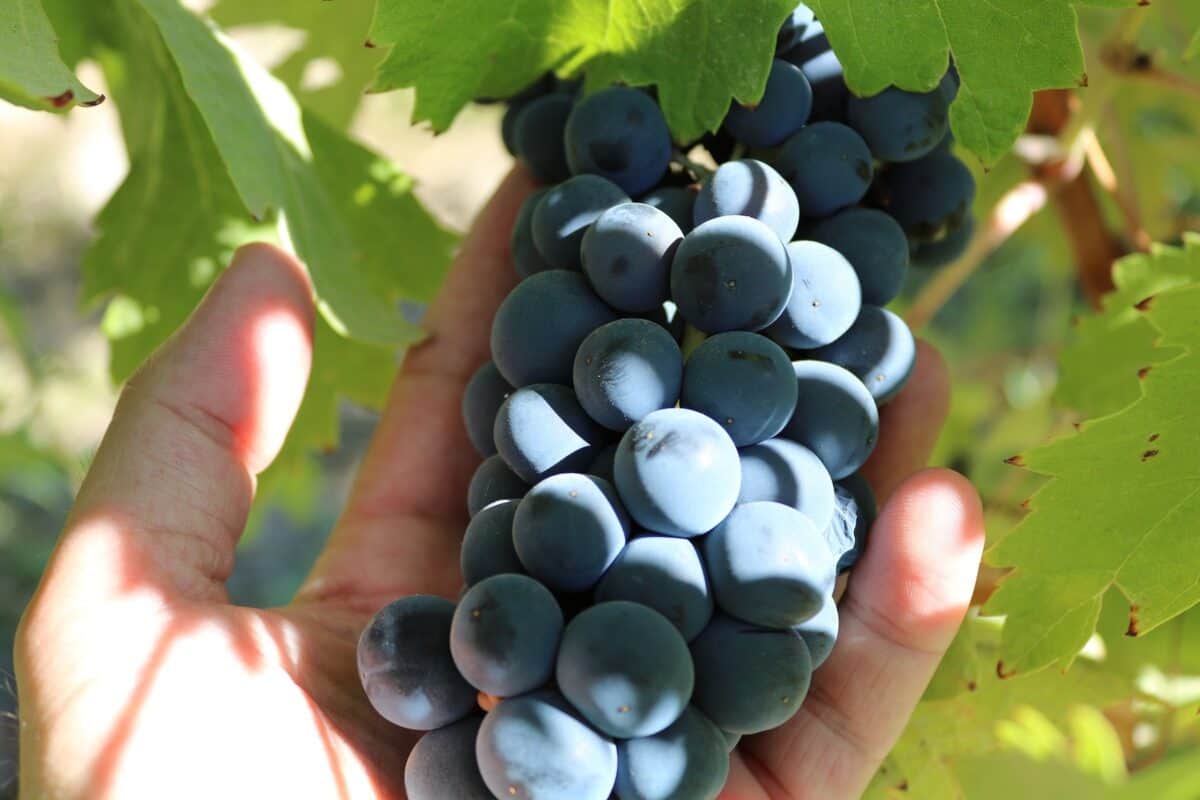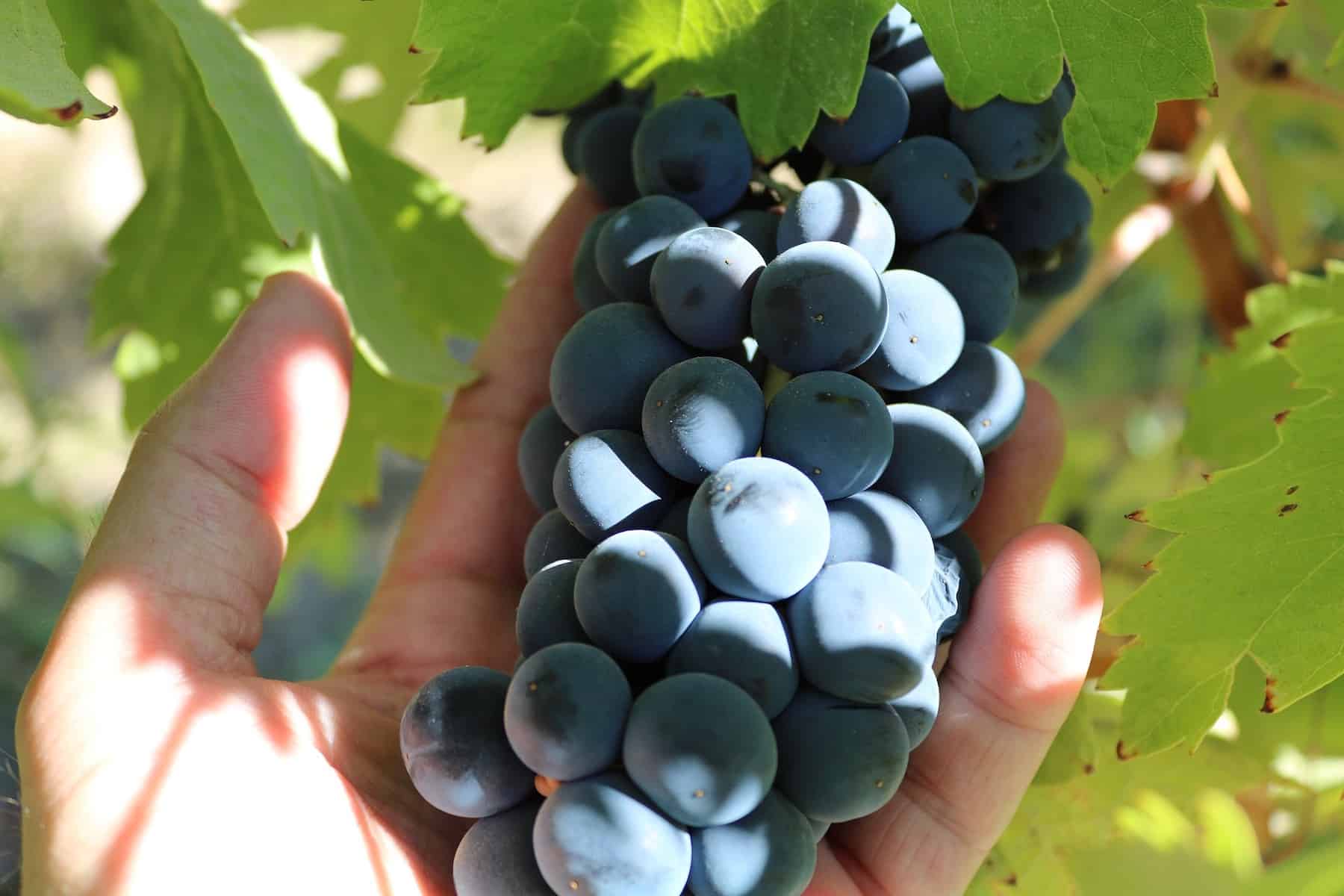 Need to satisfy that sweet tooth? Boost your blood sugar with a tasty Segovian cake, the Ponche Segoviano. An absolute treat for the tastebuds, this sponge cake sports a cream filling and is smothered with marzipan and icing. Its top is adorned with a patchwork-quilt design made using a red-hot iron stick.
---
Where to Eat in Segovia
There are abundant asadores restaurants in the city where you can enjoy one of the iconic dishes mentioned above, but they can be pricey and touristy. Below are some popular spots where you can still munch on Segovia's classic dishes without breaking the bank.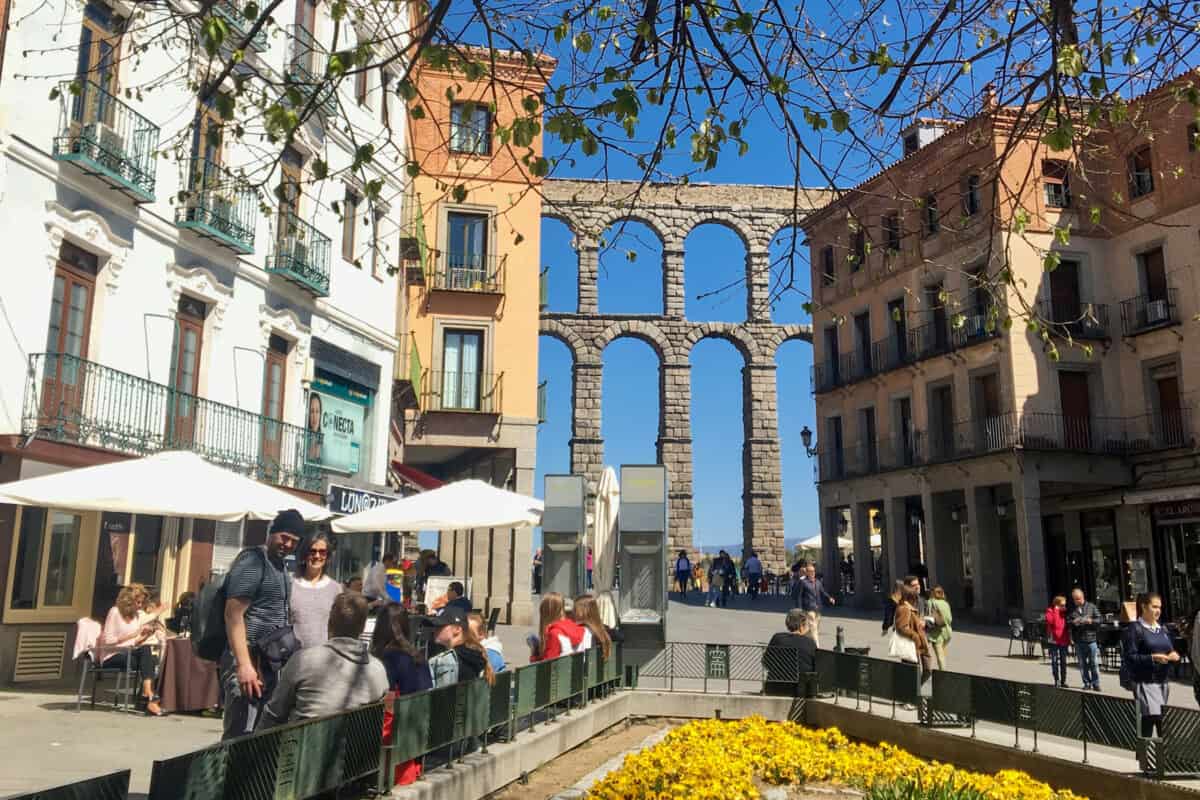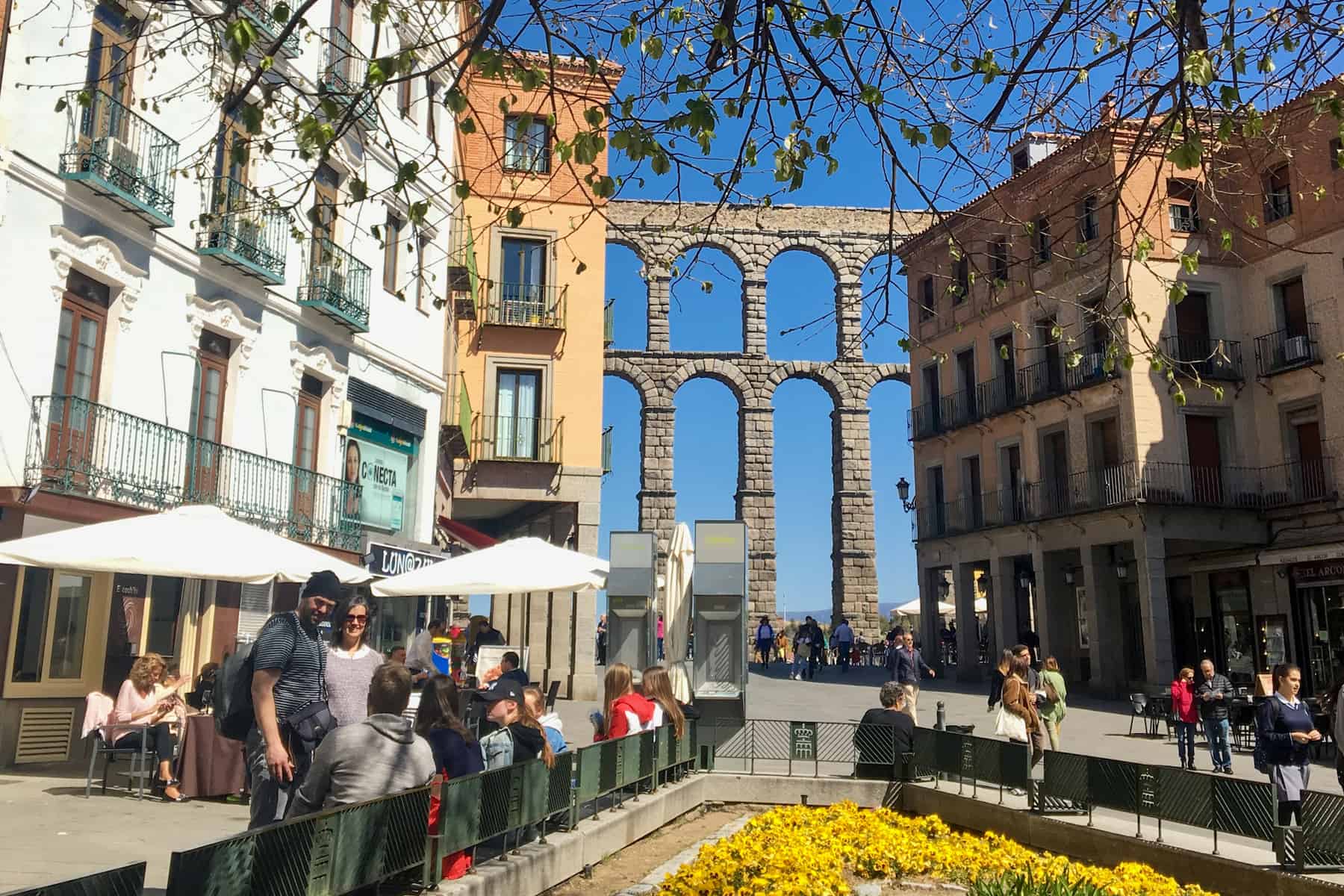 El Cochifrito
Located near the aqueduct, you may find yourself among other tourists here. However, the scrumptious food and unbeatable location make it a perfect pick. If you go for lunch, you can enjoy the menú del día that includes an appetiser, main dish, a beverage (yes, wine!), and a choice of dessert or coffee for around €15. You also can try the famous cochinillo here.
Bar los Tarines
This bar offers more of a modern twist on the classic Segovian dishes, such as their popular suckling pig burger. The prices are reasonable and although located near Plaza Mayor, its relaxing atmosphere is free of tourist traffic.
Bar Socorro
If you need a pick-me-up, head to Bar Socorro for tapas and a cold beer. This friendly local bar offers a classic, homey Spanish feel with authentic tapas. Enjoy the experience of ordering at the bar if you choose to sit outside.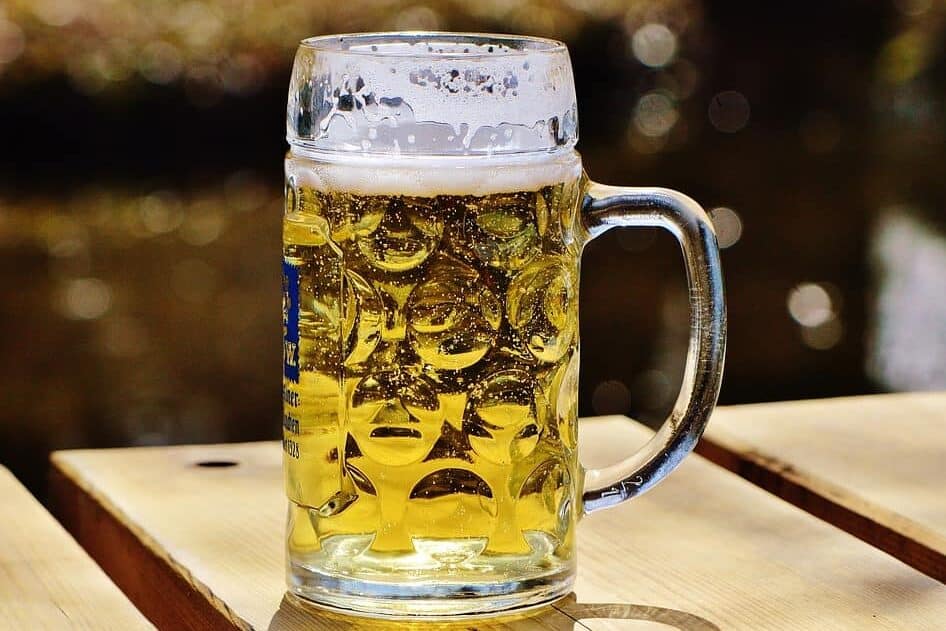 You may find it hard to get going again after basking in the sun at Plaza del Socorro with some affordable tipples and fresh food. Try the ensaladilla rusa (creamy potato salad with tuna) and croquetas.
---
How to Get to Segovia
Segovia is a breeze to get to if coming from larger Spanish cities such as Madrid or Valladolid. From Madrid, you can take a bus from the Moncloa station, which takes around an hour and a half and costs about €10 for a full trip. 
The Renfe normal speed train from Madrid to Segovia takes about two hours and costs around €5 each way. You can also take the high-speed train for a half-hour journey, which can cost as little as €14 if you book in advance.
From Valladolid, there is a half-hour high-speed train that costs around €20 round trip. The regular speed train takes around three and a half hours.
---
Where to Go Next:
If you enjoy the medieval, Castilian atmosphere of Segovia, you will adore Rianza, another small town in the Segovian province nearby to many hiking trails. This town smells of firewood from every corner and offers much of the same mouthwatering cuisine as Segovia.
Ávila, Toledo, and Aranjuez are other stunning towns just a short train ride away from Madrid. Ávila is also located in the Castilla y León region of Spain, whereas Toledo resides in the Castilla-La Mancha region. Aranjuez is nestled right on the border of the Madrid province and boasts stunning gardens and a royal palace as well!