In 2020, the world stopped travelling. As editors and writers @ Southeast Asia Backpacker and South America Backpacker, this year forced us to find the backpacker spirit in places closer to home!
This website a celebration of the diverse continent of Europe from travellers who are finding adventure on their doorstep. We like to call it 'back yard backpacking!' Backpackers who were grounded in Europe during lockdown started to travel locally and discover things they never knew about their home countries. We asked them to share their adventures with us on this website…
CALL FOR HELP

!

We're not going to lie, this year has been absolutely s**t for those of us who make a living from running a travel website. We are not earning any money at the moment from maintaining our three websites: South East Asia, South America and this site, Europe Backpacker. It is a struggle to keep the websites going and to be honest, to stay motivated during this difficult time. Your articles and enthusiasm for travel and documenting your adventures keep our spirits up. We hope that, together, with your help – we can get through this!

Here's a picture of our team enjoying better days… (That's me, Nikki, on the left, my boyfriend and partner in crime, Dave, on the right. Below are our two adventurous travel writers, Sheree and Tim, who should be doing the Mongol Rally right now, but instead are hanging out at Sheree's Mum's in Norfolk!)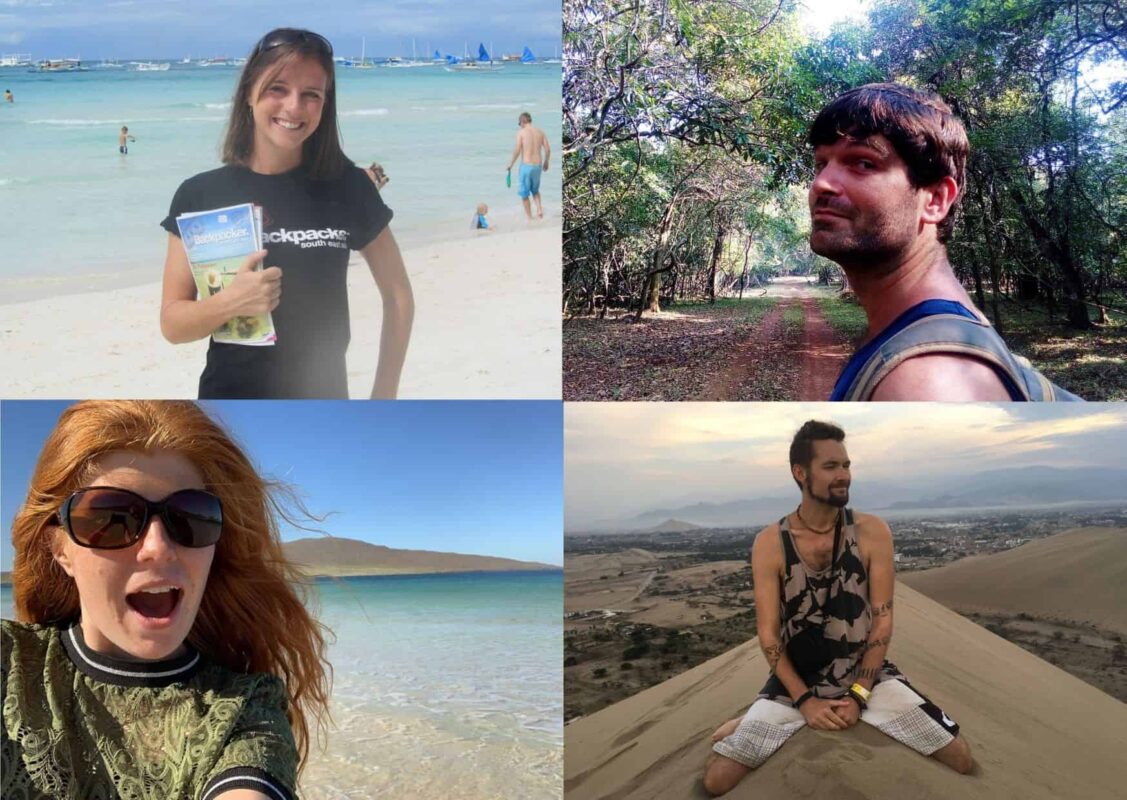 So, what type of articles are we looking for?
We're looking for featured articles that we'll publish as a blog on our homepage. These articles can be opinion pieces, destination spotlights, a story about a recent travel experience or a guide to a particular place. You can see some examples of our recent articles here.
FAQs for Writers
How long should my article be? We're not strict, but we're looking for around 1,000-2,000 words.
Should I send photos with my article? Yes please! When you submit your article please attach a few photos so that we can get a feel for your article overall. Please don't insert the photos into a Word document, send them as separate attachments.
What if I have a great article, but no photos? You can either find some 'usage rights' free images via Google and send them to us. Or, you can send us just your article and we can use some from our photo bank. It's up to you.
Should I include links in my article? Yes. You can include relevant links to travel resources and companies that you have used to travel with, or perhaps websites where people can find more information about what you're talking about.
Can I send you an article which has already been published on my blog? Unfortunately, we cannot accept articles which have been published elsewhere online. This is because Google penalises websites which host duplicate content. The article must be 100% unique.
*Don't forget your author bio – Just a few sentences about you; where you're from, where you've travelled and any other interesting info. We're happy to include links to your personal travel blog and social networking sites.
Will you share my article on social media? Hell yes! We want to share your article with as many people as possible. If you have a page for your travel blog on Facebook, we'll link to it when we share and tag you on Twitter, Instagram or any other social network you fancy!
Why write for us?
Back links to your website – While at this time we regret we cannot pay for articles, we can provide you with a personal bio, link back to your own travel blog and social media channels to help support your blog.
Social media promotion – We will also promote your article on our own social media, which is a great way to boost the traffic on your own blog!
Kickstart your travel blogging career – The Backpacker Network family has helped to launch the career of many famous travel bloggers, who had articles published regularly in both our printed magazine (a long time ago!) and on our three websites. Their guest posts on our website helped to expand the reach of their own travel blogs, and now many of them are professional travel bloggers!
How to submit an Article to us:
If you would like to submit an article or destination guide to the magazine, please contact us here.
Please send your article in full as an attached word document. Please don't insert the photos into the word document, send them as separate attachments in your email.
We get back to every writer. Our promise. Every piece of writing that is sent to us will be read and we will respond with a reason as to whether we will publish your article or not. Please remember, we're often travelling and cannot respond immediately to emails, but we'll get back to you as quickly as possible.