Tenerife is a picture-perfect island where cobalt sea, verdant mountains, quaint towns, volcanic landscapes, and a vibrant gastronomy scene intersect. A standout member of the eight Canary Islands, a Spanish archipelago off of the western coast of Africa, Tenerife is culturally rich yet not exorbitantly priced. The island is a great destination for travelers seeking an exotic getaway from continental Europe without technically leaving the Schengen zone. 
Having lived in Tenerife myself, I can honestly say that few places possess such richness in climate, terrain, scenery, adventure, food, and culture. You'll love visiting Tenerife if you seek sunrise hikes to a volcano or simply wish to kick back with a good book on the striking black-sand beaches. 
With the diversity in landscape, you can visit countless ecosystems without leaving the island. The laidback locals and extraordinary scenery will leave their mark, and you'll be booking your return flight before you've even got home!
---
Tenerife Map & Resources
Language: Spanish
Currency: Euro
Capital City: Santa Cruz de Tenerife
Population: 978,100
Perfect for: Hiking enthusiasts, beach bums, adrenaline junkies
---
Best Time to Visit Tenerife
Tenerife's subtropical climate has earned it the name of 'La Isla de Eterna Primavera', (The Island of Eternal Spring). You won't have a remarkably different experience whether you choose to visit in Europe's traditional summer or winter months, however, you'll experience more tourists during the high season (October-April). 
If you choose to visit in December to soak up the holiday atmosphere, there are beautiful life-size nativity scenes in the plazas of many towns in the north, transporting you to Bethlehem. 
Late winter is another time of year that attracts many tourists, boasting the famous Carnaval celebration straddling the two weekends preceding Lent. Carnaval takes place in all the island's main cities, primarily in Santa Cruz, and involves days of bustling parades, ornate costumes, and dance. If you like a serious fiesta, Carnaval is a vibrant (but busy!) time to see the island.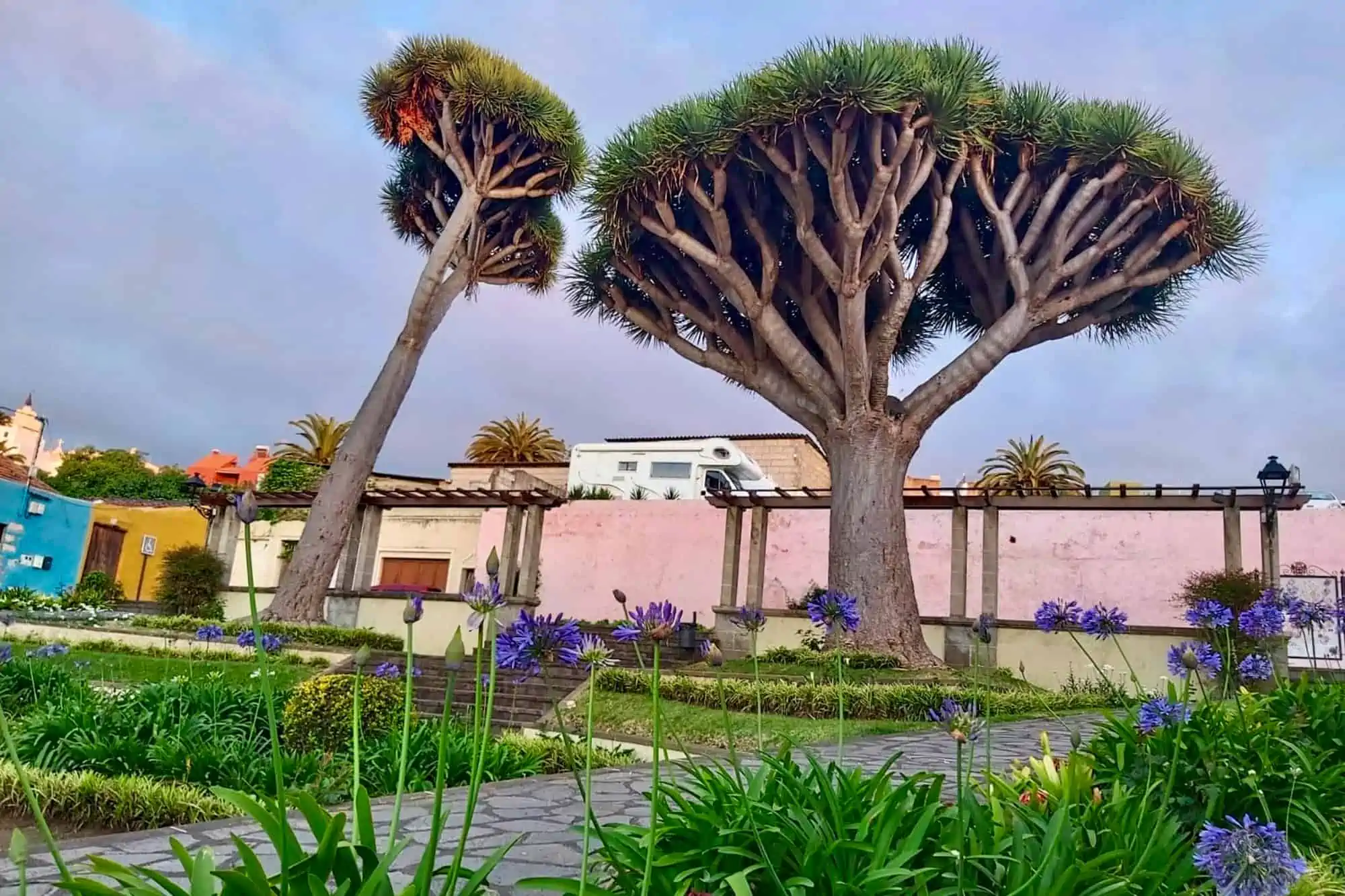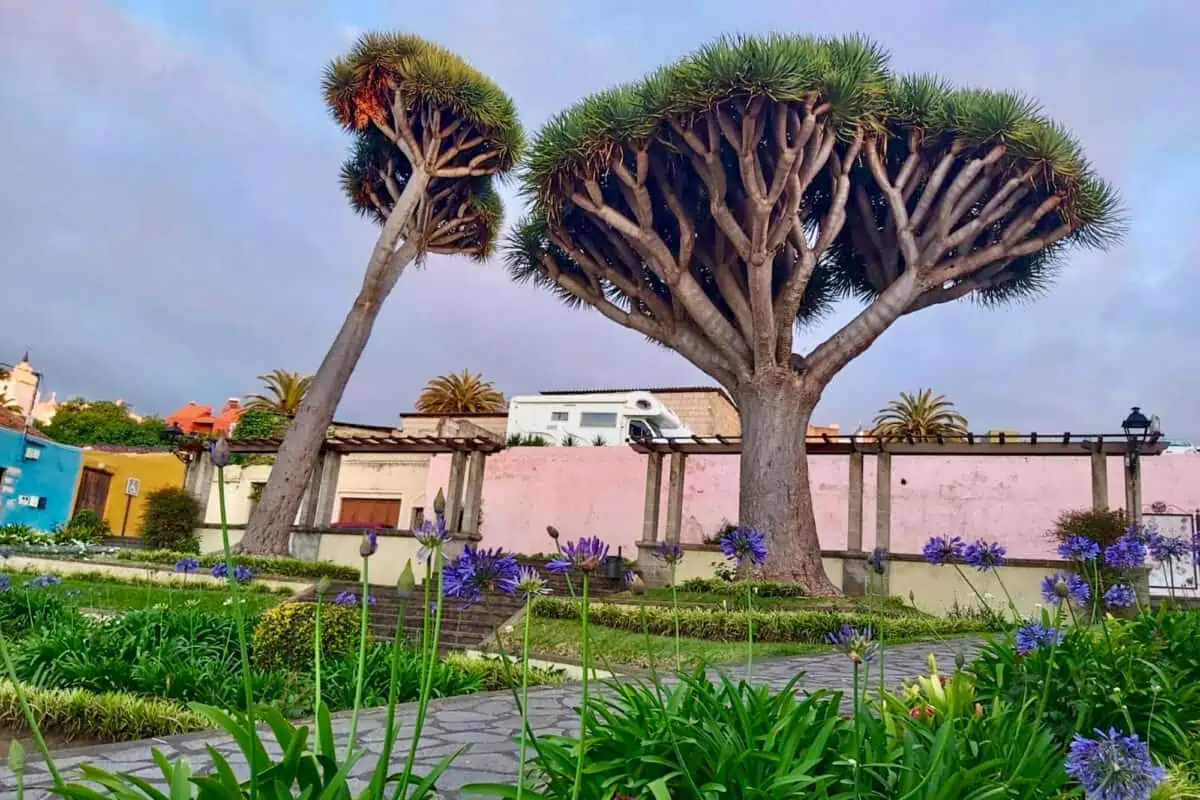 Good to know! You don't need to speak Spanish before visiting Tenerife, but a basic understanding of the language is useful. Canarian Spanish differs from mainland Spanish, resembling the dialect spoken in Cuba and Puerto Rico. The locals' endearing, casual accent mirrors their free and easy lifestyle. The dialect is beautiful and was voted 'sexiest in Spain', but may be hard to understand if you are not used to it, as the 's' is dropped at the end of many words. 
---
Where to Stay in Tenerife
Tenerife only spans 2,000 square kilometers, but the north is very different from the south, separated by El Teide volcano in the center. The northern towns possess beautiful architecture, lush vegetation, and a humid, vaporous climate.
In contrast, the southern towns are arid and warmer, entertaining more of a party beach scene. While public transportation is frequent, if you're traveling with a larger group, renting a car will give you more freedom to explore.
When it comes to the best areas to stay in Tenerife, the following are good options:
Puerto de la Cruz
This coastal town is a popular destination located in the north of the island. With its proximity to black sand beaches, hotels, bars, and hiking trails, it's a good option for backpackers.
Santa Cruz de Tenerife 
Santa Cruz is the island's capital, located in the northeast. Santa Cruz is a great option if you are celebrating Carnaval, as the main parades take place here. It is also proximal to a beautiful national forest, Parque Rural de Anaga where there are many great hikes.
La Orotava 
An alternative northern town is La Orotava, which has a more local feel. La Orotava boasts many beautiful town squares, gardens, vistas, and churches, along with an abundance of tasty restaurants. Take your time marveling at the colonial architecture and stroll through Victoria Gardens, which offers a stellar view of the town and ocean.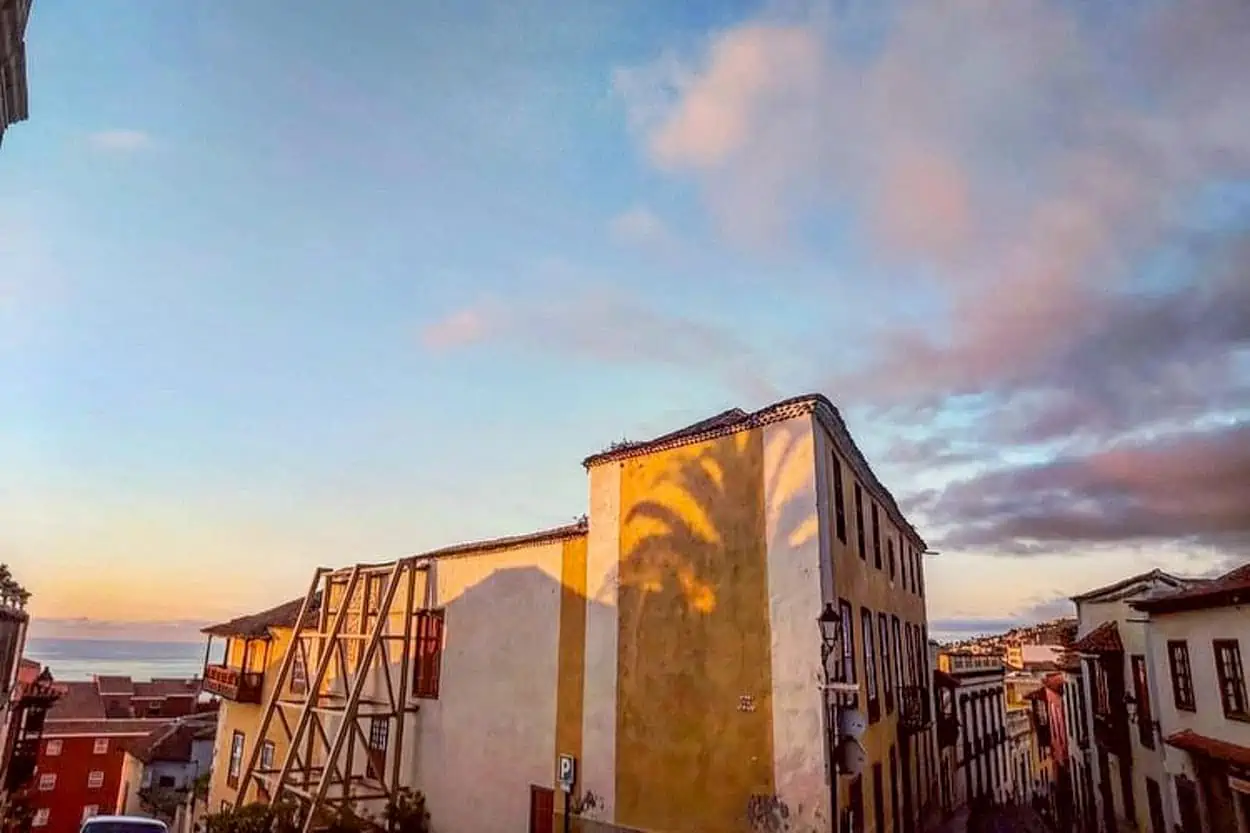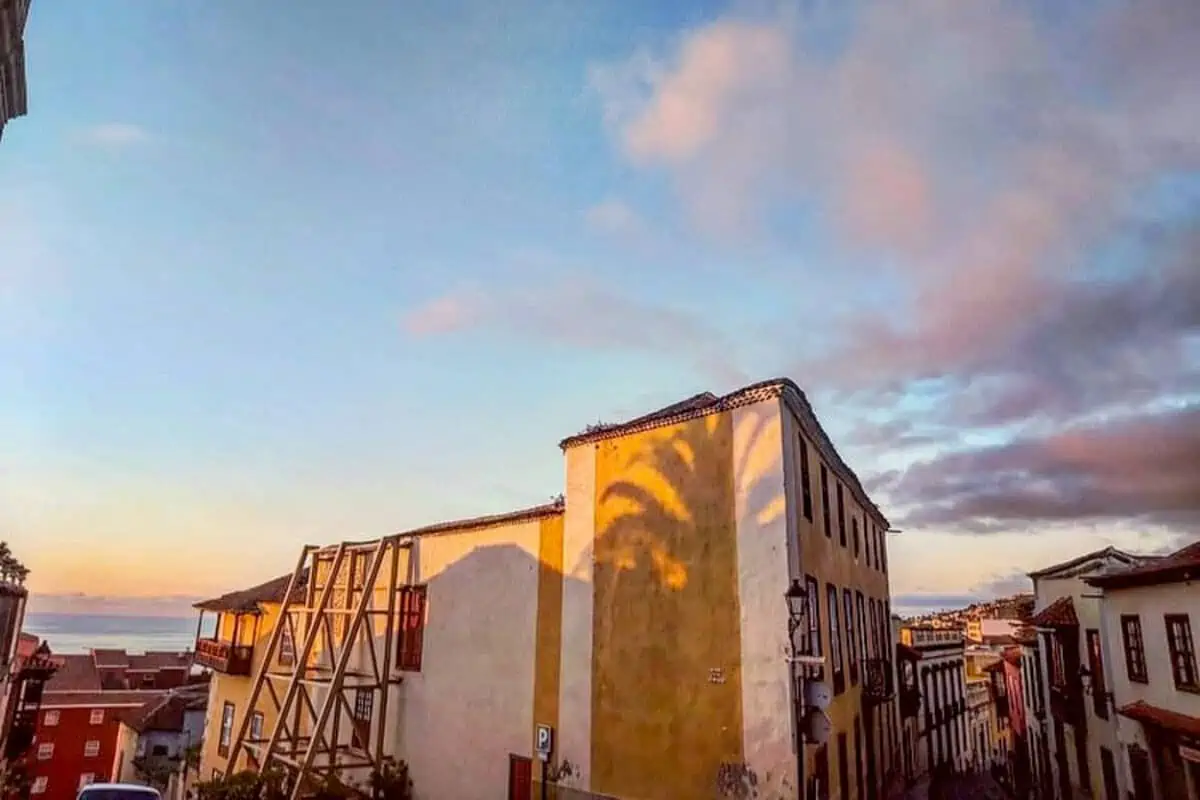 Candelaria
Candelaria is a charming town located in the northeast, full of history and culture. The Basilica de Nuestra Señora Candelaria is a must-see and popular religious pilgrimage destination. Whether you stay here or take a day trip, be sure to visit the beautiful oceanside promenade lined with statues commemorating Guanches, the original natives of the Canary Islands. 
La Laguna
This northern town boasts a beautiful ancient cathedral and a plethora of colonial homes in typical Canarian design. It's also home to some beautiful convents. The area is extremely walkable and sports a popular outdoor pedestrian mall.
Arona/Los Cristianos
Located in the south of the island, this is a popular spot for those seeking a beach getaway. Although more touristy, you can soak up the sun on a large, mountain-framed beach, and enjoy the local cuisine at the oceanfront restaurants.
Adeje
Costa Adeje, located in the southwest, is home to a plethora of sandy beaches, water parks, and whale and dolphin-watching tours. If you choose to stay here, don't miss hiking the 'Barranco del Infierno' (Hell's Gorge), but remember to make a reservation beforehand. 
Garachico
A smaller town in the northwest, Garachico is picture-perfect, characterized by red-roof buildings, and natural pools within walking distance. Like all Tenerifan towns, the architecture wonderfully complements the natural landscape.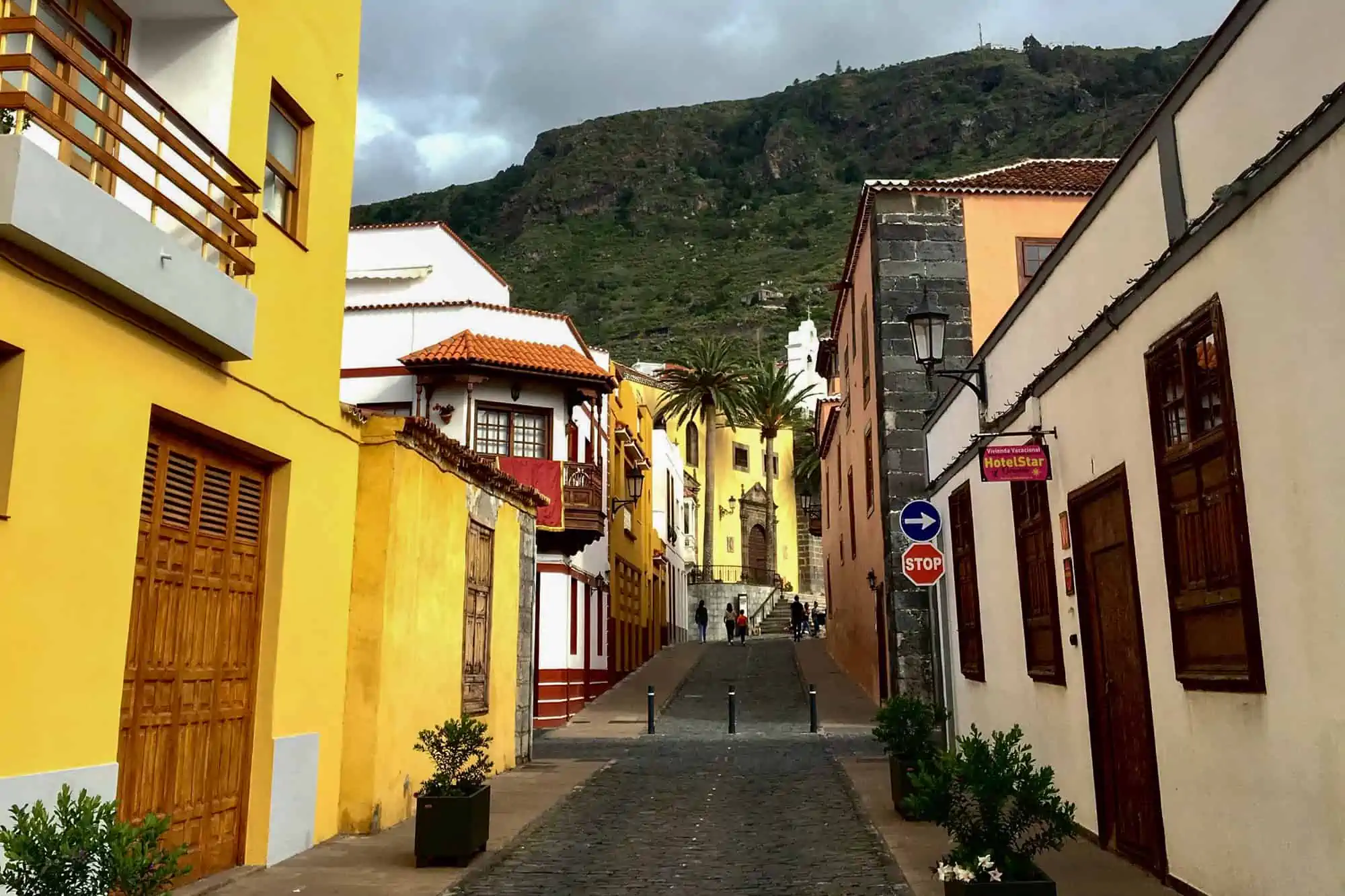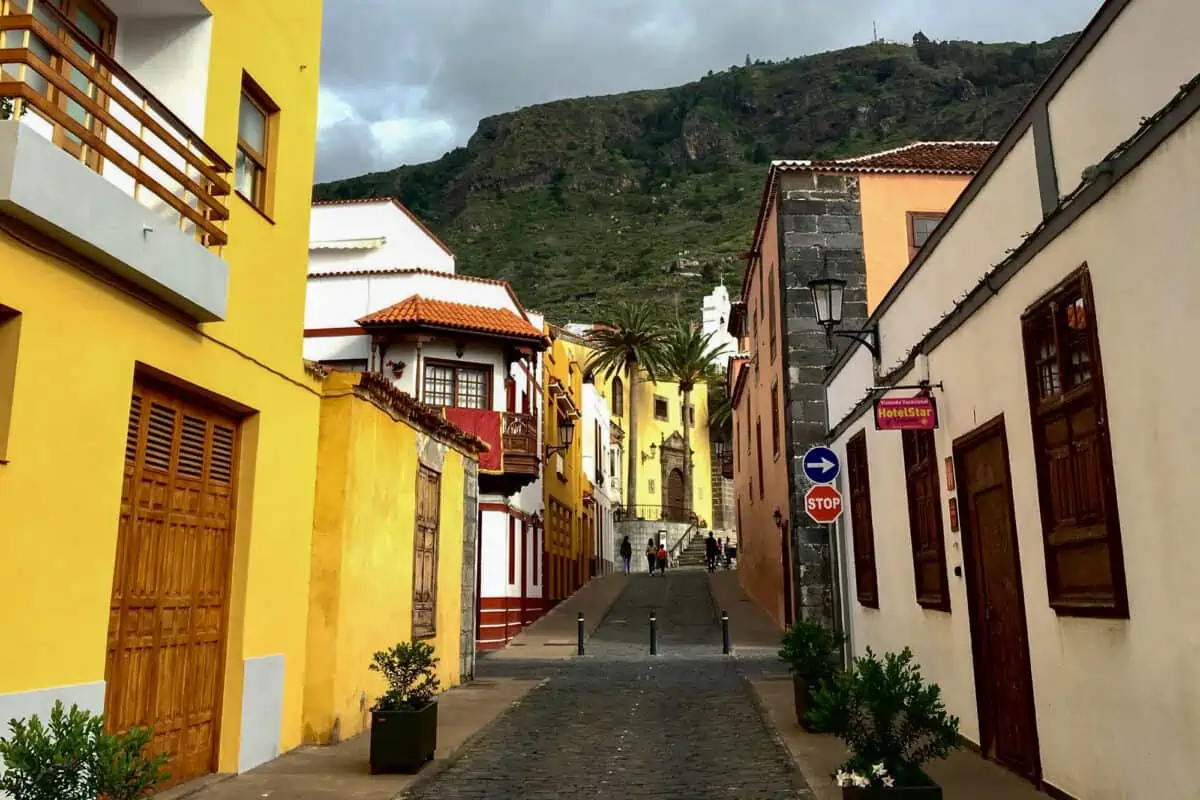 ---
Best Hostels in Tenerife
Disclosure: Some links on this page are affiliate links. We always write our articles before checking if affiliate links are available.
Offering a modern place to stay in the heart of Puerto de la Cruz, Atypicap Capsule Hostel provides guests with private, pod-style beds. The hostel is calm, clean, and cozy, with amazing rooftop views.
Casa Grande Surf Hostel is located in the coastal town of El Médano, close to one of the most beautiful beaches and also to the island's south airport. Perfect for adventurers, you'll have access to surfboards, bikes, beach equipment, and more. 
Located in Los Cristianos in the south of Tenerife, Duque Nest Hostel has bright, clean rooms, friendly staff, and serves a delicious breakfast in its wine cellar! 
Situated in the quaint town of La Orotava, Hostel Tenerife offers an authentic, old-timey experience in a historical Canarian home. This is an excellent option if you want a good night's sleep before hiking. The best thing? Guests can help themselves to hiking gear for free. 
Visit El Hostal del Cubo if you're looking for your home away from home. Run by two sisters, the atmosphere is friendly, cozy, and social. Located in the stunning coastal town of San Juan de la Rambla, you'll be near beautiful natural pools and breathtaking walking trails. 
---
Things to Do in Tenerife
1. Visit El Teide Volcano
If you visit Tenerife and skip the beloved El Teide National Park, do not divulge this to a local! A treasured landmark for many Tenerifans, el Teide is the icon of the island, boasting a summit of 3,716 m, the highest peak in Spain. 
There are public buses that take you up to the Teide, but some hostels arrange group trips. If you plan on hiking up the volcano, be sure to procure a permit and prepare yourself for high altitudes.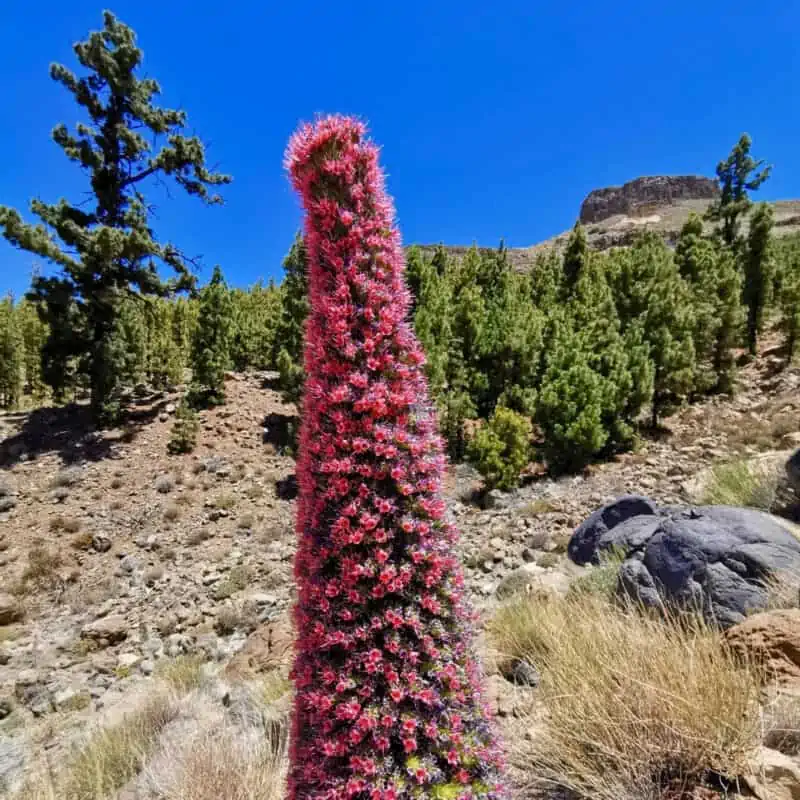 September is the best time to reach the Teide's summit – due to good visibility, you might even get to see the other seven islands from the top! If you don't fancy hiking, you can take a cable car up close to the summit to admire the views. 
If you visit in late spring, you may be able to see the tajinaste trees, known as 'El Sangre del Teide' (Blood of the Teide). These are fuzzy-looking, other-worldly tubular plants with vibrant red and pink flowers that mature only on these volcanic slopes. 
2. Learn at the Museo De La Naturaleza Y Arqueologia
This museum is a must-visit to learn about the Guanches (the aboriginals of the Canary Islands) and their indigenous culture. The museum is the best of its kind for natural sciences. See ceramics from the Guanches, fossils, and even mummies here. 
3. Relax on Breathtaking Beaches
Tenerife's beaches are true dreamscapes. The beaches in the north are rugged and framed by beautiful cliffs, the source of the strikingly soft black sand. The sea here is very powerful so be mindful of the current, especially if you want to swim. Some beaches to check out in the zone of Puerto de la Cruz/La Orotava include Playa Jardín, El Bollullo, Playa San Marcos, and el Socorro.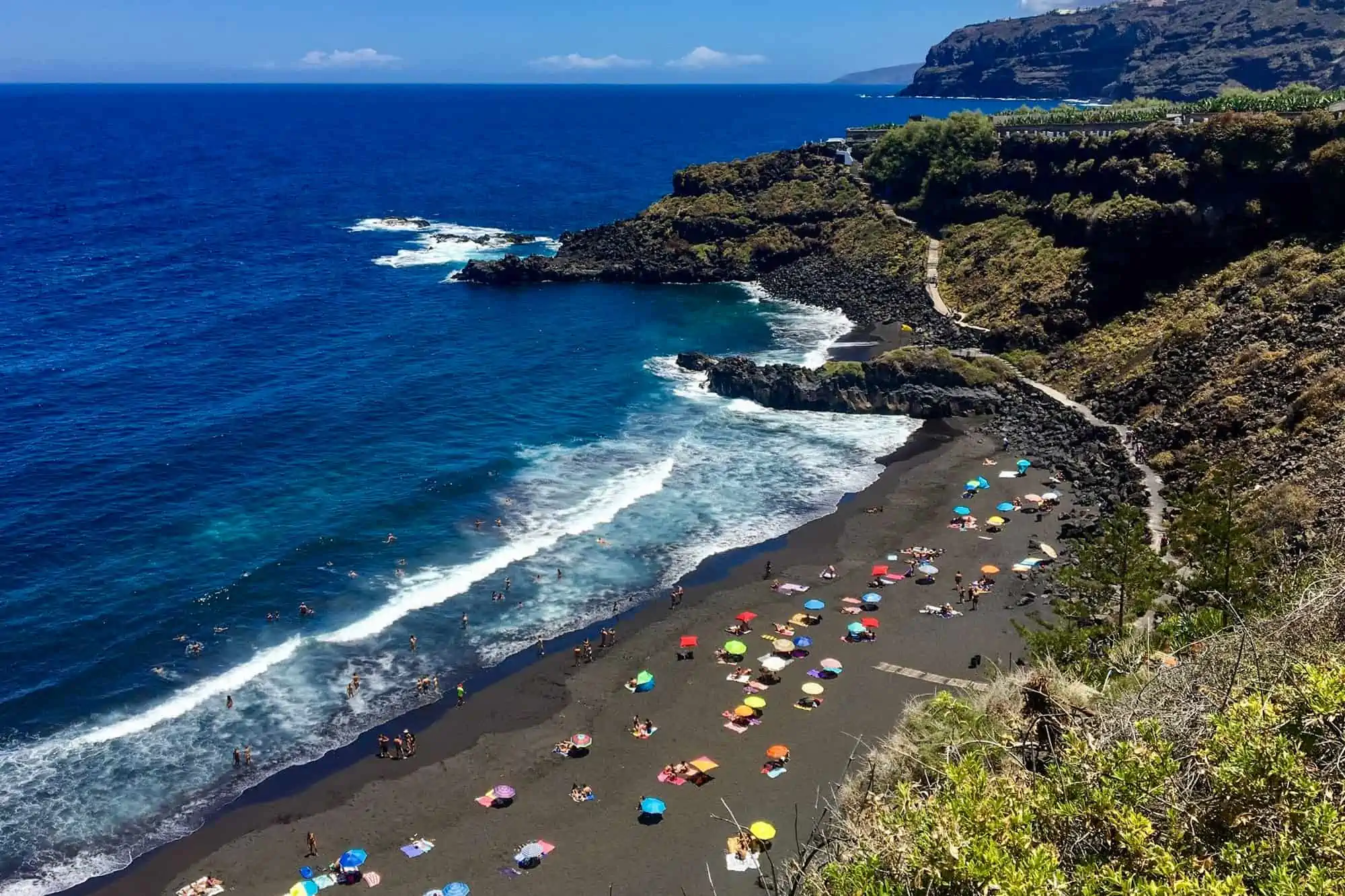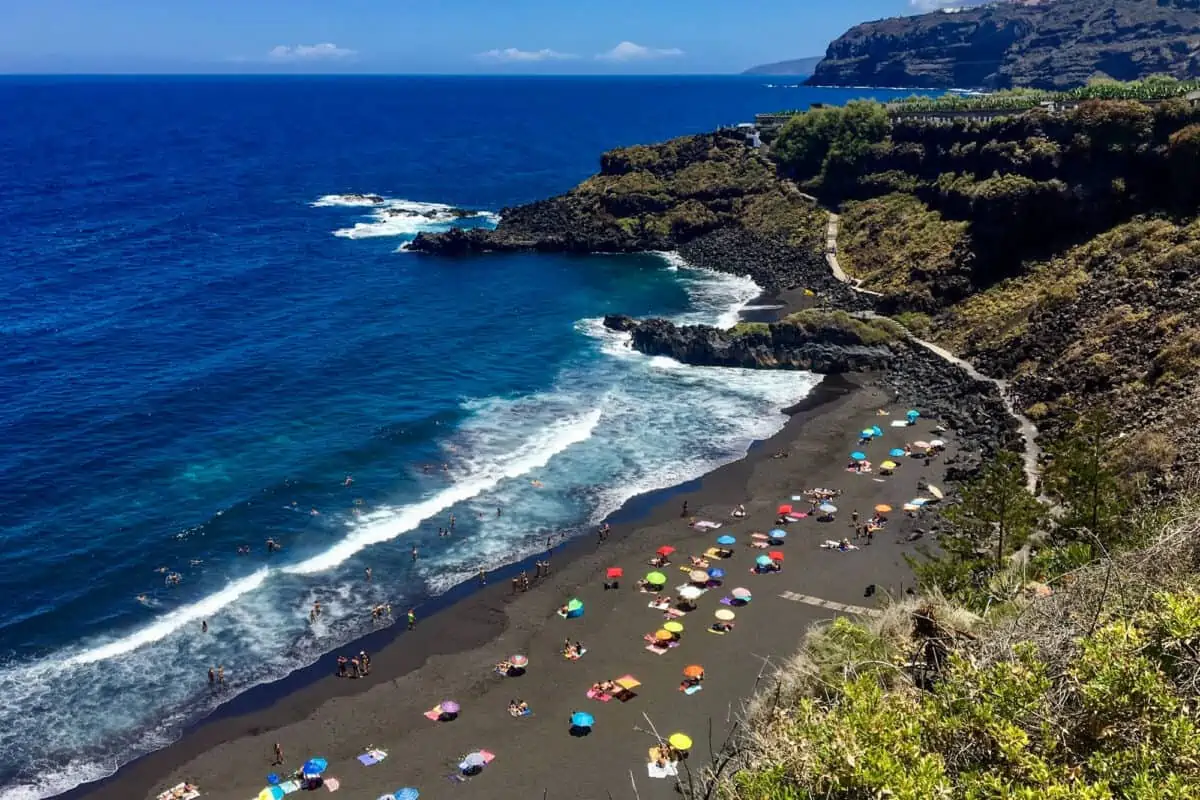 Many beaches are equipped with chiringuitos (seaside bars) where you can purchase a cheeky caña (small glass of beer). There are also beautiful natural pools in the town of Garachico, although you should visit when the sea is calm as there are no lifeguards on duty. If you stay near Santa Cruz, Las Teresitas is a popular beach choice.
Top Tip! Wear tennis shoes as most beach access requires a short hike down the cliffs which will be challenging in flip-flops! 
The beaches in the south of the island contrast those of the north drastically, with light sand and calmer seas. This also lends way to a more touristy atmosphere, as most beaches will have plenty of restaurants, cafés, and bars nearby. 
There are clusters of beaches in the south near Las Americas and Los Cristianos. One must-see is El Medano, which boasts a red cliff backdrop. Other beaches to check out include Playa el Duque, Playa el Camisón, and Playa las Vistas. 
4. Hike Through Scenic Terrain
Tenerife was made for hikers and there is a myriad of diverse trails. Treks will take you through pine woodland, volcanic deserts, lush farmland, and the humid forest of La Anaga. Some of the most popular hikes around the El Teide volcano include Pico del Teide (be sure to procure a permit beforehand), Las Siete Cañadas, and el Alto de Guajara. 
If you seek a lush, verdant hike, there are trails close to La Laguna beginning in the humid forest of Agana, a fairytale-like forest reserve. Punta del Hidalgo is a beautiful example. It trails through beautiful countryside, passes through the cave houses of the Guanche natives, and ends at the quaint seaside town of Hidalgo. 
Other beautiful trails include Arenas Negras (Black Sands) and the pine-crested La Caldera de la Orotava in the north. While the majority of hikes are located in the center or north of the island, there are some in the south as well. 
If you don't plan on leaving the south but wish to hike, a common trail is the route Barranco del Infierno, culminating in a beautiful waterfall. It is crucial to make a reservation to access this hike as it is moderated to keep the traffic light.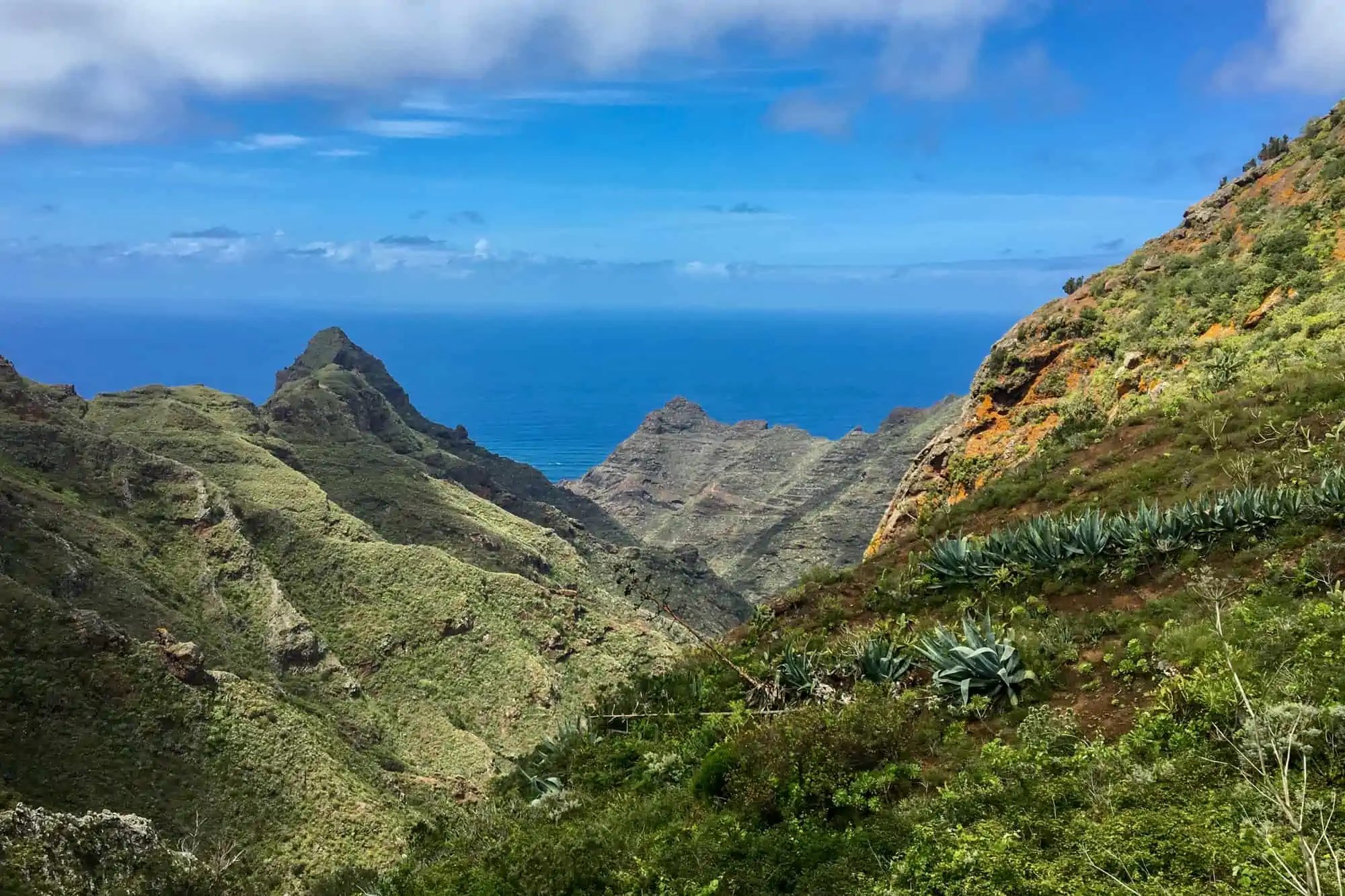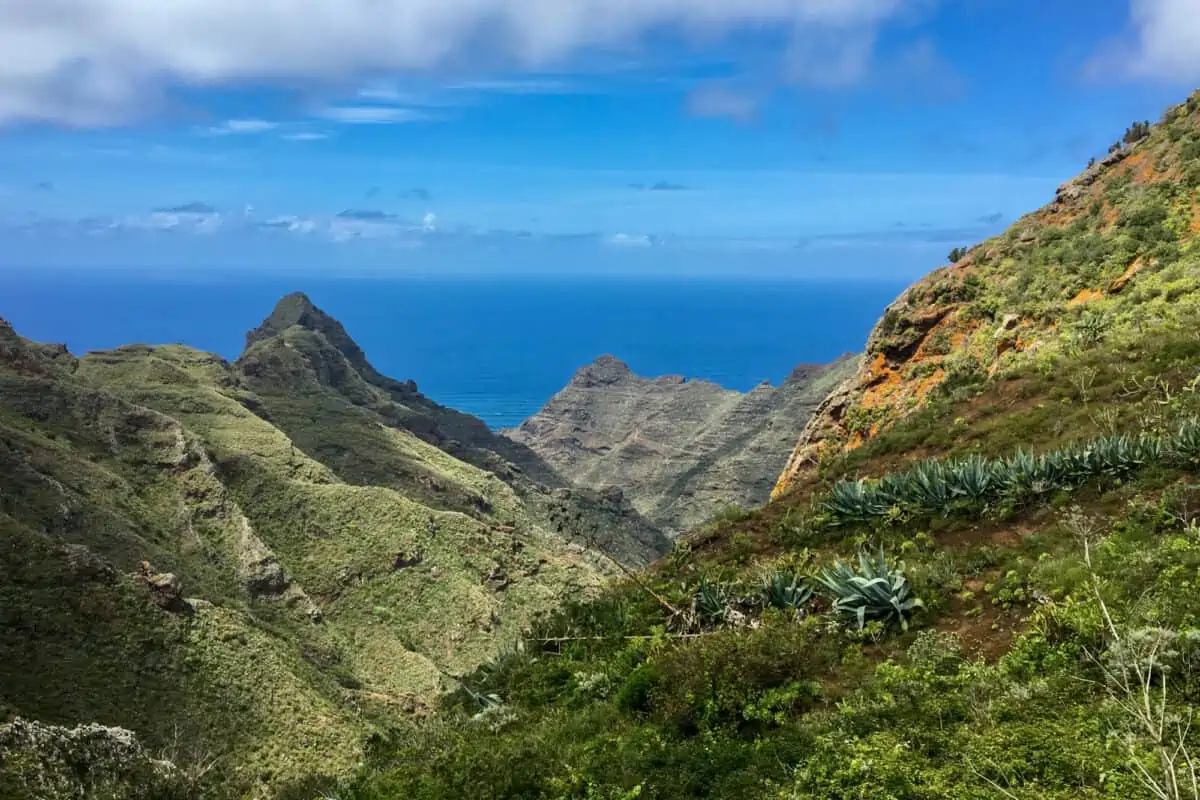 One of Tenerife's most iconic hikes is through the Masca Valley or Barranco de Masca, which leads you into a beyond-scenic gorge and later to Masca beach. From the beach, you can swim and take a boat to visit Los Gigantes.  
5. Visit Los Gigantes 
As its name implies, Los Gigantes are the largest cliffs near the sea of Tenerife. Located in the northwest of the island, these towering seaside giants are the result of years of erosion. They're certainly a treat for the eyes, and you will see why the Guanches dubbed them 'the Wall of Hell'.
6. See the Drago Milenario Tree 
If you're a tree-hugger, definitely do not miss this spectacle of nature. The Drago (dragon) Milenario tree is estimated to be at least a thousand years old, taking seat as the largest and oldest Drago tree alive. With its mushroom-like shape and thick intertwining branches, it's like its fallen out of a Dr. Seuss story.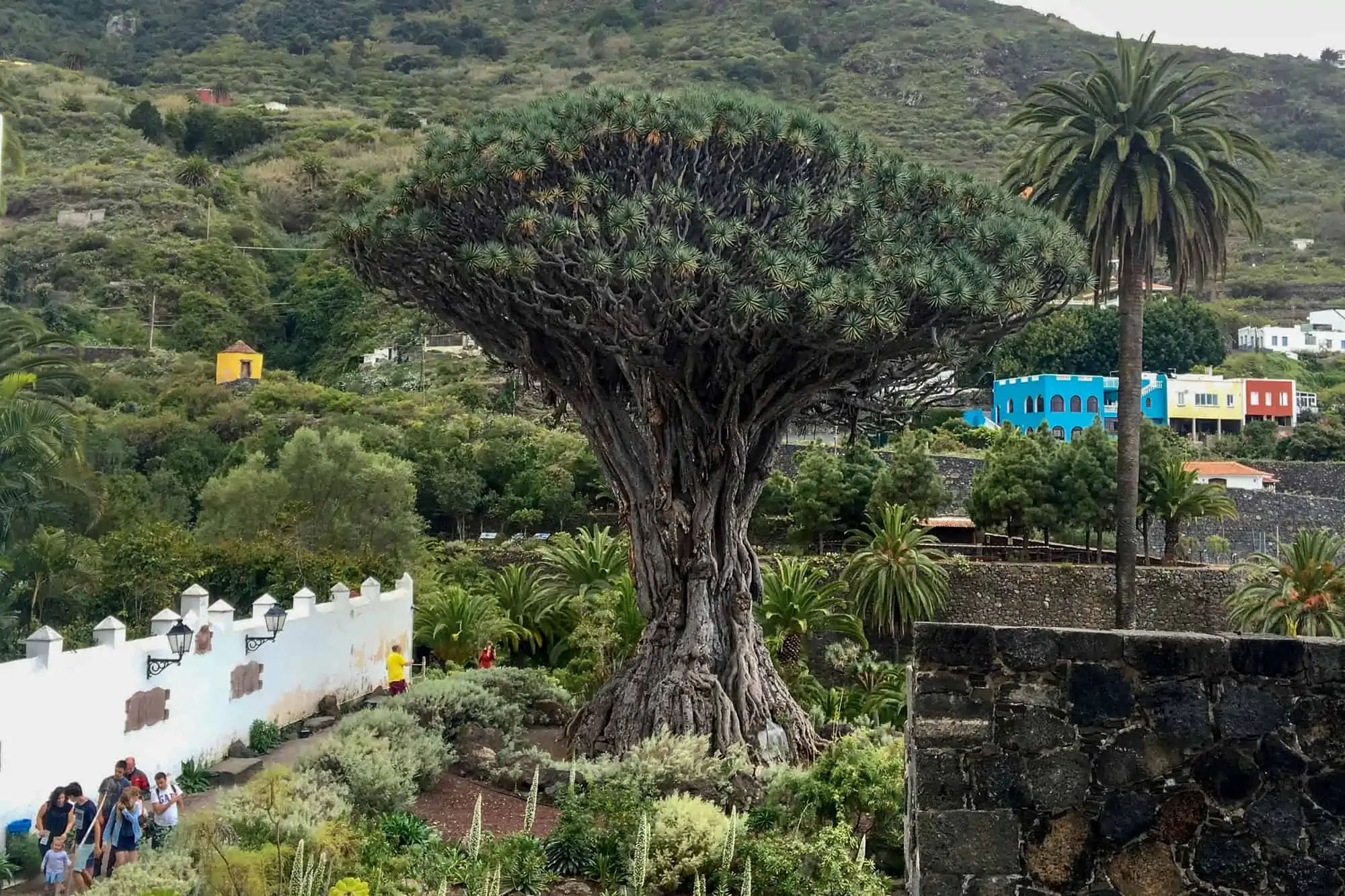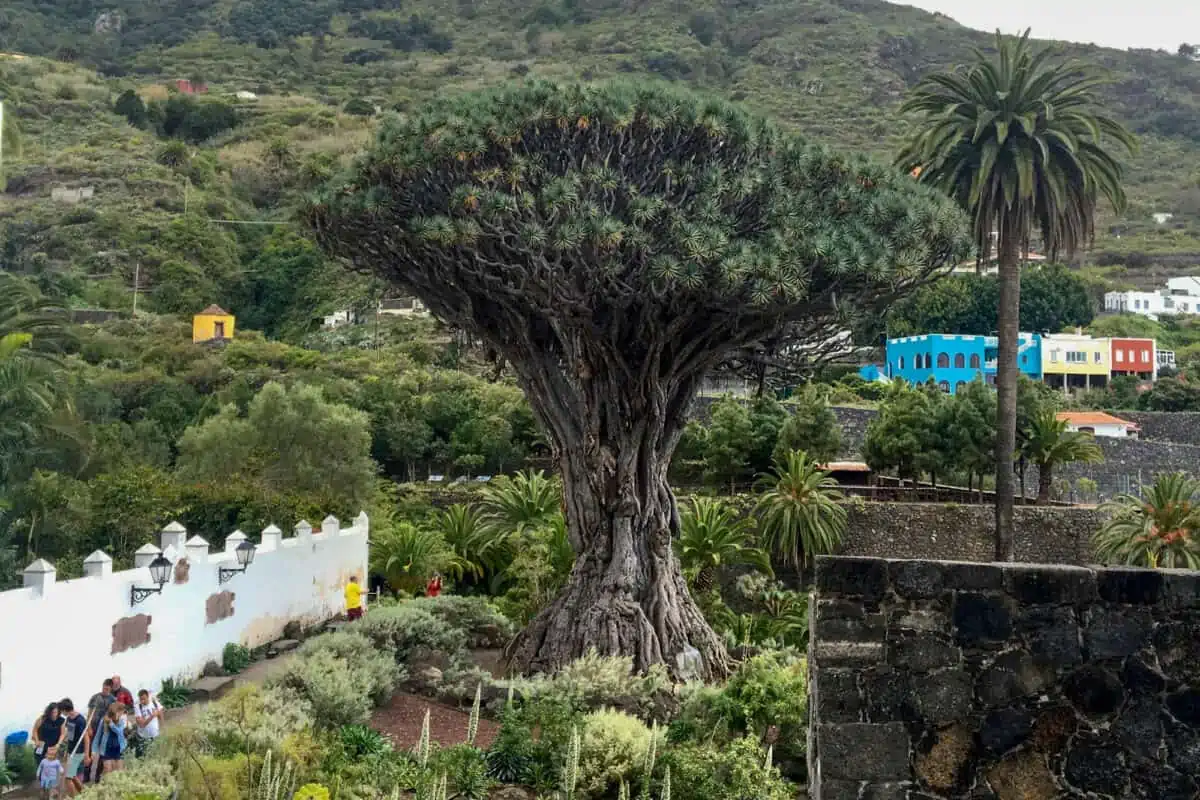 Drago trees are from the tertiary period and survived the ice age – the Canary Islands are one of the few places warm enough for them to thrive. It's location of the town Icod de Los Vinos is a marvel in itself. Pass by Plaza de la Constitución and Iglesia de San Marcos for gorgeous architecture. If you are a geology fanatic, this town also is home to La Cueva de Viento, an amazing volcanic wind tunnel worth visiting.
7. Visit Casa De Los Balcones
The iconic colonial hardwood architecture of Tenerife is grand, enduring, and romantic, sweeping you to scenes from Love in the Time of Cholera. Architects first employed this style in the Canary Islands to see if it would take off before developing the same style in Central and South America. 
Visit this three-story historic mansion in La Orotava to time travel back to the 17th century. Saunter through the antique, majestic balconies, visit the museum and learn about life as a Canarian landowner. Don't forget to take home an artisanal souvenir, such as an iconic handwoven lace tablecloth.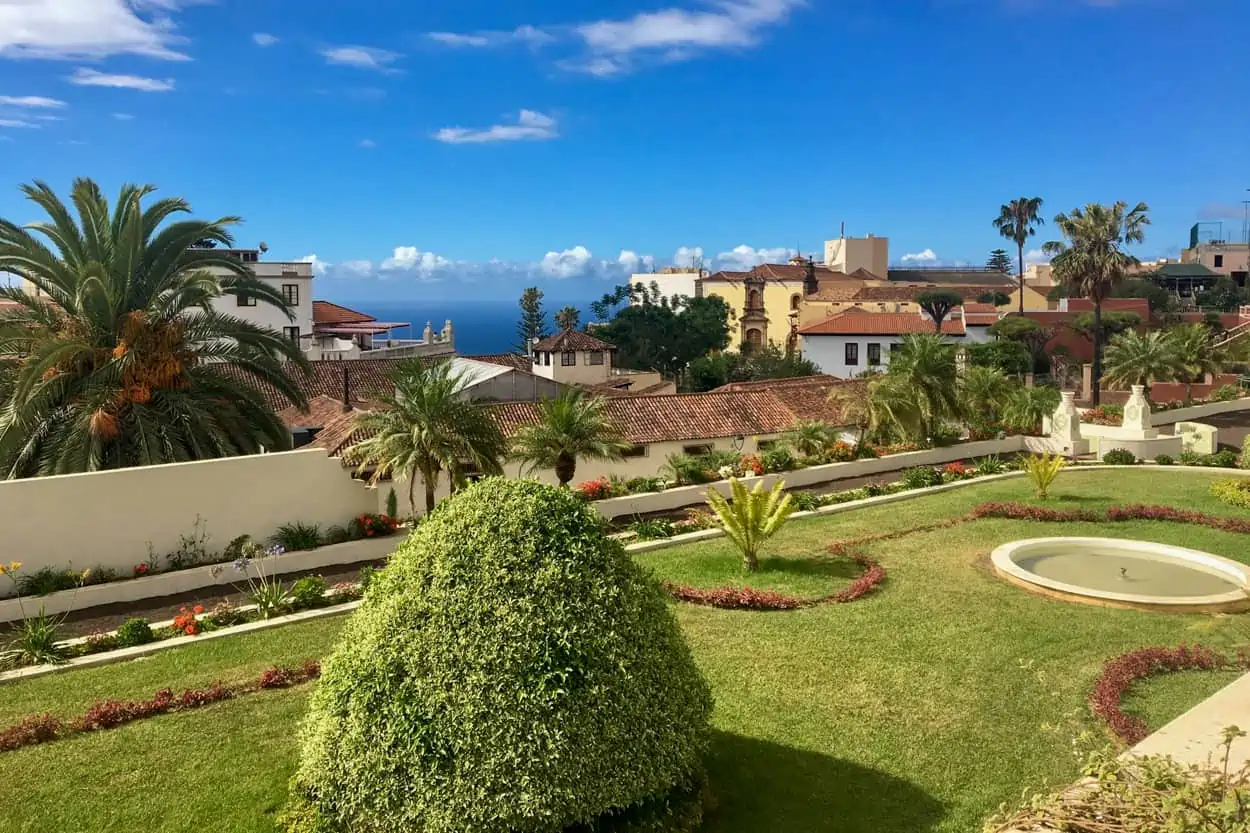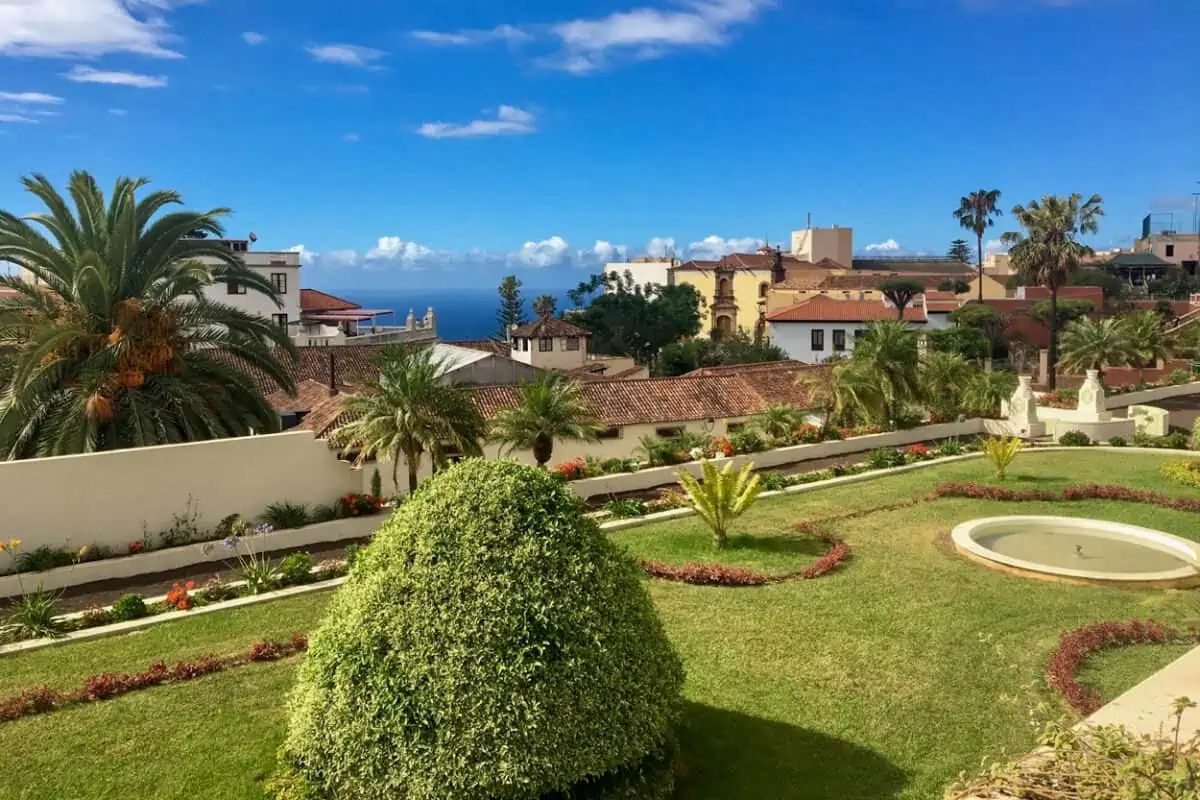 8. Spike Your Adrenaline With an Adventure Activity
Tenerife is home to plenty of adventure tourism. Take your pick from a range of activities, but keep in mind that the prices are targeted at tourists.
Although definitely a pricier activity, paragliding is a tremendous way to see the island through eagles' eyes. Rappelling and canyoning are also fun pursuits that allow you to experience the immense gorges and valleys. For help choosing a tour, check out this article. 
Scubadiving in the surrounding waters offers up the chance of spotting sea turtles, manta rays, and other amazing aquatic life. 
If none of those take your fancy, consider ziplining, buggying, jet skiing, kayaking, snorkeling, or surfing. Ask your hostel if they plan any group trips, as going with an experienced local will offer the most authentic experience.
---
Food and Drink in Tenerife
If Tenerife's scenery is the main attraction, its cuisine, inextricably linked to its colorful culture, is the icing on the cake. Fresh fish and papas arrugadas (wrinkly potatoes), topped with mojo, an authentic flavorful salsa, is a classic example of Tenerife's food. 
The locals possess tangible pride in the freshness and flavor of their food, which will please both picky eaters and foodies alike. Waitstaff will greet you with an affectionate 'que quieres, mi niño?' and a smiling face. I have never encountered a waiter who wasn't thrilled to dive into the menu with me upon asking for their opinion!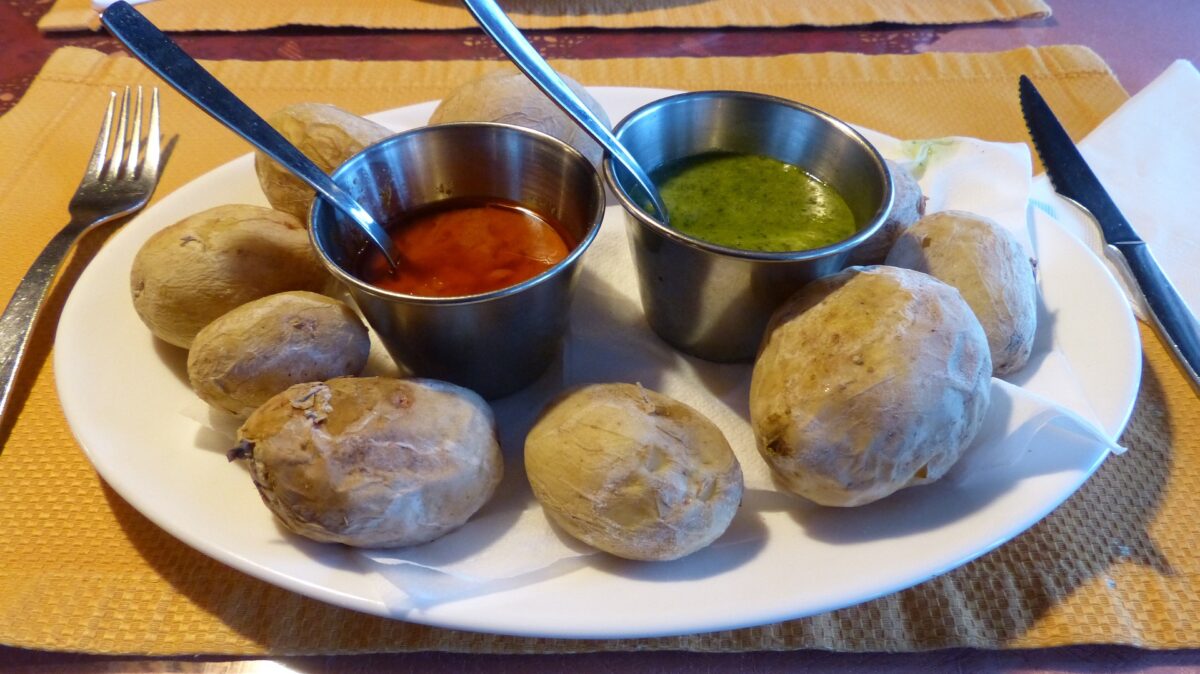 The island boasts divine seafood options: fish in all forms, calamari, octopus, shrimp, and lapas (limpets – similar to clams, but much tastier). The most famous fish is the chicharro (blue horse mackerel). Tenerifans are nicknamed chicharreros after this species, usually served fried. Vieja (parrotfish), cherne (wreckfish), and choco (cuttlefish) are other favorites, typically adorned with mojo verde, a sensational green salsa made with herbs and olive oil. 
Rich and flavorful meats, such as carne fiesta, conejo en salmorejo (rabbit), and carne mechada are indulgent options for carnivores. Meat is typically enjoyed with mojo rojo or mojo picón, and while just as delicious as its green sister, is based with peppers, garlic, and spices. Don't be intimidated, it is common to adorn your papas with either kind of mojo. 
Meat and fish aside, there is an abundance of other dishes worth trying. Arroz caldoso is a paella-like savory rice dish that is wonderfully filling after a long day hiking. Another popular dish, potaje de verduras, is a traditional stew filled with vegetables, beans, occasionally meat, and potatoes. 
If you are culturally and gastronomically inclined, a must-try is the Escaldón de Gofio. This timeless dish comes from the Guanche natives and is nutritionally and calorically dense. The texture is creamy, made from toasted corn flour with a starchy, earthy flavor, traditionally mixed with fish broth and garnished with onion and mojo verde.
Tenerife's unique volcanic soil composition lends its way to a unique and flavorful wine industry. With a history dating back to the Kingdom of Castille in the fifteenth century, Canary wines stand a long history of success, remaining impervious to the phylloxera plague destroying many European vineyards from 1868-1920. Local wines include Listán Noir, Negramoll, and Listán Blanc. 
As there is no pairing like wine and cheese, your trip will not be complete without trying the impeccable queso de cabra (goat's cheese) from the island. Unlike the goat's cheese you may be used to, Canary goat cheeses tend to be harder and boast a spectrum in flavor. 
There is also a renowned dessert, el quesillo, which interestingly, contains no cheese. Cheese-like only in appearance, the dessert is similar to flan but denser and even more delicious. 
---
Restaurants in Tenerife
It's unlikely you will stumble upon an average restaurant while on the island, as the caliber of the food is unmatched. Some favorites include El Rancho Grande in Puerto de la Cruz, with a wide selection of options for any meal and boasting delicious barbacoa. Mesón de Monasterio in Los Realejos is a great option for fans of meat and al fresco dining. 
If you head to Santa Cruz, a tasty, authentic, and cheap option is Bar Charcuteria La Garriga, for traditional sandwiches (bocadillos) and Spanish tortillas. 
Bodegón Tasca Tapias in La Orotava is a very traditional venue that serves Canarian food as well as more 'modernillo' fare. The servers here are affable and knowledgeable about Canarian wine, as it is also part wine cellar.
Casa Lercaro, adjacent to Casa de los Balcones in La Orotava, is beautifully situated on a hill overlooking a valley to the ocean. Decompress in the rustic patio area adorned with tropical flora and enjoy coffee, alcoholic drinks, and tasty cuisine. I recommend the barraquito, an authentic Tenerifan layered coffee with espresso, milk, vanilla-citrus spiced liqueur, and lemon zest.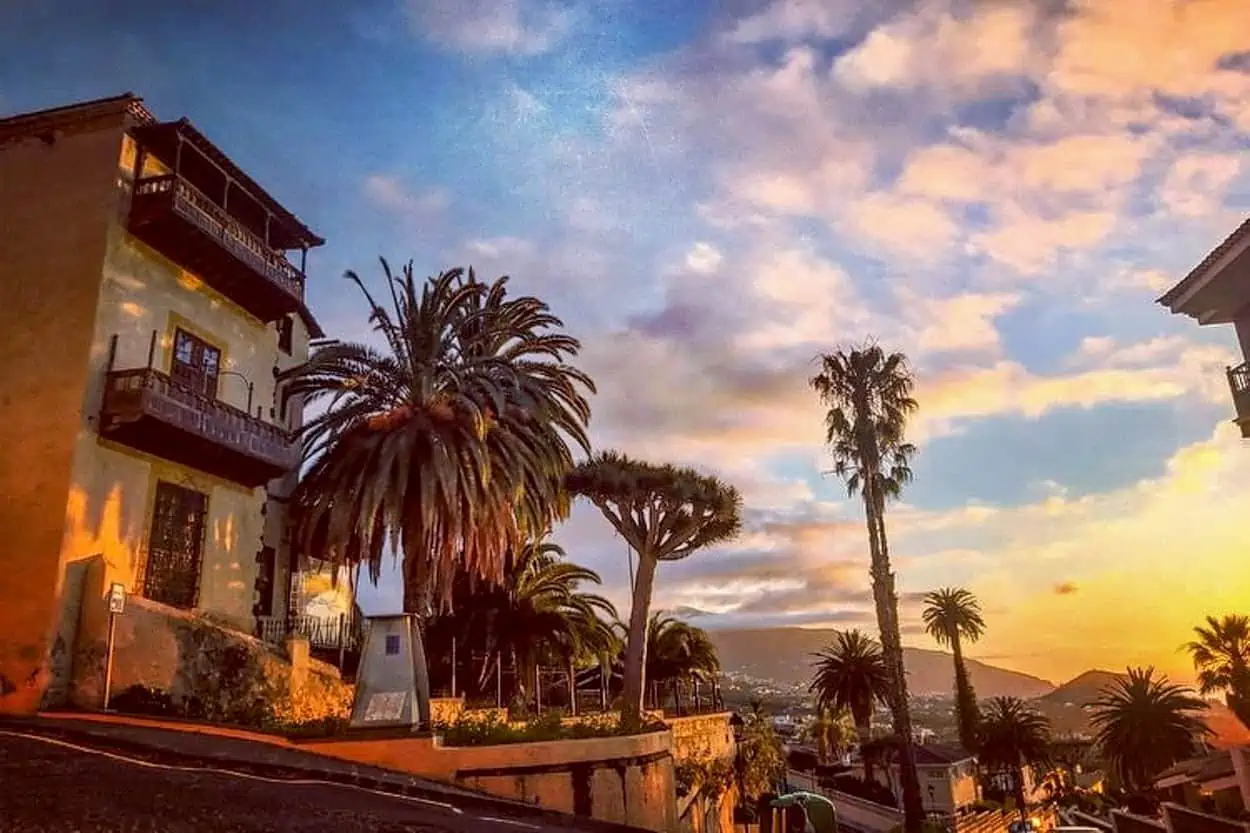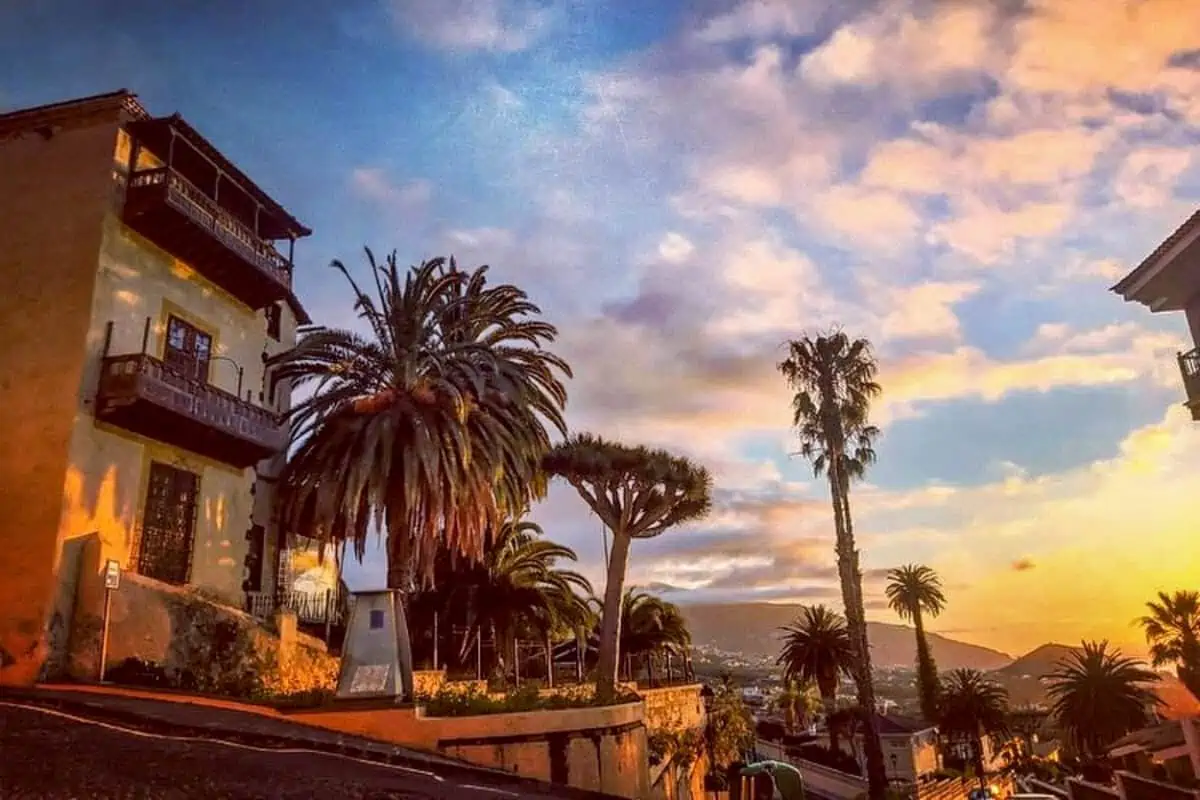 After seeing the Drago tree in Icod de los Vinos, head to the typical family-owned Restaurante Augstín y Rosa. The interior is beautifully decorated and the waitstaff is warm and attentive. Try the queso a la plancha (cheese cooked on the grill) and the bacalao encebollado, a traditional fish dish with onion.
If you choose to do the hiking route in Punta de Hidalgo, a standout restaurant there is Restaurante Altagay. It serves classic Canarian food, has fresh fish delivered daily, and offers views of both the sea and Teide.
If you are eager to immerse yourself in the Tenerifan way of life, don't miss a trip to a Guanchinche, the name given to an establishment typically on farmland serving homemade wine as well as large plates of Canarian food (not the perfect choice for vegetarians). Guachinches are not considered restaurants, but rather homegrown wine establishments. 
Located out of the tourist zones, Guachinches are complicated to get to if you don't have a car and are not used to driving up into the mountains, so it is best to plan ahead. Be mindful of the hours as well, as many are only open in the evenings on weekends. One standout Guachinche is La Huerta de Ana y Eva, serving copious amounts of the previously mentioned dishes in a lively atmosphere.
---
How to Get to Tenerife
Tenerife is home to two airports, one in the north and one in the south. The airport best suited depends on where you're beginning your adventure. 
The Titsa bus is the best public transport option, as there are stations in all the major towns. I recommend purchasing the Ten+ transport card and paying around €10 for the day pass if you plan on going to multiple places, or around €50 for the 7-day pass if you plan on using it frequently. Otherwise, each trip won't set you back more than approx. €1.50, depending on the distance.
---
Where to Go Next:
As you are already in Tenerife, take advantage of the ferry services to stunning neighboring islands such as La Gomera (1-hour ferry ride), El Hierro (2 hours by ferry), or Gran Canaria (1.5 hours). Further away, yet equally stunning are Lanzarote, La Palma, and Fuerteventura, however the ferry ride borders on 8-9 hours. And if you want to return to the mainland, Spain's Costa Blanca offers more for backpackers than you'd expect!