Famous for its rich history, flavorful authentic Spanish cuisine, and cultural arts, Madrid has no shortage of fun things to do and places to explore. This European metropolis is filled with a wholesome culture that welcomes all those who find themselves visiting the Spanish capital. 
Madrid is an extremely touristy destination, but there are still many cheap and affordable activities on offer in the Spanish capital. Regardless if you are a backpacker or a vacation tourist, you are almost certain to find something that catches your interest in Madrid.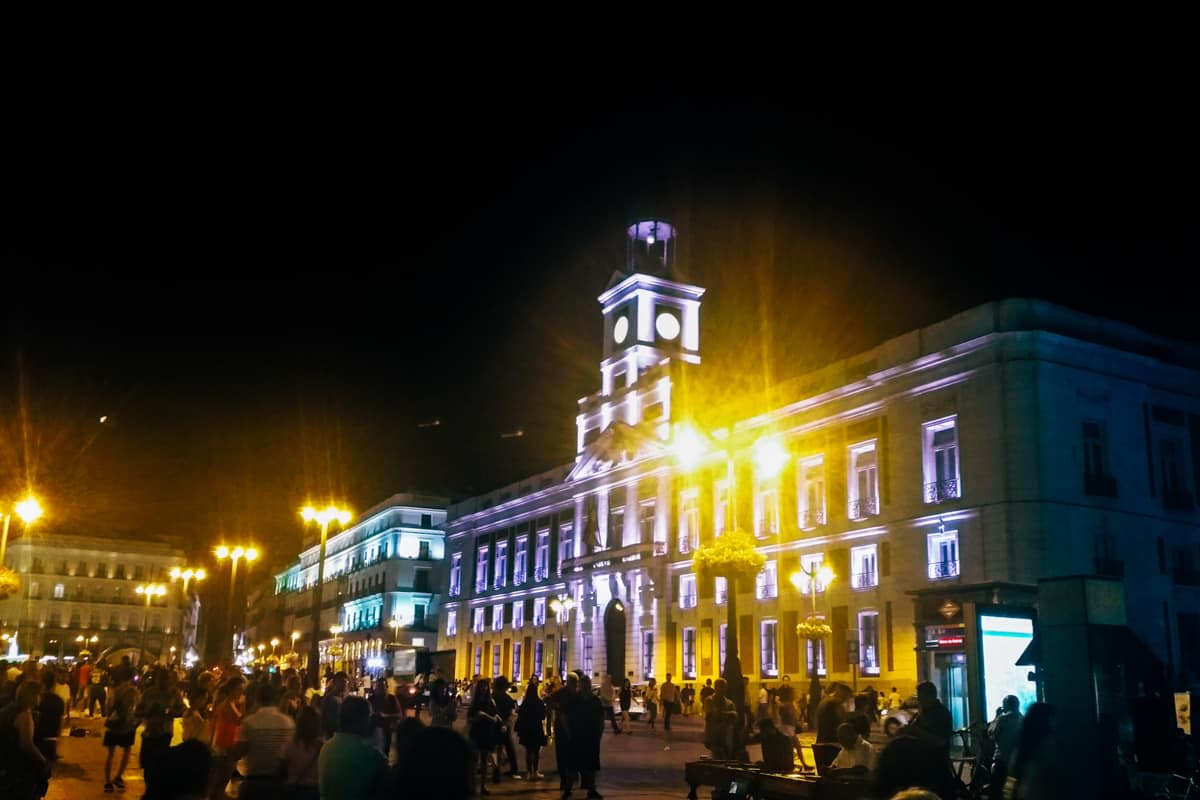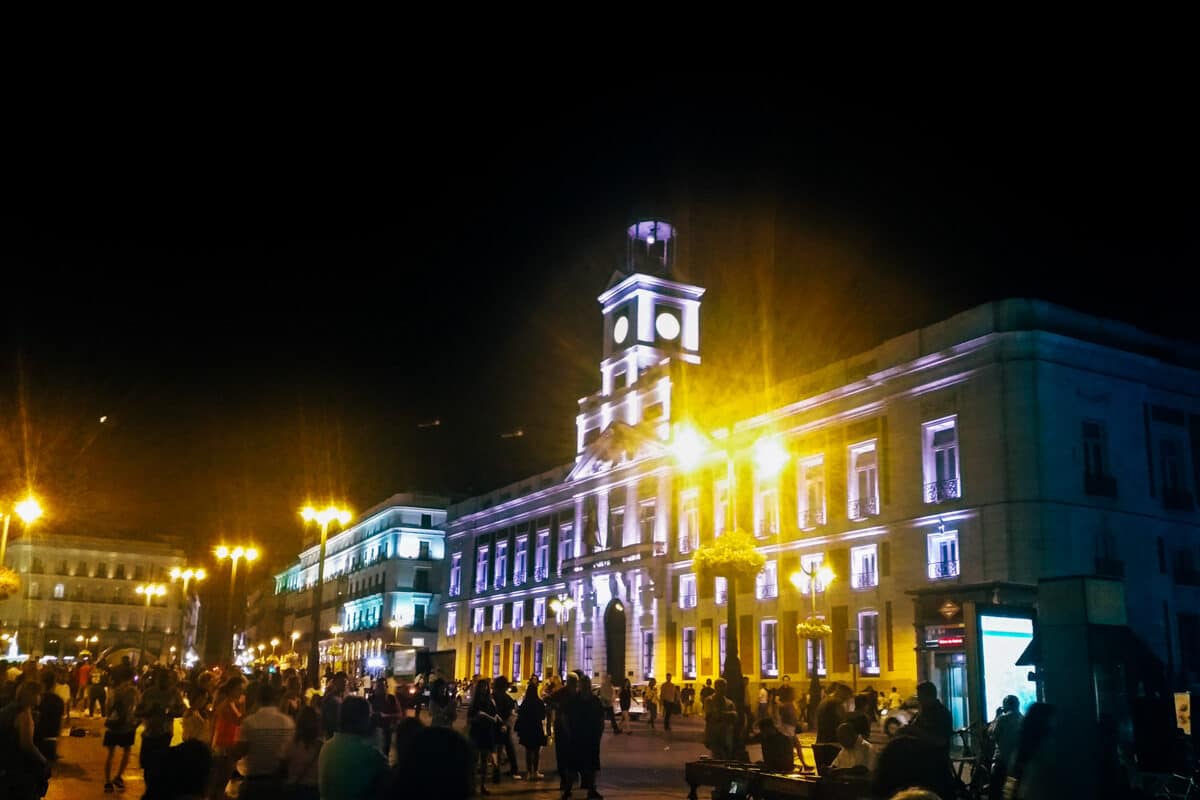 What you need to know before you visit Madrid
Although it is often wrongly claimed that Barcelona is the capital of Spain, it is Madrid.  
Madrid has an average sunshine rate of 250 days a year – not bad! This means you won't want to forget the sunscreen, it's highly likely you'll be catching a few rays during your visit. 
The metro system in Madrid is one of the largest in Europe. This means that getting about in the city is a doddle – once you master the underground maps!
Much like many other cities in Europe, Madrid uses the Euro so you'll need to stock up on these before you visit. 
Where to Stay in Madrid
Madrid has an abundance of accommodation options all over the city. You'll find hotels on every street corner and there are plenty of luxury options if you want to splash out.  Expect to pay around €60 per person for a room in a midrange hotel. 
Hostels vary in price between the high season and the low season. At their most expensive in the summer months, you can expect to pay between €25-30 whereas this drops to between €10-15 in the low season. 
Top 3 Districts to Stay in Madrid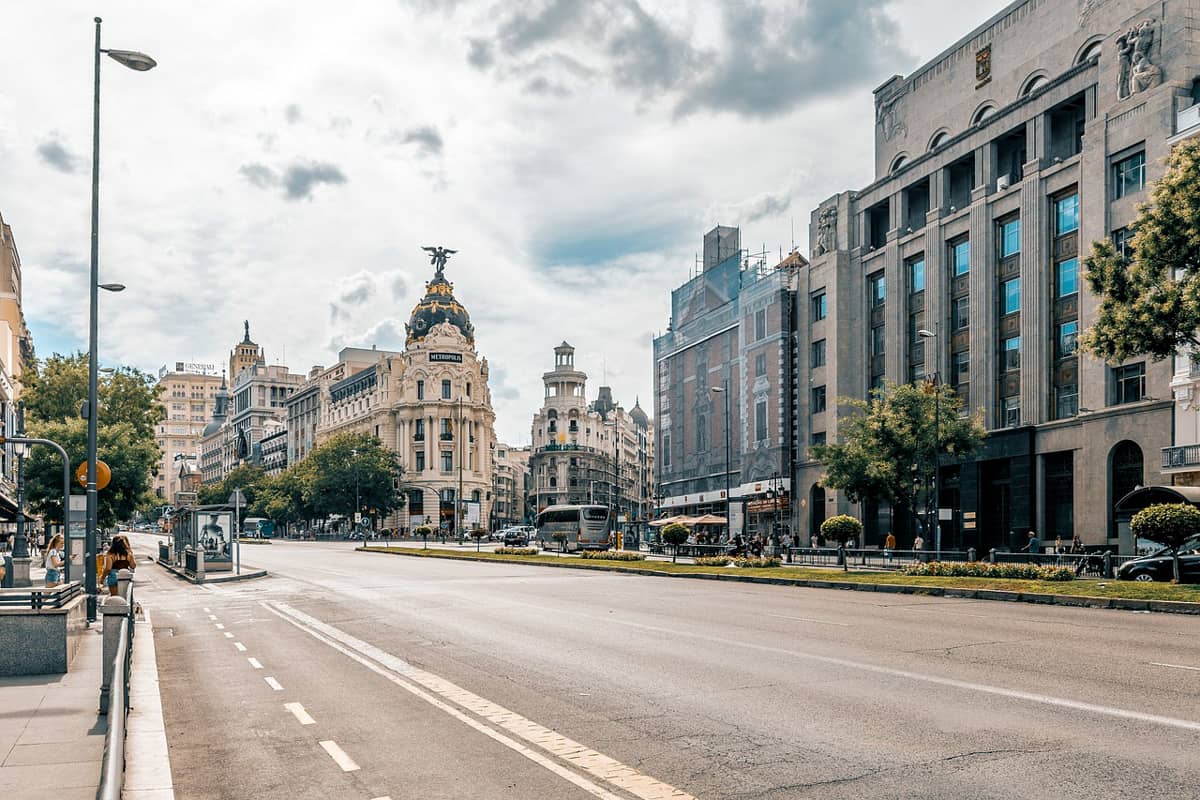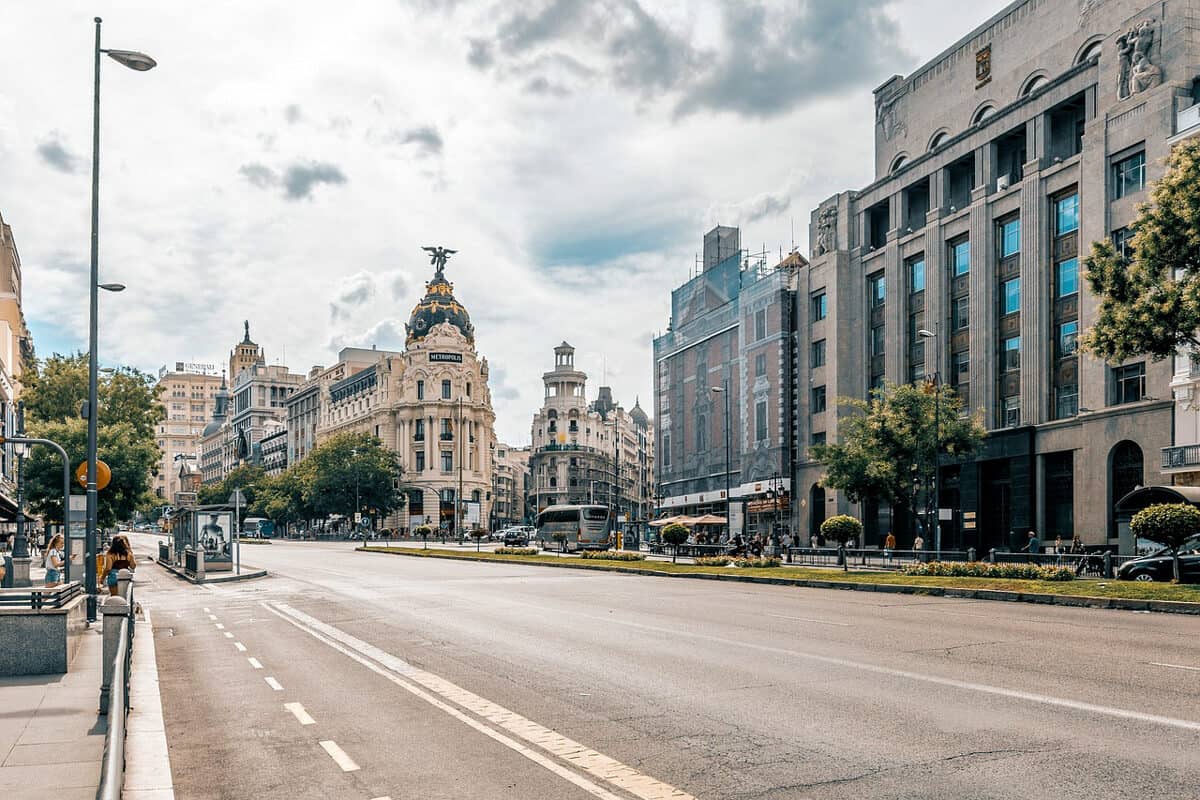 La Latina
If you're looking for a taste of al fresco Spanish dining, La Latina is the city's home of tapas! There is a great nightlife scene in this area and although it is one of the city's oldest districts, it is also one of the most pumping. There are several budget-friendly hostels in this area. 
Centro
Ideal for travelers visiting the city for the first time, the central district is located right in the thick of things. There is world-class architecture all around and plenty of cute tapas bars to choose from. Centro is very easily navigable on foot which makes it a great choice with those not familiar with the city. The area is home to budget digs, boutique guesthouses and even 5-star hotels. 
Chueca
Now home to Madrid's gay nightlife scene, Chueca is the place for partygoers to base themselves. If you can time your visit with the annual Pride festivities, you definitely won't regret it – this is one of the most famous LGBTQ+ celebrations in the world. There are several accommodation options in this area, many of them being ideal for shoestring travellers. 
Search for accommodation in Madrid. 
Top 8 Things to do in Madrid
Madrid is characterised by Beaux-Arts architecture and vibrant celebrations. The city is an exciting travel destination that can be conveniently explored on foot. Here are some interesting things and places to look out for when visiting Madrid.
1. The Royal Palace of Madrid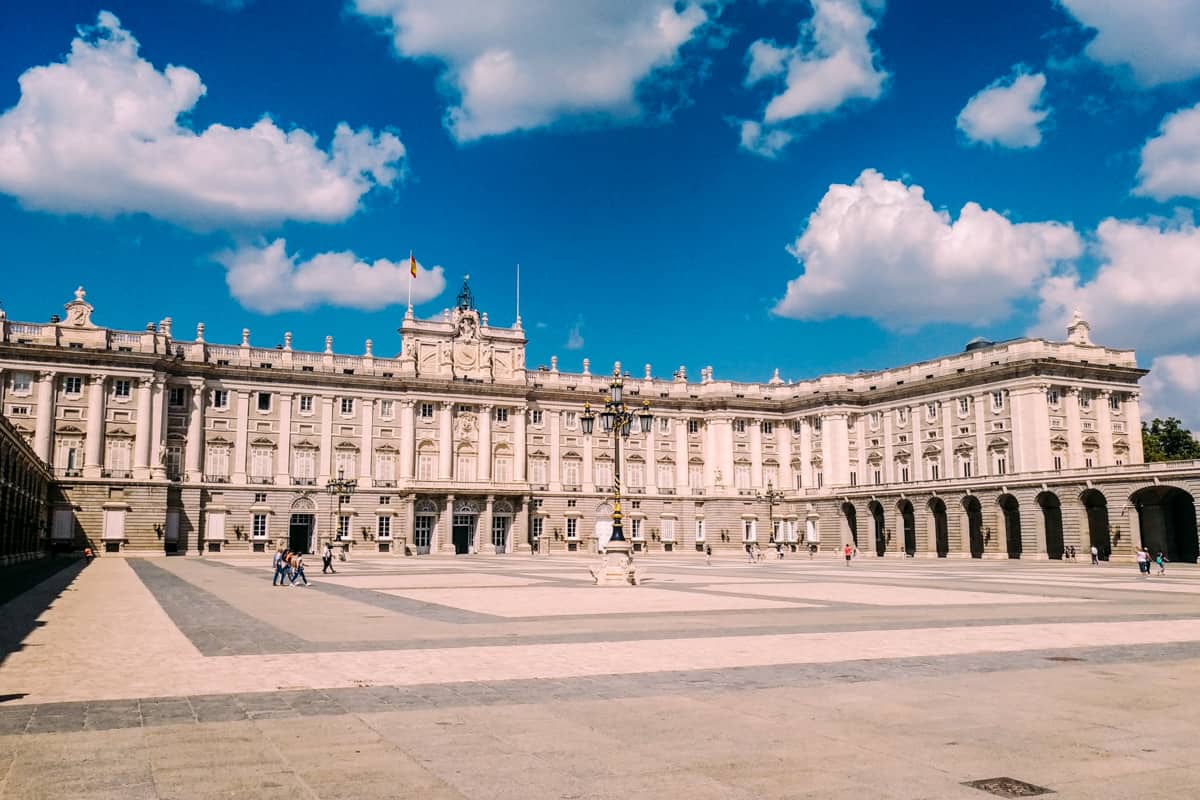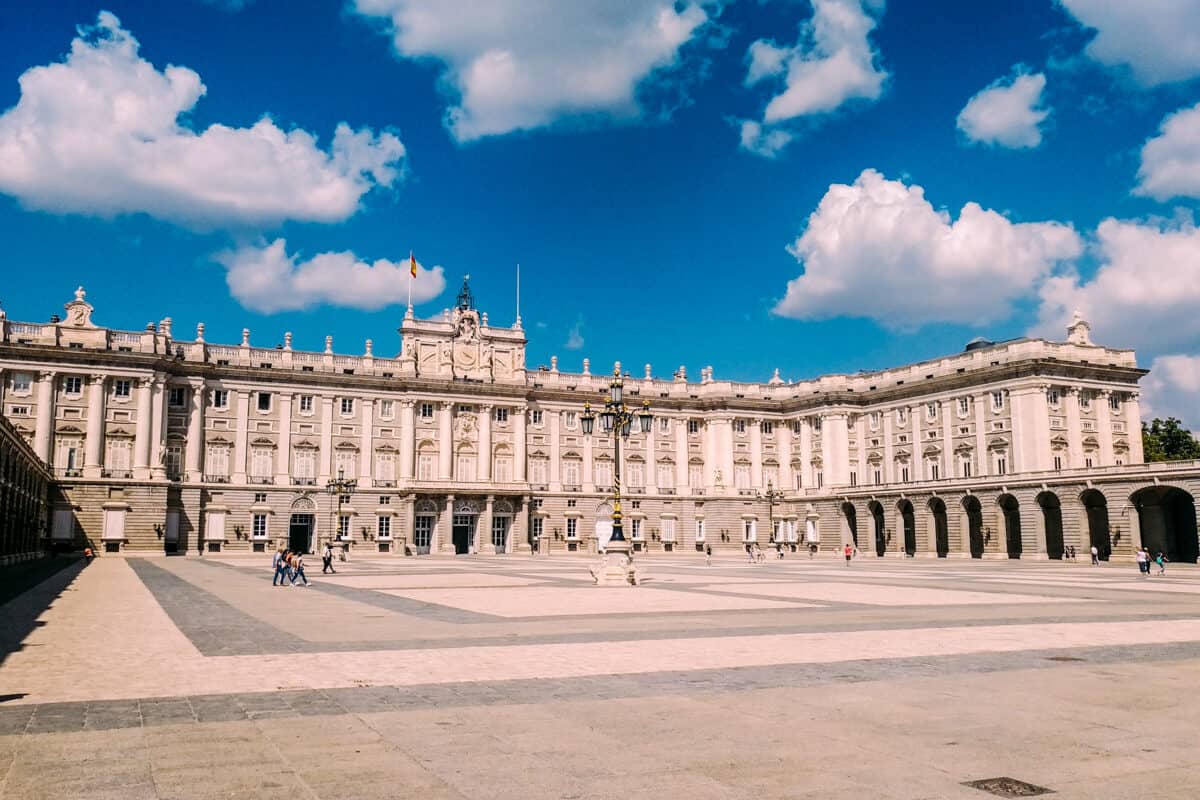 Initially built to be the official residence of the Spanish Royal Family, the Royal Palace of Madrid is a place of community celebrations today, welcoming regular visits from excited guests.
Upon entry, visitors are greeted by an intricate iron-constructed gate, followed by a massive courtyard surrounded by impressive royal architecture. The Royal Palace features over 3,000 impressive rooms, including an exclusive armory, throne hall, and royal kitchen, each fitted with a mix of neoclassical and baroque design styles. 
On Wednesdays and Saturdays, the changing of the guard occurs from 11 am to 2 pm. Admission starts from 12 EURO but is free for locals Monday to Thursday from 5 pm to 7 pm.
2. Plaza Mayor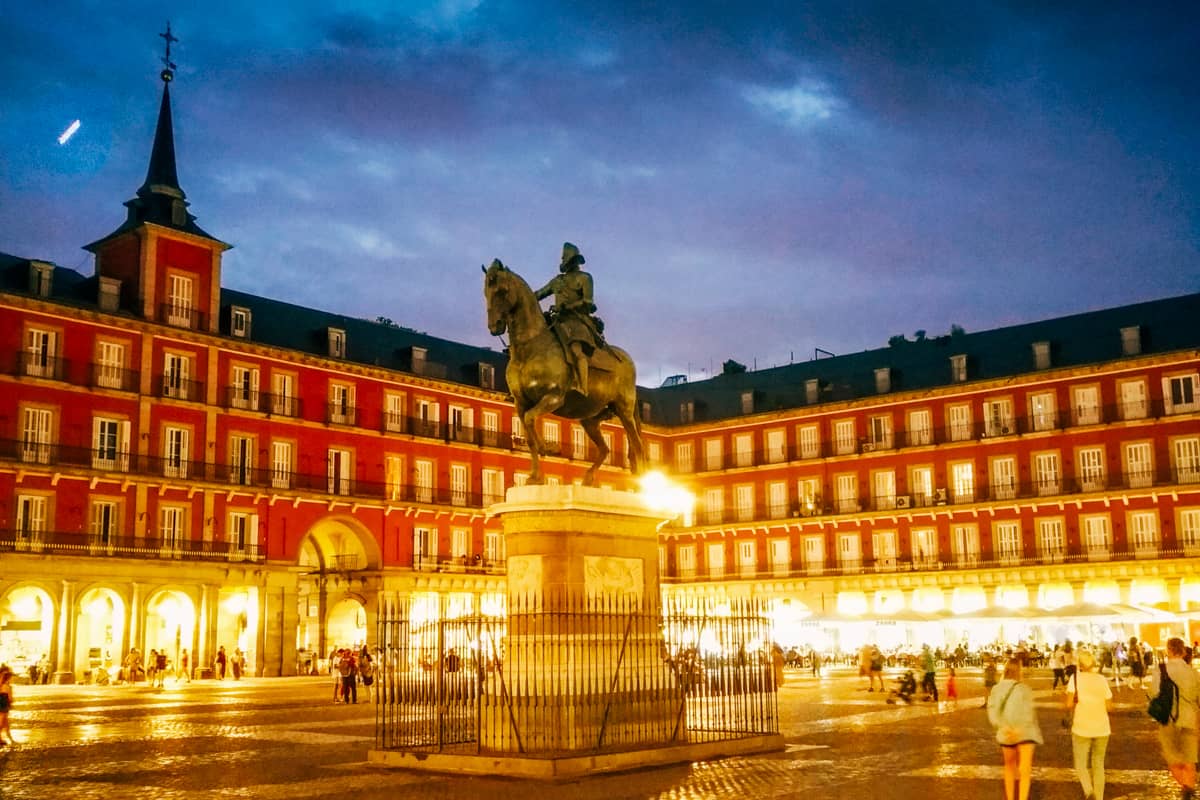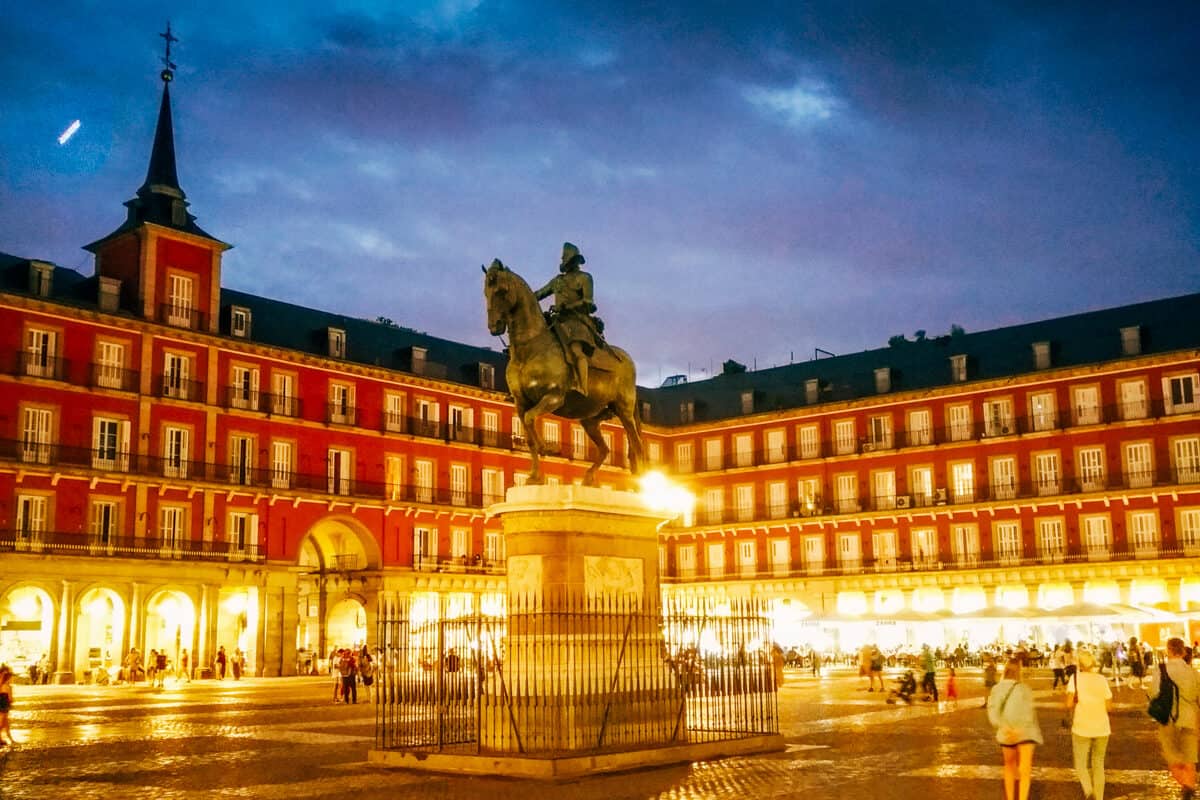 Sitting in the center of the Spanish capital is Plaza Mayor, a monumental space where locals and tourists alike gather. The plaza first opened in 1620, during the reign of Philip III. 
Located at the center of the plaza lies a bronze statue of King Phillip III on horseback. Plaza Mayor is a budget-friendly attraction that features several cafes and bars. Prepare to be enticed to partake in a steaming cup of coffee or a sparkling glass of wine! The ambient outdoor seating is the perfect setting. 
It tends to get busy in the plaza after 2 pm and the festivities run into the night. There are vibrant street performances too which promotes a thriving atmosphere. There is no admission fee to visit the Plaza Mayor.
3. El Rastro
El Rastro is Madrid's most famous flea market, located in the lively neighborhood of La Latina. Flea markets are always an authentic local place to check out. The El Rastro market is open to the public every Sunday and on bank holidays, making it one of Spain's most accessible flea markets. 
Founded over 400 years ago, El Rastro sells everyday household and personal items, as well as one-of-a-kind commodities. Some of the market's most popular items include works of art, books, stickers, and animals. 
The best time to visit the market is early on a Sunday morning when it is first coming to life. Most of the items available for purchase are handmade by the vendors themselves. The flea market is usually open from 9 am to 3 pm. 
4. El Parque del Buen Retiro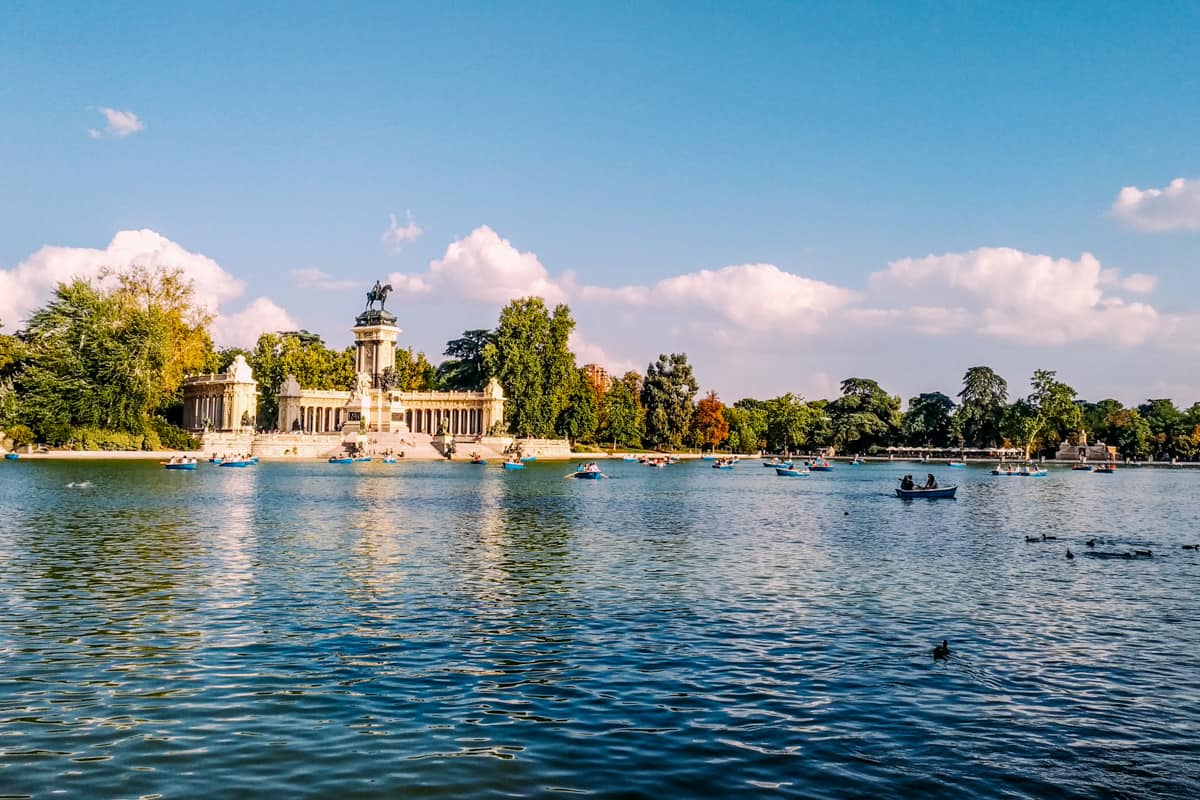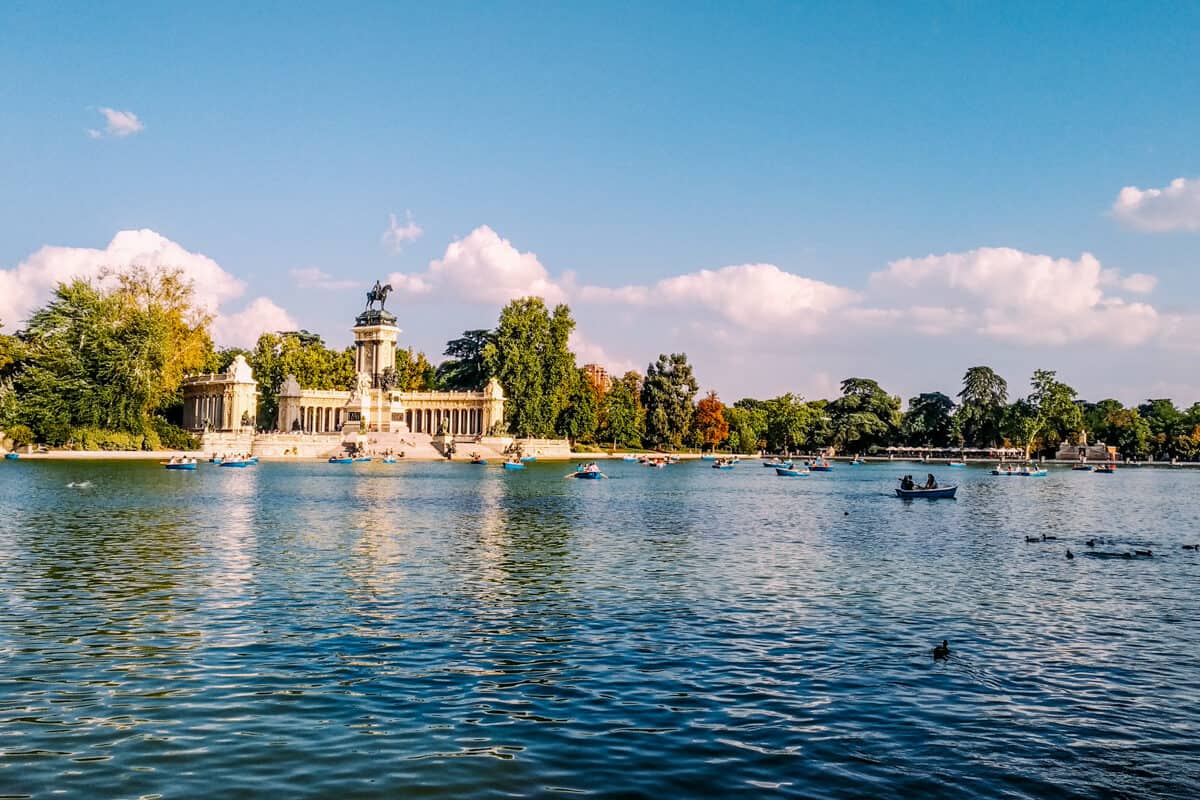 Retiro Park spans over 125 hectares of succulent garden and is home to over 15,000 trees. Visitors can participate in fitness activities, festivals, exhibitions, and more in this tranquil destination. The park is home to an artificial lake where guests can rent a rowing boat and take it out. Among the sizeable open landscape lies a few significant monuments, including the Monument to Alfonso XII and the Fallen Angel. 
Retro Park is also home to Madrid's oldest tree of 400 years, a Mexican conifer. Whether you're headed there on a leisurely stroll or on a visit to one of the exhibitions, Retiro Park is a perfect getaway from the bustling streets of Madrid and makes for one of the most relaxing activities to do in the city. 
The park is open from 6 am to 12 midnight and is entirely free to visit! Enjoy the lush green landscape at your pleasure.
5. Museo Taurino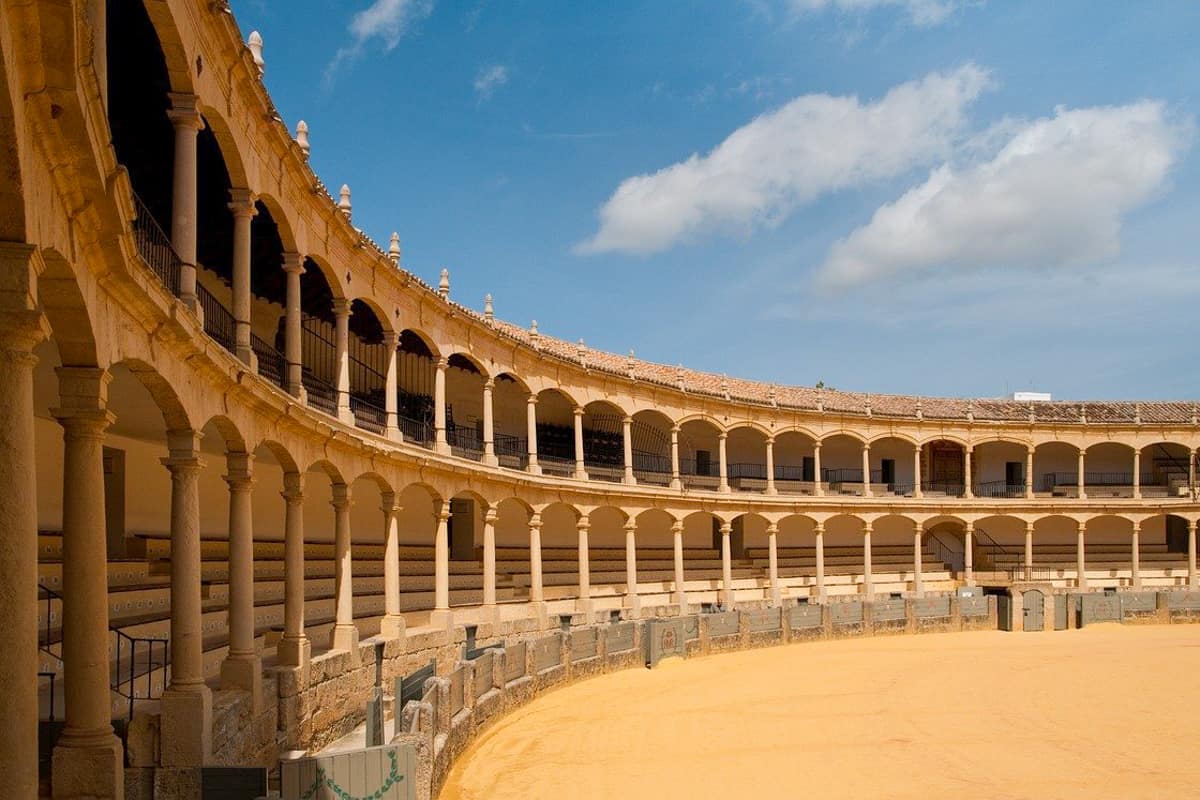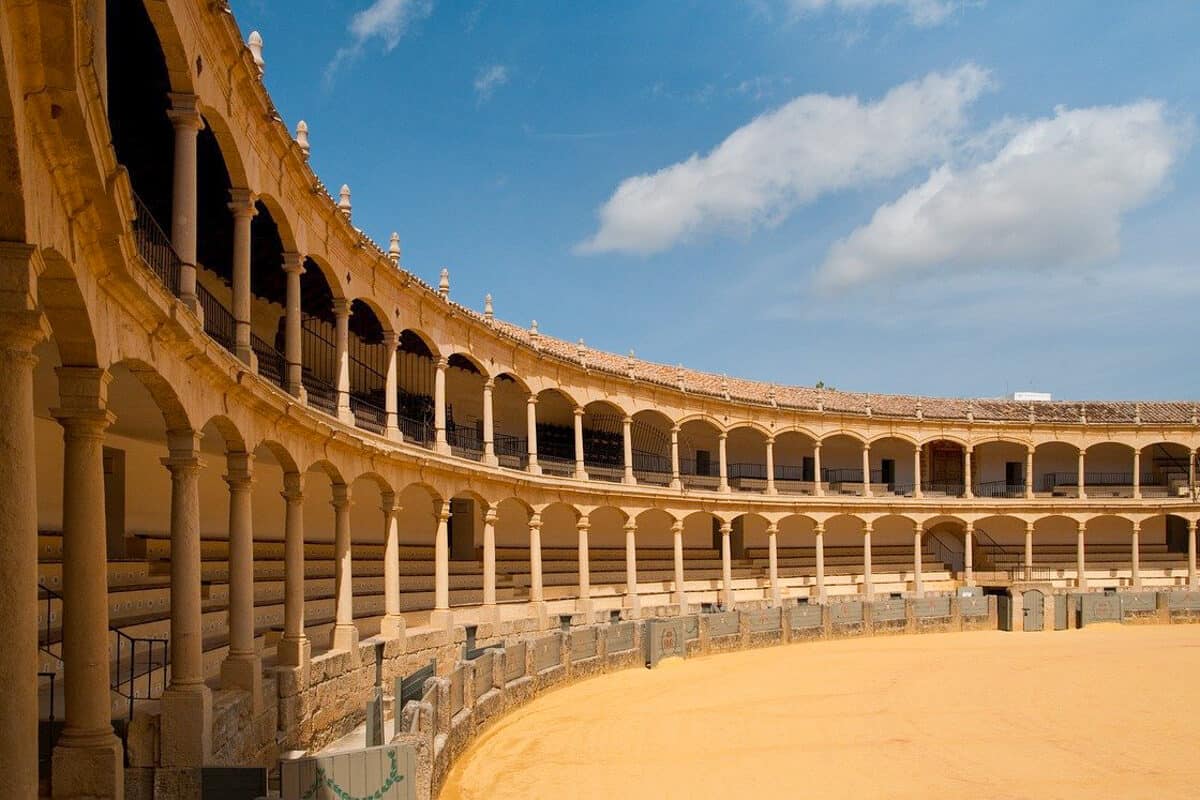 The Bullfighting Museum of Madrid is located in the Las Ventas Bullring. It features a diverse collection of several products inspired by bulls, most of which were donated by the great masters. 
The curation is split into six sections, with nearly 200 items exhibited. From unique sculptures to striking paintings, the Bullfighting Museum takes guests on a free adventure through bullfighting history. 
This is great for budget travelers and Museo Taurino is open to the public from 10 am to 3 pm daily. 
6. Temple of Debod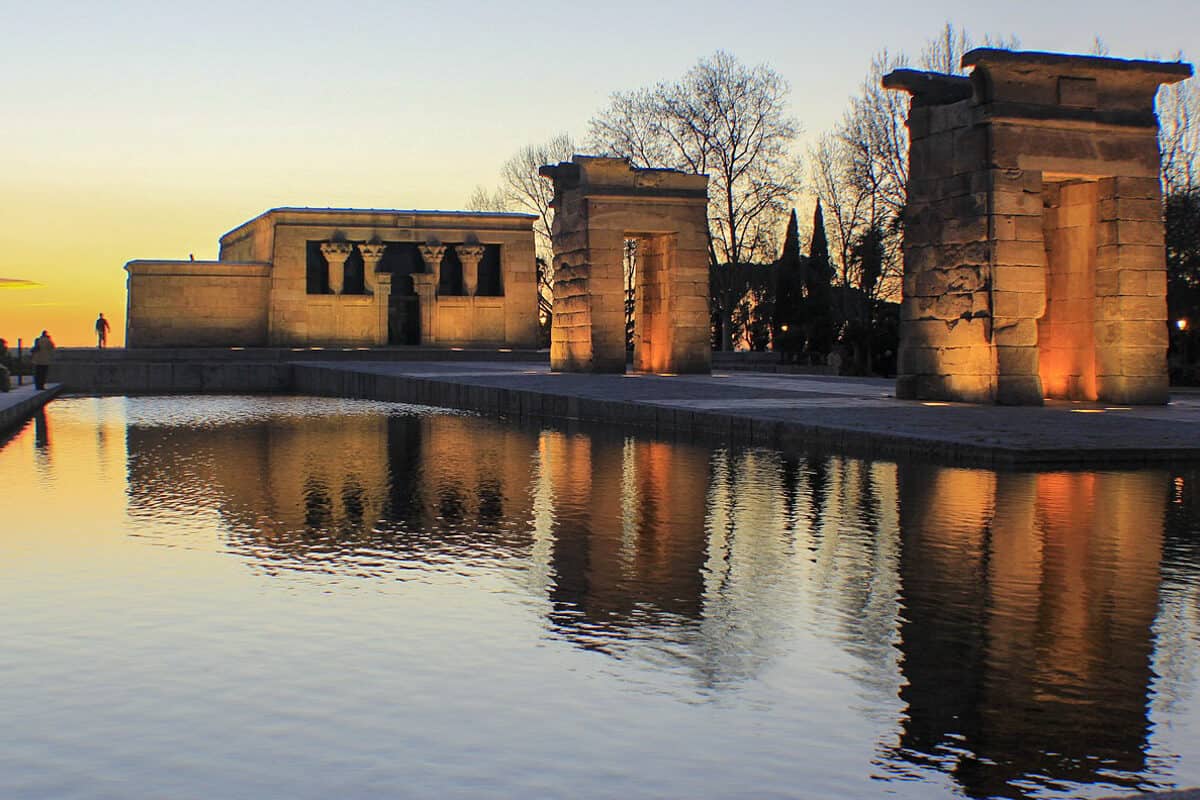 Initially owned by the Egyptian government, the Temple of Debod was donated to Spain to save it from floods after the construction of the Aswan Dam. This ancient Egyptian temple was rebuilt upon arrival and is now situated in Parque del Oeste. The temple is open, typically from mid-June to mid-September, on Tuesdays to Sundays. 
This attraction is one of a kind and one of the few Egyptian structures rebuilt outside of Egypt. The temple today is part of a special water feature that enhances the overall experience of visiting the Temple of Debod. It also makes for some really great photographs. At sunset, the temple is lit up so that each piece showcases power and significance.
7. Gran Via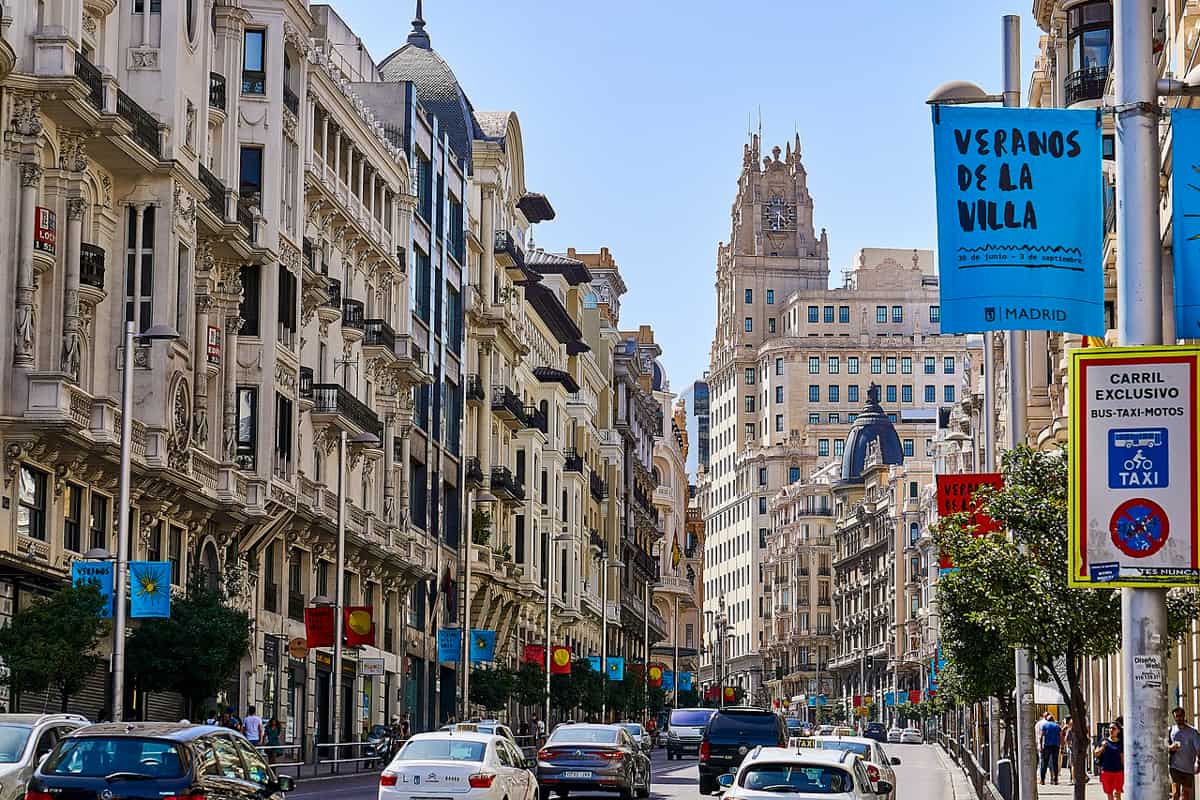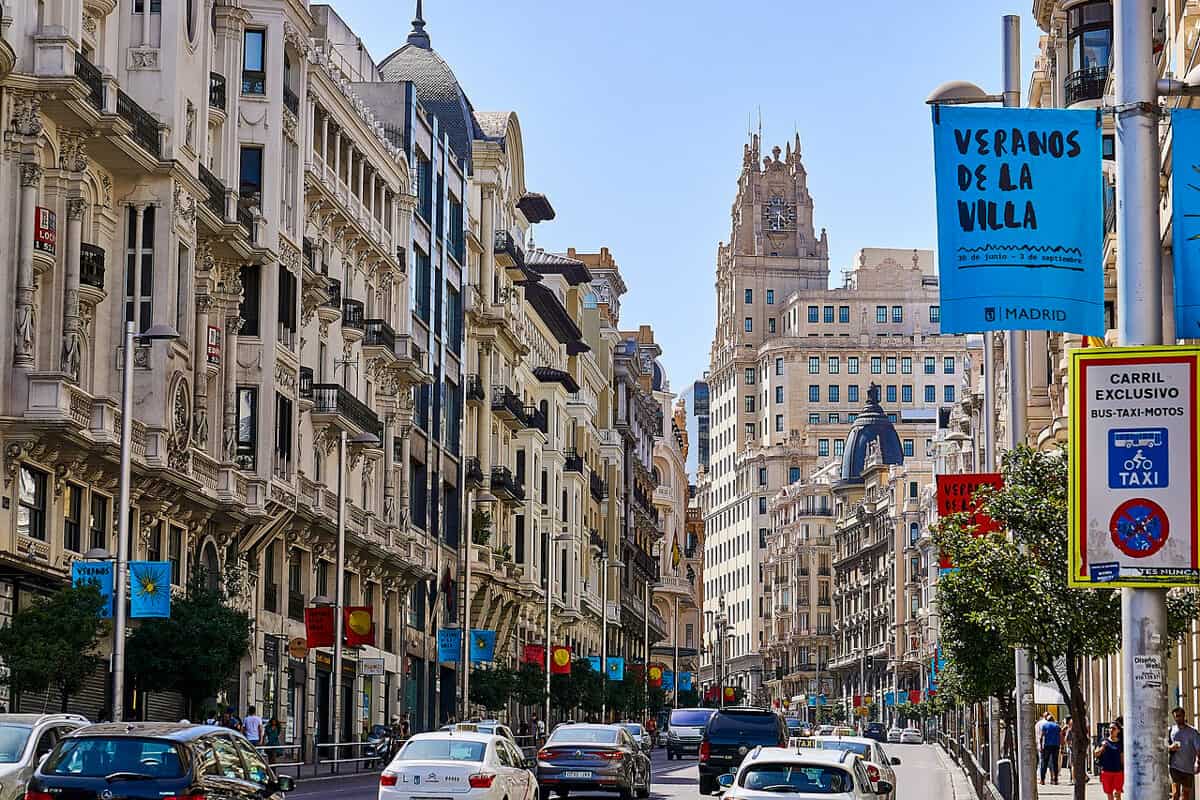 Originally built between 1910 and 1920, Gran Via is the most famous street in Madrid. It features some of the Spanish capital's most symbolic buildings, such as the Metropolis building and the Carrion building. 
Today, the popular street showcases a variety of authentic restaurants, boutiques, and bars. Gran Via has a reputation as the 'Spanish Broadway' with a number of eclectic theatres and cinemas. 
The street is home to worldwide popular brands such as Zara, H&M, Sfera, and others, making it one of Spain's most influential shopping streets. Even just window shopping here makes a great adventure if you like to mingle with crowds!
8. The Prado
One of the most famous art museums in Europe and in fact the world, the Prado provides an impressive collection of art, many created by Renaissance and Baroque masters. The Prado features revolving exhibitions and art installations that help transport viewers to another time through the use of detailed visual mediums. 
General admission starts from 15 EURO and gives visitors access to some of Spain's most rich and artistic history. Budget travellers will be interested to discover that admission is free from 6 pm to 8 pm from Monday to Saturday and from 3 pm to 5 pm on Sundays and public holidays.
How to Get There
Most visitors to Madrid fly into the Adolfo Suaárez Madrid Barajas Airport. A number of low-cost airlines service various routes here from across Europe, including Easyjet, Ryanair and Norwegian Airways. 
Chamartin and Atocha are the city's main railway stations. As the capital of Spain, the city is very well served by public transport and there are high-speed connections with Seville, Barcelona, Costa Blanca and Segovia, to name a few.