Just a stone's throw away from the Spanish city of Valencia is the hidden gem of Chulilla. It's a small town, with twisty, narrow, sloping streets. Home to white houses decorated with flowers, its standout feature is its impressive Moorish castle ruins. 
Hidden pools, hanging bridges, climbing, and breathtaking trails, are among the adventures that await Chulilla's visitors. The limestone canyon, shaped by the Turia River which snakes around town, has turned the area into a climber's paradise. In fact, Chulilla is home to more climbing routes than inhabitants! Visitors shouldn't be fooled by the tranquility of this town though – it caters to even the most hedonistic thrill-seekers. 
---
Language: Spanish
Currency: Euro
Province: Valencia
Population: 700
Perfect for: Hiking fans, adrenaline junkies, climbers
---
Best Time to Visit Chulilla
The Mediterranean climate makes Chulilla an all-year destination. That said, it might not be the best idea to go there during the scorching summer months. The more subtle, warm weather of autumn and spring is ideal for hikers, climbers, and travelers. 
Winter could also be inviting for those looking to get some climbing done. During this time of year, there is no need to chase the shade, and climbers can get in a full day on the south-facing cliffs.
If cultural experiences are more your thing, you might want to plan your visit around the Enramá Festival, which is deeply rooted in Chulilla's traditions. It is held the first weekend of May.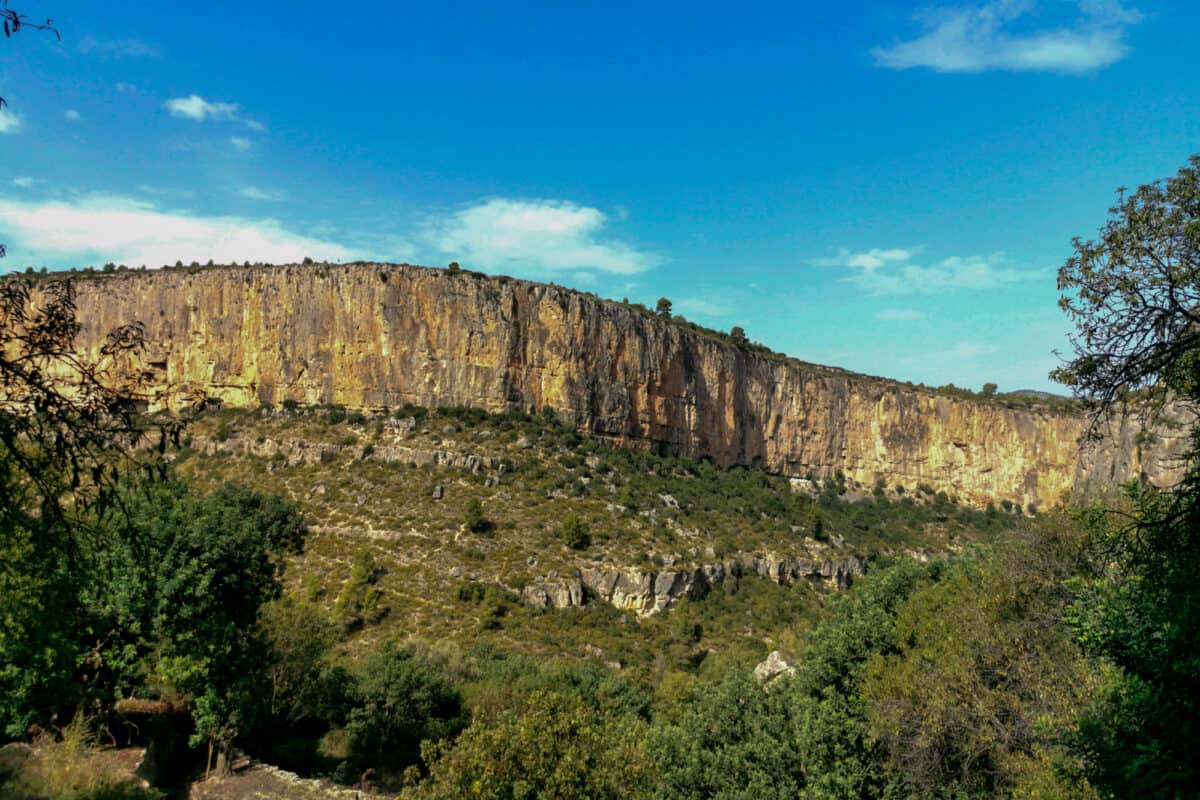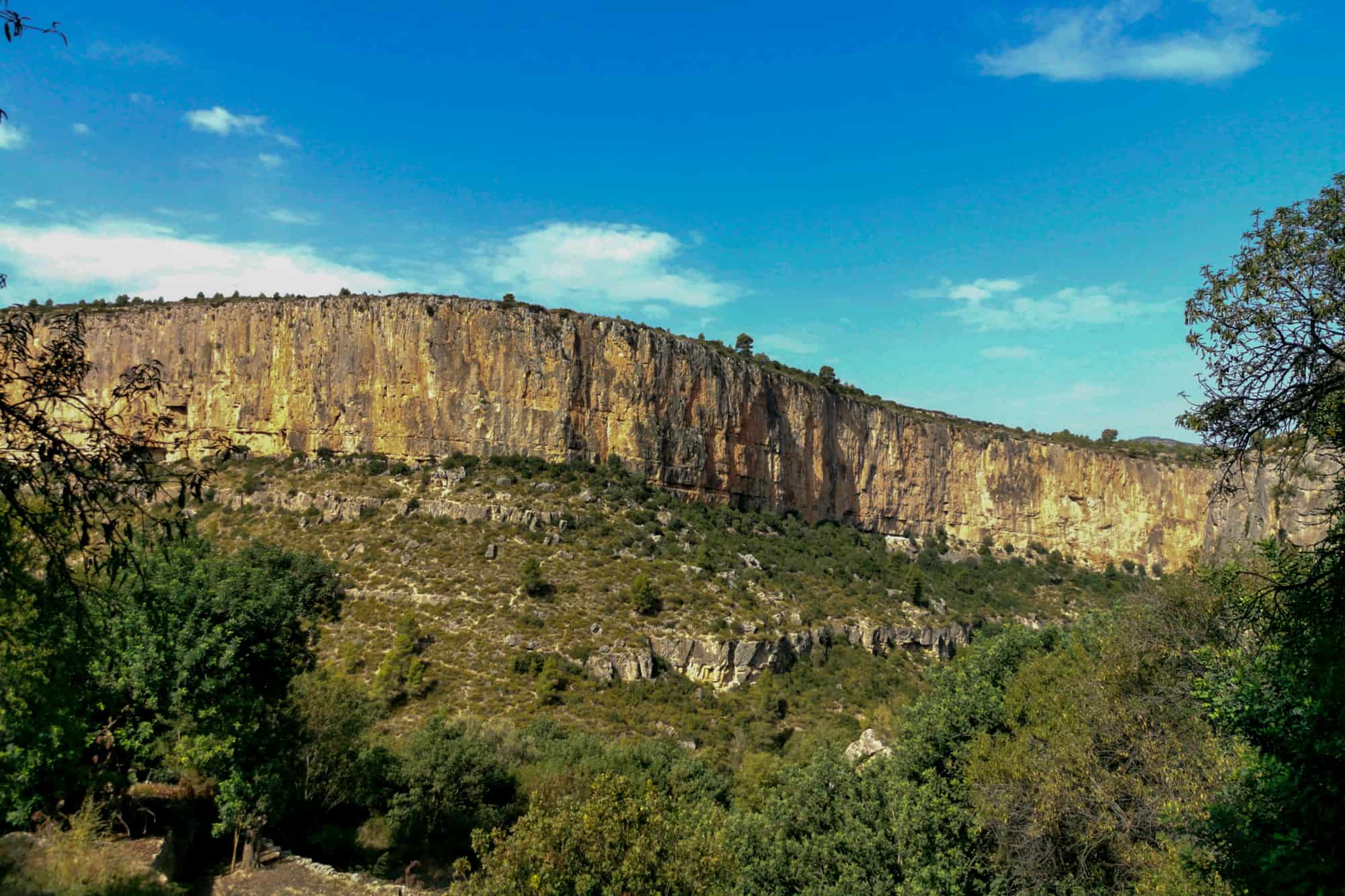 ---
Where to Stay in Chulilla
Disclosure: Some links on this page are affiliate links. We always write our articles before checking if affiliate links are available.
El Altico is by far the best hostel I have stayed in. The hosts Nuria and Pedro are welcoming and helpful. They've thought about all those small details that make a big difference to your stay. 
Inside this clifftop hostel, you'll find a range of amenities. The lounge room is cozy, with sofas, books, and board games. WiFi is available for free and is also reliable. 
There are yoga mats for those who wish to practice their asanas by the pool. Ideal for their adventure-seeking audience, there is also an indoor and outdoor climbing wall and a hot tub for soaking those weary muscles! Perhaps best of all, is that the views from up here are spectacular.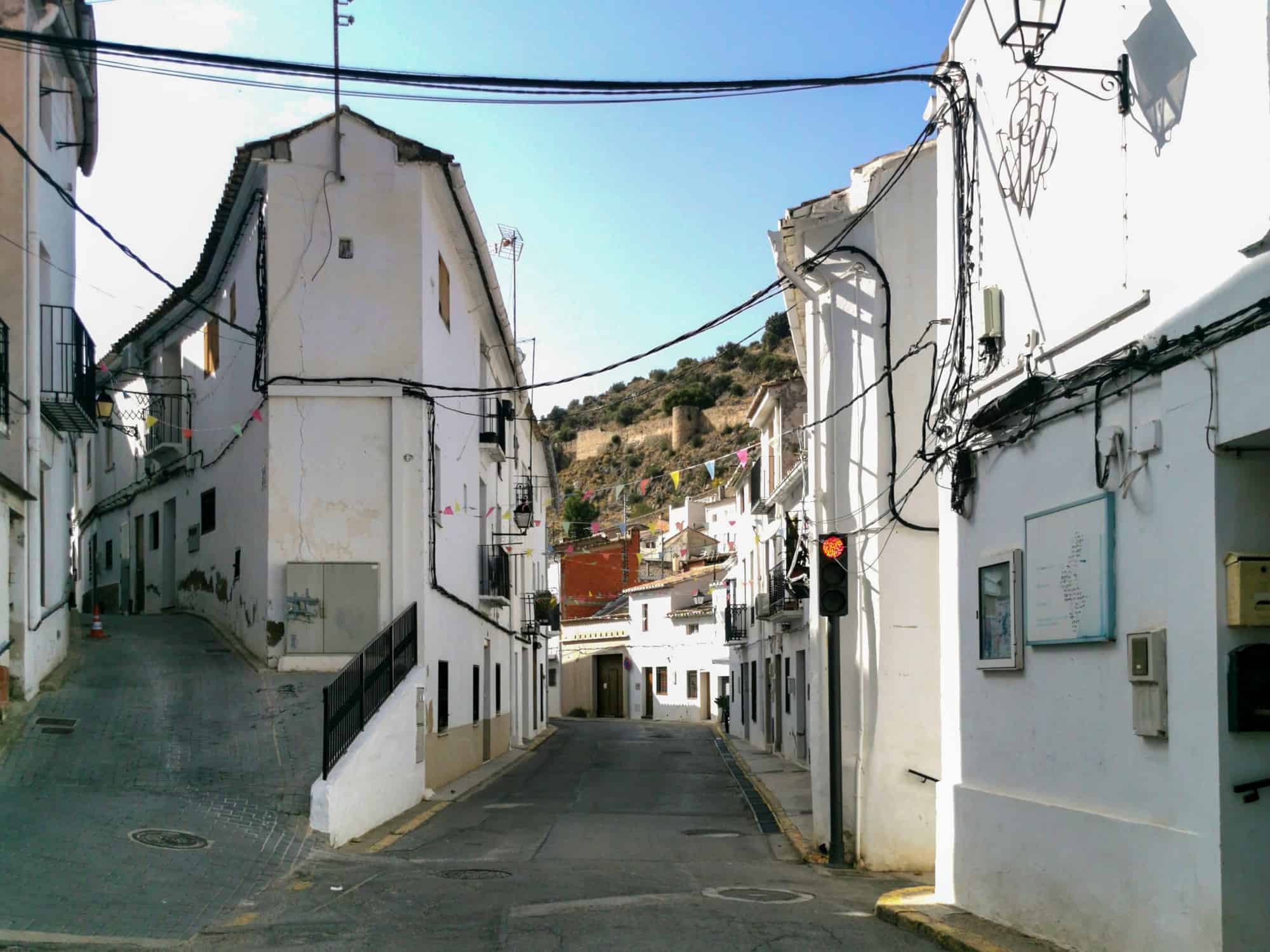 This hostel, which is located in the heart of Chulilla, offers a more premium experience. El Pozo houses four double bedrooms and a family room that sleeps between three and four guests. If you are searching for privacy, look no further. 
Each room has been decorated in an eclectic style, and even though it's a slightly pricier option, you get bang for the extra bucks spent. The price includes breakfast of which the highlight is undoubtedly the homemade orange marmalade.
Slightly higher up the price scale, yet very much worth it, is Casa del Herrero. Rated by solo travelers as a 10/10, this guesthouse offers three bedrooms with air conditioning, three bathrooms, a fully equipped kitchen, and a balcony with a view. Its central location is not at the expense of tranquility, so you won't have to worry about getting a good night's sleep there. 
---
5 Things to Do in Chulilla
1. Take a Dip at El Charco Azul
Go for a dip at one of the most Instagramable places in Chulilla – El Charco Azul. Nestled in between imposing limestone walls and slightly hidden, you will find this magical blue lagoon. Just a 15-minute walk from the town's square, you can cool off here for a refreshing swim after a long day of climbing or hiking.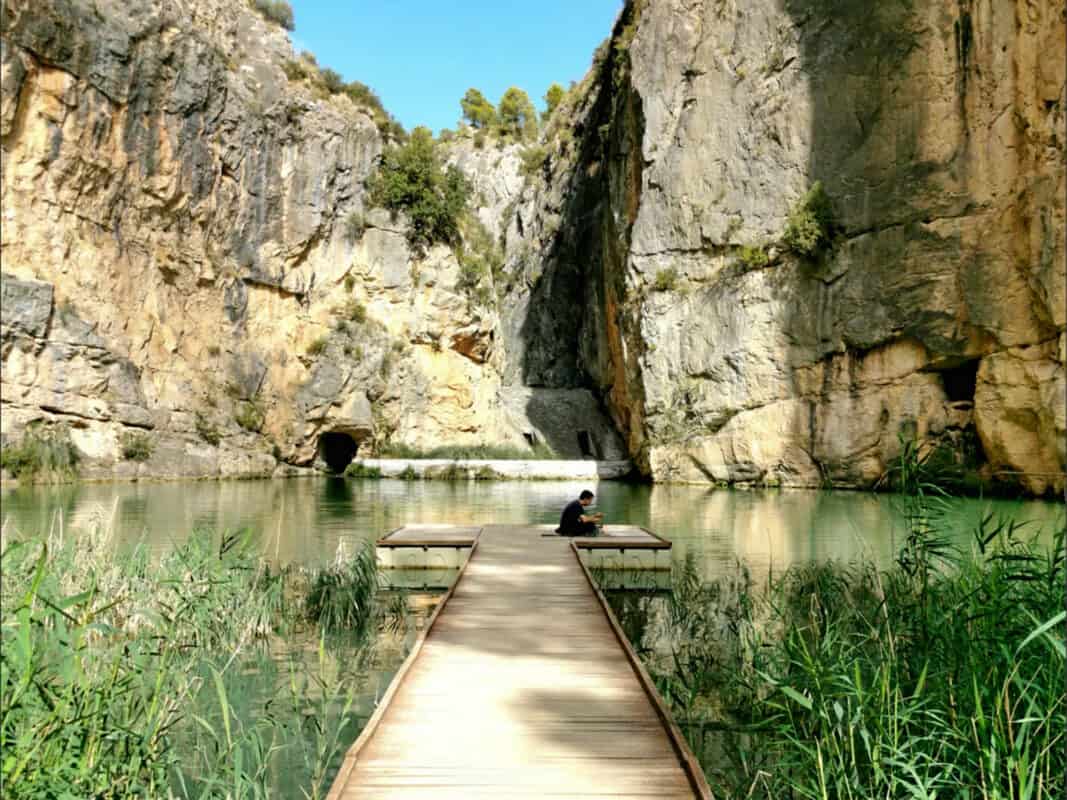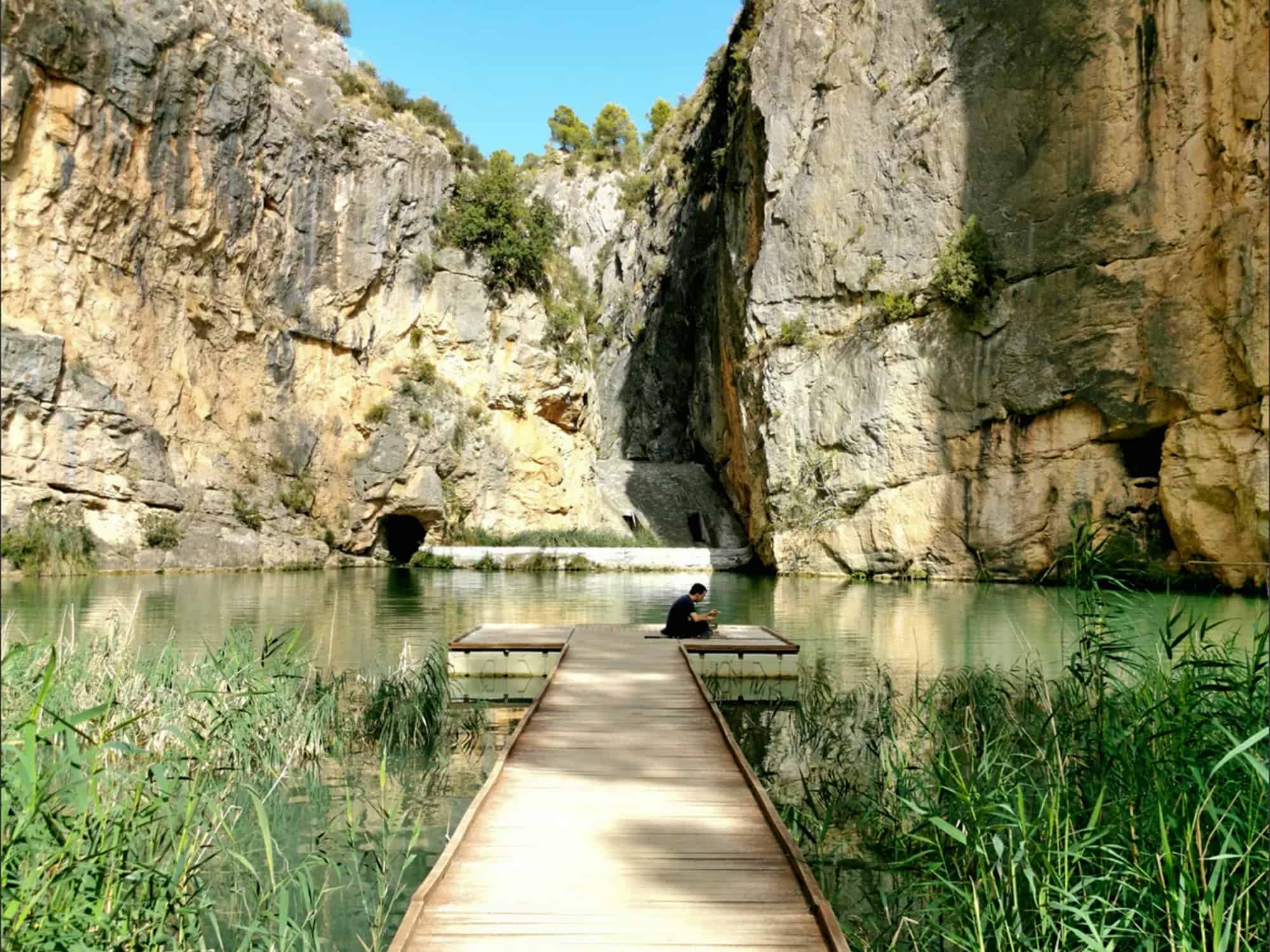 2. Visit the Castle Ruins
Walk up from the church to the walled remains of the 12th century Moorish castle. Crowning the highest hill in town, the aptly named Cerro del Castillo (Castle Hill), offers a wonderful platform for stunning views to unwind. There is no admission fee, nor official opening hours. This means you are free to chase that perfect camera shot! I recommend going up there just before the break of dawn.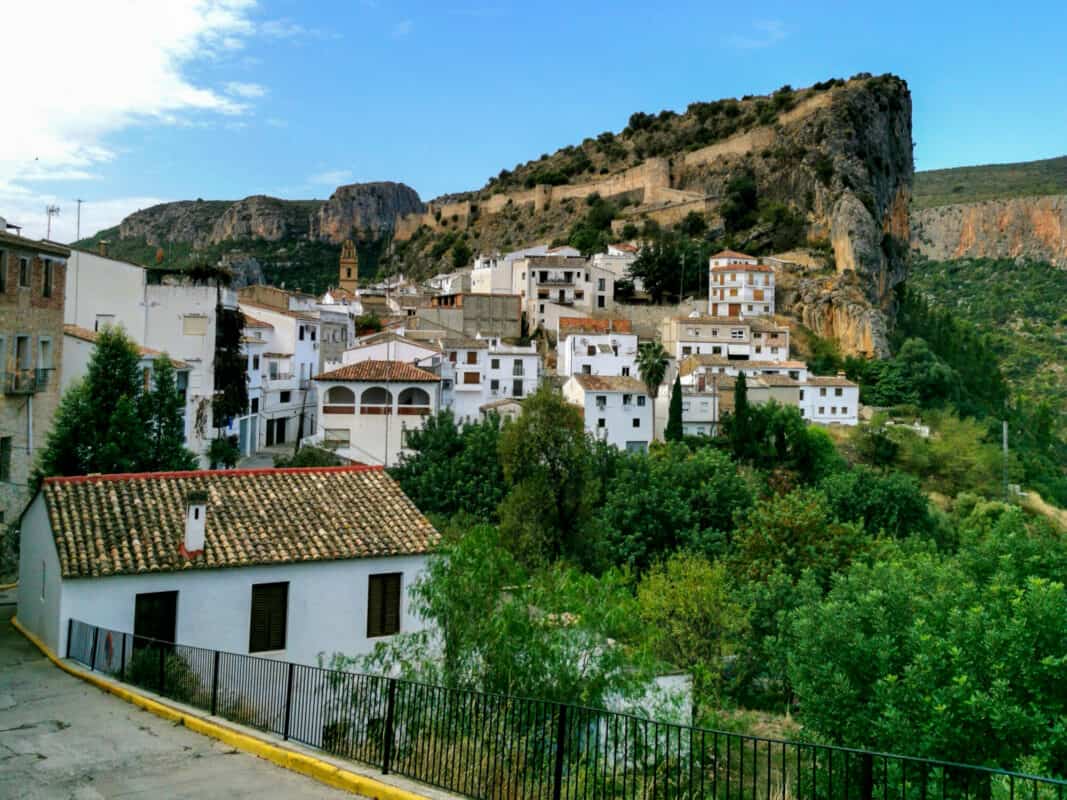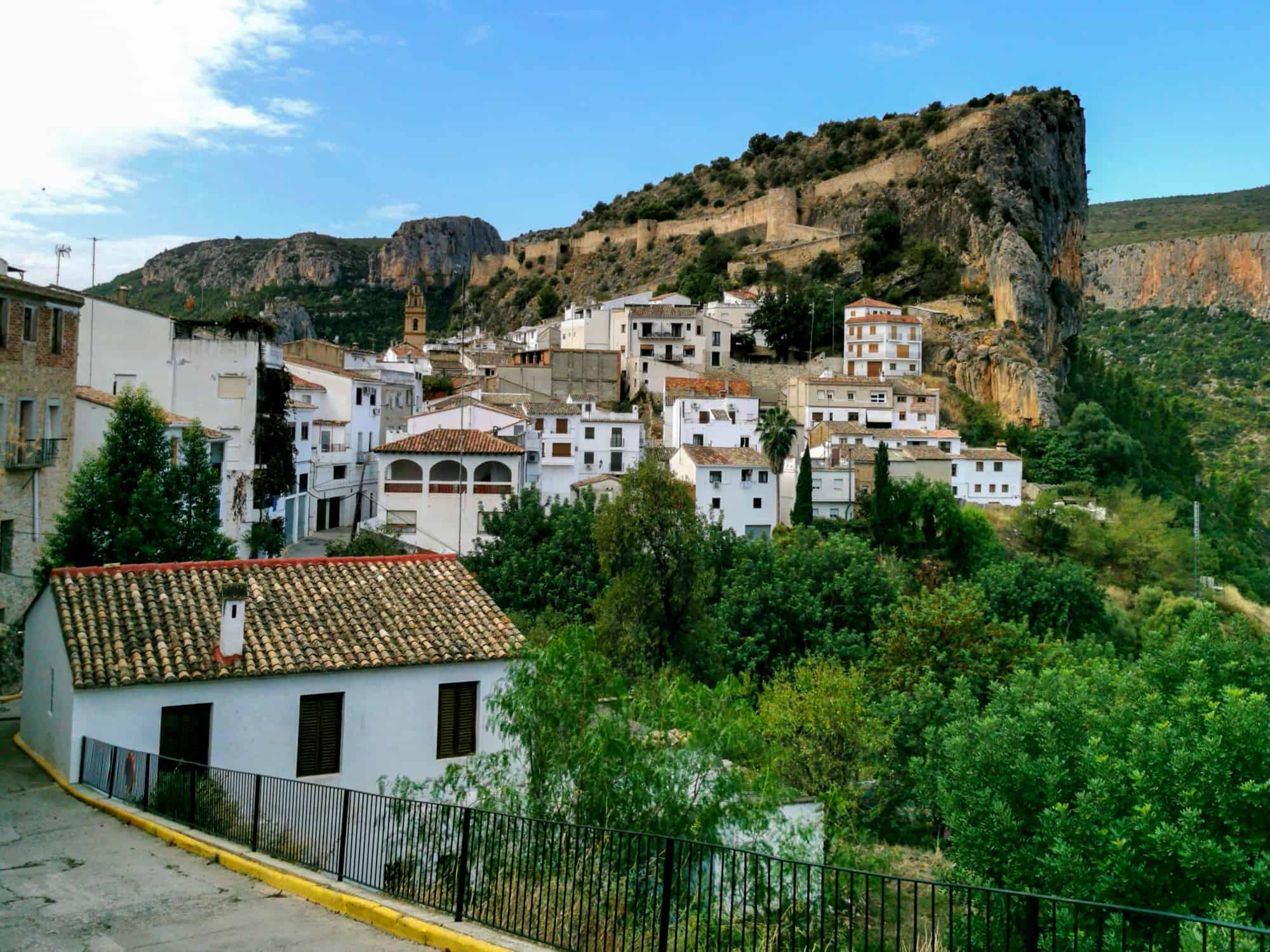 3. Tackle the Trails 
There are several options for hikes around Chulilla, with Los Pantaneros de Chulilla (aka Ruta De Los Calderones) being the most popular. It's a 6.6 km loop that takes you to the Loriguilla reservoir. 
The trail crosses the gorge twice via the infamous hanging bridges. Constructed by the workers of Chulilla to shorten their journey to work, these were operational until 1957 when a powerful flood washed them away.
The route follows the steps of these workers that helped build the reservoir in the 1950s. Fear not though, the two hanging bridges are perfectly safe replicas constructed in 2013! 
There are several viewing points at the start of the trail worth a stop including, Compuertas, Carrucha (with views of Charco Azul), and Salto.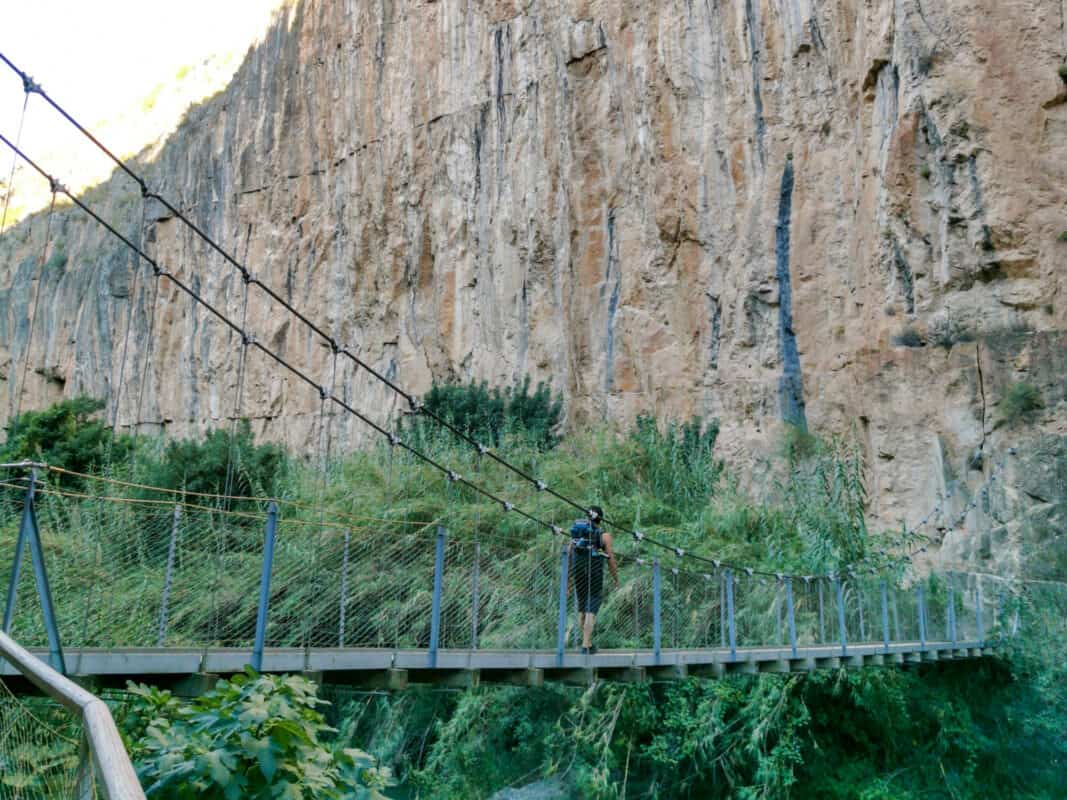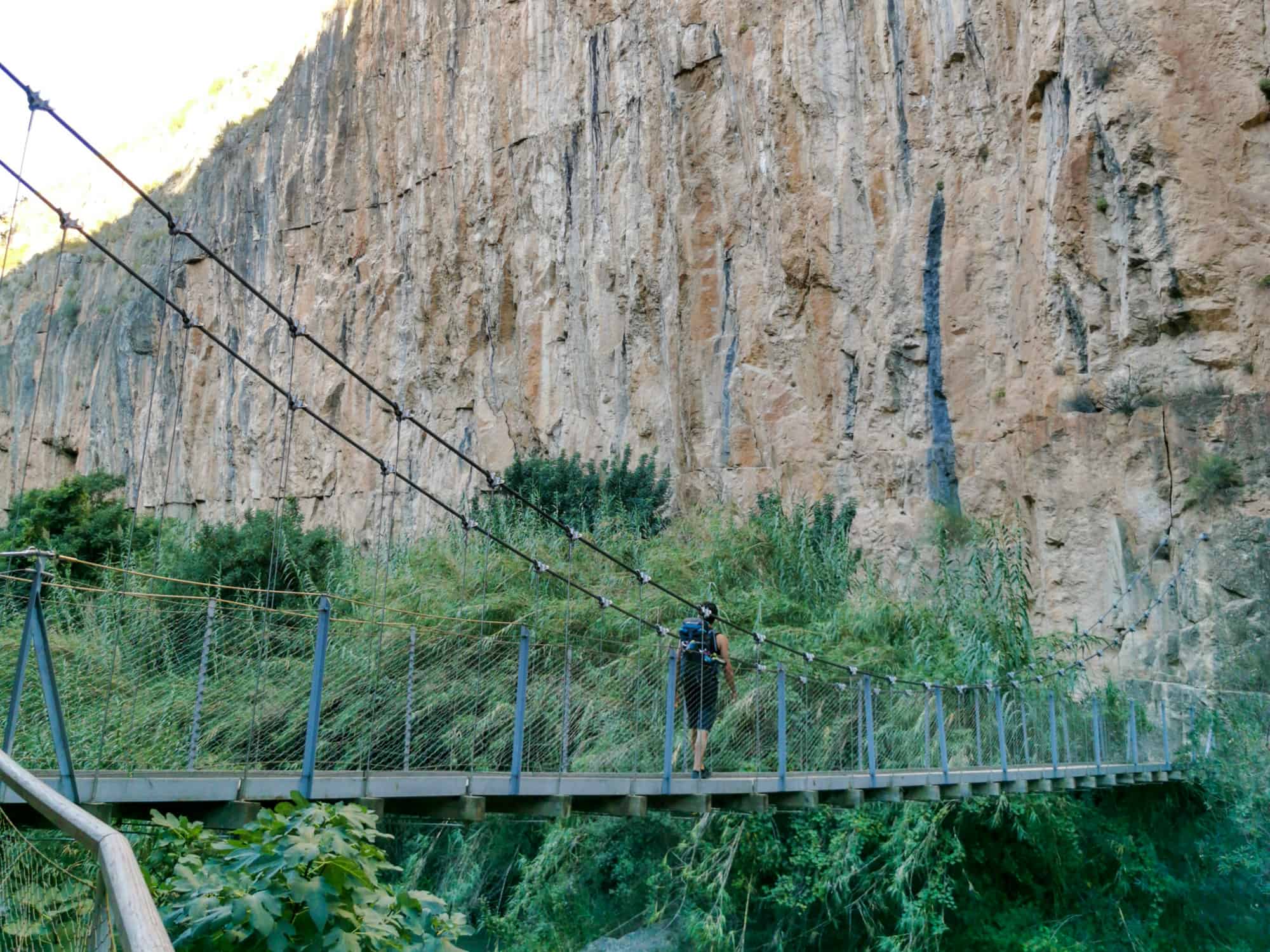 4. Try Rock Climbing
Chulilla is a world-class destination for all rock-climbing aficionados. Catering to a wide variety of climbing styles including crimping climbing, climbing pockets, and tufa climbing, there are routes at all grades. Those climbing in the sevens will find an endless supply of superb lines. Without a doubt, Chulilla is among the best European winter escapes for sports enthusiasts!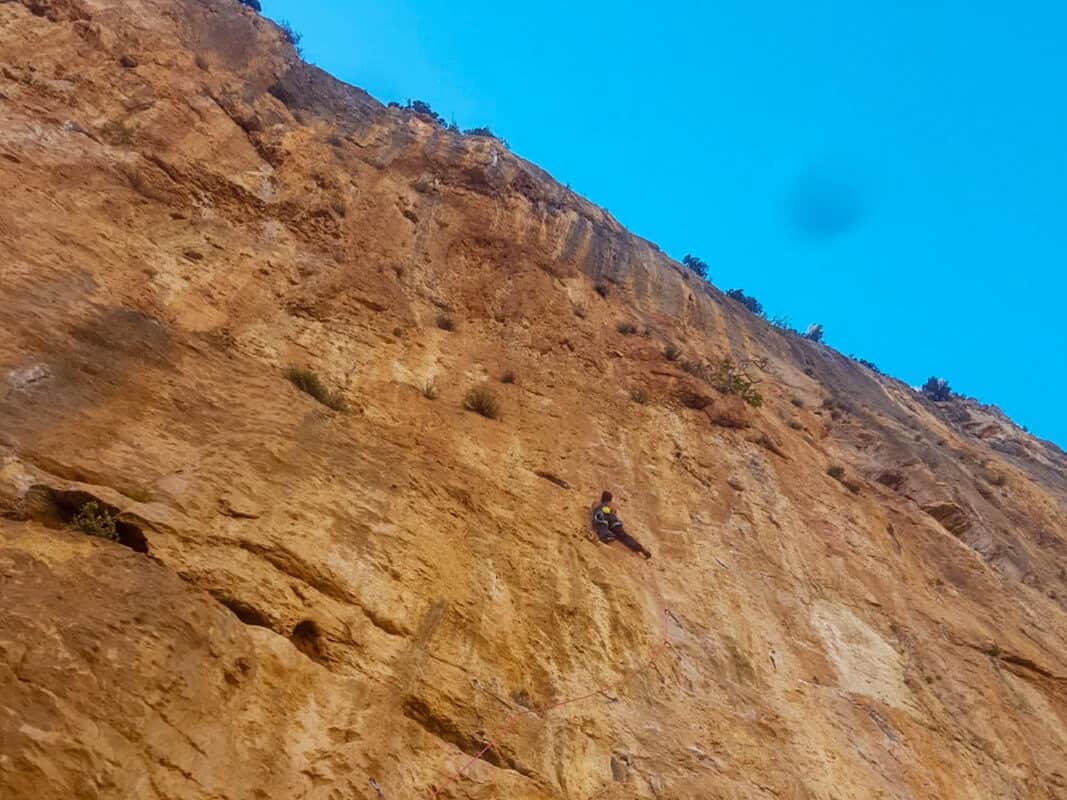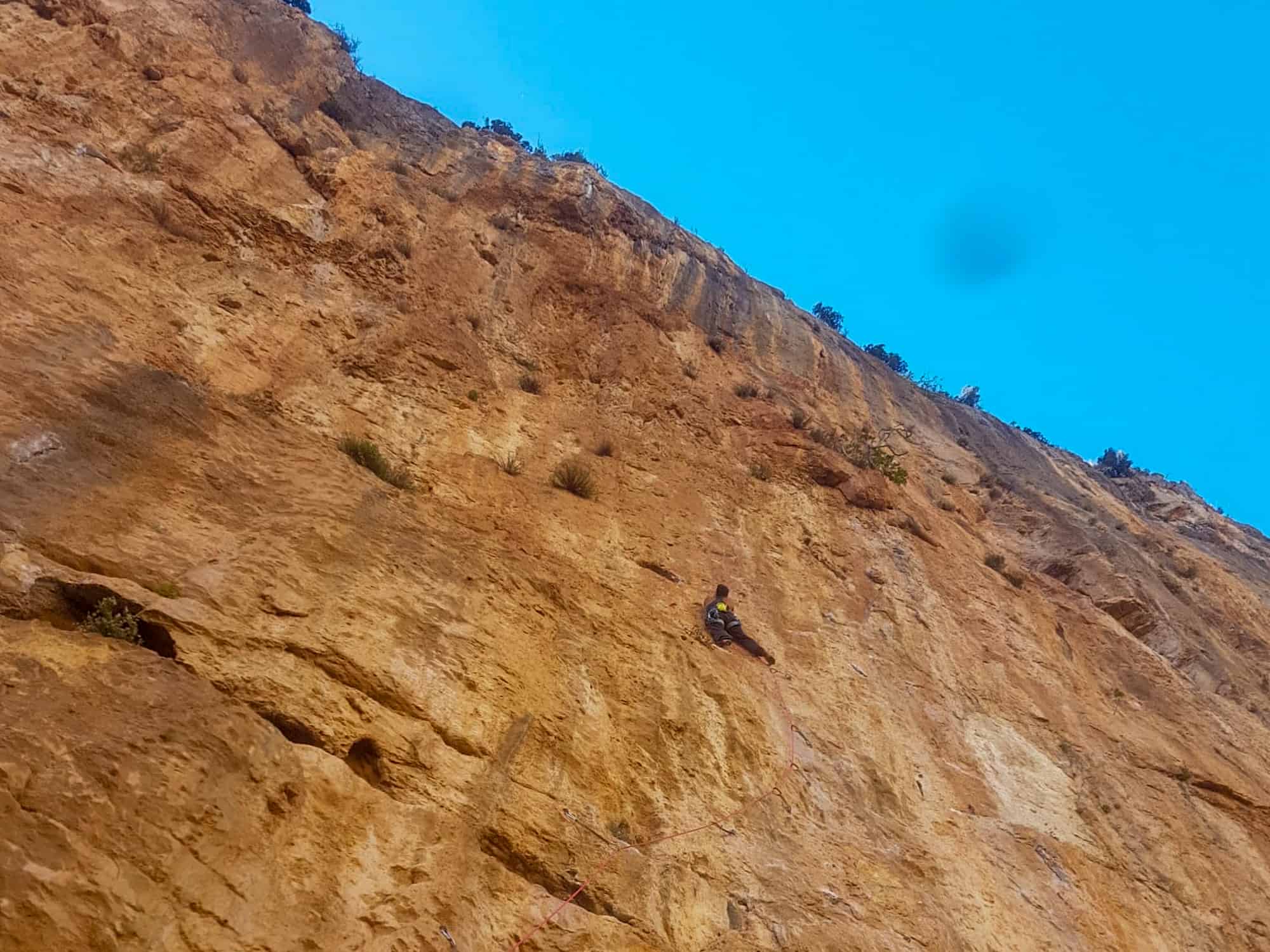 5. Go Wild Swimming
Why not go for some wild swimming in the Turia River? If you're looking for an alternative to El Charco Azul, a very popular spot that is a bit wilder is the section of the river in between the two hanging bridges. Don't underestimate the current because of the shallow water – it can be strong. This spot is probably best suited to experienced wild swimmers but all should take care regardless! 
---
Food and Drink in Chulilla
There are a few small shops and a bakery in Chulilla town which should provide plenty for a couple of days. If you need of products to suit particular dietary requirements, you may want to stock up in Valencia or the nearby Villar del Arzobispo before you arrive. 
Goscanos is the go-to food place in Chulilla, even though it only opens Thursday-Sunday evenings. This is where people come to have a beer or two, sample some tapas, or munch on burgers or pizzas. It is a great place to come if you want to share stories from your outdoor adventures throughout the day. Reservations are possible solely via WhatsApp.
There are a few restaurants and bars clustered in the main square, Plaza de la Baronia. Opinions about the quality of the food and service vary but if you're happy to go with the flow backpacker-style, you won't be disappointed. In fact, you might even be in it for a treat! 
If you want to delight your senses for a reasonable price, then it may be worth checking out Restaurante El Pozo, where they serve traditional, local dishes, prepared in an authentic way. Another place in town for foodies is Restaurante Hoces del Turia.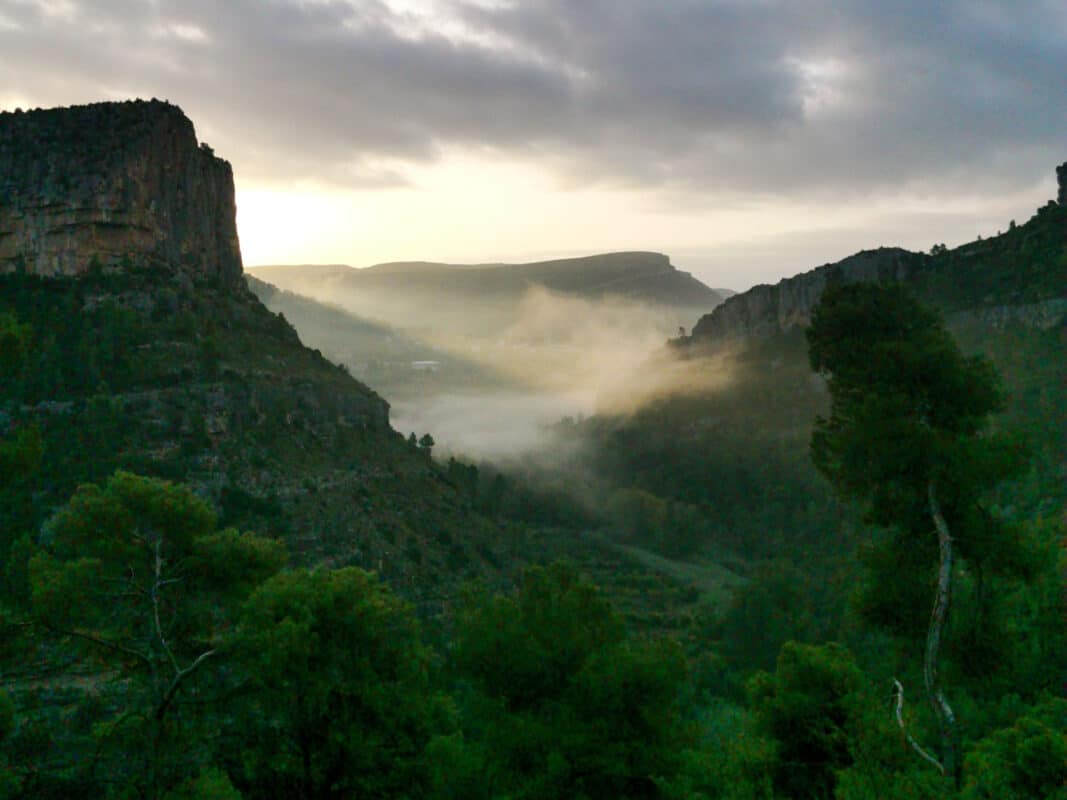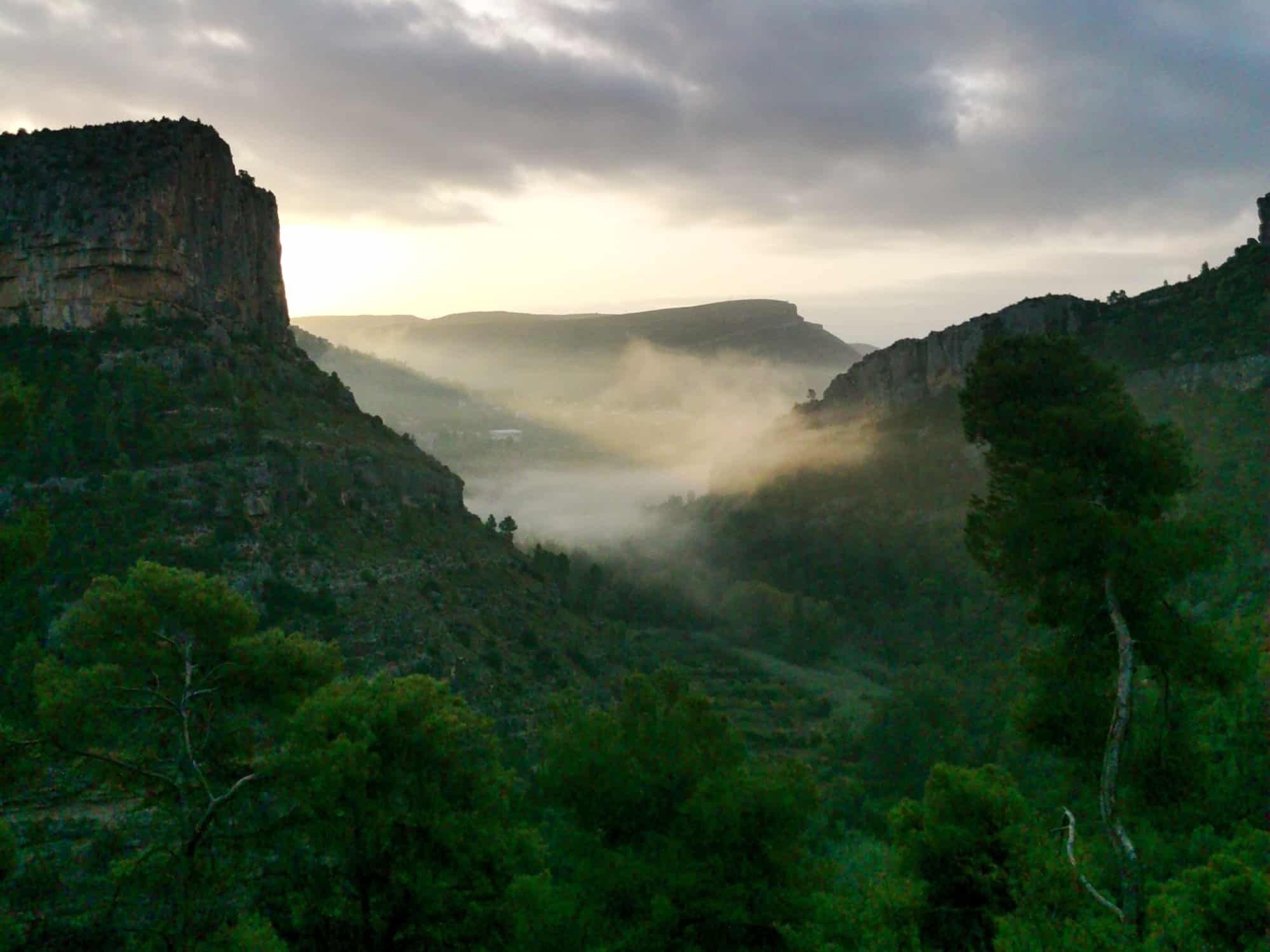 ---
How to Get to Chulilla
Coming from abroad:
If you are traveling from outside of Spain and by airplane, the closest international airport is Valencia Airport (VLC). Getting from the airport to the city center can be done either by bus (bus 150 is the most reliable ) or by metro (lines 3 and 5, red and green). 
Another option is to fly into the capital of the Costa Blanca, Alicante (ALC). While this is by far a compromise, depending on where you come from, the flight deals might make it worth the trouble.
Coming from Valencia:
Once you are in Valencia, you have two options to get to Chulilla. 
By Bus: The cheapest option is to hop on the bus (daily except for weekends) which departs from Valencia Bus Station at 18:30. The journey takes around 1 hour 40 minutes. Make sure you have some cash on you as they don't accept card.
It's a good idea to call ahead and book yourself a place on the bus at least one day prior to departure. This is especially the case when traveling in reverse from Chulilla to Valencia, as the bus only runs if passengers are going there.  
By Car: Chulilla is 60 km away from Valencia and you can drive there in less than an hour. Rent a car or test your charm by hitchhiking. If there are a few of you to split the cost, hiring a car could be a good way to transform your visit into a stop on an adventurous Spanish road trip! Note that parking within the village is limited but there are car parks on the outskirts.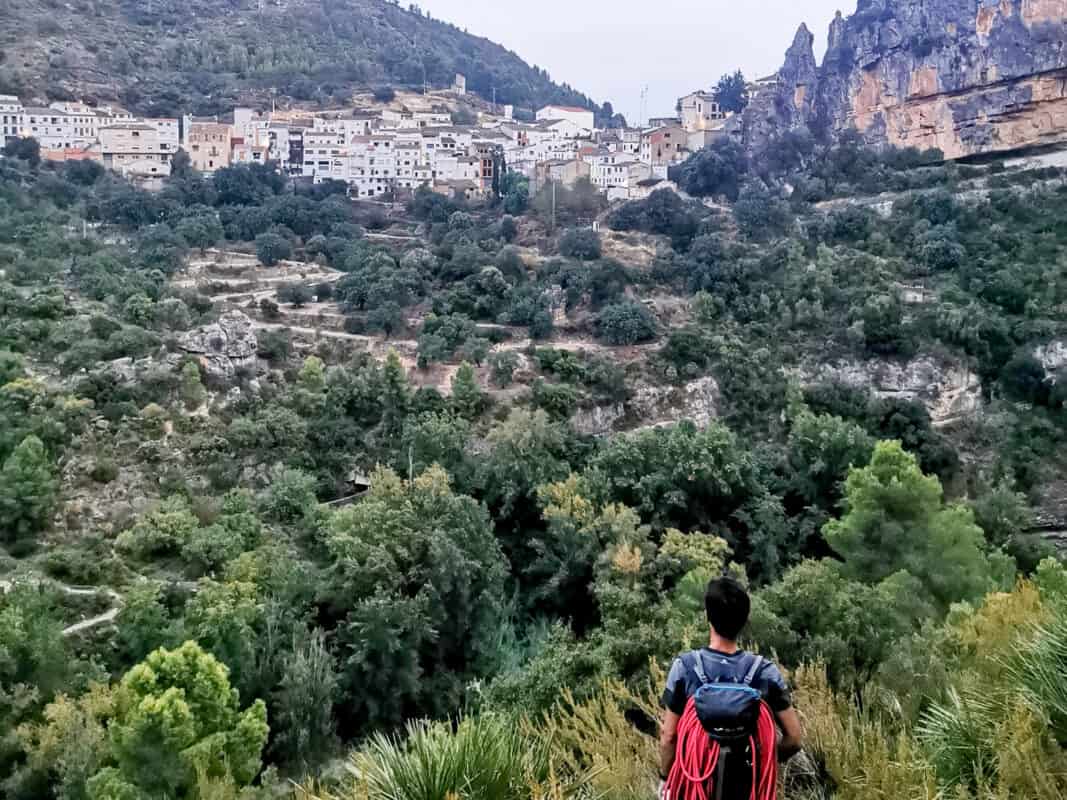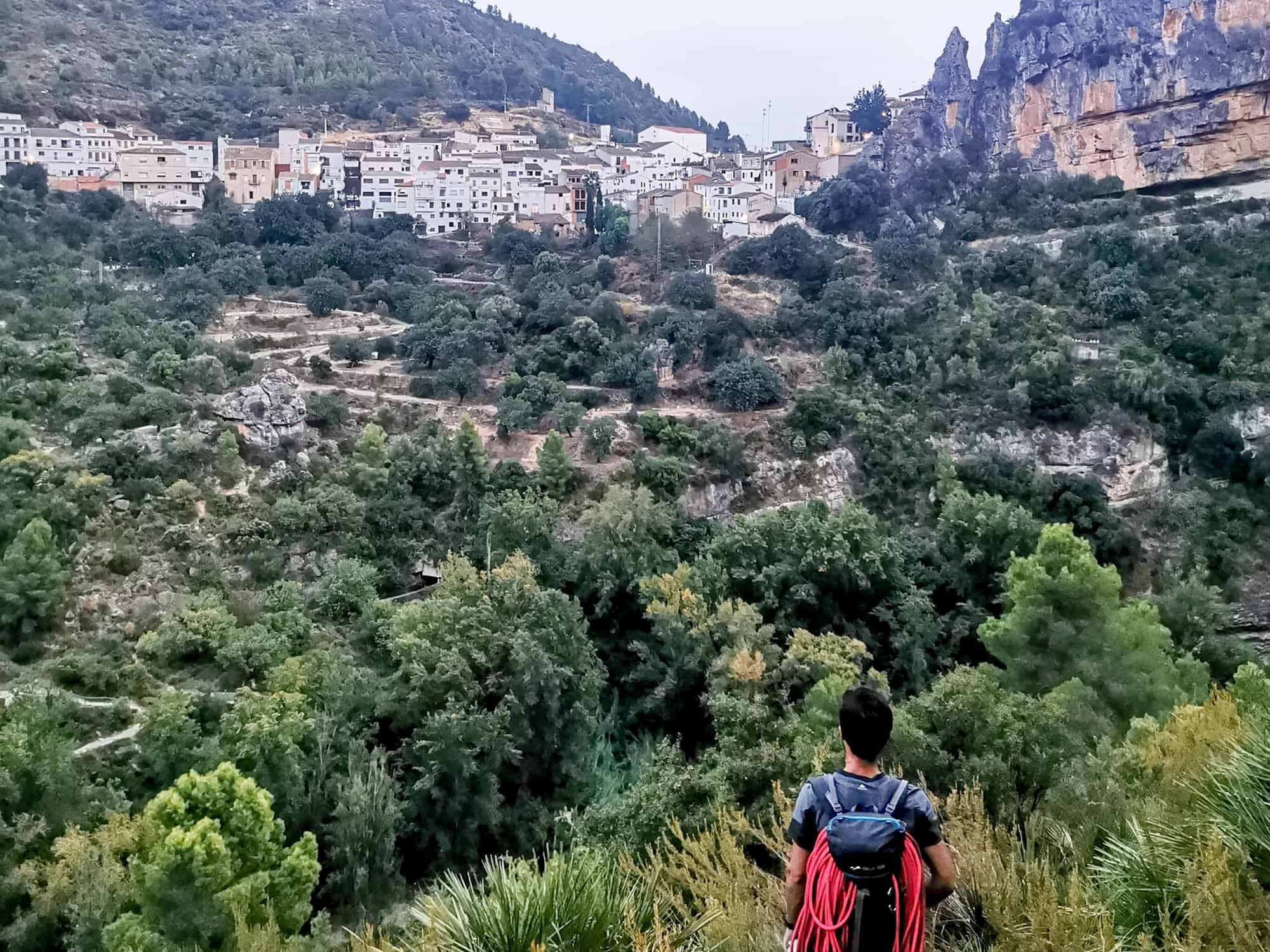 ---
Where to Go Next:
Cuenca: Make your next stop the 'City of the Hanging Houses'. After all, it seems like a natural progression if you've walked across Chulilla's hanging bridges. Cuenca is a mountainous city that combines ancient with modern. The Historic Walled Town of Cuenca is a UNESCO World Heritage Centre that will grab your attention immediately, even before you see its impressive 'casas colgadas' (hanging houses).
Albarracín: Medieval walls dominate the contours of this small hill town and its Islamic and medieval roots are clear to see. Marvel at the architecture of its 10th century Andador Tower and the ruins of its Moorish castle, perched atop a cliff in the old town. Albarracín is also a mecca for bouldering enthusiasts. 
Valencia: Although crammed with tourists, Valencia is still worth your while. It's the birthplace of paella so if you like cheap, yet delicious food, it's the place to go. Visit the City of Arts and Sciences, cycle in Turia garden, fuel up for the day at the market, check out the graffiti in the old quarter and see the Holy Grail in the Cathedral.