Istanbul is known for its stunning architecture, interesting culture, delicious Turkish food and traditional markets. It's also one of the most historically significant cities in the entire world, having served as an imperial capital for almost 16 centuries. 
For those looking to travel to this history buff's dream, expect a host of accommodation options, tourism agencies and other amenities for travellers. And if that hasn't whet your appetite yet, you'll be pleased to know Istanbul is not an expensive place to visit, certainly when compared to other major European cities.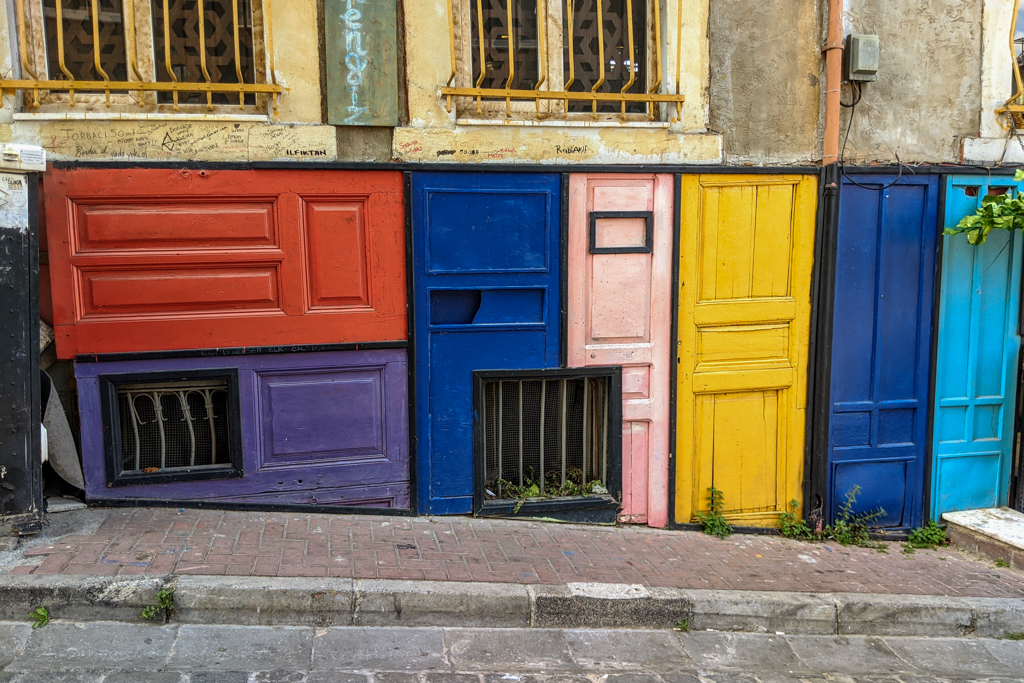 What you need to know before you visit Istanbul 
Istanbul is the largest city in Turkey, but don't be fooled into thinking it's a capital. That's Ankara, a city 500km away from Istanbul, with about a third of its population. 
It's the only city in the world that straddles Europe and Asia, split by the Bosphoros water strait, so expect a mix of cultures. 
It's served by two large international airports, one on the European side, and one on the Asian side. It's worth deciding where you'd like to stay in the city, before you decide which airport to fly into. 
The currency is the Turkish lira. At the time of writing, one Turkish lira is roughly equal to 0.1 euros.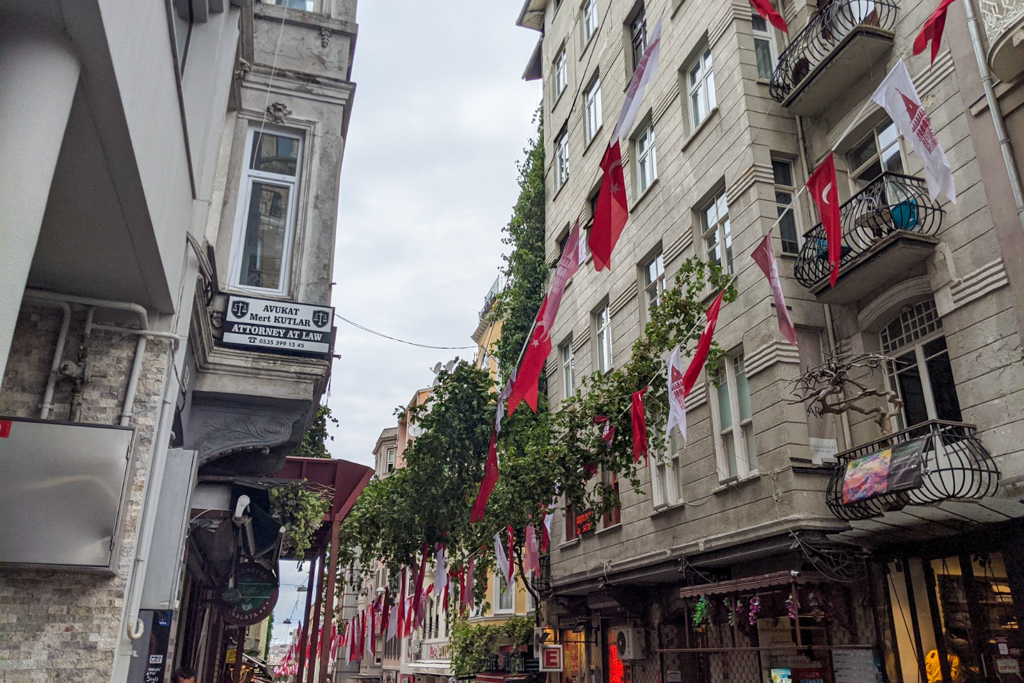 Where to stay in Istanbul, Turkey
Istanbul is a large city of over 15 million people, which means there are many different districts and plenty of accommodation options. 
Where you decide to stay depends where you want to position yourself for the activities you'd like to do, though it's generally accepted that the European side of the city is more tourist-friendly. The Fatih district on the Europe side is where you'll find the most famous mosques as well as the Grand Bazaar, for example.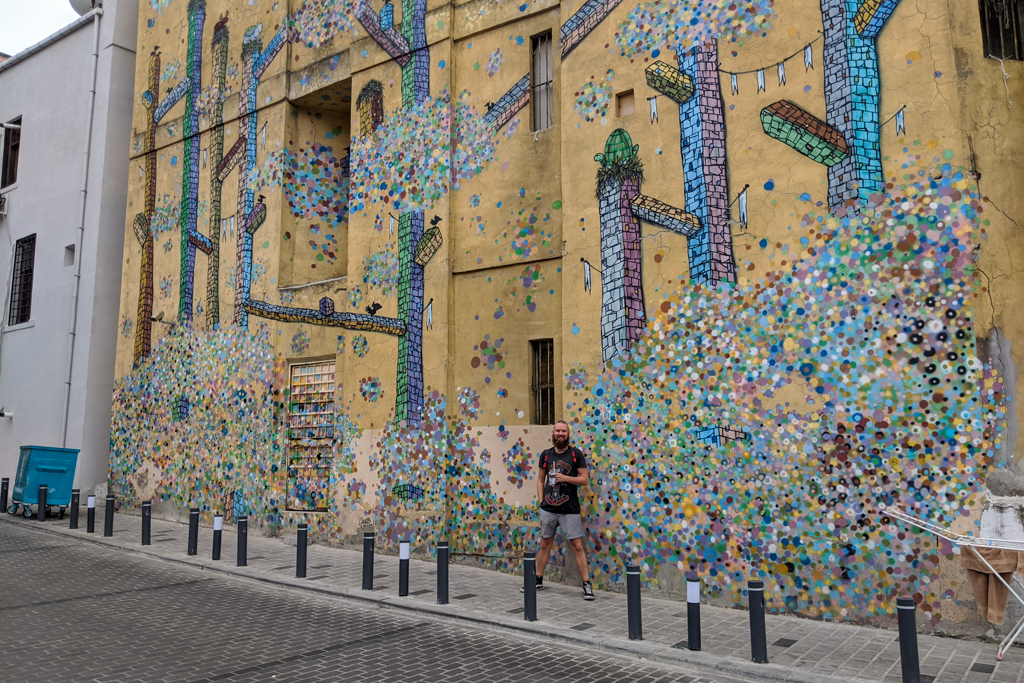 There are plenty of hostels in Istanbul, with options starting from around 6 euros a night. The following come highly recommended. 
3 Best Hostels in Istanbul
Located in the heart of Istanbul, this hostel is located close to the main attractions. It offers both private rooms and dorm beds, all for a reasonable price. The staff go above and beyond to provide a first-class stay for guests. 
Situated in the Beyoglu district of the city, this clean and budget hostel is an ideal choice for travellers on a shoestring. There's a cosy communal area which is a great place to meet your fellow backpackers. 
Cheers Hostel is one of the most popular hostels in Istanbul. There are privates and dorms, including women only dorms which may be good for solo female travellers. If you're looking to party and make friends, this is the place to be. 
Search for accommodation in Istanbul here.
Top 10 things to do in Istanbul 
1. Visit the city's most famous sights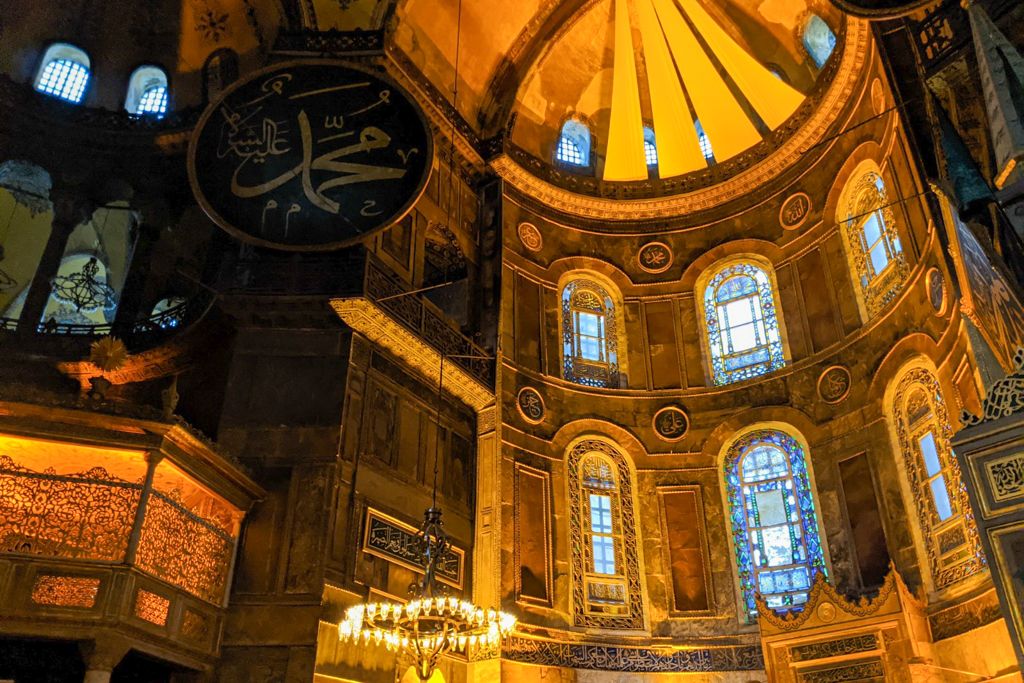 When you think of Istanbul, you think of the Hagia Sophia and the Blue Mosque — two of the most beautiful and famous mosques in the world.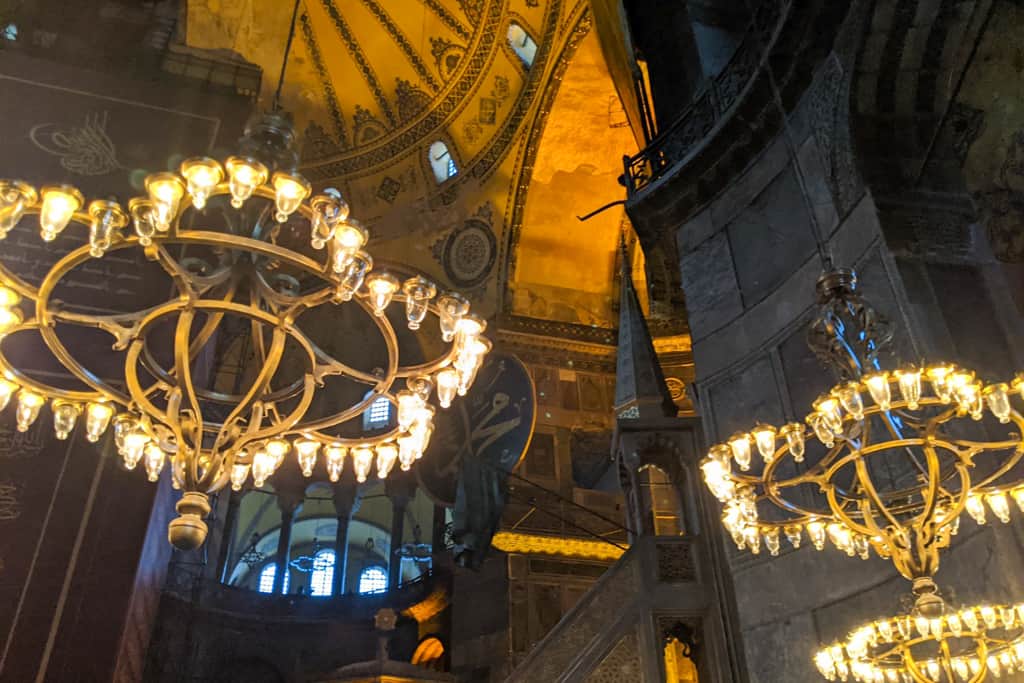 Luckily for time-poor travellers, both mosques are situated in the same square, Sultanahmet Meydanı, meaning it's easy to visit both in the same day (or same hour if you want to!) Expect a police check to get into the square and potentially long queues to get inside either mosque, but once you're in, it's totally free to visit. 
As well as the two biggies, we recommend wandering around the many other treasures located in the square, including the Serpent Column and Obelisk of Theodosius. Istanbul is a city heaving with history, and you'll find information printed onto signs by various buildings, monuments and historical sites, to help you understand what you're looking at and why it's significant.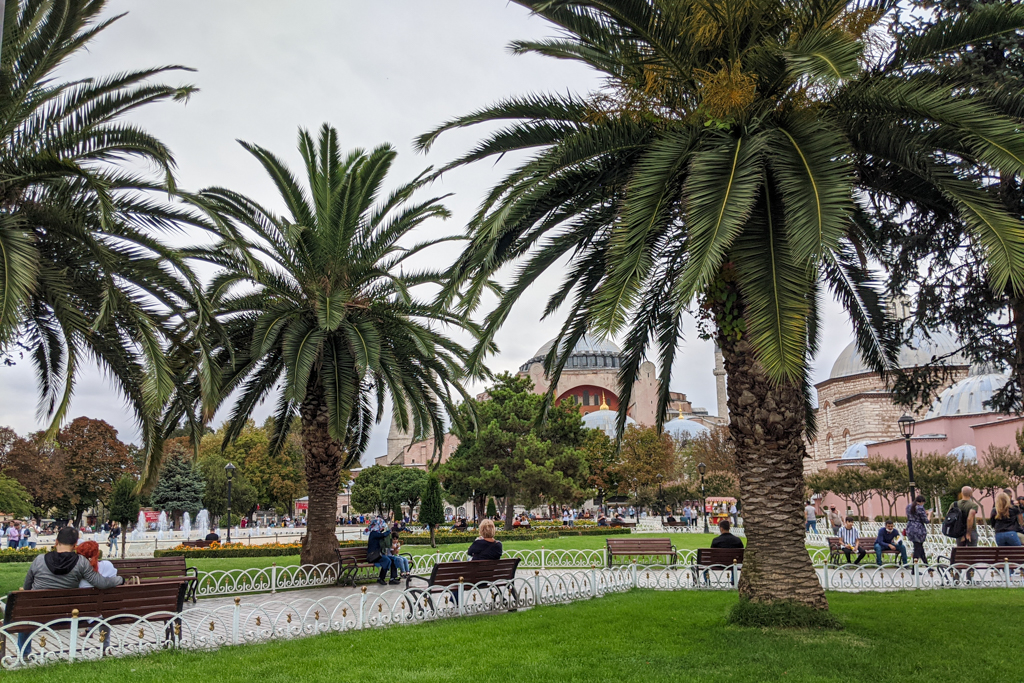 Once you're done wrestling other travellers for the perfect photo, take a short (750m) walk over to the stunning Gülhane Park, on the grounds of the Topkapı Palace, for a breath of fresh air. 
2. Take a free (or cheap) walking tour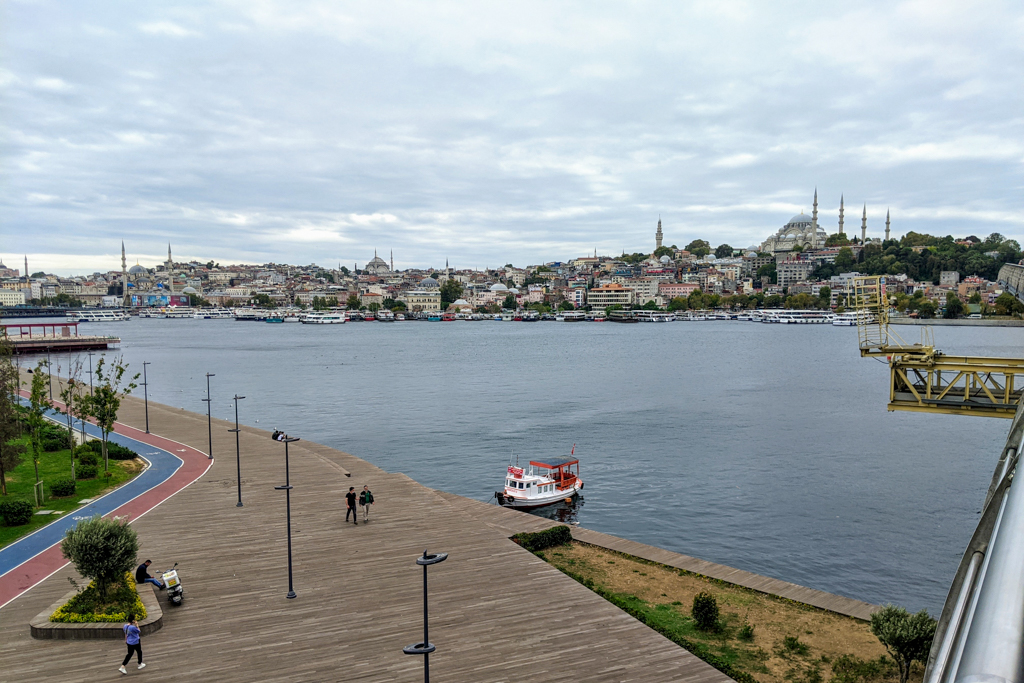 Istanbul is a very walkable city. It's not too hilly and is split down the middle by the scenic Bosphoros, meaning you could start every morning in Istanbul with a waterside walk. If you're really lucky, you may even see some dolphins. 
Given how walkable the city is, there are plenty of opportunities to tick off the key historical sites and places of interest with a free walking tour. (Note that while these tours are free, tipping is expected. )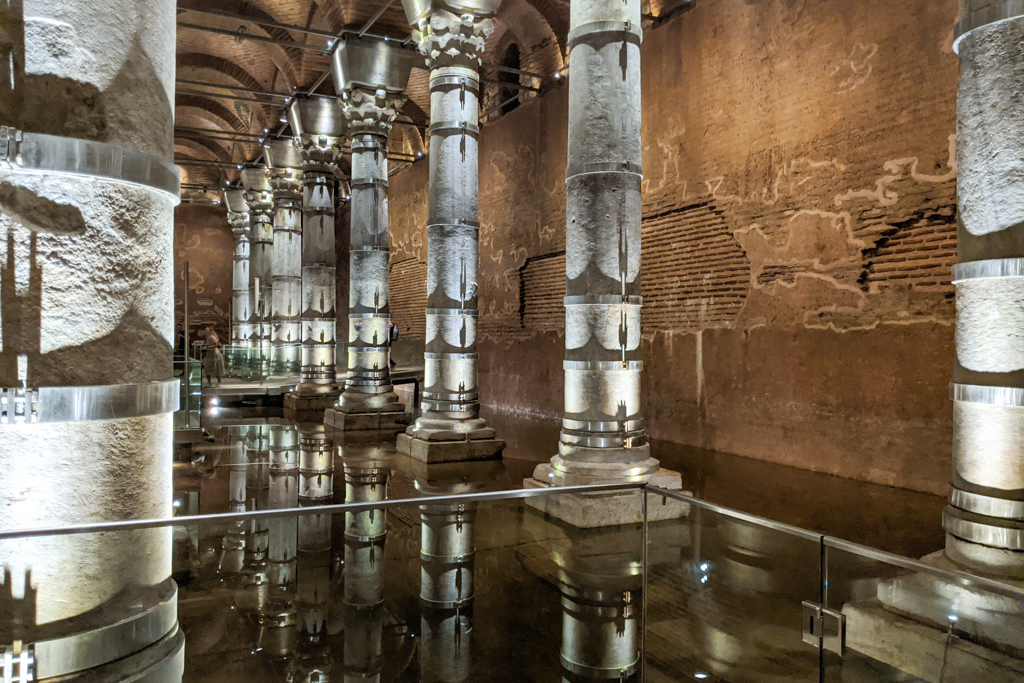 Guruwalk advertises free walking tours, including night tours and food tours, as does Freetour.com. To give you an idea of what you can cover, we went on a cultural tour of the city that lasted just shy of three hours, and in that time we saw: the Hagia Sophia and Blue Mosque from the outside, the Basilica Cistern, the Nuruosmaniye mosque and the Grand Bazaar.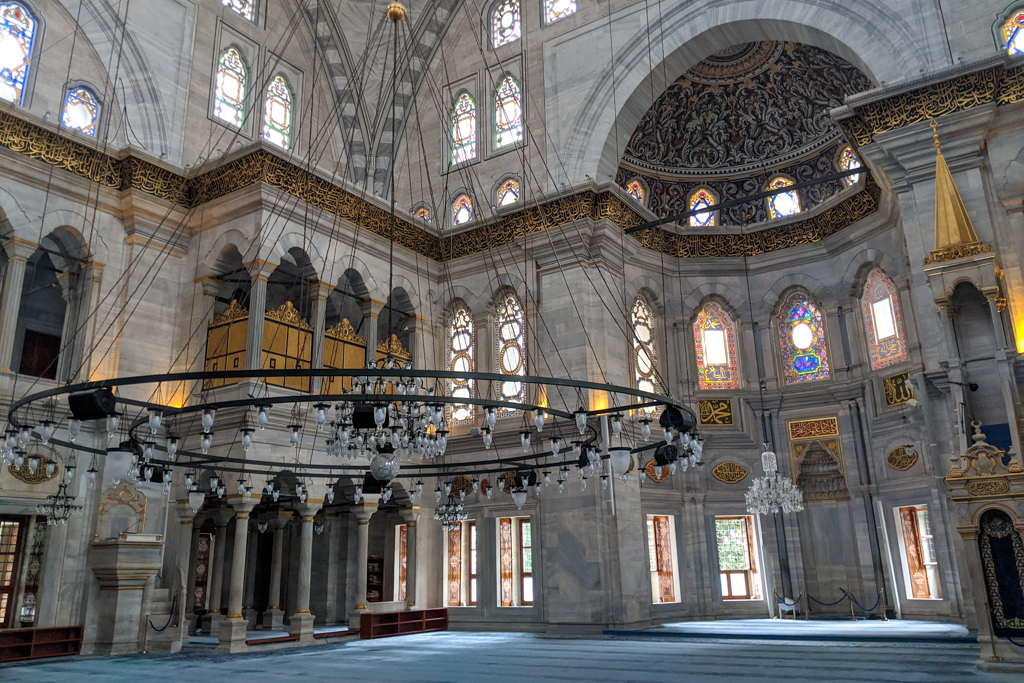 3. Eat, everything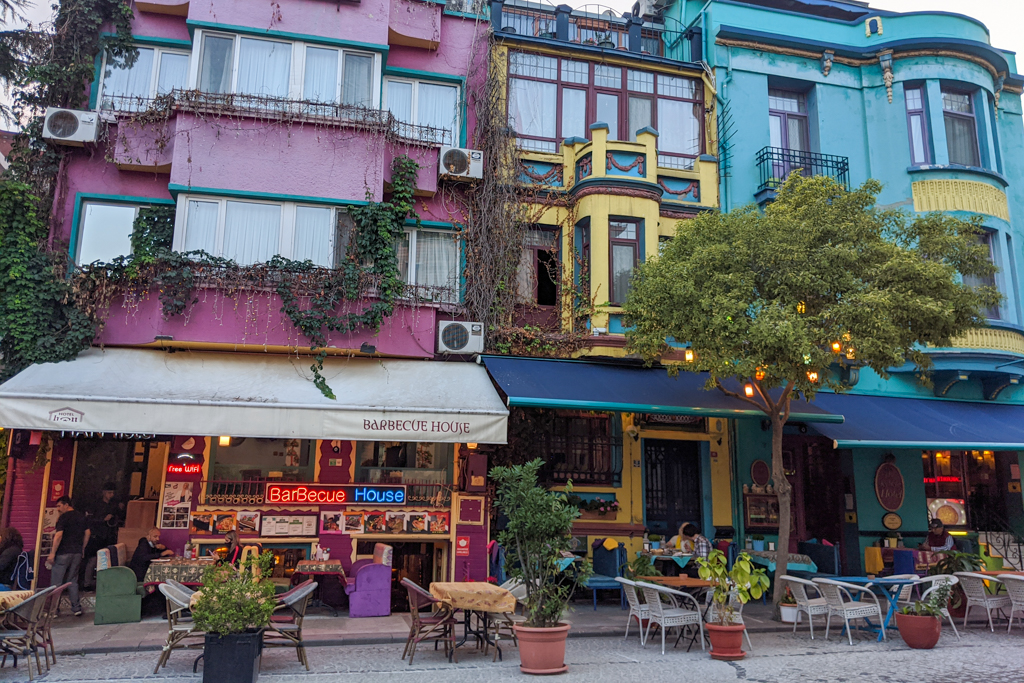 Istanbul is a foodies' heaven, with kebab restaurants, street food stalls, Turkish cafes and baklava shops aplenty. 
You'll find many dining options just by walking around the city, or by asking your tour guide or hotel staff where they like to eat. One restaurant I can definitely recommend is Hamdi, one of the city's best-loved Turkish restaurants spanning five floors and offering panoramic views of the city.
Another one of the city's delicacies is Turkish delights, which will make the perfect souvenir for friends and family. You'll find shops selling these sweet treats in pre-made boxes or pay-by-weight pick-and-mix on every other street and in the markets too.
As for drinks, Turkish tea and coffee are served almost everywhere. It's certainly an acquired taste – Turkish coffee is a lot thicker and stronger than the coffee we were used to, which didn't make it the most thirst-quenching drink in the world. But, Istanbul isn't an expensive city and you're unlikely to pay more than half a euro for a cup of coffee, so give it a go and see if you like it!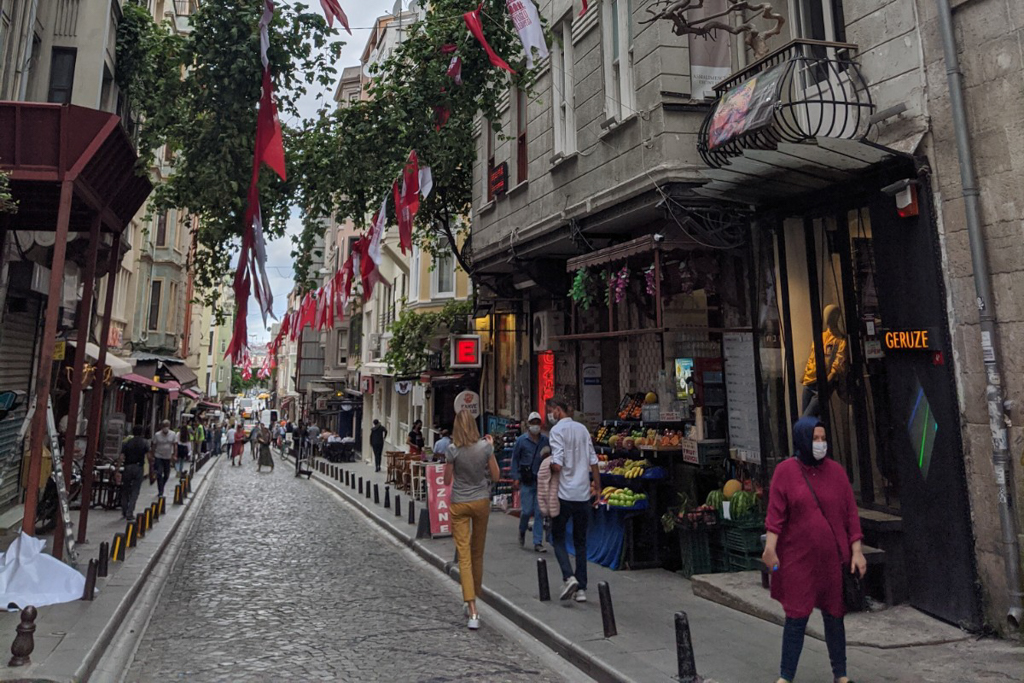 4. Enjoy an ice cream show  
Sticking with the food theme, sample some Turkish ice cream during your travels. 
It's a lot thicker than the ice cream you may be used to, which means it lends itself well to being thrown in the air. Ice cream sellers entice tourists with ice cream shows, and encourage you to take videos and pictures of the experience. You'll have to pay for the ice cream at the end of the show but don't worry – prices aren't bad, equivalent to one or two euros for a cone. You may get a shock when you taste this ice cream for the first time, it's very thick and doesn't melt in the way you might be used to! 
5. Take a stroll around Taksim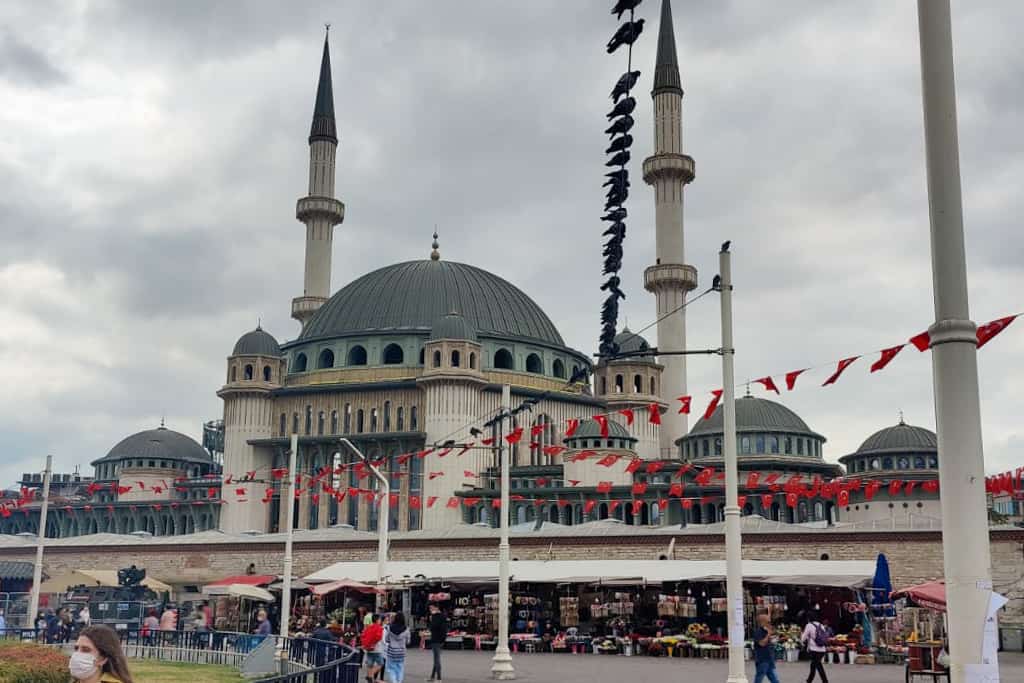 Taksim is at the heart of modern Istanbul, a hub of shops, cafes and historical monuments. Taksim Square marks its most central point — if you've ever been to Heroes' Square in Budapest or Trafalgar Square in London, this has a similar vibe. 
Taksim Square is famous for its protests and demonstrations, with groups from all sides of the political spectrum using its visibility to try to benefit their cause.
You'll find plenty of Turkish food options around the square and the lanes that adjoin it, as well as more Western offerings like McDonalds and Burger King. 
We walked to Taksim from Fatih and it took about an hour, but the square is well-connected by public transport and served by Istanbul's subway system (the oldest after the London Underground). 
6. Spend a day exploring the city's more Instagramable districts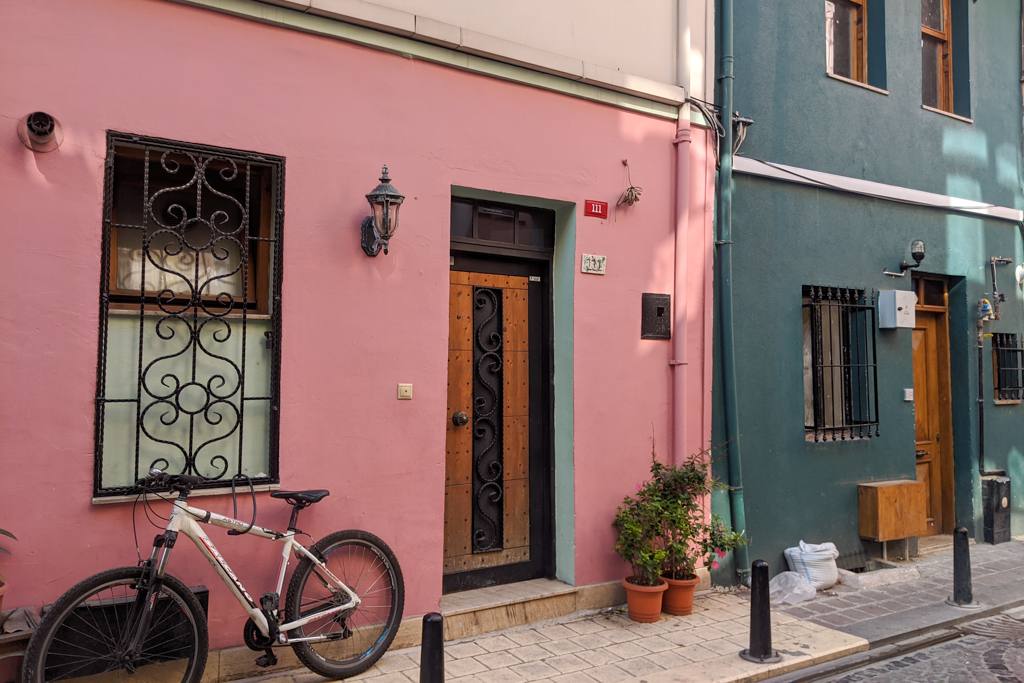 Balat, the Jewish quarter, has gained popularity with tourists recently as one of the most colourful places in the city. It's a treasure trove for anyone hoping for some Instagram snaps from their travels – from quaint cafes to colourful staircases and shop fronts. It's also a decent place to stock up on both traditional and quirkier souvenirs.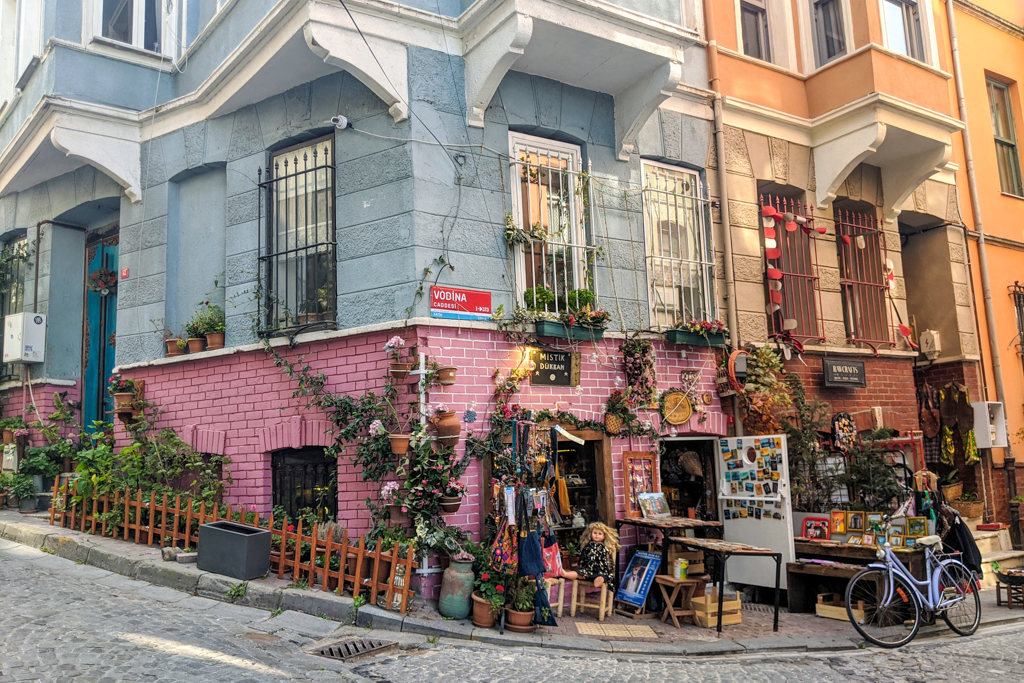 If you're up for the walk, Galata is about 30 minutes by foot from Balat. Like Balat, Galata is full of cobbled streets, chic cafes and interesting shops, but is most famous for its medieval watchtower.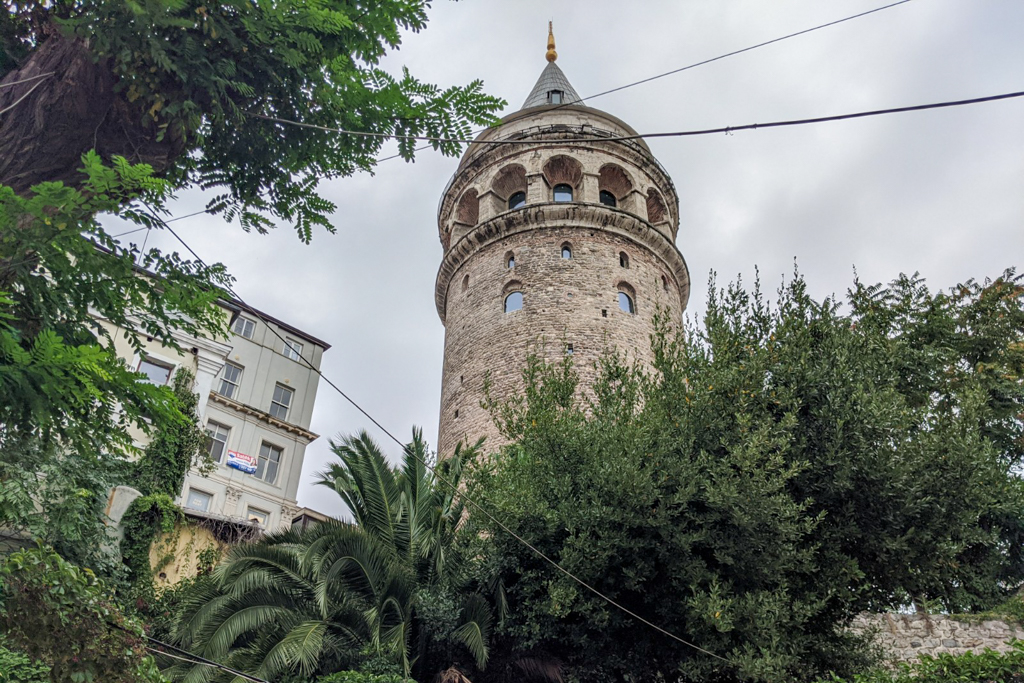 Galata's also home to some of the best street art we saw on our Turkey travels.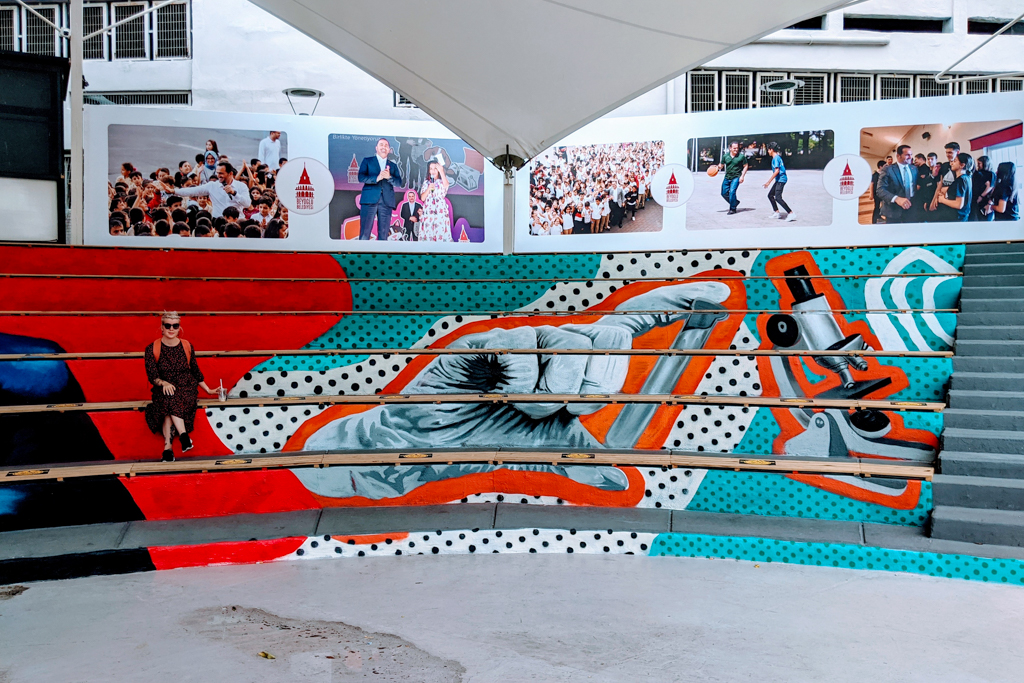 7. Take a day trip 
There's no doubt Istanbul is a busy and bustling city, with fewer green spaces than other European cities for respite. There are plenty of tourism companies and shops in Istanbul, especially around the Fatih district, offering relaxing day trips such as cruises around the Bosphoros and boat trips to a nearby set of islands called the Princes' Islands.  
If you're up for more travelling (and potentially a very early start), popular day trips further afield include those to Cappadocia (most famous for its stunning hot air balloon-laden skies) and to Troy (including a visit to the replica Trojan Horse). 
8. Watch the sunset from above the city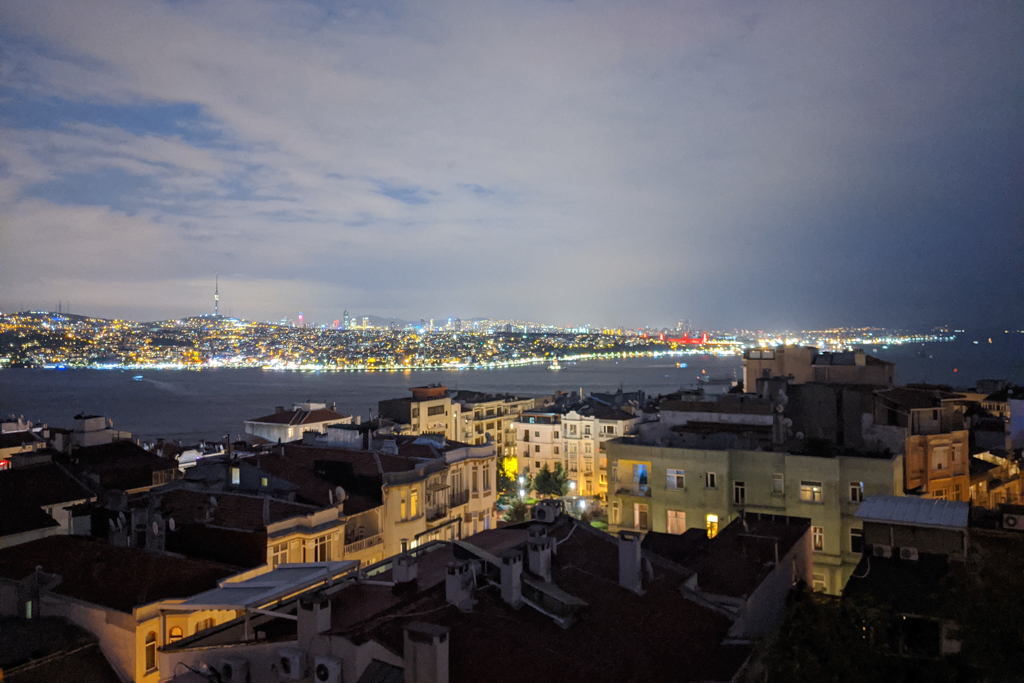 There are a huge number of rooftop bars and restaurants in Istanbul, which means you could have every breakfast, lunch and dinner with a view if you wanted to. We went to 5Kat (10 minutes from Taksim Square), and Loti Café and Lotiz Lounge in Fatih and would recommend them all.  
Look up when the sun's due to set when you visit, and try to get a reservation over this time if you can. 
9. Experience a Turkish bath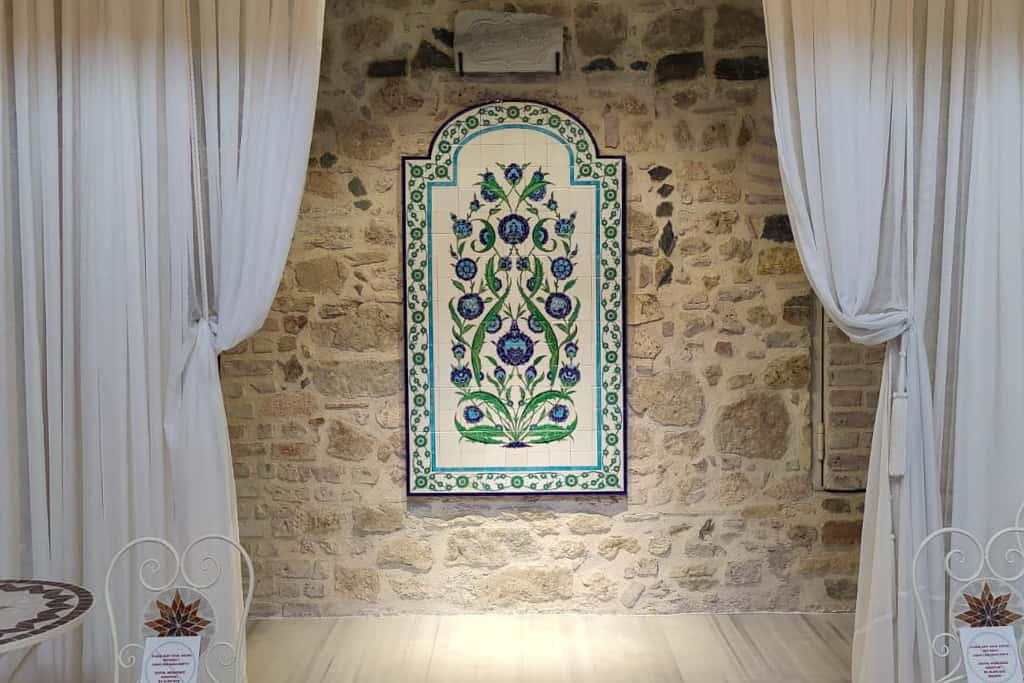 An absolute must during your time in Istanbul is to make a visit to one of the city's many Turkish baths (or hammams). 
Prices and offerings differ enormously: Cağaloğlu Hamamı, which cites Cameron Diaz, Oprah, Harrison Ford and Florence Nightingale among its famous visitors, will set you back a minimum of 50 euros for a traditional Turkish bath experience, while down the road a similar experience at Sifa Hamami costs just 25 euros. 
So much choice can feel overwhelming. Thankfully, there's a dedicated Turkish baths website that you can compare and book treatments through (and as ever, resources like TripAdvisor can help you narrow down your choices). 
If you want my recommendation, we went to Çukurcuma Hamamı, ten minutes' walk from Taksim Square, and couldn't recommend the experience highly enough.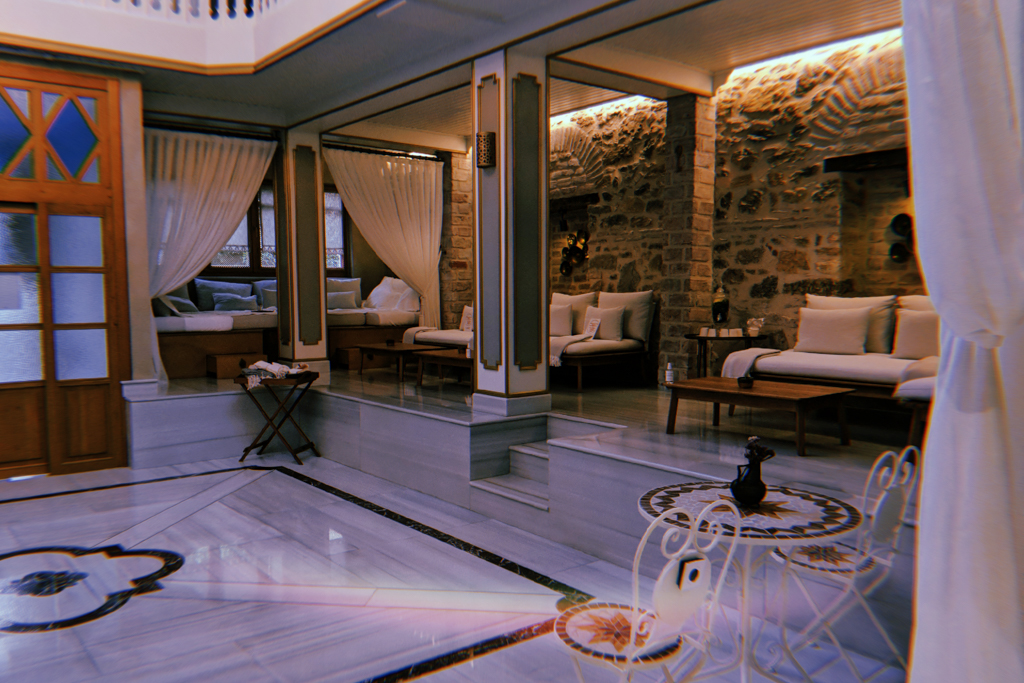 10. Put your haggling skills to good use 
Istanbul is a great place for bargain hunting. The Grand Bazaar is the most famous market for travellers, and is surrounded by hundreds of other market stalls — though these don't technically count as the Grand Bazaar, they're so close by that it feels like one gigantic shopping experience. 
Common souvenirs to pick up include framed Turkish tiles, baklava, jewellery, crockery and Turkish delight, but you'll also find plenty of clothes, pyjamas, bags, underwear, shoes, magnets, trinkets and artworks. Haggling is expected, so don't be shy!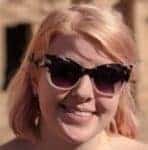 Katie King is a senior communications executive and former journalist from London, who loves writing about travel. While her travel plans are on hold for the moment, she's been learning Spanish from home and is hoping to spend some months travelling around South America when the world allows.