Affectionately known as Holcombe Hill, the walk up to Peel Tower on Harcles Hill is a cherished walk for those who call Bury or Ramsbottom home. It's located by a small town called Holcombe, a sub-district of Bury, which is technically in the county of Lancashire. However, Bury is actually a borough of the Greater Manchester area. Confused yet? 
Regardless of which side of the hill you're based, being atop Holcombe Hill for sunrise is as good a start to a day as any!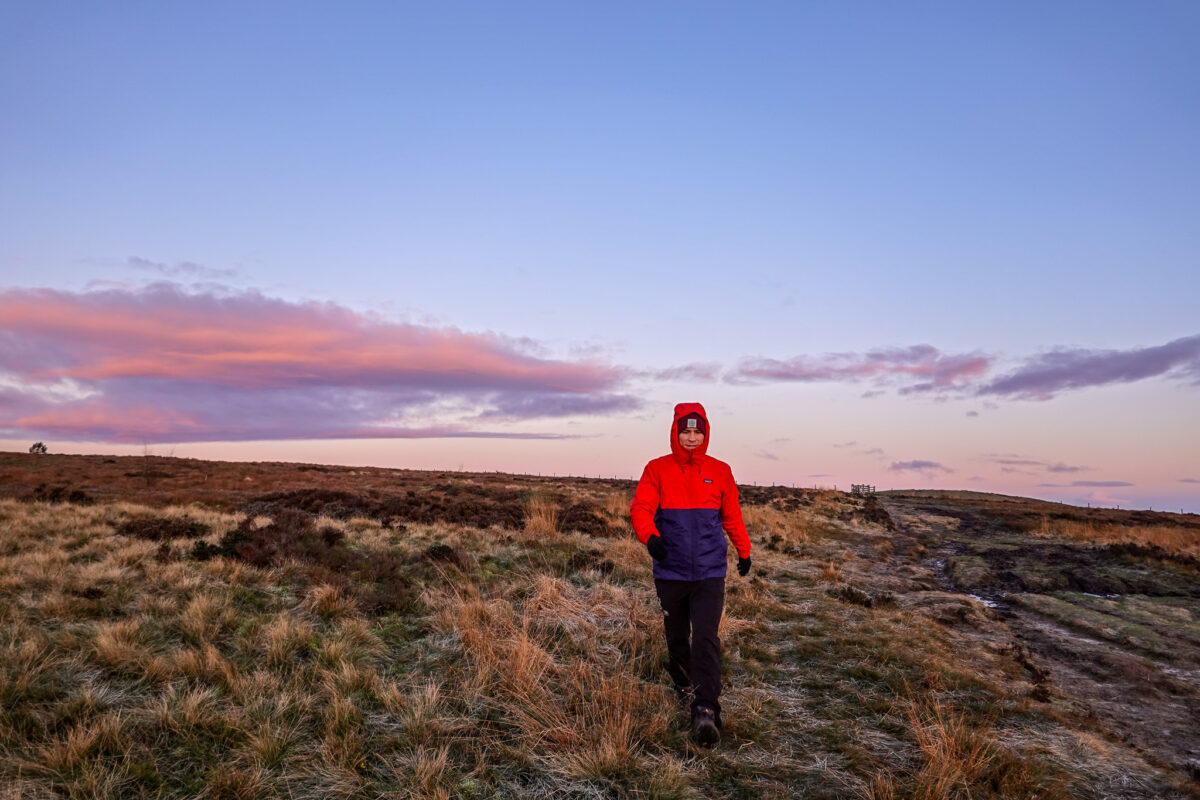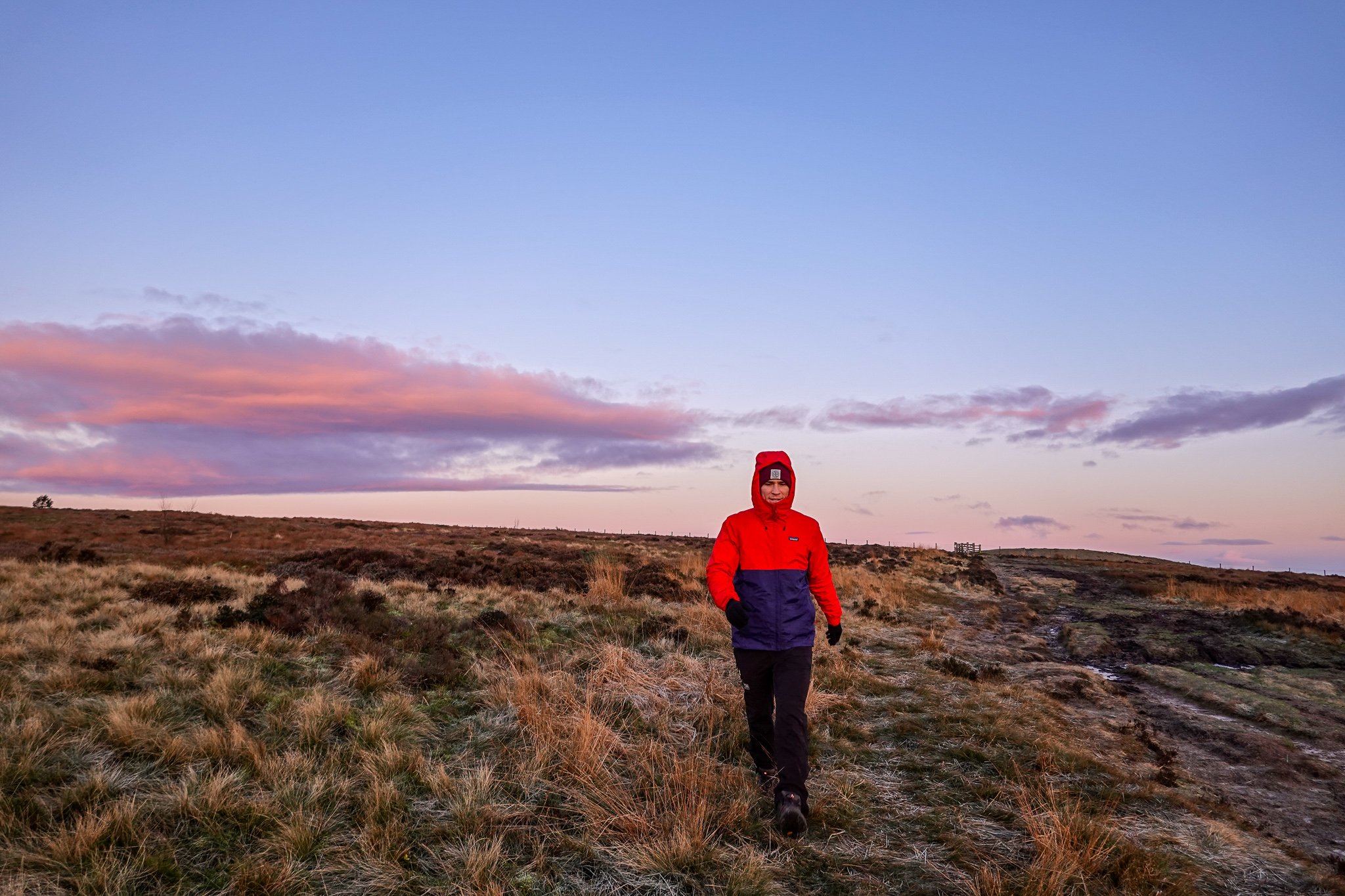 ---
Read Next (Links open in new tab)
---
Holcombe Hill: A Much Needed Local Adventure!
No matter where in the world you have been over the last year, we don't doubt that your life has been affected in some shape or form by the coronavirus pandemic. 
Despite all of the travel restrictions and lockdowns, thankfully, for most people, there's been one luxury that we've been allowed to indulge in – exercise. With that in mind, what better way to enjoy your fresh air and freedom, than with stellar countryside views and sunrise to boot?
After being lucky enough to walk some of Lancashire's other prominent hills and viewpoints recently, it's clear that walking is quite a popular activity at the moment. But not to worry, there's a simple way to avoid the crowds and maintain your compliance with physical distancing rules. 
We recommend avoiding the Holcombe Hill hike at peak times during the day. Not only will you miss the crowds but you'll also benefit from epic views. While everyone else is enjoying a lie-in, you'll be scaling to the top of your local hill for an epic sunrise!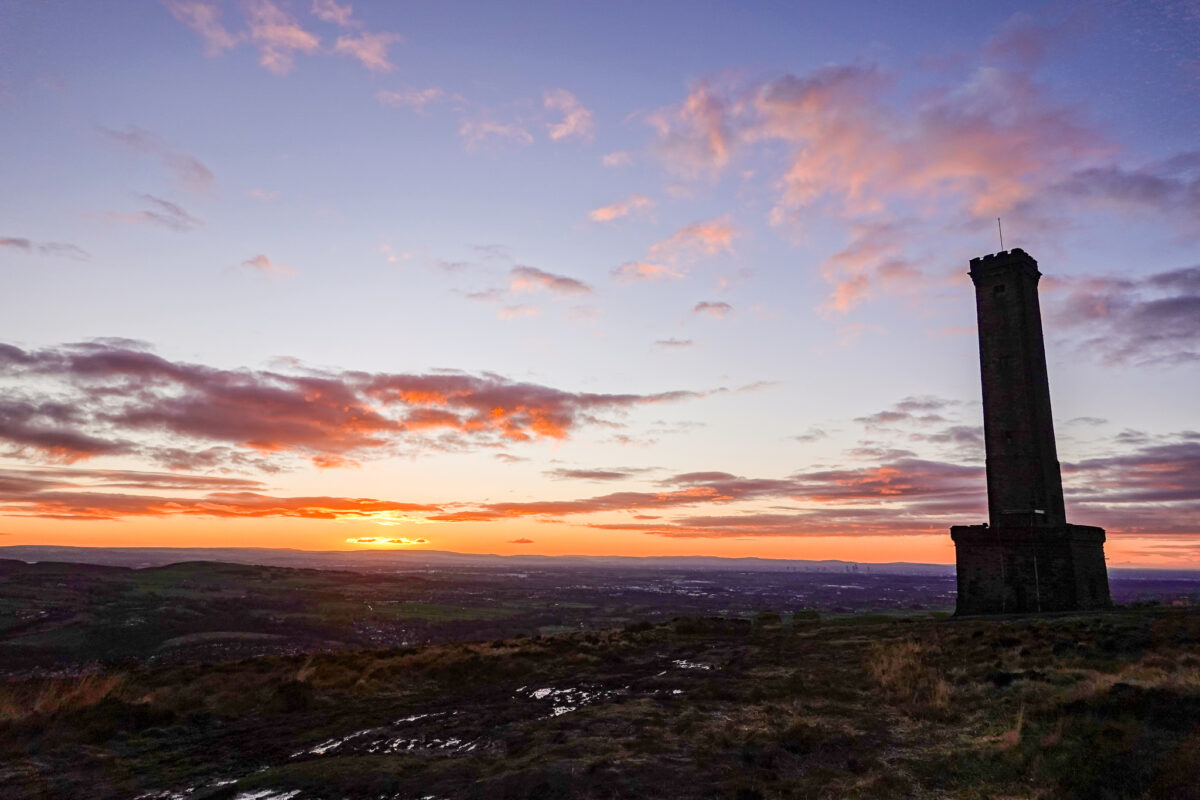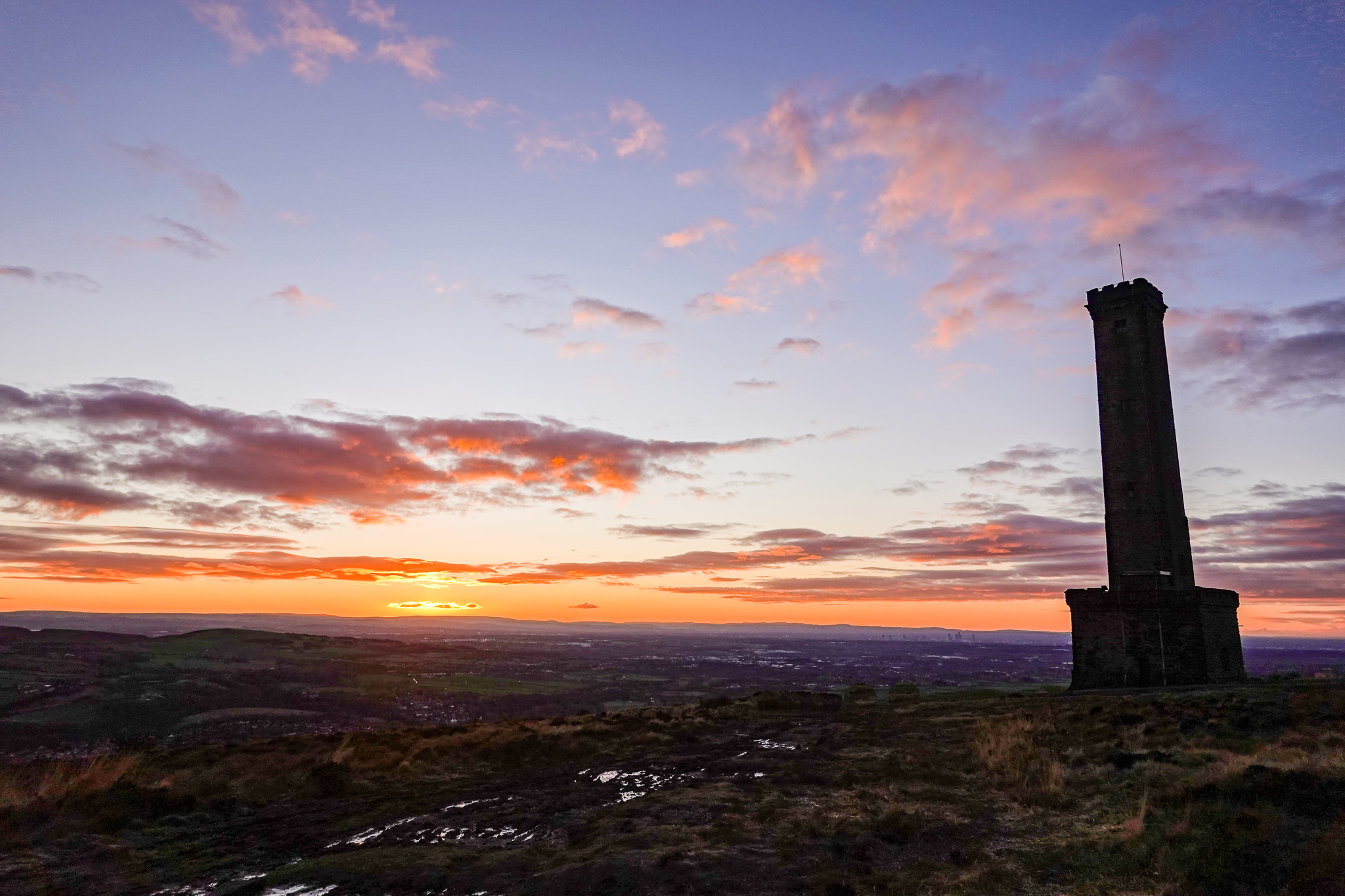 Holcombe Hill: The Hike Begins
For my wife Beck and I, our local walk is to Holcombe Hill. Peel Tower is perched atop the hill and easily provides the best spot for sunrise. The distance between the Lumb Carr Road car park and Peel Tower is around 1km, so you'll need to figure out what time to set off depending on your walking speed. 
Starting from the car park, you'll cross the road and find a gate, signalling the beginning of the trail. Ideally, you'll want a clear sky to get the most out of your sunrise walk. But this is the north-west of England after all – you might be waiting for weeks or even months! (Nevermind the banter from a jovial Australian…) 
Even on an overcast and misty day, the benefit of 'getting out of the house' will make this walk a worthwhile experience regardless!
If you're lucky enough to bag a clear day, that's great news, especially as you'll be starting the walk in the dark. The visibility will be better and you'll benefit from the moonlight. In fact, when we hiked to Holcombe Hill, we didn't even need to use our headlamp! (It is still good to have one handy though, just in case.)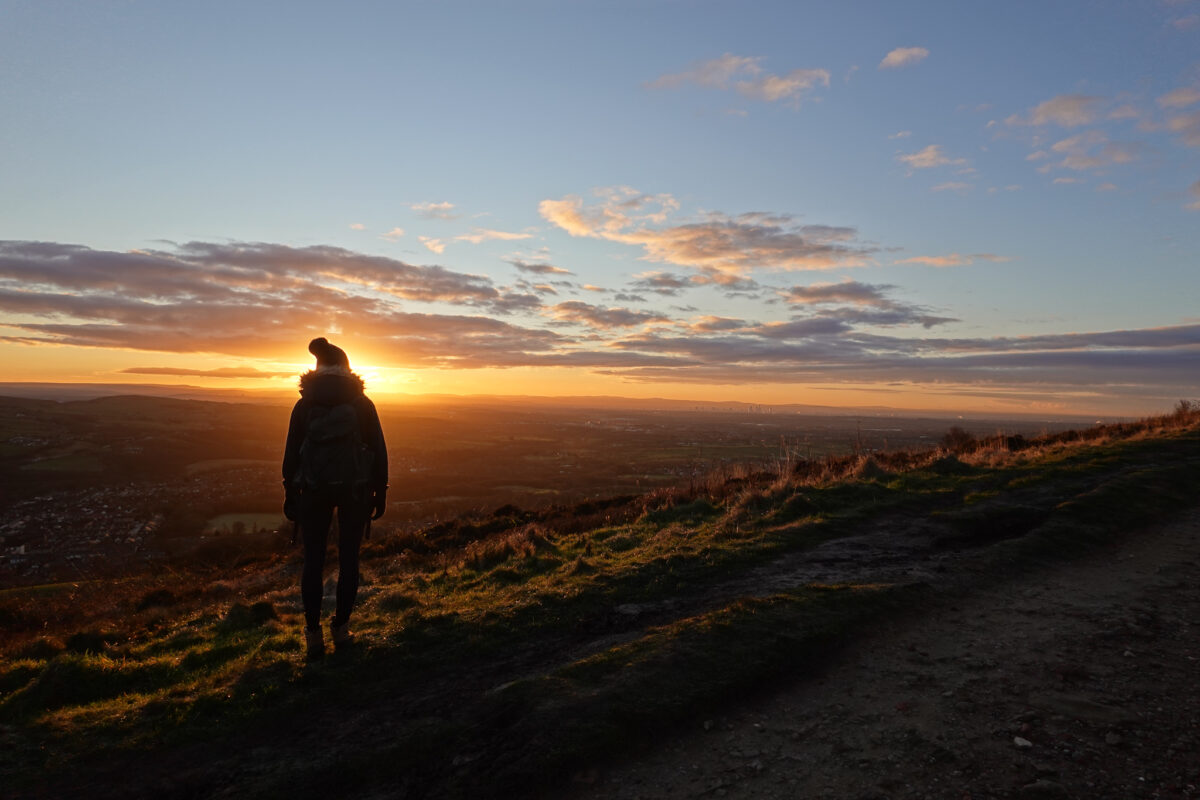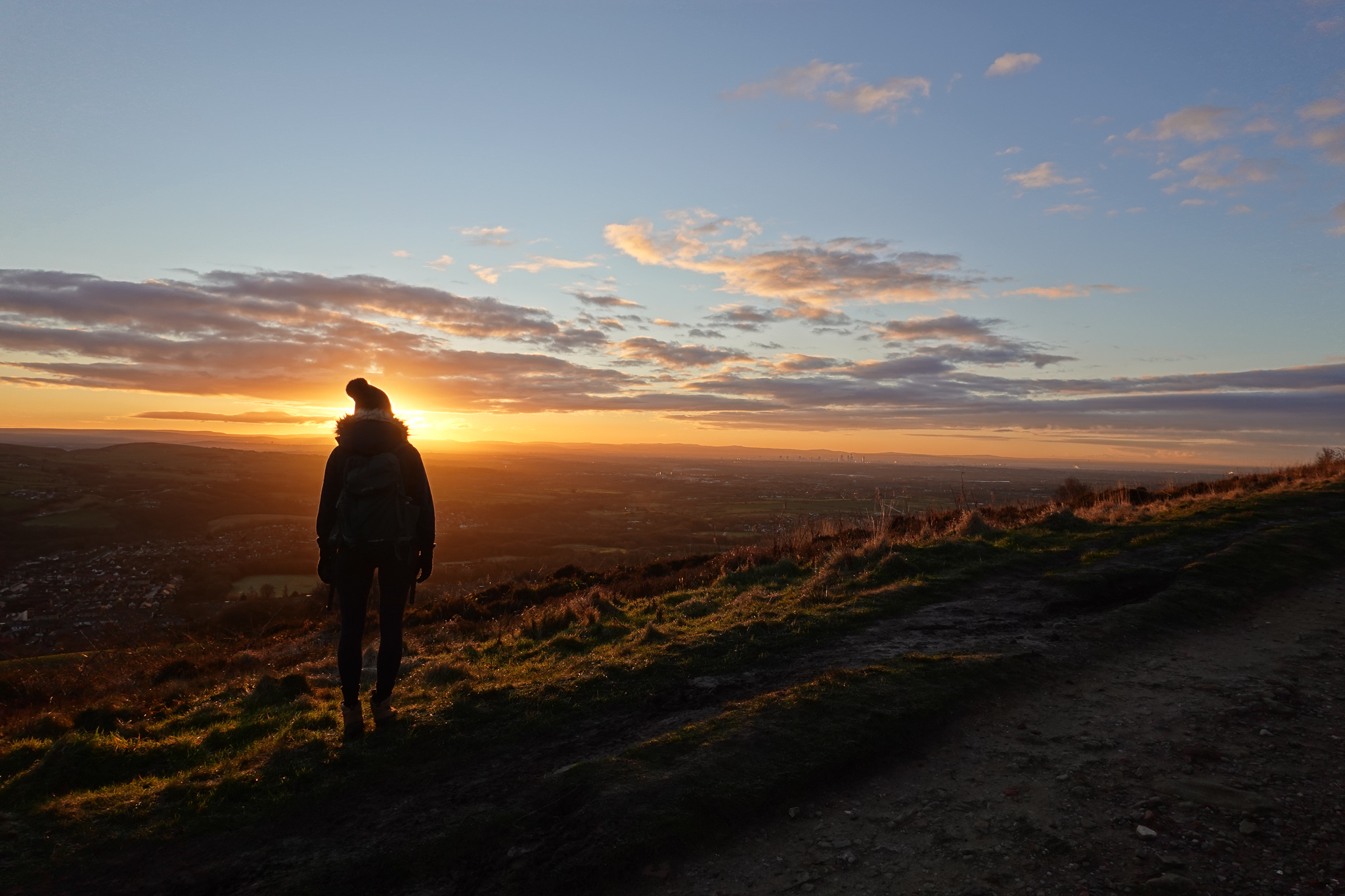 The trail up to Holcombe Hill
With mostly cobblestone underfoot, you'll begin to weave and wind your way up the hill. There seem to be many side-trails and shortcuts pinging off in different directions but there's always a clear path to follow. Although it's unmarked, the trail's fairly straightforward to navigate. 
Even with an early start, you can expect to see other walkers around, all as keen for sunrise as you! Sunrise in late December in this part of England is around 8:25 am. Make sure you check the time of sunrise before you embark on your hike!
For us, it's unlike the heroically early 4 am sunrise starts we needed to do when we were in Australia a few months ago, but with the mornings being somewhat colder here, we'll still call this sunrise hike an achievement!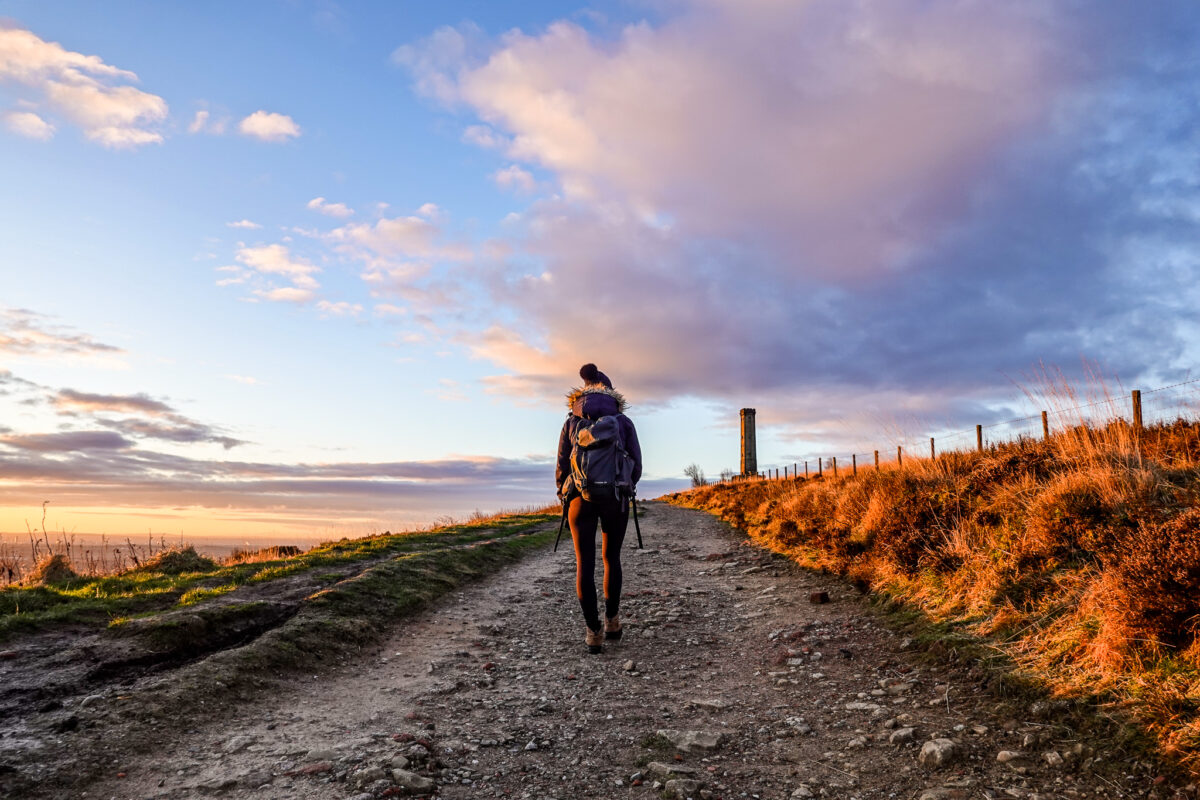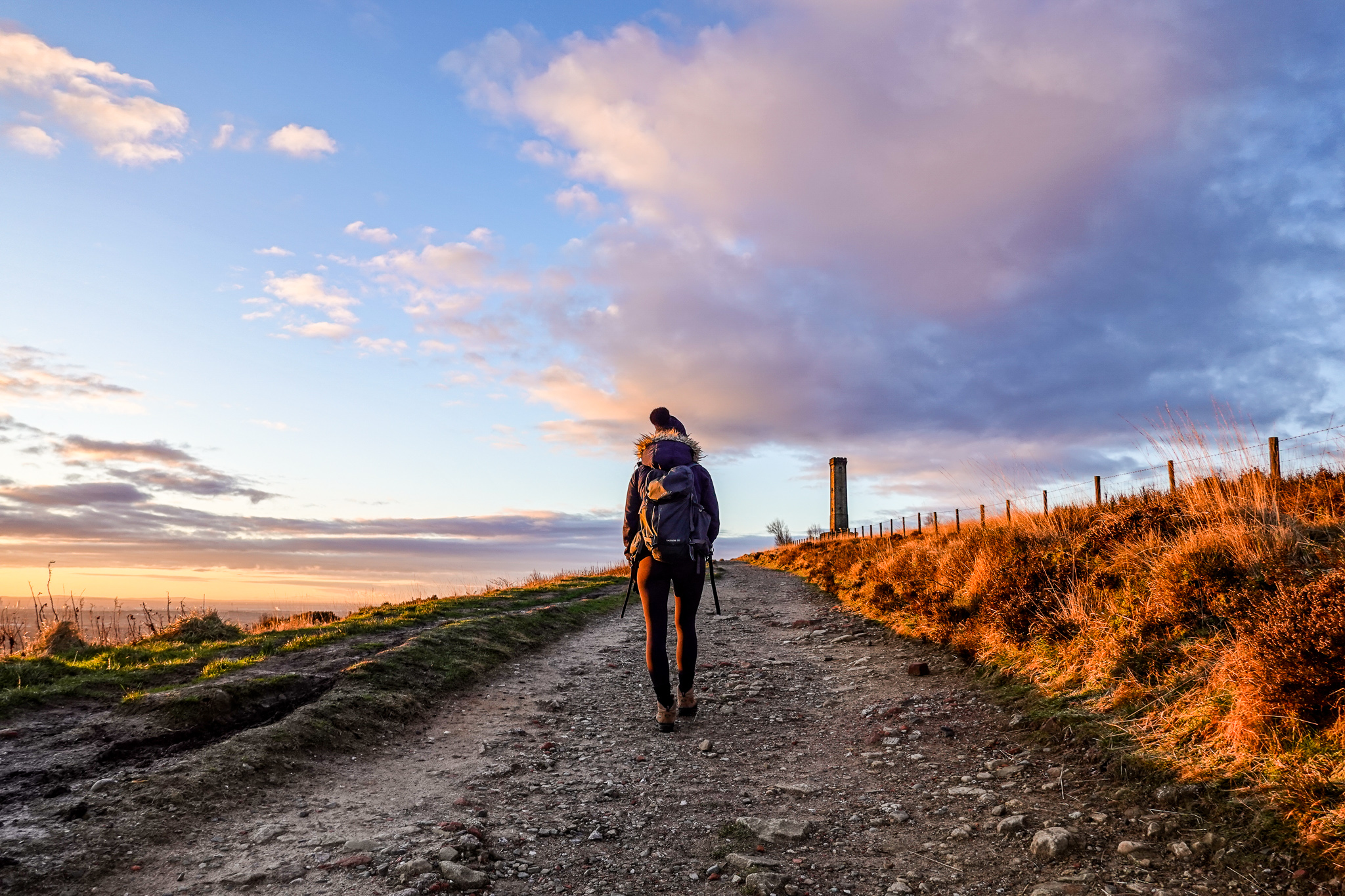 Peel Tower
As you near the end of the trail, you'll observe an almost 90-degree bend and end up following an unsealed, dirt track which leads you up towards Peel Tower. This section of the trail can become frozen and get slippery, so be careful.
Peel Tower, the monument at the top of Holcombe Hill, was built to honour one of Bury's most famous residents – Sir Robert Peel. He founded the Metropolitan Police Force, as well as serving twice as British Prime Minister. The monument stands tall on the hill, magnifying its importance and grandeur.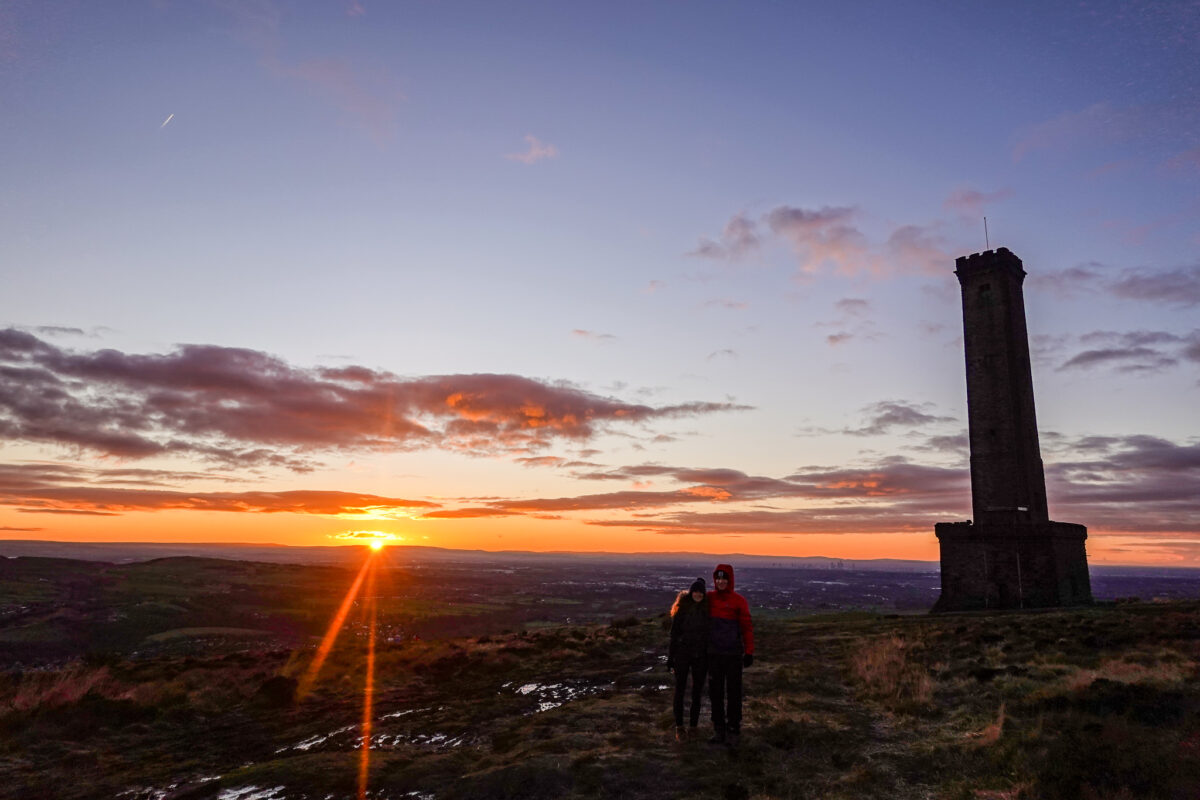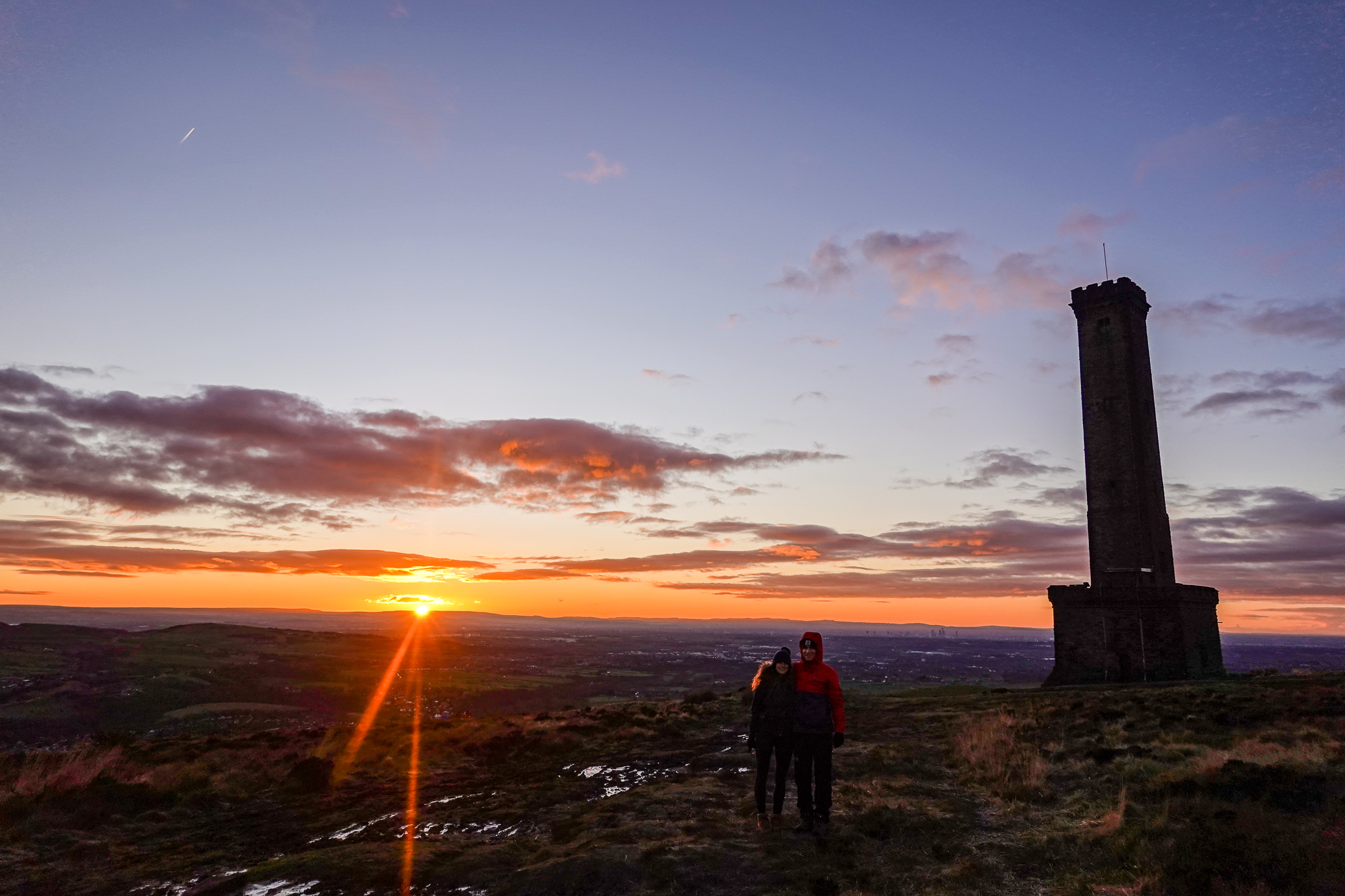 The Lancashire Countryside
Once you've admired Peel Tower, look eastwards for magnificent sweeping countryside views. To your left is a vast and open moorland, whilst to your right, there are more suburban inhabited areas. In this direction, far in the distance, you'll even be able to make out the high rise buildings of Manchester. On a bright night, it is often possible to see all of this before the sun even rises!
Once Beck and I arrived at the top we settled in position, not with the dozen or so people at the base of Peel Tower but set back on the frosty grassy area. This was so we were able to capture the sunrise with the monument and countryside in sight and also to keep our distance from the other walkers! 
With frozen fingers and toes, we waited patiently. And what a beautiful moment it was to see the sun emerge, it brought even more life and brightness to the already lovely countryside.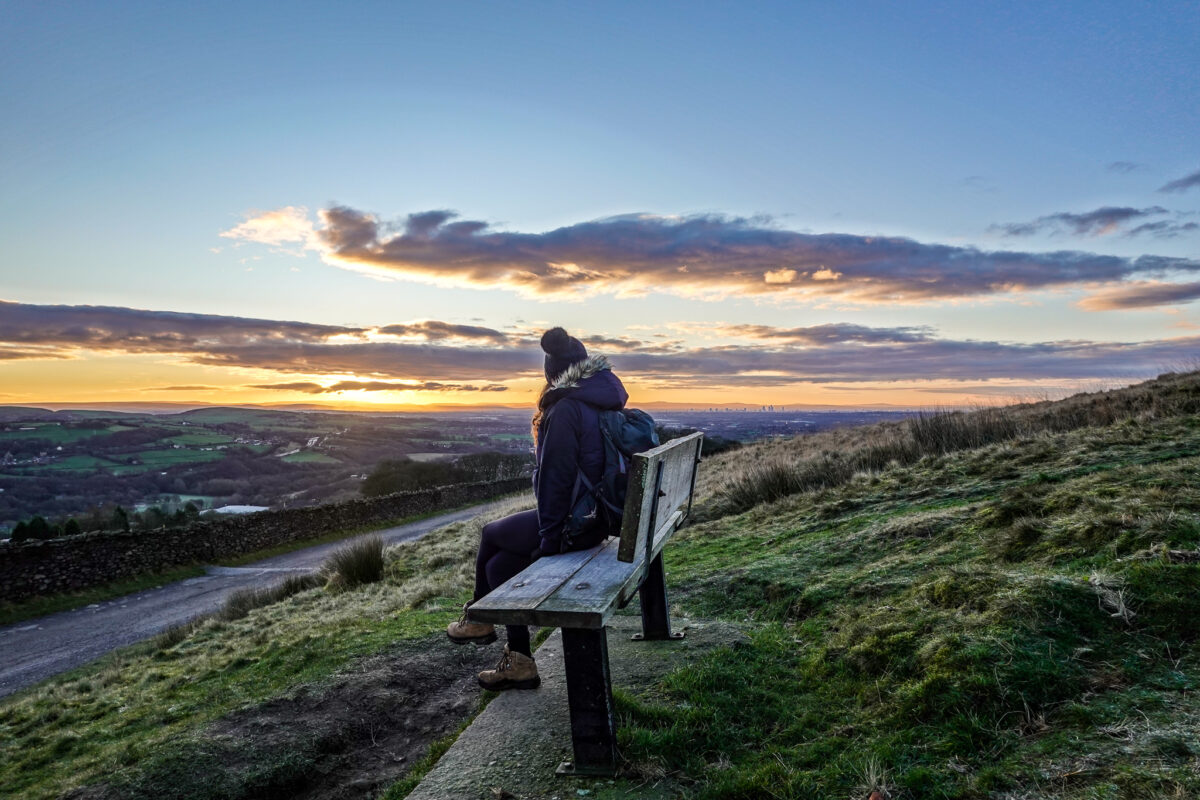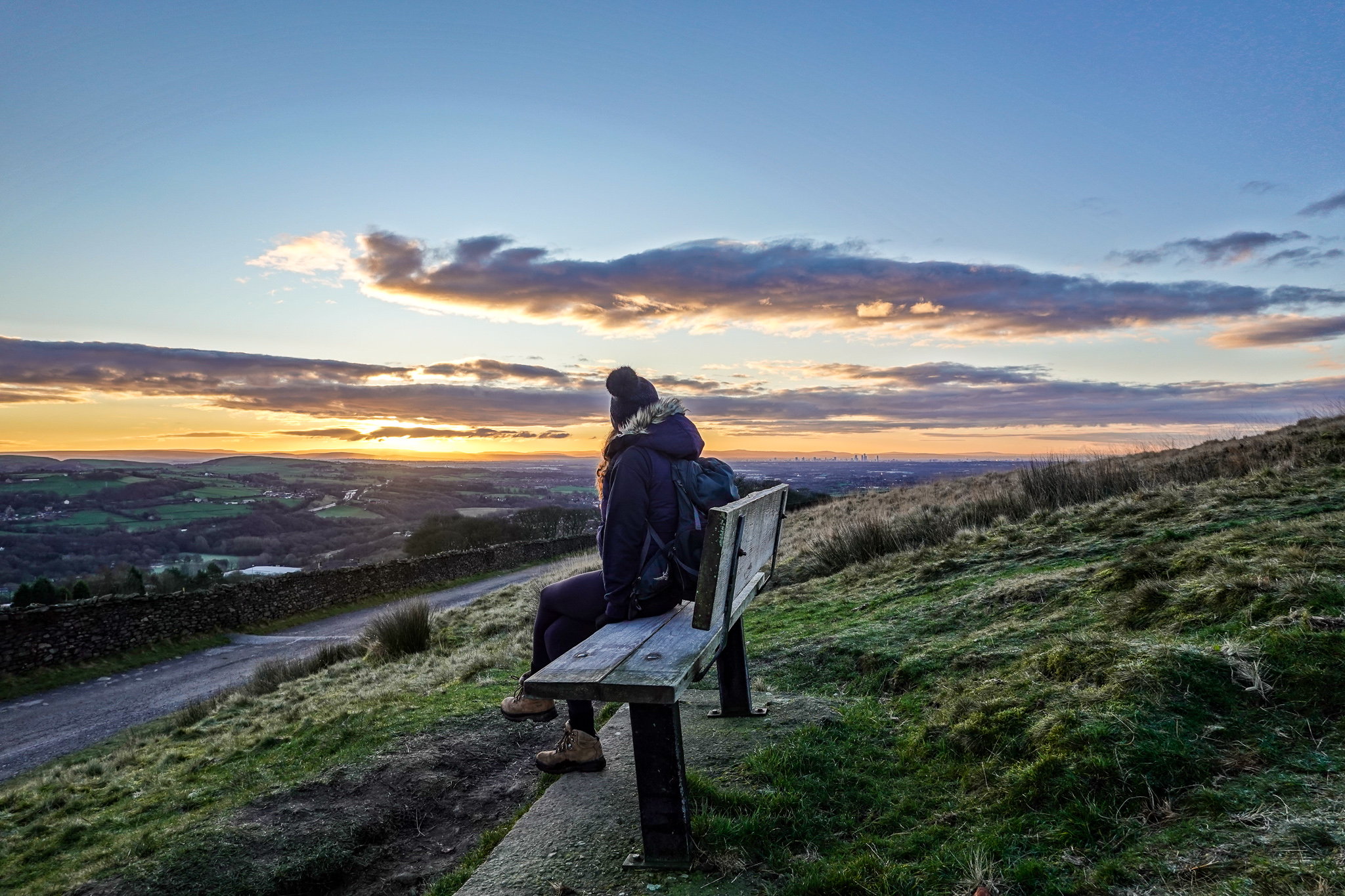 The Return Journey
After enjoying a gorgeous sunrise, you have two options. If sunrise is all that you set out to accomplish, then simply head back to your car! Otherwise, you've come this far so you may as well crack on with a bit more walking! 
To do this, head away from Peel Tower, walking further into the Moors towards the peak of Harcles Hill. You'll enjoy equally stunning but slightly different views of the surrounding Lancashire Plain and urbanised areas. 
Once you pass the peak of Harcles Hill, you'll loop back towards civilisation, eventually joining Moor Road. You'll then briefly venture through the small picturesque town of Holcombe. After passing the Shoulder of Mutton Pub and Restaurant (definitely pop in if it's open), continue on Lumb Carr Road and you'll arrive back at the car park.
For those keen on a longer walk, it is possible to head further into the Moors towards Bull Hill and Holcombe Moor. Maybe one for next time?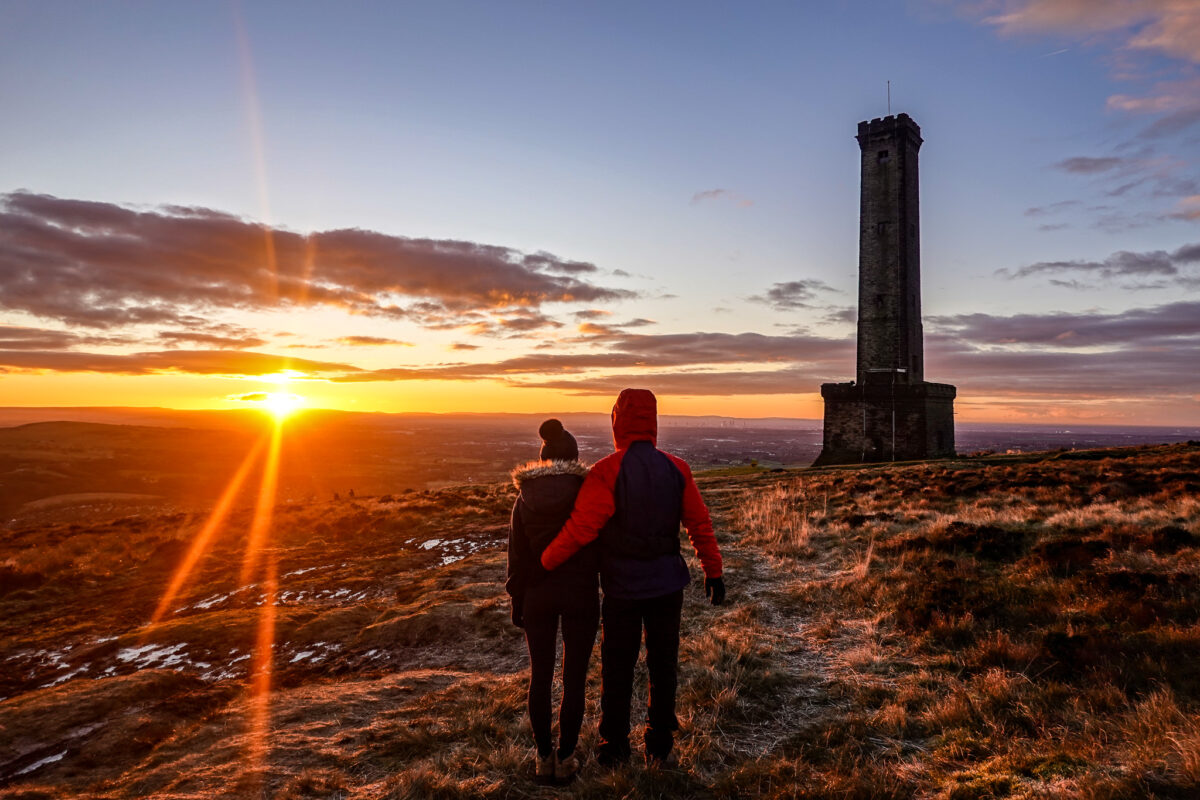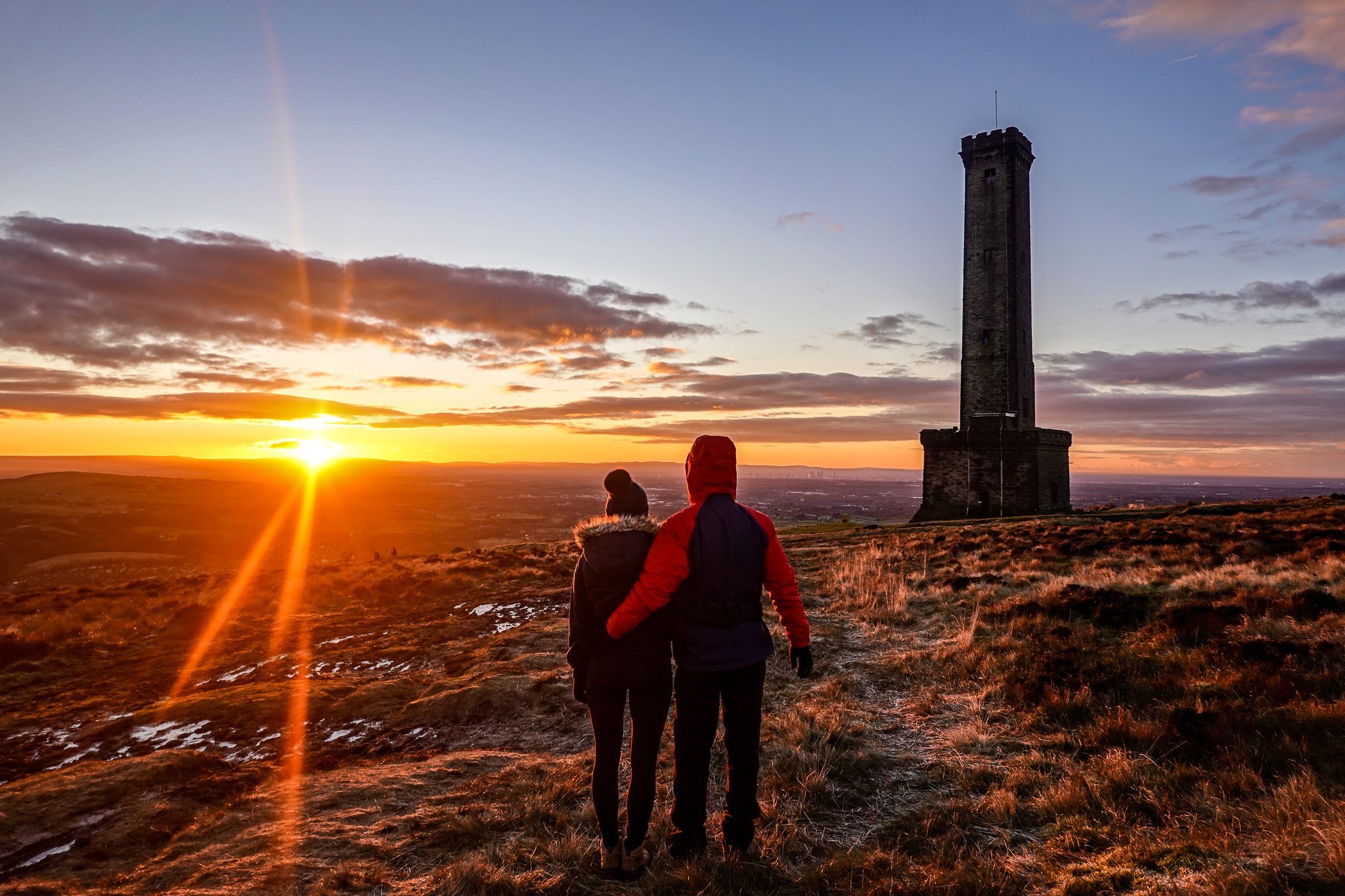 Hiking to Holcombe Hill: FAQs
Where is Holcombe Hill? 
Holcombe Hill is located in Bury, in the north of England. 
Where can I  park to hike Holcombe Hill?
If you are planning to hike up to Holcombe Hill, park in the Lumb Carr Road car park. The postcode if you are driving here is BL8 4NN. 
How high is Holcombe Hill?
The highest point of Holcombe Hill and the place where the Peel Monument is located is around 335 metres above sea level. 
How long is the walk to Holcombe Hill?
Although there are lots of variations in route, walking a circular path to Peel Tower and Heracles Hill, will total around 4km. After accounting for the wait for sunrise, expect the journey to take 2 hours or so. Otherwise, without stopping, it's possible to do this walk comfortably in an hour.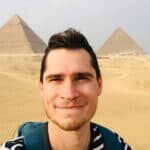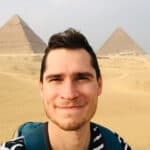 Dan is a keen hiker, natural wonder seeker and world traveller. Born and raised in Sydney, he has recently lived in London and travelled extensively in Europe and South America. With a background in musculoskeletal physiotherapy, he has a deep appreciation for exercise. It's no wonder that he and his wife Beck, collectively known as the 'Speed Hiking Couple', founded Travel Made Me Do It; a website creating hiking related content. You can follow them on Instagram or Facebook.