When you think of a European city, your mind likely jumps to Barcelona or Paris. With so much famous competition on the destination front, it's easy to see how Slovakia and its fairytale-esque capital city Bratislava can get lost when you think of places to visit in Europe. 
Slovakia is a landlocked country in eastern Europe, nestled between Hungary, Ukraine, Poland and Austria. The capital city Bratislava is split by the Danube River. In this comprehensive guide, I am going to share with you the best things to do in Bratislava, a city which is often but mistakenly bypassed for more popular European hotspots!
Fun Fact: Bratislava and Vienna (Austria's capital) hold the record for being the world's closest capital cities. The distance between the two is just 80km by road and 55 km as the crow flies. 
Although Bratislava has its own international airport located on the outskirts of the city, its proximity to Austria also means that it is easily accessible from other destinations. For this reason, it is an absolute must-visit if you're heading to a neighbouring country and love laidback historic cities.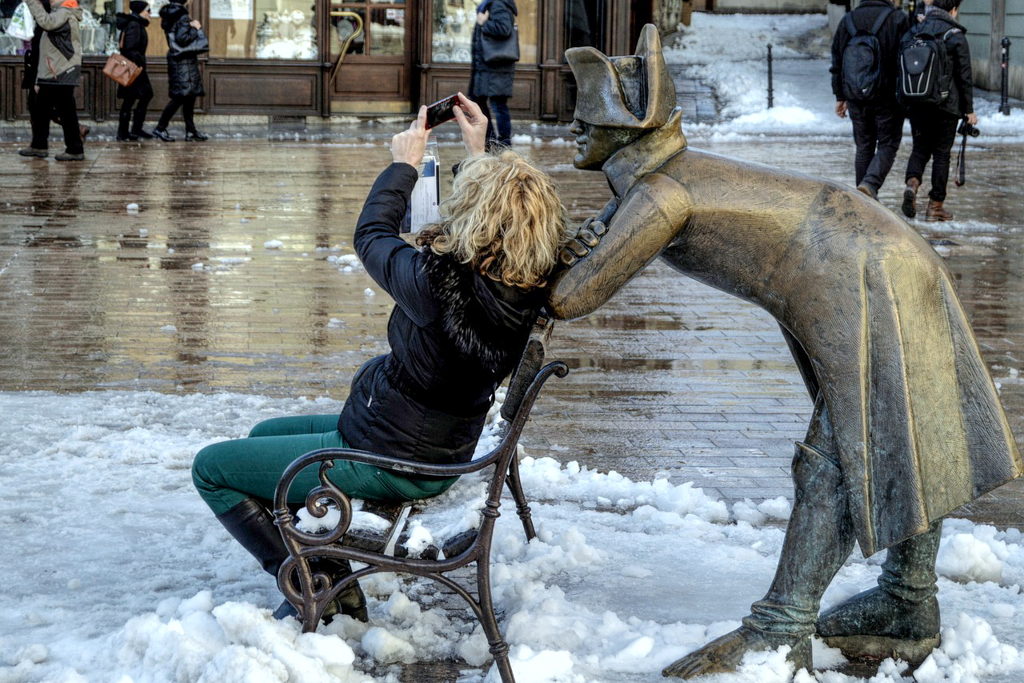 What you need to know before you visit Bratislava 
Slovakia is a part of the European Union and uses the Euro (€). Do not take this for granted as not all European countries follow suit. On my European backpacking trip, the 4 countries I visited required 3 different currencies so check before you travel.
Food, drink and accommodation are still very reasonably priced compared to many other countries using the euro.
Unlike in many other European countries, there is no smoking ban in Bratislava. It was quite a shock to sit in a bar or restaurant and have people smoking all around me. In the UK, smoking inside venues was banned in 2007 so it came as a surprise when I experienced this.
Bratislava's history has been strongly influenced by people from different nations and religions. This means that it shares many similarities with other countries that border it and is extremely hospitable. Some of the main influences have come from Austria, Bulgaria, Czechia, Germany, Hungary and Slovakia, to name a few.
Get your hands on a 'Bratislava card' and save as you go! A 'Bratislava card' allows free access to many places in the city plus discounts of up to 50% on hundreds of attractions! These cards are always a great way to see much more of a destination for much less money. These are available from tourist information, some accommodation providers or the VisitBratislava website.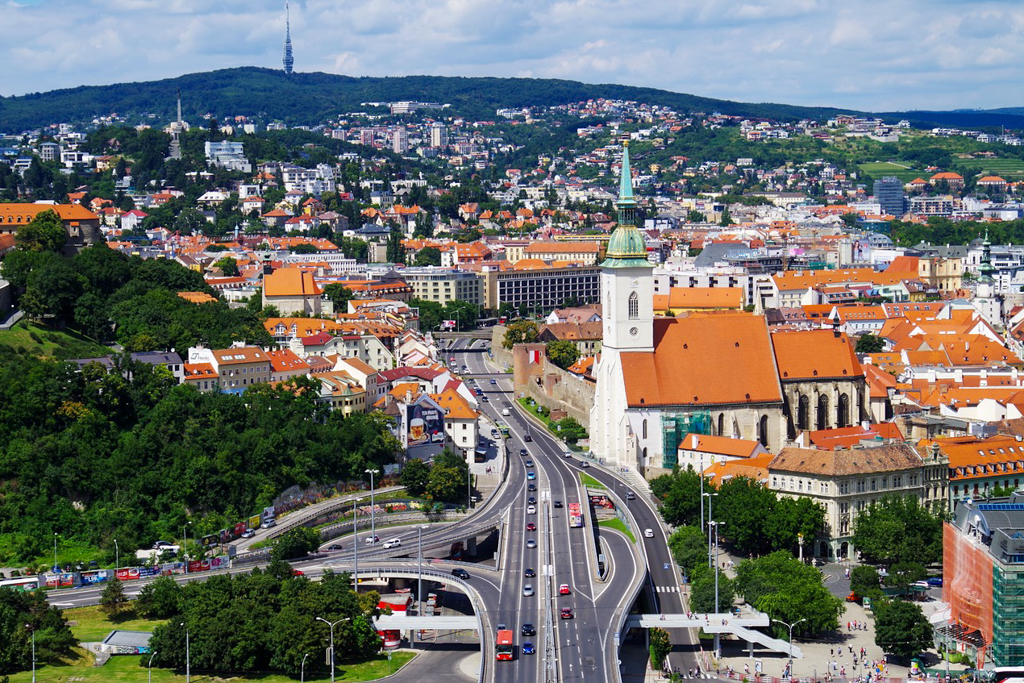 My own journey to Bratislava, Slovakia
I was lucky enough to take a backpacking trip in Europe just before the COVID-19 pandemic kicked in. I decided to start my journey in Vienna, Austria on Boxing Day 2019 and would head back to the UK from Prague on the 14th January 2020. The bit in between was what I planned to make up as I went along. I decided to visit Budapest, Bratislava and Brno on my way through to my final destination in Czechia. 
During my time in Vienna, a lot of people had mentioned visiting the Slovakian capital Bratislava and it got stuck in my head. Many of the people I met decided to take the 1-hour bus journey from the Austrian capital on a day trip, returning to Vienna in the evening. I never like to just drop in and out of a city, let alone a country, so I decided to pencil Bratislava into my route and planned to spend around 36 hours there.
Staying in Bratislava
While staying in the Slovak capital I had to make a choice. There were some great options for affordable accommodation here and I finally chose to stay at the 'Dream Hostel' approximately 1km from the old town square. This hostel now goes under the name of Safestay Bratislava and is run by the chain of the name. 
From my experience, the rooms were comfortable, the communal bathrooms were impeccable and the bar and chill-out zone was just perfect! The upbeat murals and decor gave the place an uplifting and positive vibe too.
Should this not tickle your fancy then why not try the trendy new 'Boutique Capsule Hostel by CHORS'? For me, it really was a toss-up between the two, but I am very happy with the choice I made.
More accommodation in Bratislava… 
Art Hostel Taurus also comes with its fair share of positive reviews and is located in the city centre, very close to the castle and Old Town. 
Wild Elephants Hostel offers both private rooms and dorms. It sits in the heart of the Old Town and is also the life and soul of the party. This is a great place for backpackers looking to party. 
Search for accommodation in Bratislava. 
7 Things to do in Bratislava
If you're visiting Bratislava with limited time, you'll be pleased to hear that these things easily fit together to make up the perfect one day itinerary!
1. Wander the streets
When visiting Bratislava, you must take your time to just wander. Bratislava provides such a contrast to so many capital cities you may have visited. It really has the feel of a town rather than a city. It is compact, cosy and very charming. 
2. Admire the quirky statues
Another thing you must do is explore the quirky city statues. In European cities, historic statues are dotted around in abundance. However, I have never been anywhere where they are as quirky and fun as they are here! 
Are you an avid writer or a wanna-be blogger? If so, be sure to stop by the statue of Dutch children's author Hans Christian Anderson. Even though he was not a national of Slovakia, he apparently spent a lot of time here and wrote a number of his famous stories in this very city. 
It is said that if you touch the statue's hands, you will be blessed with the ability to write great stories. Did I touch it? Maybe… Does it work? Who knows, I will let you be the judge of that!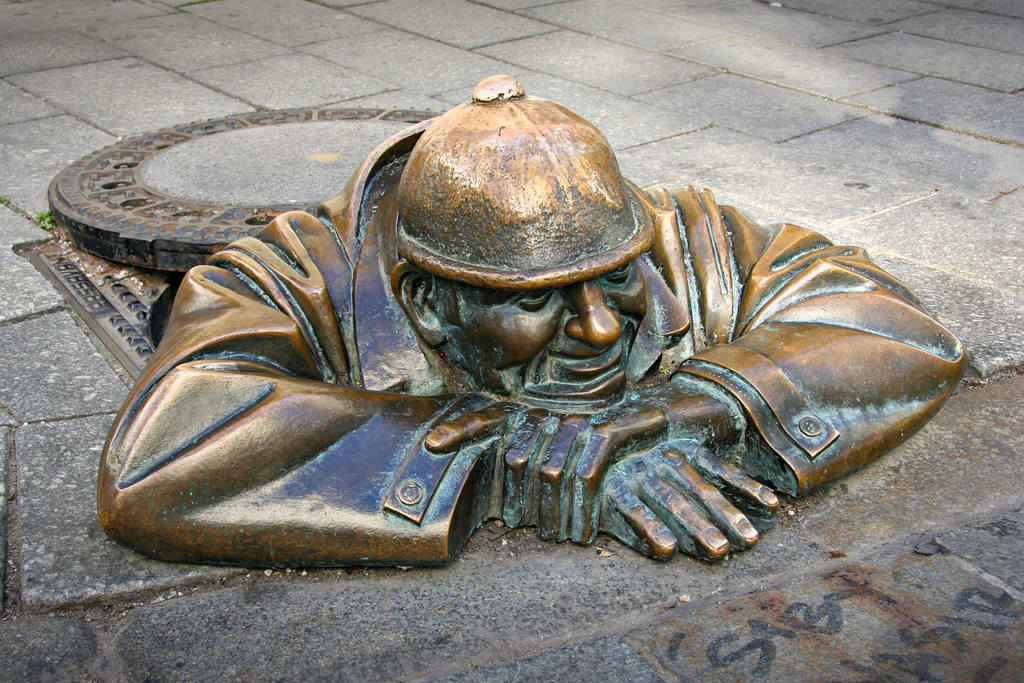 3. Visit Bratislava Castle
Probably the most famous structure in Bratislava is the beautiful castle! Situated on top of the tallest hill, it offers incredible views of the entire city… (Unless you go in January as I did and see little more than fog!) 
Bratislava Castle is thought to date back as far as the late Stone Age and the first written reference goes as far back as 907 AD. The grounds and castle are beautiful and also house the historical museum which can be seen on a guided tour every Saturday in July and August.
The walk to the castle will take around 20 minutes from the town square up the hill. The views alone are worth the trek but be sure to take in some of the history too. Entrance into the castle is free with a 'Bratislava card'.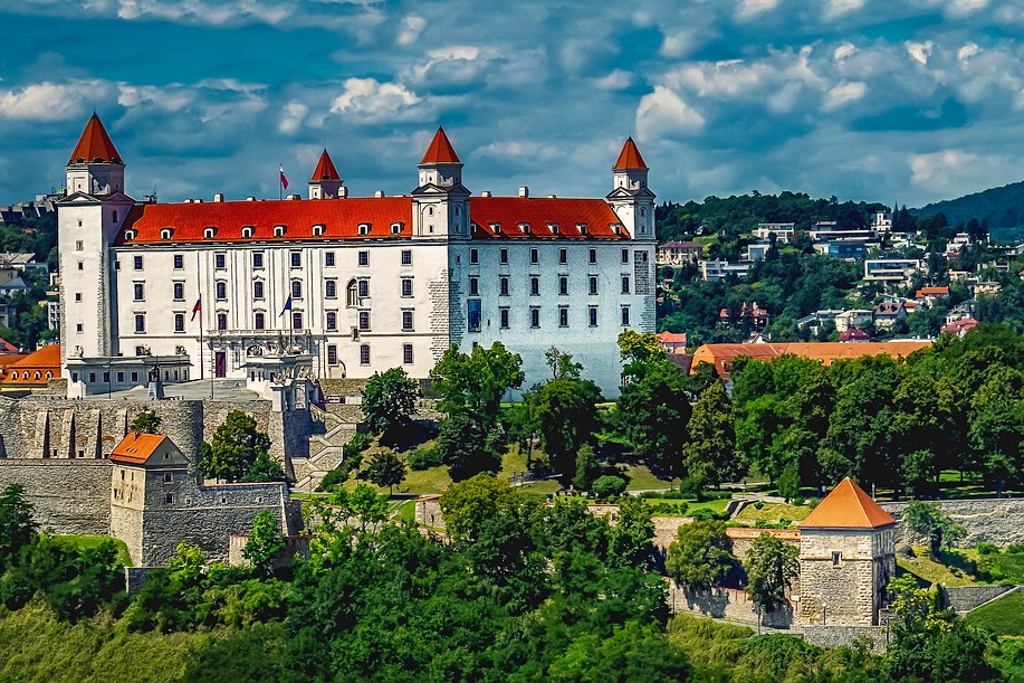 4. Explore the Old Town 
One of my favourite things about visiting European cities is the fairytale-esque old towns. So many date back hundreds and hundreds of years and Bratislava is no different. 
Start at the epicentre of the city in the Hlavné Square (Hlavné námestie) and get lost amongst the charming cobbled streets. It is no wonder Hans Christian Anderson was so inspired to write while being in this beautifully charming and enchanting place!
Be sure to visit 'Michael's Gate', one of the entranceways to Old Town. This 14th-century gothic tower was rebuilt in the 18th century and has a statue of the archangel Micheal on top. This is the last remaining gate of the once fortified medieval city. You can go to the top to get some great views of the atmospheric cobbled streets and terracotta rooftops for just €4. If you opt not to visit the UFO Tower, this is a cheaper option which still offers a great view.
5. Take a tour of the Old Town
One thing I have come to love about visiting popular European cities are the free walking tours. I have taken them in Barcelona, Prague, Vienna, Budapest, Brussels and Bratislava. 
I can honestly say there is no better way to absorb the culture and the history of these places than in the company of an amazing and knowledgeable guide. There are two different free walking tours in Bratislava: one that takes you around many of the places I have already highlighted and the other that explores the darker side of the city's history.
A note about free walking tours…. 
For those of you not familiar with the concept of the free walking tour, here is the lowdown. These tours are run by locals on a donation basis making them a great way to travel on the cheap. 
Some companies require you to pre-book your spot as they do not like one group to be particularly overcrowded. It is unlikely that you will be turned away, but it did happen to a couple who just rocked up at the start of the tour I was on while in Vienna. 
Ask your hostel or hotel for information on meeting times and locations. Generally speaking, and so was the case here in Bratislava, the tours begin in the town squares, as most things have for centuries.
The free part is down to your discretion. The tour guides are approved and verified guides who must pass a mountain of examinations and assessments to be able to earn their stamps as 'official guides of the city'. With this, comes a wealth of knowledge and information about the city you are visiting.
There is no obligation to pay anything for the tour but tips are very much welcome. To give you an idea of what to expect, the day tour in Bratislava I took lasted around 3 and a half hours. Tip what you feel you are happy with and what you can afford to. Oh, and bring your walking shoes!
6. Head up to the UFO Observation Deck
Bratislava is full of cool and crazy buildings. However, none compare to the borderline bizarre Most SNP (Bridge of the Slovak National Uprising) or 'UFO Observation Deck'. As you may guess from the picture, this building gets its name from its shape, not from the chance of seeing UFOs from the top… 
You can go up to the observation deck for incredible views of the city for €8.90 or a day-night ticket costs €11.90, giving you the best of both worlds. You can also get free entrance to the observation deck by booking a table at the restaurant.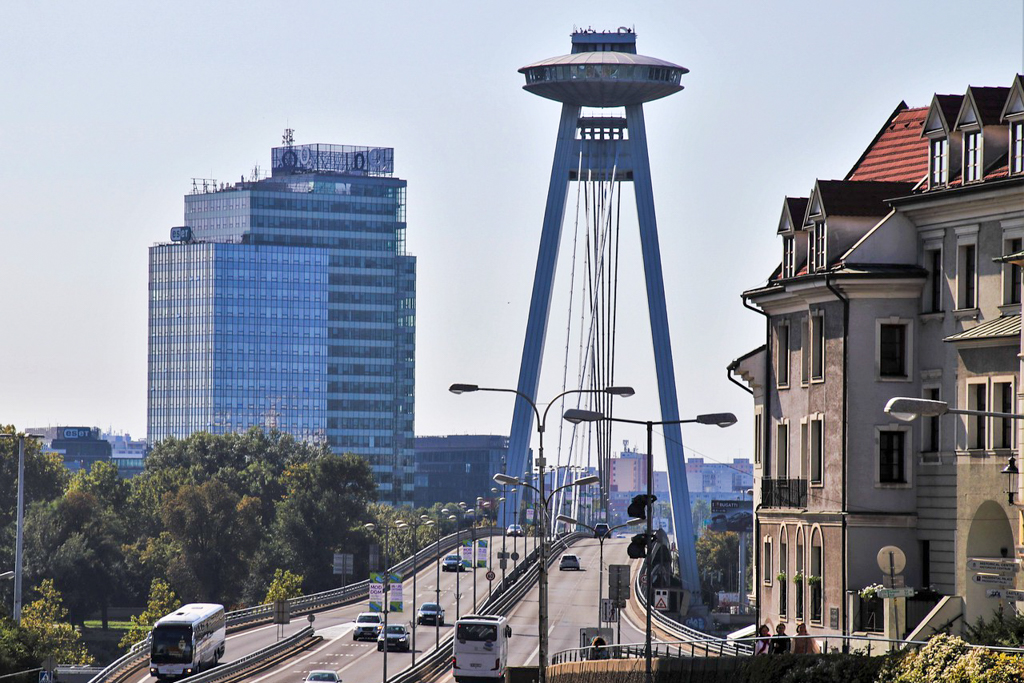 7. Get your adrenaline pumping at the UFO Skywalk
Why not get your heart pumping by taking part in the exhilarating UFO Skywalk? The views are spectacular from the tower and definitely worth visiting while you are in the Slovak capital – if you're brave enough.
Food and Drink in Bratislava 
Due to the different cultures which have influenced the city, the culinary side of things is very varied. You can sample a blend of several national dishes as well as more typical food from Bratislava.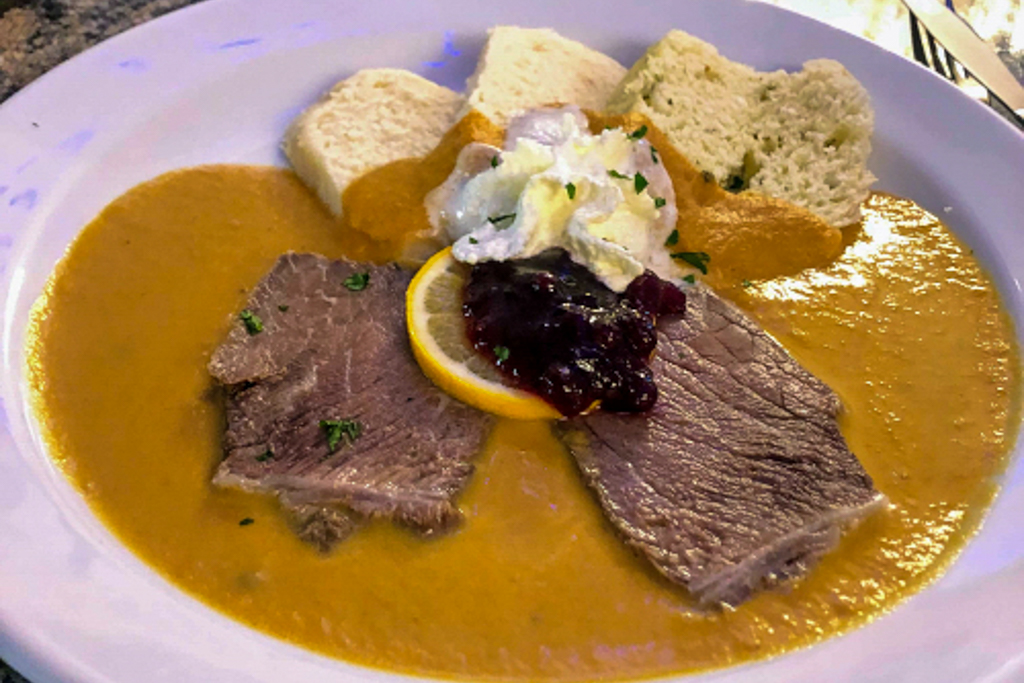 'Bryndzové halušky' or potato dumplings with sheep cheese and bacon is the national dish of Slovakia, which I have to admit tastes a lot better than it looks.
The cost of eating out, even with the euro is still very competitive. You can get a 3-course meal with a couple of drinks for two people for around €25-35 in a mid to high-end restaurant. Considering that Bratislava is a capital city, this is very reasonable. More importantly, a local beer will cost around €2.
If you fancy trying some traditional dishes, I recommend wandering the streets of Old Town where there are many charming Slovak restaurants. It is actually hard to choose between them. One thing I am certain of is that you won't be disappointed!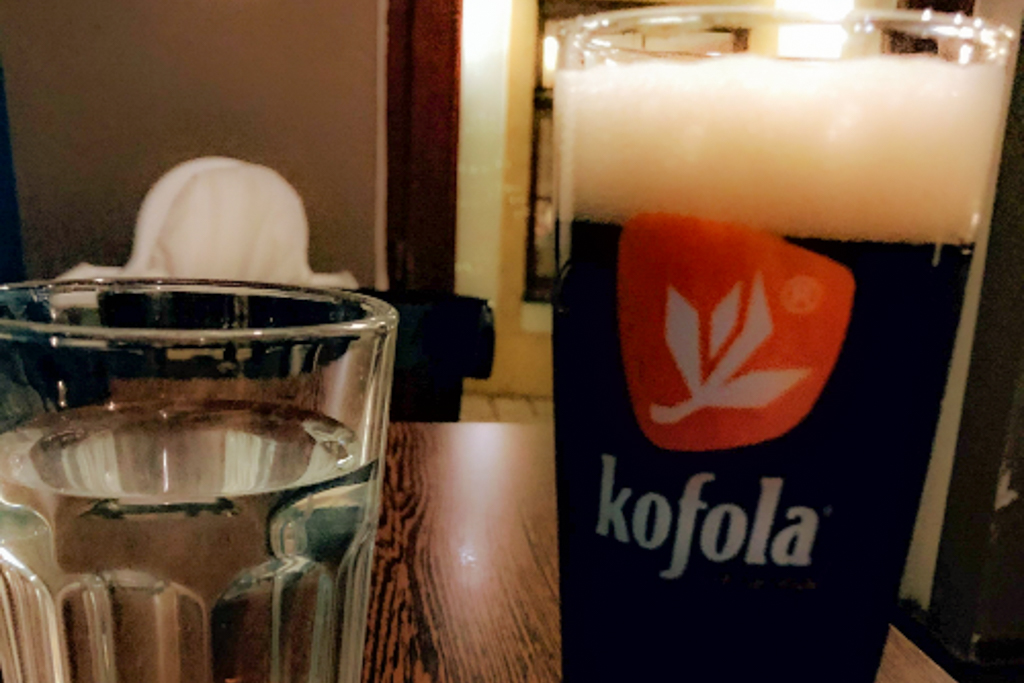 Getting to Bratislava 
As I previously mentioned, I decided to travel around and started my trip from Vienna. One reason for this was the incredible value flights on offer from the UK to Vienna. It's not unusual to find return flights from Vienna for as little as €52 and this was also a place that had been on my list for quite some time. 
Bratislava does have it's own international airport just on the outskirts of the city so you can go direct should you not be blessed with time. However, I would advise killing two birds with one stone. You won't ever have an opportunity to visit two capital cities so close together, so why not make the most of it?
There are daily bus and tour guided routes from Vienna to Bratislava and vice versa. Trains are also extremely frequent, around twice an hour. For any train bookings, I recommend using OMIO. 
Eurolines, Regiojet and Flixbus are the most reliable and frequent bus services. I personally took a Flixbus from Budapest in Hungary which took around 2 hours or so. This opens another new country which is very easily accessible from Bratislava. 
Flixbus is a coach company that runs all over Europe and can be really reasonable should you book early enough. Fares can start from just €5 but as the buses fill up, the prices go up too.
You can also try using the BlaBla Car app and try and hitch a ride with other travellers. 
Combining Bratislava with other destinations
I always say a place can't be judged on a day trip. Bratislava is unlikely to be like any other capital city in Europe that you visit. It has a much slower pace, with more of a local town feel than a capital city. But would I base an entire trip solely on Bratislava… probably not.
However, there is no denying how close the Slovakian capital is to neighbouring countries and how easy and cheap it is to travel there. OMIO even advertises eco-friendly train journeys if you are concerned about your carbon footprint. I managed to get from Brno to Prague in the Czech Republic for just €5 on an eco-friendly train as it took a little longer than usual. 
Plan a trip and make the most of what Europe as a whole has to offer – beautiful historic cities all within easy access via great transportation systems. My advice? Pick up your backpack and see Bratislava, Vienna and Budapest in one awe-inspiring trip to some of the most picturesque cities the continent has to offer.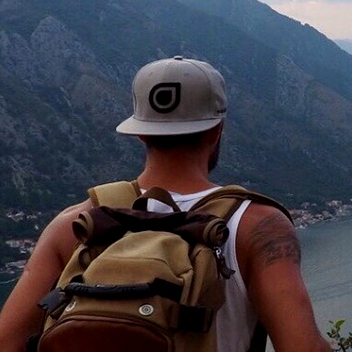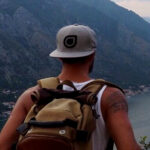 My name is Ryan and I am the founder of Travel With Cooky travel blog. I would like to take this opportunity to thank Europe Backpacker for the opportunity to write for such a beautiful and informative website. If you would like to read more of my travel hints, tips and travel stories please head over to the website and follow my journey on Instagram and Facebook.