Looking for an Edinburgh itinerary to fill a few days in Scotland's bonny capital? From the extinct volcano of Arthur's Seat to the cannons at Edinburgh Castle and the barrage of busking bagpipers, Edinburgh is the perfect destination for a city break. Whether you plan on taking a day trip, a weekend break or spending as many as 3 days in the capital, these Edinburgh itineraries have got you covered with all of the best things to do!
---
Related: (opens in new tab)
---
3 of the Best Edinburgh Itineraries!
Edinburgh 1 Day Itinerary: The Highlights
If you only have one day in Edinburgh, don't panic, you'll still be able to hit up the main highlights!
Brunch
Head to Edinburgh Larder Cafe for a brunch menu laden with hearty local produce – including full Scottish breakfasts, homemade nutty granola and eggs cooked however you like them. Washed down with rich Artisan roasted coffee, it's the perfect way to get some energy to prepare yourself for the busy day ahead.
Edinburgh Castle
Make your way up the cobbled streets to Edinburgh Castle and pretend you're royalty for an hour. Stepping through the dramatic Portcullis is like going back 500 years… 
The castle is steeped in history, from the chapel to the Crown Room and even the Great Hall. For more context, pick up an audio guide for £3.50 or enrol on one of the free tours. 
The famous field gun is fired every day at 1 pm (except Sundays) so make sure you time your visit with this in mind!
Royal Mile
The Royal Mile is the most visited street in the whole of Edinburgh. Beginning at the castle and ending at the Palace of Holyrood House, the Royal Mile is a 'Scots' mile' in length. This unit of measurement is longer than an English mile, although it hasn't been officially used since the 18th century. 
There are many places of interest along the Royal Mile. Whether you want to pick up some authentic tartan, grab a wee dram of whisky or check out Mary King's Close, there is something for you. 
Palace of Holyrood House & Holyrood Abbey
Located at the end of the Royal Mile, the Palace of Holyrood House is the official residence of the British Royal family when they are in Edinburgh. It also has a long and fascinating past, with close links to many famous figures in Scottish history, including Bonnie Prince Charlie and Mary, Queen of Scots. 
If you buy a ticket into the palace, this also includes admission into Holyrood Abbey. This ruined abbey was founded in 1128, used as a royal residence during the 15th century and a parish church until the 17th century before eventually falling into disrepair. 
Tip: If you are visiting a few places in the city, it might be worth checking out the Edinburgh City Pass which offers you discounted access to many of the city's best attractions. For monarchy enthusiasts, there is also the Edinburgh Royal Ticket which provides access to the castle, Palace of Holyrood, Royal Yacht Britannia and 3 different Edinburgh bus tours!
Arthur's Seat
Just a few minutes walk from Holyrood Abbey and situated in Holyrood Park is Arthur's Seat, an extinct volcano. 
Arthur's Seat is estimated to have erupted around 350 million years ago and the summit offers the best views in the city. The hike up to the top can be tough but the views are well worth it. If you can time it right, this is a great place to watch the sunset! Don't forget to take a torch for the way down.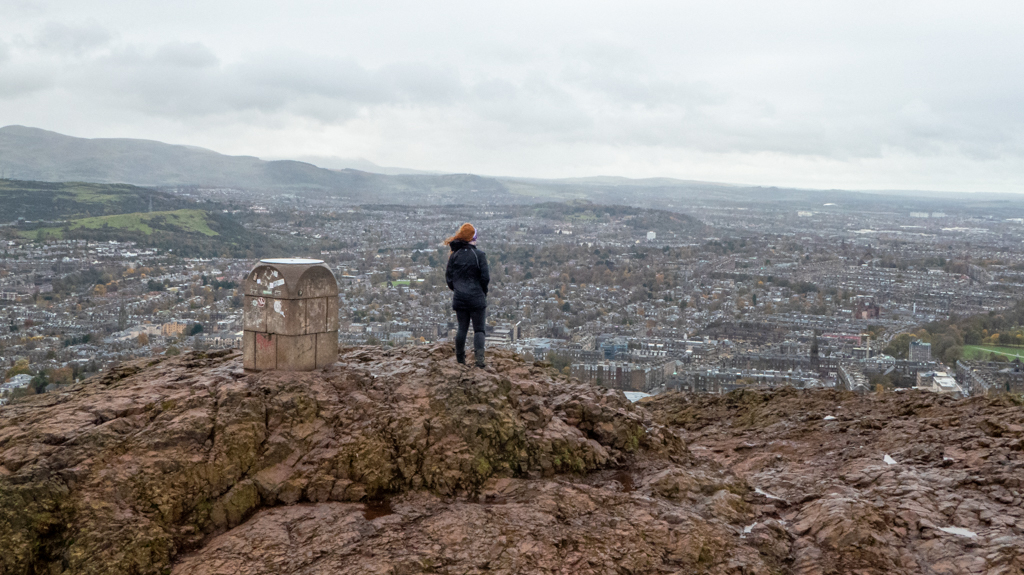 Dinner
Did you even go to Scotland if you didn't feast on haggis, neeps and tatties?! Head to the Whiski Bar down the Royal Mile for a taste of this traditional Scottish dish. Veggies don't have to miss out either, there is a no-meat alternative for you! 
Edinburgh 2 Day Itinerary: The Weekend Break
For those of you who have two days in Edinburgh, you'll be able to fit in the best spots following this itinerary!
Day 1
Brunch
Overlooking Nicholson Street, Spoon Cafe is a great place to escape the bustle of the streets and fuel up for the day ahead. You can grab an epic belly-busting Scottish breakfast here which comes complete with haggis and homemade tattie scones! In case you wonder why everyone outside is taking photos of the cafe, this was one of J.K. Rowling's favourite cafes to write in.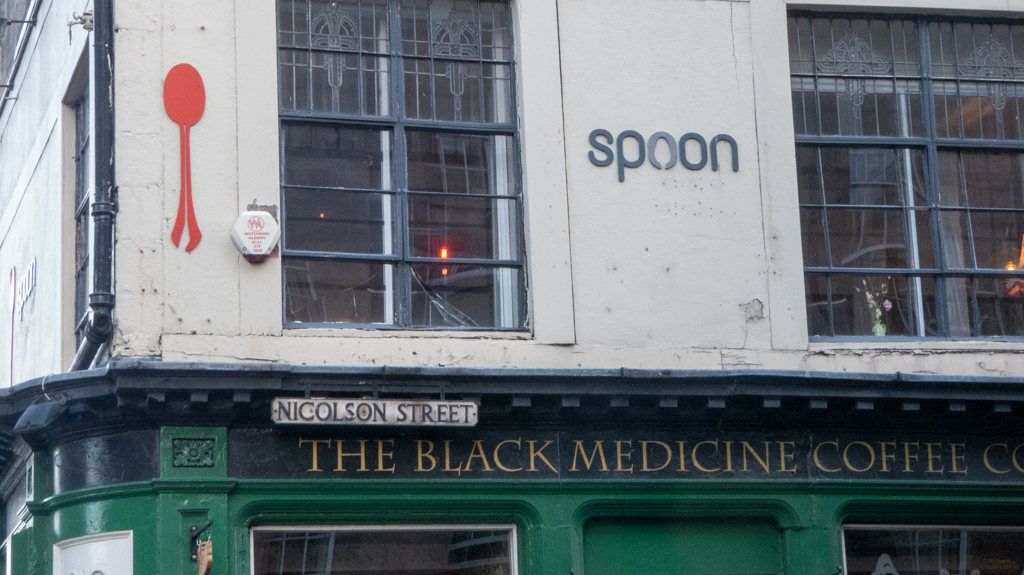 Palace of Holyrood House & Holyrood Abbey
Explore the Queen's official Edinburgh residence and discover the wonder behind the ruins of Holyrood Abbey. Both of these sites are of huge historical importance and the audio guides are great for helping you learn about them as you explore. 
Scottish Parliament  
If you're interested in politics, then why not take one of the free tours around the Scottish Parliament building? Located opposite the Palace of Holyrood, this is where all of the MSPs (members of the Scottish Parliament) meet to discuss and debate policy. Tours need to be arranged in advance via the official website. 
Arthur's Seat
Brave enough to climb a volcano? Then lace up your trainers, pack a bag of provisions and head to Edinburgh's Holyrood Park. From the car park at the bottom, there are several routes up. Take the path less trodden and avoid the crowds, we say!
Lunch
After a few hours hiking to the peak of Arthur's Seat, you'll probably be feeling peckish. Walk back into the city via Grassmarket – there you can choose between a Scottish hog roast from Oink, spicy Mexican food from Mariachi, or pizza from Mamma's…
Harry Potter Tour
The Harry Potter book series has sold more than 500 million copies worldwide, making them the best-selling book series in history. Looking at those numbers, there is a pretty high chance that at least some of you reading this are fans! 
Edinburgh is a city with loads of links to Harry Potter and these are best explored in the company of an eccentric guy dressed as a wizard. There are plenty of HP tours across the city but our favourite is the Pottertrail. These are free walking tours which take you to all the best Boy Wizard spots over the city. At the end of the tour, you tip the guide based on your experience.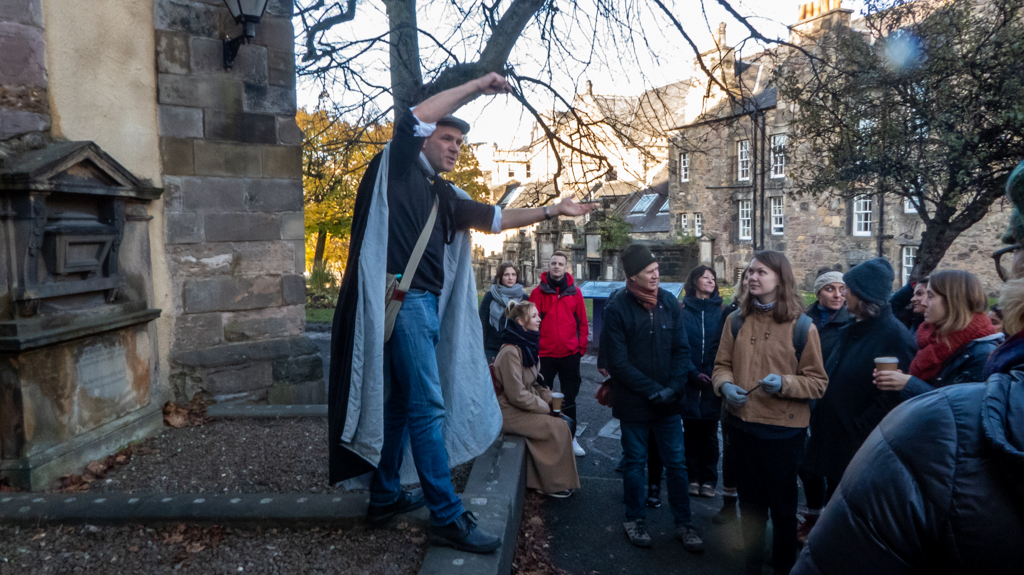 Edinburgh Gin Distillery
We all know that Edinburgh is well known for its whisky. But what most people don't know is that the city is also home to an award-winning gin distillery! Book yourself onto a tour and head underground for an education into the world of juniper at the Edinburgh Gin Distillery. And don't forget the tastings… our favourite? The Rhubarb & Ginger Gin. Heaven.
Dinner
Yes, it's time to eat, again! This time we're going to shun convenience food and opt for something spicy at Ting Thai Caravan on Teviot Place. 
Run by Chef Ting and his wife Ae, they make excellent Thai style street-food. Served in brown takeaway style cartons, get ready to fill up on tender beef laced with chilli and soy, deep-fried calamari, noodles with sesame and chicken, sticky coconut rice… the list goes on! Be prepared to queue for a table, Ting Thai is a well-known secret. 
Ghost Bus Tour
For a side-splitting evening full of spooky tales, hop aboard the Edinburgh Ghost Bus! This is a great option for anyone who doesn't fancy traipsing around Edinburgh's creepiest spots on foot. You should be safe on the bus…maybe. 
On this tour, you'll hear the haunting tale of Greyfriars Bobby, discover the eerie parts of Grassmarket and wander through one of Edinburgh's spooky graveyards… if you're brave enough!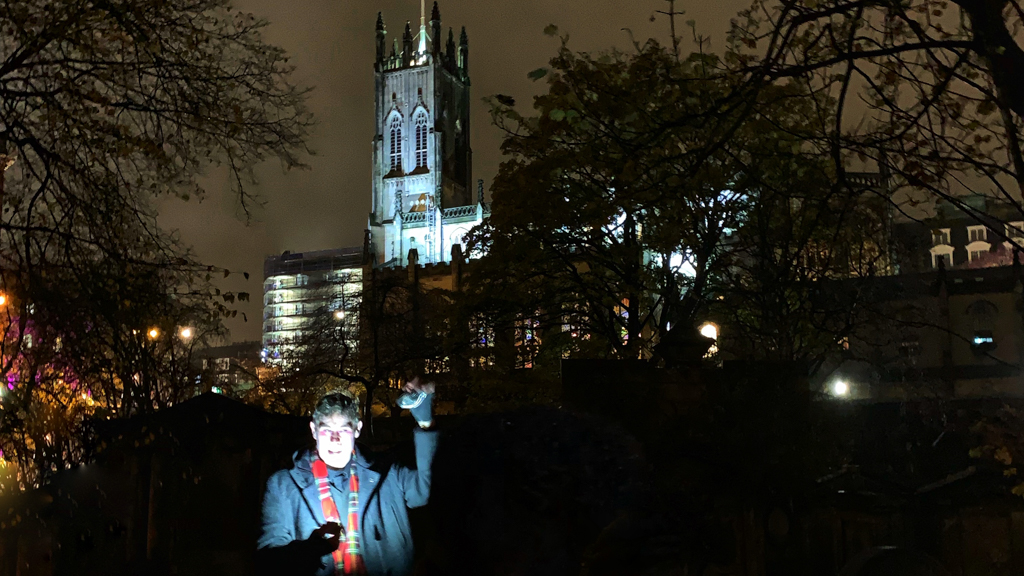 Day 2 
Breakfast
Breakfast in the Elephant House Cafe is a must-do activity for Potterheads everywhere. The cafe claims to be the birthplace of Harry Potter (a theory that the author herself has debunked). Nevertheless, she certainly did write parts of the early books here.
During the day, this place gets seriously busy and you will have to queue for a table, however, by visiting first thing, you'll get to avoid the crowds and also get to sample the delicious breakfast menu. 
It might sound weird but don't miss the opportunity to use the toilets here too, they have been decorated by Harry Potter fans all over the world! When the graffiti first started popping up, the staff tried to clean it off but they had to admit defeat as it just kept coming. These proclamations of love now reside as a tribute to J.K. and her magical creation.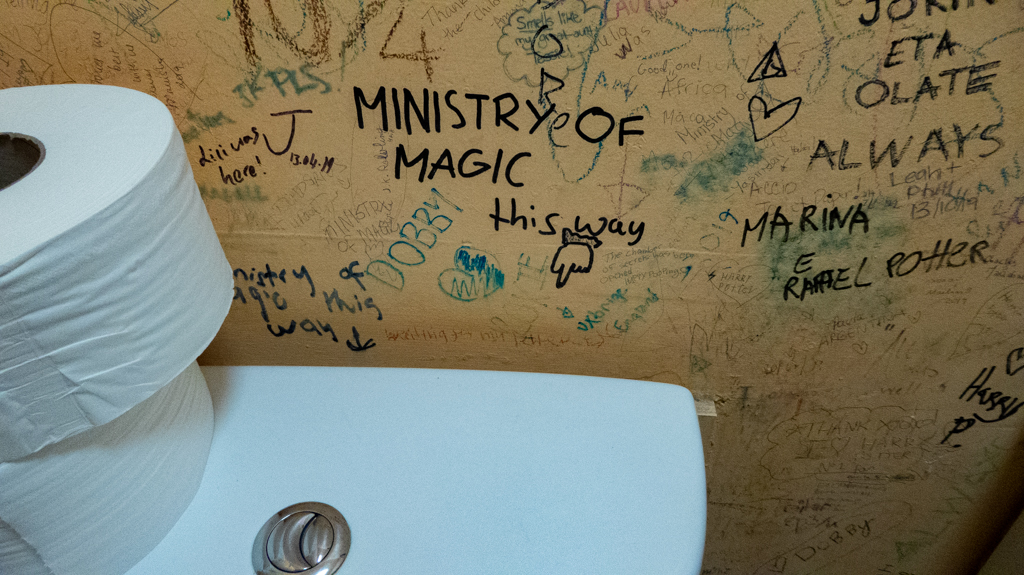 Princes Street
From the Elephant House Cafe, it is just a short walk up to Princes Street. The different sides of the street are a mirror of contrast. One side is lined with shops and the other is home to the manicured Princes Street Gardens and Scott Monument. Dedicated to Sir Walter Scott, this is one of the largest writer memorials anywhere in the world. 
Watch the buskers, taste a deep-fried mars bar (a Scottish rite of passage), or buy some traditional tartan (it comes in every form possible – from kilt to hat and everything in between!). 
Scottish National Gallery of Modern Art
Split into Modern One and Modern Two, The Scottish National Gallery of Modern Art is surrounded by landscaped parks filled with obscure yet fascinating sculptures. It's free admission and there's a lovely little cafe if you fancy a cup of tea.
Lunch
After all that gallery-wandering you'll be in need of lunch. Edinburgh has heaps of great places to eat, but our favourite? Michelin-starred The Kitchin, situated in Leith. 
Now we know what you will be thinking, that's out of our backpacker budget! But who can resist a three-course, Michelin-starred set lunch for just £36? It's a treat, but it's truly worth every penny (here's a sample menu to make your mouth water).
Royal Mile
After lunch, you'll likely be far too full to walk across the city so grab an Uber and head to the Royal Mile. From here, spend a while perusing the shops and exploring the tiny closes. The Royal Mile is also home to St. Giles' Cathedral which although not technically a cathedral (it doesn't have a bishop), is still well worth a visit.
Edinburgh Castle
We've saved the best till last! Trek up to the incredible Edinburgh Castle which was constructed in the 12th century. The castle is the focal point of the city, sitting atop a huge extinct volcano. 
Although many of the exhibitions here are dedicated to Scotland's military activity (the last monarch to stay here was King Charles I in 1633), this is also home to Scotland's Crown Jewels. Last entry into the castle is 5 pm in winter and 6 pm in summer.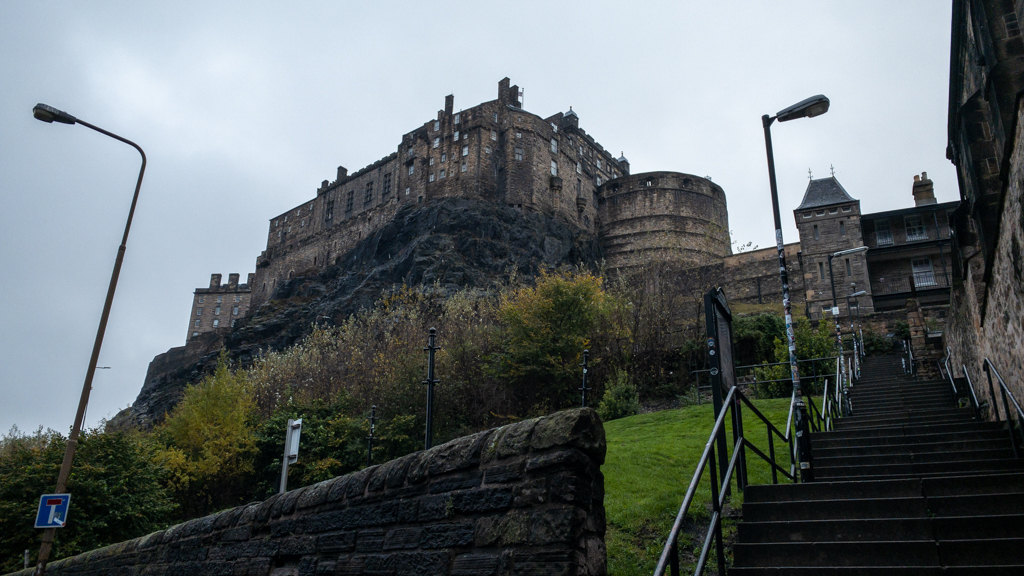 Scotch Whisky Experience
Depending on how much time you have left, head to the Scotch Whisky Experience for a tour. You'll be able to take a ride through the production of Scotch whisky, one of Europe's most iconic drinks, learn all about whisky aromas and get a whisky miniature to take home. There are a few different kinds of tour so if you want more, sign up for the gold or platinum for extras!
Camera Obscura and World of Illusions
Alternatively, if you don't want to drink this late in the day, swap the Scotch Whisky Experience for a visit to Camera Obscura and World of Illusions. Take in 360 views of Edinburgh, get stuck into the interactive exhibitions and puzzle over mind-bending illusions! 
Edinburgh 3 Day Itinerary: The Staycation
Great news for those of you spending three days in Edinburgh – you'll be able to check out all of the best attractions within the city! 
Day 1
Brunch
Grab a bite to eat at The World's End. They serve a variety of food, from main meals to nibbles. We definitely recommend trying the haggis fritters! Depending on the time in the morning (or just how hedonistic you are feeling), why not sample a couple of Scotland's finest whiskies too?
Royal Mile 
Explore Edinburgh's most famous street on foot. Take some time to peruse the shops, which sell everything from tiny highland coos to tartan and make sure you grab a Scottish tablet to keep your sugar levels up.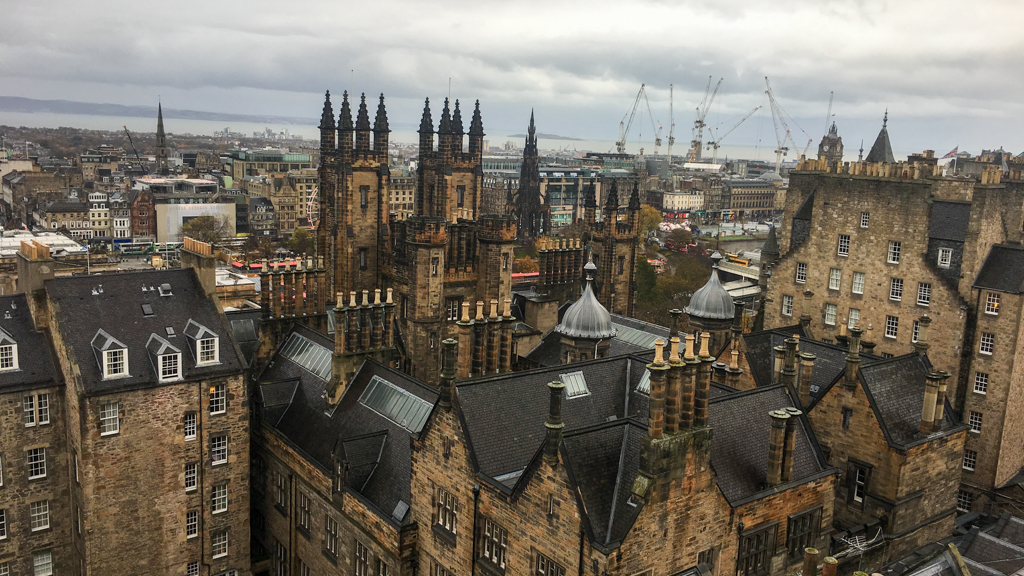 Edinburgh Castle
No trip to Scotland's capital is complete without a visit to Edinburgh Castle, perched on top of the epic Castle Rock, an extinct volcano. The walk up to the fortress can be exhausting but you'll forget all about it when looking out from the castle walls.
There are audio guides that you can rent which are a great way to put the buildings into context. Don't miss the opportunity to stare in awe at the Scottish Crown Jewels either… I wonder how many dorm nights they would buy you…
Scotch Whisky Experience
Whisky lovers will not want to miss the opportunity to get up close and personal to Scotland's greatest tipple. A tour at the Scotch Whisky Experience will teach you all about how scotch is made, as well as gifting you with your own miniature to take away. 
There are a variety of tours to suit all budgets so even the most cash-strapped backpackers should find something to suit here. 
Tip: if you just can't justify the cost of a tour, don't miss the free whisky tasting at Edinburgh Castle!
Lunch
Just a 2-minute walk from the Royal Mile is Gannet & Guga, local sandwich specialists. Whilst they serve the old British favourites here, there are also international options and you can even pick up a Vietnamese Banh Mi!
Mary King's Close
Explore the dark history of Edinburgh with a tour down one of the city's most famous alleyways (also known as a close). Mary King's Close is located just off of the Royal Mile and a tour promises a chilling insight into the Bubonic Plague years as well as a peek into what life was like for the Scots at this time. 
Tickets cost £17.95 per person and tours last around an hour. In the peak season, tours sell out quickly so it is worth booking in advance. 
Edinburgh Vaults
Explore the underground caverns of Edinburgh and learn about the destitute people that lived and worked there. Ran by Mercat Tours, these trips take you down under the city streets and into the darkness. 
Built in the 18th century, the Blair Street Vaults were used for a whole manner of legitimate and not-so-legitimate pursuits…
For those of you who want to be seriously scared, Mercat also runs ghost tours to the vaults at night, as well as Halloween events.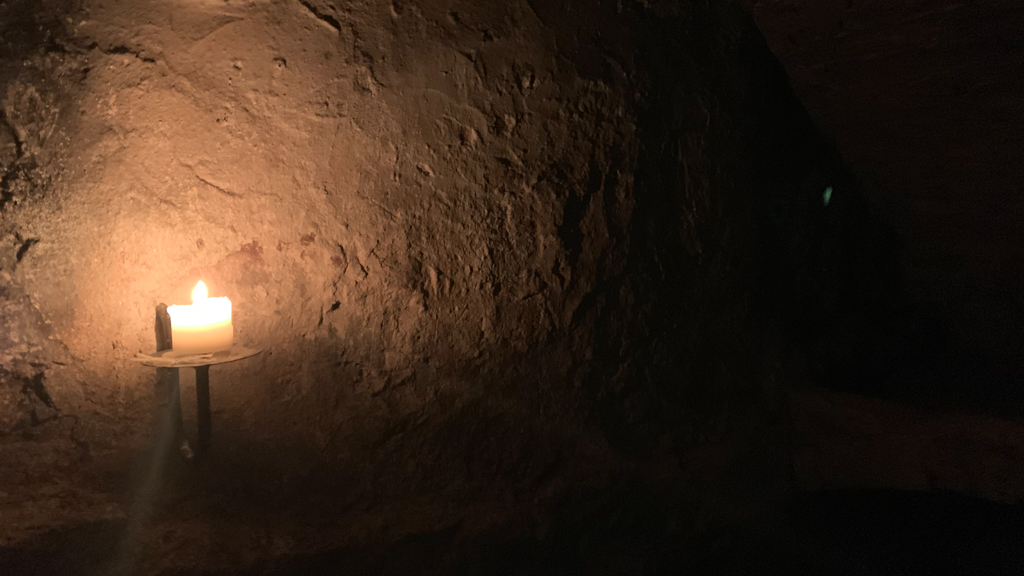 Dinner 
Head to one of Edinburgh's most haunted pubs, The Last Drop Tavern for your evening meal. Named in reference to the final hanging to take place in the Grassmarket, the Last Drop also has a fittingly scary resident ghost. 
Legend has it that the pub is haunted by a little girl who once lived in the tenements before they were transformed into the pub. Staff say she can still be seen today in the cellar and around the bar.
Edinburgh Ghost Bus Tour
Continuing along the spooky theme, the evening's entertainment will take place onboard the Edinburgh Ghost Bus! Unveiling a rather more sinister (and humorous) side of the city that you will have yet to experience, this bus tour is a great way to get acquainted with the ghouls and ghosts that wander the streets of Edinburgh.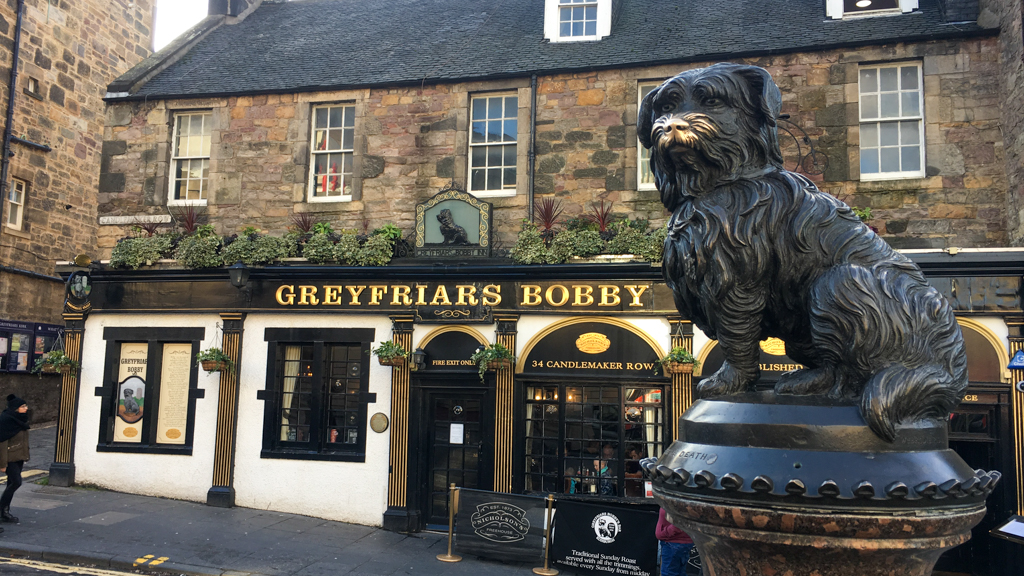 Day 2
Arthur's Seat
If you can bear the thought of getting up early, beat the crowds and head up to Arthur's Seat. The early morning start means you can even treat yourself to the luxury of a shower when you head back into the city – you'll probably need it!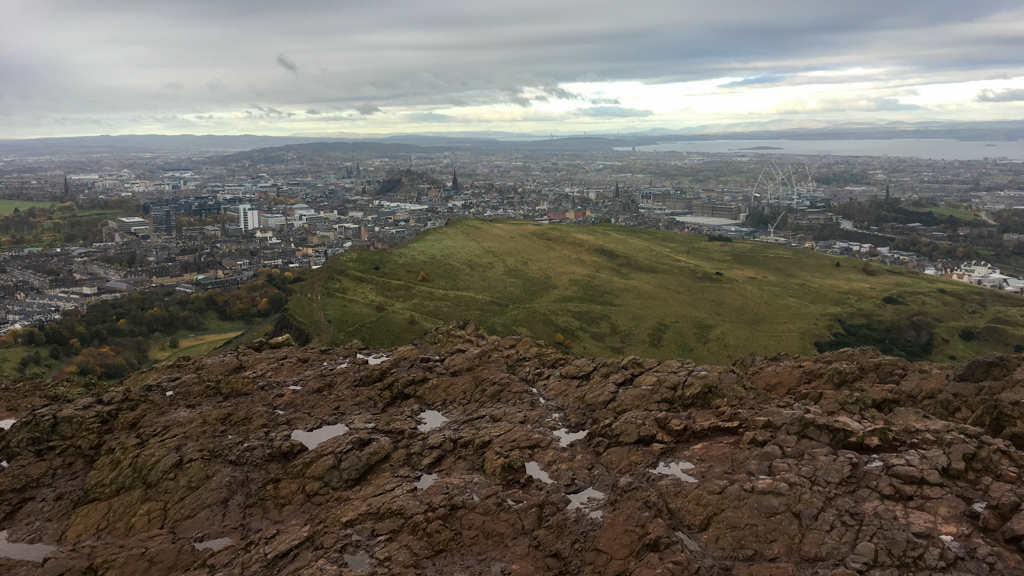 Brunch
The Southern Cross Cafe is nestled in the heart of the Old Town and serves a variety of brunches which are guaranteed to make all that hiking worthwhile! We recommend chowing down on a big Scottish breakfast, complete with both black pudding and haggis! 
Camera Obscura and World of Illusions
This visual effects museum is a great stop for anyone who loves their mind being challenged. The building is home to a variety of illusions and mind trickery but the greatest of these is the Camera Obscura itself. 
This device, also referred to as a pinhole image, uses daylight and mirrors to project an image of the surroundings. As a result, you can see the streets of Edinburgh live and up close. This is the technology that first showed moving images to the Victorians. 
Harry Potter Tour
Spend the next couple of hours following in the literary footprints of J.K. Rowling. Edinburgh has many magical links to Harry Potter and these can be revealed by exploring the streets of the capital with a knowledgeable (and somewhat nerdy) guide.
You can book a private tour or jump on one of the free donation-based ones such as Pottertrail. When you are finished, make sure you have a wander down the wonderful Victoria Street. There are some really quirky shops down here and the bright storefronts make this the most Instagrammable spot in the whole city!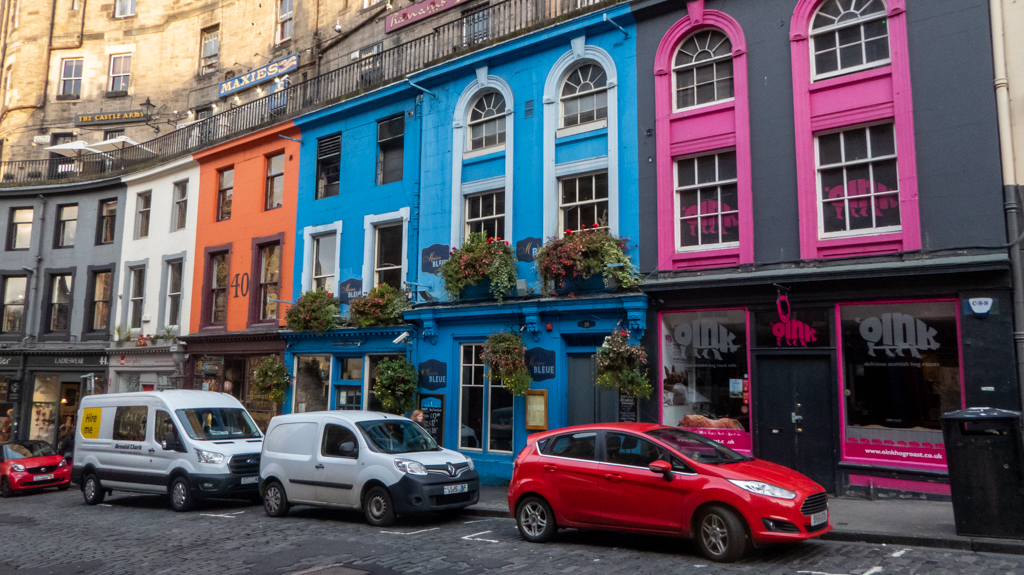 Lunch
Head to nearby Howie's Restaurant for lunch. There are two branches in Edinburgh, one down Victoria Street and one located at Waterloo Place. Although the Victoria Street branch is more convenient, if you are cash strapped, head to Waterloo Place, a 5-minute walk away. The price for two courses is around £3 more expensive in Victoria Street. 
Scott Monument
Paying homage to writer Walter Scott, this huge monument is one of Edinburgh's most recognisable landmarks. It is possible to ascend the 287 steps to the top although be warned, this is exhausting! Don't be disheartened though, the views from the top are incredible. 
Surgeons' Halls
In our opinion, this hidden gem is the best museum in Edinburgh. Headquarters of the Royal College of Surgeons of Edinburgh and home to the death mask of the infamous grave robber, William Burke, you'll be amazed by the weird things you can see here. 
Not one for the squeamish, the museum has a massive collection of human remains in chloroform as well as other specimens. A little disturbing maybe but undeniably fascinating! 
Dinner 
For a cheap dinner, grab a serving of Britain's famous fish and chips. If you've enjoyed these in the past, you might be familiar with being asked whether you want salt and vinegar but this is not the case in Edinburgh. Instead, they will ask, 'do you want sauce?' This chippie sauce is unique to the city and made from onion, sultanas, spices and other fruits.
Panda & Sons
Who doesn't like a secret bar? Prohibition themed, this vintage speakeasy is hidden behind a bookcase in an unsuspecting barbers shop. The drinks might be a little on the pricey side but it is well worth splashing out just for the experience!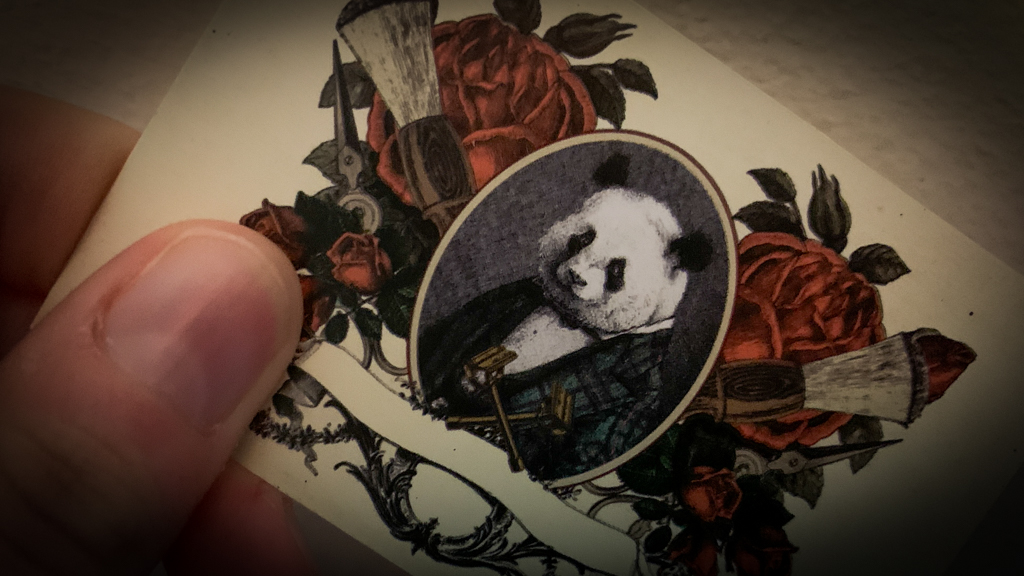 Day 3
Brunch
Depending on how many bevvies you end up drinking at Panda & Sons, it could be a late night. With this in mind, you're likely to need a hearty brunch to re-energise yourself! Loudons at Fountainbridge is a great option, serving a variety of breakfasts. No matter whether you're in dire need of something fried or would prefer a lighter option, there is something for you here. 
Dean Village
Once a settlement in its own right, Dean Village was swallowed up by the ever-expanding Edinburgh. Now, this picturesque village sits in direct contrast with the rest of the city, nestled alongside the Leith River. 
Although there isn't too much to actually do in Dean Village, the postcard scenery holds many a visitor captivated and it is easy to lose hours wandering around the quaint streets. Truly a throwback to a bygone era, this village is perfect if you are looking for a taste of rural Britain and don't have the time to explore it.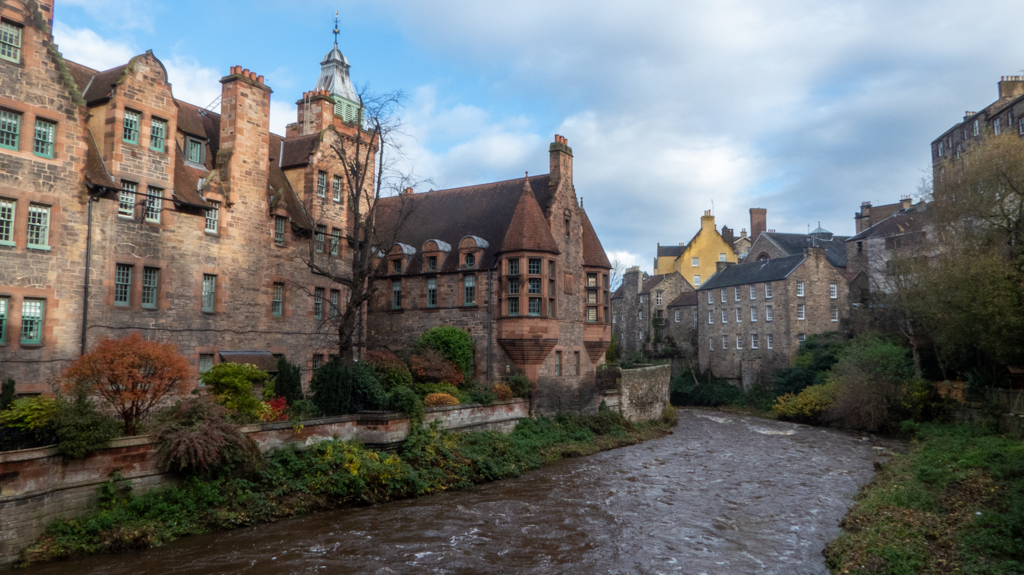 Royal Botanic Gardens & Lunch
From Dean Village, it takes around 20 minutes to walk to the Royal Botanic Garden. This green space is one of Europe's oldest botanic gardens and was established in 1670. The gardens span a whopping 70 acres which mean that you can easily while away the time there. 
If the weather is nice (and bring an umbrella just in case!), it is worth making up a packed lunch and enjoying a picnic on the grounds. This is sure to help if you're travelling around Europe on a budget!
Calton Hill
After lunch, make your way to Calton Hill for some final dreamy views of the city. Thankfully, this hike is nowhere near as hard as the one up to Arthur's Seat but the vistas make the journey just as worthwhile. 
Located at the top is the National Monument which was designed to commemorate the Scottish servicemen who fell in the Napoleonic Wars. The design was inspired by the Parthenon in Athens but it was never finished, leaving just 12 columns. Despite attempts to generate interest in completing the monument, these endeavours never gained much steam.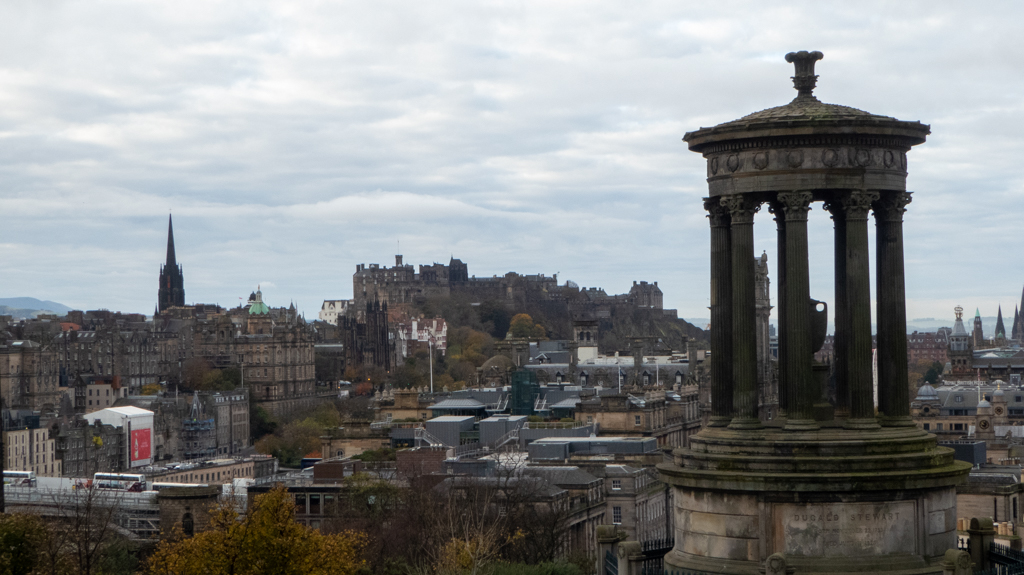 How to get to Edinburgh
As the capital city of Scotland, Edinburgh is well served by public transport. There is an airport which hosts both domestic and international flights. 
Trains run to and from many of the major cities across the UK, including Manchester, Glasgow and London.
Edinburgh is also served by many of the budget bus travel companies including Megabus, Citylink and National Express. 
Getting Around Edinburgh
The best (and cheapest) way to get around Edinburgh is to walk. The city isn't that big and most of the main sights are within walking distance. If you have a heavy backpack with you or can't be bothered with the hills, Uber is readily available. 
Trams run from the airport right into the east end of the city centre. You can buy a ticket for the tram at one of the vending machines or by using the Transport for Edinburgh mobile app.
Public buses are also a cheap and convenient way to get around the city. There is an extensive bus network that services all of the main attractions. Just hop on and buy your ticket from the driver window.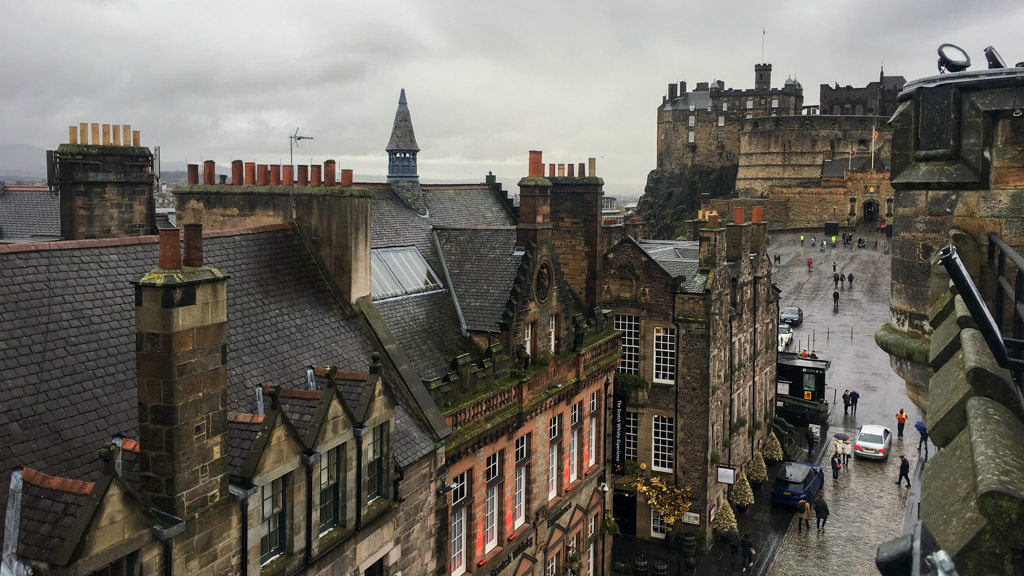 Where to Stay in Edinburgh
Even backpackers need their privacy from time to time, right? CODE Pod Hostel has got you covered with their pod dorms which make you feel like you are staying in your own room. With LED mood lights, USB sockets and reading lamps, you couldn't want for anything more! Chic private rooms are also available for a reasonable price, making this a great option for couples. 
Castle Rock Hostel – Our Pick! 
Located opposite Edinburgh Castle, you'd be hard-pressed to find a better location for a hostel than Castle Rock. This award-winning hostel is big and sociable, with plenty of common areas and spacious dorm rooms. If you're a solo traveller looking to make friends, look no further than Castle Rock.
Part of the well known Macbackpackers chain, this cosy hostel is located right on the Royal Mile. As well as offering budget-friendly dorm rooms, Royal Mile Backpackers also runs free walking tours of the city and hosts pub crawls every Thursday night! There is a communal kitchen for cooking and a continental breakfast is also available for an extra cost. 
What spots would you add to our three Edinburgh itineraries? Let us know in the comments!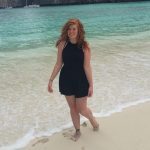 Sheree is the awkward British wanderluster behind wingingtheworld.com, a travel blog designed to show that even the most useless of us can travel. Follow Sheree's adventures as she blunders around the globe, falling into squat toilets, getting into cars with machete men and running away from angry peacocks.