Portugal's second city, Porto, has experienced a tourism boom in recent years. Having recently made tracks to the city myself, I can understand why it's become one of Europe's hottest destinations. From eye-catching architecture and ancient cobbled streets to hip bars and cafés, the city is fascinating to explore.
Situated on a hill next to the Douro River, Porto has a distinctively gritty vibe which somehow adds to its appeal, a legacy from its days as a working port. However, nowadays, it brims with enticing restaurants, cool hostels and vibrant nightlife. Home to port wine, Porto is awash with wine bars and cellars where you can sample the city's most famous export.
Another great thing about Porto is that although some streets are steep, if you are moderately fit, the compact city is easy to get around on foot. I didn't take a single taxi, bus or train the whole time I was in Porto. Sometimes just getting around a city can cost a small fortune, but Porto is a real boon for backpackers who can hit the streets and don't have to fork out for public transport.   
---
Porto Map & Resources
Language: Portuguese 
Currency: Euro
Population: 291,000
Perfect for: Foodies, culture vultures, art enthusiasts
---
Best Time to Visit Porto
Porto can be visited year-round, but there are pros and cons to all seasons. 
High season is between June and September. These months bring hot weather and oodles of sunshine. Consequently, it's a great time to hit the nearby beaches. June is also festival time and is when one of Europe's most famous festivals, St John of Porto, takes place. 
The fiesta blends sacred traditions with fun, fireworks and food and the city is festooned with colourful decorations. It's a wonderful time to be in Porto, spirits are high, and a good time is had by all. The downside of visiting Porto in summer is that everywhere is crowded and prices are higher.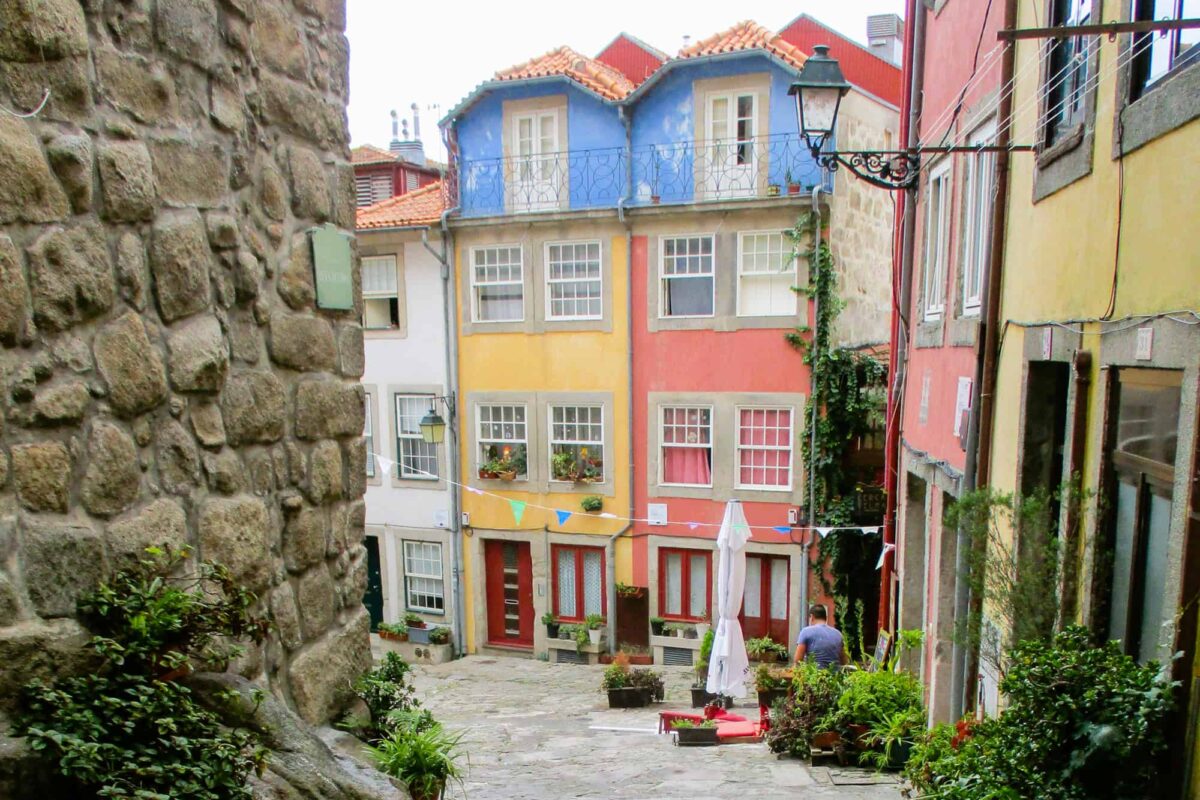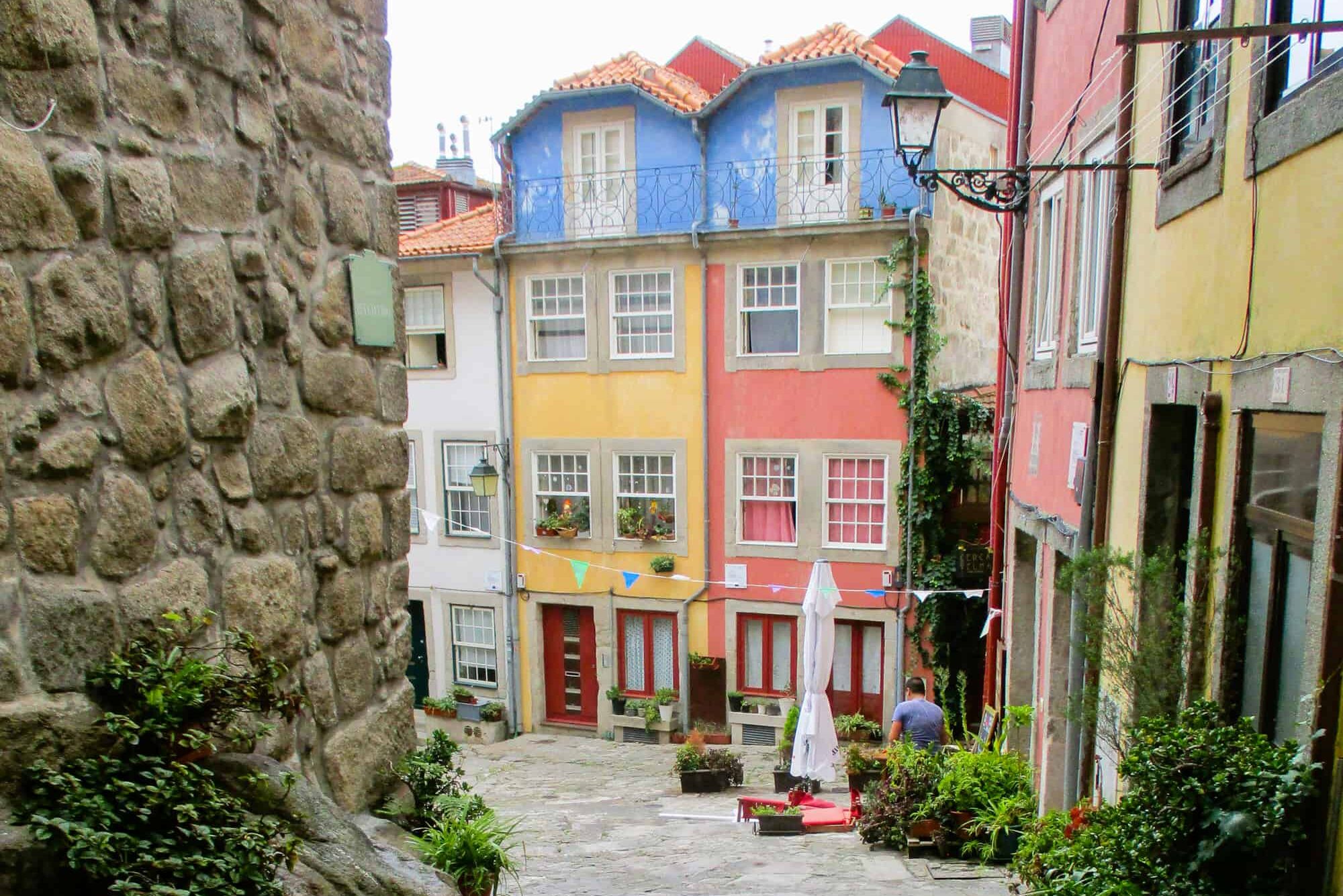 Shoulder season falls between March and May and in October. During these months, although it is generally pleasantly warm, the weather can be unpredictable and it rains occasionally. It's not unheard of for temperatures to rise and fall quite dramatically. The bonus of visiting during this time is that you won't have to queue at museums and the city's attractions will be relatively crowd-free. 
Low season, between November and February, brings chilly weather and rain showers. The good news is that it doesn't rain constantly and there is plenty of dry weather between showers. It is, of course, the cheapest time of the year to visit, with January and February particularly, offering rock-bottom prices for accommodation. Porto is already one of the cheapest European cities, so a visit in low season is perfect for penny-pinching travellers!
Crowds are almost non-existent and you won't have to queue, so it's a good time to check out the numerous museums and cosy up in a cute café or bar. It's also an excellent time to see the city at its most authentic. With the majority of tourists gone, local life re-emerges.  
---
Neighbourhoods to Stay in Porto
Baixa
The area of Baixa is situated in the heart of the city and is the best choice for backpackers. I stayed on Rua das Olveiras and loved its laidback vibe, colourful cafés and bars. The atmosphere at night is lively and revellers spill out onto the streets from the bars. The neighbourhood also brims with museums, churches and interesting shops. 
There are no shortage of small traditional restaurants where you can take advantage of bargain daily specials and sample the local cuisine. You can walk from Baixa to pretty much anywhere in the city easily and the area is well-connected if you want to venture further afield.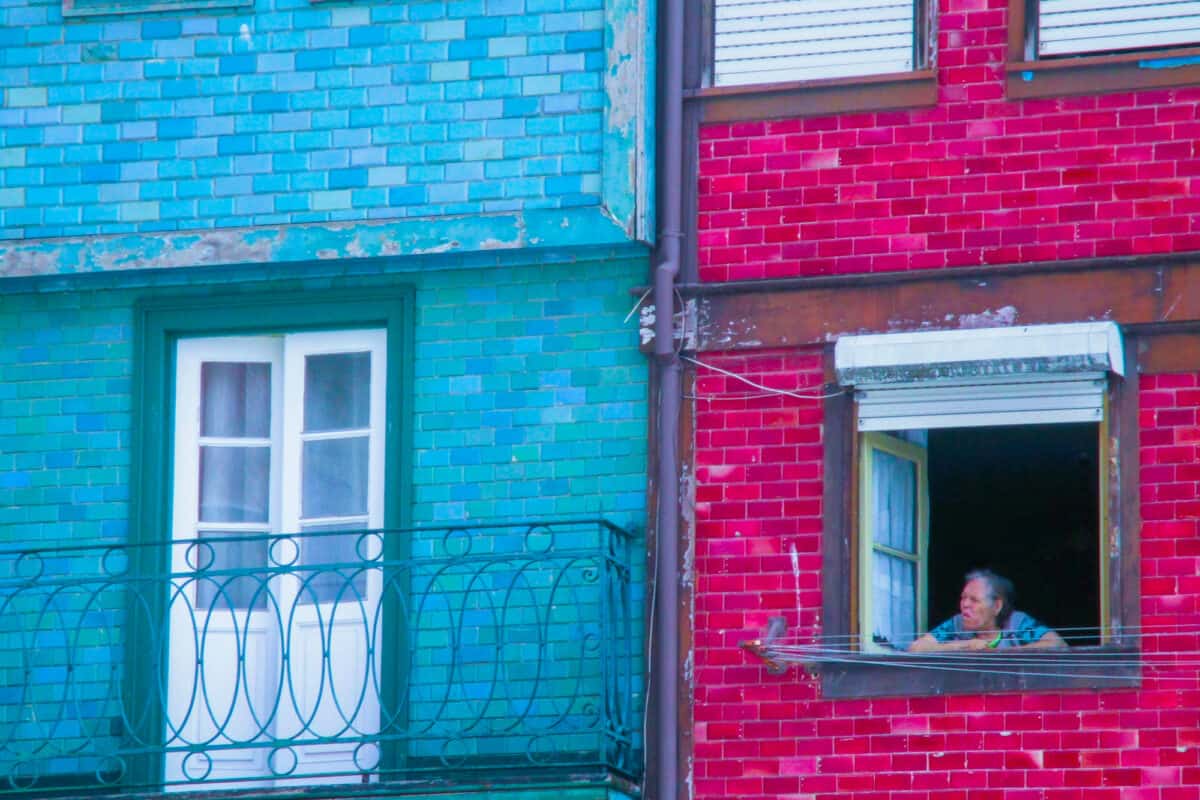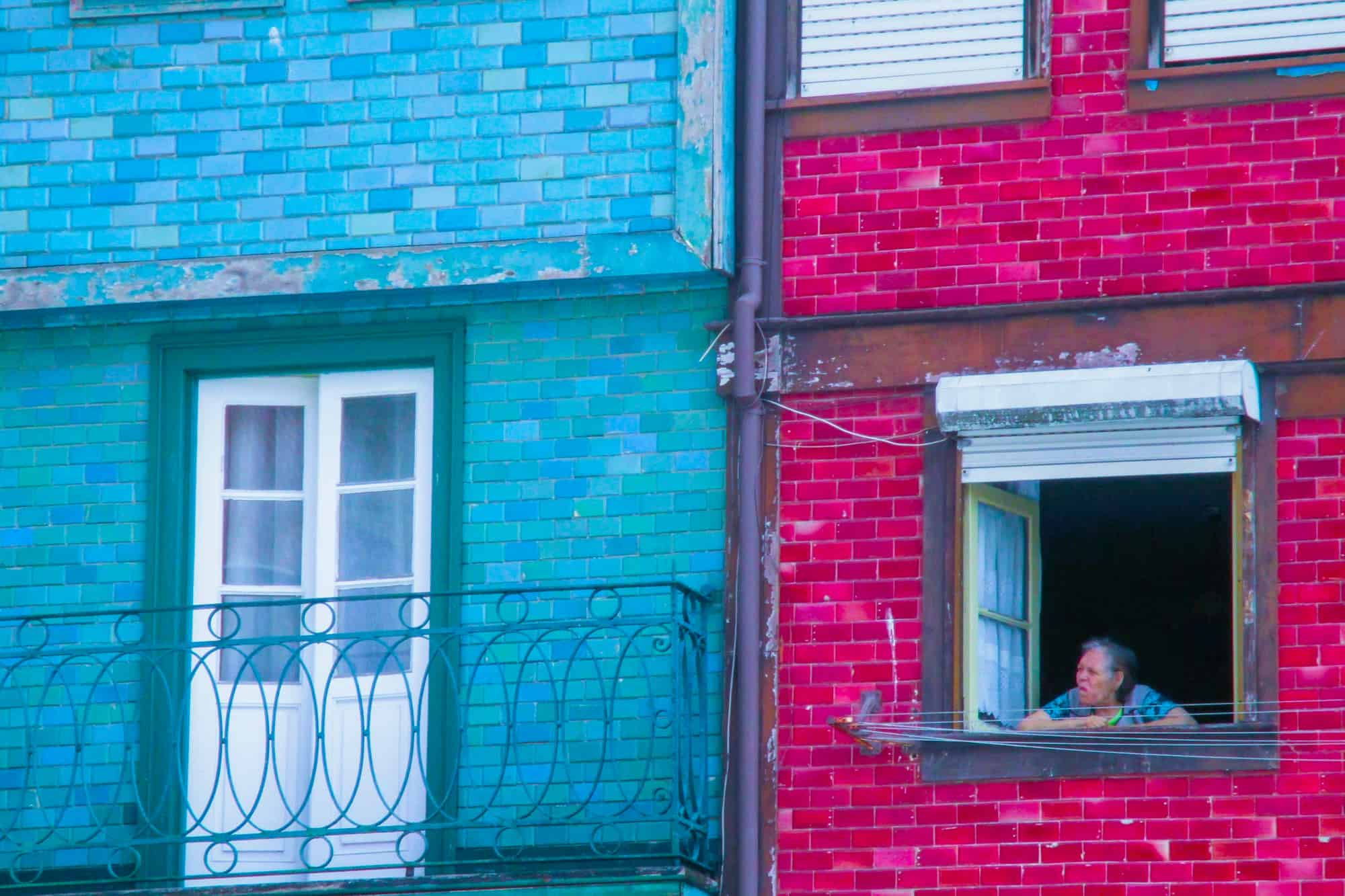 Cedofeita
Cedofeita is a bohemian area which is an ideal base for art lovers. The main drag of Rua Miguel de Bombarda is lined with galleries and the surrounding streets are full of enticing indie stores. It's a great spot to seek out street art which can be found in hidden nooks and crannies. There are plenty of hipster cafés and cool bars to dip into. It's also away from the hustle and bustle of Baixa and The Ribeira, so you can be assured a good night's sleep.
Ribeira
Ribeira, which is located next to the river, is the most photographed area of Porto and in the summer months, it's crammed with tourists. It's a captivating area full of crooked, cobbled streets and brightly coloured buildings. Restaurants with al fresco seating sprawl out onto the promenade.
It is from here that you can hop on a boat and take in Porto's major sights from the river. The boats follow the ancient trade route used by port merchants back in the day. Because of its popularity, the Ribeira is the most expensive place to stay and eat, although there are a few hostels scattered throughout the area.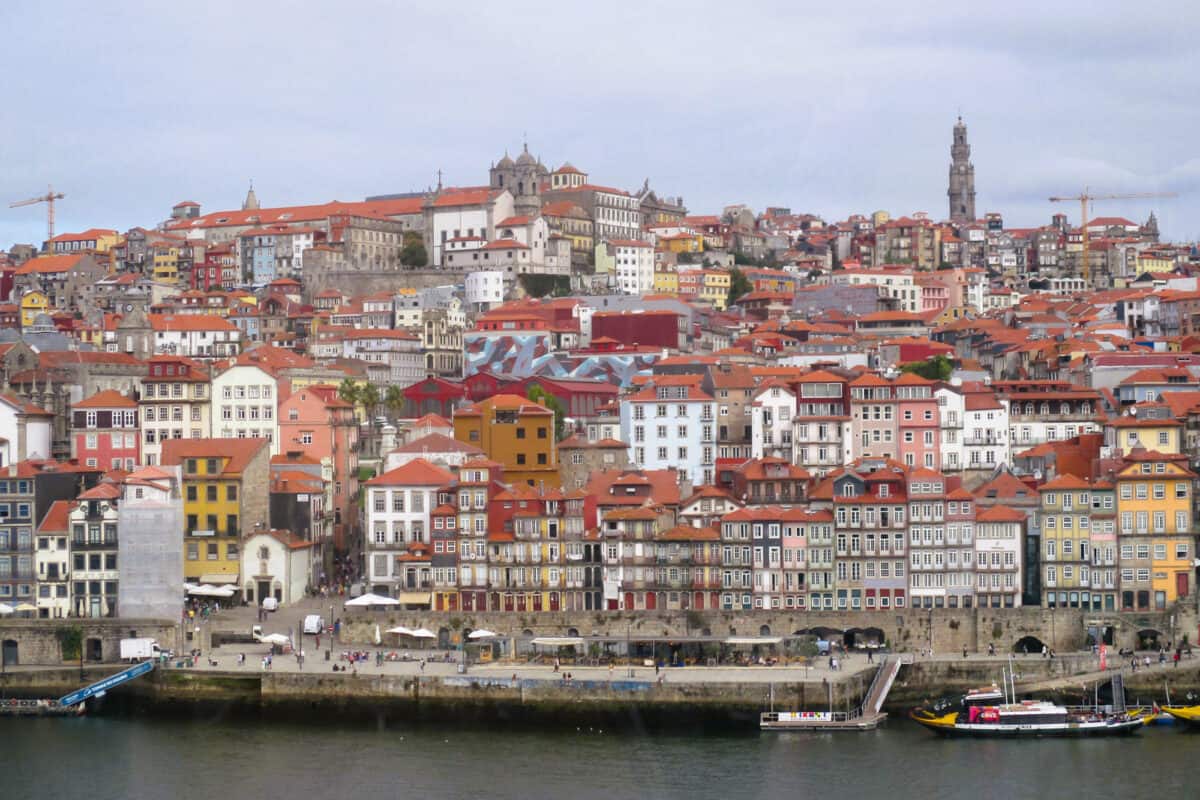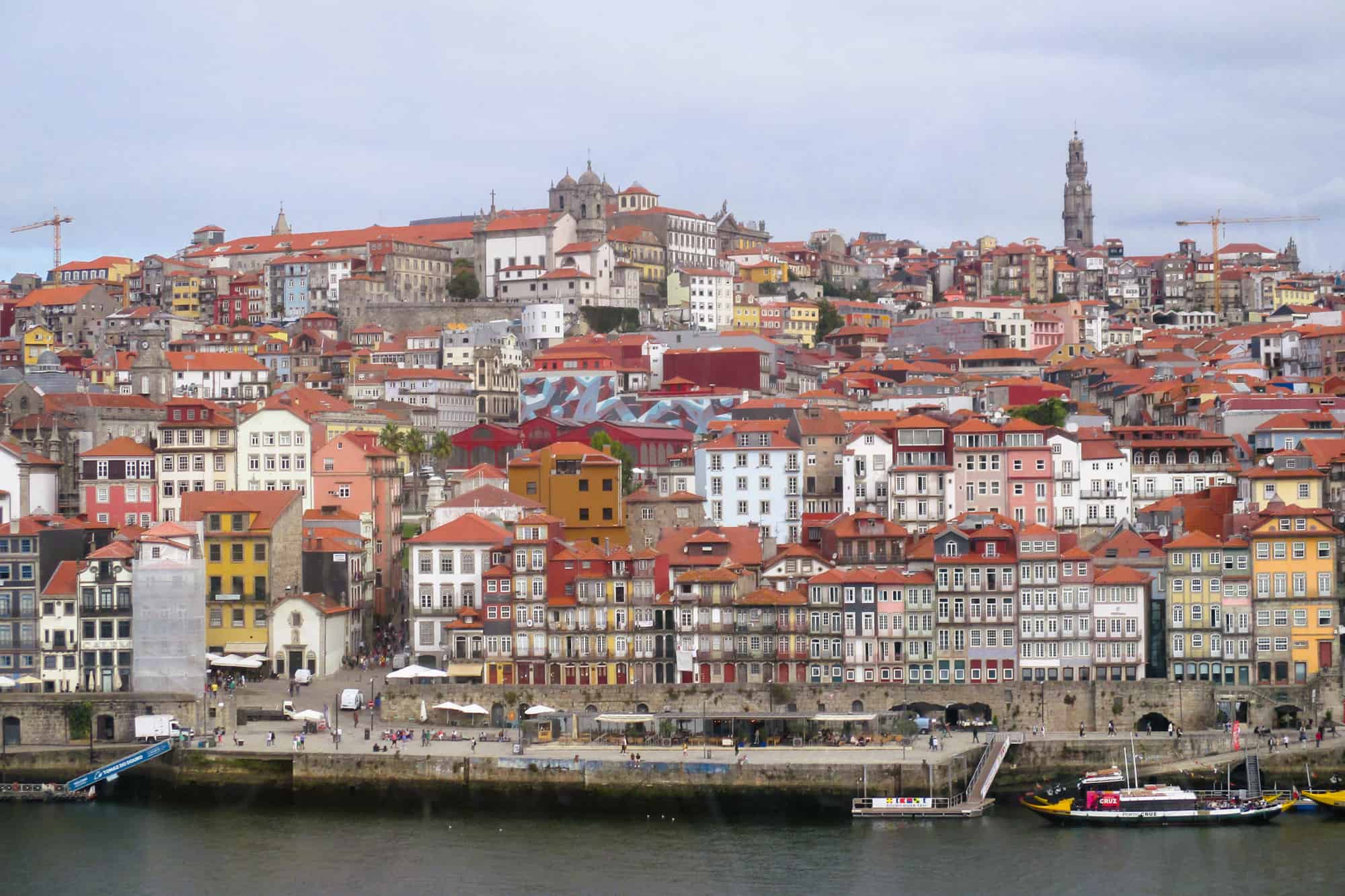 ---
3 Amazing Hostels in Porto
Disclosure: Some links on this page are affiliate links. We always write our articles before checking if affiliate links are available.
We stayed at this hostel which is set around a spacious outside bar/restaurant. On our first evening, we received a welcome drink, which was a great way to meet other travellers. Most nights of the week there was live music and the food at the restaurant was delicious. 
Each morning a yoga session takes place – an ideal way to stay in tip-top shape while travelling!  A co-working space is available for digital nomads and there's a kitchen for guests who want to conjure up tasty dishes of their own. Guests can choose a dorm or private room and the facilities are clean and comfortable. 
This art-inspired hostel receives consistently good reviews and is appropriately located in Porto's art district. Only a short walk from the city centre, the stylish hostel is housed in a restored 19th century building and is a blend of traditional and contemporary in design. Original artwork adorns the walls.
 There's a winter garden and a summer terrace, and the restaurant serves Portuguese dishes at reasonable prices. Don't forget to check out the cocktail menu which is full of temptations. You can stay in a private room or dorm and computers and board games are available.  Staff can also arrange free city walking tours of the city. 
Situated in the historic heart of the city, this old six-floor building has been modernised but retains many of its original features. The hostel was the vision of two brothers who still manage it and have created a home away from home for travellers. 
Both dorm and private rooms are offered and many of the rooms have views over the city rooftops. There is a shared kitchen and TV room and the hostel has a cosy vibe. It's a definite winner according to travellers who have stayed there – many say they wouldn't stay anywhere else.  
---
15 Things to Do in Porto
One of the most appealing things to do in Porto is simply to wander the streets and stumble across the city's hidden treasures. From colourful street art to intricate Portuguese tiling (ajulejos) or charming hole-in-the-wall restaurants, there is a surprise around each corner.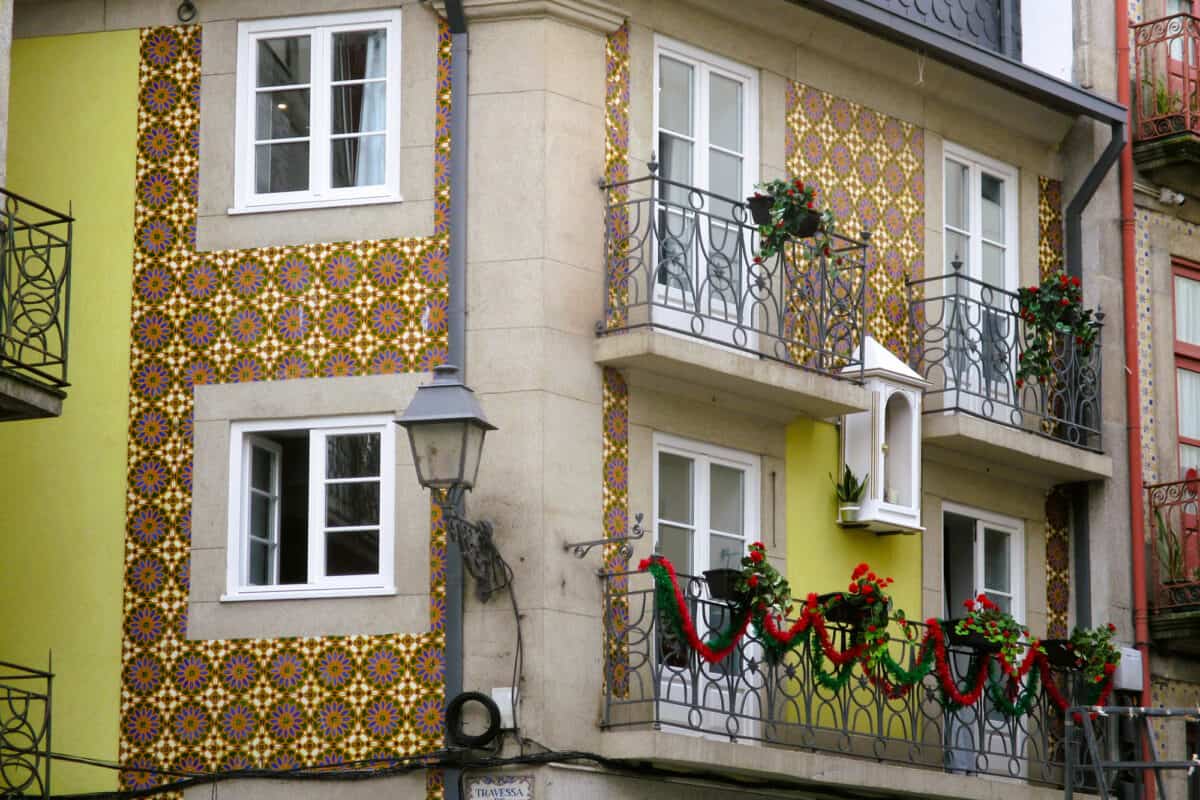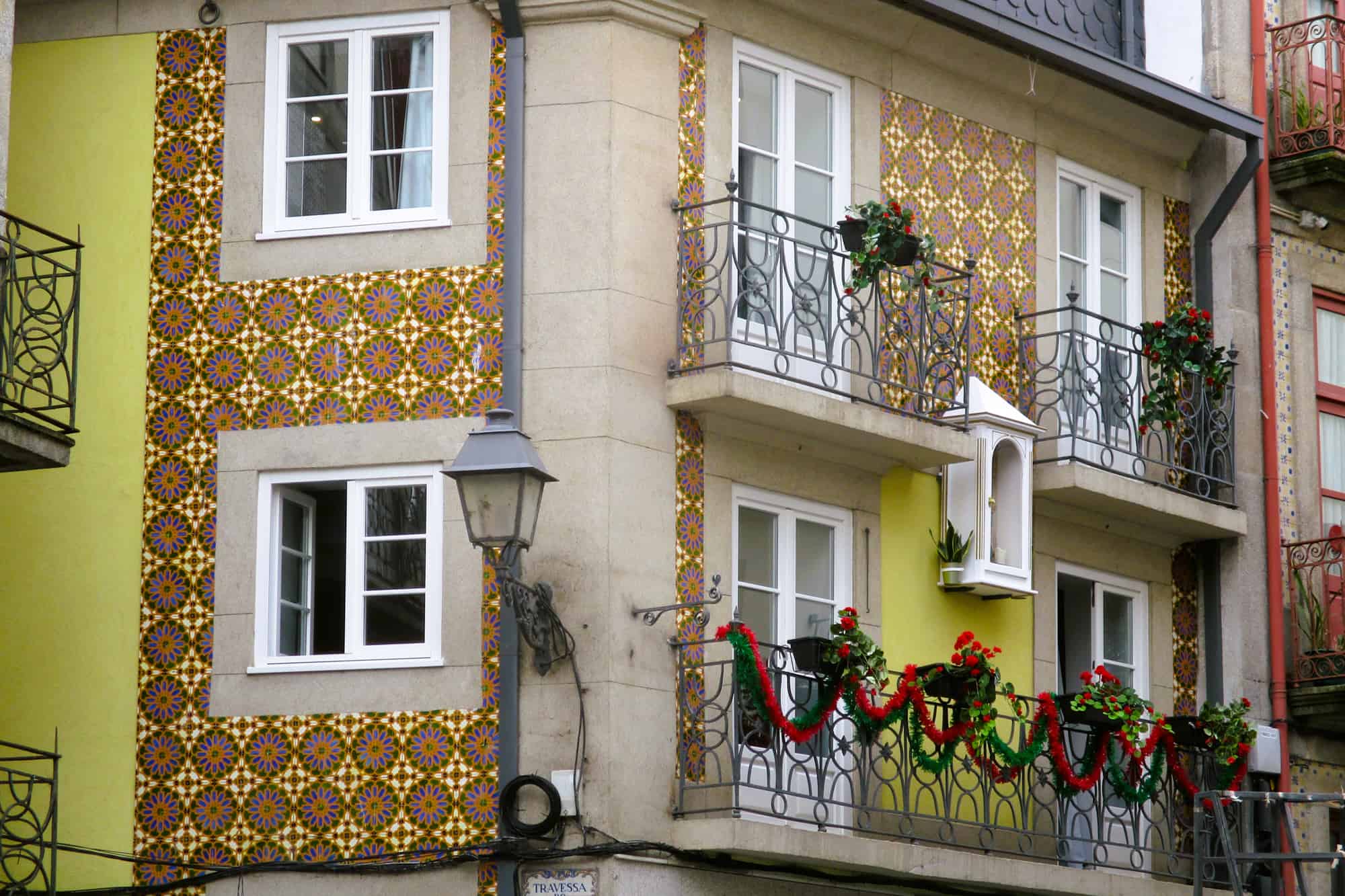 1. Stroll Across Dom Luis I Bridge
Take a short stroll across the Dom Luis I Bridge to the other side of the Douro River for a spectacular view of Ribeira. Although many tourists take a ride on the cable car, it's expensive and really not worth it as the views are superb anyway, especially if you climb the hill.
2. Check Out the Street Art
While you're on the other side of the river, don't forget to check out one of Porto's most well-known pieces of street art – the Half Rabbit. This incredible piece of art is situated along Guilherme Gomes Fernandes, just one block back from the river. 
It was created by Bordallo II using garbage and discarded objects and emphasizes consumerism, waste and how it can negatively affect wildlife. Street art can be found all over the city and Rua Miguel del Bombarda, Rua de Madeira and Rua das Flores are particular hotspots.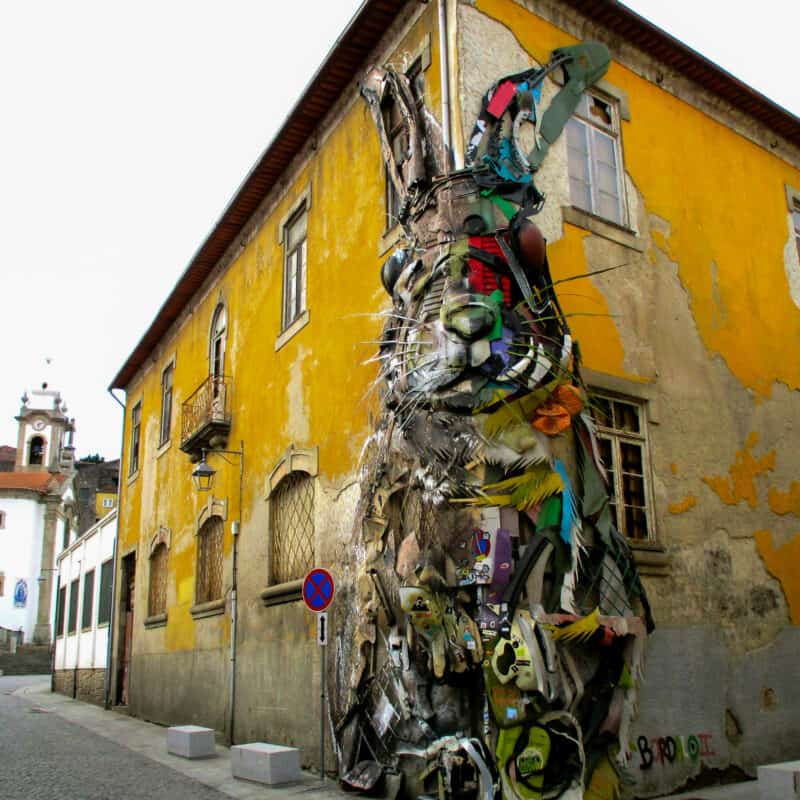 3. Buy a Book at Livraria Lello
Livraria Lello is widely believed to be one of the world's most beautiful bookshops in the world and is known for being the inspiration for the Hogwarts Library in the Harry Potter book series.
As it transpired, J.K. Rowling never visited the bookstore, although she taught English in Porto in the early nineties. This fact hasn't stopped long queues of people from forming outside the shop every day. 
With its Neo-Gothic cum Art Nouveau style, stained-glass skylight and impressive red staircase, the bookstore is worthy of a visit in its own right. There is a nominal entrance fee, but if you buy a book, the amount is deducted from your purchase. A word of warning – Livraria Lello's is one of the most popular tourist spots in the city and it gets very crowded, especially during the summer.
4. Visit the Tram Museum
Even today, trams are an iconic symbol of Porto and can still be seen on the streets of the city. This ex-powerplant is home to a large collection of historic trams which have been restored and once trundled up and down the streets of Porto. It's not for everyone and the entrance fee is a little steep, but transport enthusiasts will love it.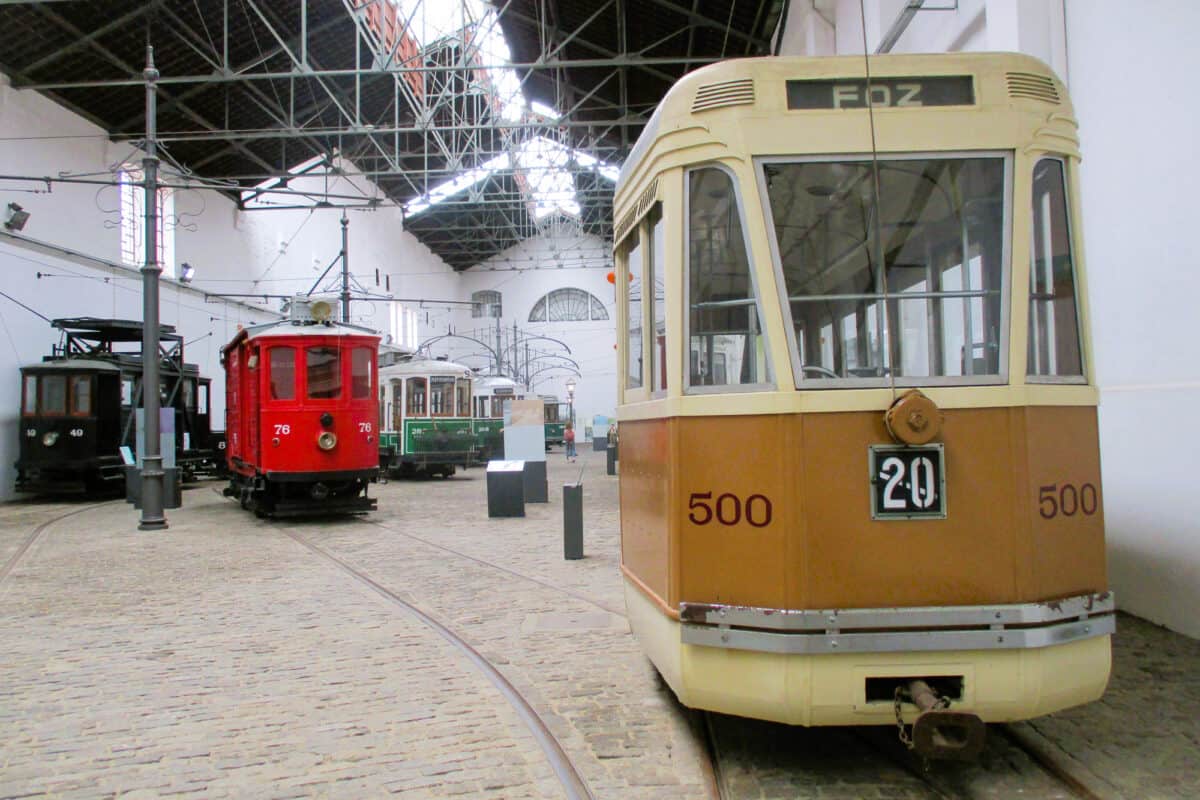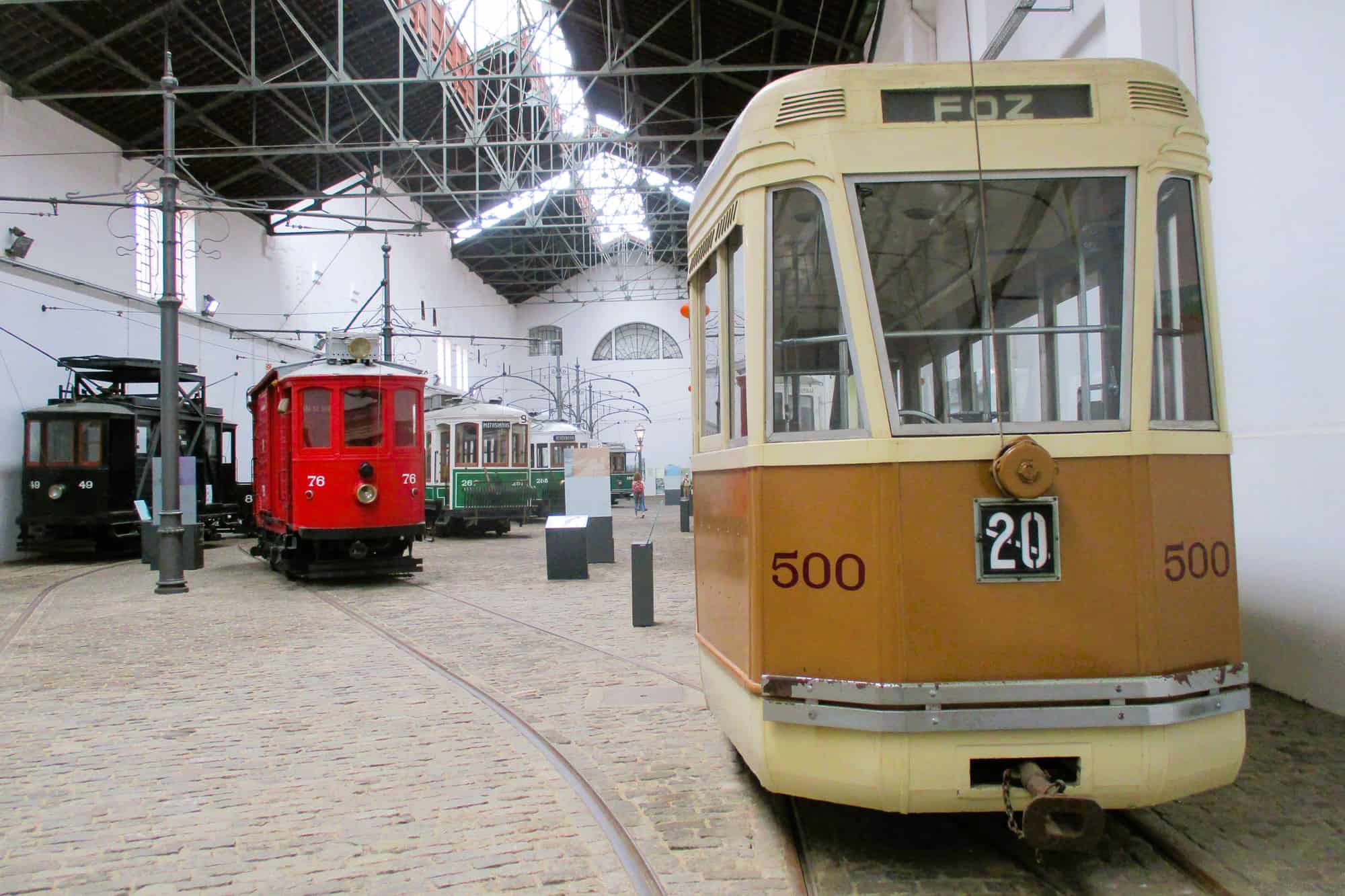 5. Explore Serralves Museum of Contemporary Art
Located a few kilometres outside the city centre and set in a beautiful park, this grand art deco house has an excellent range of contemporary art stretching from the sixties to the present. It's a great place to escape from the city for a day and regular buses leave from Porto's centre. The park is home to an array of sculptures and a treetop walk passes over the grounds.  
For more must-visit museums in Europe, check out this post!
6. Splash Out at the Majestic Café
It might not be backpacker territory, but if you are in the mood to splash out and experience a taste of 1920s Porto, you can't beat a visit to the Majestic Café. Previously the haunt of Portuguese high society, the sophisticated Café Majestic transports you back to another era with its dazzling chandeliers, magnificent Nouveau interior and nattily dressed waiting staff. Pop in for afternoon tea and soak up the ambience.
7. Get Retro at the Photography Museum
This imposing museum is a former prison and courthouse and dates back to the 18th century. It has a permanent collection of photographs and also hosts temporary exhibits. In addition to photographs, there are a wide variety of cameras on display, including miniature spy cameras and a camera disguised as a Pepsi can. There are excellent views from the barred windows on the upper floors and the biggest perk of all is that entrance is free.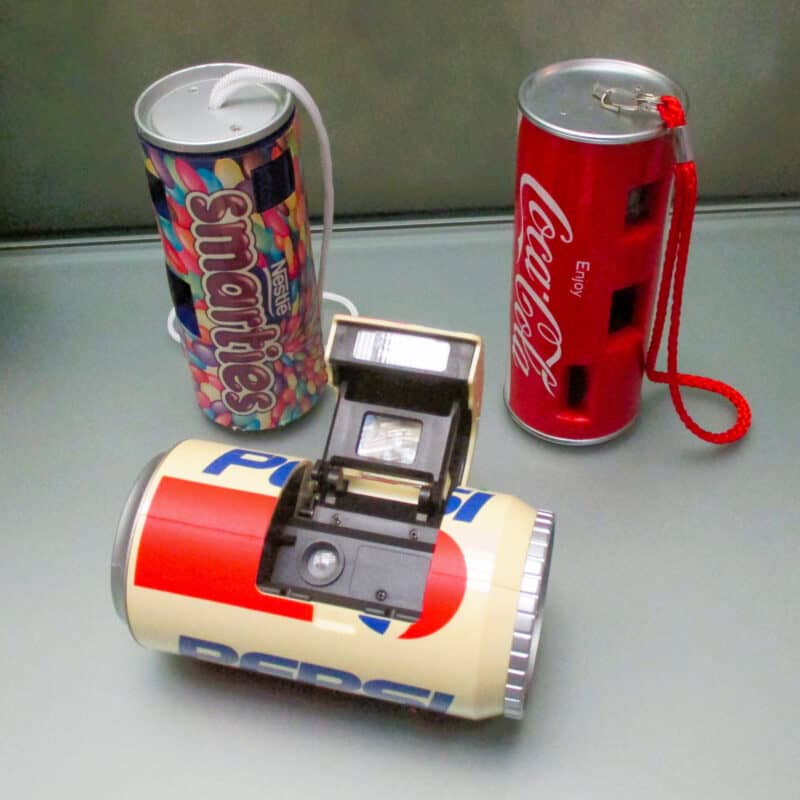 8. Visit the Museum of the Holocaust 
It may be small, but this well-presented contemporary museum does an impressive task of recounting the horrors of the Holocaust. There are an array of exhibits including photographs and films, as well as a moving reproduction of an Auschwitz dormitory and a remembrance room for reflection.  
9. Attend a Fado Concert
With its roots in nostalgia and poverty, the melancholic sound of Fado music can often be heard emanating from bars across the city. There are a variety of ways to experience Portugal's iconic music and it's possible to get good deals on packages which include a port wine tour or dinner. 
I went to Ideal Clube de Fado where two performances a night take place. I particularly enjoyed the fact that the musicians explained a little about the background and history of Fado. The performance lasted about an hour, the musicians were superb and the entrance fee included a glass of port wine.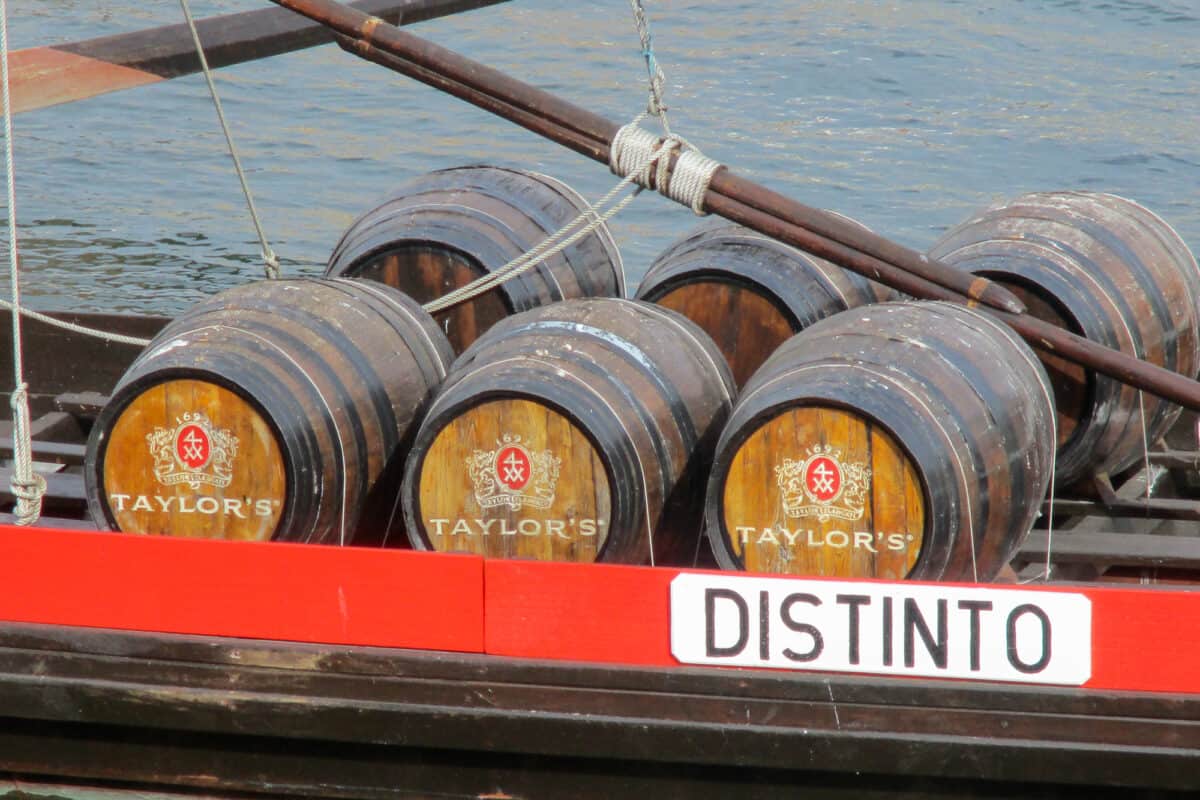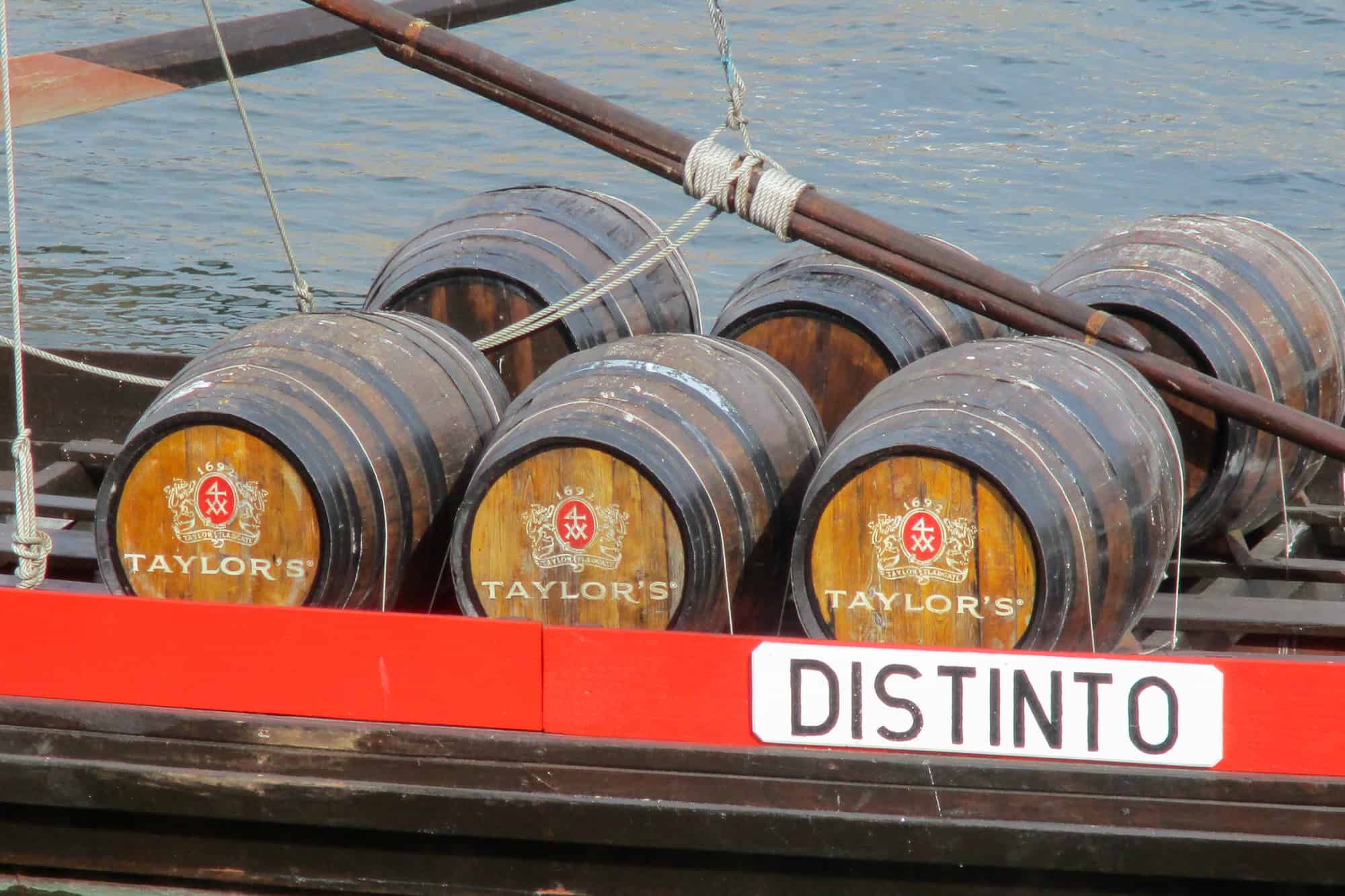 10. Go Football Mad at FC Porto Museum and Stadium
Charting the history of the football club from its beginnings to the present day, this excellent museum is a must for football fans. It's contemporary and slick with interactive exhibits and you also have the opportunity to see the stadium in all its glory.
11. Climb Clergios Tower
Built in 1763, this 76-metre Baroque tower can be spotted from all over the city. If you have the energy after traipsing up and down the hills of Porto, you can climb the 225 steps to the top for panoramic views. 
12. Sao Bento Train Station
Previously a Benedictine monastery, the walls at this railway station are completely covered with 20,000 hand-painted blue tiles depicting Portugal's history. With images of great wars to everyday life, it's an art gallery as much as a train station and took artist, Jorge Colaco, fourteen years to finish. It's officially one of the most beautiful railway stations in the world. 
Fancy staying here? Check out Passenger Hostel, frequently voted one of the best hostels in Europe!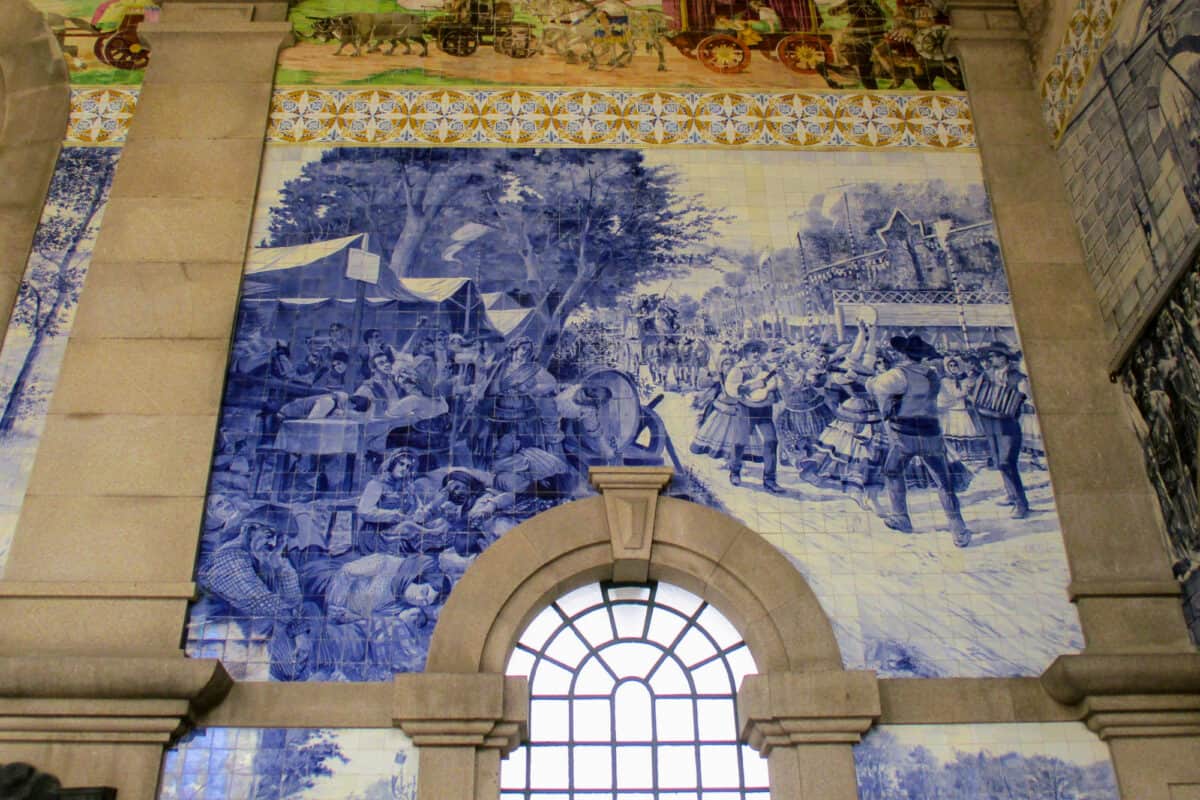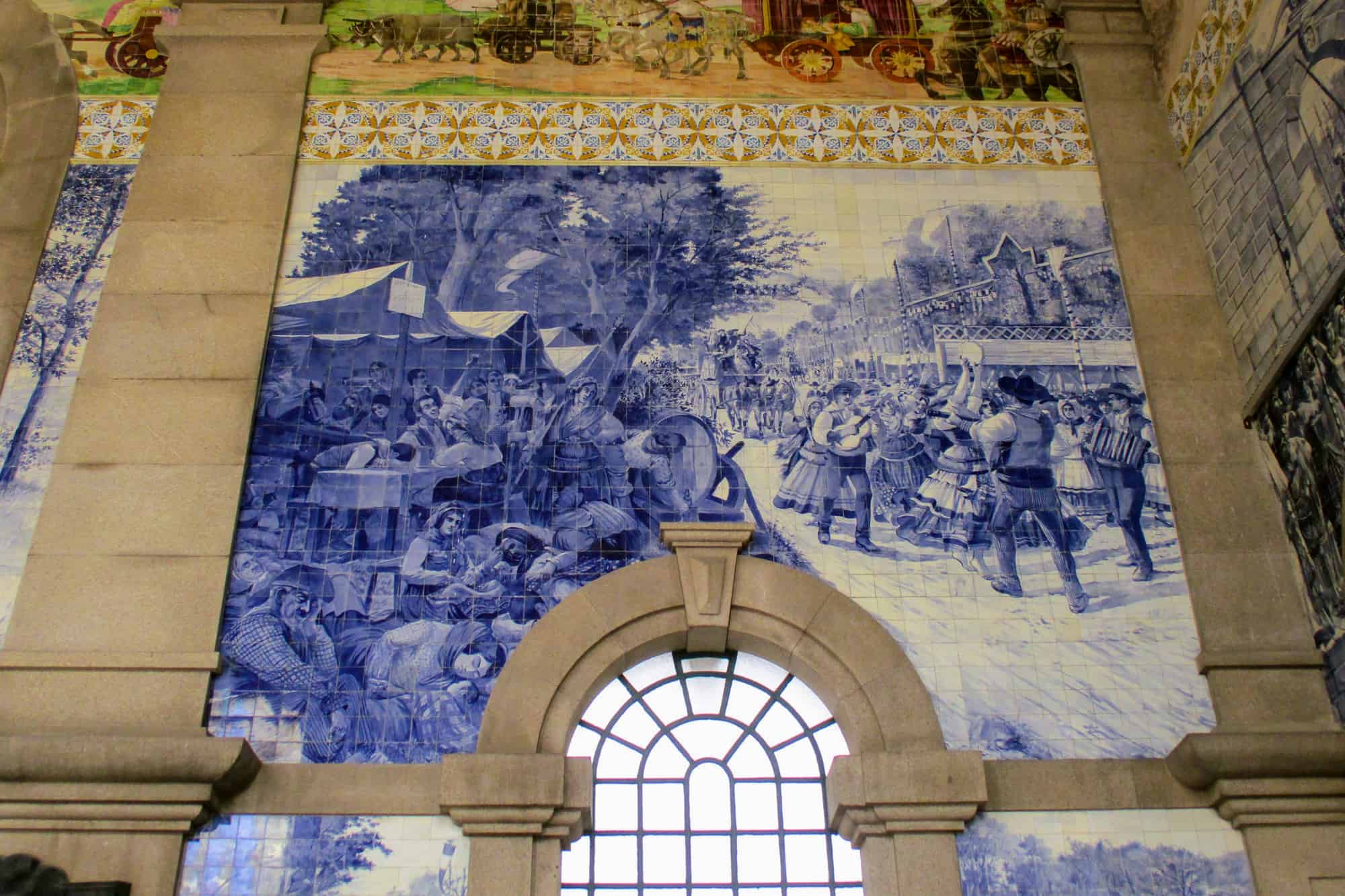 13. Hunt for Treasure on Mercado Do Porto Belo
If you are in Porto on a Saturday, don't miss this treasure trove of a market. Stalls are loaded with artwork, vintage clothing, antiques, records and jewellery. Actually there's not much that you won't find here! Even if you're not intending to buy, it's still fascinating to browse.
14. Take in the Sunset
Porto is well-placed geographically for stunning sunsets, and there are miradors (viewpoints) galore to choose from. Head across the river to Jardim do Morro where street performers entertain the crowds as a golden glow is cast on Ribeira. Another great spot to enjoy the sunset is the Monastery of Serra do Pilar, which is set atop a hill. The monastery faces to the west and you can watch the sun sink over the rooftops of the city. 
15. Go Urbexing
If you're somebody who loves getting off the beaten track, don't miss the opportunity to check out Porto's underground Urbex scene. From abandoned hotels to dilapidated casinos, there is plenty to spark your curiosity in the forgotten corners of this capital.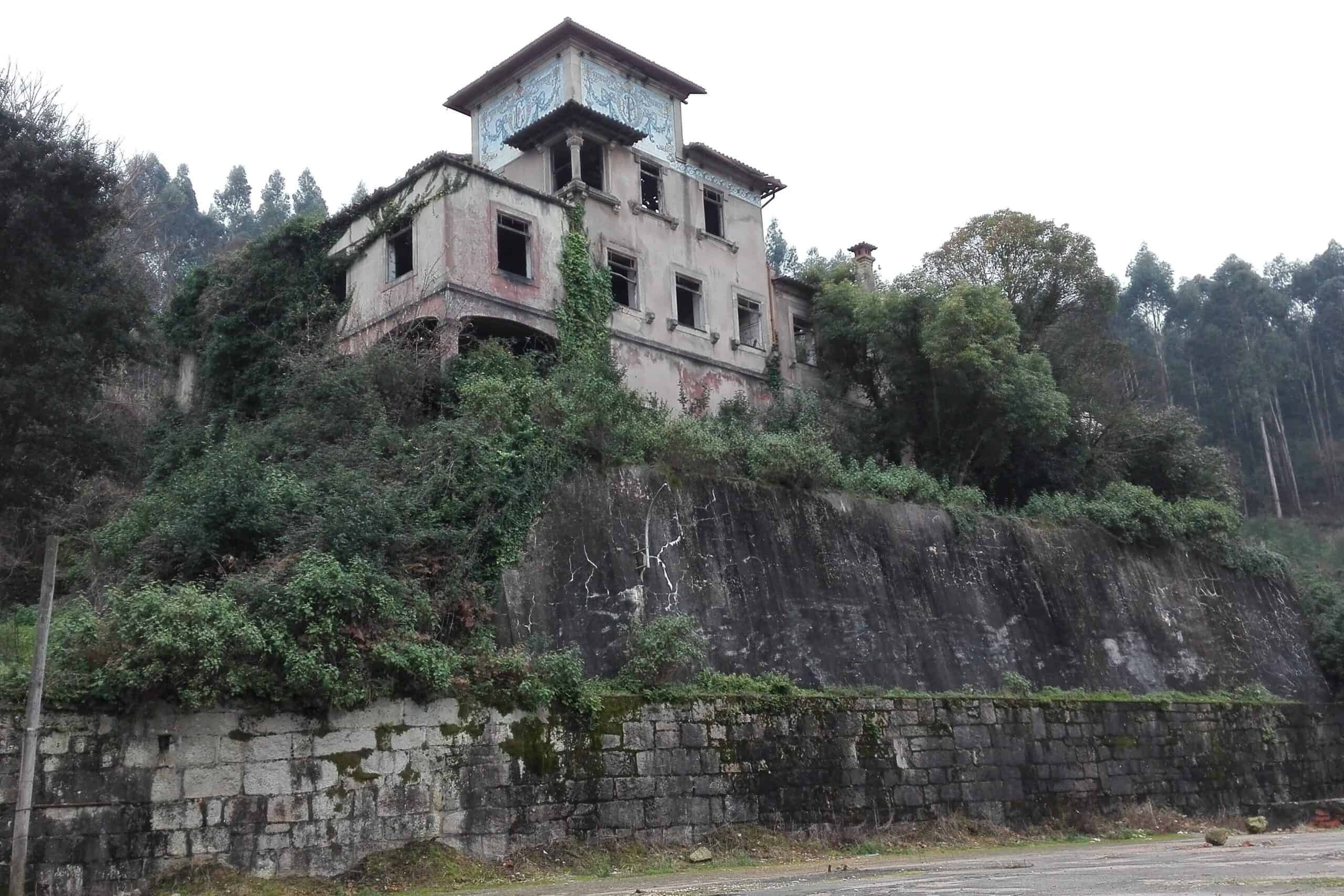 ---
Food and Drink in Porto
Of course, you can't visit Porto without sampling port wine! There are countless wine houses along the promenade of Vila Nova de Gaia, including the iconic Sandemans and Graham's Port Lodge. 
Nearly all of them offer tours which explain about the production and history of port wine and finish off with a tasting. There are several combo deals which include a boat trip or fado show which can be much more cost-effective, so it's worth checking out what's available if you are interested.
Porto is known for its tempting pastries and Confeitaria do Bolhao is the place to try them. Art Deco in style, the bakery is around 120 years old and the range of pastries is impressive. Their biggest seller is local favourite, the ambrosial Pastel de Nata, a creamy custard tart dusted with sugar and cinnamon.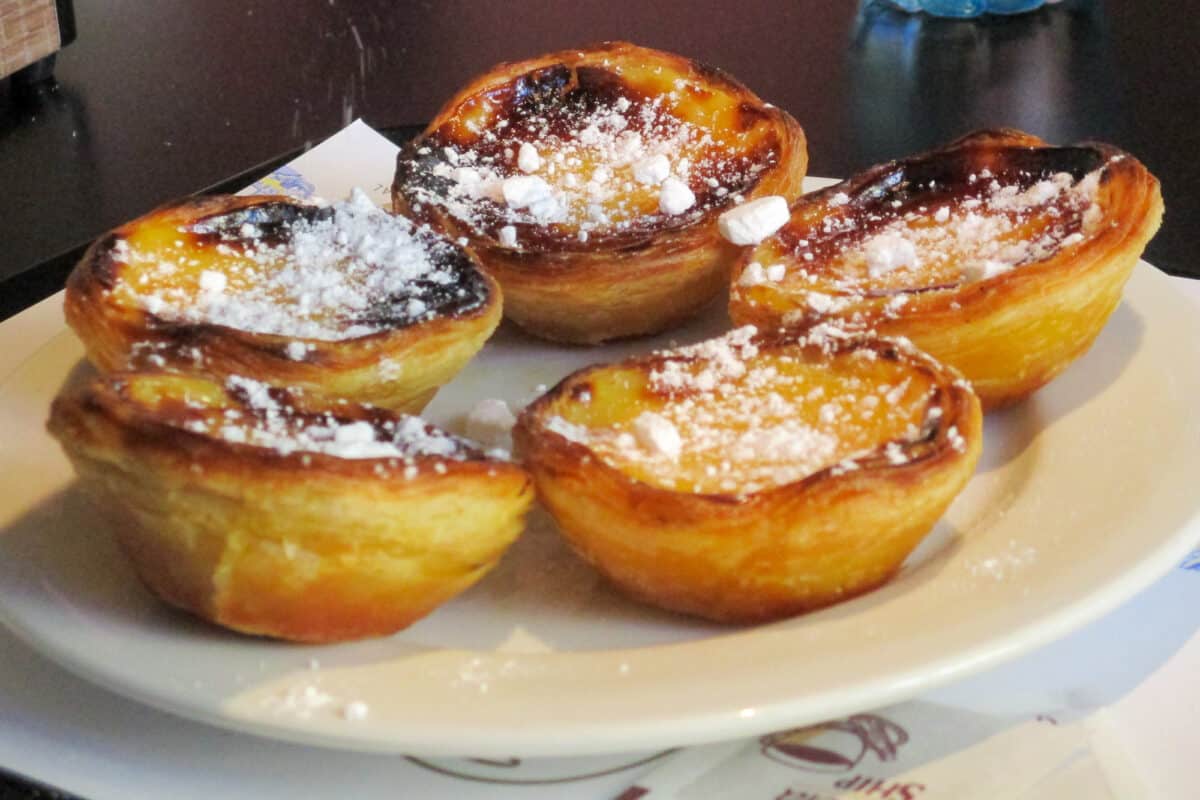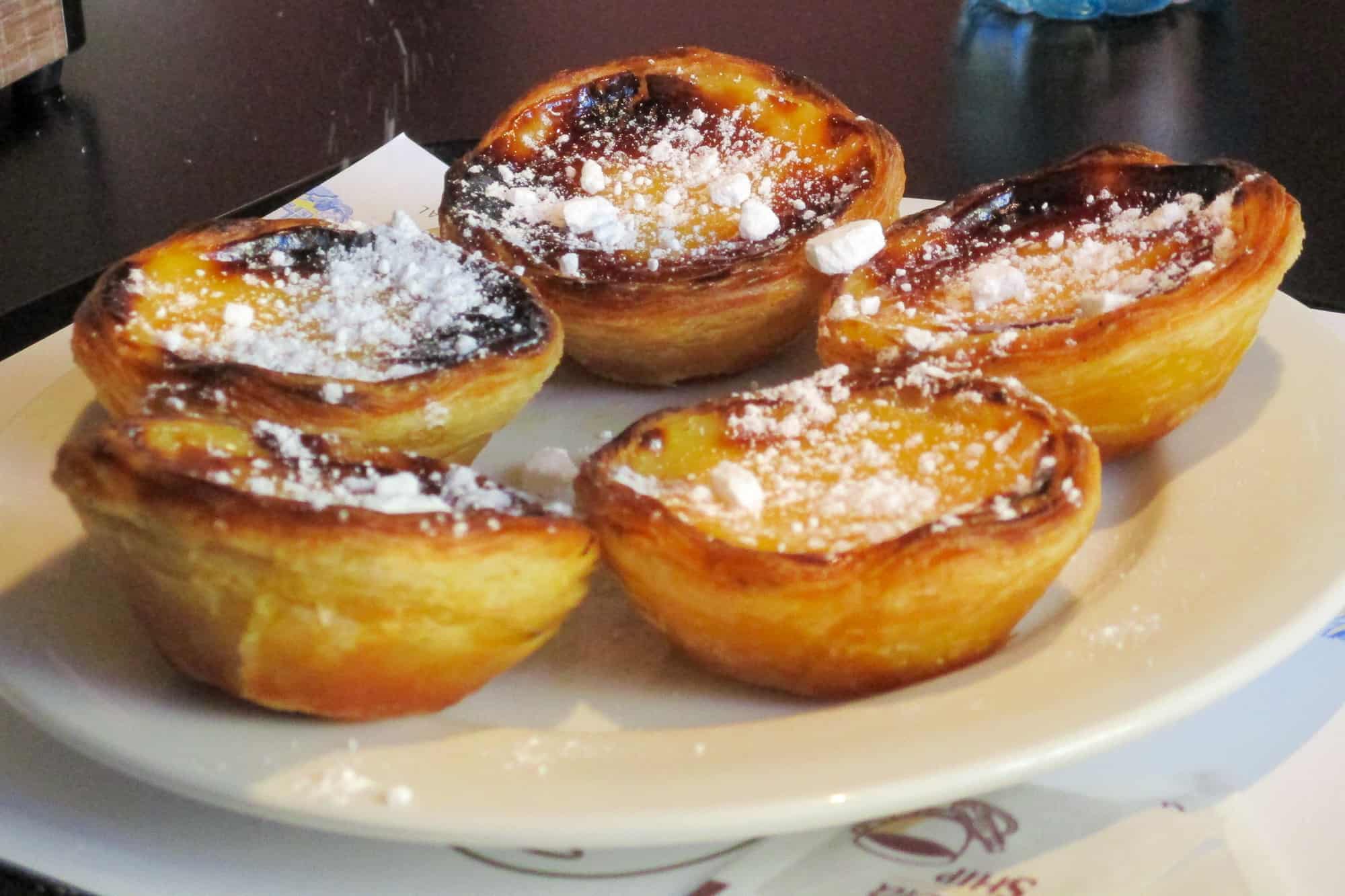 Francesinha is a quintessential Porto dish, a gut-busting sandwich crammed with ham, Portuguese sausage, roast beef and steak smothered in melted cheese with tomato and a fried egg. It's topped off with a tomato and beer sauce. If that's not enough, you can add a side order of French fries. Café Santiago is one of the best places to face the challenge.
Love gastronomy? Check out these traditional European dishes and these iconic European drinks!
---
How to Get to Porto
Porto's airport, Francisco Sa Carneiro, 11 km from downtown, is well-connected to many other European cities and is a primary base for EasyJet, Ryanair, Iberia and TAP Portugal. The city is interlinked by rail and bus to Lisbon, Faro, Albufeira, Lagos, Braga and Aveiro. The cheapest way to travel is by bus – FlixBus run buses all over the country, but book in advance for the best deals. 
The main bus stations in Porto are Campanha, Vil Nova de Gaia Rede and Expressos Parada de Autobuses AUTNA. Trains depart and arrive from Sao Bento Train Station.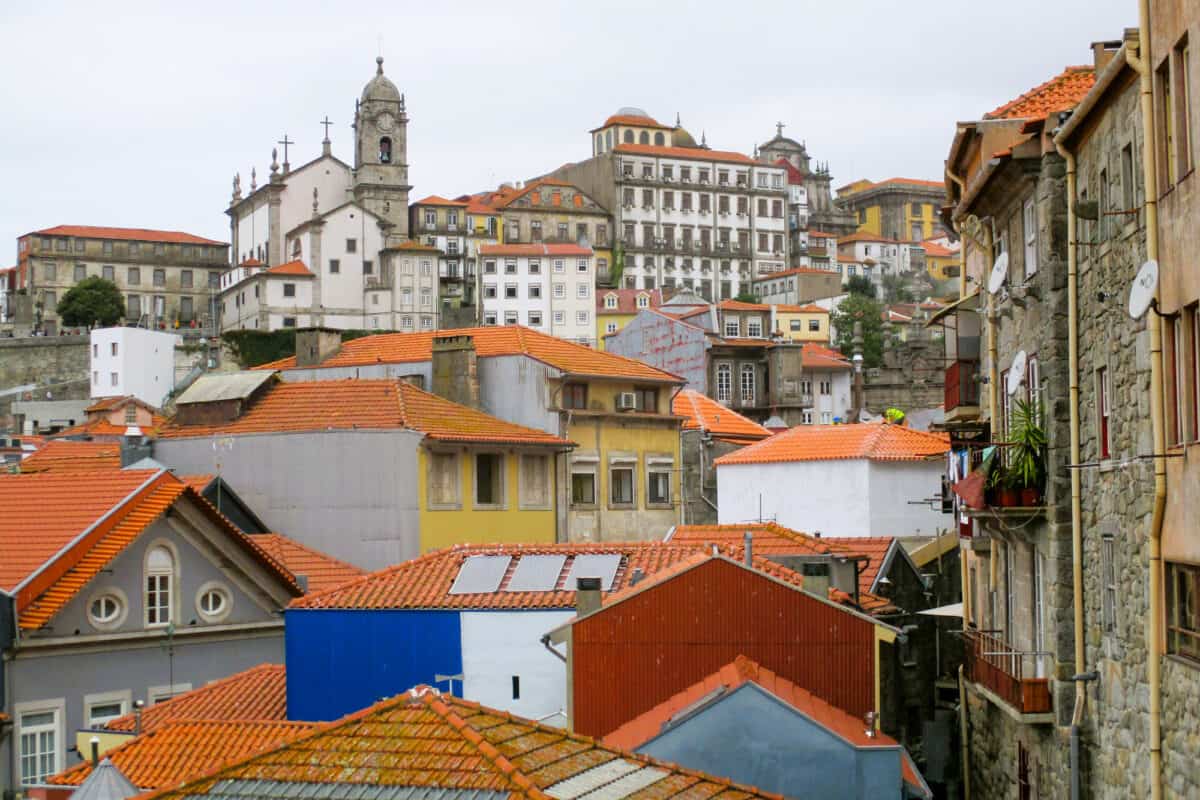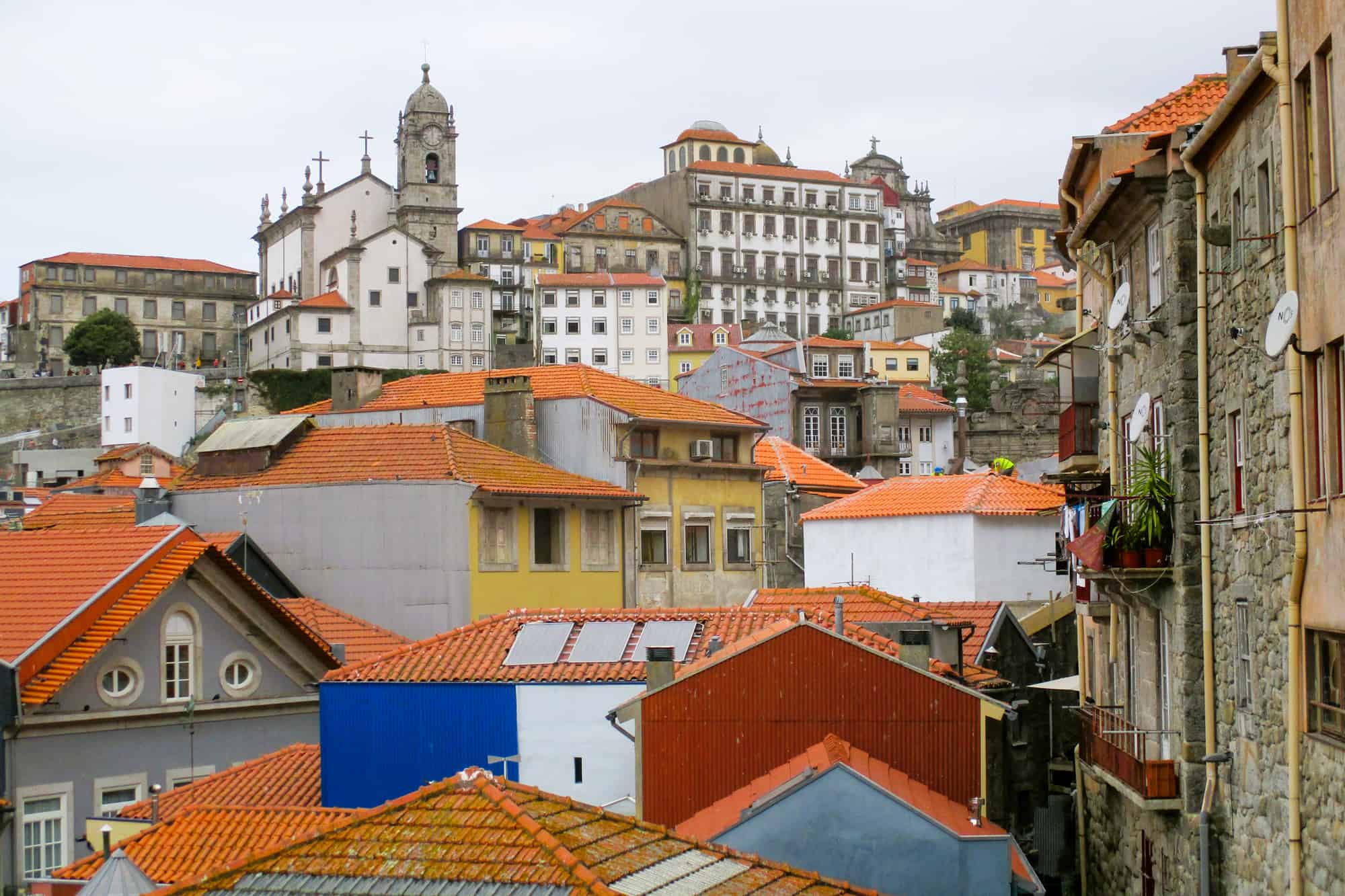 ---
Where to Go Next:
Lisbon: Portugal's capital city, Lisbon, is about four hours away by bus. Its historical cobbled streets are a delight to explore and trams rattle up and down the steep streets. Sample grilled sardines in one of the tiny traditional cafés, visit the Fado Museum or check out the cool street art. Lisbon is divided into a number of distinctive neighbourhoods, all of which are fascinating to explore and unique in their own way.  
Braga: Braga is a mere hour away by bus and is the country's third-largest city. It is home to a wealth of historical buildings and grand architecture, being built by the Romans 2,000 years ago. There are churches on every corner and the city is full of cobbled streets leading to splendid plazas. A funicular, the oldest in the world, transports visitors to Bom Jesus do Monte, a beautiful hillside church and Braga's most popular tourist attraction.
Faro: It takes about seven and a half hours by bus to reach Faro, gateway to the Algarve. Surrounded by Ria Formosa Nature Park and lots of lovely beaches, the city itself is a charmer. Its old town is full of cobbled streets and open-air cafés and encircled by ancient city walls. Many people who fly into Faro give it the short shift on the way to the beaches of the Algarve, but it's definitely worth lingering for a day or two before hitting the beaches.