Europe is often overlooked as a budget destination. But savvy travellers can spend months in the continent for little more than you'd spend in Southeast Asia or South America – you just need to know where to go! 
Predictably, most of the cheapest European cities are found in the east. They offer a fascinating blend of rich culture, intriguing history and budget-friendly prices. But if Eastern Europe isn't for you, there are plenty of penny-pincher-friendly cities waiting to be explored in the West too! 
This list of the cheapest cities in Europe has been put together using extensive research, first-hand experience and the help of our Facebook community who are travelling in Europe right now! 
---
Related: (links open in a new tab)
---
Europe's Cheapest Cities – The 7 Most Budget-Friendly Backpacking Destinations!
If you're reading through this article thinking to yourself, "Where my Nan lives in [insert quirky town here] is cheaper than that place!", you are probably right! For the purposes of this article, we've decided to focus on only the cheapest tourist destinations in Europe. After all, why bother heading somewhere cheap if there is nothing to do?! 
Each spot on this list has plenty of facilities for travellers, including cheap accommodation options, things to do and places to eat and drink!
To get the most accurate prices for these budget-friendly European cities, we've used a combination of our own knowledge, the views of our fellow travellers and the official 'Europe Backpacker Index'! 
So, whether you're looking for a cheap city break or a longer adventure, we've got you covered with our collection of the cheapest places in Europe! Grab your bank card, book a cheap flight and hit up any of these budget-friendly destinations in Europe! 
---
Budapest, Hungary
Currency – Hungarian Forint ($1USD is approx. 350HUF)
Budapest Costs:
Dorm Bed – 4500-13,500HUF (approx. $12-40USD)
Hotel Room – From 13,500HUF (approx. $40USD)
Street Food/Fast Food – Approx 2,000HUF ($4.50USD)
Meal and Drink in A Budget Restaurant – Approx. 3,500HUF ($10USD)
Beer – Approx. 700HUF ($2USD)
Recommended Daily Backpacker Budget – 11,000-18,000HUF ($30-$50USD)
Arguably the cheapest city for tourists in Europe, Hungary's capital, Budapest, is known for historic architecture, a fascinating past and is perhaps most popular with backpackers for its jumping nightlife! The city plays host to one of Europe's best music festivals – Sziget – so time your visit with that for a true blowout!
In years gone by, Budapest was two cities split by the Danube, Buda and Pest – I wonder how long they discussed calling it Pestbuda before settling on Budapest?!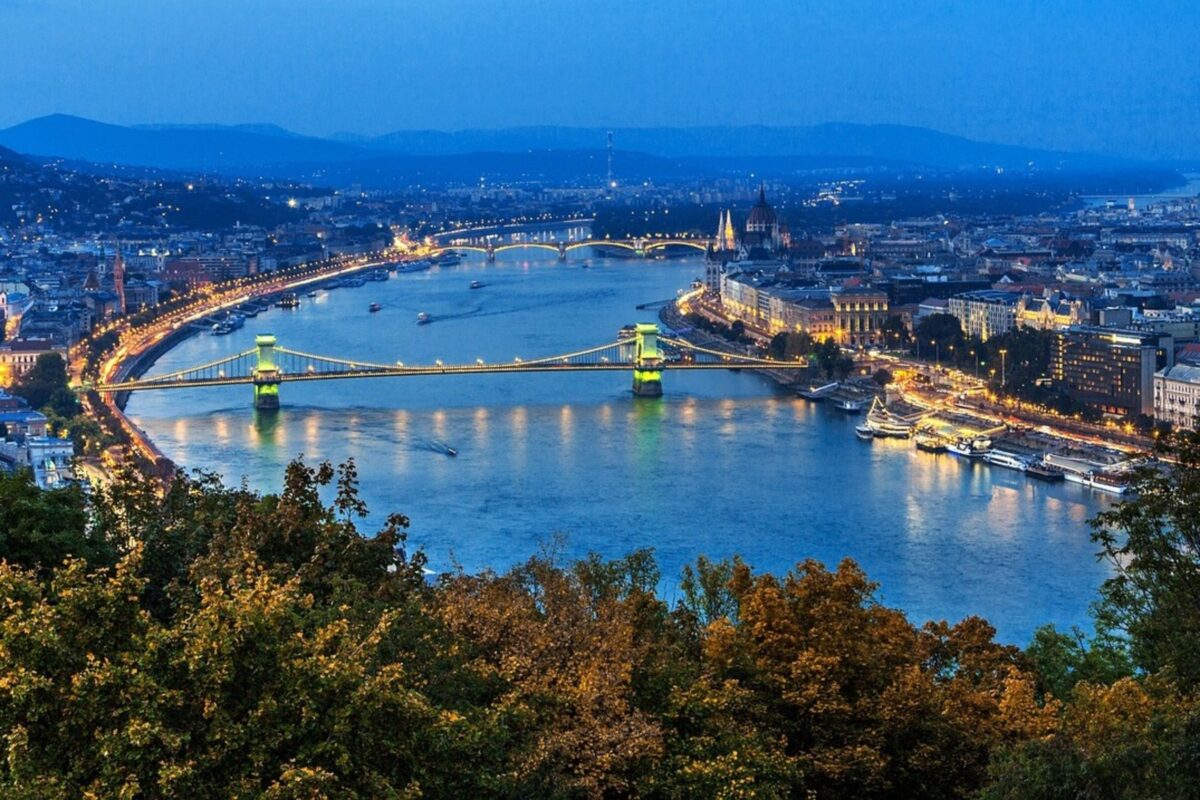 While super popular with tourists, Budapest hasn't yet fallen into the trap of inflated prices and tacky attractions. It retains its local charm, keeps prices low and offers everything a seasoned backpacker could want! 
Ruin bars are a unique and budget-friendly place to party in Europe while parks peppering the city provide a wonderful free place to relax and recharge after a heavy night. Head to Karavan, where a variety of food trucks serve tasty treats at low prices! Plus, don't miss the tip-based free walking tours for an overview of the city's history. 
If you fancy more walking, take a leisurely stroll along the Danube and watch the city do its thing. Or, for something a little more strenuous, head into the hills of Buda for a scenic hike! 
Our top tip for saving money in Budapest is to download the Budapest Go app and use it to purchase a 15-day transport pass. For around $20USD you'll get unfettered* access to Budapest's public transport systems including the metro, buses and trams. 
*Bear in mind that it's not totally unfettered access as some buses, like the airport bus, aren't included on the pass. 
Best Budget Accommodation in Budapest:
---
Bucharest, Romania
Currency – Romanian Leu ($1USD is approx. 5RON)
Bucharest Costs:
Dorm Bed – 55-110RON (approx. $12-$24USD)
Hotel Room – From 140RON (approx. $30USD)
Street Food/Fast Food – Approx. 20RON ($4.50USD)
Meal and Drink in A Budget Restaurant – 30-60RON (approx. $6-$12USD)
Beer – 10RON (approx. $2USD)
Recommended Daily Backpacker Budget – 180-220RON (approx. $40-$50USD)
Romania's capital city, Bucharest, is one of the largest and cheapest cities in Europe. It's home to one of the world's largest buildings, The Palace of Parliament, and offers an exceptional experience for travellers wanting to get a little off the beaten track. Bucharest, while growing in popularity, is still under-visited when compared to other capital cities in Western Europe. 
The city is a vibrant mix of neighbourhoods, with the old town being favoured by most travellers. It's the only part of the city that remained mostly intact after heaving bombing during WW2, so offers more history than the newer districts. Don't let the modernity-hunting millennial within you be put off though, new developments mean the old town is the beating heart of Bucharest's social scene! 
Fun nightlife, an interesting but depressing history, and excellent prices characterise the city. You'll find old-timey sweet shops, incredible wine stores and plenty of eateries to keep you satiated without blowing your budget. 
Visit Food Hood for tasty meals prepared in food trucks – there's seating too, so you won't need to eat standing up! Free walking tours allow you to get to know the city for minimal cost and exploring the streets makes for an entertaining free afternoon even without a guide – assuming you don't combine this with an accidental pub crawl of course! 
Best Budget Accommodation in Bucharest:
---
Sofia, Bulgaria
Currency – Bulgarian Lev ($1USD is approx. 1.7BGN)
Sofia Costs
Dorm Bed – 18-45BGN (approx. $10-$25USD)
Hotel Room – From 55BGN (approx. $30USD)
Street Food/Fast Food – Approx. 5BGN ($2.50USD)
Meal and Drink in A Budget Restaurant – Approx. 20BGN ($11USD)
Beer – 4BGN (approx. $2USD)
Recommended Daily Backpacker Budget – 90-100BGN ($50-$55USD)
Another capital on our list of cheapest cities in Europe, Sofia in Bulgaria is the perfect introduction to the Balkans. Bulgaria is often considered the cheapest country in Europe and while Sofia is pricier than other parts of the country, it's tourist-friendly and offers plenty of free and cheap activities to keep you entertained without needing to dust off your credit card!
Sofia is an old city. It's been constantly inhabited for over 1600 years and the oldest building dates back to the fourth century! Today it's used as a church but its original purpose was less about washing the soul and more about washing the body! The Roman baths aren't the only evidence of the ancients either. Ruins dot the city and exploring them is a great cost-free day out – especially if you walk between them all!
There are plenty of museums and galleries with free or cheap entry. History buffs will love tramping between them – you could spend a lifetime trying to understand the historical importance of Sofia!
If you're looking for an escape from city life, head towards Vitosha Mountain for a bunch of hiking trails and incredible views back over Sofia. Getting to the mountain is easy, just take a bus to the Simeonovo ski lift. 
As with most of the Balkans, food is cheap and filling in Sofia, so you can fill your stomach without draining your bank account! Tap water is also perfectly safe to drink. Ensure you have a reusable water bottle to save a few dollars a day! 
Best Budget Accommodation in Sofia:
---
Kraków, Poland
Currency – Polish Zloty ($1USD is approx. 4PLN)
Kraków Costs:
Dorm Bed – 50-130PLN (approx. $12-$30USD)
Hotel Room – From 130PLN (approx. $30USD)
Street Food/Fast Food – 6-10PLN (approx. $1.50-$2.50USD)
Meal and Drink in A Budget Restaurant – 40PLN (approx. $10USD)
Beer – 15PLN (approx. $3.50USD)
Recommended Daily Backpacker Budget – 200-250PLN (approx. $50-$60USD)
Kraków, Poland is the most popular tourist haunt on our list so far but don't let that put you off. Medieval Castles, Gothic churches and towering statues butt up against modernity in one of Eastern Europe's most accessible cities. There's a thriving student population, meaning prices are low, there's a party every night and an energetic, artistic vibe oozes from every crack in the pavement. 
Kraków is easy to get to, English is commonly spoken and day trips to some of Poland's most iconic locations are cheap and easy to arrange.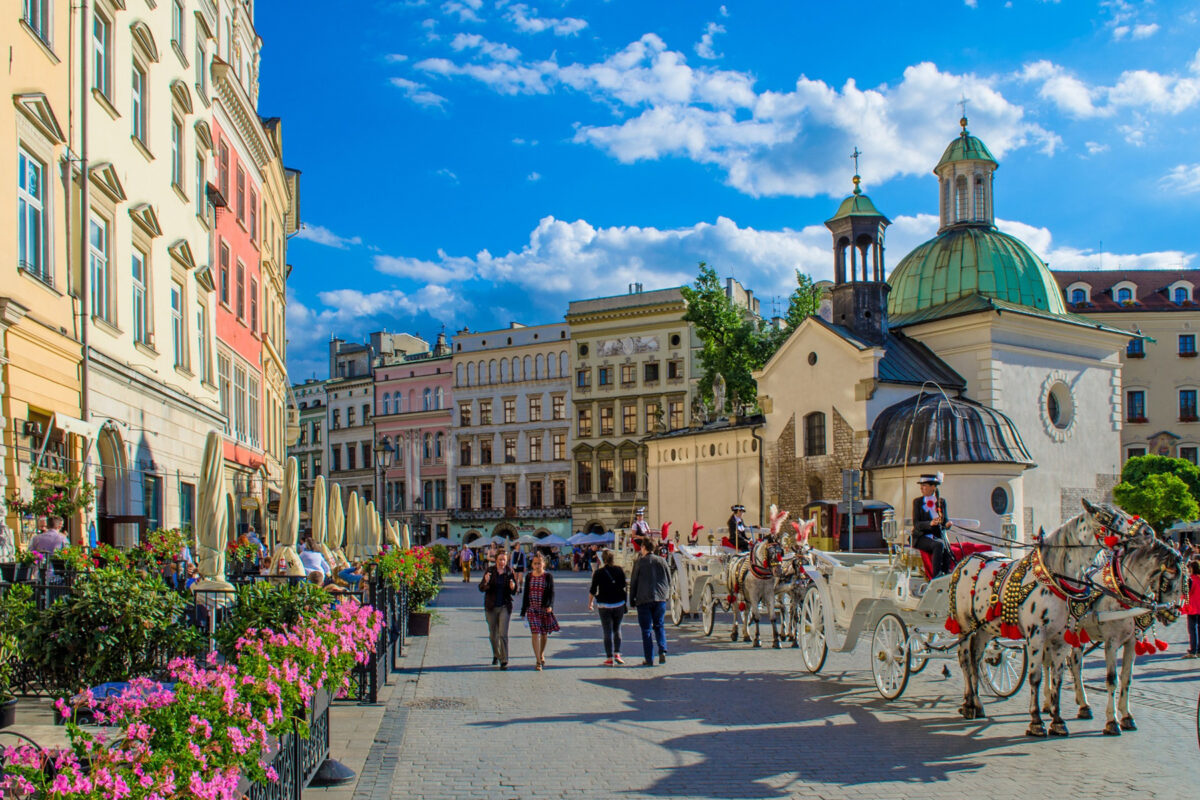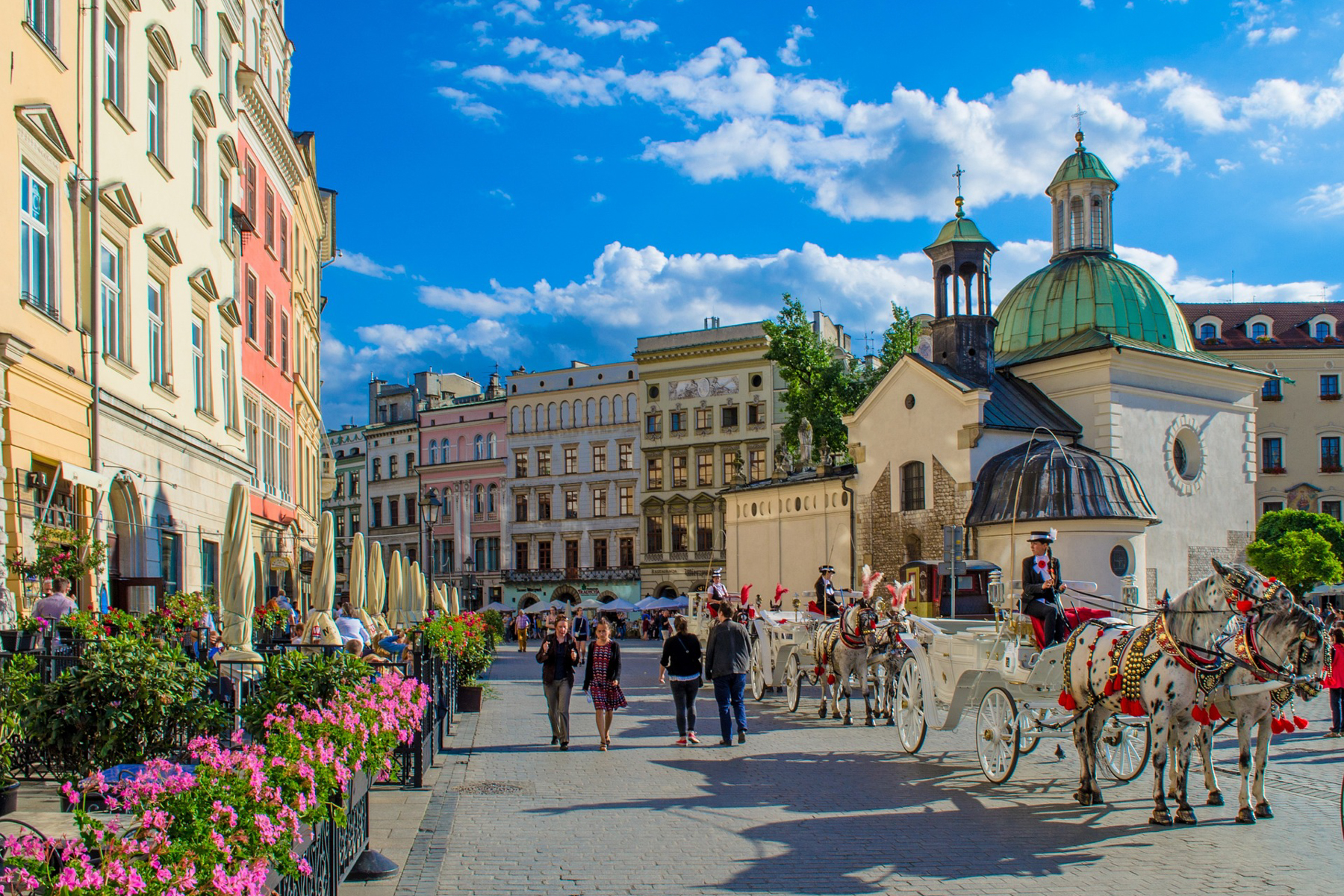 The Old Town was one of the first UNESCO World Heritage Sites. You can lose an afternoon ambling along the streets, soaking up the atmosphere and marvelling at the wide open squares and beautiful buildings. 
No trip to Kraków is complete without a visit to Oskar Schindler's factory, which offers a certain number of free tickets per day. But even once these are used, the entry fee is nominal. For those who don't know, Schindler was instrumental in saving more than a thousand Jews during the holocaust. The film Schindler's List portrays the events powerfully and is recommended watching for anyone visiting Kraków! 
While you're on a sobering history kick, arrange a day trip to Auschwitz. Entry to the former concentration camp is free but it's worth paying for a tour to better comprehend the horrors behind the buildings.  
If you need something to clear your head after visiting Auschwitz, aim for the park surrounding the Old Town. It used to be a moat but now offers a great place to sit with your thoughts for a while. 
Best Budget Accommodation in Kraków:
---
Athens, Greece 
Currency – Euro ($1USD is approx. €0.90)
Athens Costs:
Dorm Bed – €12-€25 (approx. $13-$27USD)
Hotel Room – From €30 (approx. $32USD)
Street Food/Fast Food – €3-€6 (approx. $3.20-$6.50USD)
Meal and Drink in A Budget Restaurant – €15-20 (approx. $16-$22USD)
Beer – €5 (approx. $5.50USD)
Recommended Daily Backpacker Budget – €50-€60 (approx. $55-$65USD)
While you could make an argument that geographically Greece is in Eastern Europe, the cradle of civilisation is often classified as Western. And as such, Athens is the first time we venture towards the setting sun on our journey through the cheapest cities in Europe. 
The birthplace of democracy isn't the first city that springs to mind when considering budget-friendly European getaways but you don't need to spend much to immerse yourself in the stomping grounds of Socrates and Plato.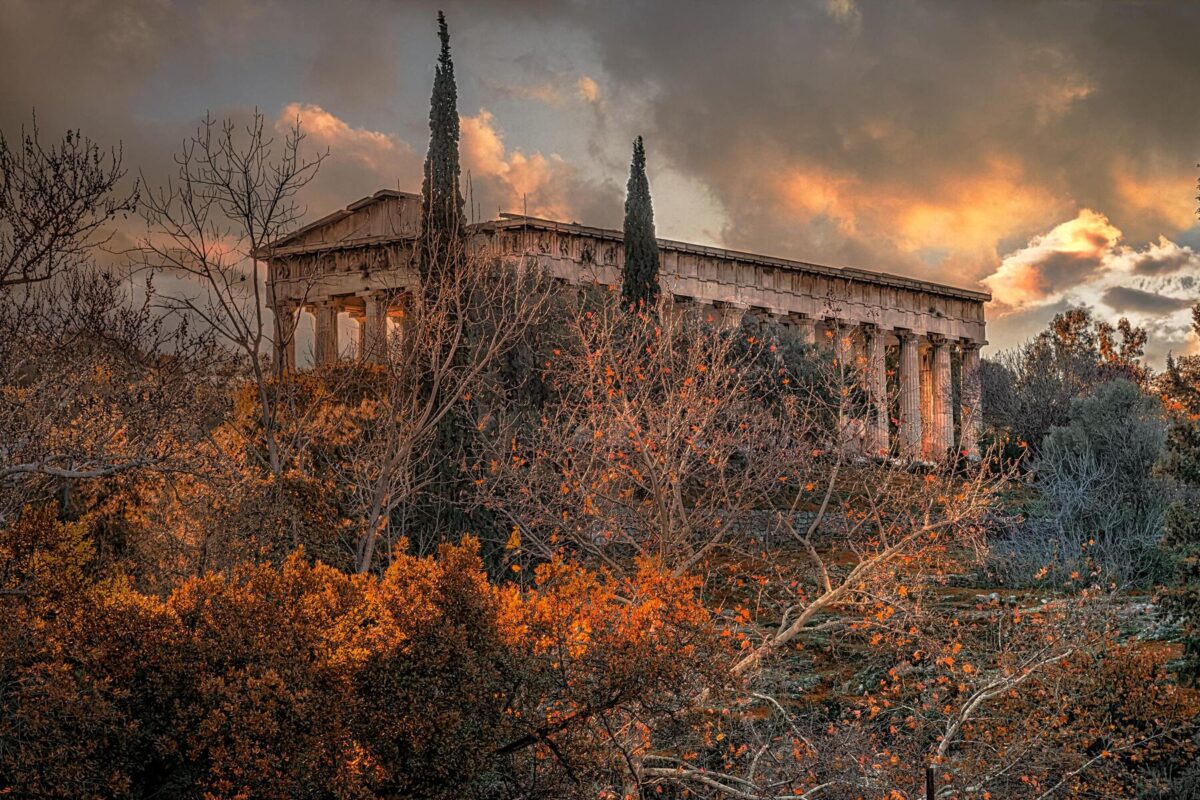 Eating in Athens is affordable, especially if you stick to local specialities like Gyros and avoid the more popular tourist restaurants. Getting around can be cheap too. Consider getting a multi-day transport pass if you're going to use the buses, trams and trains a lot during your stay. 
For history buffs, there are few cities as appealing as Athens and while the main sites (Acropolis, Parthenon, etc) can cost a pretty penny, there's plenty of saving to be done with an Athens City Pass. This gives you access to several popular sites, museums and some include a self-guided audio tour of the city. It's also worth noting that during low season, museums in Athens often have free entry days – make the most of these if you can! 
Head up to one of the city's many hills for excellent views – take a snack or a bottle of wine to enjoy a cheap afternoon. Lycabettus offers the best views but the lung-busting climb can be off-putting – the funicular is an option but will set you back around €7 (approx. $7.70USD) per person. For smaller peaks, check out Filopappou or Mars Hill. Both offer beautiful views, although less expansive than those atop Lycabettus! 
Best Budget Accommodation in Athens: 
---
Granada, Spain
Currency – Euro ($1USD is approx. €0.90)
Granada Costs:
Dorm Bed – €15-€30 (approx. $16-$32USD)
Hotel Room – From €35 (approx. $38USD)
Street Food/Fast Food – Free with drinks! 
Meal and Drink in A Budget Restaurant – €20 (approx. $21USD) – unless you opt for the free tapas… 
Beer – €3 (approx. $3.20USD)
Recommended Daily Backpacker Budget – €40-€60 ($43-$65USD)
Granada, Spain, is one of the most surprising cities to make our list of cheap European destinations. Located in Southern Spain, Granada is a true collision of European and North African Arab cultures. 
From the uber-popular Alhambra and its Moorish design to the imposing Granada Cathedral, you'll find influences from the many waves of migration and domination that characterise the city's history.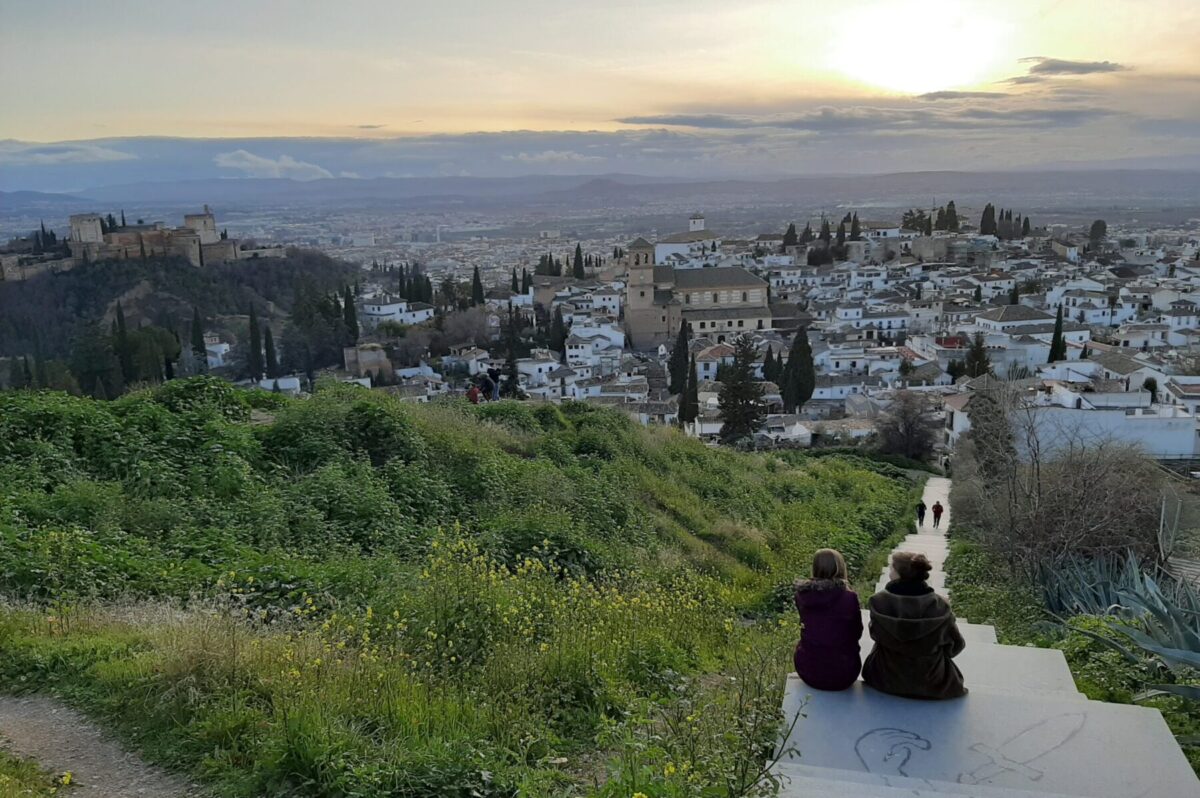 Today, Granda is a buzzing student city, offering a vibrant mix of parties, nature and relaxing. The vibe is friendly and energetic, with many visitors – including our very own editor-in-chief – never wanting to leave! For those looking to make friends with locals or other travellers, you'll find language exchanges, free dance classes and meet-ups taking place all year – check out Yuzin, the local events magazine, to stay on top of what is going on in the city.  
Nestled next to the Sierra Nevada Mountains, Granada offers plenty of hiking opportunities if you want to spend a day immersed in nature – which let's face it, is one of the best budget-friendly activities you can do!
And, the best thing about Granada for budget-conscious travellers? Free tapas! Honestly, you can get away without ever ordering food in Granada! Almost every good bar offers free tapas with a drink. So, all you need to do is order a beer (or soft drink) and you'll get a free plate of nibbles. When that's done, just order another drink!
Best Budget Accommodation in Granada:
---
Porto, Portugal
Currency – Euro ($1USD is approx. €0.90)
Porto Costs:
Dorm Bed – €17-€35 (approx. $18.50-$38USD)
Hotel Room – From €40 (approx. $44USD)
Street Food/Fast Food – €5-€10 (approx. $5.50-$11USD)
Meal and Drink in A Budget Restaurant – €15 (approx. $16USD)
Beer – €3 (approx. $3.20USD)
Recommended Daily Backpacker Budget – €50-€60 (approx. $55-66USD)
For our second stop on the Iberian Peninsular, we arrive at Porto, Portugal – another surprisingly cheap European city. Portugal's gritty second city is home to plenty of cheap bars, cafés and restaurants, not to mention great value hostels and plenty of cheap or free activities to keep you entertained!
Most famous for being the home of European drink Port (the fortified wine, not the concept of a place ships come to unload their cargo), Porto offers much more than relatively strong booze – although, if that's what you're looking for, you'll find plenty of it!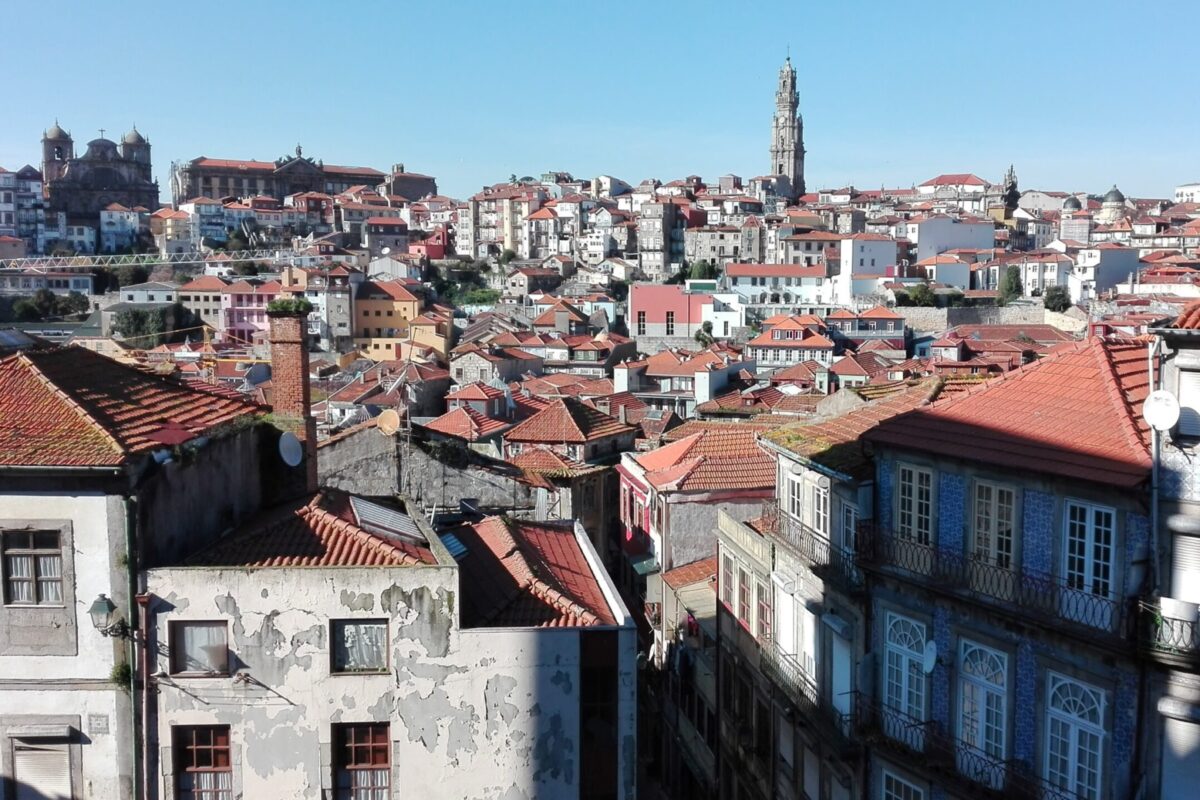 Don't miss Palácio de Cristal. Entry to both the Crystal Palace and the 24-acre manicured garden is free! If that hasn't delivered your fill of gardens, head over to Passeio das Virtudes. These terraced gardens are often touted as the best place to catch sunset over Porto. There are plenty of food and drink vendors around the gardens but they can be overpriced – and don't expect the gardens to be quiet!
For shopping, skip over the supermarkets and instead head to Mercado do Bolhāo. You'll find everything from novelty gifts to well-priced local produce and snacks!
As well as offering low prices, Porto is a small city which is eminently walkable, saving you money on taxis or public transport. Just prepare yourself for some steep streets!
Best Budget Accommodation in Porto
---
Cheapest European Cities to Visit – A Round-Up
Sure, there are cities in Europe cheaper to visit than some of those we've listed but travel isn't just about sitting in a soulless budget hotel and counting down the days (and pennies) until you move on. The budget-friendly cities on our list all offer an amazing backpacking experience. Each has plenty of activities on offer, a great social scene and some amazing accommodation options.
The cities themselves vary but they all have one thing in common – a visit to them is within every shoestring traveller's price range! Have we missed your favourite cheap city in Europe from our list? Let us know in the comments!