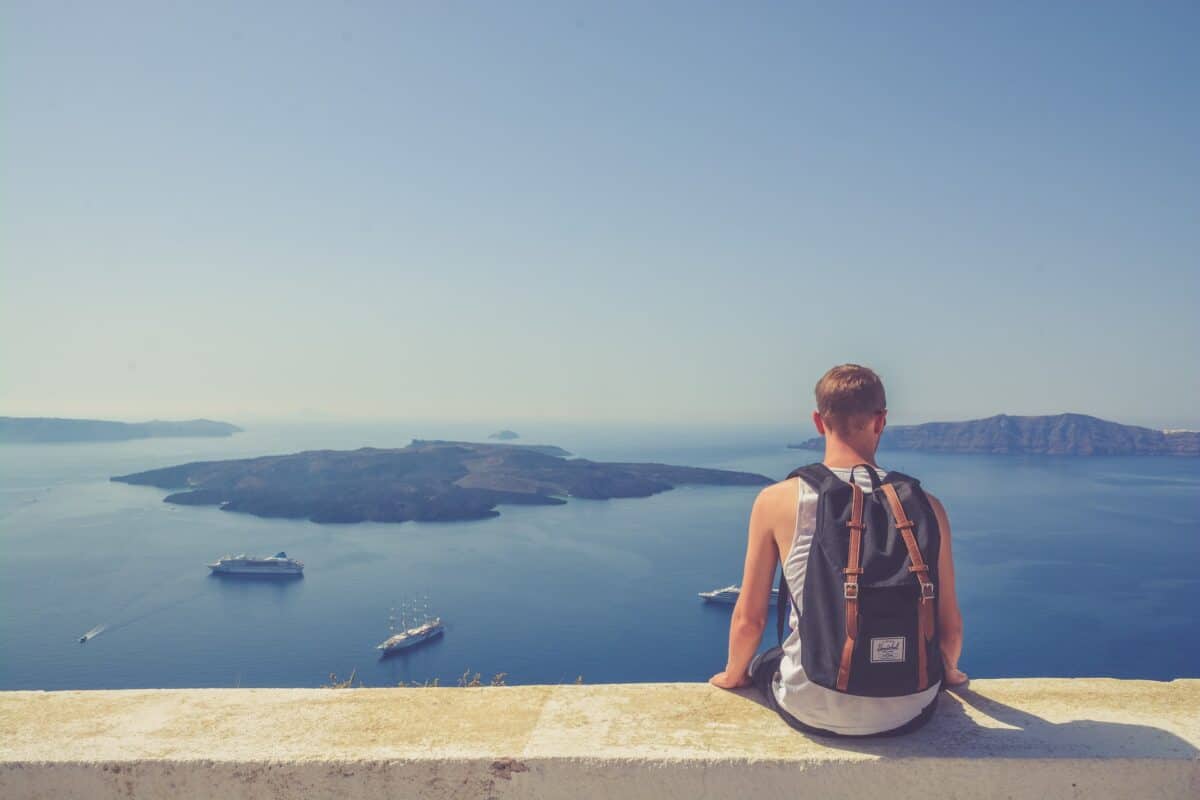 Choosing the best travel backpack for Europe isn't as simple as going to the supermarket and picking up the first bag you see. The continent's ancient cities with cobbled walkways and tight, winding streets offer a unique challenge. And that's without considering how you'll travel between them! 
Planes in Europe have different hand luggage allowances to those in the USA. Trains and buses tend to have storage compartments for big bags away from the seats and cycling is a popular way to travel locally. 
So, if you want to keep the bulk of your gear close while travelling in Europe, you'll need to find the perfect backpack. But never fear, you're in the right place. Using our years of experience backpacking around the continent, we've compiled this list of the best backpacks for travelling in Europe! 
---
Related: (links open in a new tab)
---
The links to online stores (like Amazon) on this page are affiliate links. As an Amazon Associate South East Asia Backpacker earns from qualifying purchases. We always write our reviews before checking whether affiliate links are available.
---
The Best Backpacks for Europe – Quick Answers!
---
Backpacks for Europe – Top Picks!
Osprey Farpoint/Fairview 40 — Best All-Round Backpack for Europe
Pros
Clamshell opening

Carry-on compliant

Osprey's All Mighty Guarantee 
Cons
Not the most versatile Osprey backpack
New Model — Osprey released the new Farpoint and Fairview backpacks in 2022. They took an already great travel bag and used customer feedback to make it even better. The new models feature an improved AirScape back panel, as well as foam wings similar to the Osprey Porter. These offer more protection and better compression than the previous straps and wings. As well as this, Osprey corrected the biggest problem with the Farpoint and Fairview – the laptop sleeve placement. It now rests against your back as you carry the bag! 
Farpoint vs Fairview — As with most Osprey backpacks, this bag is available in male and female models. The Farpoint is built for men, while the Fairview is for women. In real terms, this means the Fairview straps are cut differently and the suspension system is made for a smaller frame.
Comfort — The Osprey Farpoint and Fairview have always been comfortable backpacks. The padded shoulder straps, AirScape back panel, hip belt and LightWire Frame distribute the weight of your gear across your body, reducing the strain on your back and shoulders. 
Sizes — We always recommend the 40-litre version of these bags. They're carry-on complaint, lightweight and don't feel unwieldy when full. Plus, they hold plenty of gear for an extended backpacking trip. If you want a bit more space, the 55-litre models are an excellent choice. With the daypack removed, they just fit into carry-on specs for most planes but you'll need to double-check with your airline to be sure. Osprey also produce the 70-litre versions of both the Farpoint and Fairview. These giant bags are too big for most travellers but the detachable daypack and extra space will be appealing for some. 
Best All-Round Backpack for Europe
---
Salkan Backpacker — Great All-in-One Travel Setup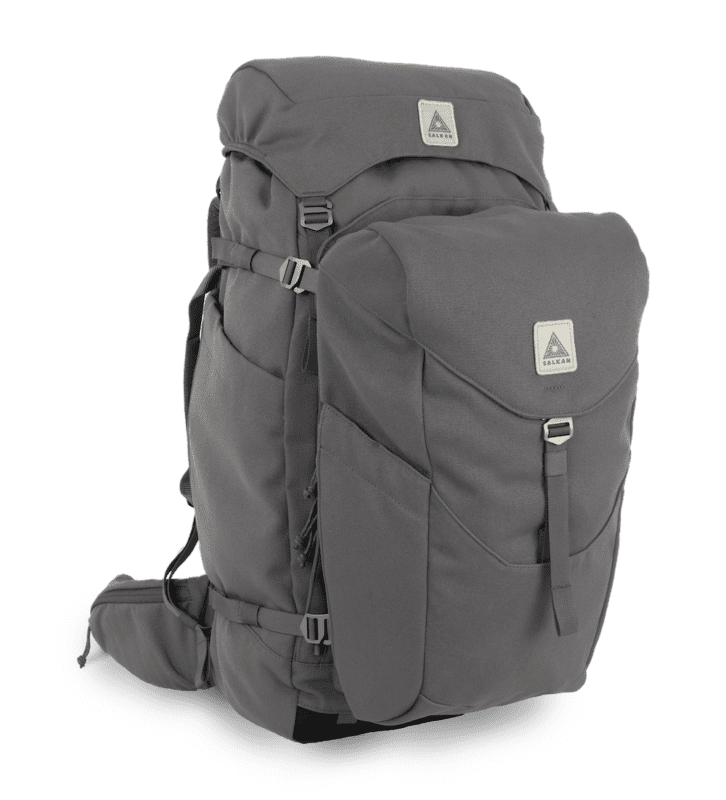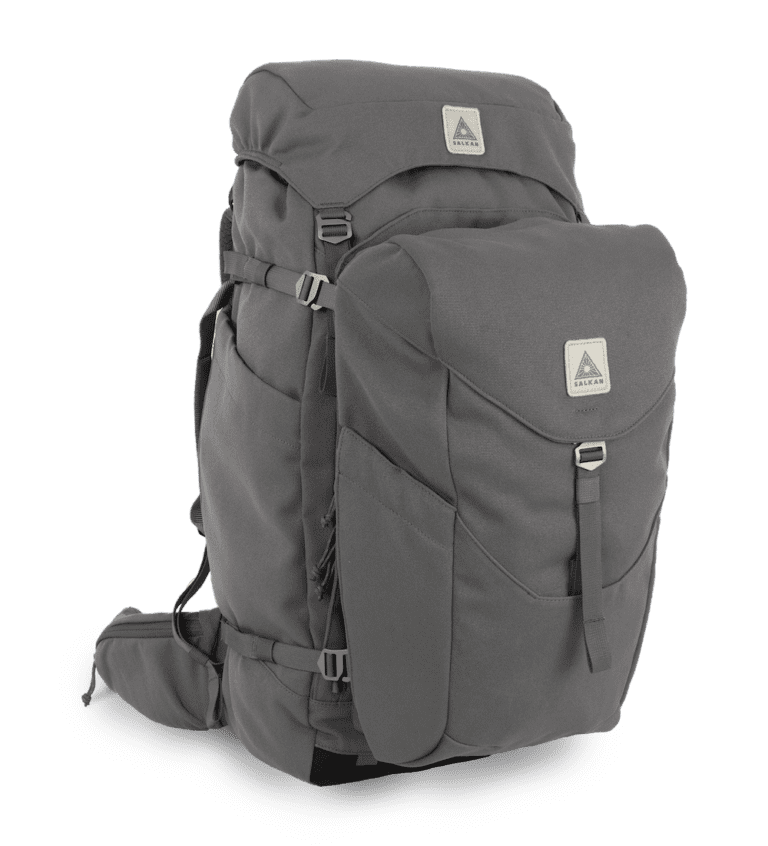 Pros
Looks amazing

Very comfortable

The daypack 
Cons
Heavy

Expensive

Not carry-on compliant
The Backpacker — Salkan's The Backpacker isn't just a single bag. It's a two-bag setup consisting of The Mainpack and The Daypack. The two work as one, with the 20-litre daypack securing onto the 45-litre main pack using the built-in straps and hooks.
Weather Resistant — Salkan use recycled COTNA fabric for their bags. It reduces the need for virgin materials and thanks to the wax coating, prevents all but the worst weather penetrating through to your gear. And in case you get caught in a storm, Salkan provide an excellent rain cover with The Backpacker. 
Adjustable — The Backpacker features a fully adjustable suspension system. It's quick and easy to get the best fit for you. The chunky shoulder straps and hip belt are well padded and contoured for the most comfortable fit. 
Organisation — Both The Mainpack and Daypack house a padded laptop sleeve which can hold a 15-inch machine. They also contain internal pockets for organising your gear. The Mainpack has a number of these pockets while the Daypack only has one. Included in the setup is a laundry sling. This can be clipped into the top of The Mainpack, separating your dirty clothes from your clean stuff! 
Versatile — Offering the best of both worlds, The Mainpack can be used as a top loader or a clamshell-style backpack. It gives you more options for packing, organising and finding your gear! 
Great All-in-One Travel Setup
---
Tropicfeel Shell — Most Versatile Backpack for Europe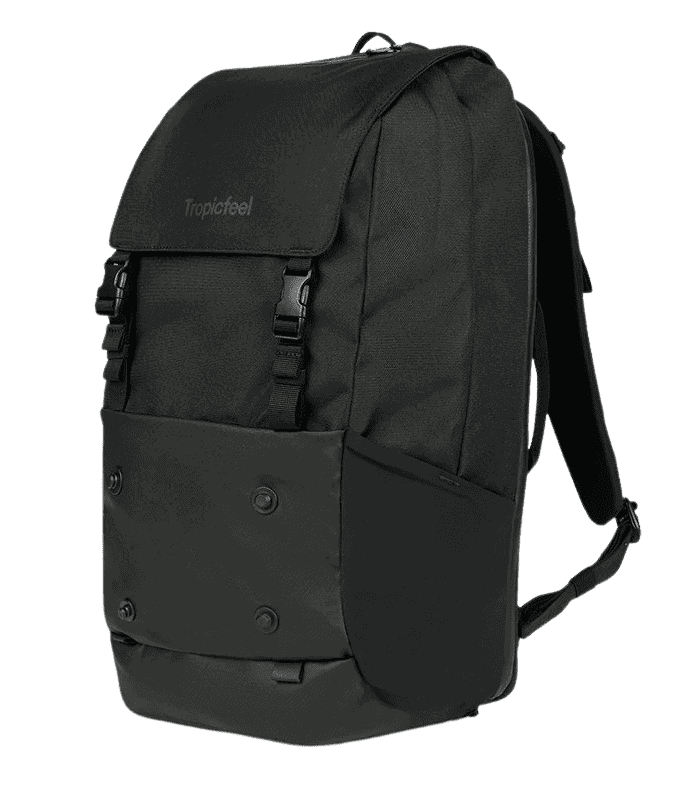 Pros
Expandable

Versatile

Well built 
Cons
Expensive

Torso length is hard to get right

Accessories are oversold
Travel Brand — Tropicfeel are an all-inclusive travel brand. They produce everything from travel shoes and apparel, to backpacks and accessories. They know what they're doing when it comes to producing excellent travel gear! 
Expandable — The Shell from Tropicfeel is 40 litres in its largest guise. However, if you don't need that much space, the bag can be compressed down to 30 and even 22 litres! This versatility means the same bag can be used as your main travel backpack as well as a daypack! To achieve this, Tropicfeel rely on a series of straps, pouches and attachments.
Conscious — The Shell is made from 100% recycled nylon and 60% recycled polyester. Tropicfeel work with Bluesign to ensure their materials come from ethical suppliers who treat their staff and the environment with respect. They're also Climate Neutral Certified and provide transparent information about their entire supply chain thanks to Retraced. 
Accessories — Tropicfeel make a big song and dance about the accessories that work in conjunction with The Shell. The Tech Pouch and Toiletry Pouch both attach to the outside of the pack using the FidLock Mounting system (those little plastic nipple-looking things). You can only attach one at a time, so if you choose to use both, the other will need to be stored in the pack. The Camera Cube is an excellent piece of kit that fits perfectly into the bag but the Wardrobe system is overrated. It's hard to use and the bag performs better without it. There's also a padded laptop sleeve and a couple of hidden pockets for keeping valuables secure. 
Most Versatile Backpack for Europe
Price Range: $$$$$
Best Feature: Versatile and easy to pack
Feature To Improve: Getting the right fit is challenging 
Read: Tropicfeel Shell review 
---
Pacsafe Venturesafe — The Best Anti-theft Backpack for Europe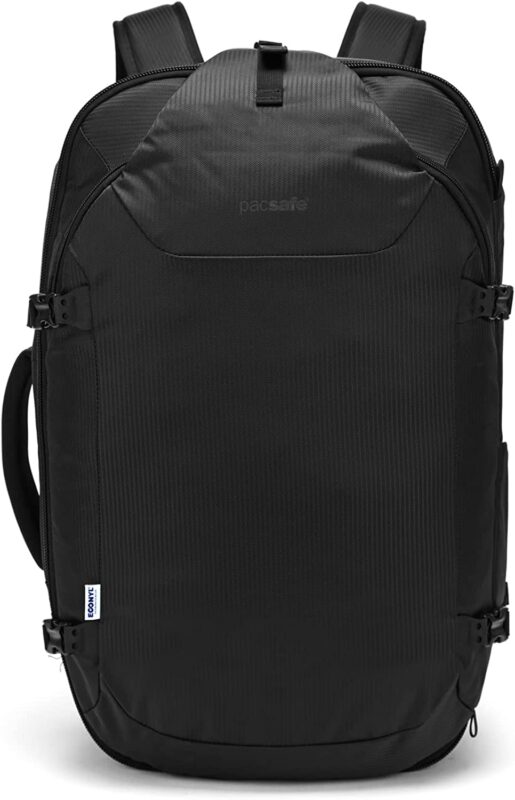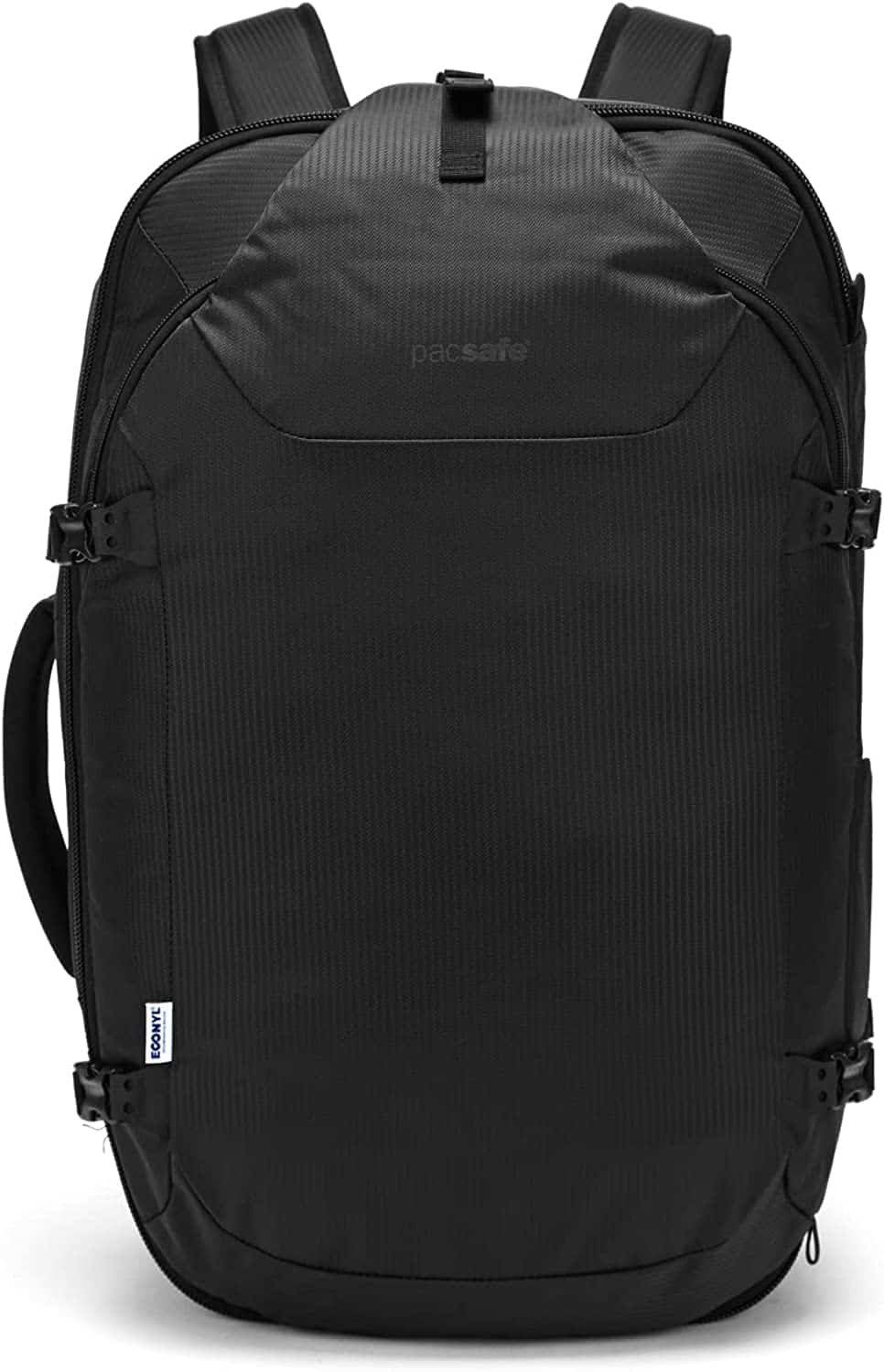 Pros
Anti-theft features

Made with recycled materials

Suitcase style opening
Cons
Heavy

Right on the limit for carry-on
ECONYL — The Venturesafe by Pacsafe is made from ECONYL. Created from discarded fishing nets and other waste plastics, this regenerated nylon removes the need for virgin plastics and reduces the environmental impact of the bag!
Anti-Theft Technology — As with all Pacsafe bags, the Venturesafe keeps your gear safe. Using a combination of zip locking systems, eXomesh slashguard layers, a useful locking cable and puncture-resistant zips, you can rest assured your stuff is as protected as it can be while you travel around Europe! 
Easy To Pack — As well as keeping your gear safe and helping to make the world a better place, the Venturesafe is a great backpack! The suitcase-style opening and huge main compartment make packing and organising your gear a breeze. The padded laptop sleeve can accommodate a 15-inch computer and there are a few smaller pockets dotted about the bag, so there's always somewhere to store loose items! 
Comfort — Let's not beat around the bush, Pacsafe's Venturesafe is a heavy bag. Yet, it's comfortable to carry. The internal frame distributes the weight and the shoulder straps are padded enough to avoid them cutting in as you carry the bag. The hip belt directs a good portion of the bag's weight to your legs, saving extra strain on your back and shoulders. 
Best Anti-Theft Backpack for Europe
Price Range: $$$$$
Best Feature: Anti-theft features
Feature To Improve: Security features make the bag very heavy 
---
Tortuga Outbreaker — Best for Digital Nomads in Europe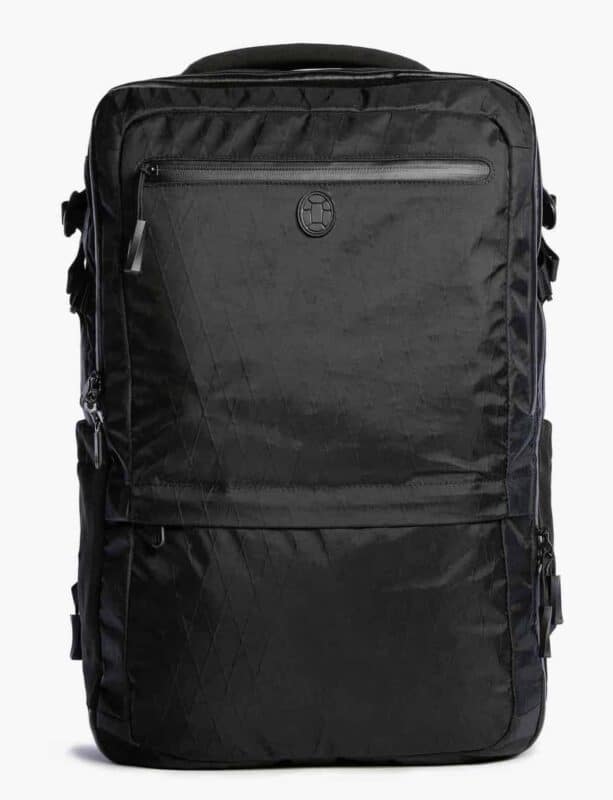 Pros
Makes the most of carry-on space
Ultra-comfy
Fully adjustable
Cons
Expensive
Heavy
Not the best-looking bag 
Carry-On Spec — Available in two sizes (35-litre and 45-litre), the Tortuga Outbreaker is perfect for carry-on-only travellers. The 35-litre version is essentially guaranteed to be carry-on size for any airline. The 45-litre version can be touch and go for some international airlines but is well within US carry-on limits. 
Shape — While the bag's square shape isn't the most visually appealing, it maximises all the usable space within the bag – there are no awkward corners or parts of the bag that can only fit a pair of socks! It makes packing and organising your gear super simple. Plus, the bag opens like a suitcase so once unzipped, you have full, unfettered access to everything! 
Suspension System — The Outbreaker is fully adjustable. The straps, back panel and hip belt can all be adjusted to fit you exactly. The straps are well padded, comfortable and spread the weight of your gear across your whole body. Load lifters ensure the bag doesn't feel unwieldy when full and the moisture-wicking back panel keeps you cool and comfortable! 
Materials — The Tortuga Outbreaker is made from high-quality fabric and hardware. The bulk of the pack is created from VX21 Sailcloth. This material, first created for boat sails, is lightweight, uber-tough and waterproof. The buckles are rugged and the zips are waterproof and hardwearing. 
Best Backpack for Digital Nomads in Europe
Price Range: $$$$$
Best Feature: Maximised space for carry-on
Feature To Improve: Too much webbing on the hip belt (especially if you're slim)
---
Osprey Farpoint/Fairview Trek — Best Hybrid Backpack for Europe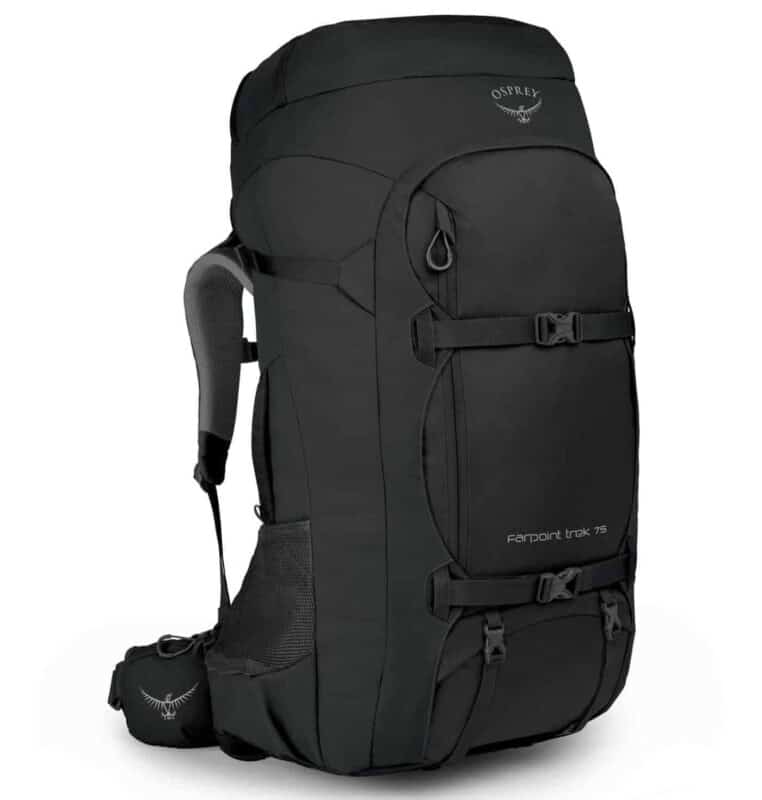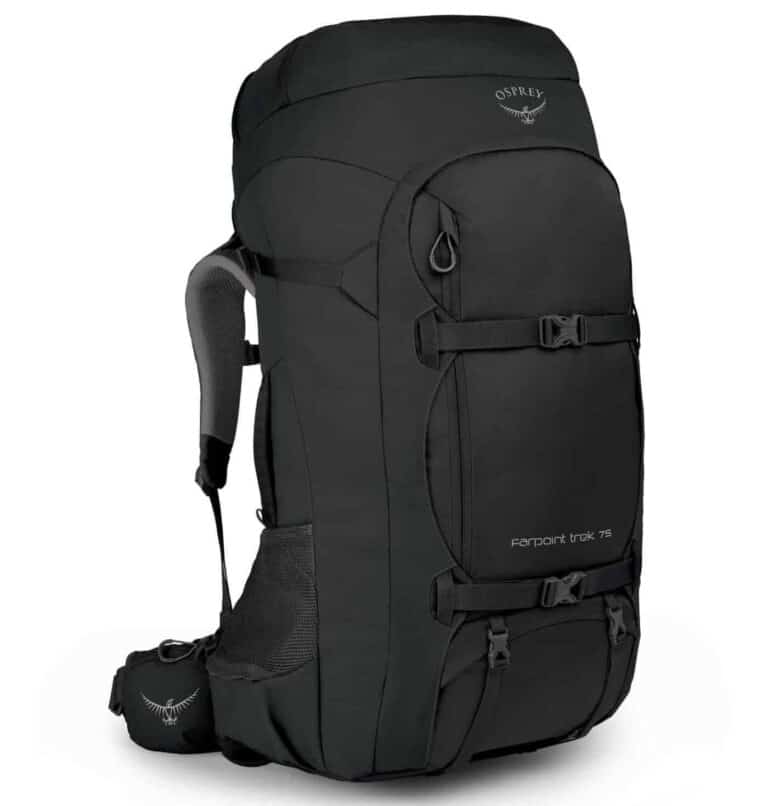 Pros
Super comfy suspension system
Separate entry points
Fully adjustable 
Cons
Rain cover is quite fiddly
No laptop compartment
Not carry-on size
Sizes — The Osprey Farpoint Trek is available in 55 and 75-litre models. The female version of the bag, the Fairview Trek, is available in 50 and 70-litre variants. We recommend the 50/55-litre models for travelling in Europe. They're big enough to hold a ton of gear while being small enough to carry with relative ease. However, neither model is carry-on size, so you'll need to check the bag on planes!
Hybrid — Taking inspiration from Osprey's extensive range of hiking and travel backpacks, the Farpoint/Fairview Trek is suitable for long-term travel and hardcore hiking trips. It features a clamshell design which makes it easy to pack and organise your travel gear. Compression straps keep the bag as streamlined as possible and the amazing suspension system is super comfy, even after a long day of hiking! 
Comfort — The AirSpeed trampoline suspension system keeps the pack off your back. This increases airflow and prevents bulky items pummelling your spine. It distributes the weight of your gear across your body and down to your hips. The hip belt features thick padding and can hold up to 80% of the bag's weight, saving you from sore shoulders! 
Organisation — The Trek has one huge main compartment and a myriad of smaller pockets for arranging and organising your stuff. The main compartment can be sectioned off, so you can store a sleeping bag in the bottom part if required. You can also access this area through an extra zipper on the bottom section, so you don't need to empty everything to get at your sleeping bag! 
Best Hybrid Backpack for Europe
Price Range: $$$$
Best Feature: The hybrid nature of the bag
Feature To Improve: A laptop sleeve would be a welcome addition
---
Cotopaxi Allpa Del Dia — The Most Eco-Friendly Backpack for Europe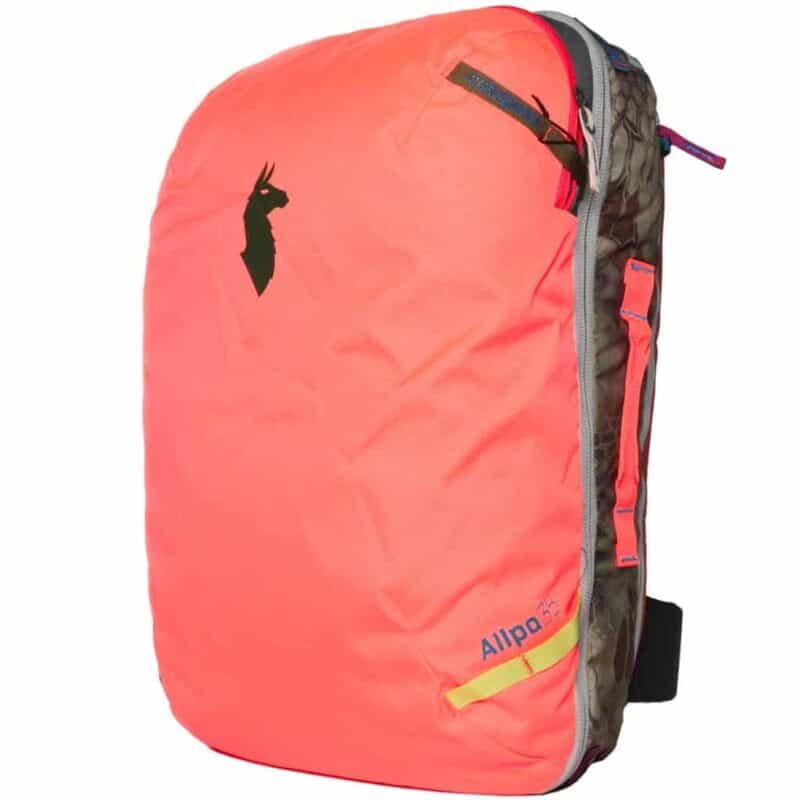 Pros
Rain cover included
Del Dia
Hard wearing 
Cons
No exterior pockets
Anti-theft zips are more annoying than effective 
Del Dia — The Cotopaxi Allpa is available in a regular and Del Dia version. We recommend the Del Dia model because it's made with (Re)Purpose fabrics. These offcuts from other backpack manufacturers mean Cotopaxi reduce waste and limit the environmental impact of their bags. Each Del Dia bag is unique with different coloured panels and stitching! You can choose from a range of Del Dia designs or use the 'surprise me' function to get a random colour combo! 
Size — The Allpa is available in 28, 35 and 42-litre models. The 35-litre model is the best for travelling in Europe because it's carry-on compliant and can still hold plenty of gear. The 28-litre model makes an excellent daypack but only true minimalist travellers will be able to use it as their main pack. The 42-litre model is a little too large to always be carry-on compliant, although some airlines may allow you to take it as hand luggage. 
Suitcase Opening — The Allpa opens up like a suitcase. Once opened, it has a large main compartment on one side and three smaller compartments on the other. Each has its own zipper and they're all separated by lightweight mesh to ensure your gear remains organised. There's a laptop sleeve in the back of the bag. This is accessed through an external zip. All the external zips have webbing tabs which you can pull the zipper through. These help prevent opportunistic thieves from getting into your bag. 
Carry — The Allpa carries well but the back panel lacks some padding compared to other backpacks on this list. The straps are less padded too which saves weight but means they're less comfortable than they could be. The straps can be hidden away if you want to carry the bag more like a suitcase. 
Most Eco-Friendly Backpack for Europe
Price Range: $$$$
Best Feature: Large internal compartments and suitcase-style opening
Feature To Improve: Not the most comfortable back panel
---
What to Consider When Choosing a Backpack for Europe
Size
When choosing a backpack for Europe, one of the most important things to consider is how much stuff you're going to take. You don't want to realise that you've not got enough room for all your gear the night before you travel. Likewise, dragging a massive bag around unnecessarily is a chore and you'll end up carrying way more than you need– not great for your back! 
If you travel light(ish), a 40-litre backpack should be enough. However, if you want a few more home comforts, you'll need to opt for a larger bag. For most travellers, a 60-litre bag will be the most you'll need. 
Comfort
Having a backpack that's the right size for your stuff is all good and well but if it's not comfortable, it's a waste of time. Look out for bags with quality back support, padded straps, a good hip belt and a sturdy sternum strap. These features all make a backpack much more comfortable to carry.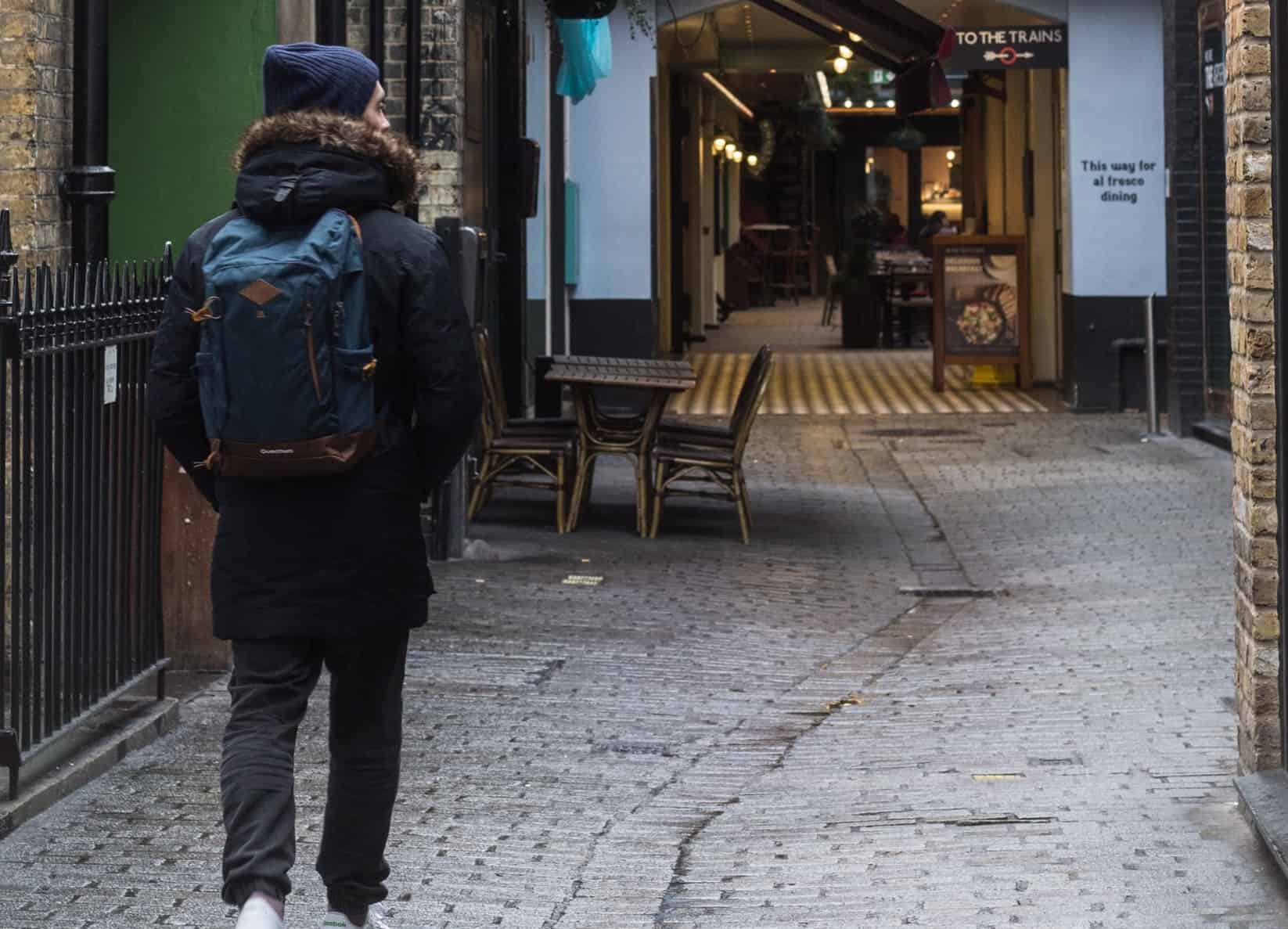 Durability
Backpacks that are badly built, or made from shoddy materials, will fall apart and need to be replaced. It's bad for your wallet and the planet. A long-lasting backpack costs a little more initially but will last for years of travel! 
👉 Check out this post if you're looking for the most sustainable backpack choices! 👈
Weight
Remember, you've got to carry it! A backpack that weighs too much will be uncomfortable and in rare cases, cause injury. It can also take your luggage over the weight limit for airlines which means paying more! 
Organisational Features
Do you like a bag to be full of pockets and hidey holes, or do you prefer a bag with one big main pocket that you can stuff all your belongings into? It all comes down to personal preference. 
Backpacks with a lot of pockets make it much easier to organise and find your gear. However, the extra features impact the bag's usable space and add to the overall weight. Bags with just one large compartment can store slightly more (if packed correctly) but you'll probably find yourself digging through all your gear to find small items that inevitably fall to the bottom. 
If you opt for a backpack with few organisational options, packing cubes can help keep your stuff in order!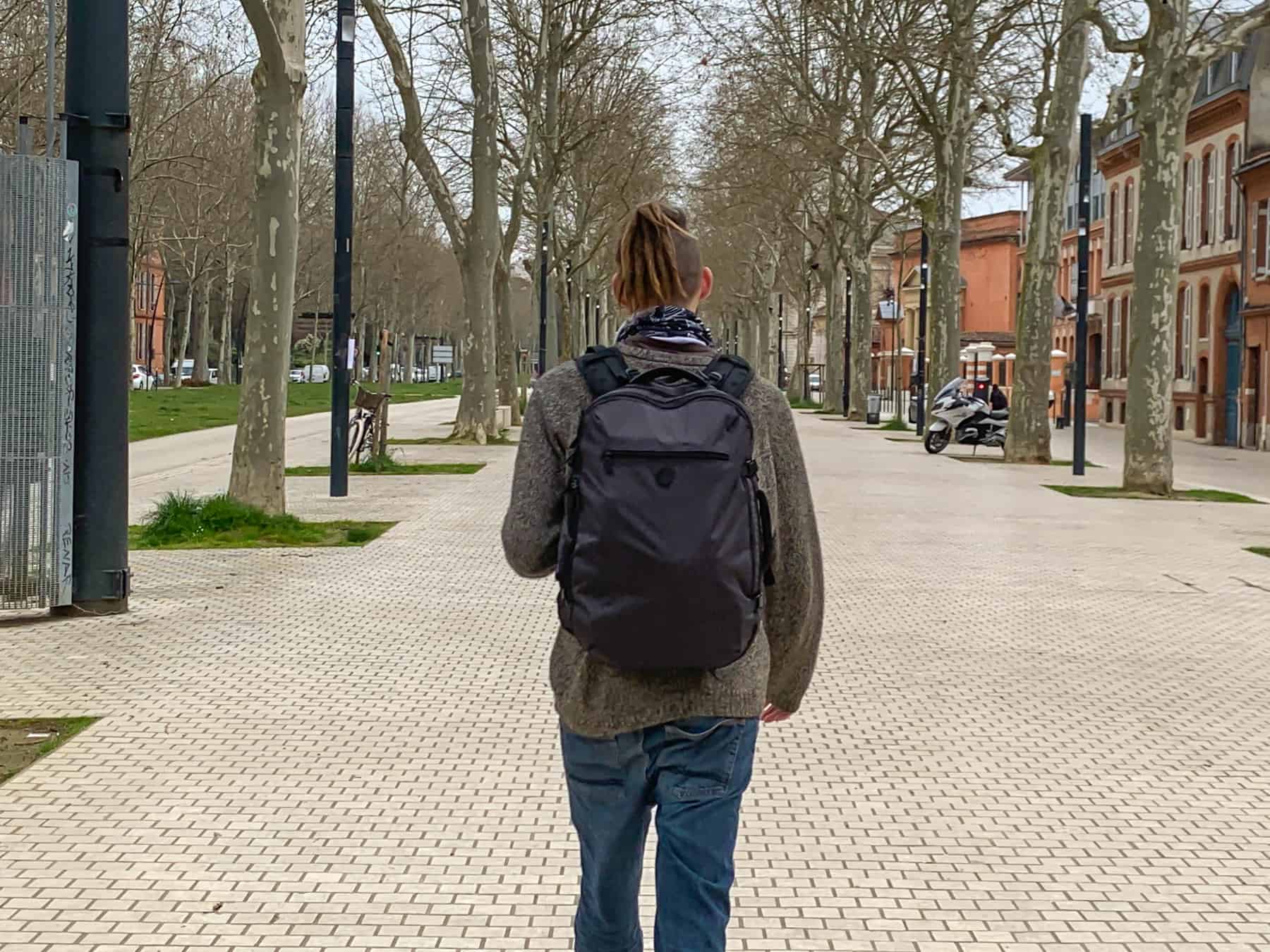 Security Features
Europe is home to some of the safest countries in the world. But as with everywhere, there are common scams and crimes to be aware of. Pickpocketing is rife in some of the continent's popular tourist destinations. To protect yourself from thieves, consider a bag with added security features. Lockable zips and hidden pockets are the bare minimum and are common in most travel bags. Other features to look out for in anti-theft backpacks are slash-proof materials and uncuttable straps. 
---
The Best Backpacks for Europe FAQs
What's the best size backpack for travelling Europe?
There's no one right-size backpack for travelling in Europe. Light packers are unlikely to need a backpack more than 40-50 litres. Bags on the smaller end of this range can usually be taken as carry-on for international airlines too, so you won't need to check a bag! 
For travellers wanting a few more luxuries, a 60-65-litre bag should be enough. Any bigger and the bag starts to become unwieldy – especially when navigating tight city streets or public transport! 
Is it safe to travel with a backpack in Europe?
Yes, it's safe to travel with a backpack in Europe. However, some cities in Europe have a bad reputation for pickpocketing. Keep your wits about you and don't leave your bag unattended. When on public transport, store your bag at your feet rather than on your back – especially if you're travelling at rush hour. 
Travelling with a backpack in Europe is just as safe, if not safer, than travelling with a suitcase. 
Backpack vs suitcase for travelling in Europe?
Europe is full of ancient cities, narrow streets, cobblestones and extensive public transport systems. A backpack is much more suited to this environment than a suitcase. Having all your gear on your back means you can zip over uneven ground, down into metro systems and through crowds without having to drag everything behind you. 
Is a 40-litre backpack enough for travelling in Europe?
For most travellers, a 40-litre backpack is enough for travelling in Europe. While some might want a bit more space from their bag, the pros of travelling with a smaller bag far outweigh the cons. Being able to fly carry-on only and keep all your stuff with you on planes and trains more than makes up for having to leave an outfit or two at home. Plus, a smaller bag is easier to carry when you're exploring or moving between cities! 
---
Round Up of the Best Backpacks for Travelling in Europe
When choosing a backpack for Europe, size, comfort and durability are the most important factors to consider. Our favourite bag for travelling on the continent is the Osprey Farpoint/Fairview. This excellent all-rounder is the perfect travel companion for almost any trip. 
We also love the Cotopaxi Allpa 35. It's an excellent backpack but the environmental and charitable work done by Cotopaxi really makes it stand out as the eco-friendly choice. This is also true of the Tropicfeel Shell which has fewer organisational features but is still an environmentally friendly option. 
The best anti-theft backpack for travelling in Europe is the Pacsafe Venturesafe. And if you need a little more space, consider the Salkan Backpacker. The Mainpack and Daypack combo makes for an excellent all-in-one travel setup!