Firstly, introduce yourself!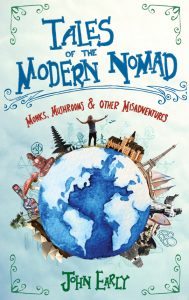 My name is John Early, a ukulele-carrying Canadian that—although it wasn't exactly intended—ended up finding random jobs to sustain traveling the world for a decade. I'm about to release my self-published book of eclectic insights from the last ten years called Tales Of The Modern Nomad – Monks, Mushrooms & Other Misadventures. The focus is mainly on those moments and experiences you don't get to read about in travel guides…you know, those embarrassing or ridiculous backpacker stories that often only get shared after too many drinks late in the hostel bar.
Tell us a little about your book – where did the idea come from?
I never set out to write a book. (It's still pretty surreal to think about actually!) It began with keeping candid travel journals of the journey, then moved into writing for various blogs and travel magazines (including several features in the original South East Asia Backpacker Magazine!) and now it's a multi-year passion project that turned into a full 300-page book of wild stories and cultural insight from over 30 countries.

What makes Tales of a Modern Nomad different to the rest?
This isn't your standard travel book. Backpacking isn't a vacation—it's a lot of work! You get bombarded with a constant flux of experiences and in a quantity, you just wouldn't get in the safety net of being home. To me, the essence of backpacking is getting comfortable with being uncomfortable. And Modern Nomad is a book that captures those situations you might not want to relive, but always seem to retell for a laugh with your friends and fellow travelers. From the awkward (…This Must Be A Monk Thing) to the ridiculous (Damn French) to the terrifying (How to Get Robbed in Mexico) to the psychedelic and spiritual (The Call of Ayahuasca) it's amazing what you can learn from the weirdest of circumstances and farthest of places. But overall, it's a book for backpackers written by a backpacker. The idea is you can flip to any page and be totally engaged during a short EuroRail ride, tuk-tuk taxi or between hammock siestas. The entire book is an eclectic mix of prose, lyrics, random facts, journal sketches and over 220 photos.
Where have you travelled so far?
I've been fortunate to experience over 30 countries across five continents. From studying in chilly Northern France, to surfing Eastern Australia, being a tour guide on the bustling streets of Bangkok to most recently living in the jungles of Central America. It's amazing what you can find in common with people and cultures across the world—often without even speaking their language. As Steven Wright said:
"It's a small world…but I wouldn't want to paint it!"

In 10 words or less, sum up the Modern Nomad ethos…
Live a Life Worth Journaling!
It doesn't matter where you are or what the experience, if you can find a way to write it down to learn and grow from it, you'll earn yourself a priceless education unfound in books or schools.
Most memorable moment from your trip so far?
There are definitely too many to choose from, but since this is Europe Backpacker, I'll at least focus on that continent! I had an absolute blast in the Czech Republic. Statistically, the majority of people visiting the country don't leave the downtown core of Prague. It's a shame since Czech has so many interesting rural towns and villages. I visited the beautiful castle town of Cesky Krumlov on a whim with a random traveler from my hostel after we were given the advice to "Go beer rafting through the town but don't feed the moat bears in the castle." How do you say no to that? We ended up so drunk from drinking Plzen while we rafted and doing shots with the locals at their beer shack stops that I passed out and woke up sleepwalking in their deserted castle late at night. Everything was still open, but the place was deserted—it was surreal.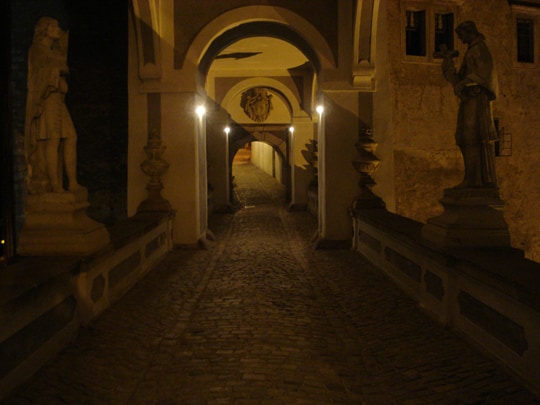 Most spectacular spot you have discovered so far?
This summer I spent two months in Europe. It was on my bucket list for years to tour Berlin (since I cancelled my Berlin plans to hit Cesky Krumlov nine years earlier). Specifically I wanted to explore its back alleys and alternative world of street art. I stumbled into an underground robotic monster puppet exhibit called Monster Kabinett. It was Berlin in a nutshell: beautifully weird, bursting with creativity and very engaging for a short-attention spanned traveler like myself.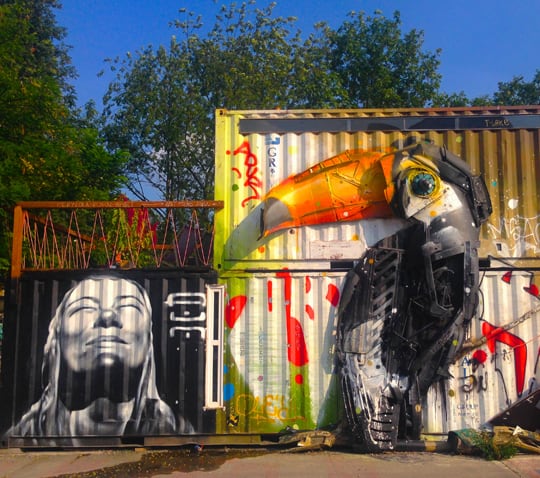 Tastiest meal you've eaten en route?
The most unexpectedly tasty meal I had was in Thailand. My Spanish friend and I were waiting for the overnight ferry to Koh Phangan and nothing was open at midnight except for one street vendor. He was selling fried insects. While the worms were overly chewy and the cockroaches a little too meaty, the crickets had a delightful crunch and made a delicious snack with the salty soy spray.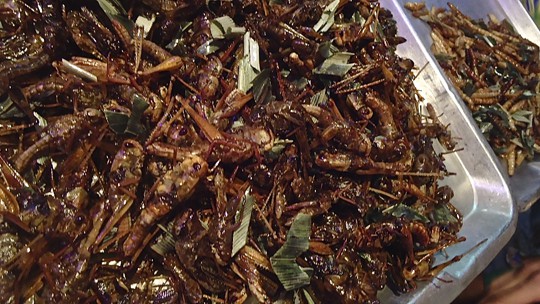 Your favourite road trip tune/soundtrack…
The British producer Bonobo is probably my favourite artist, especially for the cinematic style travelscapes he can paint with music. His Black Sands album has definitely been the soundtrack for many of my adventures and travel days.
Where are you heading next?
After I wrap up my book launch this month I fly to Nicaragua to get ready for my third time managing Free & Easy Traveler's 10 day NYE party trip for backpackers, The Final Fiesta. I can't wait to get back. Nicaragua is a beautiful country with great surf and welcoming locals. It's changing quickly with the tourism boom happening and catching up quick to its expensive and busy neighbour to the south, Costa Rica. But there are still lots of gems to find.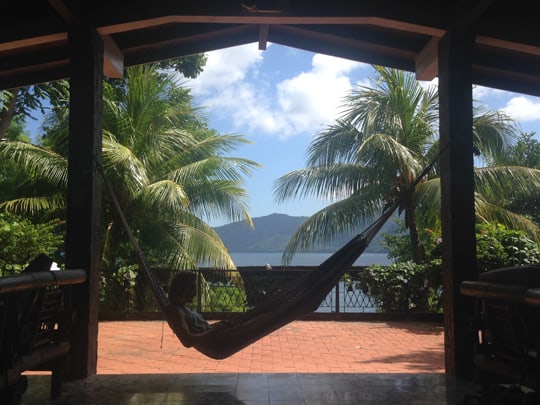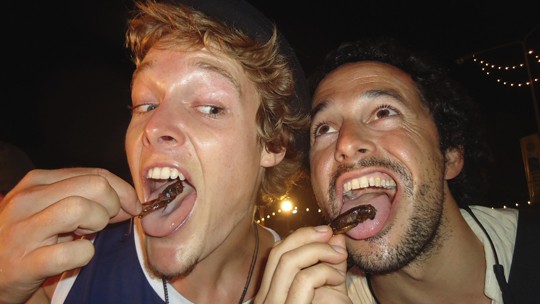 For more info on John's book and blog check out www.modernnomad.ca or follow him on Instagram. There is currently a book preorder campaign with some added fun incentives for people to help John cover the costs of getting his book printed while also being the first to get their hands on a copy! Check it out here.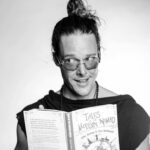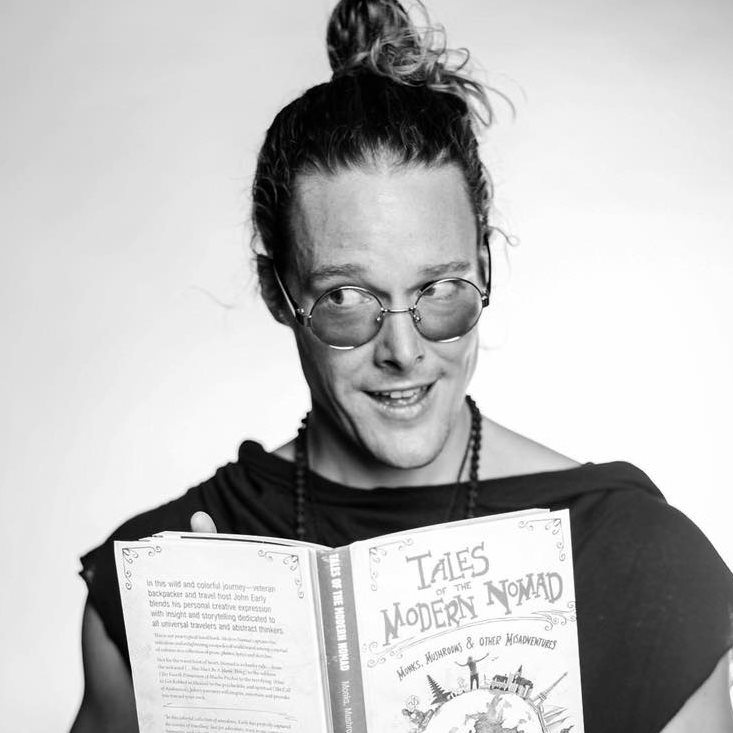 John Early is a backpacker, writer and musician who has explored Southeast Asia, South America and Europe. He has self-published a crazy travel book: Tales Of The Modern Nomad – Monks, Mushrooms & Other Misadventures, a wild ride through over 30 countries via stories, prose, poetry and quotes. He is the co-founder of Momentom Collective, an international community of yogis, artists and thought leaders, in Nicaragua.