Back in 2015, two young Belgians travelling in Guatemala had a dream… to import an old disused school bus from America, and convert it into a luxurious hostel on wheels. Impossible, right? A pipe dream you might think.
Yet in April 2016 the Nomads Bus hit the road, decked out with bunk beds, a fully-functioning kitchen, a roof deck and all the home comforts you could wish for. We managed to track down this elusive yellow bus, and find out more about the adventurous family behind the wheel…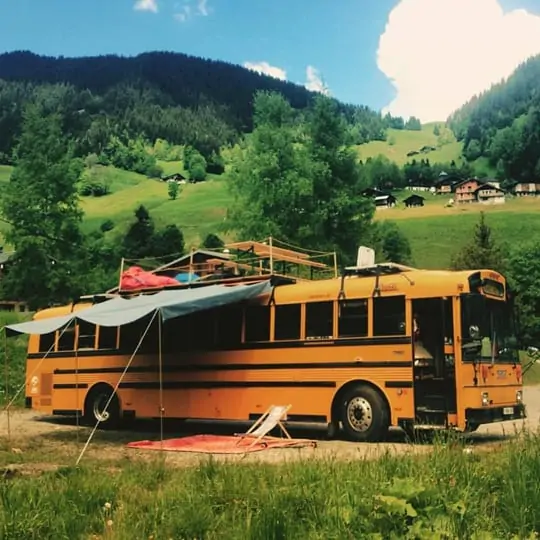 Val (from Belgium): Life-long traveller and Head Chef on the bus!
Tim (from Belgium): Snow sports-lover and Bus Driver.
Baby Fenna: Fearless adventurer and chief mischief-maker.
Lewis: The family dog.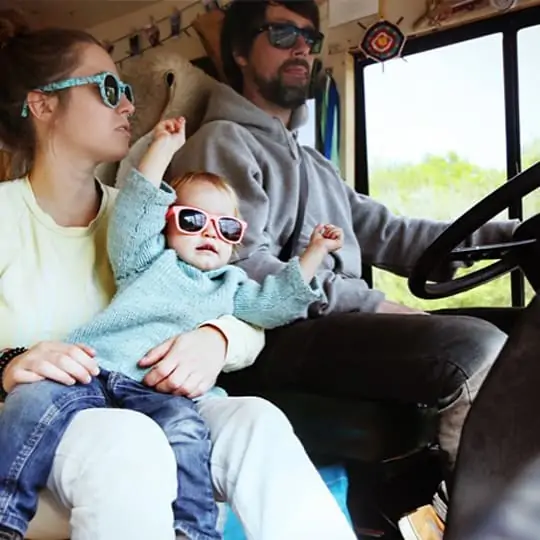 Tell us a little about Let's Be Nomads – where did the idea first come from?
We were travelling in Guatemala – as part of a two year round the world trip that we were on, with a budget of just €9 per person per day! It was fun, but challenging and exhausting all at the same time. Whilst on the road, we decided that we wanted to start a hostel, but couldn't choose where in the world we would want to locate it. We already had the idea of changing a school bus into our home, and then it dawned on us! Why did our hostel have to be stuck in one place?
The Nomads Bus was born through a CrowdFunder campaign, which gave us enough funds to import the school bus (aka Jumbo George) by boat from America. Then we started the long process of refurbishing and fitting out the bus, which took almost two years before we were able to hit the road!
Where has the Nomads Bus travelled so far?
The journey began when we drove to Val Thorens in May 2016, with a bus load of passengers! It was our first week as a hostel on wheels and we will never forget it – lots of sun and plenty of good snow – it was an epic first week.
Then we drove to the beautiful Lake Annecy, and we stayed there for a few weeks hiking, relaxing and working on the bus (as well as our website and branding). Our dream had just been born and it was an amazing feeling!
Next on the road trip was Les Arcs, again with all our bus-bunks full. There we enjoyed down-hill mountain biking, hiking and plenty of exploring… As well as a few BBQs and Cinema Nights, of course! Then we headed on to Provence to visit some family, which is where you find us now.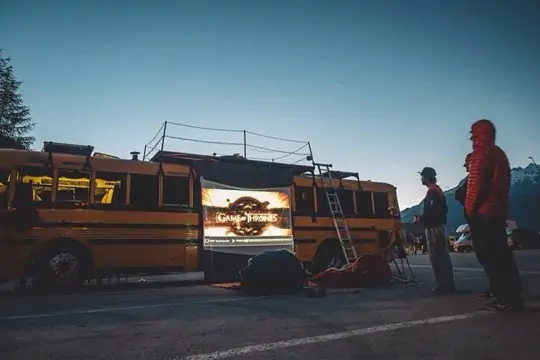 Describe a normal day on The Nomads Bus…
We wake up and start the day with a chilled breakfast… It's up to our guests when they rise! Some like to get up at the crack of dawn and sieze the day, others prefer to read their books leisurely over a cup of fresh coffee… Breakfast is something different every day – it could be pancakes with fruit, or maybe oatmeal. We eat together in the bus, or if the weather is nice then we'll sit up on the roof and soak up the sun!
Days on the Nomad Bus are spent discovering what the region has to offer… whether that's enjoying the views from our parking spot, chilling, reading and relaxing, or heading out in search of adventure. We can help you to organise activities such as hiking, downhill mountain biking and so on. Every day we eat dinner together, and quite often have a BBQ – to which we'll invite all our neighbours in the parking lot! Then we'll continue the evening with plenty of beers, or stick a film on the outdoor screen.
In short, there is no normal day on the Nomads Bus. It totally depends where we are, what there is to do there, and what our guests fancy doing! Having fun, chilling, exploring, doing your own thing… whatever it is, we can guide you!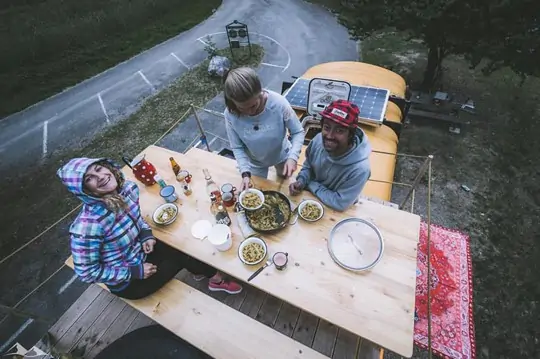 Sum up the Let's Be Nomads ethos…
Do what you love to do. We hope that wherever we go with the Nomads Bus, we're inspiring people to live by that motto! Don't get stuck doing something you don't like doing… take that chance, and remember that everything happens for a reason!
Tell us your most memorable moment from the bus trip so far?
It's impossible to choose just one moment! The definition of adventure is when things don't go quite as planned… while it may feel exhausting, finding solutions and turning the situation round is what means you never forget those moments!
Every day on the Nomads Bus is an adventure. A new location, a new region, a new parking lot, a new group of awesome guests… But there are two moments that truly stand out. Once, when we went hiking up a beautiful mountain without a road in sight. Just as we sat down to have our lunch, it began to rain. We picked up our bags and continued up the mountain until we found a cave to shelter in. Then we lit a fire and melted a huge cheese on it… in the middle of nowhere! The mountains are a truly magical place for us – you feel as though you're on top of the world.
Another moment that we'll never forget is when we drove to Les Deux Alpes. A local man contacted us on Facebook and told us to get in touch if we were ever in the area, to come over for a BBQ. It wasn't long before that same man had spotted our big yellow bus, and gotten back in touch! We invited him over to our parking lot for a BBQ, and said he was welcome to bring friends. When the coals were hot, the cars started arriving. It turned out there were a lot of friends! We spent the evening eating BBQ'd meat and delicious salads with 14 new friends. Every single one different, yet all eating together and chatting as if they had met many times before. It's the amazing unexpected moments like this that make the Nomads Bus so unique!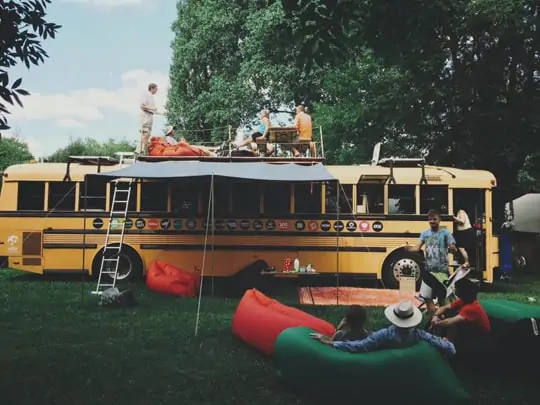 What's the most spectacular spot you have discovered so far?
Our favourite place so far has to be Les Deux Alpes. We're real snowbunnies (yes – even Fenna!). You can experience the best of both Summer and Winter here – there's skiing, hiking, mountain biking… Everything is possible!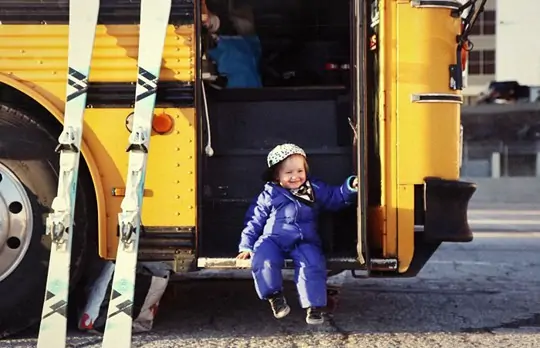 Where next for the Let's Be Nomads bus? 
Over the next few months, we'll be back on the road heading to Biarritz, then north to Bordeaux. After that, it's back to Biarritz, then on to Bilbao where we will stay and explore the region for a while. We have a full bus for most weeks of the summer so we're looking forward to making new friends, visiting new places and creating amazing new memories!
What makes a trip on the Let's Be Nomads bus different to a normal holiday?
If you like adventure and are flexible, then a trip on the Nomads Bus is the optimal holiday for you. You have everything you could wish for – we visit lots of different places, you have people taking care of you and arranging things, a great Chef cooking for you (of course). There are just so many things you can do in the bus. And it's totally unique – when else would you go and stay in a hostel on wheels?
The most amazing thing about the Nomads Bus is the people. It's as if there's an invisible field around the bus that only let's people in with positive, adventurous vibes! You will always find like-minded people on the bus, looking for a fun filled road trip full of delicious food, great wine and good company. A holiday on the Nomads Bus guarantees new friends for life and that is the most beautiful thing.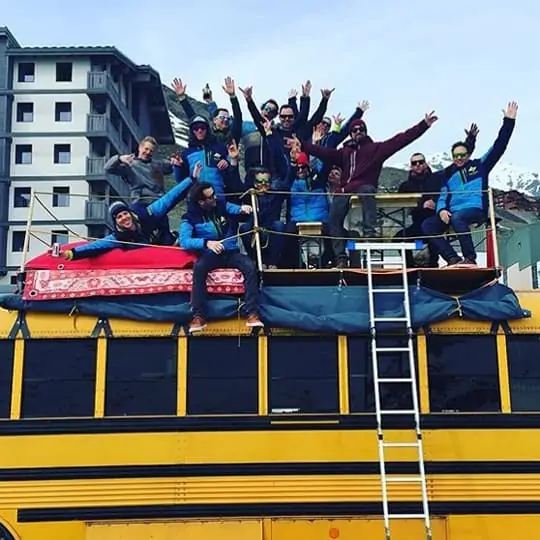 How can we hop on board the Nomads Bus? 
The best way to join us on our journey is to get in touch. Our plans are always changing and life on the road is never the same… Drop us a line to find out where we are going and what we'll be doing!
Beds on the Nomads Bus will cost you just €50 per night, including a home-cooked breakfast and dinner each day, unlimited coffee and tea, travel between our destinations and a chill-out evening (with six beers or the equivalent!).
What are you waiting for? The bus bunks are filling fast…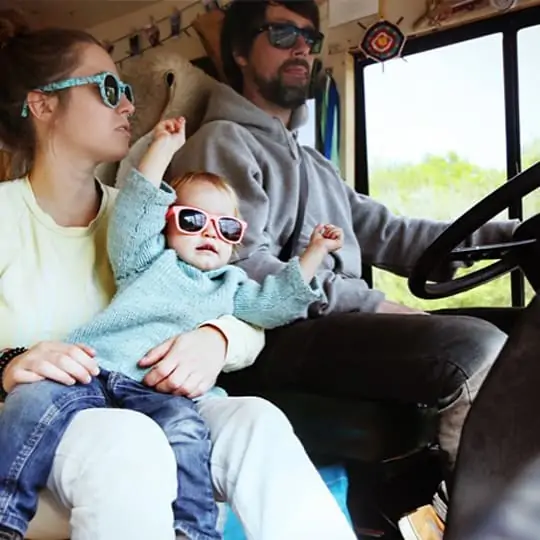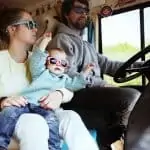 Thanks to Val from Let's Be Nomads for giving up her precious time to chat to us. We can't wait to join you on the road some time in the future!