Located in the north of Belgium, Bruges boasts cobbled streets winding their way past willow tree-lined canals, medieval architecture and endless shop displays piled high with delicious Belgian chocolates.  
Pull up a chair at one of the many cafés and enjoy a spot of people-watching as you sip a crisp Belgian Blond. Or, if you want to get away from the hustle and bustle, grab a cone of frites and head to one of the beautiful parks in the south of the city. 
Although Bruges isn't the capital, it's a very popular destination, with around nine million visitors annually. This being said, there is still an abundance of quiet backstreets away from the crowds, as well as plenty of affordable activities.
---
Best Time to Visit Bruges
Like most of Central Europe, to get the best chance of good weather during your trip we recommend travelling during May-August. With temperatures reaching the low twenties even on hotter days, it's fairly easy to escape the heat under a café parasol with a cold beer in hand. 
If you aren't bothered by the cold and would like to avoid peak crowds, you could travel during the neighbouring months of April or September instead to avoid the local school holidays and summer tourists.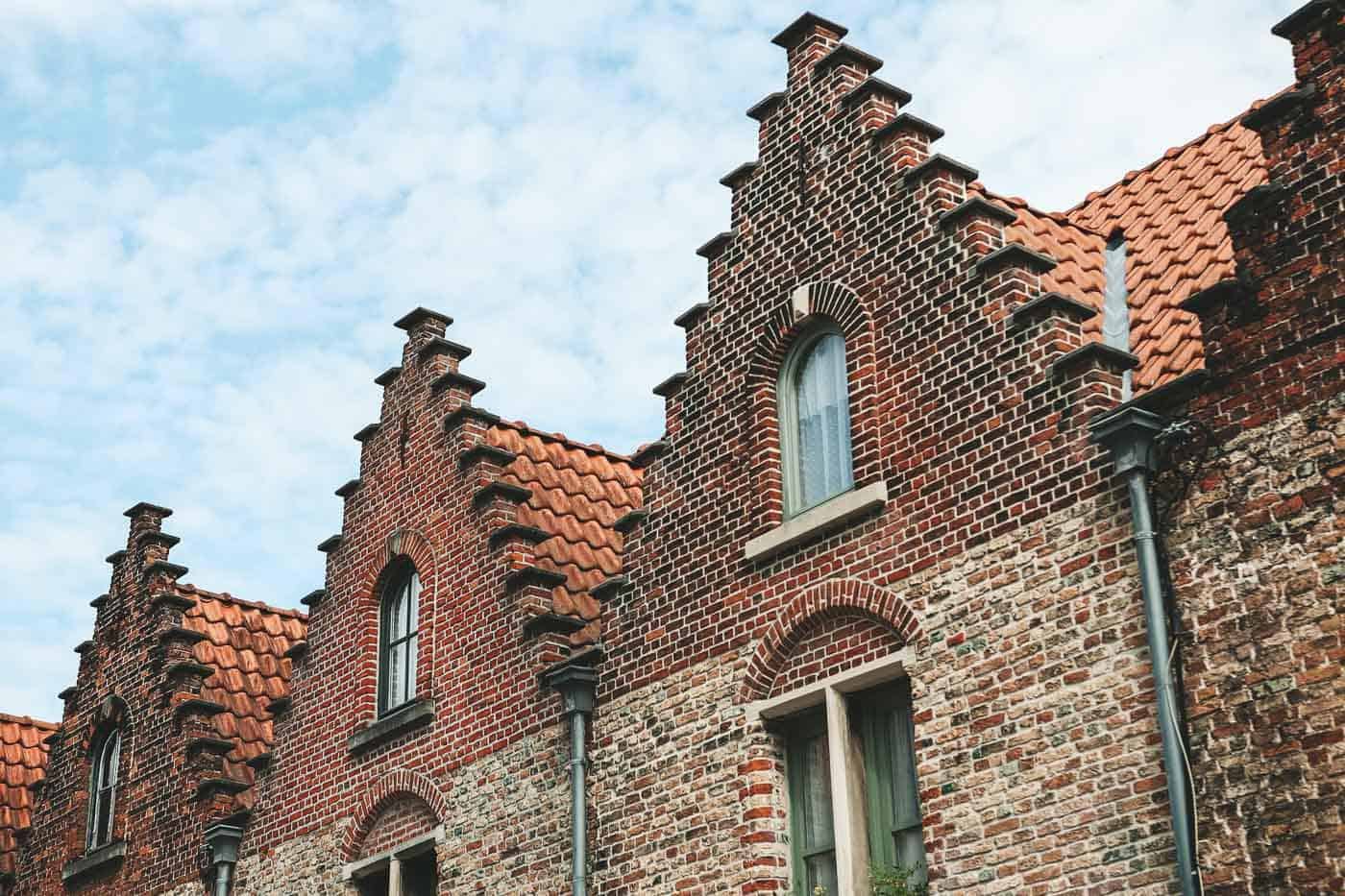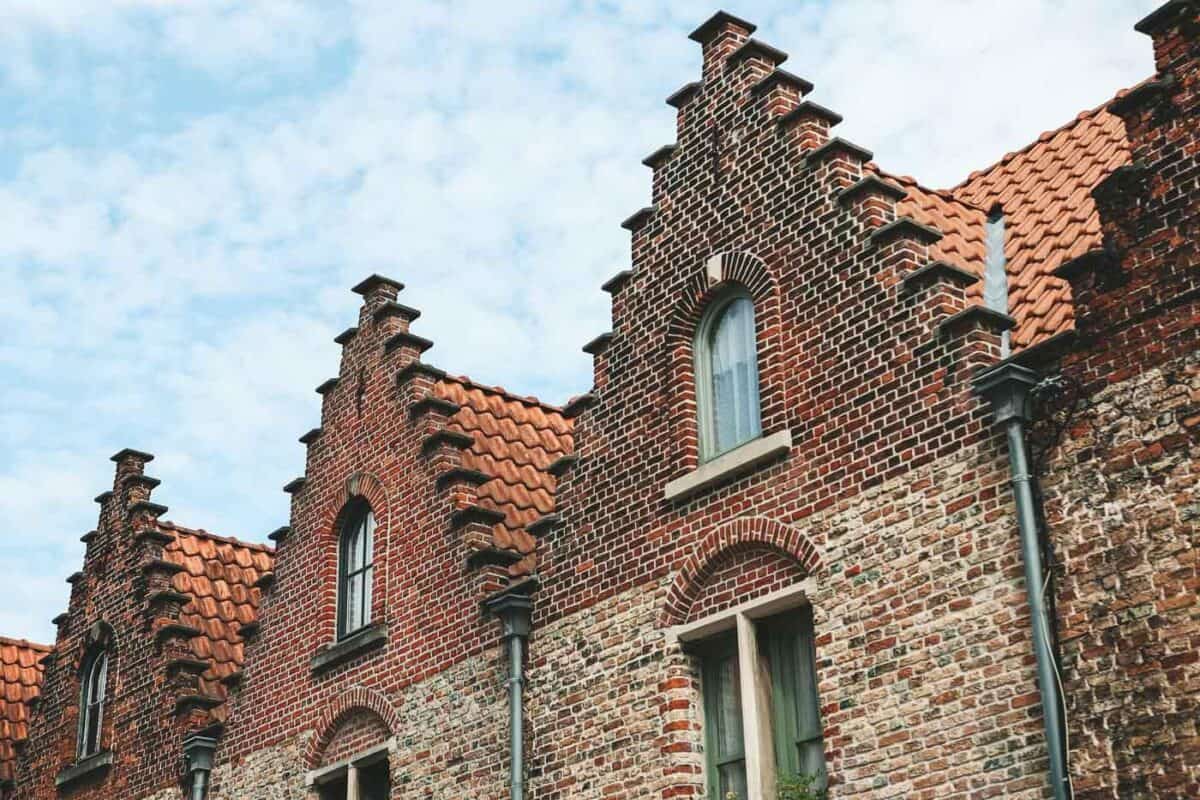 Seeing as Belgium is famous for its chocolate, waffles and beer, it's hardly a surprise that it's also great to visit at Christmas. Bruges, with its historic squares and quaint streets, is the perfect place to experience the holiday festivities. 
The Bruges Christmas market runs from the end of November to the beginning of January. It's accompanied by Bruges Winter Glow, which adorns the streets with multiple light installations, bathing the city in a festive glow.
---
Where to Stay in Bruges
The city centre is the beating heart of Bruges and doubles up as the ideal base to explore the city. Putting yourself within walking distance of the best restaurants and tourist attractions, the city centre boasts plenty of hotels for travellers with a more flexible budget – an average private hotel room in Bruges will set you back between €70-€100 per night.
If you prefer budget-conscious travel, then make your way to the Ezelstraat Quarter in the western centre of the city. This up-and-coming district of Bruges gives off a more backpacker-friendly vibe with a great selection of budget accommodation, hostels and bars, yet is still only a quick 10-minute walk from the Belfry of Bruges. In Bruges, an average hostel bed (in a shared dorm) will cost you around €20-€30 per night.
---
Best Hostels in Bruges
Disclosure: Some links on this page are affiliate links. We always write our articles before checking if affiliate links are available.
Snuffel Hostel is a relatively new hostel with a modern, minimalist design. It is set in the heart of the Ezelstraat Quarter, only an 8-minute walk from Markt Square. Its cheap and cheerful price tag will buy you a bed in an immaculate and spacious dorm with free WiFi and even an in-house bar to try a selection of Belgian beers! Continental breakfast is supplied at an additional but reasonable cost, although you can whip up your own food in the shared kitchen. 
The train station is a manageable 27-minute walk from Snuffel Hostel but if your backpack is feeling particularly heavy, several buses run on various routes, dropping you a leisurely 7-minute walk from the door.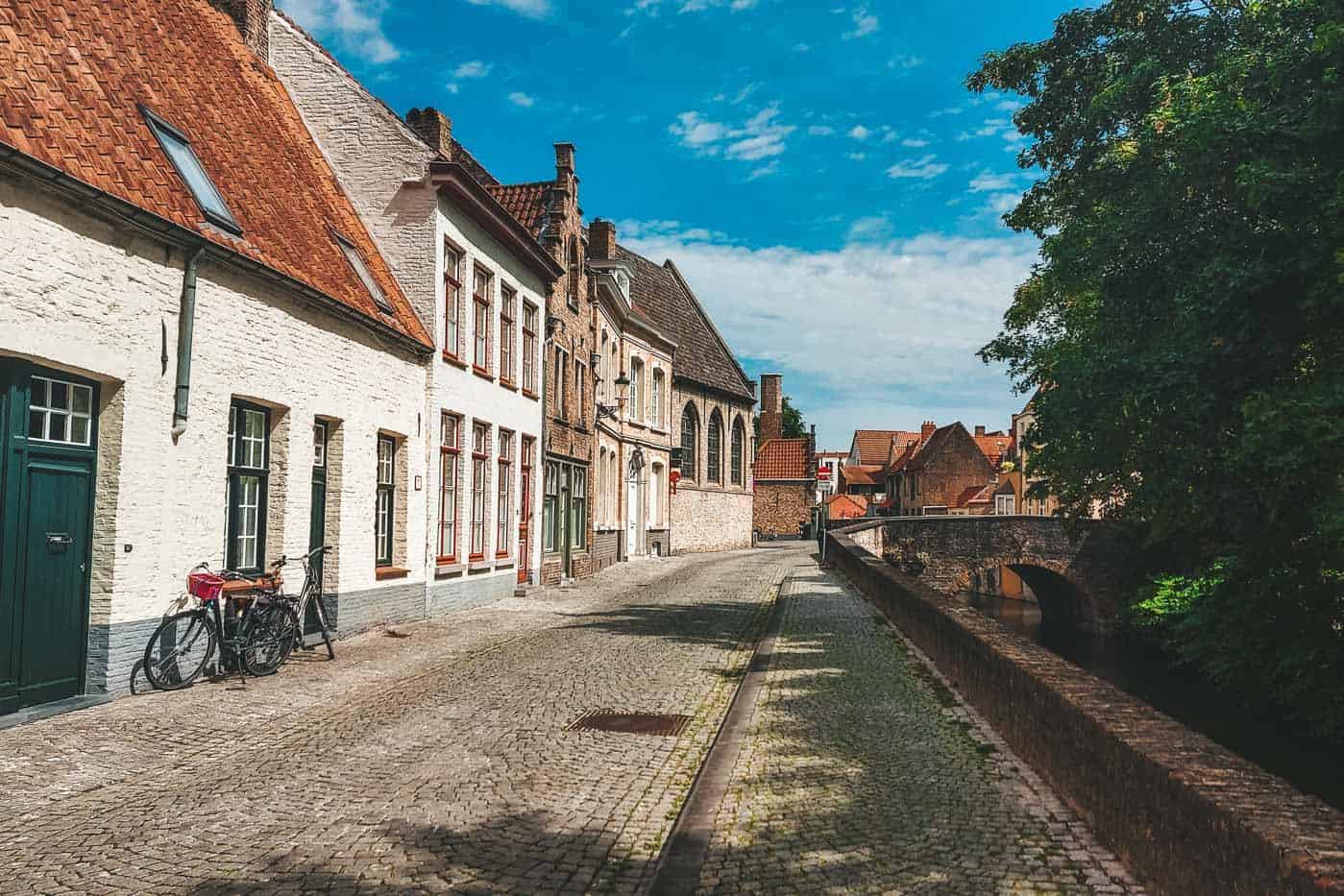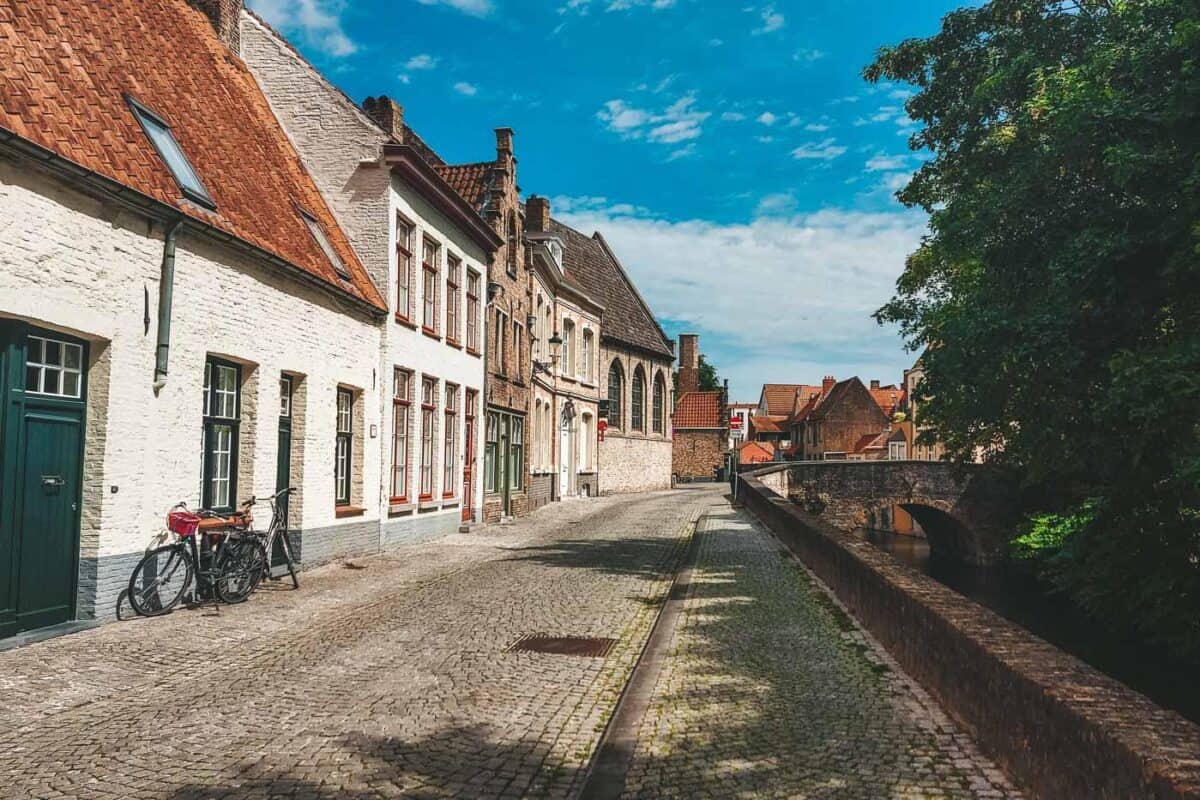 2. St Christopher's Inn Hostel at The Bauhaus
If your requirements for a place to stay include having a bar at least 10 metres from your bed then look no further than St Christopher's Inn Hostel! Situated in the Sint-Anna Quarter in the eastern half of central Bruges, this hostel is in a great location for travellers looking to have a good time and explore the city, with the famous windmills only five minutes away. 
The friendly and helpful staff are available 24/7 and are always on hand to give you helpful tips for discovering the city, as well as offering free walking tours to guide travellers around the endless backstreets and canals.
If you don't mind a bit of a walk into the city centre, then Hostel Europa is a great option. Located a 20-minute walk away from the train station,  Hostel Europa is ideal for shoestring travellers who crave creature comforts, like free buffet-style breakfast, an on-site bar and even table tennis. Don't let the walk to the city centre put you off, the hostel also offers bicycle hire. 
---
Things to Do in Bruges
1. Visit the Church of Our Lady Bruges 
With its impressive steeple towering 122m above the city centre, the Church of Our Lady is hard to miss during a trip to Bruges. Take a walk through the grounds to find picturesque courtyards divided up by canals and large gateways, providing plenty of photo-worthy scenes.  However, with only a few small bridges and walkways, you'll need to be prepared to queue to get the perfect shot! 
Once inside the church itself, you can take in the treasure trove of art, wood carvings and sculptures that have been collected there since its completion in the 15th century, including one marble sculpture: the Virgin Mary and Baby Jesus by Michelangelo.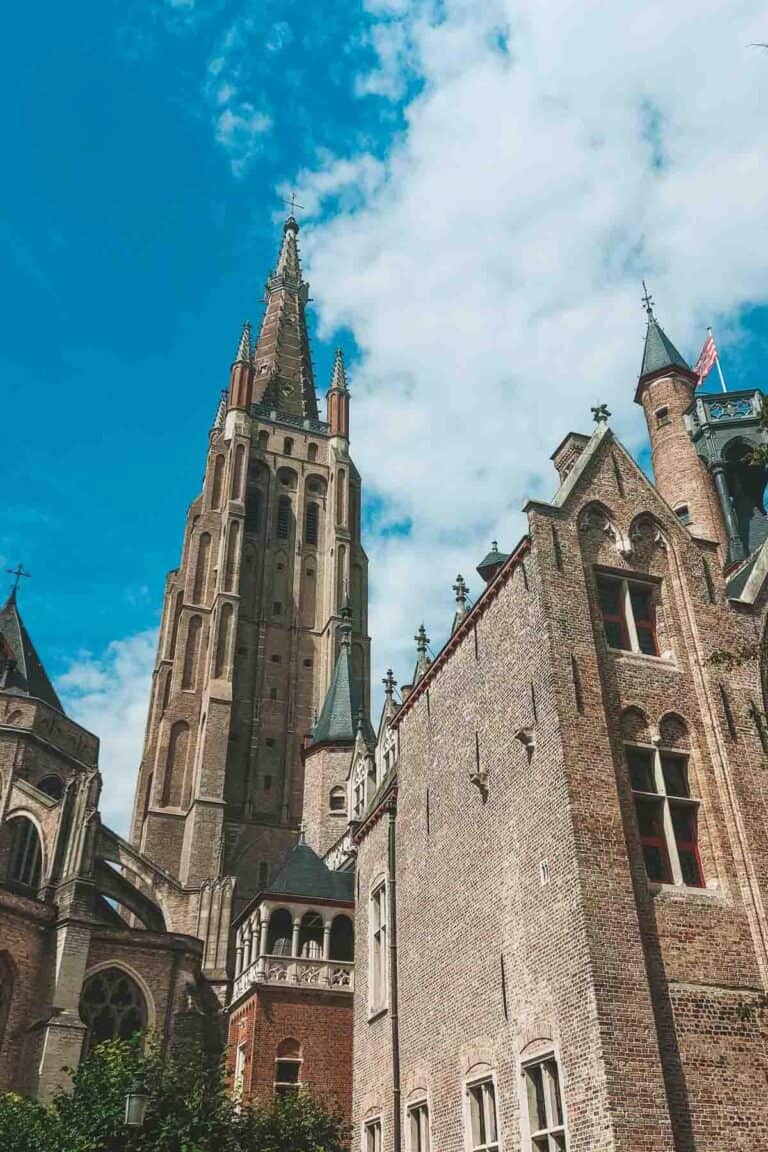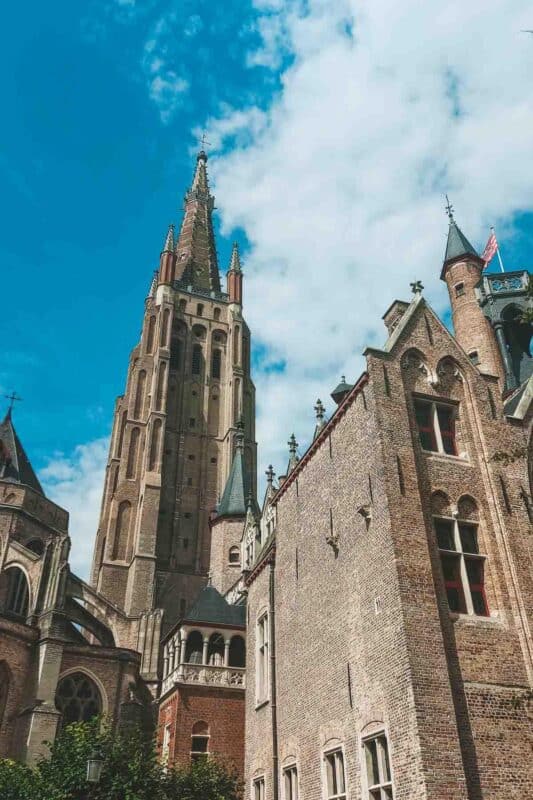 2. Gaze at the Stunning Rozenhoedkaai
The Quay of the Rosary (Rozenhoedkaai) is quintessential Bruges, and therefore is the most Instagrammed spot in the entire city! It is easy to see why, with beautiful medieval buildings lining the waterway and the Belfry of Bruges towering in the background, it makes for a perfect photo in any weather. 
At night, the buildings are lit up and the reflections in the canal enhance the romance of the area even more. Pull up a chair at one of the nearby cafés and just drink in the view! 
3. Explore the Canals by Boat
After your coffee break at the Quay of the Rosary, hop on a canal boat for a quick 30-minute swans-eye view tour of the city. Tours dock at the quay as well as four other landing spots throughout the city centre. 
Sitting low to the water, you'll gain a brand new perspective of Bruges' intertwining waterways and discover secrets that cannot be seen from the cobbled streets. All the boat tours follow the same route and usually run from early March to mid-November (some tours run outside these dates, but that's up to the tour companies to decide).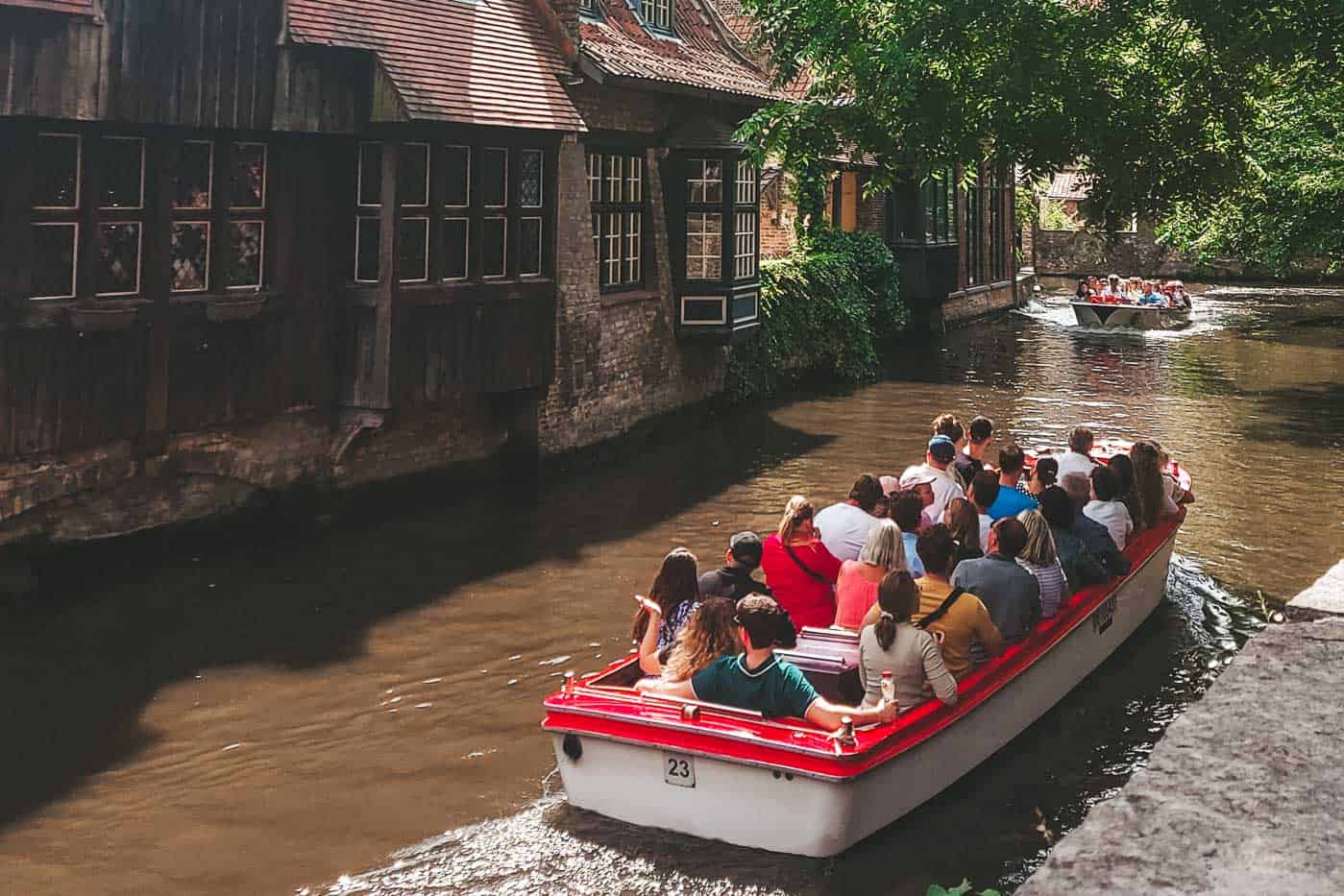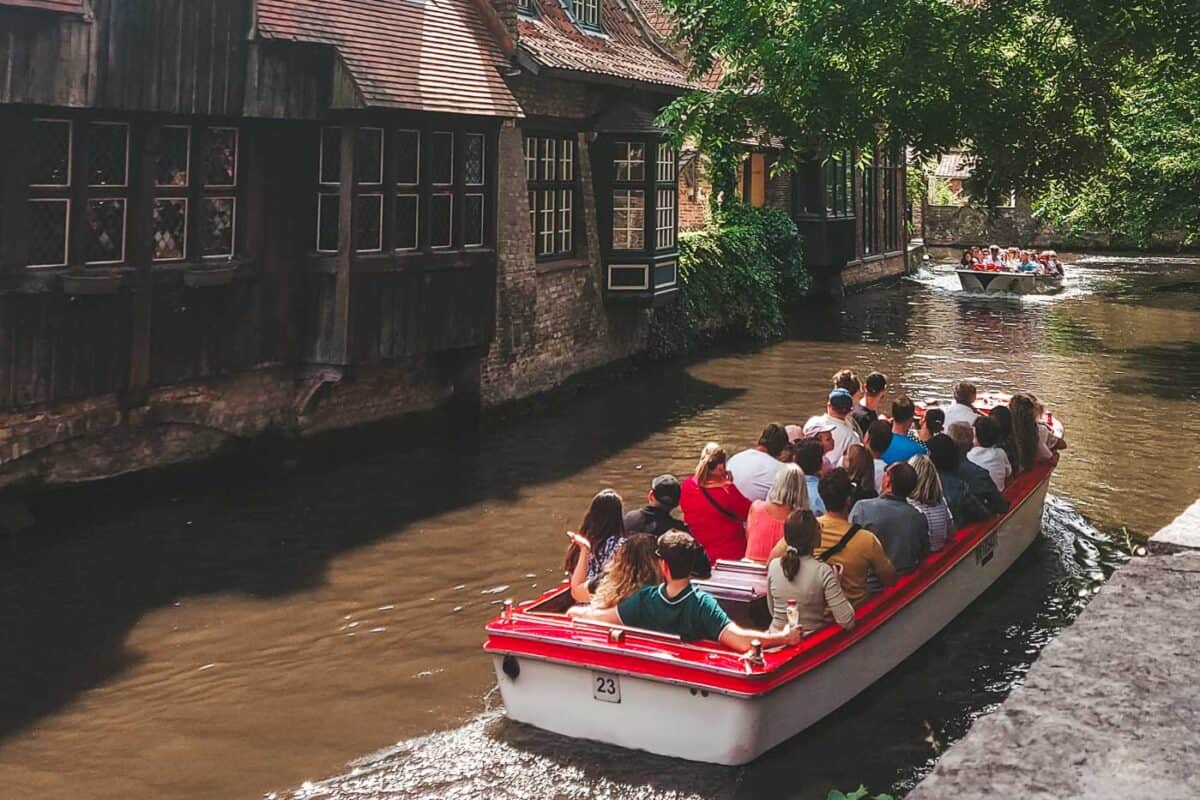 4. Relax in Minnewaterpark
Take a break from the busy market streets and head south from the centre to Minnewaterpark to recline on a bench and enjoy a little slice of nature. Bruges is said to be one of the most romantic cities in Europe and it is clear to see why!
Set around Minnewater Lake, once believed to be home to water nymphs, the park is the perfect place to take a stroll with your other half through the dappled pathways or to find an empty patch of grass and settle down for a picnic. 
Make your way to Lovers Bridge and take in the view over the lake with the Church of Our Lady Bruges poking through the trees in the distance.
5. Wander Through the Old Town
One of the best (and free) things to do in Bruges is let your feet take you along for a ride and marvel at the beautiful architecture, endless courtyards and cobblestone alleyways, all with their charm and intrigue. 
Every corner is beguiling in the historic centre of Bruges, where you can easily spend hours exploring if you don't mind getting a little lost in the pretty streets. If you are looking to learn something as you wander, there are plenty of guided walking tours (some free), brimming with information for the fact-hungry traveller. You can also download a walking tour map from Visit Bruges and head off on a tour of your own. Oh, and if you're a fan of the hit European movie, 'In Bruges' you can head off on a walking tour which will take you to the filming destinations!
6. Climb up the Belfry of Bruges
Time for a leg workout with a 366 stair climb to the top of the Belfry of Bruges, where you'll be rewarded with stunning panoramic views of the city. With versions of the Belfry dating back to the 13th century, you'll get more than just views with a visit to this impressive tower; its rich history can be experienced as you make your way through the halls and up the many stone steps. 
Situated in Markt Square, the Belfry houses an impressive 47 bells, which can be heard at Carillon concerts on Wednesdays, Saturdays and Sundays from 11-12 noon. During the summer evenings, performances can also be heard on Mondays and Wednesdays at 9 pm.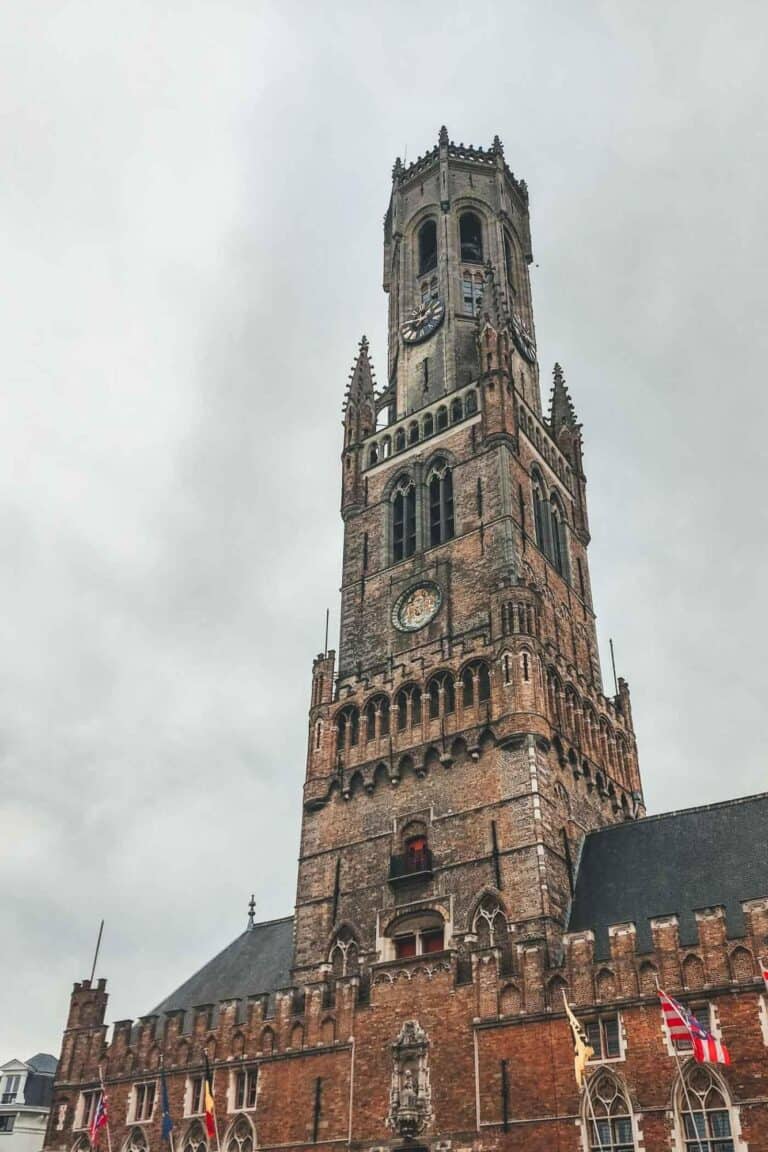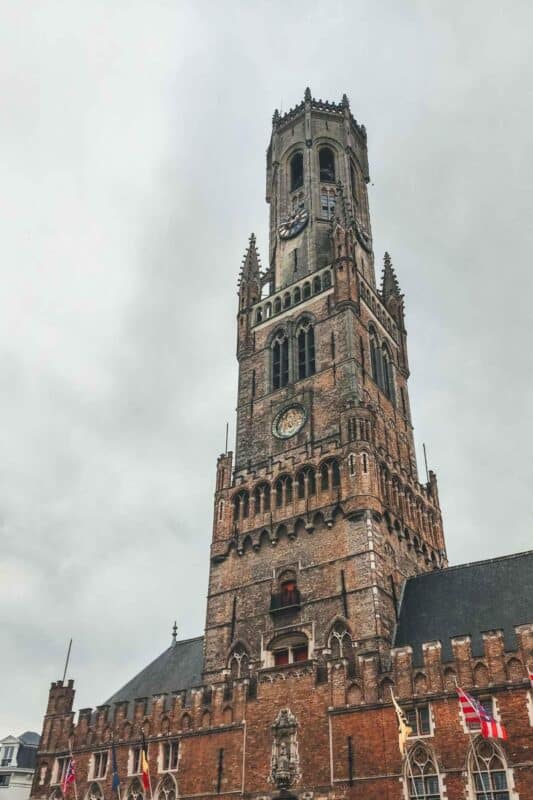 7. Pig Out at the Markt Square
Once you've worked up an appetite climbing the tower, step out into Markt Square and follow your nose to one of the many cafés and restaurants. Sit down under the shadow of the Belfry and tuck into anything that takes your fancy, from local delights to dishes from around the world. 
If you are lucky enough to be visiting on a Wednesday from 8 am to 1 pm, you can browse through a delicious selection of local produce and snacks at one of Bruges's markets. When you have the chance to look up from your tasty meal, don't forget to check out the impressive buildings lining the square, some of which date back to the 15th century. 
8. Discover the History of Chocolate at Choco-Story
Still got room for dessert? A short walk away is the best type of museum imaginable: a museum of chocolate! Open from 10 am to 5 pm daily, Choco-Story takes you on an informative and delicious tour of the history of chocolate. 
From the Mayans to the Belgian chocolatiers of the present day, the museum guides you through the years with intriguing artefacts, interactive exhibits and most importantly for any chocolate lover, a demonstration with tasting! So whether you need a place to escape the rain or just love chocolate, this museum will have your interests peaked and your tastebuds tingling. 
---
Food and Drink in Bruges
We don't know about you, but when we think of Belgium the first things that spring to mind are beer, chocolate and waffles! Although these delicious offerings are abundant all over Bruges, and no trip to the city would be complete without tasting them, the food scene in Bruges is so much richer than just the traditional treats.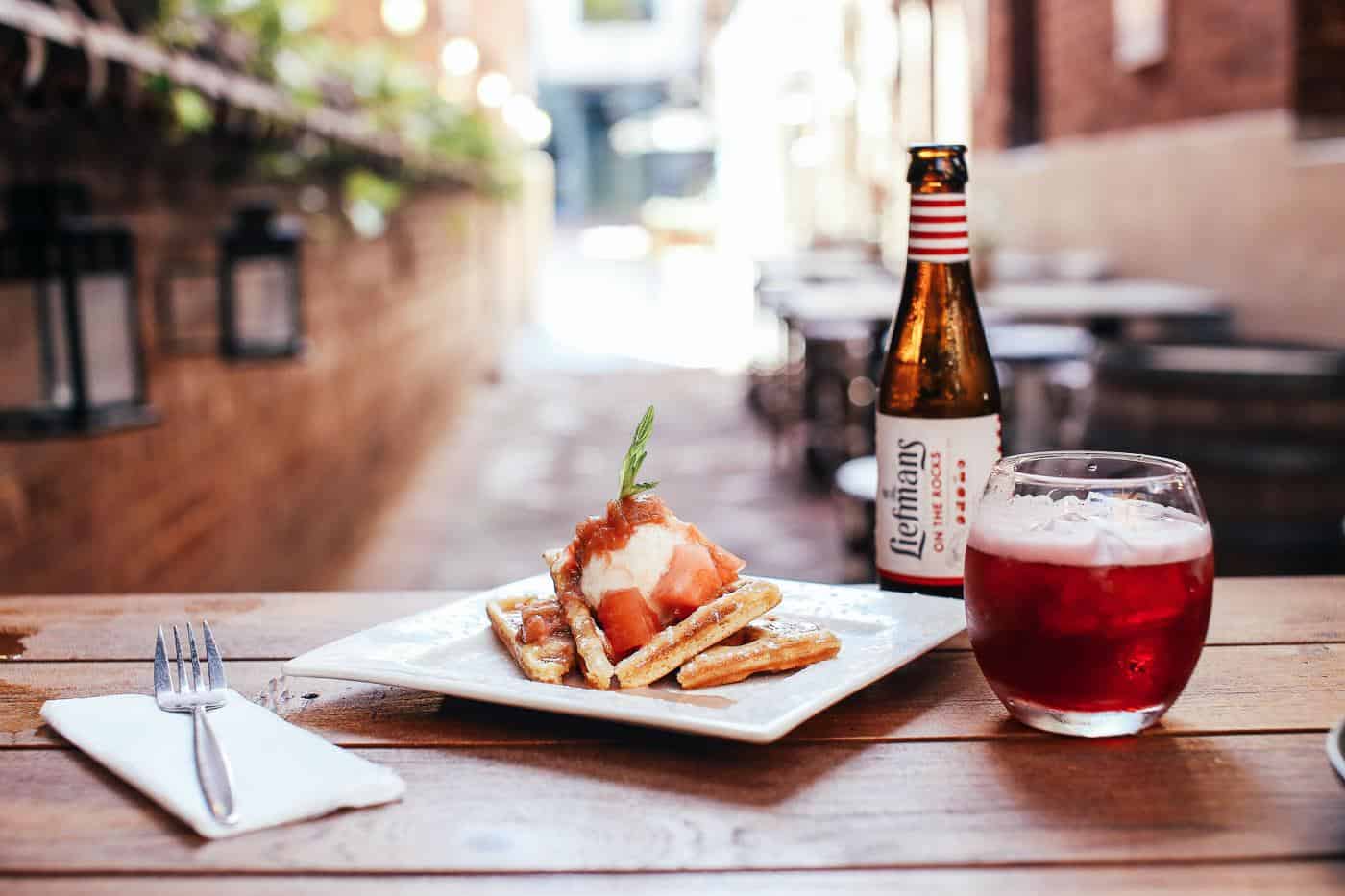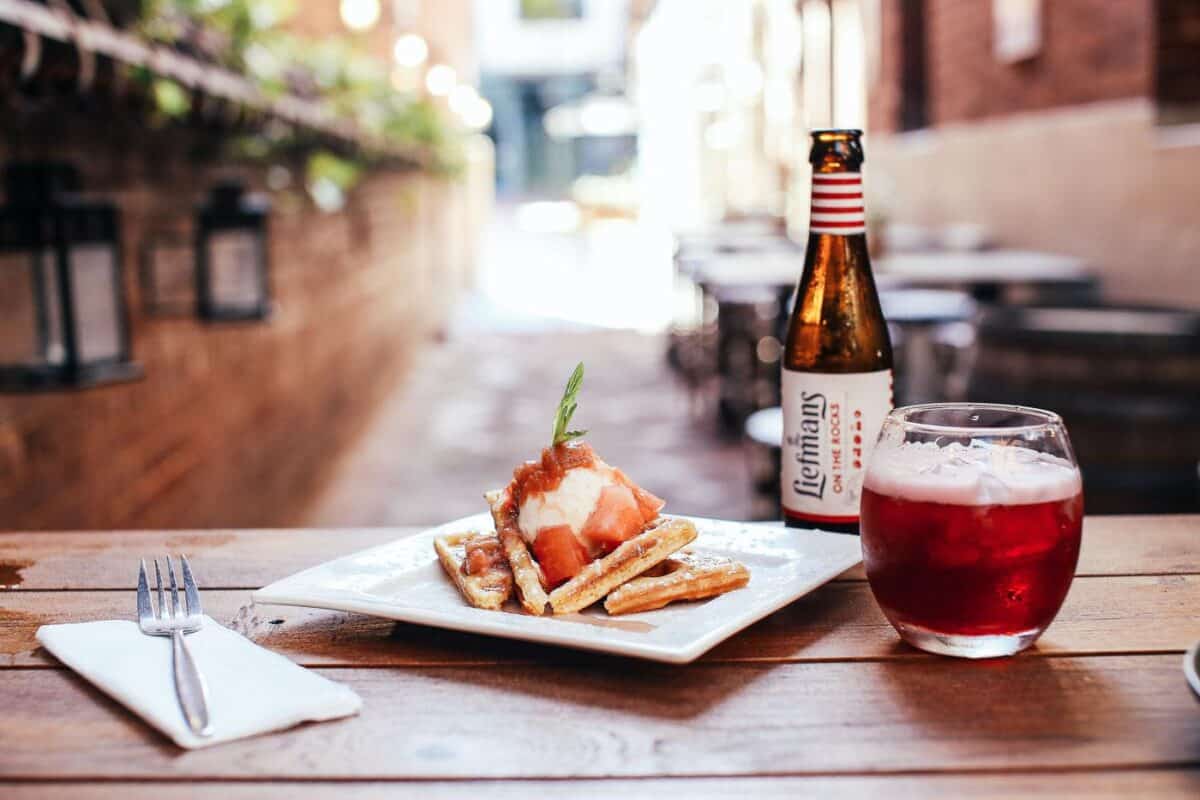 As you wander the streets, you'll be spoilt for choice, with cafés and restaurants dominating the high streets, encompassing the squares and hidden down cobbled alleyways. The hardest part will be deciding what food you want to eat first! 
If you are looking for a dish special to Bruges, go in search of 'stoverij' – a chunky beef stew which has been slow cooked for several hours in a dark Belgian beer. If beef isn't your thing, a steaming bowl of freshly caught moules (mussels) and a side of Frites (fries) are a must-have in a city so close to the sea. 
For veggies and vegans, Bruges has a great selection of restaurants catering for everyone's dietary requirements, such as Garlic n Greens located a very short walk from Markt Square.
---
How to Get to Bruges
The quickest way to Bruges from wherever you may be is most likely a flight to Brussels Zaventem Airport and then an hour and a half train journey to Bruges train station. However, travellers departing from mainland Europe may find it cheaper, and in some cases faster, to take the train directly to Bruges, with well-linked train services from all over the continent. 
The more budget-friendly version of this would be to use bus services such as Flixbus, Eurolines or Regiojet which run from all over Europe to Bruges, but bear in mind that these trips will take considerably longer than the more expensive options.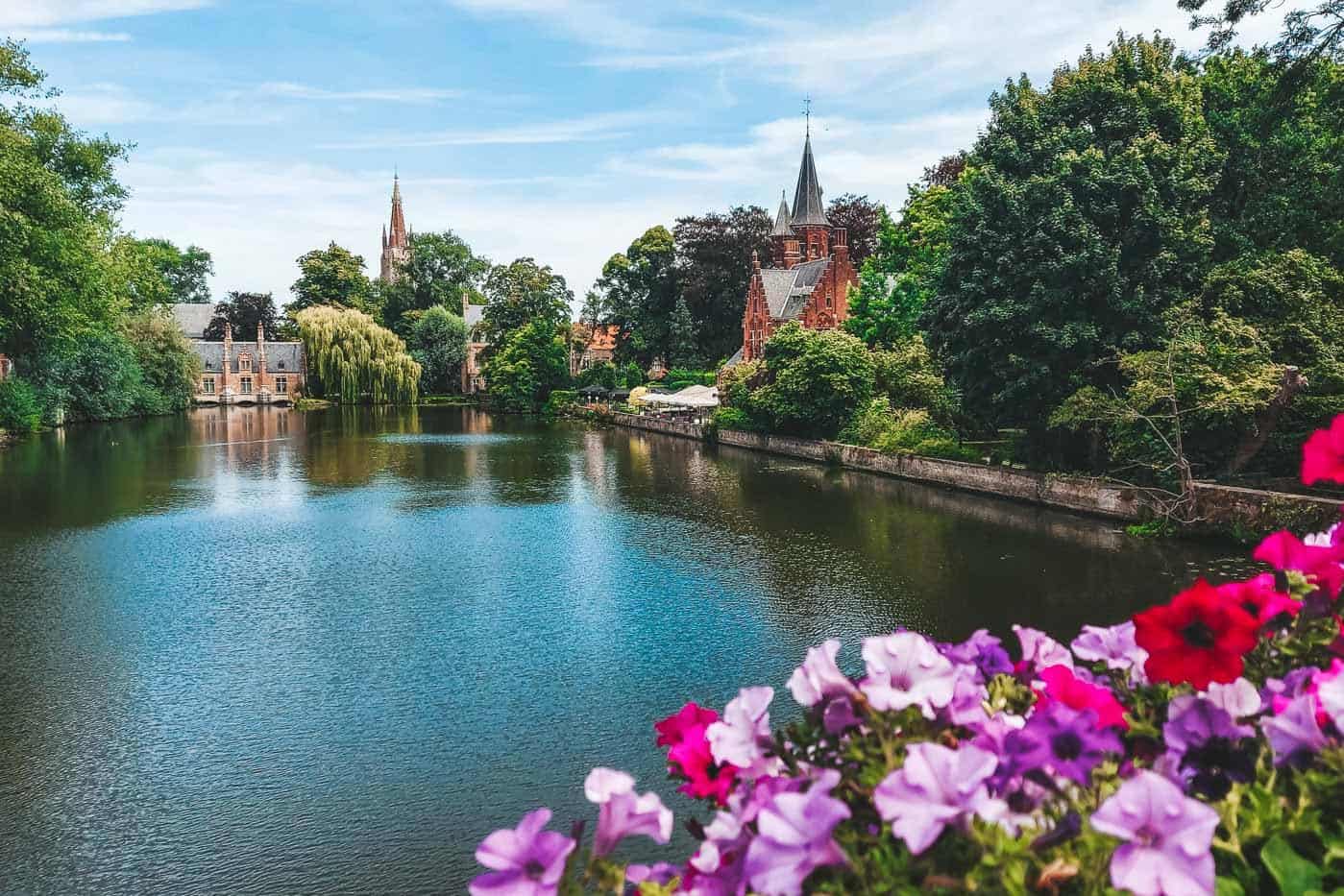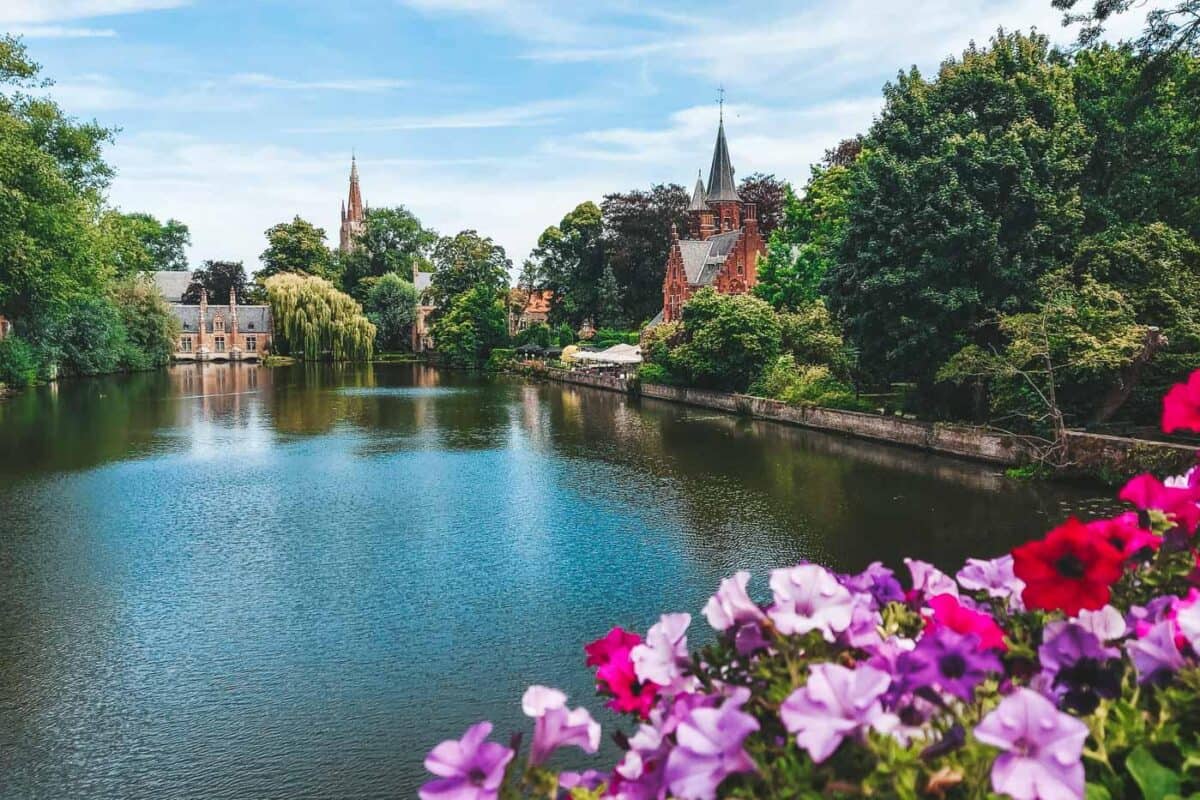 ---
Where to Go Next?
Bruges is located in the north of the country near the coast which positions it slightly out of the way compared to the rest of Europe's hotspots. That being said, there are a few locations close by that are worth a visit after your stop in Bruges. 
Ghent: Just a 25-minute train journey south is the Belgian city of Ghent, Bruges' big brother. Ghent has more of a big city vibe with the introduction of more modern architecture which contrasts against the city's existing medieval districts and canals. It's worth a visit if you have a day in Belgium to spare.
Brussels: If time is short in Belgium, you could skip Ghent and take an hour-long train down to the country's capital, Brussels. Here you can explore internationally recognised landmarks, such as The Grand Place or the Manneken Pis, the iconic statue of a small peeing boy and the symbol of Brussels!
Rotterdam: If you've had your fill of Belgium, why not head northeast and take a 3-hour train over the border to Rotterdam in the Netherlands? This city is very different from Bruges, with a modern built-up city centre and huge food markets full of delicious snacks from all over the world.