I planned a week of cruising up the Welsh coastline with my fiance in our little city car, and it's safe to say that it was a trip that didn't disappoint! If you're tempted to explore Cymru yourself, check out my one week Wales road trip itinerary!
Wales Road Trip Itinerary
Carmarthen – Tenby – Tresaith Beach and Waterfall – New Quay – Caernarfon – Llyn Dynas – Mount Snowdon – Anglesey – Betws-y-Coed – Snowdon Mountain Railway
Coastal Wales Road Trip Map
Best Places to Visit on a Wales Road Trip
Carmarthen
Crossing over the Prince of Wales bridge that links England to Wales, we began our road trip in South Wales. After a long drive, our first night's stop was in Carmarthen, the oldest continually occupied town in Wales.
We weren't planning on staying here originally, but it was the perfect pit stop to refuel and take a break before 'properly starting' our road trip the following morning. We found a last-minute booking online for a B&B double room above a pub.
It was very budget-friendly and there was pleasant bar staff to welcome us, but it was also the kind of local place where reruns of Welsh rugby league highlights were being aired and not England's live game in the Euros! We can't complain though, we did have a TV in our room.
For dinner we discovered the most indulgent grilled cheese sandwich at Sloppy Joe's Streetfood, which I washed down with a refreshing glass of cola with ice and slice, for the staggering cost of 50p (approx $0.60USD)! Bargain!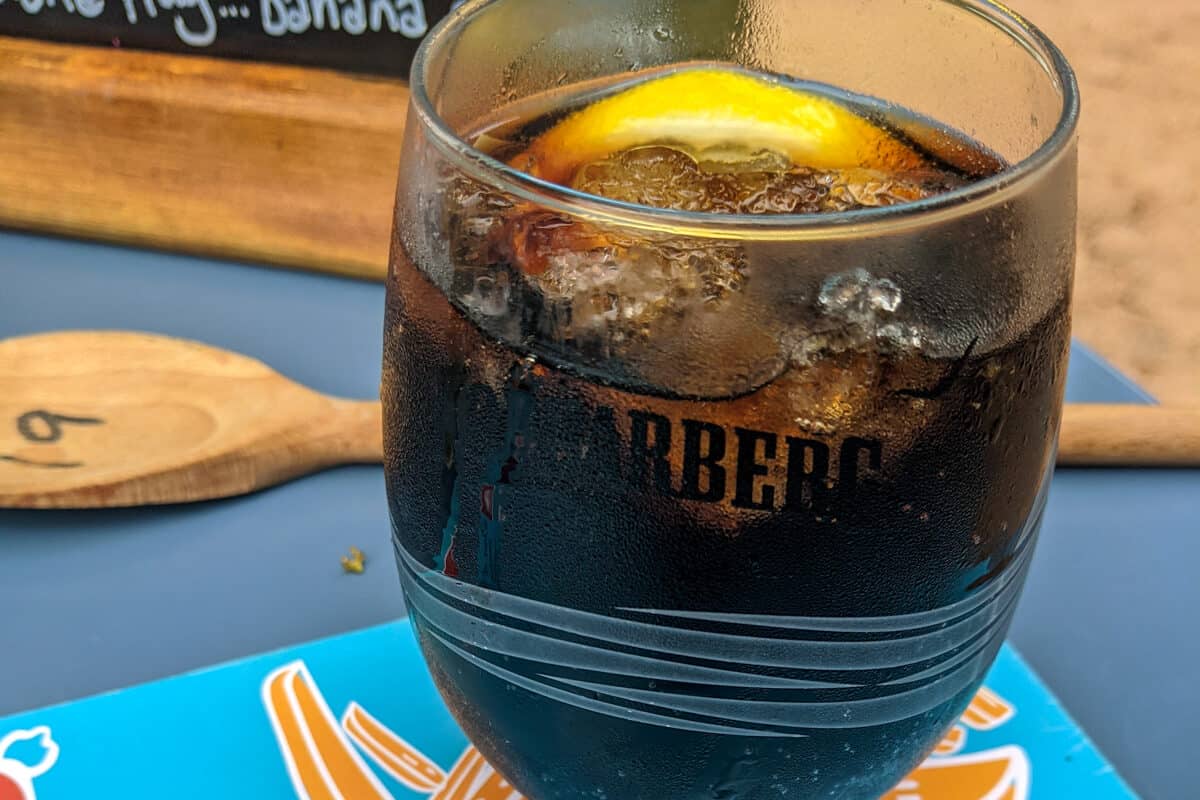 While we were enjoying an evening stroll to stretch our legs and walk off those calories, we stumbled across one of the world's oldest velodromes and joined the locals to do a few laps of the track.
The following morning, after your typical pub grub breakfast (included in our night's stay) we headed off. Our first destination was Cardigan Bay, where we were going on a dolphin-watching boat trip!
At least, that was the plan. We made it onto the busy A477 and noticed a strange smelling smoke coming from our bonnet. No sooner had we noticed and our car lost power. The clutch had gone, not the greatest start for a week of road tripping!
Luckily, the man from roadside assistance was a great help and said there was a garage down the hill which we just managed to roll down to. But as you would expect on a Sunday morning, the garage was closed.
The chap from RAC knew the garage owner, so gave him a quick call. We were told that we could leave our car by the gate and hand the keys in at the petrol station. They'd get started on fixing it as soon as the garage reopened.
We then had to consider our options… How long would the car take to fix? Would we now need to hire a car for a week?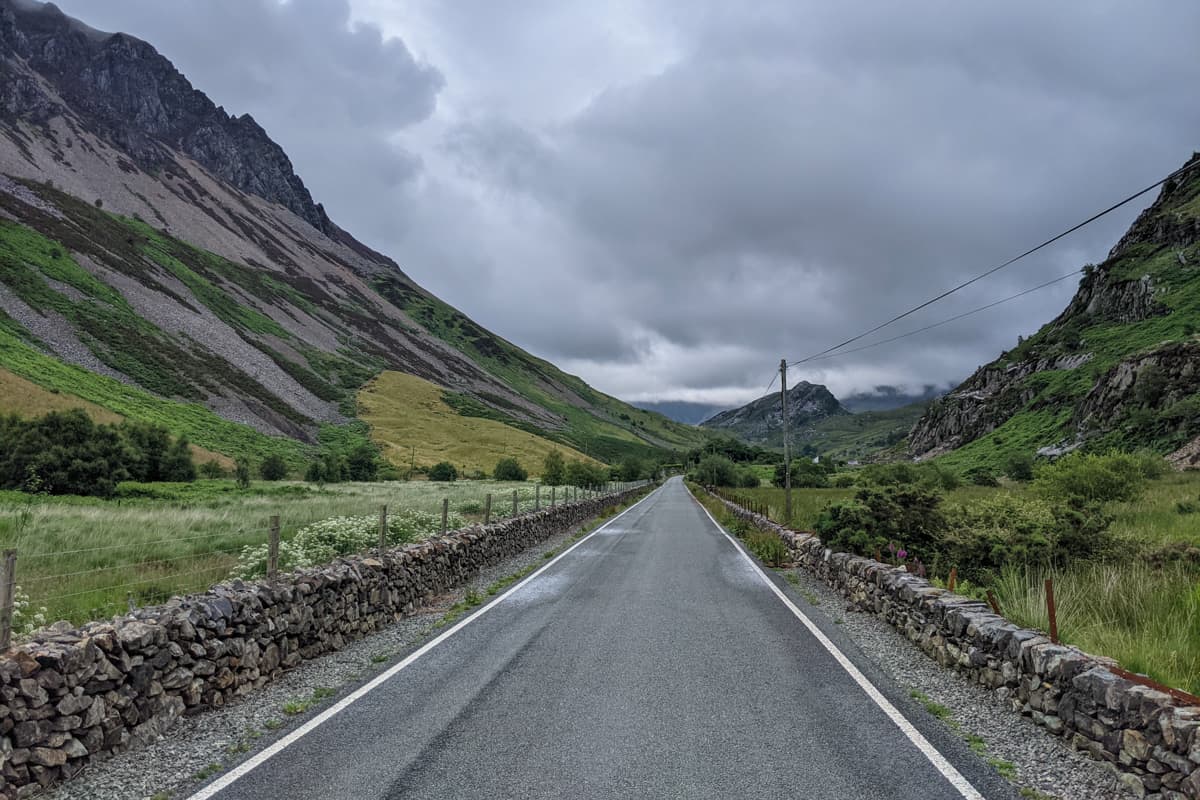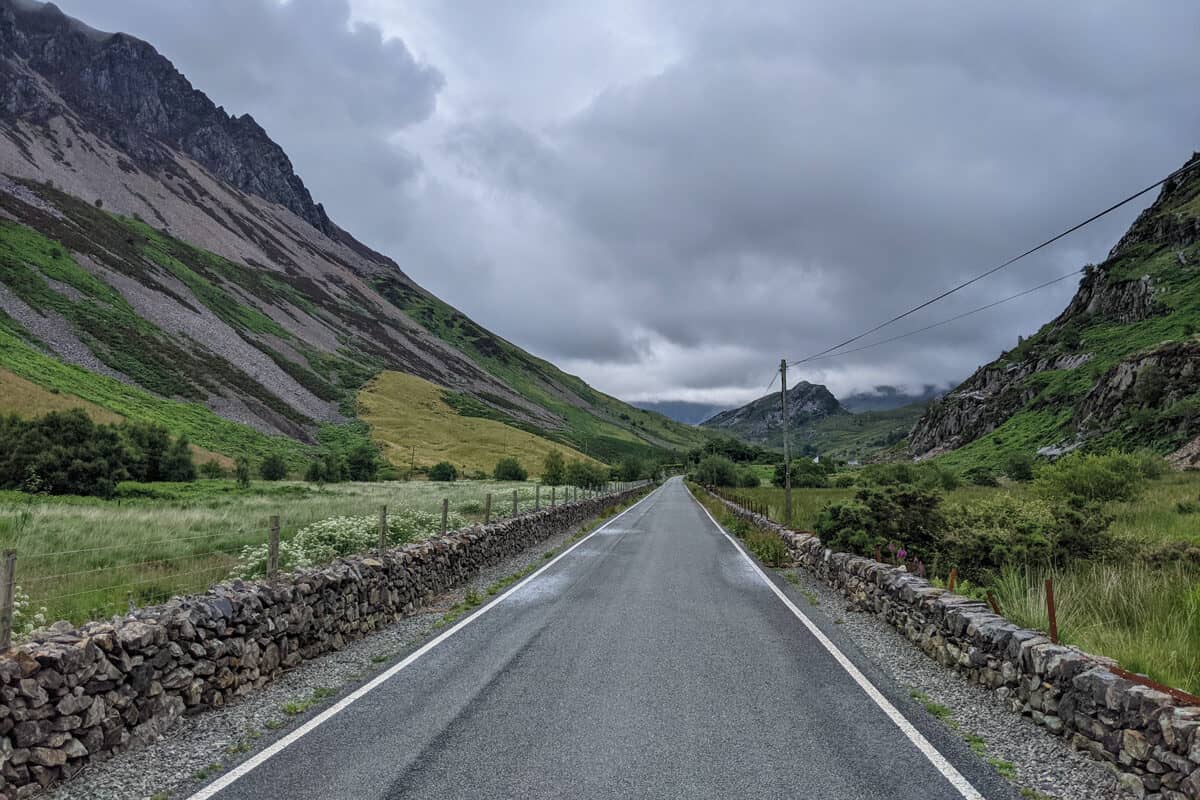 Tenby
Either way, we were now without a car and there was no way we could make it to our dolphin spotting tour. So, we made a new plan.
We decided to stay at least one night in Tenby (the nearest large seaside town to our car) and although the taxi there was quite pricey, we found a very reasonable last-minute hotel room, right on the seafront!
I'd heard of Tenby before and I think I had even visited as a child, but for some reason, we hadn't factored it into our trip. Although the car situation was annoying, I am so glad it happened or we never would've stopped in beautiful Tenby!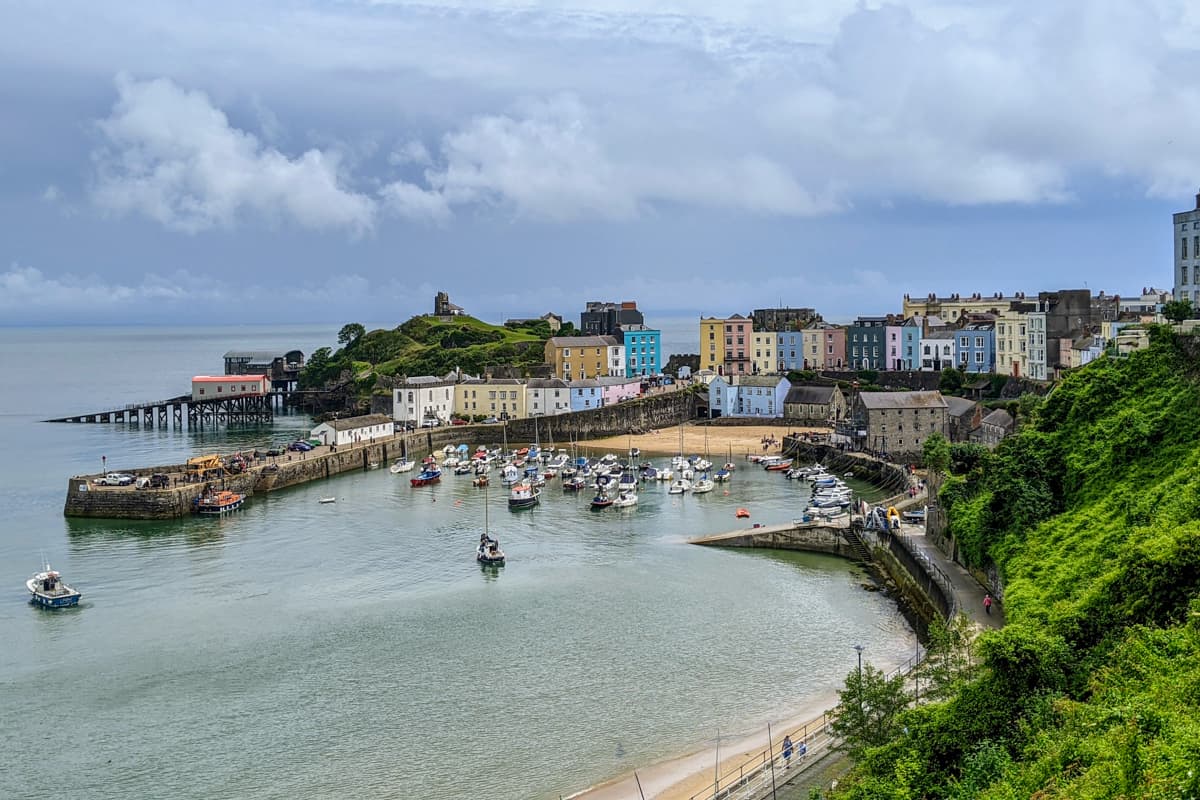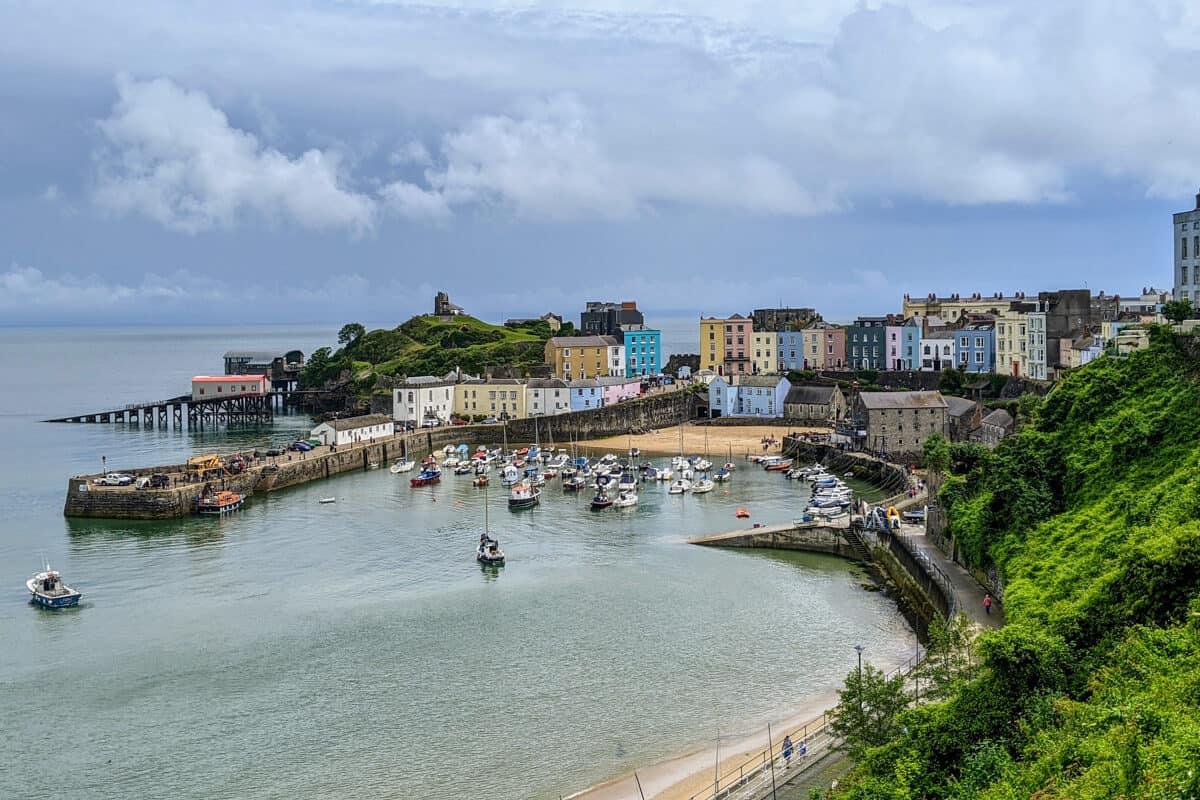 With stunning coastal walks, sandy beaches and quaint seaside shops, it is easy to see why visitors flock to Tenby. We spent our first evening there watching the sunset on the beach while eating (you guessed it!) fish and chips. Of course, we also kept a watchful eye on the circling gulls too!
After succumbing to the fact we would probably have to stay a few more days or bite the bullet and rent a car, the next morning, we got a call from the garage. The car would be ready by midday!
After hearing that we had only just set off on our road trip around Wales, the engineer at the garage not only squeezed us in but started work on our car that very evening, so it would be all sorted the following day.
Thank you so much to Edgey's Garage – if you're ever in a similar unfortunate position and find yourself in this part of the world (Llanteg, Wales), I can't recommend them enough!
The previous day, we had told our boat tour company about our car drama and they kindly refunded our tickets. Sadly, they had no slots left for later tours, but we did find a smaller company located slightly further up the coast in New Quay.
Tresaith Beach and Waterfall
On our way there, we stopped at Tresaith Beach, a quiet secluded bay, with a small honesty box operated car park. At first glance, it is a pretty little spot but idyllic settings are nothing out of the ordinary for this part of the world!
This beach is special because it is where Tresaith Waterfall is located. This dramatic waterfall plunges off the cliff edge and straight into the sea. Remember that while sunny weather is always nice, the waterfall is at its most impressive just after a rain!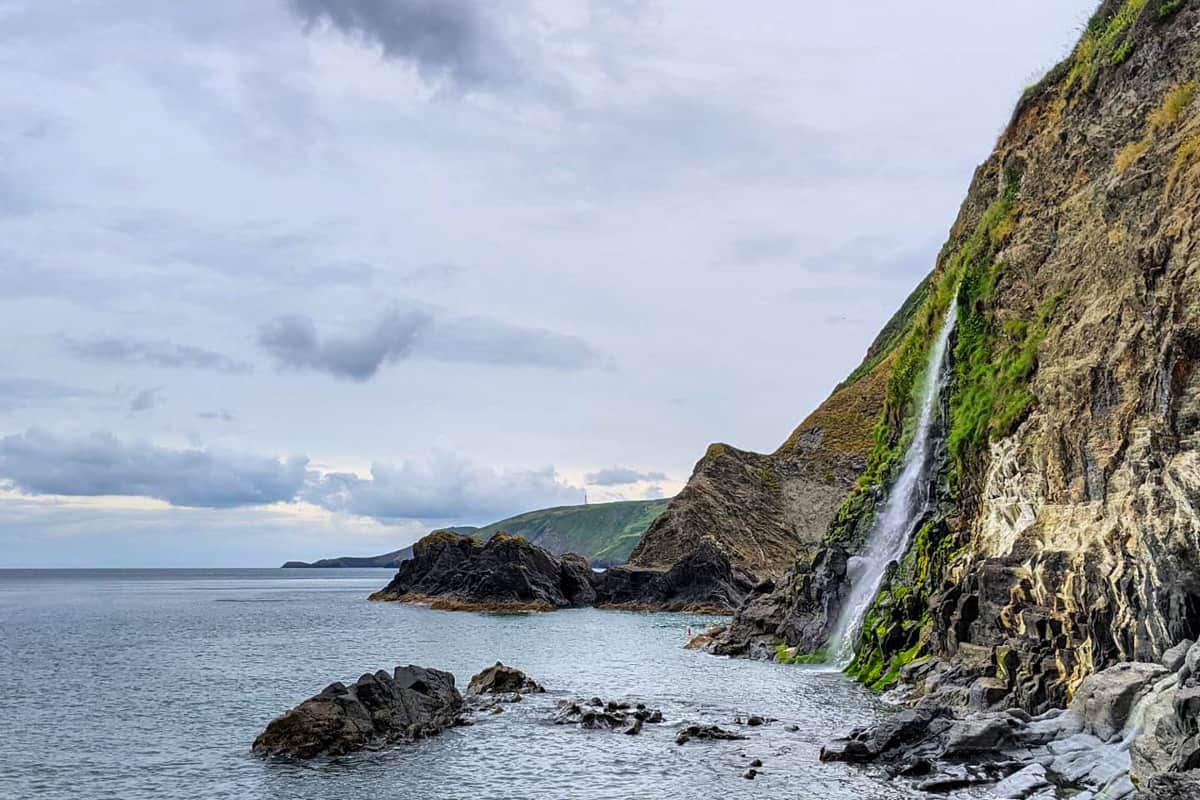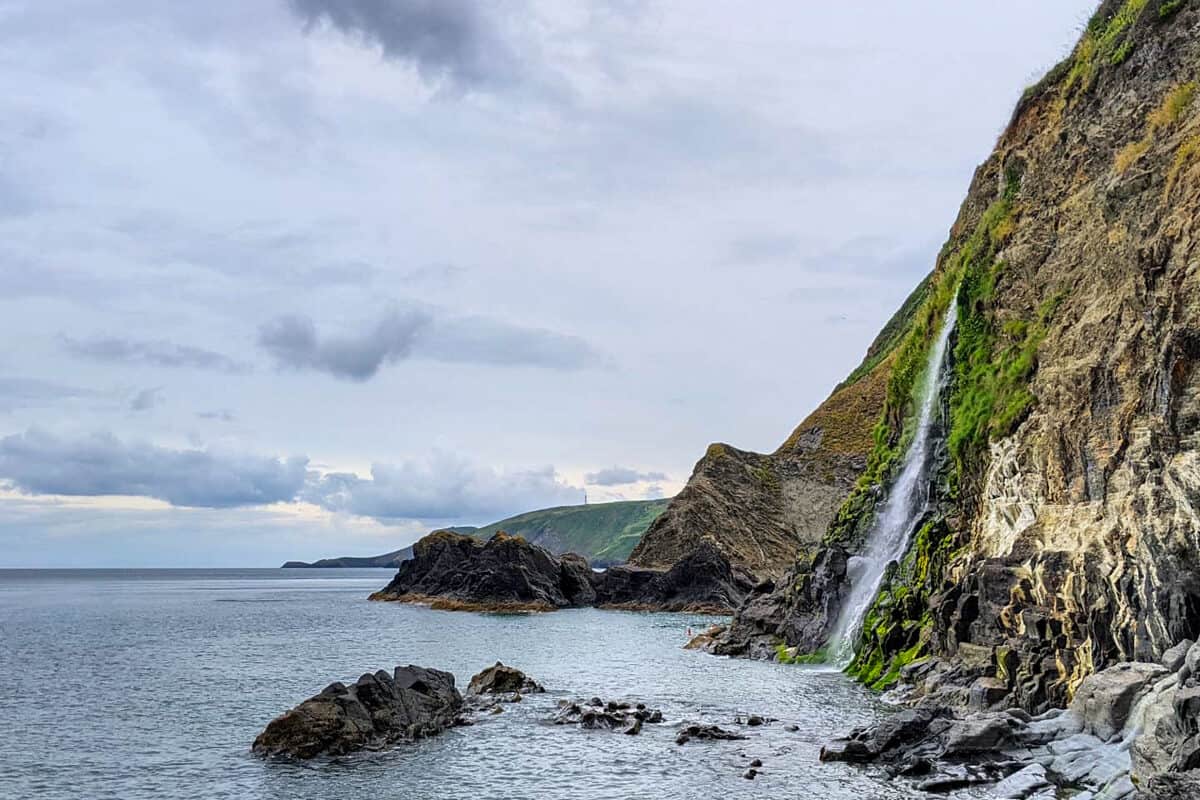 New Quay
On with the journey and we arrived close to New Quay. Quite appropriately, we stayed in an AirBnB room called Dolphin Corner which was just a few minutes drive out of town. Even better, it cost £40 for the night (only £20 each!). We had a lovely night's stay and our hosts even left us welsh cakes in the room – I love little touches so I really appreciated this.
So, with a new one-hour dolphin spotting tour booked with SeaMor and at a very reasonable price of £15 each, we were all set. Like with all ethical nature tours, you're not guaranteed to see the wildlife. However, we got lucky and were able to see a pod of dolphins and their calves.
Please always do your research when booking tours that involve observing or interacting with animals. You should only ever opt for a tour company that holds the animals' best interests at heart.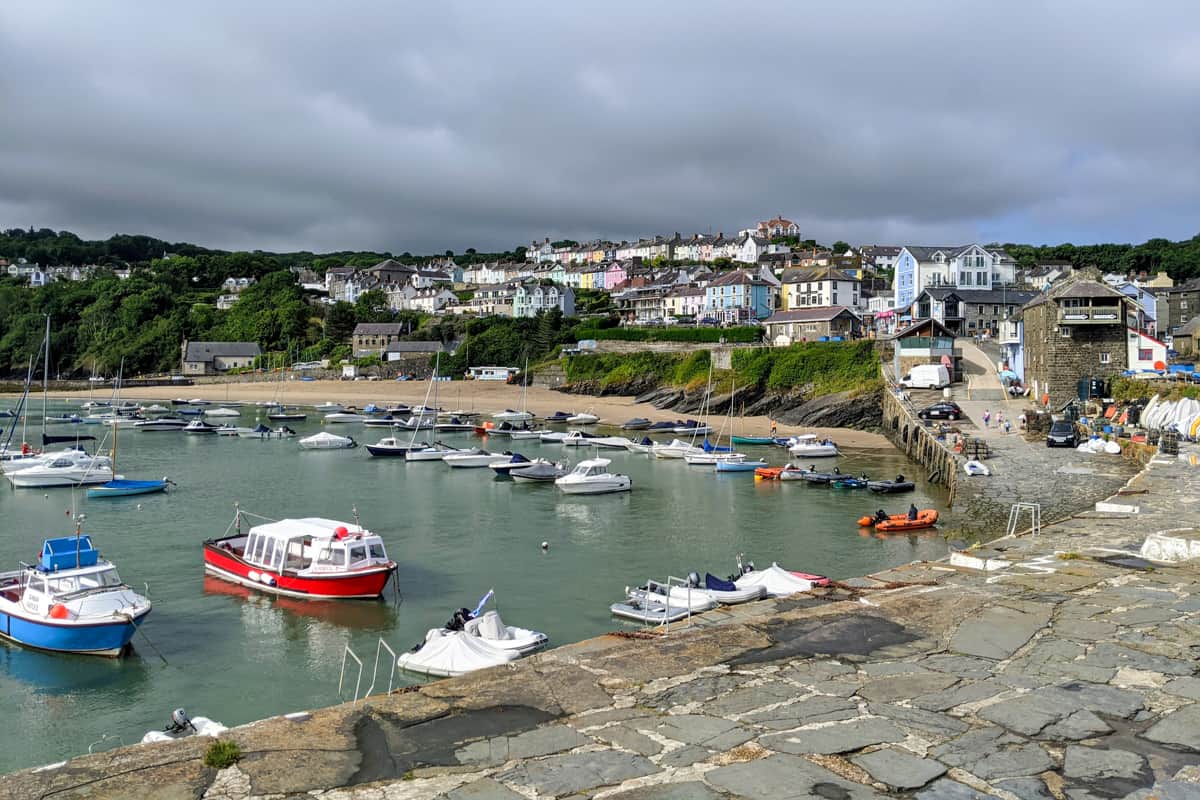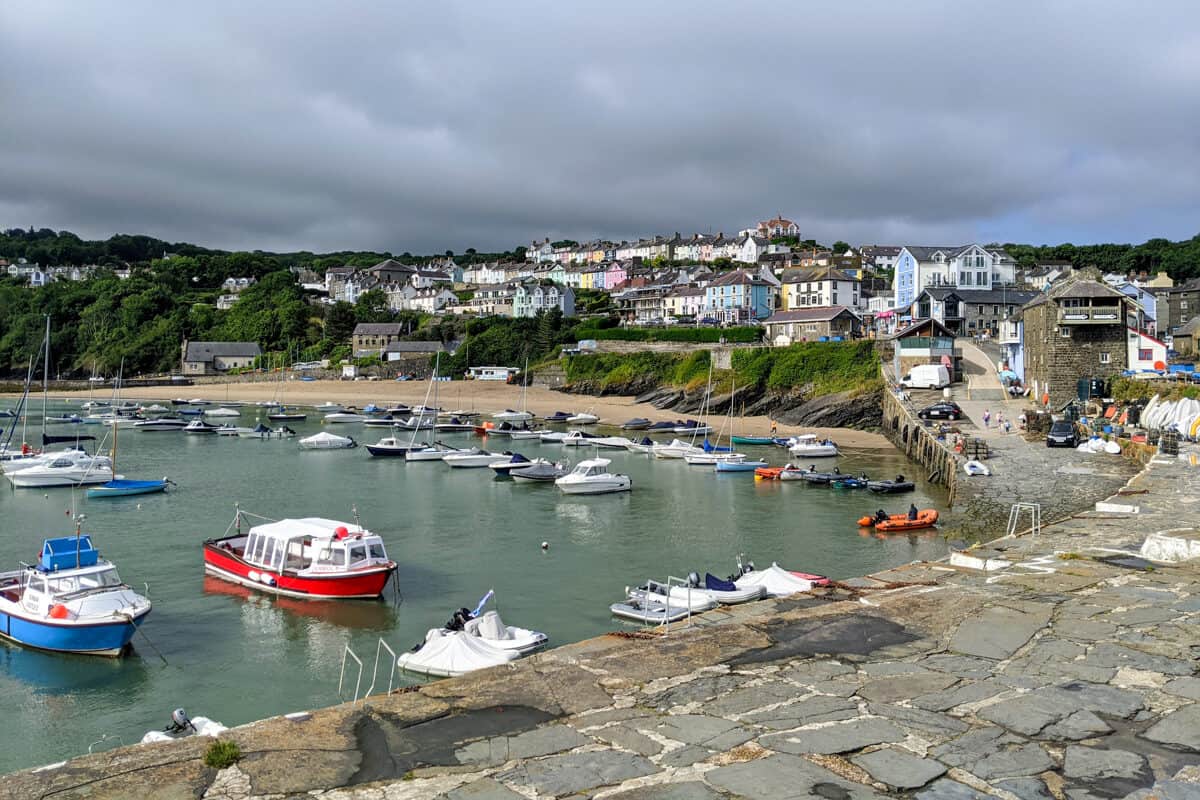 If your budget can't stretch to a boat tour or if you don't have sea legs (it did get quite choppy), the pier at New Quay is great to get a clear view over the bay and out to sea. If you wait long enough, (it took 20 minutes for us), you will most likely see dolphins without having to pay a penny or leave the safety of the ground!
Traveller tip: If you have breakfast at The Bluebell Deli & Bistro and sit upstairs, you can watch the dolphins whilst sipping your flat white. You're probably thinking that it costs a fortune for this luxury, but at a competitively priced £5.25 for scrambled eggs on toast (as of June 2021), it really is a must-do.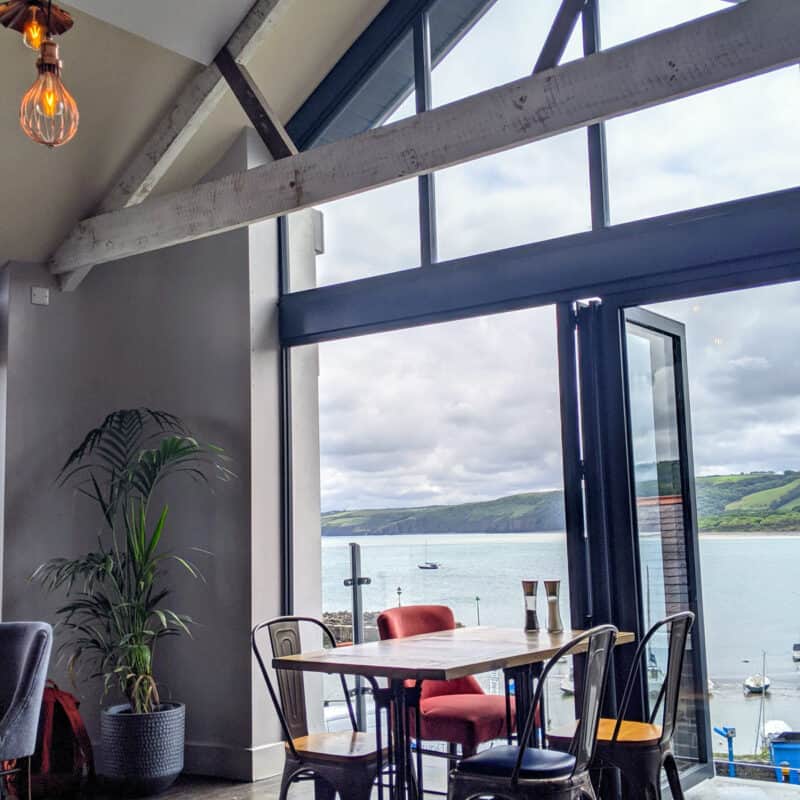 After spending a leisurely morning watching the dolphins in the bay, we hopped in our little car and ventured north to the picturesque mountain ranges of Snowdonia. The scenic drive was truly breathtaking, so when it was quiet, we stopped at a few points along the way to take in the beauty.
Caernarfon
When we arrived in Snowdonia, we stayed at Hostel Basecamp in Caernarfon. I'm a big fan of hostels because they usually offer ample amenities for an affordable price.
This hostel was no exception. There was access to a common room with a large TV, book corner, games console and pool table. There was even an adjoining fully equipped kitchen. The hostel had everything, even providing the opportunity to feed the resident alpacas! We stayed in a private twin room with an ensuite bathroom.
Unlike your typical city hostel, this place also didn't have the young party backpacker vibe. Instead, after a quiet night's sleep (there was no noise at all after 9 pm!), we were greeted by families, elderly couples and groups of friends who were all cooking up a hearty meal before the day of climbing ahead.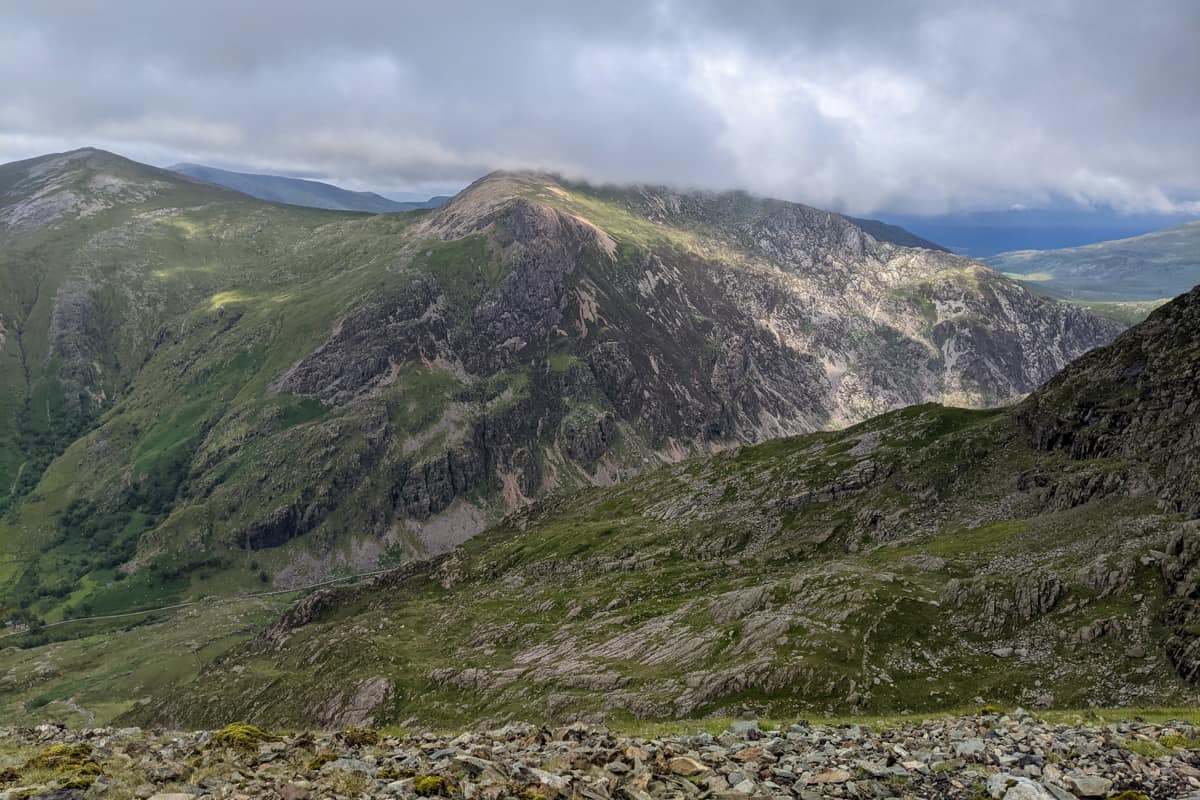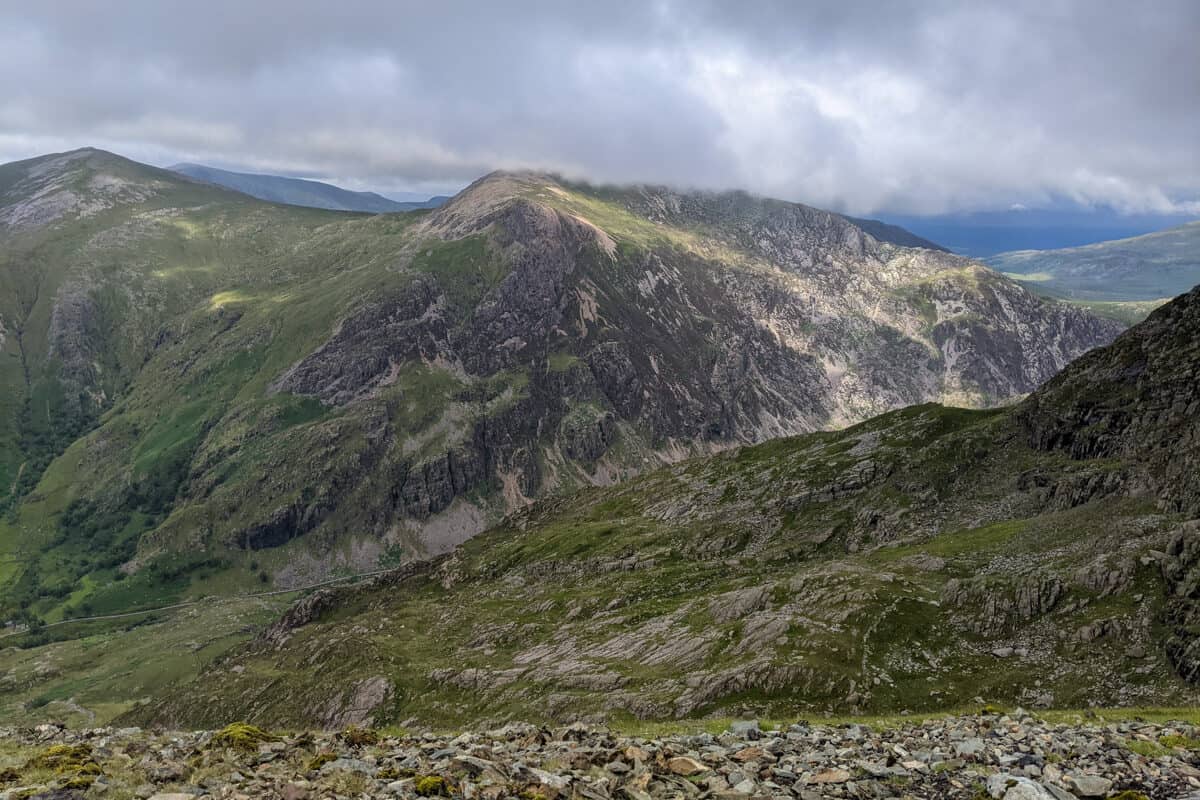 We joined them even though we had no intention of climbing Snowdon ourselves. We were just 'in town' to admire the beautiful landscape. Also, we'd booked a trip on the Snowdon Mountain Railway for a couple of days so we would see the mountain properly at a later date. This was the most expensive activity we did, but when in Rome… (or Snowdonia)!
If you fancy heading up the mountain on the train, bear in mind that the railway does get booked up very early so you are best reserving your spot as soon as possible.
Llyn Dynas
Driving to the car park at the start of the route, we spotted and stopped at Llyn Dynas, a large lake managed by the National Trust which was free to wander around. The eerie fog created a moody but mystical atmosphere.
When we pulled up at the roadside parking at around 9 am, there was just one other car. The water was so still and peaceful. The stony track around the edge allowed us to see it from all angles too, this was my favourite stop on our Wales road trip so far!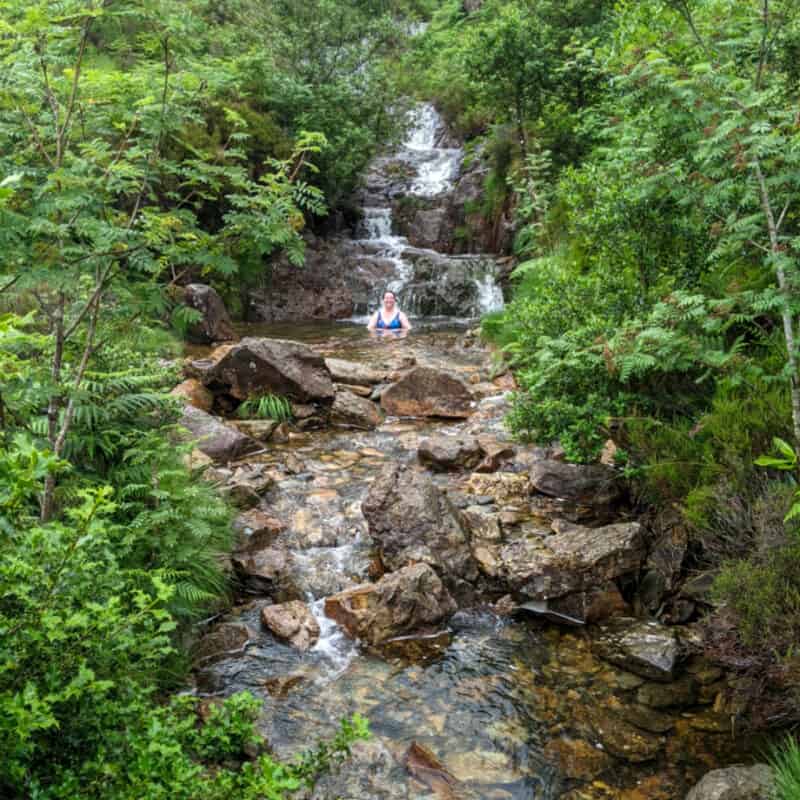 As we walked around the area, we noticed a stream of water going into the lake and followed it up to the source to see a pool of waterfalls! They were only a short walk away (five minutes at most) so were well worth the detour.
We also braved a frosty but refreshing dip which was the perfect way to really wake up. Using my newfound bravery, I paddled in the lake for a short while too.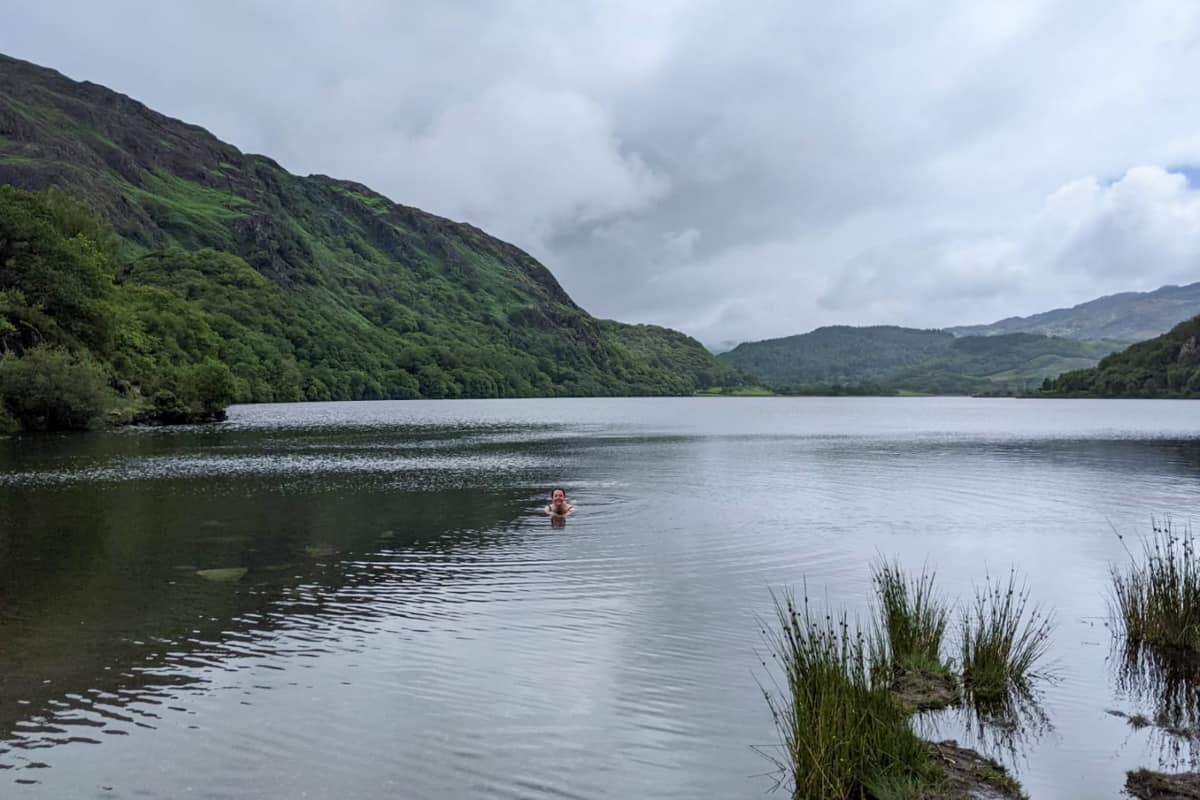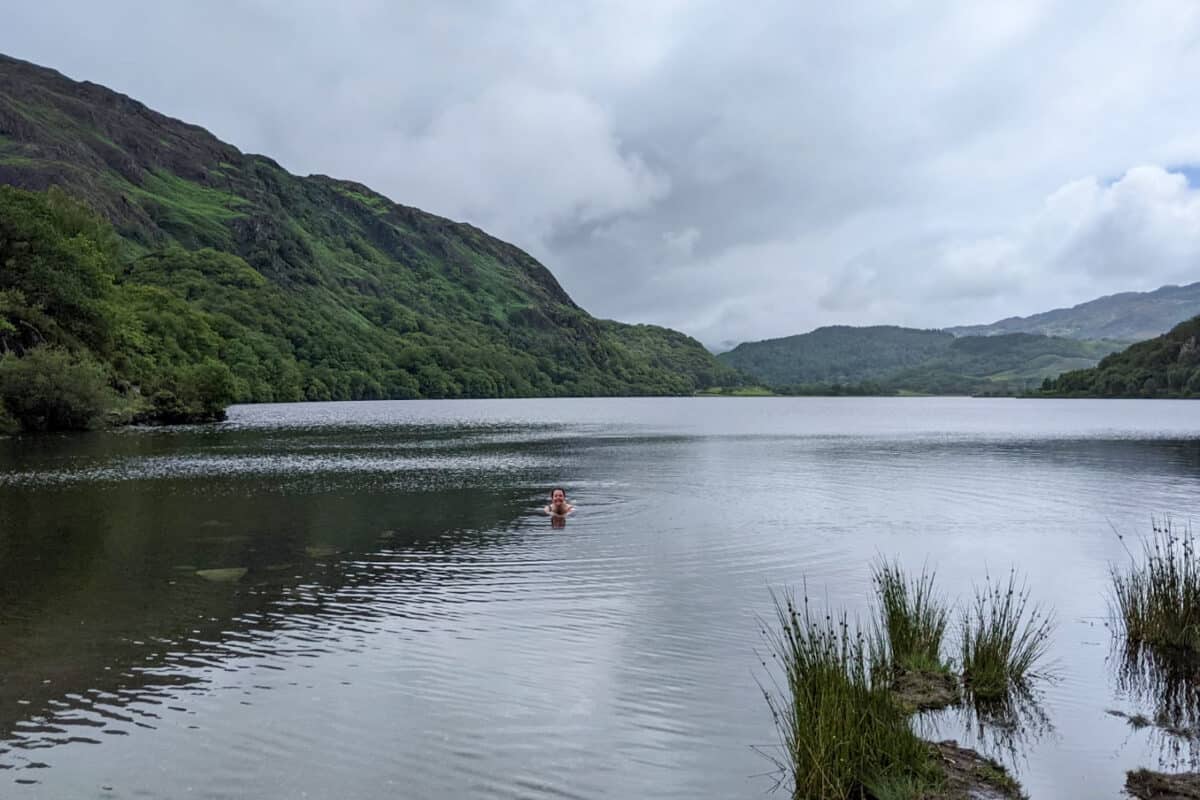 Mount Snowdon
Next up, time for more waterfalls! However, on this occasion, we were headed up Wales' most famous mountain, Snowdon. After a wander below the peak, we decided that we would walk a short way up the mountain via the Watkin Path route, where there are waterfalls en route.
After hiking up for around 45 minutes, we eventually stumbled upon the falls. However, as beautiful as they were, they weren't quite as large as Instagram had led me to believe! There were a couple of people dipping their toes in the pools, but it was still nothing like the pictures I'd seen. Hoping to see bigger waterfalls further up, we ventured a bit higher.
Busy chatting away, we soon realised we had left the waterfalls behind and had now done around two hours of hiking. Naturally (and naively) we then thought that we may as well continue onto the peak.
Now, I don't advise climbing a mountain on a whim and we only decided to carry on as we had plenty of supplies and proper walking gear. Having said that, we are still amateur walkers, and I certainly underestimated the task at hand!
Climbing Snowdon was tough! But with encouragement and persuasion from our fellow climbers, we plodded on. The higher we hiked, the more drizzly the weather got, but the cooler air temperature was refreshing.
Eventually, the final scramble to the summit was in sight and we were determined to get there! I may have not set out to climb a mountain that day (or ever) but the achievement of reaching the top was immense. Bizarrely, with our jelly legs, the route down actually felt harder than the way up.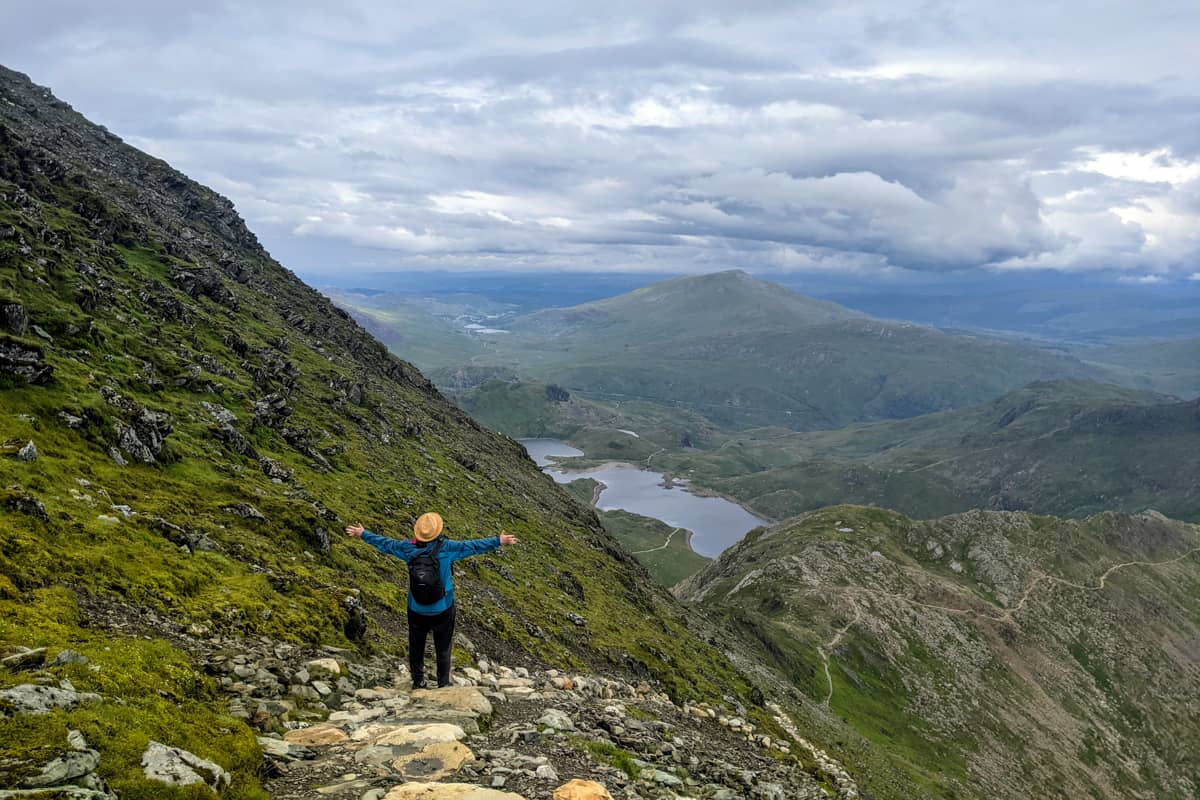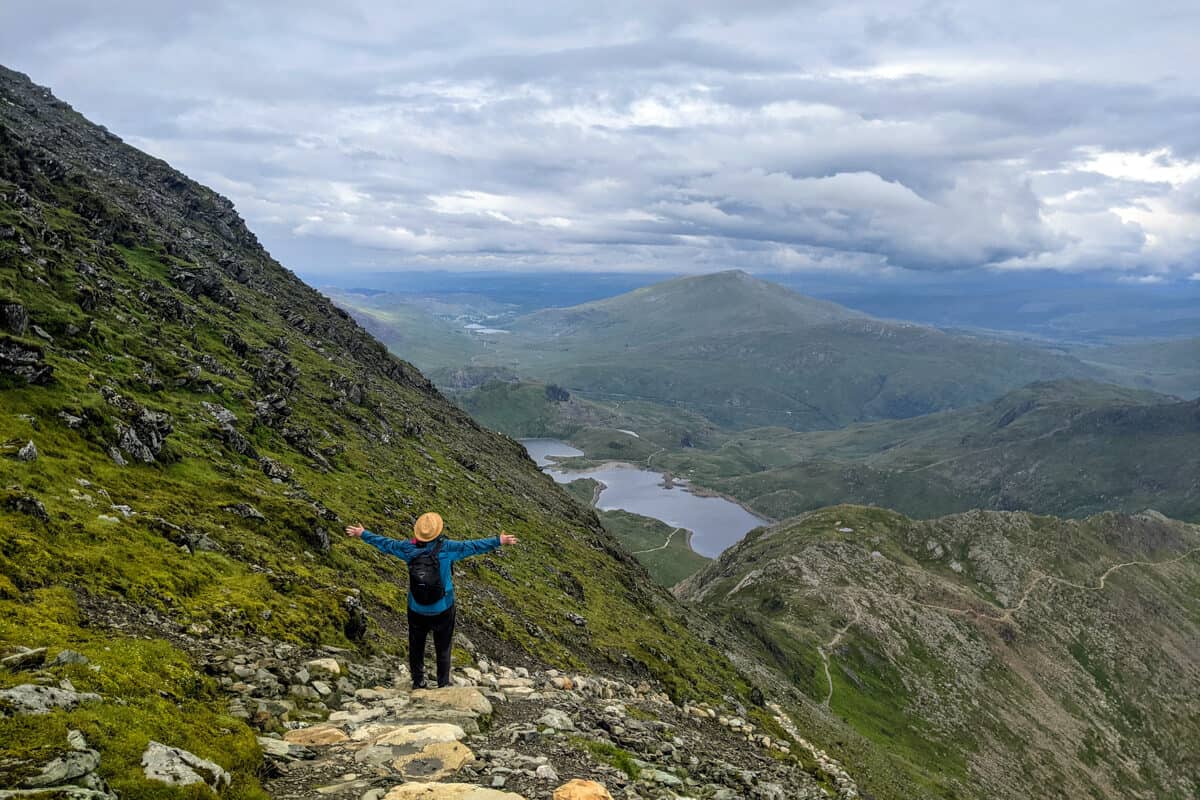 I highly recommend summiting Snowdon, but trust me, you'll want to come prepared! As I've mentioned, we followed the Watkin Path but there are other routes to the top, including some more leisurely ones which take longer but follow a more gentle incline.
Anglesey
After a long day of climbing, we welcomed the comfort of our homely AirBnB room on the island of Anglesey. For just under £60 for both of us, we were presented with bottles of water, packets of tissues, a breakfast bag each (containing pastries, juice and fruit) and we were a short walk from the beach too, what a steal!
We wish we had longer in Anglesey as there is so much to do there. Sadly though, we only had a short time so spent it perusing the colourful streets of Beau Maris. We will definitely be back!
Betws-y-Coed
We headed back to the mainland and more specifically to Betws-y-Coed, the penultimate stop of our whirlwind road trip through Wales. Often described as the gateway to Snowdonia and very popular with tourists, the alpine-esque roads are lined with boutique BnBs, restaurants and outdoor clothing shops.
On the way into the village, we stopped at the roadside parking to check out another waterfall, only this time much larger and more powerful! The entrance fee to Swallow Falls is only £2 and there is the option to pay by contactless card, so it is well worth the short stop.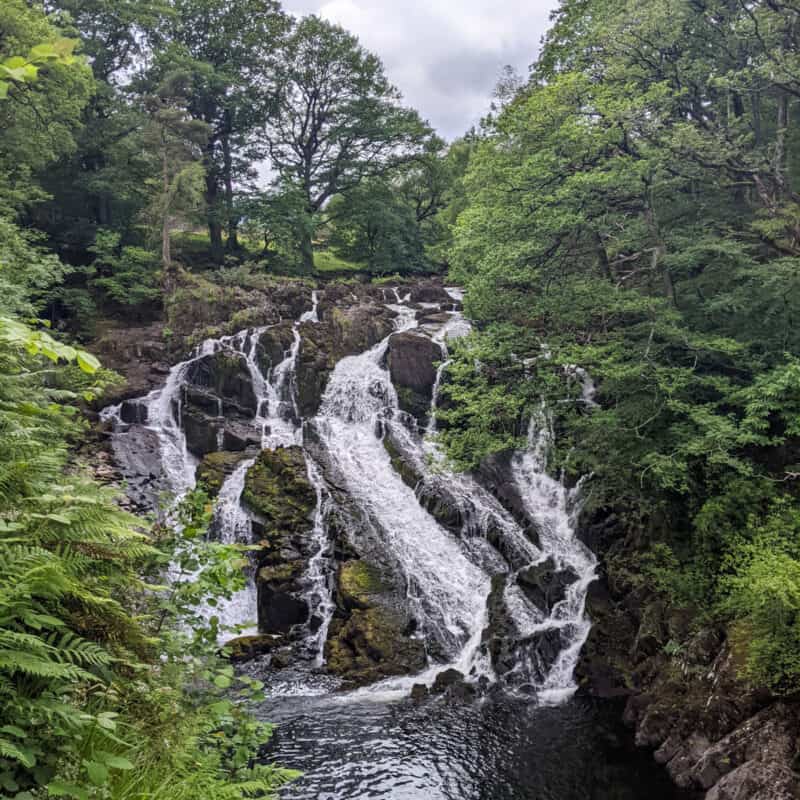 After grabbing a quick bite to eat, we set off for the next must-see location in the area – the Fairy Glen. As you may have guessed from the name, this stunning gorge looks like something straight out of a fairytale.
Accessible via private land, it is open to the public for a very modest fee of £1 per person (and an additional £1 to park the car). For just a few pounds, we had access to the most idyllic picnic spot and we could have easily spent the rest of our day sitting there admiring the magical scenery!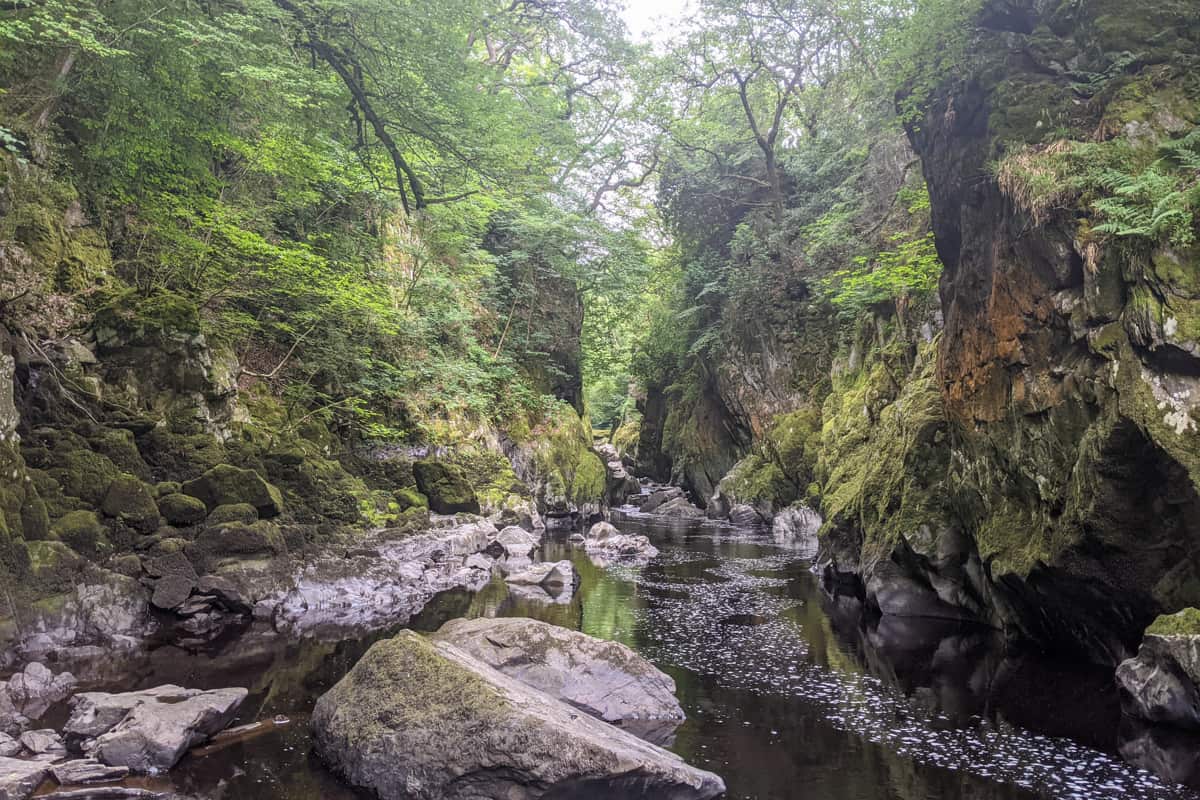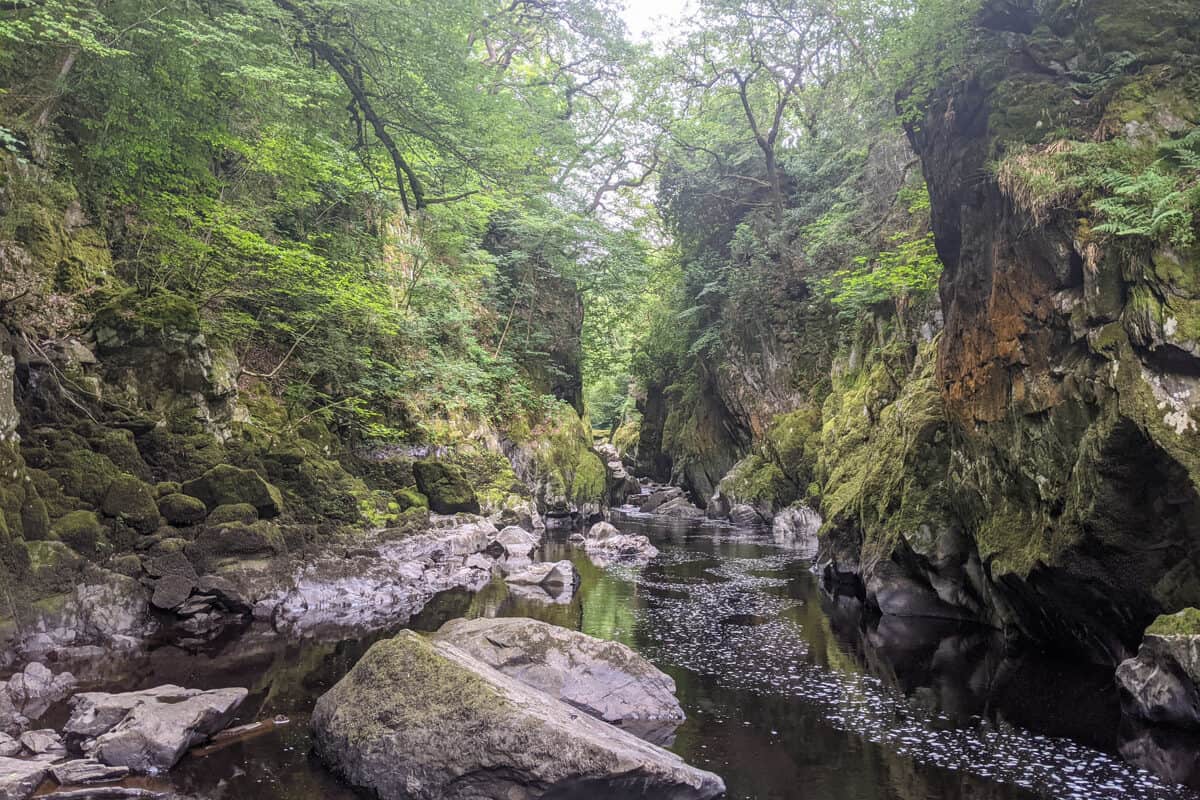 Snowdon Mountain Railway
However, we had one more stop to make… we needed to take our ride on the Snowdon Mountain Railway. If we had planned our trip better, we would have combined our jaunt on the railway with our time spent near the mountain. Luckily for us, Betws-y-Coed is less than a half-hour drive from the mountain so all was not lost.
As we had already spontaneously summited the mountain a few days prior, I wasn't as excited about this excursion as I would have otherwise had been, thinking I'd 'seen it all before. But, I was quickly proved wrong!
Due to work being done on the tracks, we could only ascend three-quarters of the way up the mountain to Clogwyn Station. Despite this, it was well worth it and offered a completely different perspective from the summit view.
It also helps that I wasn't exhausted from focusing on putting one leg in front of the other! By comparison, it was lovely to be carried up on the train, spend 30 minutes admiring the view and then be taken back down.
Traveller tip: This station intersects with one of the walking paths, so you could buy a one-way ticket, ride three-quarters of the way up, and then hike the rest of the way up to the summit (approx. one hour). The only downside is that you do need to prepare to walk the whole way down so book an early morning train up if this is your plan.
As the train arrived back at Llanberis station, so began our journey home. If the pandemic has taught me one thing, it is that there is so much beauty to discover closer to home.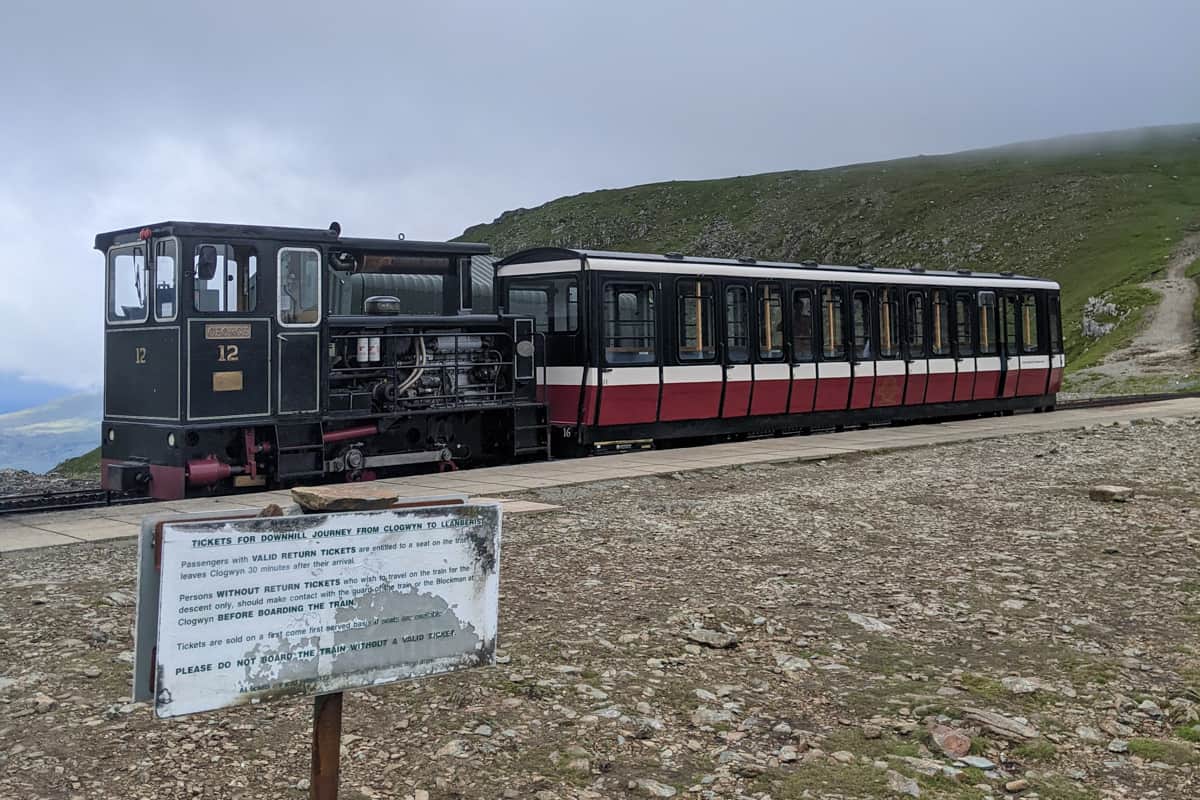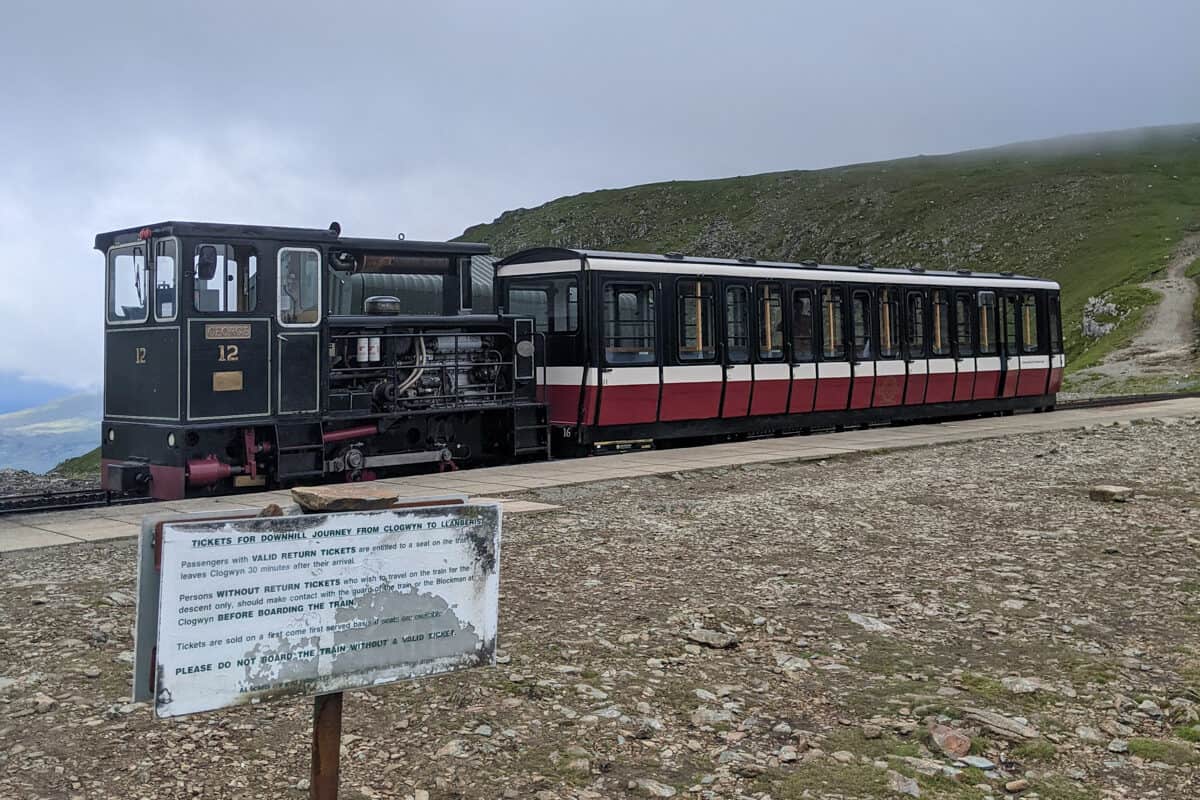 I definitely want to visit Wales again to spend more time exploring. I'd head back to the coast in a heartbeat but also want to check out inland Wales as I am sure there is plenty more to see.
This unforgettable Wales road trip has also given me the itch to check out more of the UK coastline, so road trips around Scotland and Northern Ireland are now firmly on the list for the near future.
Have you road tripped around Wales? Let us know in the comments!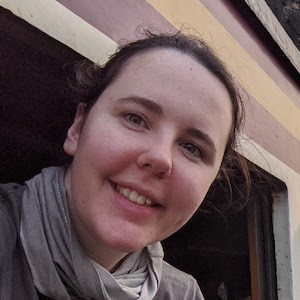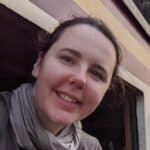 Abi Stafford is an avid traveller and adrenaline seeker. Originally from Birmingham UK, she aims to visit each corner of the world and already has the world's fastest zipline, the world's tallest treehouse and the world's fastest rollercoaster ticked off the bucket list!