Turkey in a Nut Shell
Eat! – Gözleme. Made in the traditional way by women on flat hot plates, gözleme are savoury flatbreads, filled with cheese, spinach, and a variety of other fillings. Best eaten fresh and steaming!
Drink! – Raki. Liquorice lover? Then you'll be a fan of Turkey's most popular alcoholic drink. Raki is an aniseed laced liqueur, usually drunk alongside meze before your meal.
Wear! – As a Muslim country, carry a scarf or lightweight sweater. It'll be invaluable to throw over your shoulders when you're wandering around the cities or want to explore a mosque.
Beware! – Be ready to squat. While western toilets are fairly common, you'll probably come across a few squat toilets at some point during your trip. Carry tissues, and hand sanitiser!
Introduction to Turkey…
Turkey is a country of colour. From the azure waters of Fetihye, to the intricately patterned tiles in Istanbul's many mosques, the glass mosaic lamps of the Grand Bazaar, the sand-stone ruins of Antalya, the ethereal hot air balloons of Cappodocia… the list goes on. With cheap food, great hostels, plush overnight buses and stunning coastlines, Turkey is a hot destination in Europe these days and for good reason.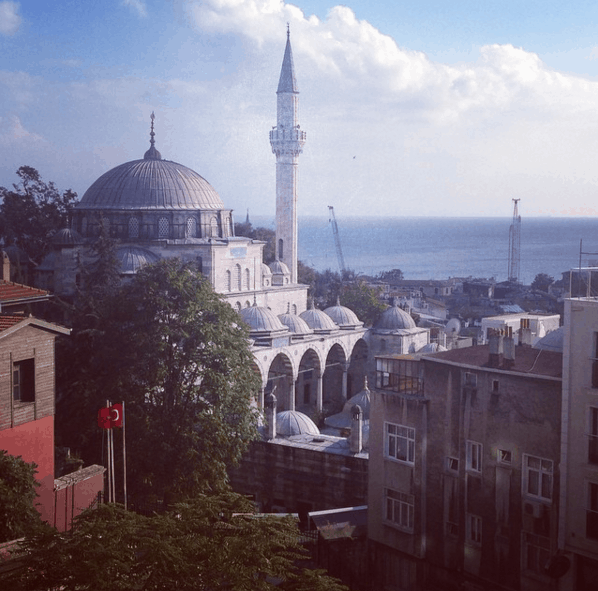 Turkey Basics:
Currency: Turkish lira
Capital City: Ankara
Main Religion: Islam
Main Language: Turkish
Telephone Code: +90
Time: GMT+3
Emergency Numbers: 112
Turkish Language Essentials:
Hello: Merhaba
Thank you: Teşekkür ederim
How are you? 

Nasılsın?

Can I have the bill please? Faturayı alabilir miyim lütfen?
Please: 

Lüften

How much? 

Ne kadar?

Good bye: Güle güle
Turkey Visa Information:
Most visitors need to secure a Visa in advance of their visit to Turkey. This can be done online – and costs around $20. Apply for a Turkish Visa here. 
Climate:
You'll be pleased to hear… Turkey is generally hot! The coastal areas where land meets the Aegean and Mediterranean seas get hot summers and mild winters, while the coastal areas that meet the Black Sea are more temperate (and wet!).

5 Random Facts about Turkey:
Turkey's national sport is Oil Wrestling, involving two naked men, smothered in olive oil, wrestling.

Out of the Seven Wonders of the World, two can be found in Turkey: Temple of Artemis at Ephesus and Mausoleum at Halicarnassus.

Istanbul is sat across two continents, Europe and Asia, the only city in the whole world to span continents!

Turkey has over 80,000 mosques.

Turkish delight (otherwise known as rahat lokum) is one of the oldest sweets in the world.