Latvia in a Nut Shell
Eat! – When you are in Riga head to either one of these restaurants and you will get an idea, what Latvian cuisine does look like – Ala Folk Club, Lido restaurants, Silkites & Dillites. Few ideas as what to order: cold soup (if you are coming in summer), herring with cottage cheese and potatoes, breaded pork chops. From deserts – layered rye bread dessert.
Drink! – Latvian beer, Valmiermuiža and Brenguļu are two of the best. Riga Black Balsam – if you want something strogner. Kvass, if you want something non-alcoholic or with with very small amount of alcohol (about 1%) in it.
Wear! – Whenever you are traveling to Latvia it's always wise to have a warm jamper and rain jacket or umbrealla with you. When it rains it can get quite cold also in summer. During the coldest days of winter in Latvia it can be around -25 C, during the hottest days in summer – +30 C. On average it's mostly neither that cold in winter, nor that hot in summer.
Beware! – Most popular scams in Latvia are bar scams. Even though situation has improved a lot compared to how it was several years ago, rip-offs still happen. When paying with bank card in a bar do check carefully if they aren't trying to charge you more. Or just pay in cash.
An Introduction to Latvia, the 2nd Greenest Country in the World:
Located on the eastern coast of Baltic sea, an overnight ferry ride away from Stockholm and 1-3 hour flight away from just any of the European capitals, is Latvia, country rich in history and culture. Because of its advantageous geographical location Latvia has always been interesting to its neighbours. And so in last 800 years there have been many rulers, but now Latvia is an independent country with its own language.
If it's wild nature that you are looking for, then you have found the right place! Being the second greenest country in the world, Latvia has plenty of unspoilt natural beauty easily reachable in just an hour or two from anywhere in the country. Forests, lakes, deserted white sand beaches… Latvia has it all!
And did you know that more than half of Latvians speak 3 languages – Latvian, English and Russian? Making everything much easier for foreign travellers.
Most Popular Destinations in Latvia – Riga, Sigulda and Cesis
Most tourists visiting Latvia know about Riga, Latvia's capital city, and some of them do not even leave Riga. But those who do often travel to the small towns of Sigulda and Cesis.
Riga is a popular destination because of its architecture and history, not forgetting the booming nightlife. Art Nouveau architecture makes up about one third of all buildings in the central part of Latvian's capital. Head to Riga's old town and you will see how Europe looked back in old times, with towering churches and narrow city streets. The old town of Riga is also where the nightlife happens. But when you want to get out of the city and go to the beach, all it takes is to board an ordinary public city bus and ride either to Bolderāja or Vecāķi – a 40 minute journey.
Sigulda is the right place to go if you want to see more of Latvia's natural beauty. Located a mere 50 kilometres away from Riga it's easily accessible by train and bus. Locals and tourists alike visit the charming town of Sigulda, especially in autumn, when all the leaves start to turn red, orange, brown… and the area looks magical.
Looking for an adrenalin hit? Another reason to go to Sigulda is to try out some of the adventure activities available there; bungee jumping, hiking, mountain biking, kayaking… You can even fly like a bird at the Aerodium just outside of Sigulda! Flying is possible because of special world class wind tunnel. And that's just a small selection of the things you can do and experience there.
Did you know that Latvia has no mountains? Yet during the winter Sigulda is one of Latvia's top destinations for snowboarding and skiing. How, we hear you ask? There is a hill in Sigulda which is used every year specially for snow sports!
Another popular Latvian town is Cesis, famous for its rich history and picturesque architecture. Don't expect too much of a nightlife in Cesis! But again it's a small town and in under 10 minutes you can be out of the city, hiking (or kayaking!) alone along river Gauja, Latvia's longest river.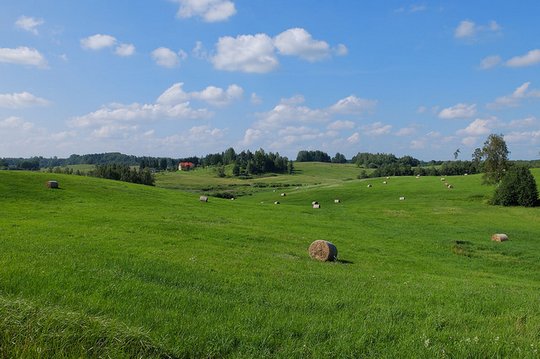 The West Coast of Latvia
Two of the most popular cities on the West coast of Latvia are Liepaja and Ventspils. While Liepaja is known for its cultural life, which they say doesn't stop, Ventspils is know for being a bustling port city, mostly used by cargo ships.
The West Coast of Latvia is the place to go if you are into windsurfing and kiteboarding. But be sure to check the wind forecast before you hit the beach – the average wind speed in Latvia is under 5 meters per second!
Like most of Latvia's coastline the West coast has a lot of deserted beaches. In fact, most of Latvia's coastline is sandy beach, so there's plenty to choose from. If you'd rather head to a beach that has bars and restaurants, then try Liepaja, Ventspils, or some of the traditional fishing villages along the Western coast.
The East of Latvia
Latgale is the Eastern most region of Latvia and is often called 'The Land of Blue Lakes'. So yes, there are plenty of lakes to be found here! To see them at their best go to Latgale in the middle of summer on a sunny day. 1 to 2 days is plenty of time to take a road trip around Latgale and then return to Riga at the end.
Latvia's second largest city, Daugavpils, is also located in the East of Latvia. With a population of just under 100,000, Daugavpils has the highest ratio of people who can speak Russian. For many of them Russian is their native language.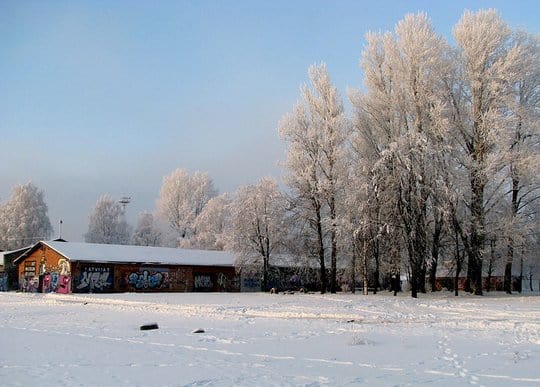 Latvia's Climate:
Latvia has all four seasons – spring, summer, autumn and winter. In decades passed, winter in Latvia meant snow from late November until early April. But things have started to change, and now winter often sees rain! Visit in January or February to see Latvia all covered in snow and at its fairytale best.
The hottest month in Latvia is July, when the temperatures can reach +30 C or more. It's also the best time for swimming and sunbathing. But if you want to see the colours of autumn, visit Latvia at the end of September.
Regardless of when you are travelling to Latvia, be sure to take a warm jumper, and a rain coat! The weather is changeable so it's best to be prepared for all eventualities…
Latvia Basics:
Currency: Euros
Capital City: Riga
Main Religions: 34,3% Lutheranism, 25,1% Roman Catholicism.
Main Language: Latvian. English is widely spoken, especially among younger generation.
Telephone Code: +371
Time: GMT +2
Emergency Number: 112
5 Random Facts about Latvia:
The coastline of Latvia is more than 500 kilometres long. And it's mostly sandy!
Latvia has one of the highest number of professional models per capita in the world.
3 foods that many Latvians living abroad or traveling extensively miss most? Sour cream (skābais krējums), dark rye bread (rupjmaize), curd snacks (biezpiena sieriņi). Try them in Latvia!
Latvia has one of the fastest internet speeds in the world. Internet in Latvia is lightning fast (100 – 400 Mbps is just a normal speed here), it's easily available and it's not expensive.
Europe's largest market is in Latvia, and it's Riga Central Market.