Denmark in a Nut Shell
Eat! – You can't get anything more Danish than Smørrebrød – open sandwiches with rye bread – or the Flæskesteg sandwich– roasted pork served with red cabbage and pickled cucumber. If you have a sweet tooth try Flødeboller – chocolate-coated marshmallows – or the famous Liquorice candies.
Drink! – Gammel Dansk, a bitter liquor made out of herbs or Snaps – a strong shot drunk at all times of day (yes, that means also in the morning). Don't forget to shout Skål once you feel the alcohol going smoothly down the drain!
Wear! – The wind in Denmark is unlike anything you've experienced before! It can crawl under your skin and make you chilly even on sunniest summer day. It never hurts to have a waterproof jacket with you, and if the summer is over wear lots of layers.
Beware! – Cabs are really expensive in Denmark, especially around Copenhagen area. If it's the weekend, make sure to check the transport apps before deciding to stay out late. And don't even think about getting on public transportation without buying a ticket first… Control is thorough and strict, the Danes are unforgiving when it comes to any type of tax evasion!
Introduction to Denmark | One of 'The Happiest Nations on Earth'
Although it is the smallest of all Scandinavian countries, Denmark stretches across many islands (out of which Zealand – where Copenhagen is located – and Funen, are the largest) as well as the Jutland peninsula, connecting Denmark to Germany, the Faroe Islands and Greenland. Being a small country it means that no matter where in Denmark you are, you will always be close to the sea and just a step away from your next destination.
The Capital – Copenhagen
Designated the European Green Capital in 2014, Copenhagen is probably the most bike friendly city in the world. Being Scandinavia's cheapest capital, Copenhagen has more than any backpacker could dream of: cosy hostels, tasty bakeries and chic corner cafes, hidden streets and inviting canals, buzzing harbours, inspiring museums, numerous art galleries and let's not forget the multitude of parks. Spending at least one weekend in Copenhagen and its surrounding areas is a must for whoever wants to indulge in the hygge Danish lifestyle. Check out our backpacker guide to Copenhagen here. 
From East to West
Heading west from Copenhagen don't forget to stop by in Roskilde and get acquainted with the way of the Vikings and their Viking ships. Hopping over to the island of Funen you will reach the city of Odense, where you can learn everything there is to know about Denmark's most famous writer: Hans Christian Andersen. Heading further west, you will get to Ribe, Denmark's oldest town. A little detour from this point, heading up north will get you to Billund and Legoland – where your inner child can play with infinite amounts of tiny plastic Lego bricks of all shapes and colours!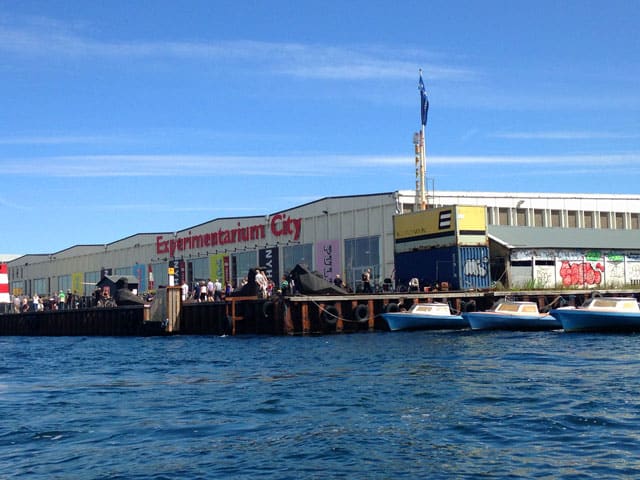 The North
Heading further north on the Jutland peninsula, Aarhus is Denmark's second largest city and another must see. Nominated as European Capital of Culture 2017 and often described as the happiest city in Denmark, Aarhus will enchant you with its art galleries, beaches and fjords, among others. 120 kilometres north of Aarhus you will reach the innovative University city of Aalborg.
The South
Crossing by ferry, south of Zealand stand the three South Sea Islands: Møn, Falster and Lolland. Hopping from island to island, the route continues west through Danish countryside and slow paced life to the islands of Langeland, Ærø, Als and finally Sondenborg, on the Jutland peninsula. If you decide to head east instead of west, across the Baltic Sea, you will stumble upon Bornholm, an island with wide fields, deep forests, granite coastline and white sandy beaches.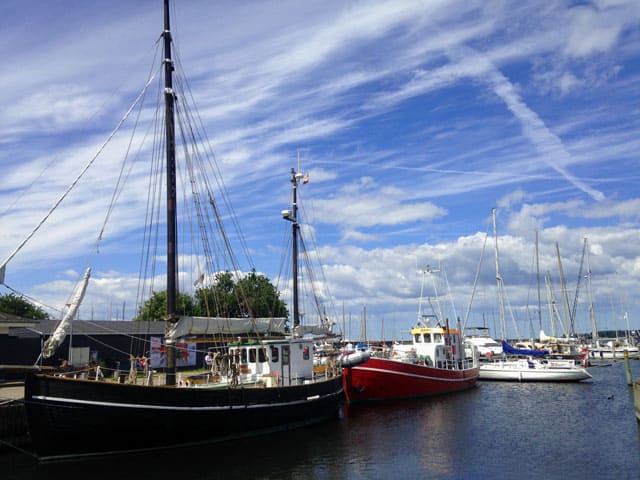 Denmark Basics:
Currency: Danish Kroner (kr)
Capital City: Copenhagen
Main Religion: Christian/ Evangelical Lutheran Church
Main Language: Danish, but English is widely spoken
Telephone Code: +45
Time: GMT +2
Emergency Number: 112
Denmark Visa Information
If you want to travel to Denmark you may or may not need a visa, depending on your nationality. Usually, if you are an EU national or come from a country that is part of the Schengen Area you will be exempt from visa requirements. Otherwise you can check out if you need to apply for visa here.
Climate
The high season in Denmark runs from mid-June to mid-August and it is within this period that you can experience the so-called "Danish summer" with long daylight hours and warm temperatures. In the low season, between October and April, the weather is cool and wet, with short daylight hours and most often windy.      
5 Random Facts about Denmark:
In Denmark it rains or snows almost every other day! The country gets on average 171 days of precipitation every single year. 

Denmark has been voted Happiest Country in the World in 2013, 2014 and 2016! Now that's impressive. 

Denmark owns a "Bicycle Superhighway". In the greater area of Copenhagen more than 500 kilometres of bicycle lanes intersect. Cycling is one of the main means of commuting for both Danes and expats with over 50% of the population using bikes every day no matter if it`s summer or winter.

The Swedes and Norwegians joke about Denmark`s flat territory, by saying that if you stand on a case of beer you can definitely spot both ends of the country.

The Danish flag is the oldest flag in the world still used by a sovereign state.
More Articles about Denmark...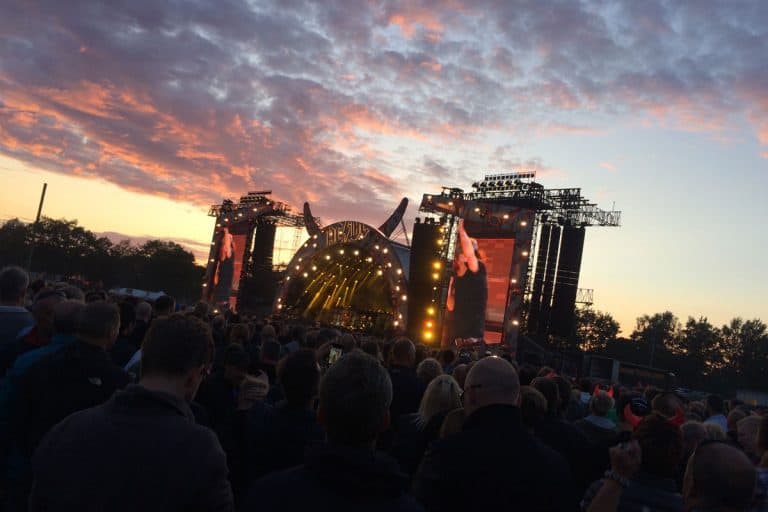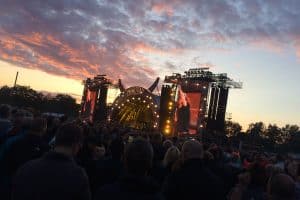 If you find yourself in Copenhagen and you have a few spare days to explore the surrounding areas, a trip to the lovely harbour city of Roskilde is well worth your time! Here's our backpacker guide to the city…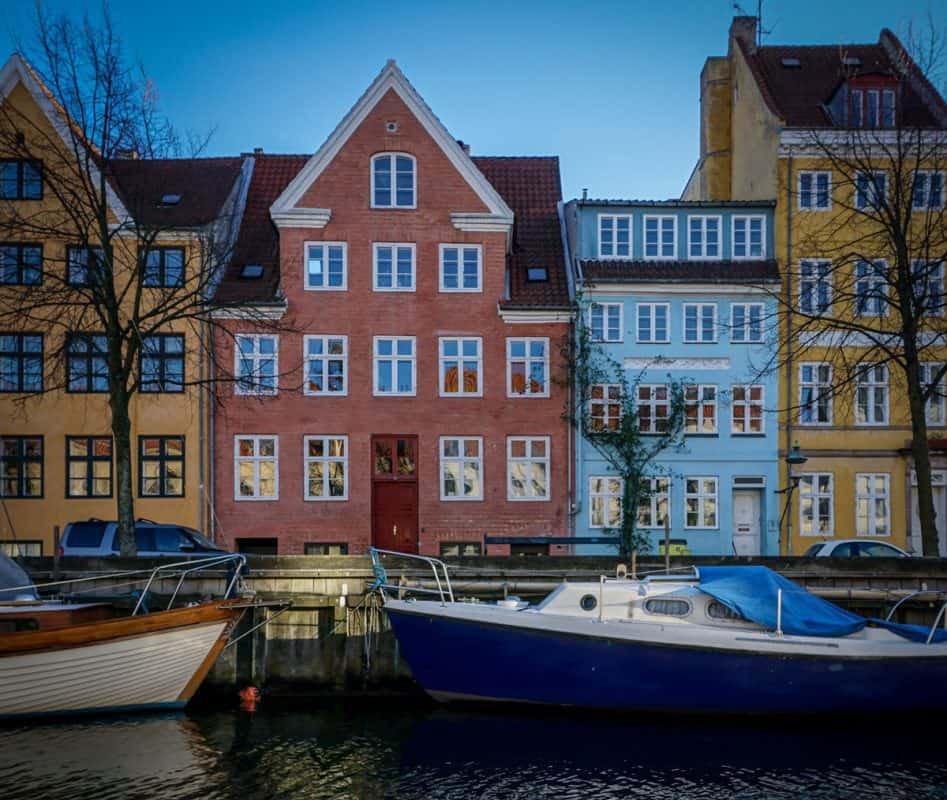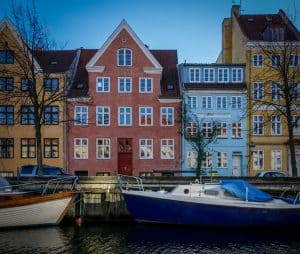 From castles to colourful townhouses that line the canals, Copenhagen is one of the coolest European destinations right now. Here's our guide to this chic city…